Since I have become crazily obsessed with heart sunglasses over the past year, I knew I had to do a free printable valentine surrounding them! Tada! Once again, Striped Cat Studio took my idea and knocked it out of the park! Print out these Valentines and pair them with your heart sunglasses of choice and BAM! Best Valentine, ever!
To Download the Free Printable Heart Sunglasses Valentines, CLICK HERE!
To make these Valentines print out the cards and cut out. Lay your heart sunglasses* on top of the card and mark each side. Then cut a little slit where your marks are and slip your sunglasses through! Alternatively, you can tie the sunglasses on in the center with a piece of twine. Options, people! We love options! And that's why there's three designs to choose from!
*I bought my heart sunglasses here, but rumor has it some Target stores has them in their Dollar Spot! (Score, if you're planning on making a bunch of these!) At this time of year, local party stores often have them too!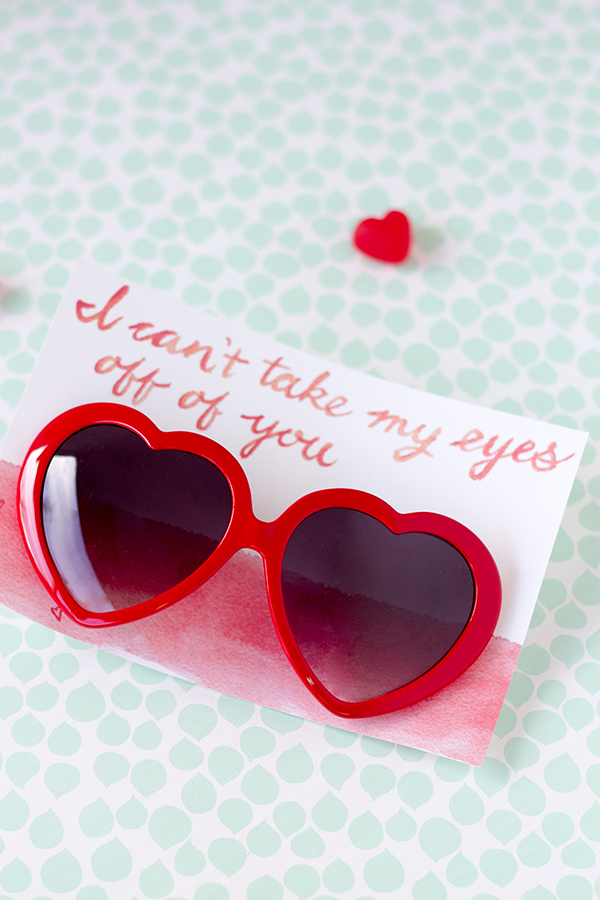 Printables by Striped Cat Studio, Photos by Studio DIY
I must say, I used to absolutely love giving out Valentines in elementary school. I especially loved decorating my little mailbox (read: paper lunch bag) to put them all in! In high school once, I made some little heart boxes with everyone's initials (conversation heart style!) and filled them with candy for all my friends. Clearly, I just couldn't leave Valentines behind in elementary school… Did you have big Valentine's Day parties in school, or do your kids do now? What was your favorite Valentine you ever gave (or received)?
For more Valentine's Day DIYs, head here! And be sure to check out all of Kate's awesome work over at Striped Cat Studio!!