After talking Super Bowl the past two days, it's about time to get back to my (second) favorite holiday of the year.. Valentine's Day! Today's DIY is what I like to call "Cake in a Cup" Valentines. I came across this fabulous recipe on Babble that claimed combining just powdered sugar, cocoa powder, a single egg and one minute in the microwave would make a deliciously rich chocolate cake for one (or two!). Skeptical, I tried it. Delicious! I decided to turn it into my Christmas cards, packaging up the dry ingredients with instructions to add an egg, microwave and enjoy. But I thought they would be even more perfect as Valentines, DIY printable valentines that is! Whether the recipient has a Valentine or not, everyone can use a little chocolate cake. And in this case, being the single one may be beneficial.. more for them!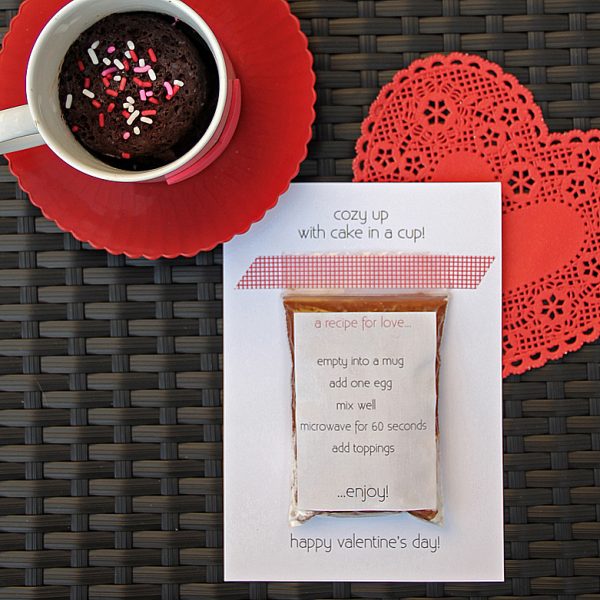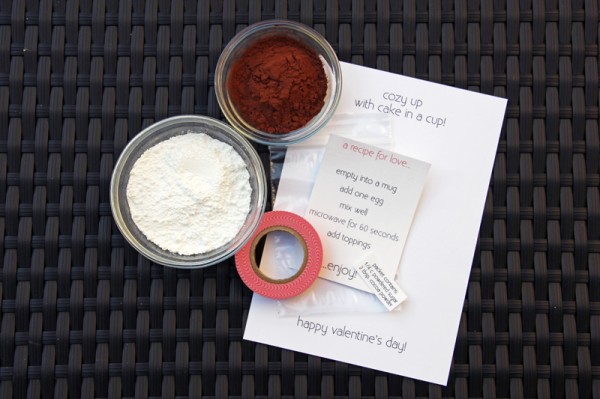 Supply List:
Printable Card Templates (2 per page)
Printable Recipe & Ingredients (8 per page)
White Card Stock
8 1/2 x 11 Adhesive Ink Jet Fabric Sheets (I used Transfermations Peel & Stick Sheets from Michaels) OR 8 1/2 x 11 Adhesive Ink Jet Paper Sheets (Can be found at office supply stores)
Cocoa Powder (2 tbsp. per packet)
Powdered Sugar (1/4 cup per packet)
4in x 3in plastic zip bags (Purchased at Michaels)
Washi Tape
X-acto knife & ruler (or scissors)
To Make:
Print out the card templates on card stock Print out the recipe template on your adhesive fabric or paper sheets. (I chose fabric sheets because I liked the look and feel of them, but adhesive paper sheets would work just as well!) Cut cards and recipes out along cutting lines. I also included an ingredient list for safety/allergy reasons which you can or can not include.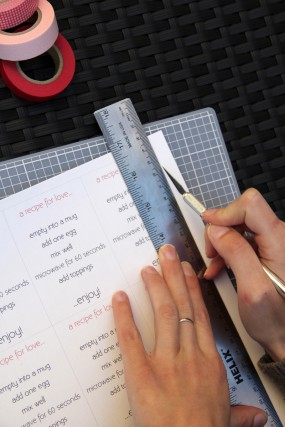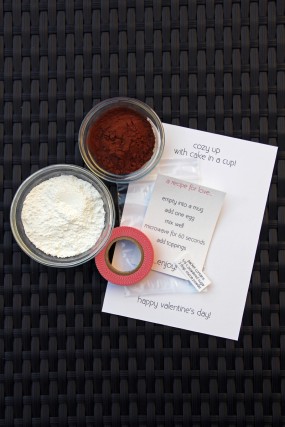 Peel the backing off of your recipe and adhere it to one side of the zip bag. If including the ingredient list, peel and adhere to the reverse side of your bag.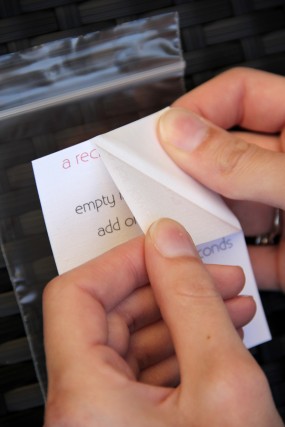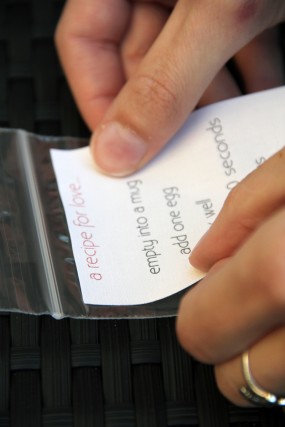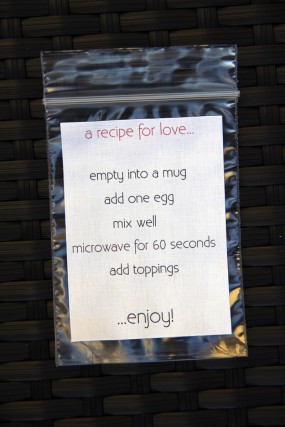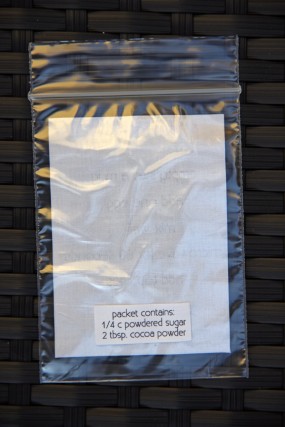 Fill each bag with 1/4 cup powdered sugar. I used a small spoon to do this and avoid spillage! Then add 2 tablespoons of cocoa powder to each bag. Seal your packet.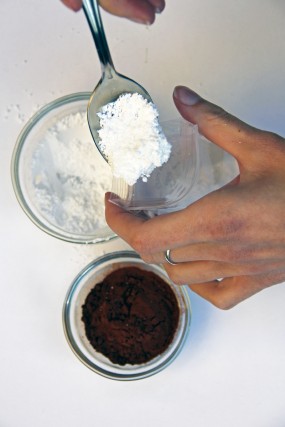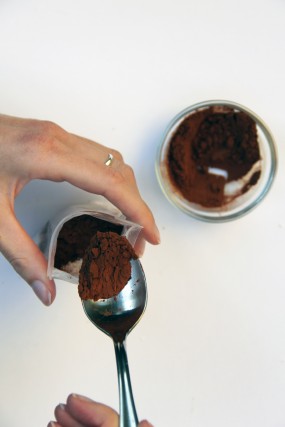 Cut or tear a peice of Washi tape to your desired length. Center your ingredient packet on your card and secure with your Washi tape above the zipper.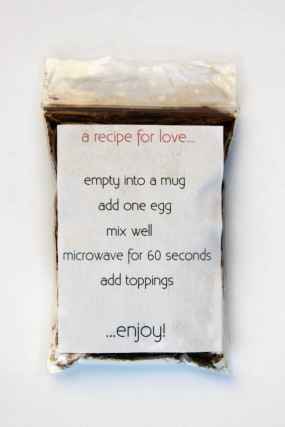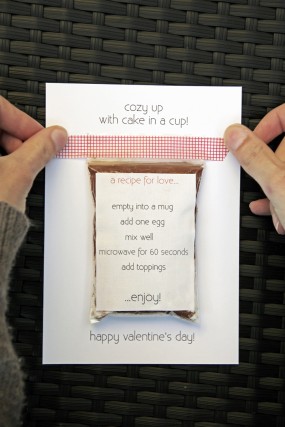 Add a special little message and that's it! Simple, edible Valentines. The best kind. For toppings, my personal favorite were peanut butter cups, but sprinkles, candy hearts, caramel sauce or chocolate chips are great options too! That's where the recipient gets to be creative.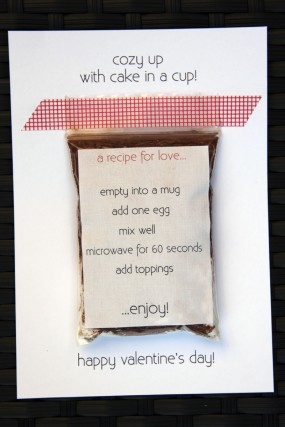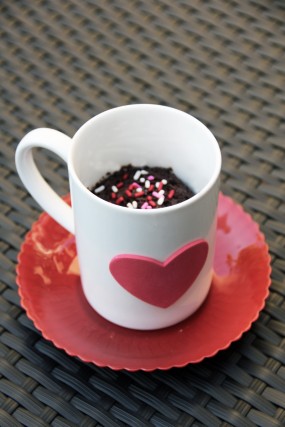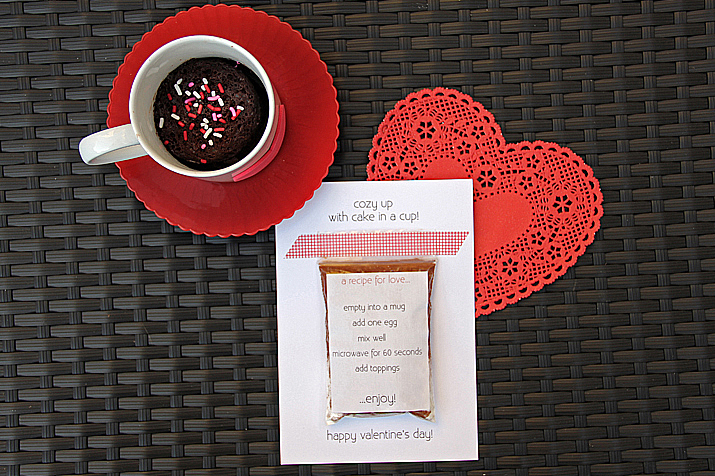 All Photos by Jeff Mindell Photography
In case you missed it, download the card templates here and recipe templates here.
Looking for more free printables? Check out the Free DIY Downloads section right here!