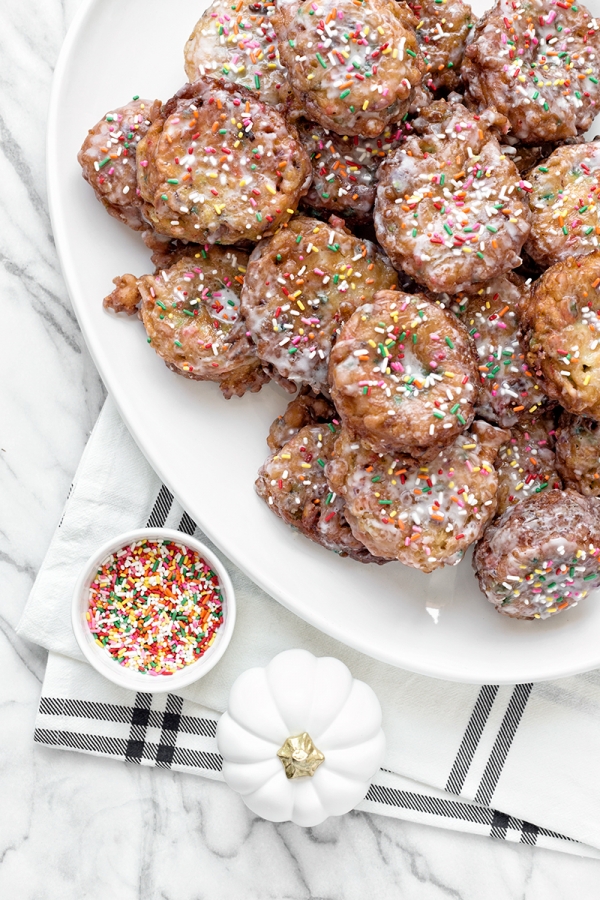 Ooooh the prized apple fritter. *HAAA-LLELUJAH, HALLELUJAH, HALLELUJAH!* I think it's one of Jeff's favorite donuts to get and for GOOD reason. Now that fall is trying so desperately to push it's way into LA (keep trying, fall!), we had to give this edition of Funfetti-fied to the apples with funfetti apple fritters! Because the only thing that could make this fried classic better is rainbow sprinkles.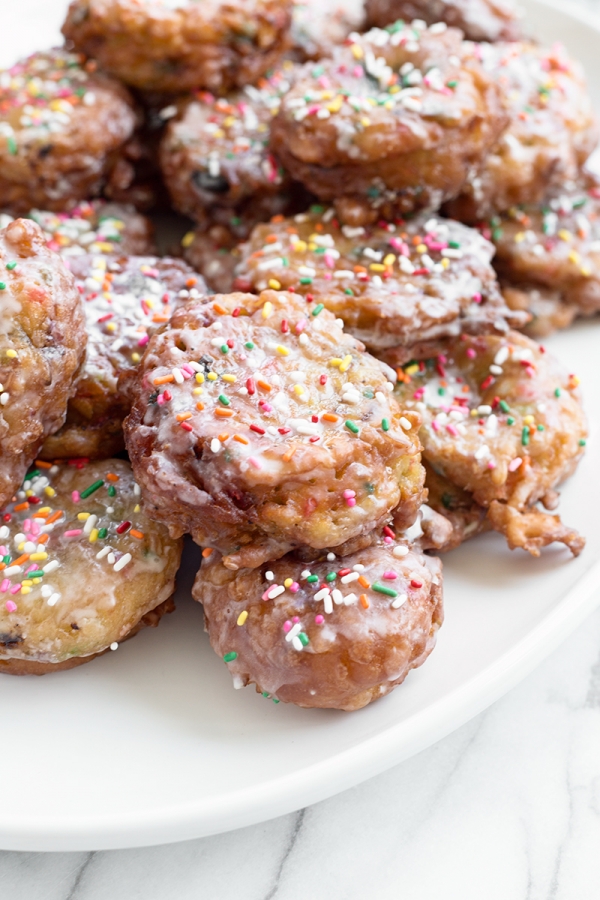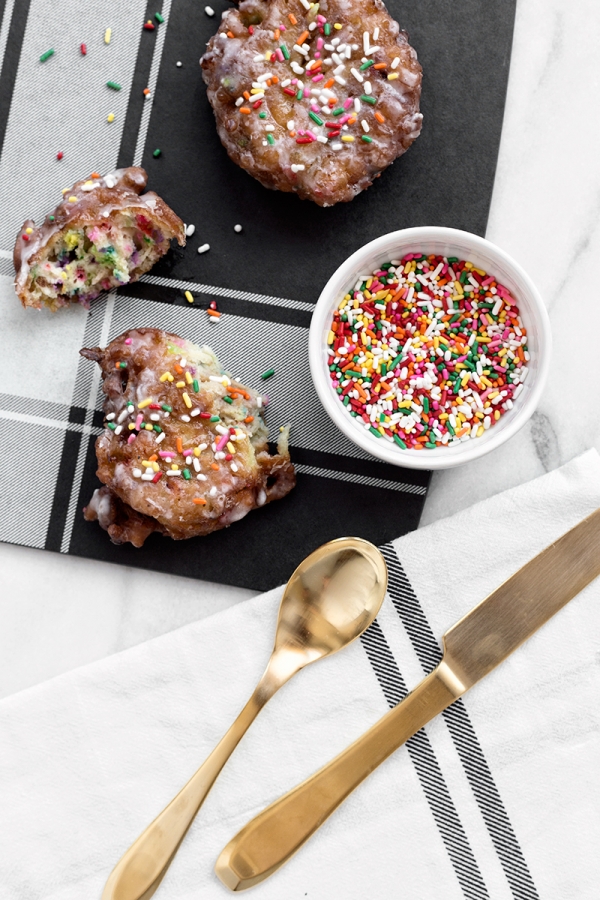 (Makes about 20 Fritters)
3 cups all-purpose flour
1/4 cup granulated sugar
1 rounded tablespoon baking powder
1 teaspoon salt
1 1/4 cups milk
1 teaspoon vanilla extract
4 eggs
4 tablespoons vegetable oil
6 apples, peeled and grated
1/4 cup rainbow sprinkles
Vegetable oil for frying
For the glaze:
3 cups powdered sugar
7 tablespoons milk
1 teaspoon vanilla extract
Rainbow sprinkles
1. Sift together the flour, sugar, baking powder, and salt.
2. Whisk together the milk, vanilla, eggs, and 4 tablespoons oil.
3. Combine the dry ingredients with the wet. Fold in the apples till well incorporated.
4. Very gently, fold in the rainbow sprinkles. Careful not to over mix.
5. Heat 1 inch of oil in a heavy skillet to 350 degrees. (If you don't have an oil thermometer or electric deep fryer, use the popcorn kernel trick to test the oil. Place 1 unpopped kernel of popcorn in the oil. Turn on heat. Wait till kernel pops. Popcorn pops around 350-360 degrees)
6. Drop about 1/4 cup sized mounds of batter into the hot oil. Do about 3 at a time. Brown well on both sides. You want a nice dark brown color on the outside to ensure the inside is cooked through. Once browned, remove and place on paper towels to drain. Let cool slightly before glazing.
7. To make the glaze, whisk together the powdered sugar, milk, and vanilla.
8. Place a cooling rack over a cookie sheet to catch the excess glaze. Dip each fritter into the glaze and place on cooling rack to set. Top each fritter with some more rainbow sprinkles.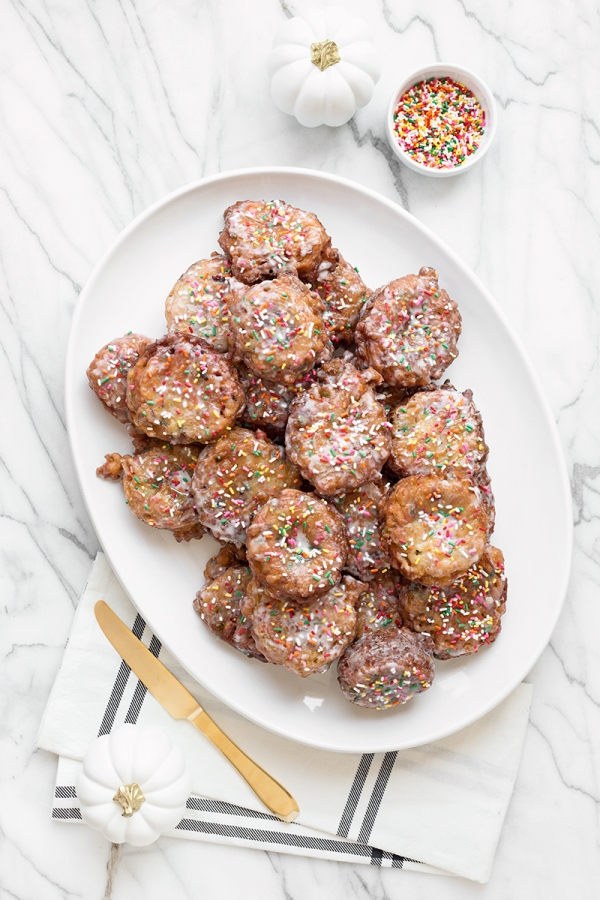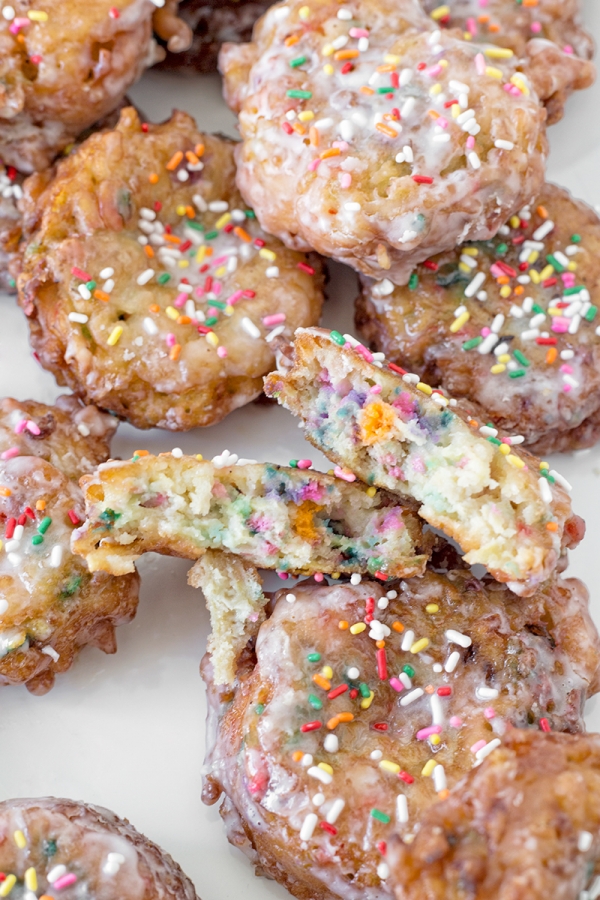 Photos by Jeff Mindell | Recipe by Theresa Rountree | Creative Direction by Kelly Mindell
We were fighting over these after we shot them. It's every man for himself when these babies are around! Make at your own risk. 😉