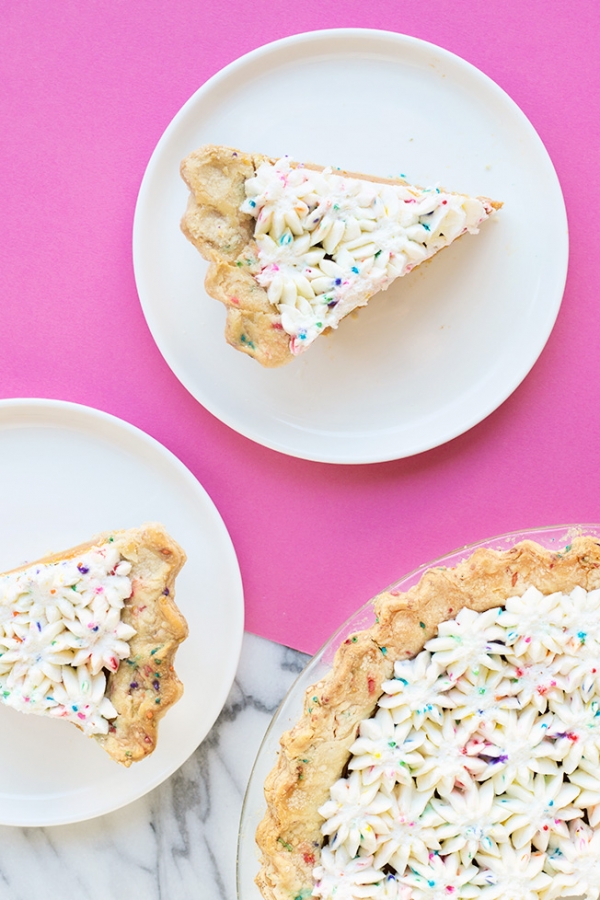 Mhm. It happened. We funfetti-fied a pumpkin pie! Now, I know you traditionalists aren't going to be very happy with me about that, but… ADMIT IT! You can't say no to sprinkles!! We've got some funfetti pie crust and funfetti whipped cream, so you can make a pumpkin pie.. or any other pie you may deem worthy of funfetti for your Thanksgiving table!


1 1/2 cups all-purpose flour
1/2 cup boxed funfetti cake mix
1 teaspoon salt
2/3 cup cold shortening
1/4 cup rainbow sprinkles
5 to 7 tablespoons water
Funfetti Whipped Cream
1 1/2 cups cold heavy cream
3 tablespoons powdered sugar
1 teaspoon vanilla
1/4 cup rainbow sprinkles
Preheat oven to 425 degrees F.
Plus you'll need your favorite pumpkin pie filling (for a 9 inch pie)!
1. Combine flour, funfetti cake mix, and salt in the bowl of a food processor. Add in the shortening in small chunks. Pulse about 15 times to cut in the shortening.
2. Add in 1/4 cup of rainbow sprinkles. Pulse once or twice, careful not to over-mix or break up the sprinkles. Add in the water (start with 5 tablespoons, add more if necessary). Add water just till the mixture is moistened enough so that when you squeeze some in your hand, the mixture holds together. Wrap dough in plastic wrap and chill for at least 1 hour.
3. On a lightly floured surface, roll out dough to 1/4 inch thick. Transfer dough to pie dish. Press gently into the pie dish. Trim and crimp the edges using your thumb and forefinger from one hand and your forefinger from the other.
4. Pour the pumpkin filling into the crust.
5. Place pie in the oven and turn down to 350 degrees. Bake for an hour and 15 minutes till the filling is set and the crust is lightly browned. Check halfway to make sure the crust isn't browning too much. You can cover edges with foil at any point. Let the pie cool completely before adding the whipped cream.
6. In the bowl of an electric stand mixer, whip the cream till fluffy and thick. Add in the powdered sugar and vanilla. Mix till combined. Gently fold in the rainbow sprinkles.
7. Place whipped cream into a piping bag fitted with a large star tip. Pipe the whipped cream onto the pie starting in the middle and working your way out to cover the whole pie.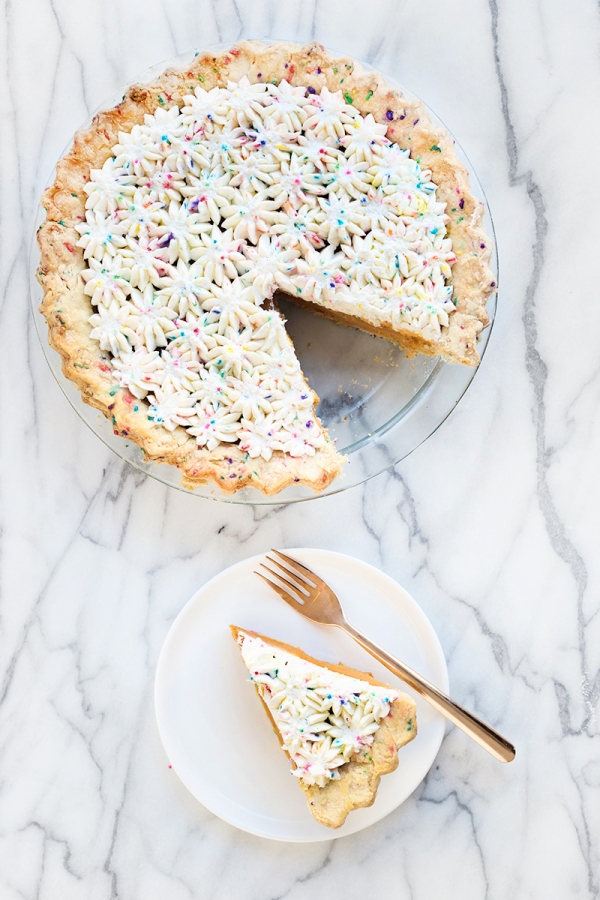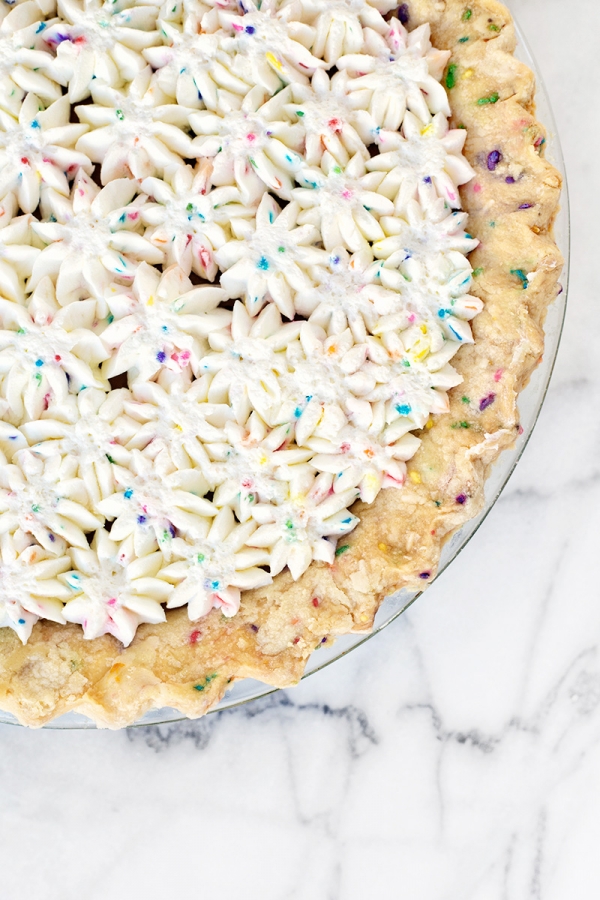 Photos by Jeff Mindell | Recipe by Theresa Rountree | Styling + Creative Direction by Kelly Mindell
So, think you'll be funfetti-fying your pie this Turkey Day!?
p.s. Funfetti apple fritters!