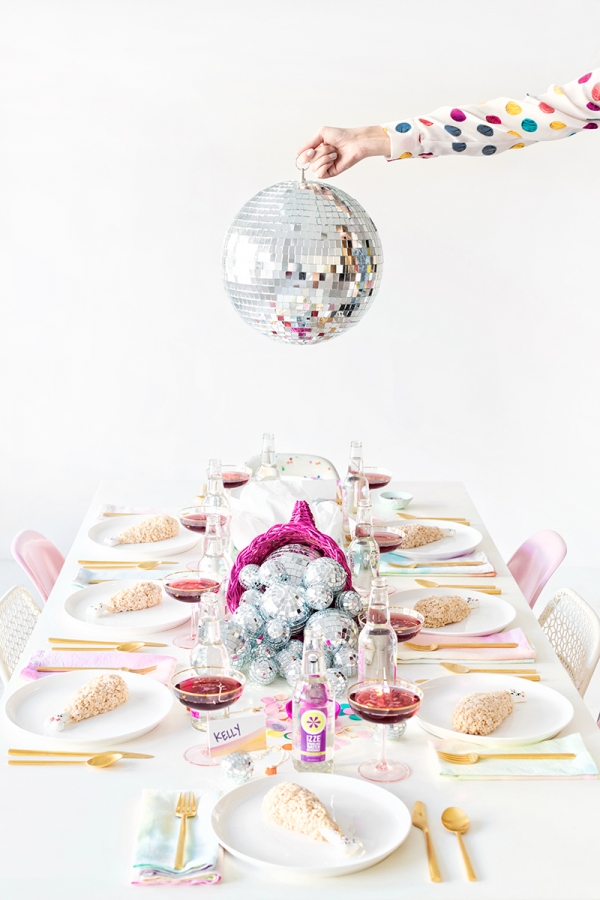 We're doing full fledged FRIENDSGIVING today and we're doing it the Studio DIY way, with a little throwback action!! Our favorite makers of colorful, fizzy goodness, IZZE, put together a little Friendsgiving quiz and we decided to take their Throwback Thanksgiving theme and RUN with it… but in the 90s kind of way 'cause you know that's how we do here!
So today we have five fun and colorful ways (read: DISCO BALL CORNUCOPIA!) to throwback your Friendsgiving! Sure, this might not involve the turkey dinner we all dream of… but if you didn't want to do the whole shebang, wouldn't it be fun to have friends over just for drinks and dessert the weekend before Thanksgiving… and surprise them with this shindig!?!?!? The answer is YES! Here's how…
We love IZZE's wacky and colorful spirit, so that's exactly where we pulled our inspo from! And we've got five ways to show you just how to do the same… including a cocktail throwback to our favorite NYC foursome… any guesses!? But first, let's start with some disco….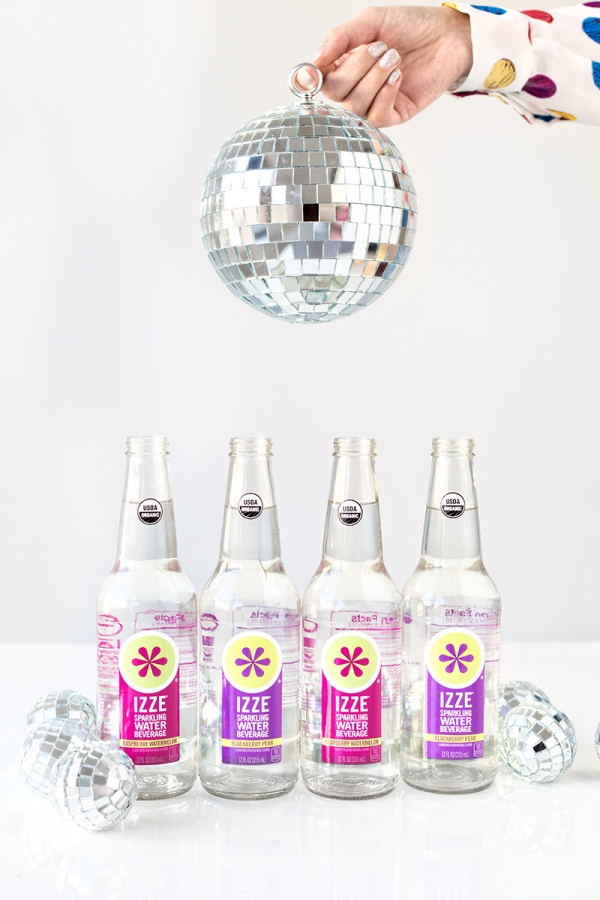 Cornucopias were never my jam. But fill it with disco balls instead and I am IN! It's the perfect centerpiece for your Friendsgiving table. To make one: Spray paint a cornucopia basket the color of your choice, then grab disco balls of all sizes. We found ours at a local craft store, but you can find them online or at party stores too! Place the basket in the center of the table and then stack the disco balls using museum wax or glue dots to attach to each other.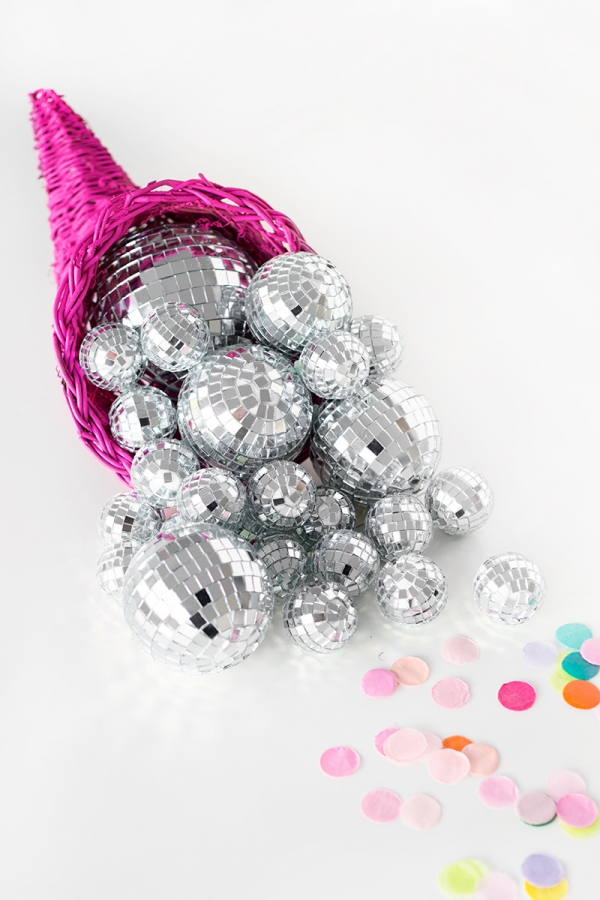 Next up, we tie dyed napkins!!! Perfect pop of color. We rolled up each napkin into a tube and used the same exact steps as we did here, dipping different sections of the napkin into different colors, so you can follow along with those detailed instructions… or use the instructions that come with the tie dye kit for a more traditional tie dyed look!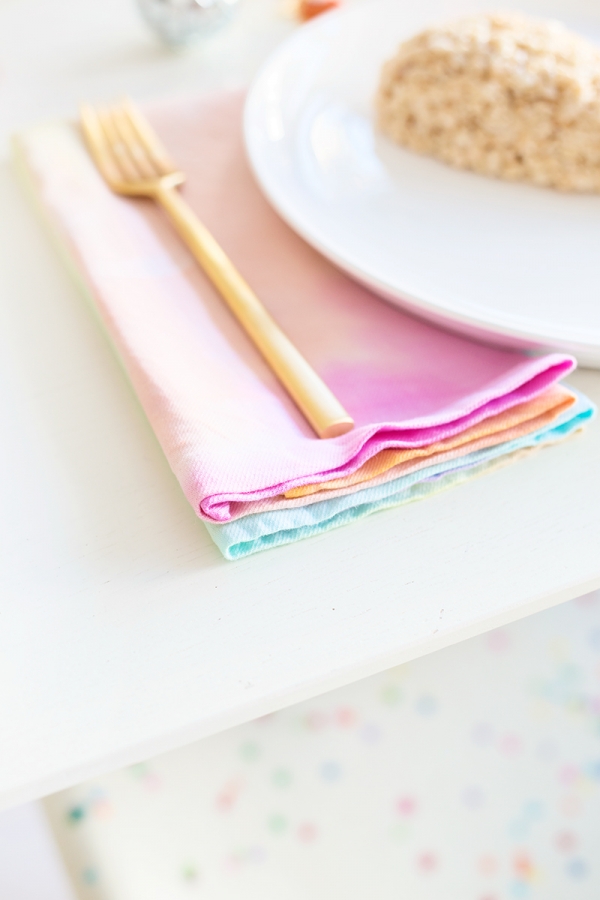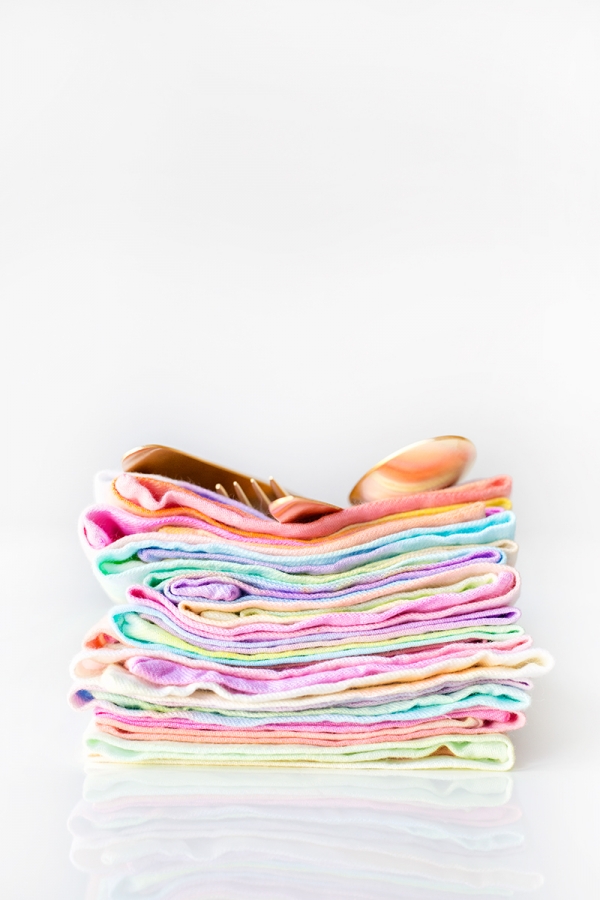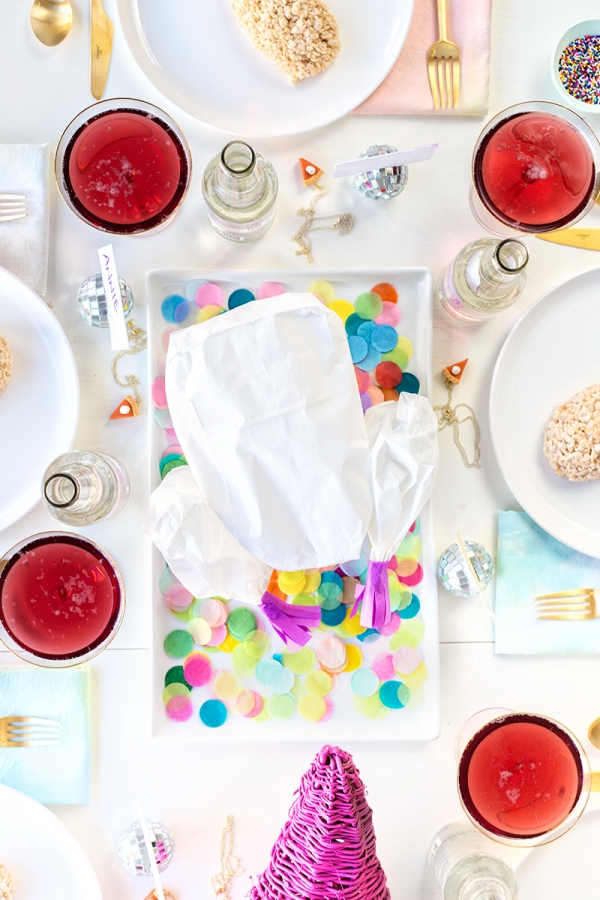 Shout out to my fellow Sex and the City fans, we've got a cosmo recipe for you! We used our favorite IZZE sparkling juice flavor, Pomegranate, to make this Sparkling Pomegranate Cosmo. DEEEELISH! Perhaps there should also be a post Friendsgiving SATC marathon!?


(Makes 1 cocktail)
1 ounce vodka
1/2 ounce Cointreau (or substitute fresh orange juice)
1/2 ounce fresh lime juice
3 ounces IZZE Sparkling Pomegranate Juice
In a shaker filled with ice, combine the vodka, cointreau and lime juice. Shake and strain into a chilled martini glass. Top off with the IZZE Sparkling Pomegranate Juice. Garnish with fresh pomegranate seeds, orange slice, or lime wedge (optional).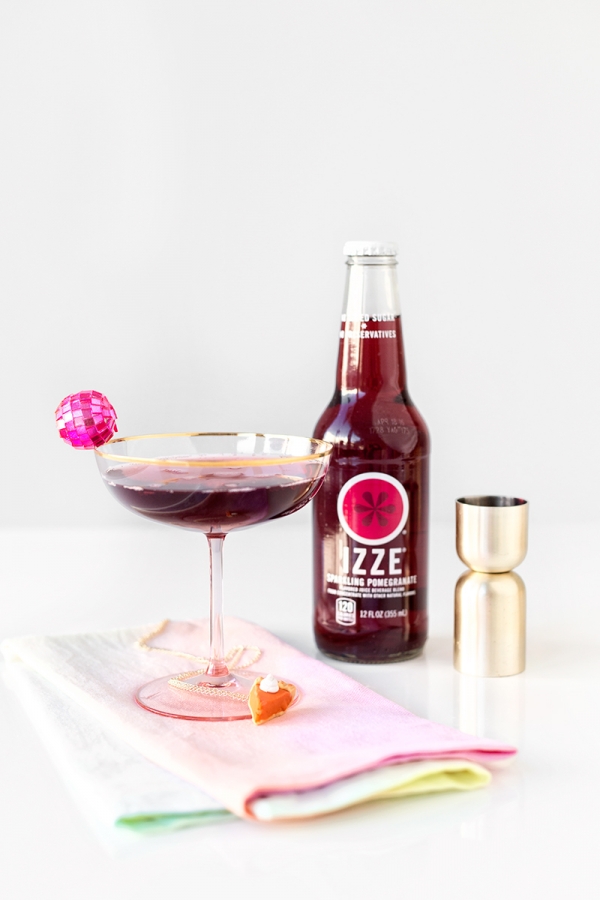 These CRACK me up! Cereal treats bring me right back to childhood. You too? These would be the most hilarious way to greet guests, while still keepin' it classy with those cosmos.
Batch of Cereal Treats (Use the recipe on the back of the box!)
Pretzel Rods
Mini Marshmallows
White Chocolate
Sprinkles
1. Melt your white chocolate (heat at 30 second intervals, stirring in between, until melted) and use the chocolate to "glue" two mini marshmallows to the end of each pretzel rod. Let set.
2. Dip about half the pretzel rod (including the marshmallows) into white chocolate to cover. Add sprinkles as desired. Let set.
3. Shape a cereal treat like a turkey leg on the other half of the pretzel rod. Let set. Done!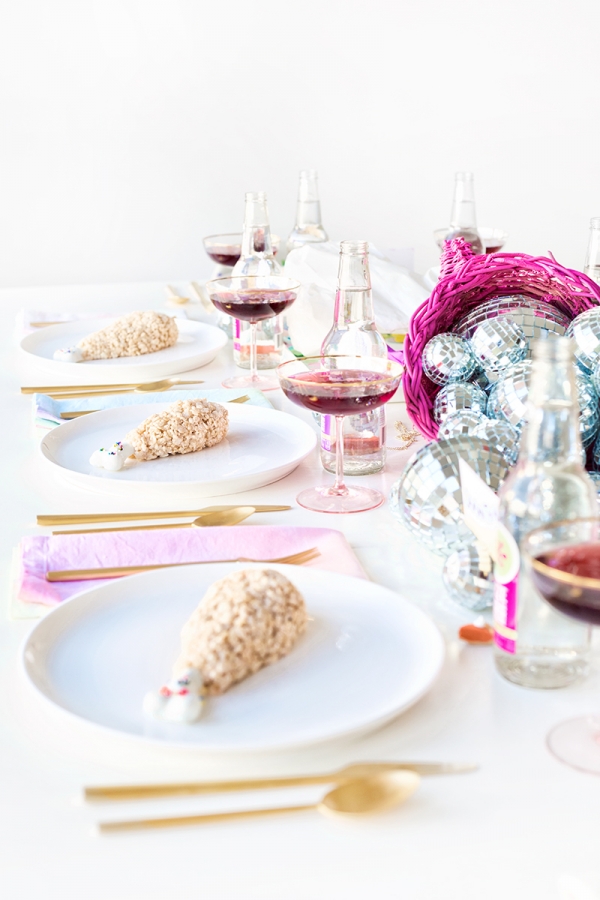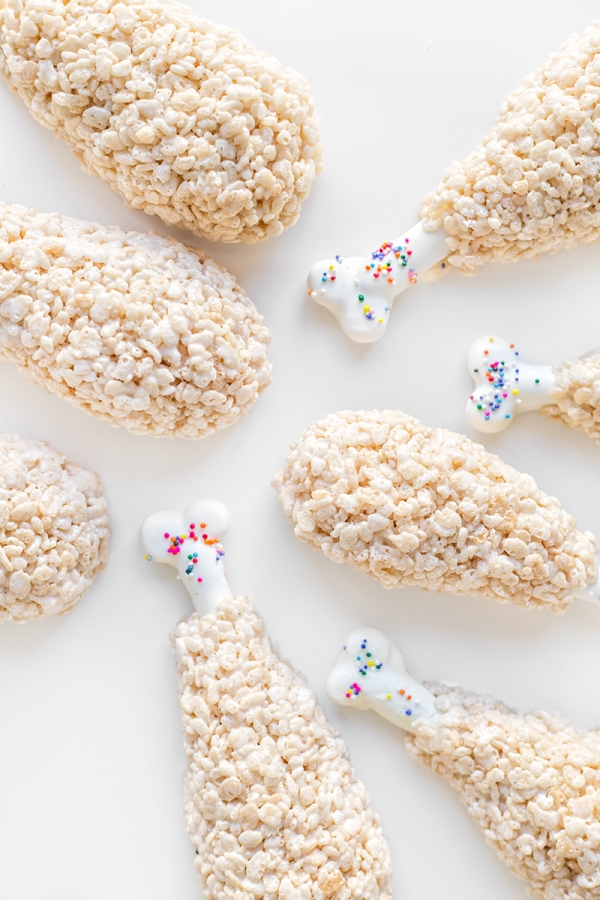 Our foodie friendship necklaces were SUCH a hit that we had to bring 'em back, Thanksgiving style! You can make these little pie necklaces as favors for your friends, or you can provide the supplies and you can all craft together! They look really impressive, but are actually super easy.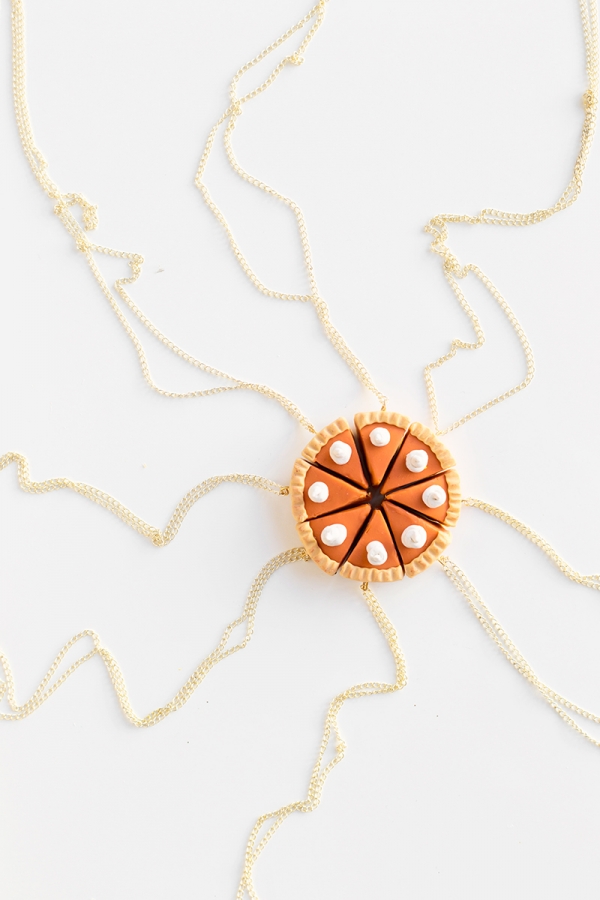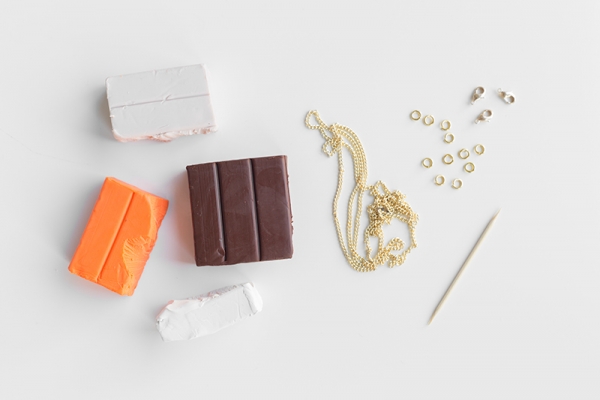 Tutorial adapted from our friend Inedible Jewelry's Polymer Clay Cookbook!
Polymer Clay in Orange, Brown, Tan and White
Liquid Clay
Toothpick
Round-nose Jewelry Pliers
Craft Knife
Headpins (1 per necklace)
Chain
Claw Clasps (1 per necklace)
Jump Rings (2 per necklace)
1. If you can't find a pumpkin pie looking orange, you'll need to add a tiny bit of brown to dull down the orange. Do so by working the two colors together in between your fingers until completely blended. Then, roll a ball of orange clay about the size of a marble and flatten it into a thick pancake. Roll the same size ball of tan clay and flatten it into a very thin disc, about 1/4″ wider than the orange pancake.
2. Set the orange clay on top of the tan and "wrap" the tan clay up the sides of the pancake, forming the crust. Roll a skinny snake of tan clay and wrap it around the edge of the crust.
3. Use a toothpick to make indents into the crust, just like a real pie would have!
4. Use a craft knife to cut the pie in half, then cut each half in half and finally each quarter in half, leaving you with eight slices total.
5. Roll out a tiny snake of white clay with your hands and coil it into a whipped cream dollop.
6. Use a dot of liquid clay to attach the whipped cream to the top of each pie slice.
7. Stick a headpin through the center of the pie slice, starting at the point. Bake the slices at 275 degrees for 15 minutes. Let cool completely. Once cool, trim the headpin so you have about a half inch remaining above the pie slice. Grip the end of the headpin with your round nose pliers and roll it down into a circle shape, as shown above. (You can click the photo to enlarge it!)
8. Finally, cut the chain to the desired necklace length and slip the chain through the circle you just made. Use the pliers to open up the jump ring and slip one onto each end of the chain. Close one of the jump rings using the pliers and on the other one, slip the claw clasp on as well and then close it up. Wear your necklace while eating copious amounts of pumpkin pie. 😉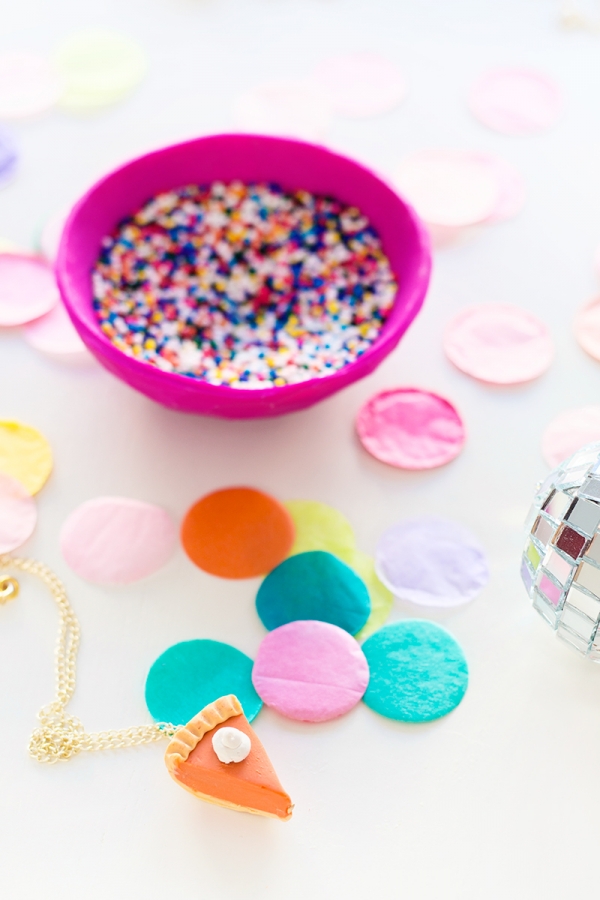 To finish off our par-tay, we also included a funfetti pie, IZZE's sparkling water (Can we talk about THOSE COLORS on the bottles!) and last year's confetti turkey. GANG'S ALL HERE!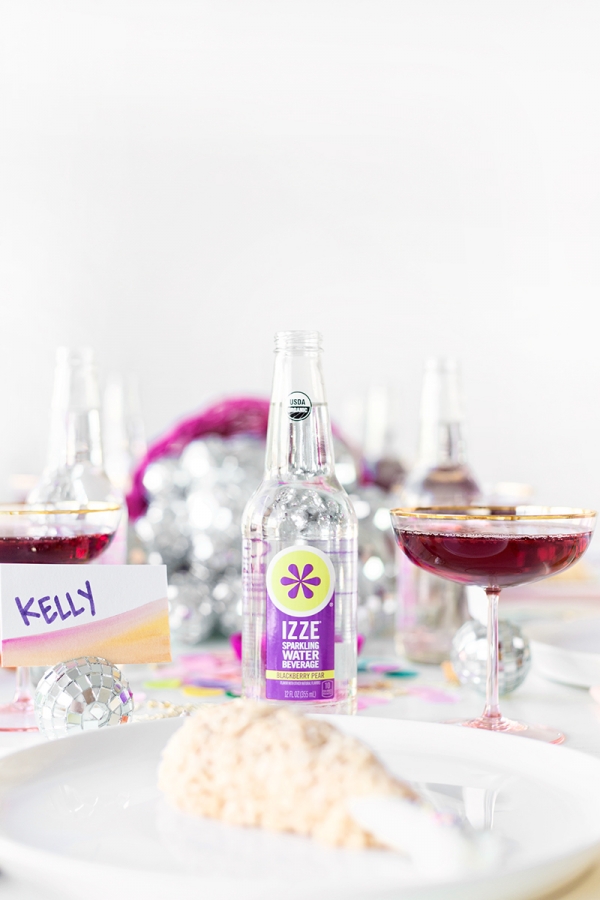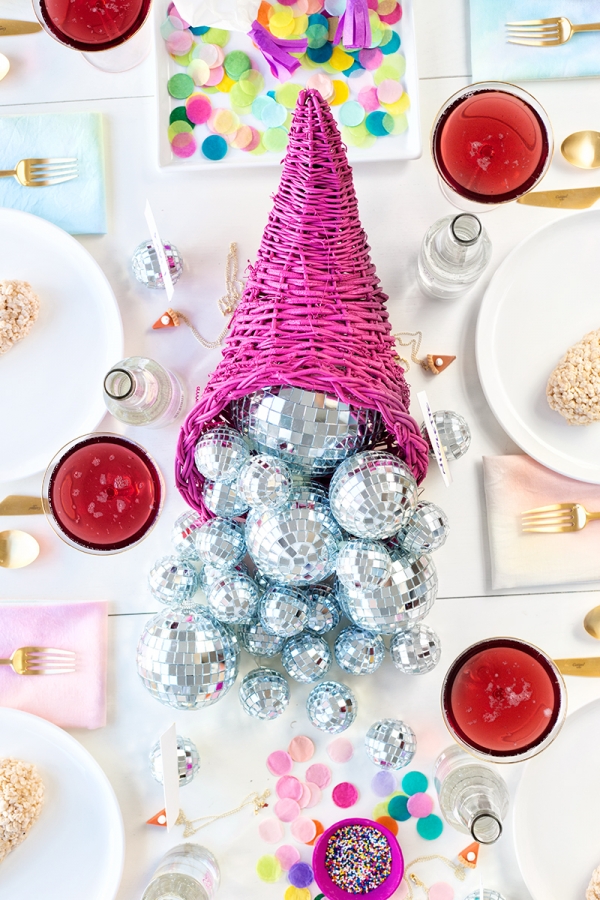 Photos by Jeff Mindell
To find out what kind of Friendsgiving you should throw, head right over here to take IZZE's quiz! And can I just casually suggest that no matter what answer you get, it should involve cosmos and disco balls? 😉
This post was created in partnership with IZZE. All content and opinions are that of my own! Thank you for supporting the sponsors that keep the Studio DIY party going! Read more about my editorial policies here.