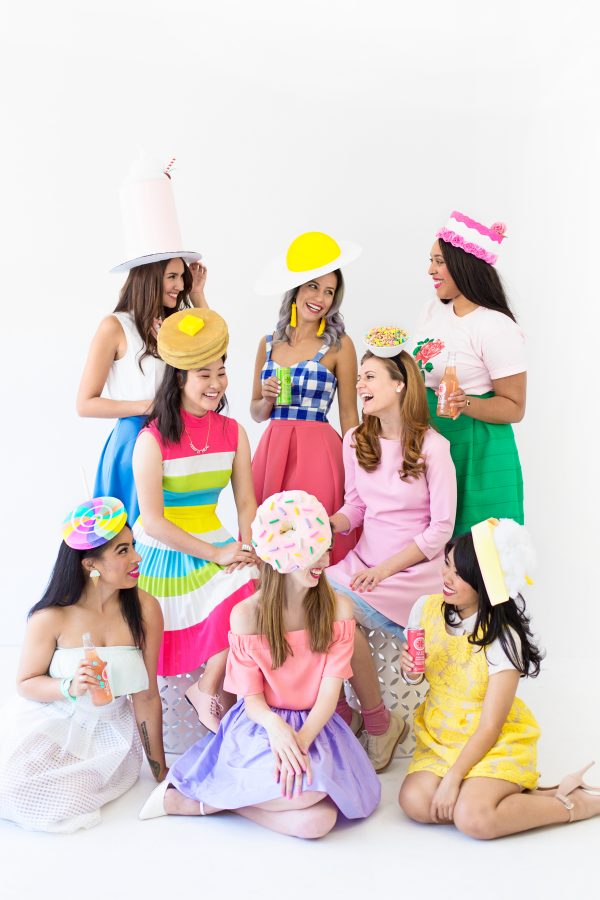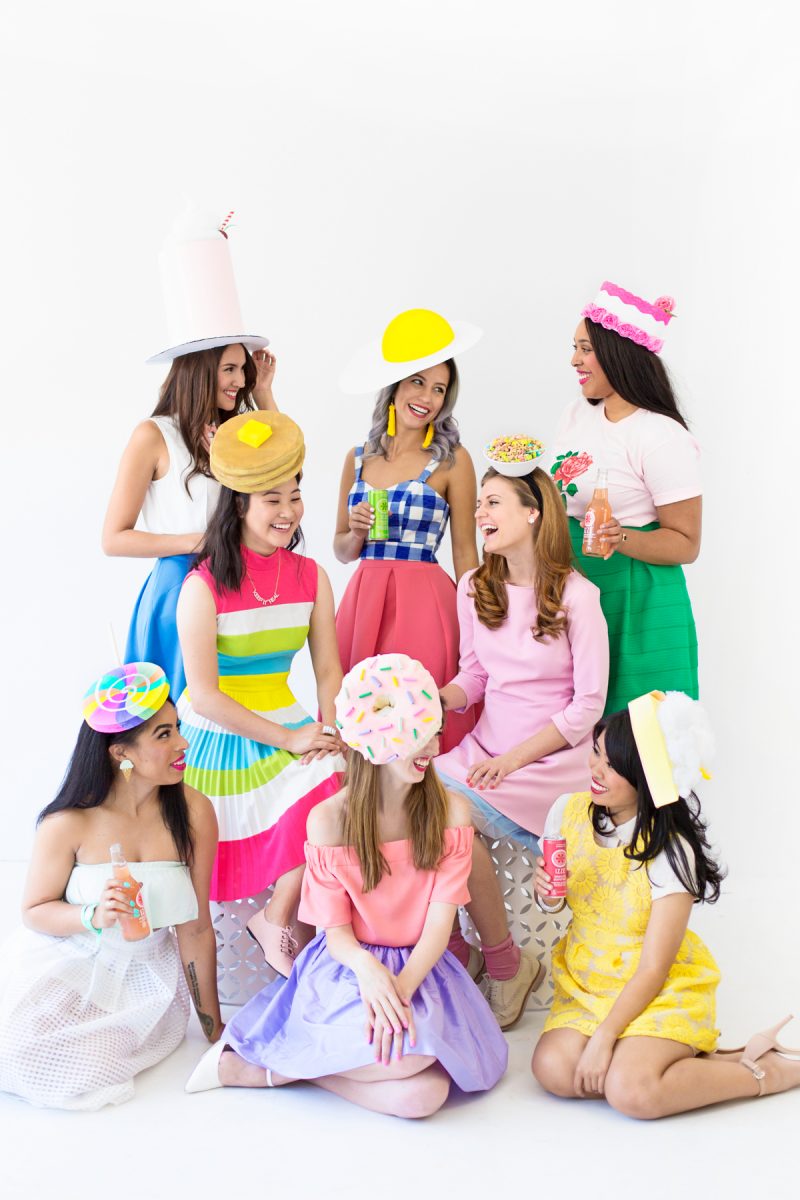 I have been wanting to throw a Derby party for literally EVER! I just had a vision of everyone in crazy, food-themed (obviously) hats and schnazy outfits and well…. we finally made it happen!!! We teamed up with IZZE to throw a "Hold On To Your Hats!" party. IZZE is all about fun and color, just like us… so this bash was a match made in heaven! Whether you're super into the Kentucky Derby or not, it's a pretty great excuse to make some fun hats with your friends and have some yummy sips and sweets!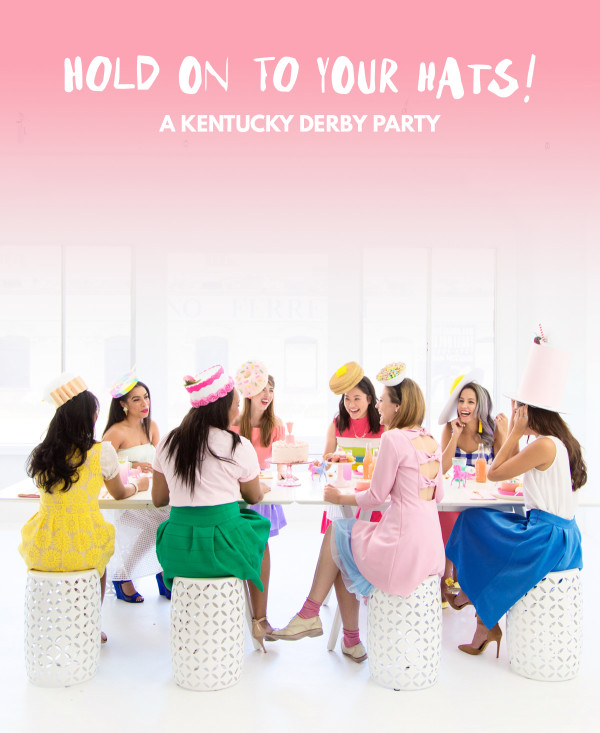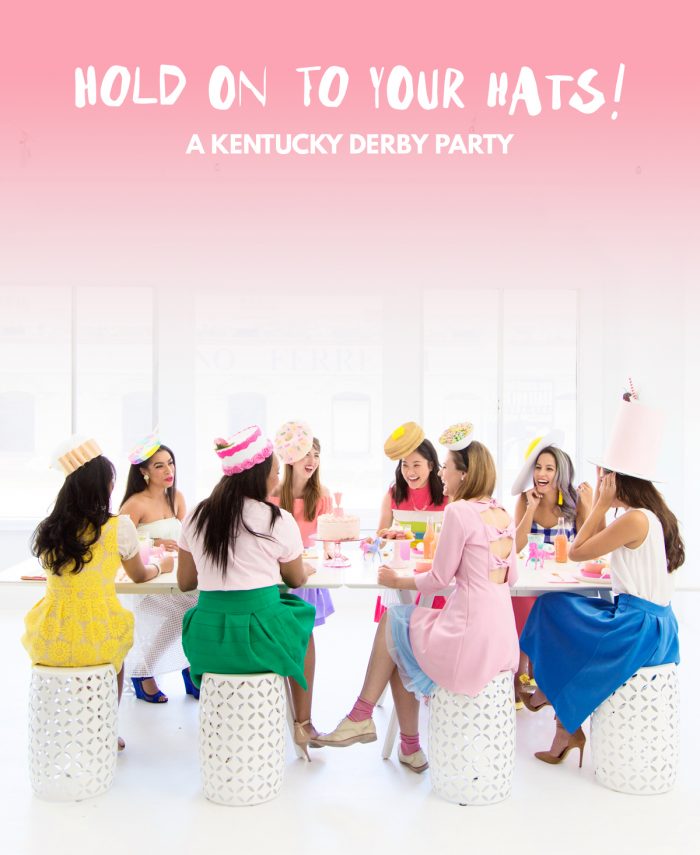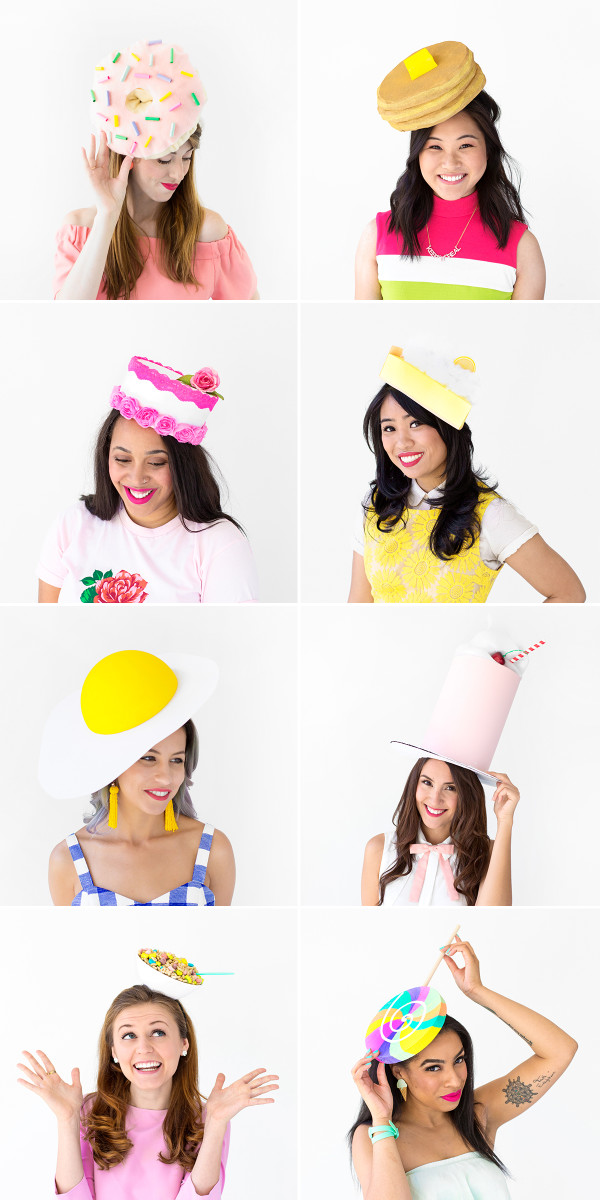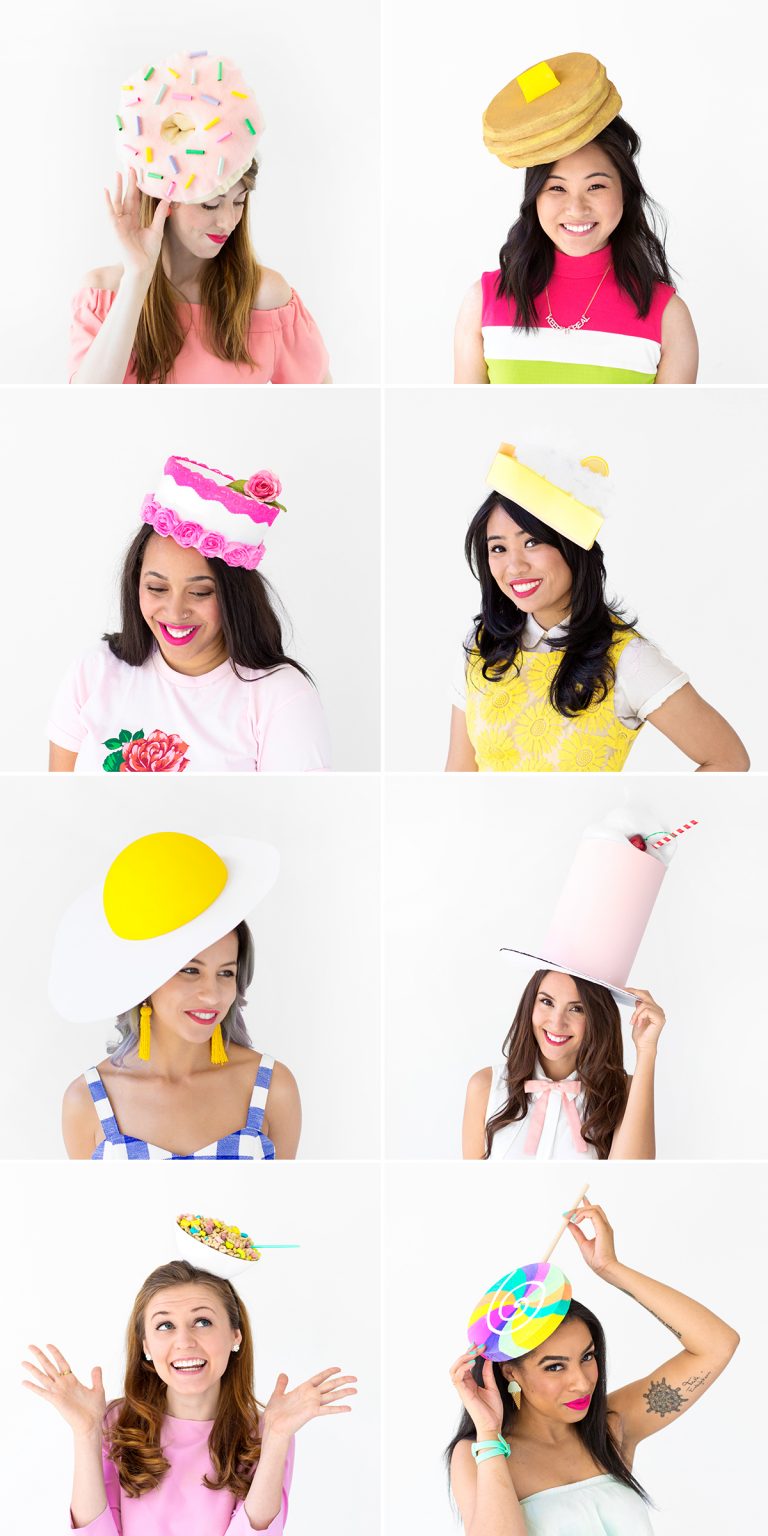 I mean… can you EVEN with those hats!?!?!?!?! Get the tutorials for all of our wacky hats below!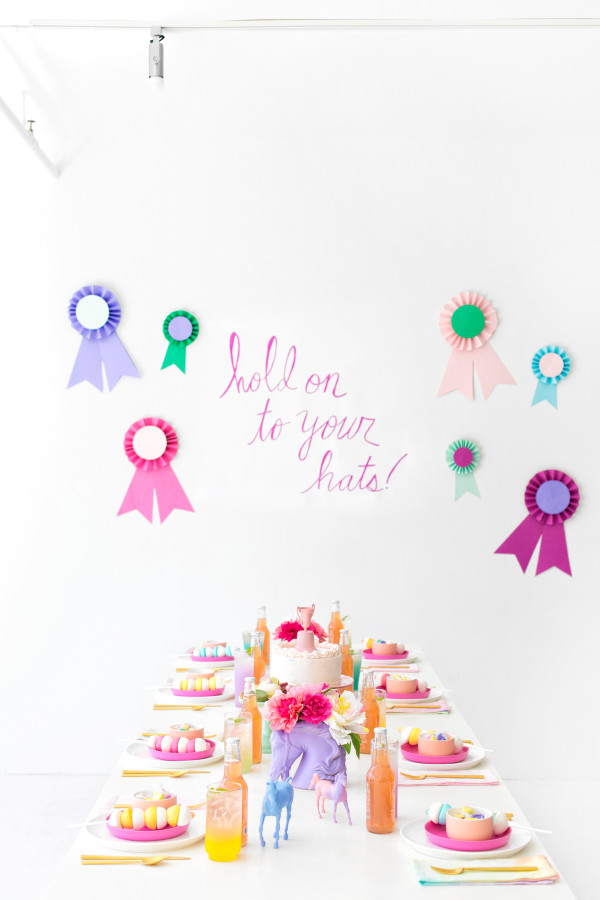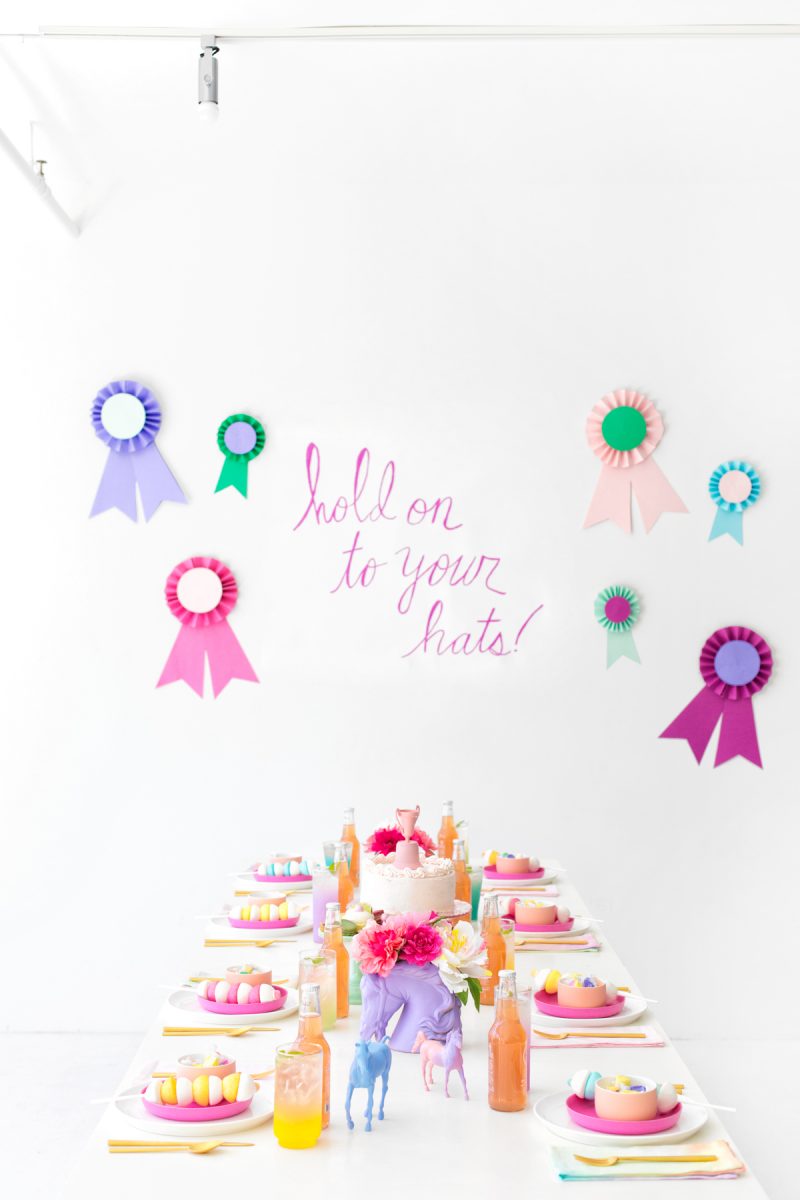 Before we dive into the hats, here's a quick breakdown of how we styled the table!
DECOR: We found a bunch of horse figurines and vases and spray painted them pastel colors. Then we made giant versions of award ribbons and hung them on the wall alongside a hand-painted sign.
TABLEWARE: We used tableware in shades of pink and our tie dye napkins from our last partnership with IZZE! Love how versatile they are.
DESSERT: I love using food and desserts as a part of the decor, so we incorporated our cake in the center of the table with a painted trophy as it's topper! Be sure to put a circle of parchment underneath the topper to protect the cake. We also filled mini bowls with taffy as a fun favor!
DRINKS: We picked IZZE Sparkling Grapefruit as our star beverage because it was yummy, tart and refreshing and it's also just so pretty! If you're a cocktail kind of gal, you can jazz up a traditional mint julep and make it a grapefruit julep by adding IZZE! Mmmmm!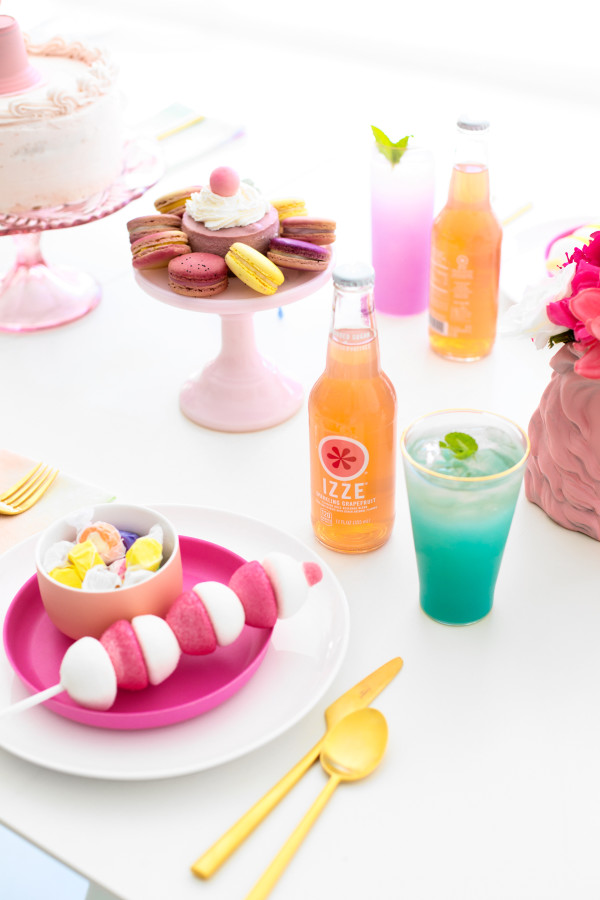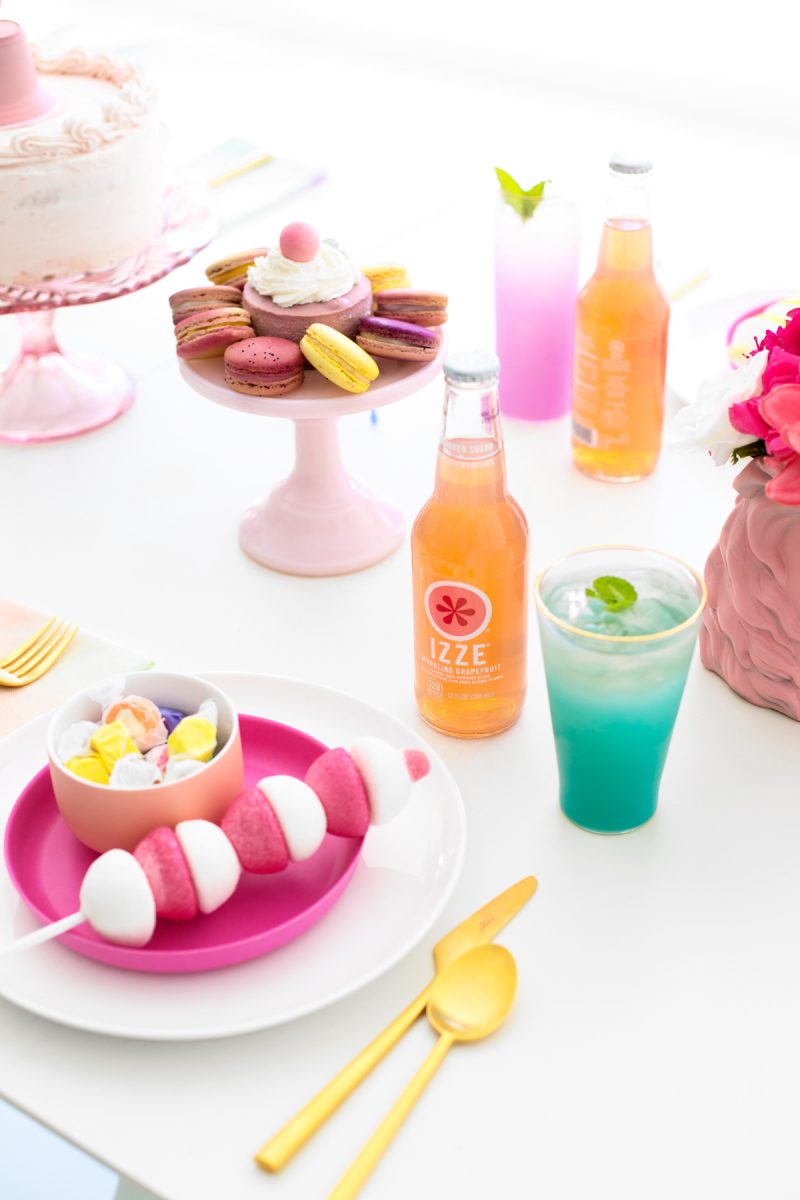 Ready to make some hats, ladies!?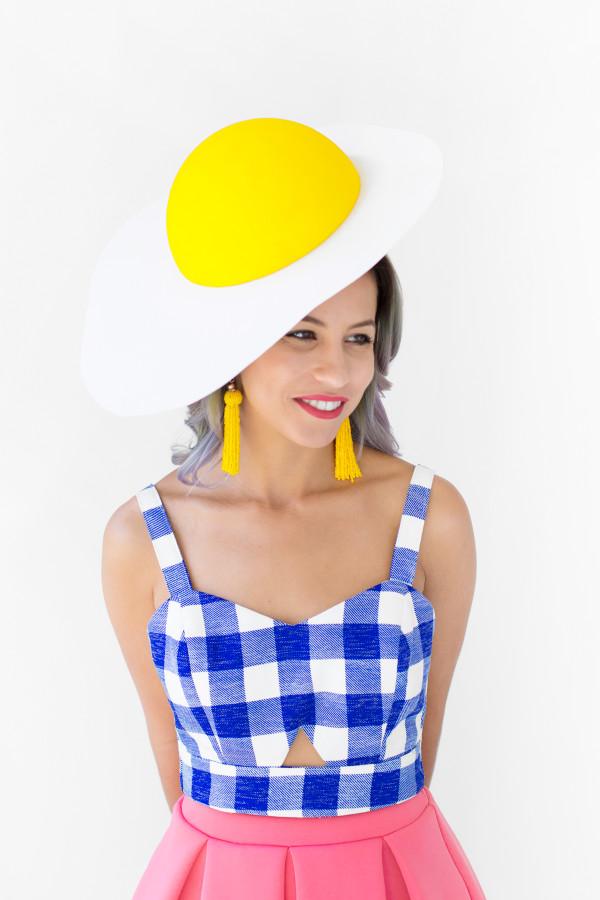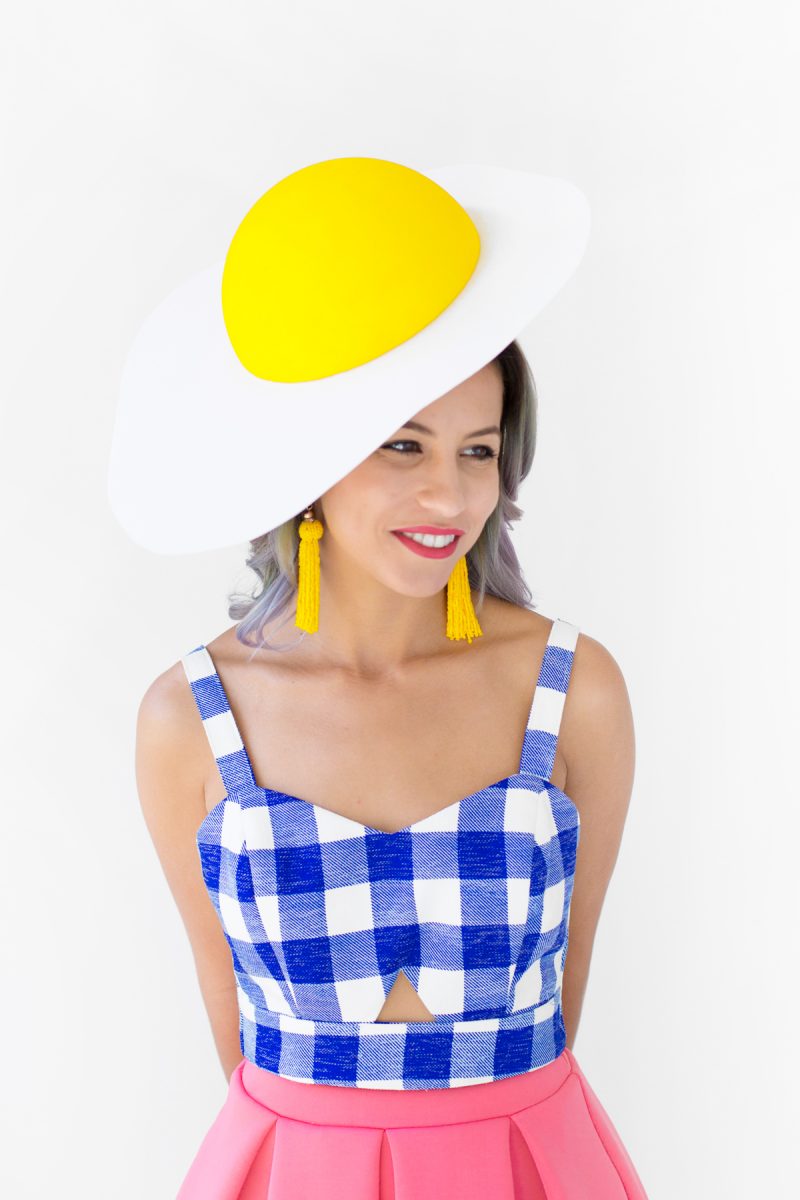 DIY Egg Hat
You'll Need: White Poster Board, Foam Dome (or circle cut in half), Yellow Paint, Scissors, Hot Glue Gun, Headband
To Make: Paint the foam shape yellow and let dry. Cut a egg shape out of poster board. Hot glue the foam shape onto the poster board and then the poster board onto a headband.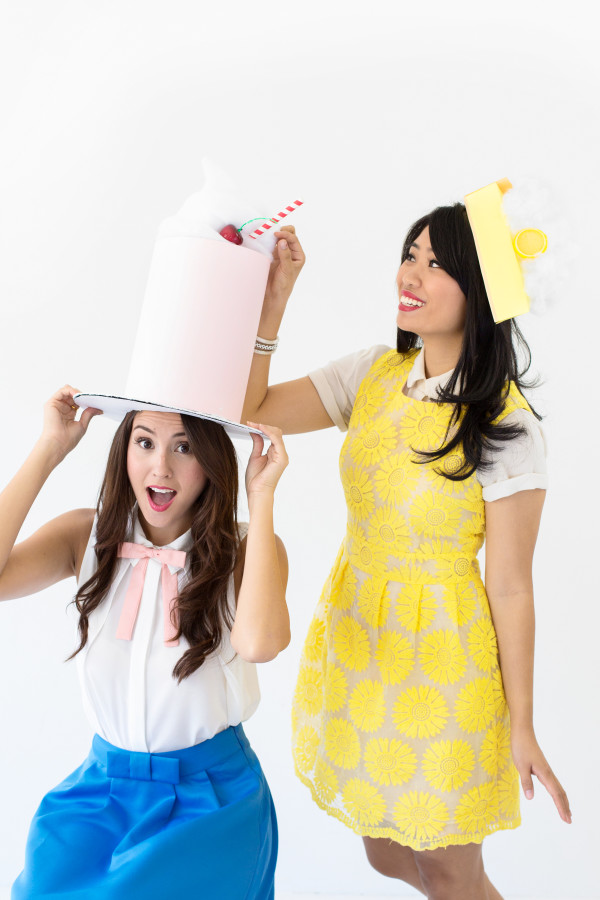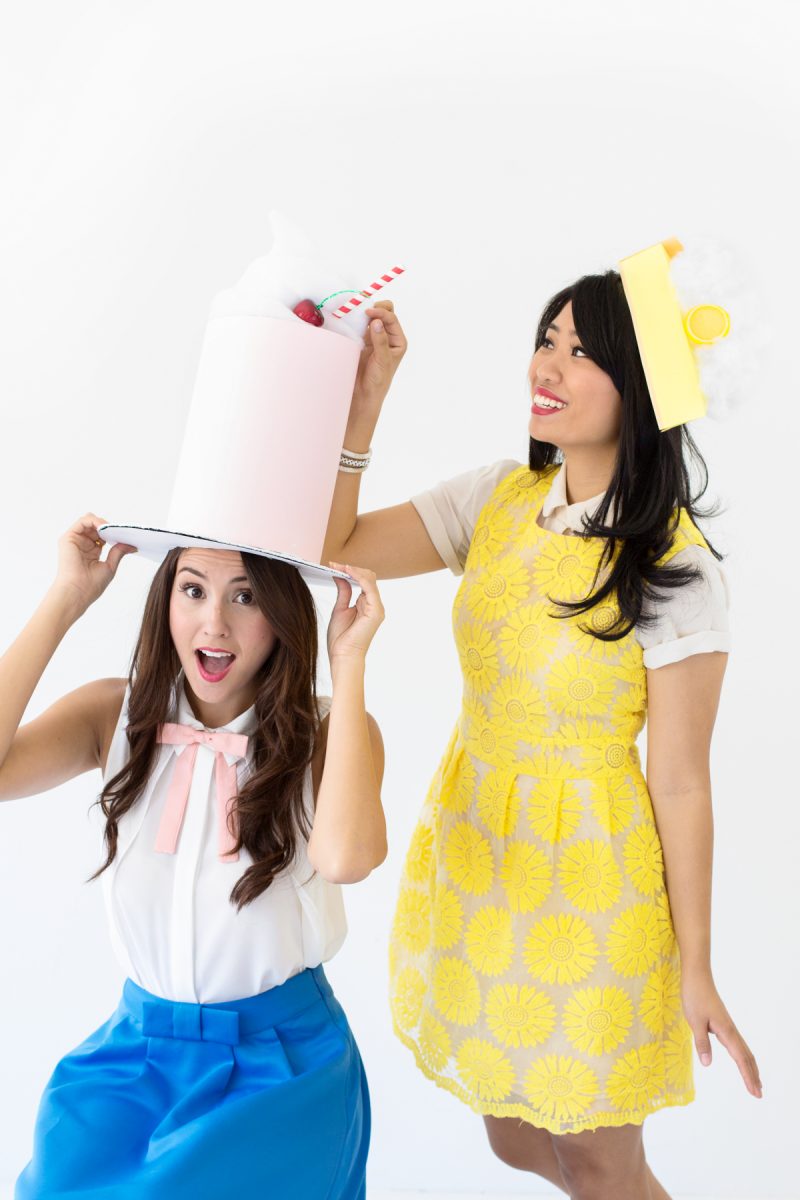 DIY Milkshake Hat
You'll Need: Top Hat, Pink Poster Board, Cotton Batting, Straw, Fake Cherry, White Paint, Scissors
To Make: Cut a piece of poster board that is the height of the top hat, and long enough to wrap around it. Hot glue in place. Twist a piece of cotton batting into a whipped cream shape and glue on top of the hat. Glue in a straw and cherry and paint the brim of the hat white, if desired.
DIY Lemon Meringue Hat
You'll Need: Yellow Cardstock, Tan Cardstock, Polyester Stuffing, Fake Lemon Slice, Hot Glue Gun, Pie Box Template
To Make: Cut an enlarged pie box template (you can find them online!) out of yellow cardstock and assemble. Bend a piece of tan cardstock to make ridges and glue onto the back of the pie slice. Glue cotton batting on top of the pie and finish with a lemon slice.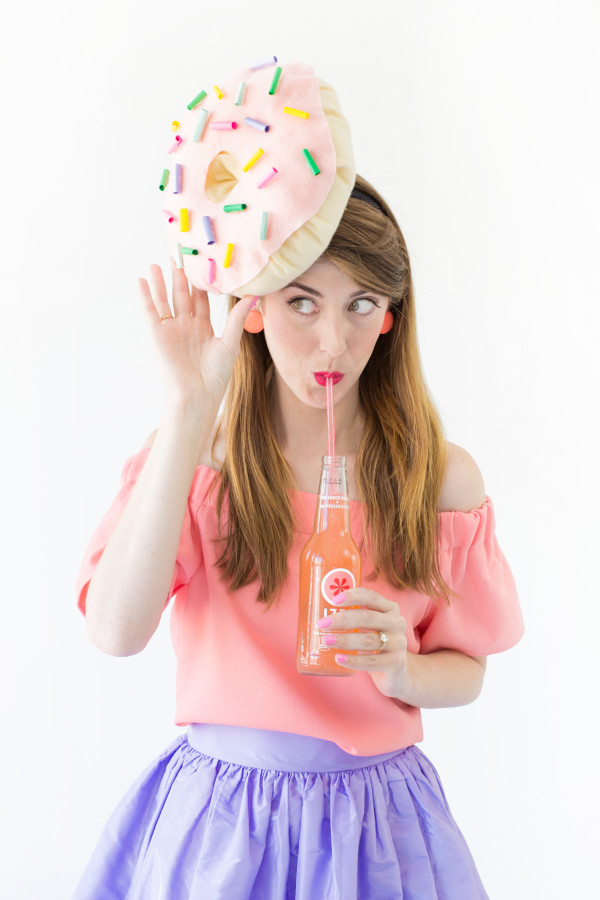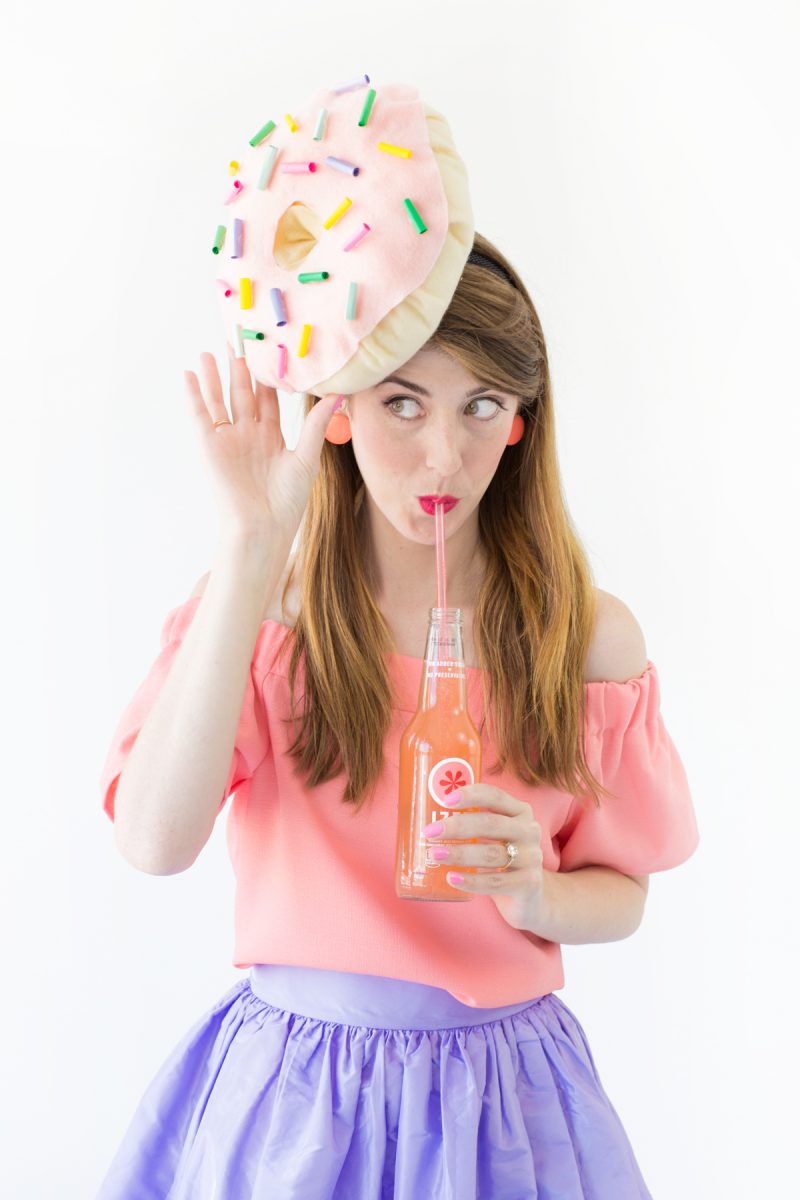 DIY Donut Hat
You'll Need: Foam Wreath Mold, Tan and Pink Felt, Cotton Batting, Scissors, Paper in Various Colors, Tape, Hot Glue Gun, Headband
To Make: Wrap the wreath mold with 2-3 layers of cotton batting and hot glue to secure. Wrap the cotton batting with tan felt, securing it in the center with hot glue. Cut out a donut frosting shape from pink felt and glue on top. Roll small pieces of paper into tube shapes and tape them to make the sprinkles. Hot glue the sprinkles all over the frosting. Secure to headband with hot glue.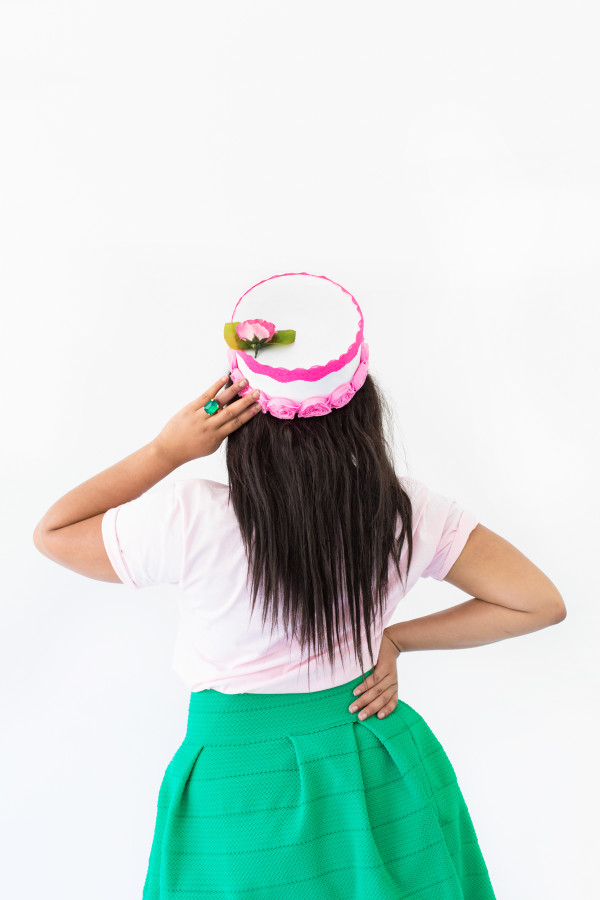 DIY Cake Hat
You'll Need: Round Box, White Paint, Various Lace/Flower Trims, Faux Flower, Hot Glue
To Make: Paint the box white and let dry. Add trim as desired. Hot glue a flower on top as a finishing touch!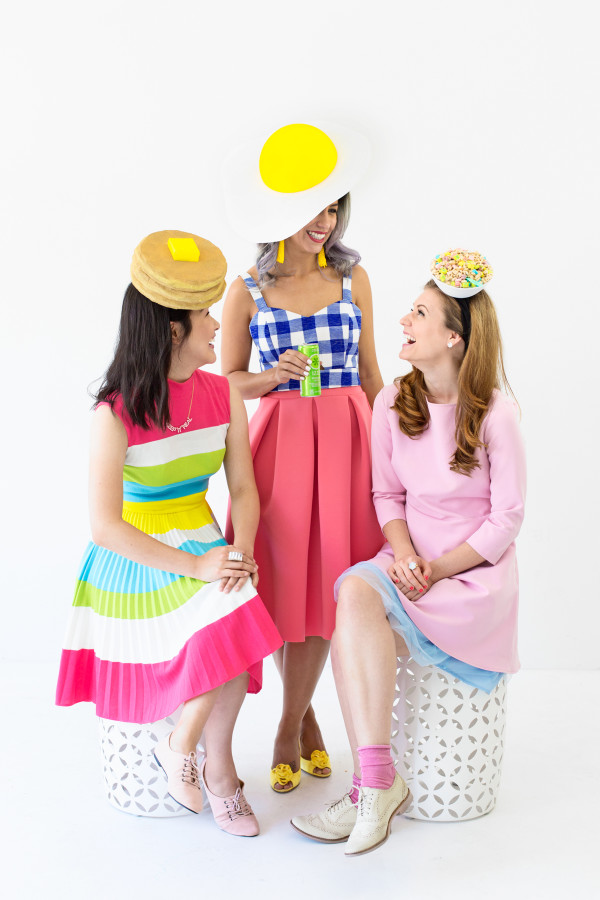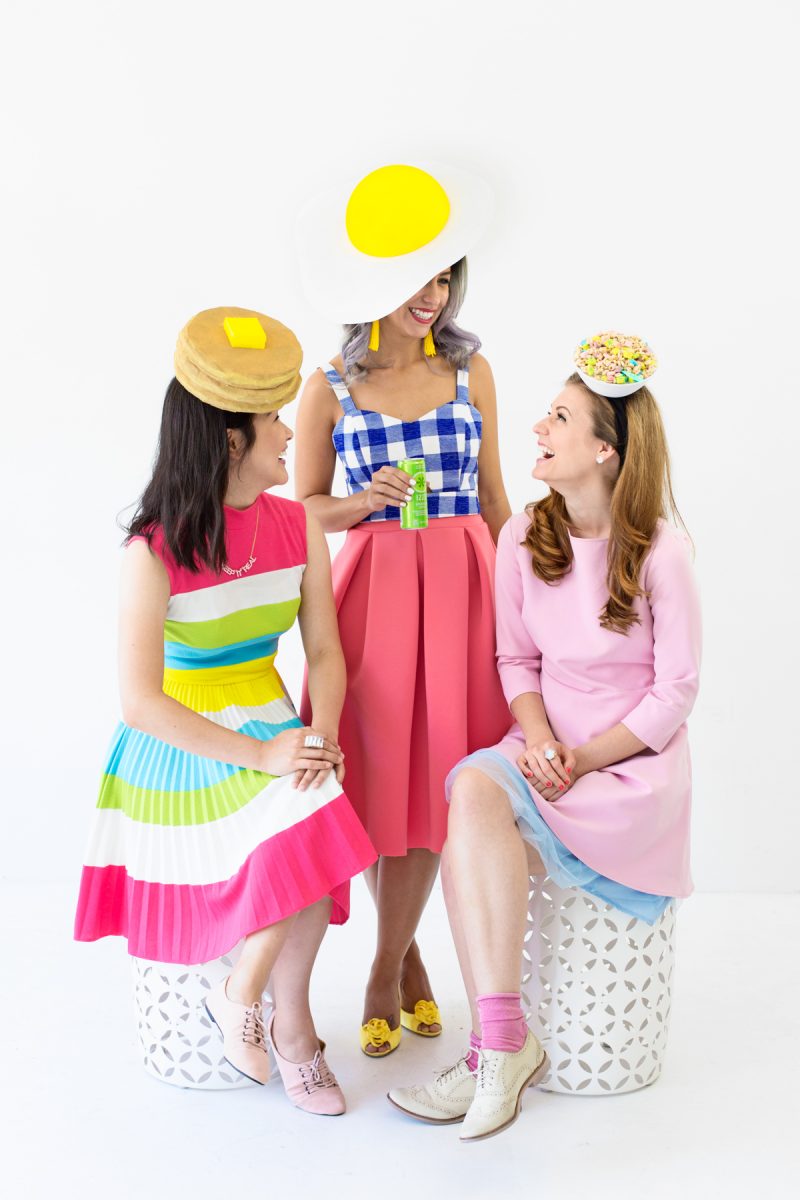 DIY Pancakes Hat
You'll Need: 1/2″ Thick Upholstery Foam, Tan/Brown Paint, Yellow Paint, Headband, Scissors
To Make: Cut three circles of foam. Trim the edges on the diagonal. Glue the pancakes together and paint with tan paint, making the edges lighter than the top. Cut a square out of foam and paint it yellow. Let it dry, then glue to the top of the pancake stack. Glue to a headband!
DIY Cereal Bowl Hat
You'll Need: Melamine or Plastic Bowl, Poster Board, Cereal of Choice, Hot Glue, Plastic Spoon, Headband
To Make: Cut a circle of poster board, slightly smaller than the rim of the bowl. Glue inside the bowl. Poke a hole in the poster board and put the spoon through it, so the handle sticks out. Cover the poster board by hot gluing cereal in layers on top of it. Hot glue to a headband.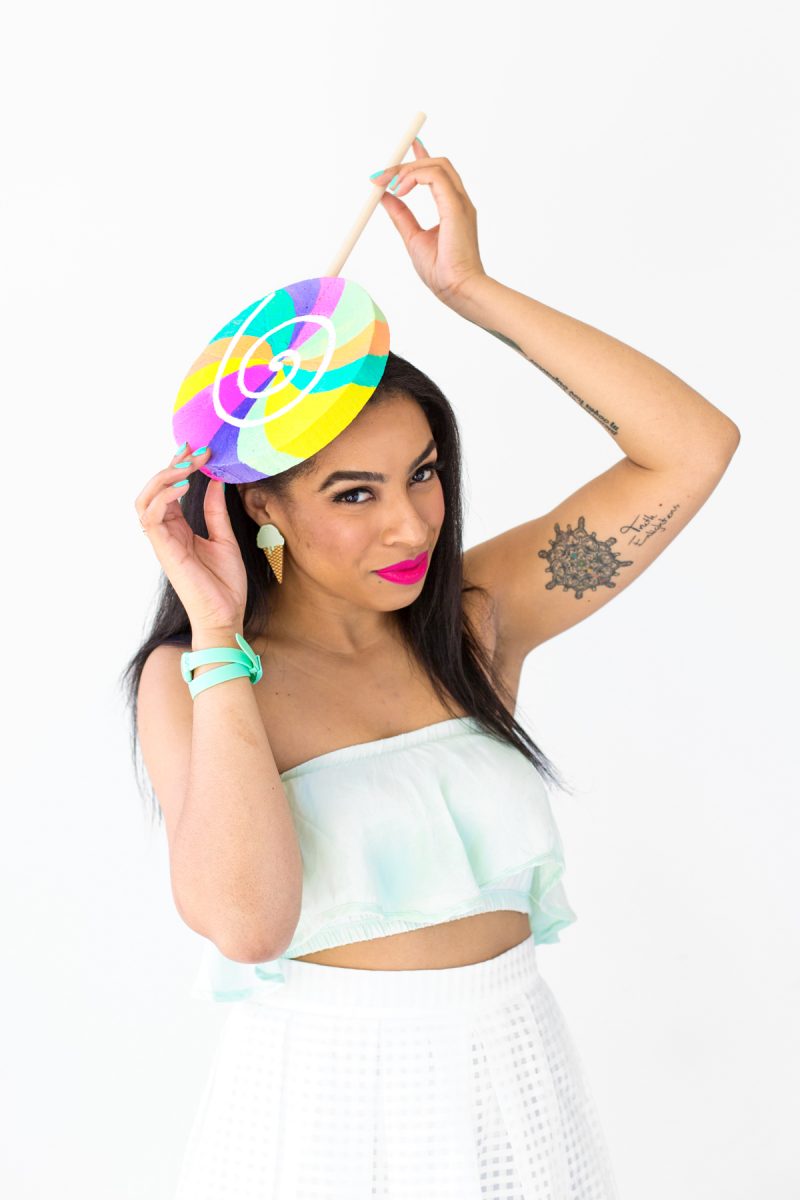 DIY Lollipop Hat
You'll Need: Foam Disc, Wooden Dowel, Paint in a Variety of Colors, Hot Glue Gun, Headband
To Make: Paint a rainbow swirl onto the disc, making sure to cover the sides as well. Paint a white swirl shape overtop, to give it a lollipop feel. Poke a hole into the disc and insert the dowel as far as possible, being careful not to puncture the front/back of the disc. Hot glue to a headband.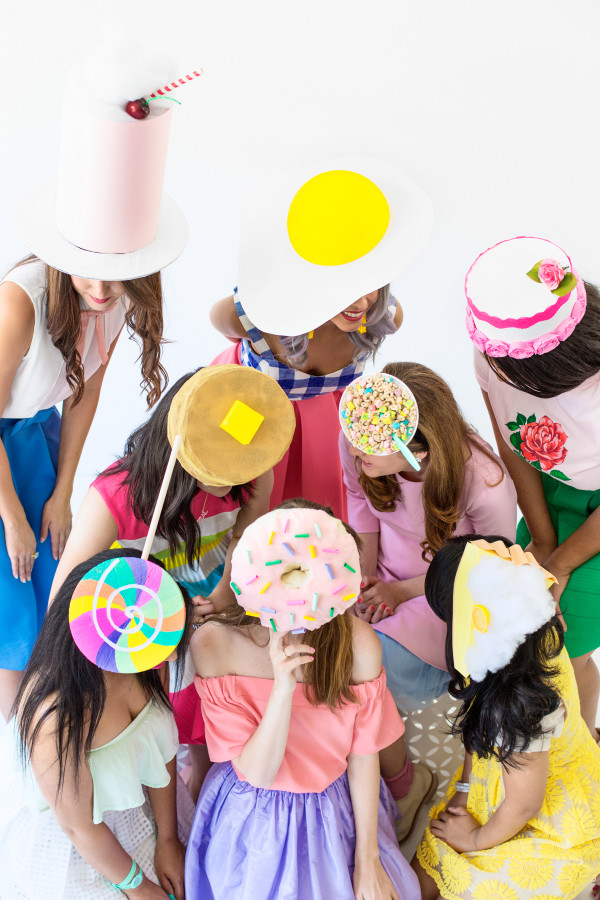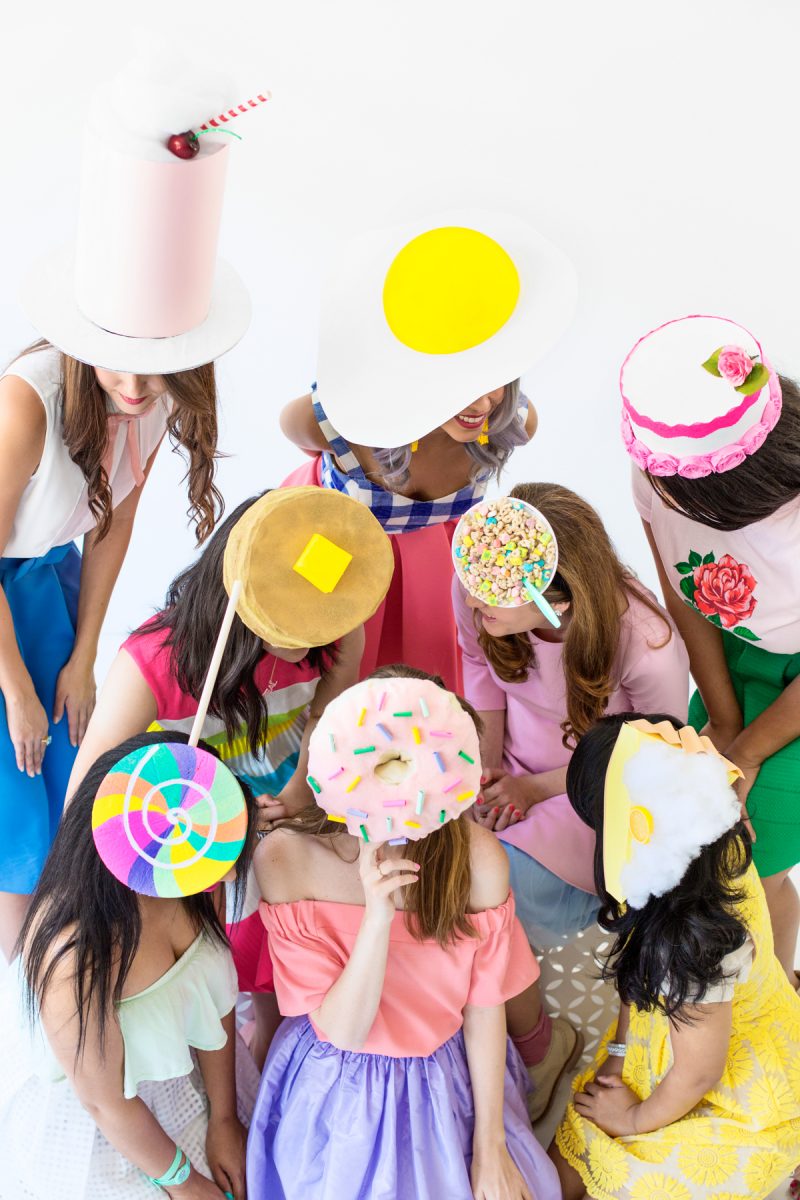 And once you have all your hats, it's time to find the most colorful outfits and get to partying!!! But really, how good do all these ladies look!?!?! I want every. single. outfit.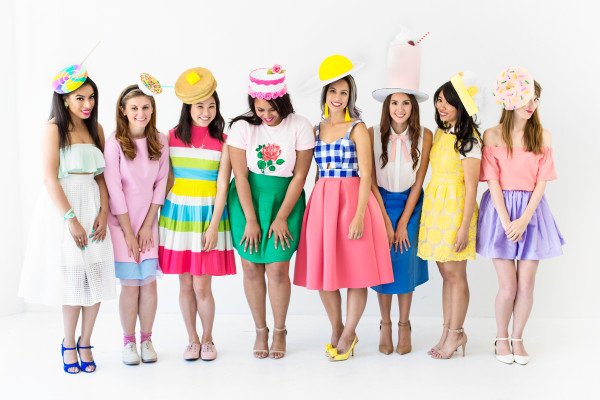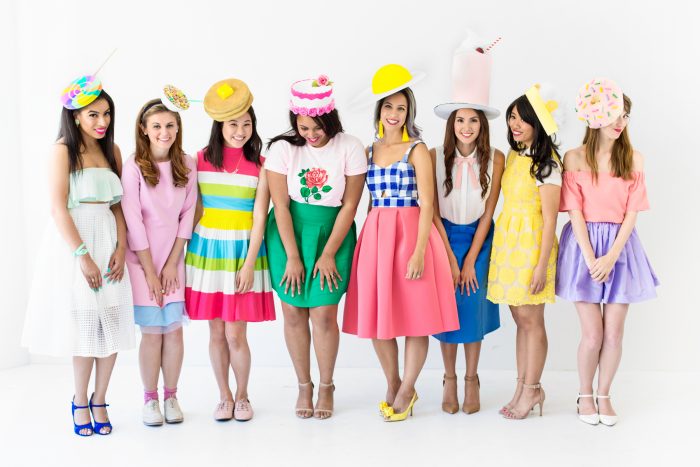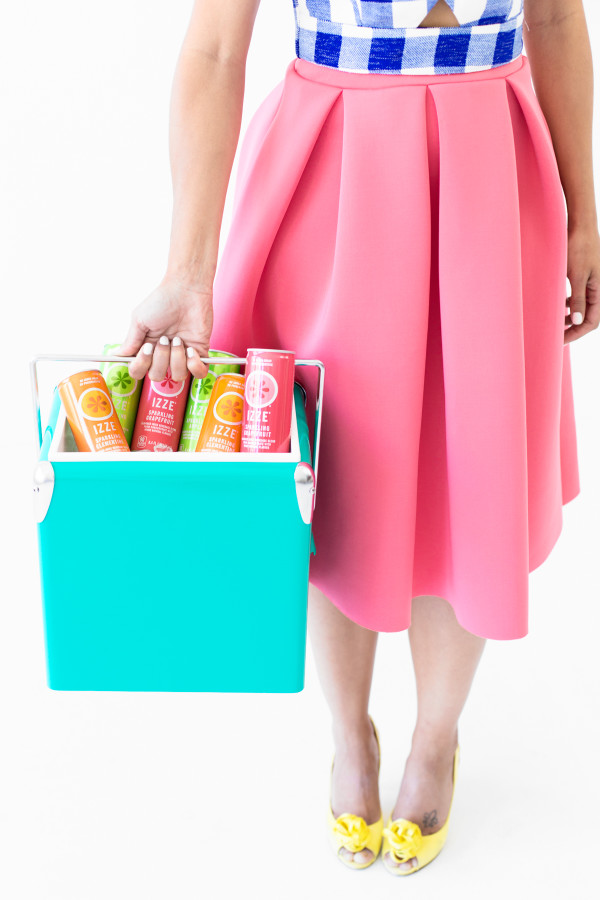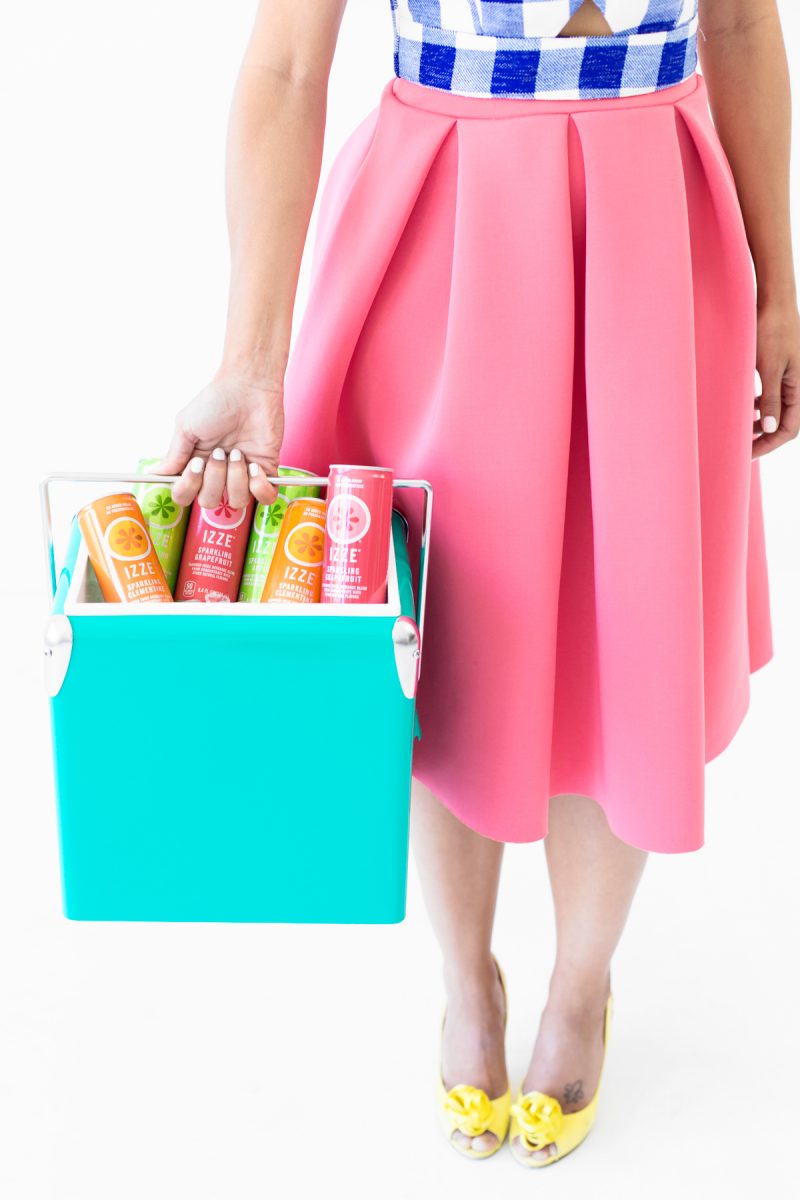 OK, OK. We threw in a little IZZE Sparkling Apple and Sparkling Clementine, too. Couldn't resist those flavors! This whole can/cooler/skirt/shoe situation is EVERYTHING.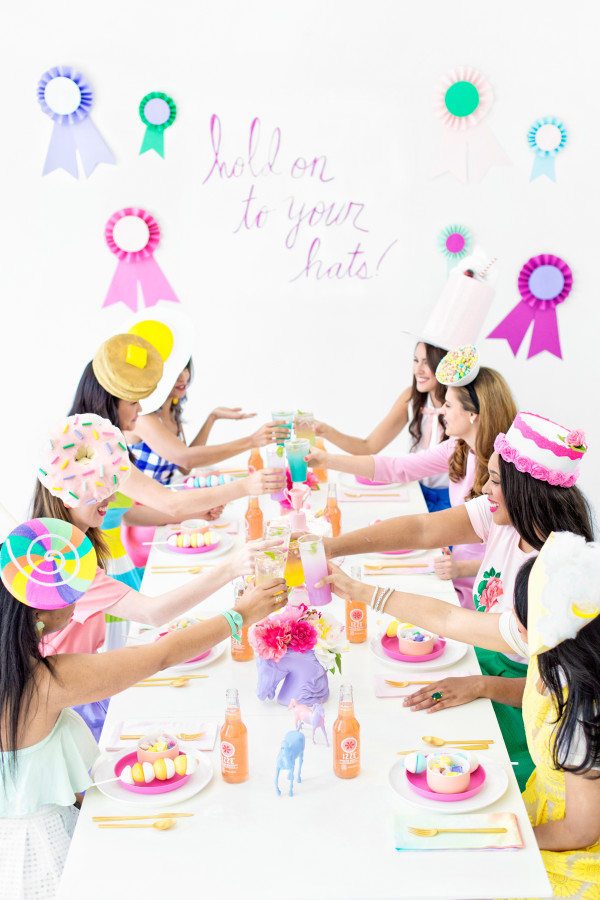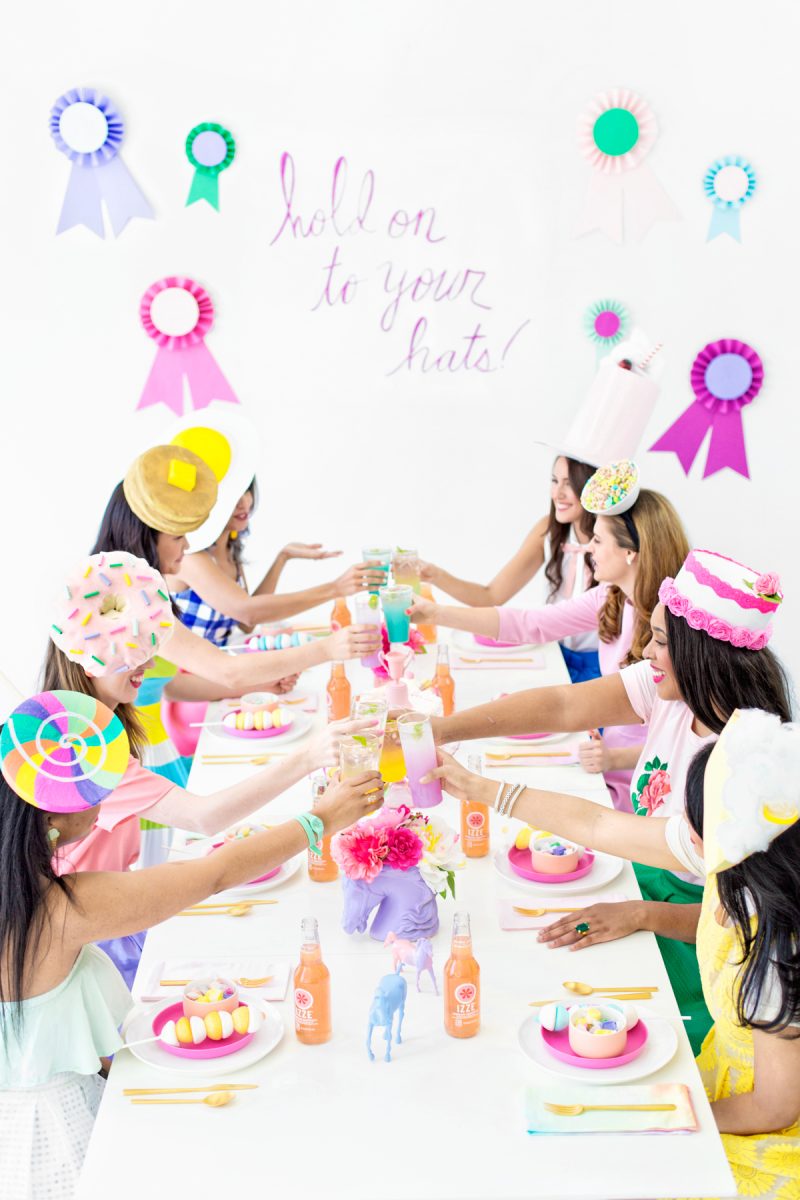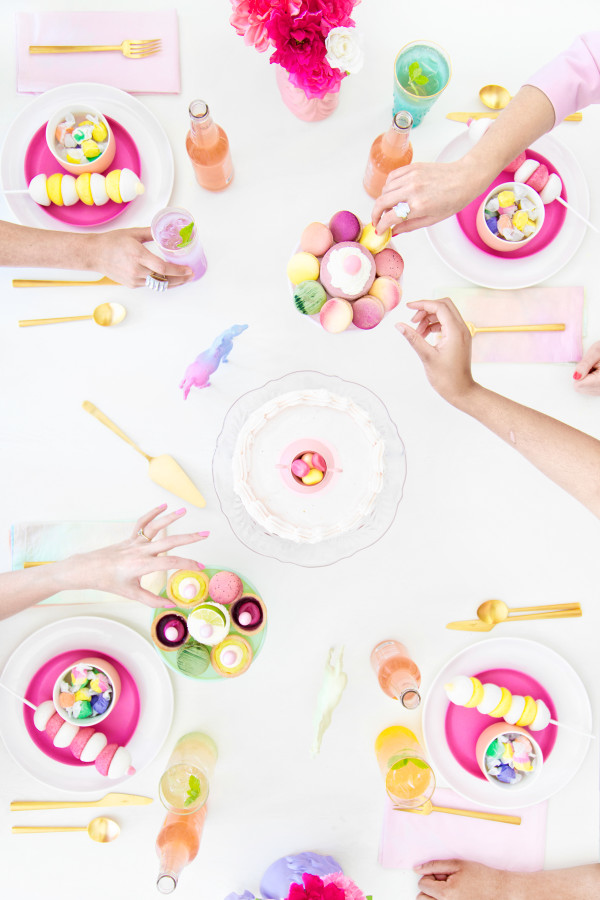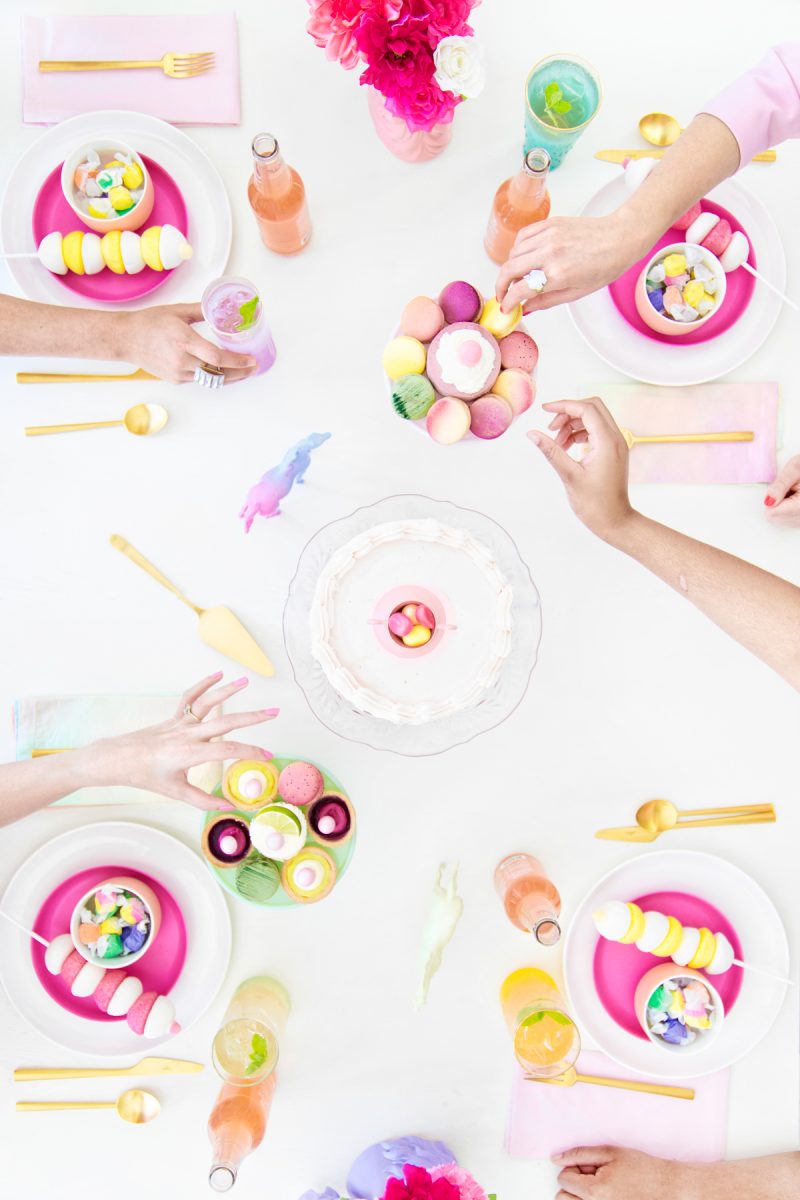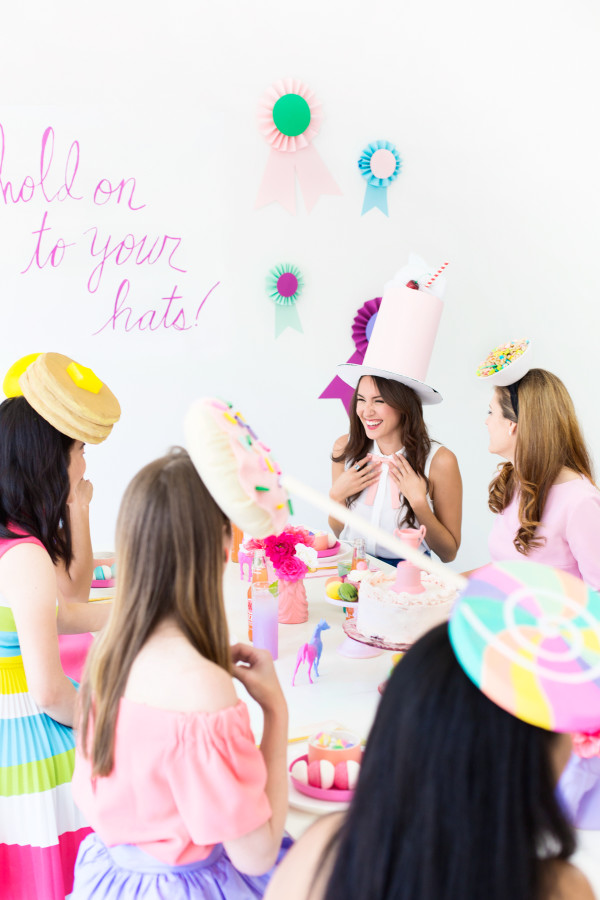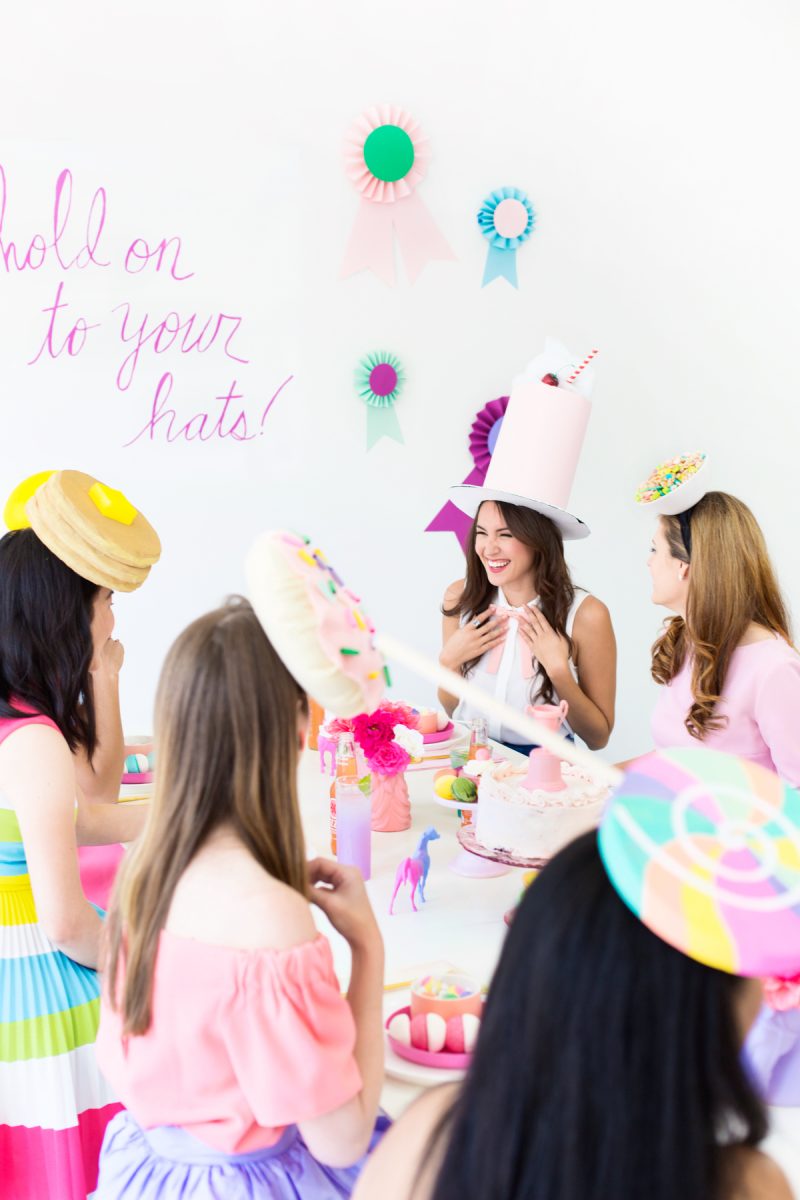 Cheers!!!!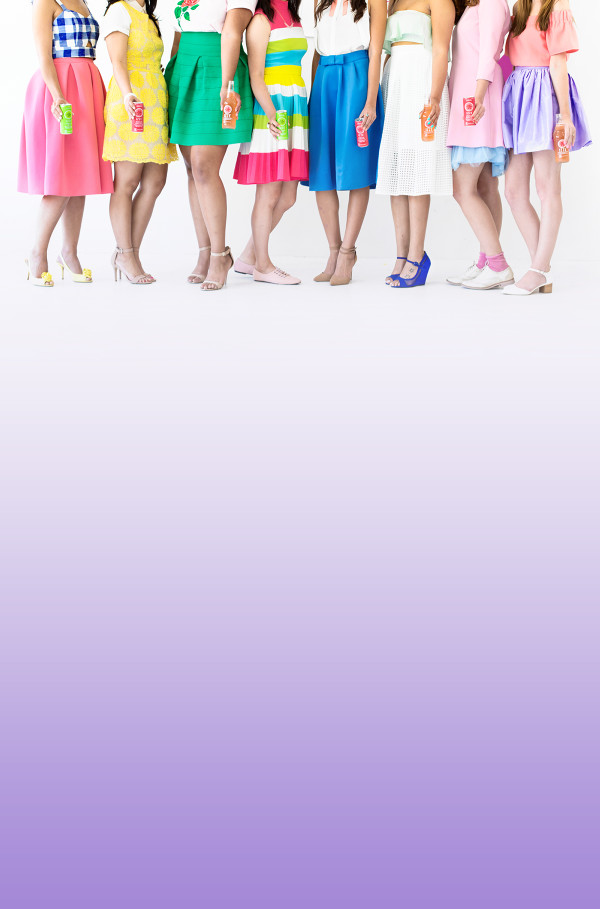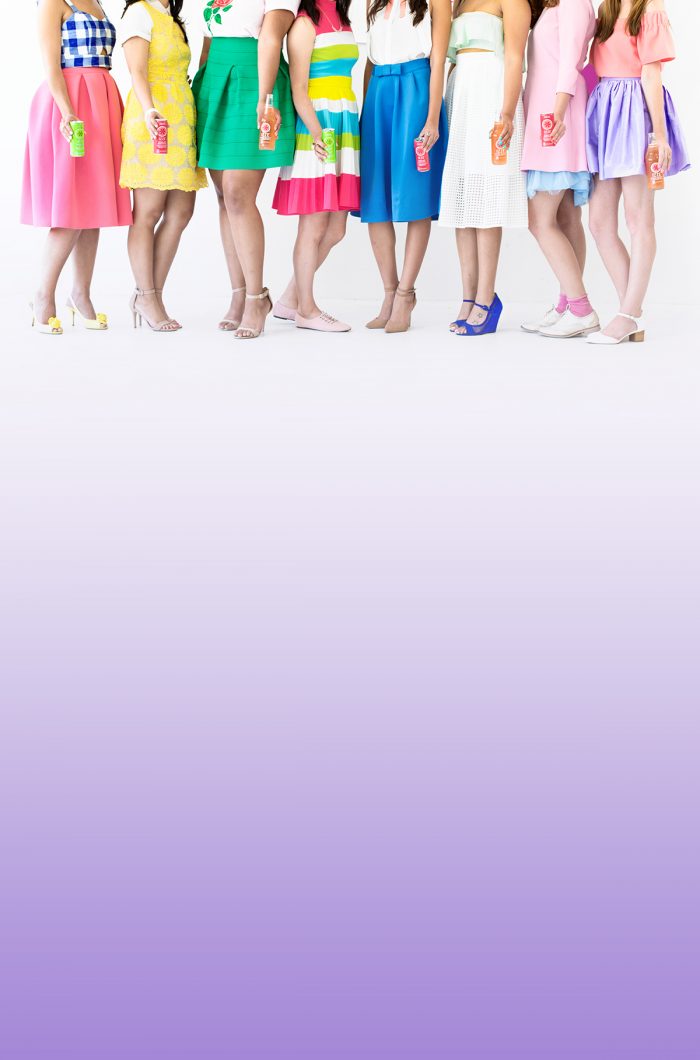 Photos by Jeff Mindell
Wardrobe Styling by Jordy Scheinberg | Makeup by Page Beauty
Hand Lettering by Chelsea Evers | Craft Production by Annie Steward
Creative Direction by Kelly Mindell
I gotta give a huge shoutout to our awesome readers who stepped in as models for the day and to our partners at IZZE for being the perfect pairing with our kooky ideas! Which hat would YOU guys choose to wear!?!?!? Be sure to tag #troopstudiodiy if you make one for the derby!
This post was created in partnership with IZZE. All content and opinions are that of my own! Thank you for supporting the sponsors that keep the Studio DIY party going! Read more about my editorial policies here.