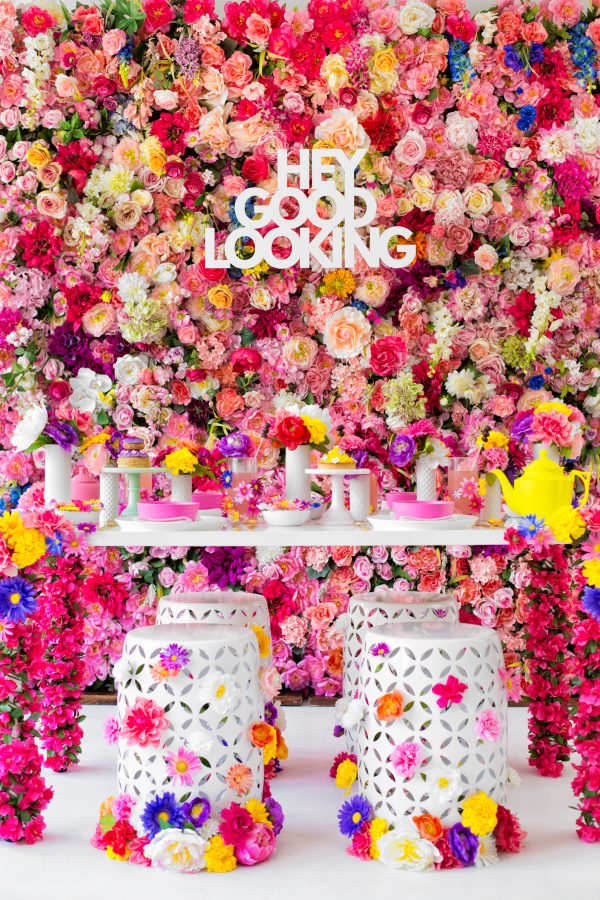 Well if you ever questioned our dedication to the #studiodiymoreismore hashtag, today's post will officially prove you WRONG! We're teaming up with DOVE® Chocolate this year for some chocolate covered goodness and kicking things off with an EPIC flower power brunch for all you cool moms out there! Chocolate and flowers are the perfect pairing, after all. Mother's Day is coming up quick and I love the idea of gathering your favorite mom friends together to celebrate making it through yet another crazy year of parenthood!
Check out our tips and tricks for putting together the flower power brunch to end ALL brunches. We've got everything from decor to dessert covered!
Outside of chocolate chips in your pancakes or chocolate frosting on your donuts, you might not often think of chocolate at brunch but DOVE®'s Fruit & Nut line combines chocolate covered berries and nuts for the perfectttt hint of chocolate at ANY time of day. We added them in to each of our treats (Check our smoothie bowl recipe below!) because we're always down for an excuse to eat chocolate.
Oh, and if you thought I was going to let that flower wall we found hang out on the streets of LA without somehow wrangling it up to the studio you must not know me well! It made the perfect backdrop for all our floral-covered-everythangggg!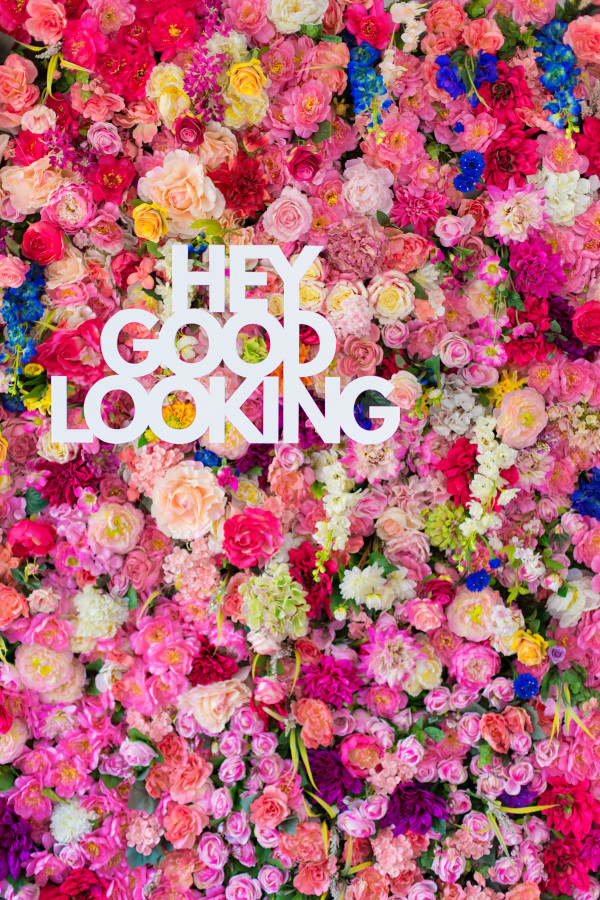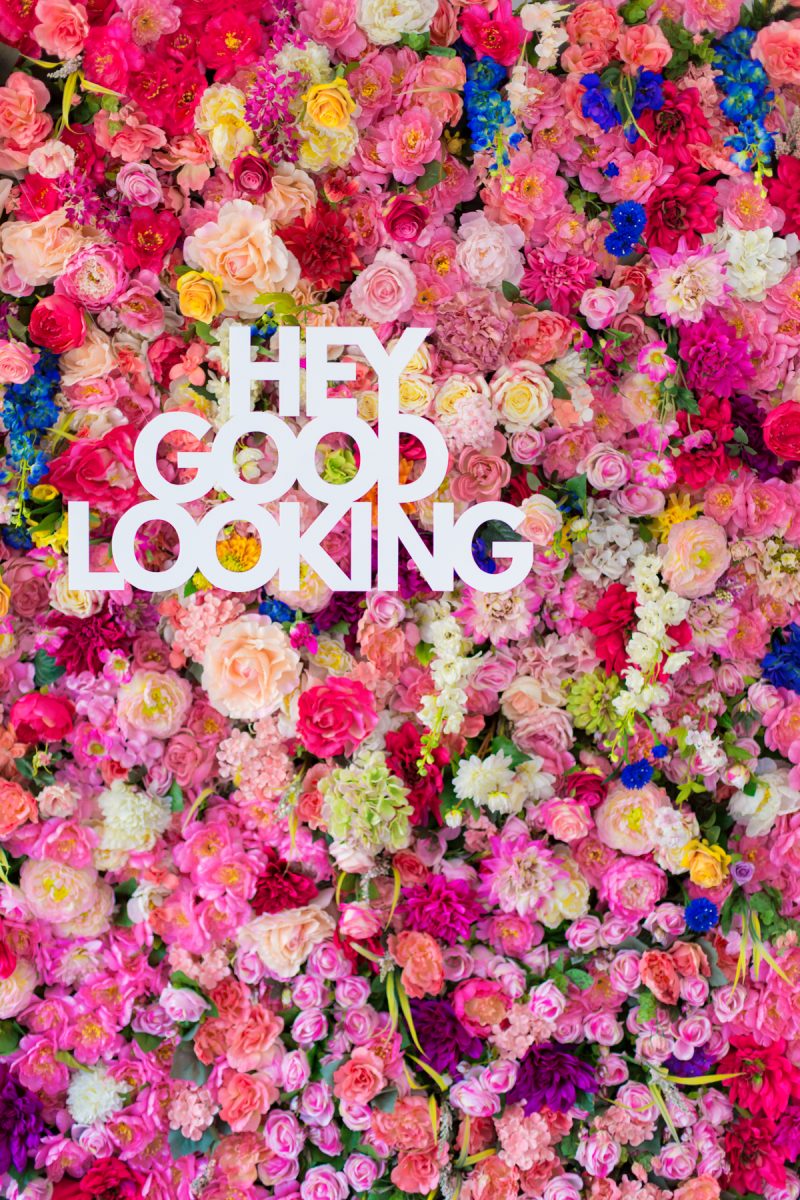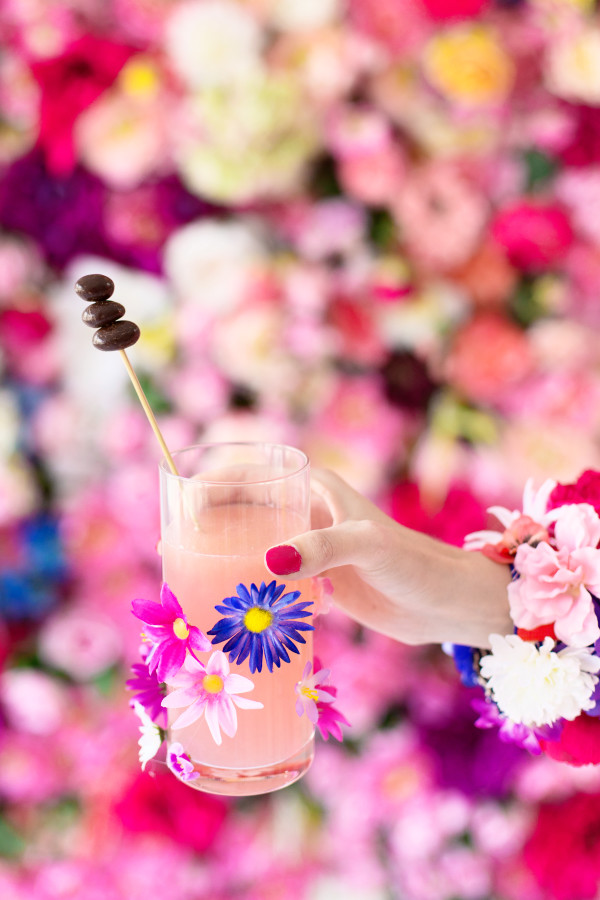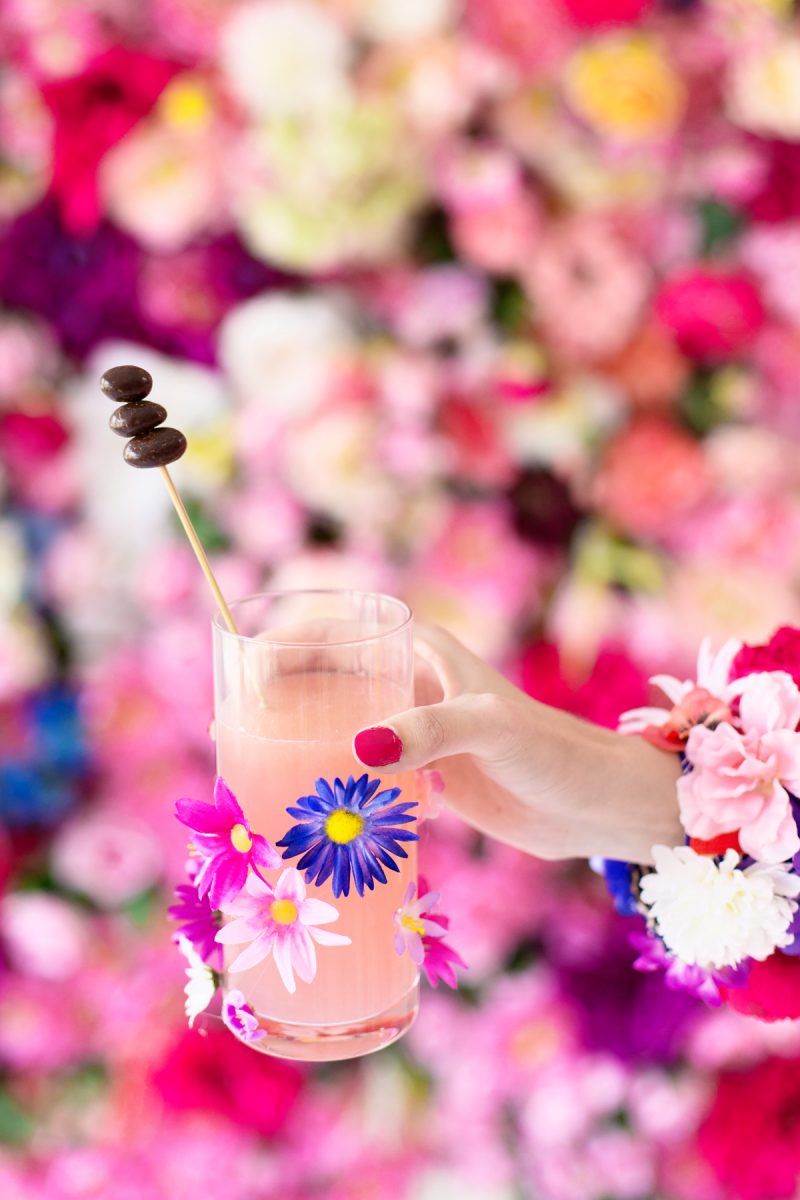 DIY Floral Glassware
We bought inexpensive acrylic barware and used E6000 glue to glue flowers in a cascading pattern on the glasses. If you want the flowers to be removable, you can use hot glue and they will pop right off afterwards! We added DOVE Fruit to bamboo skewers to make sweet drink stirrers!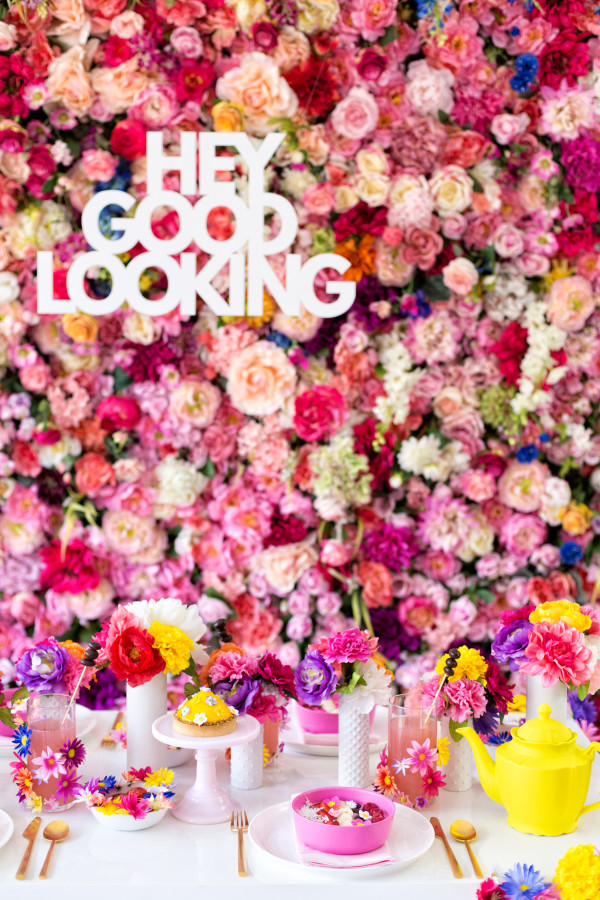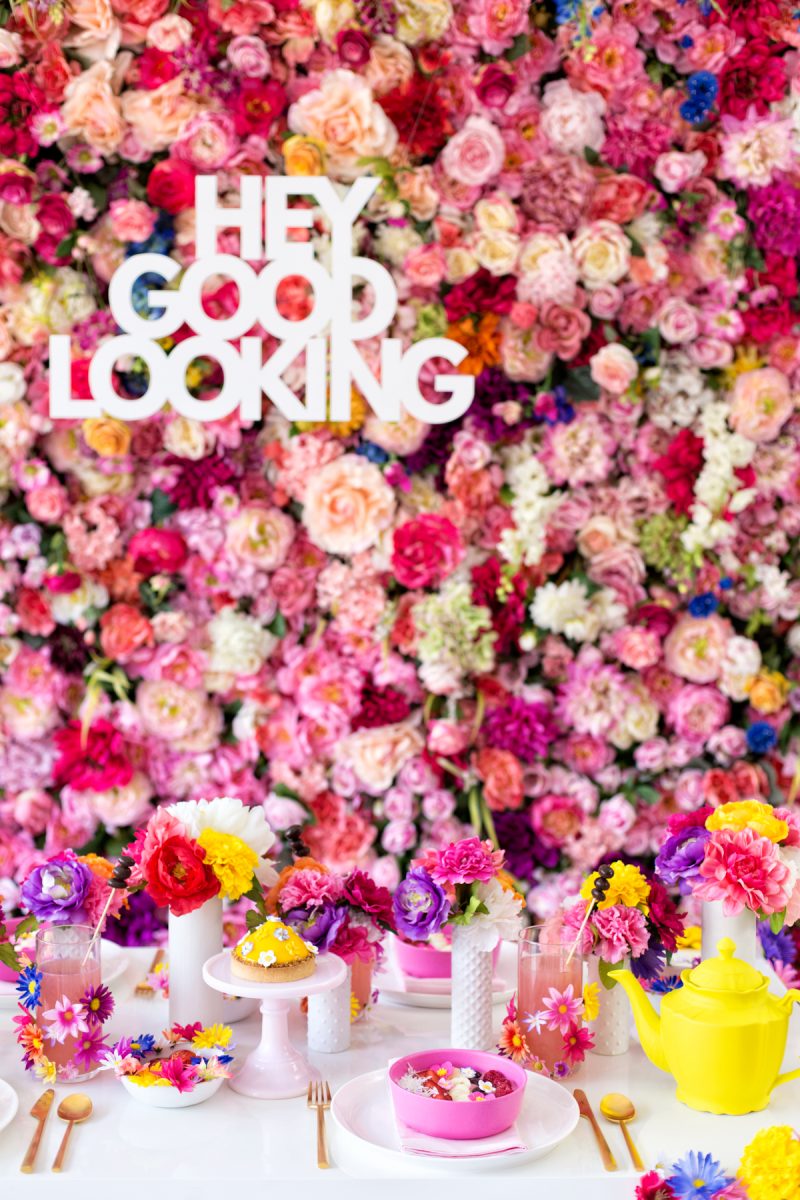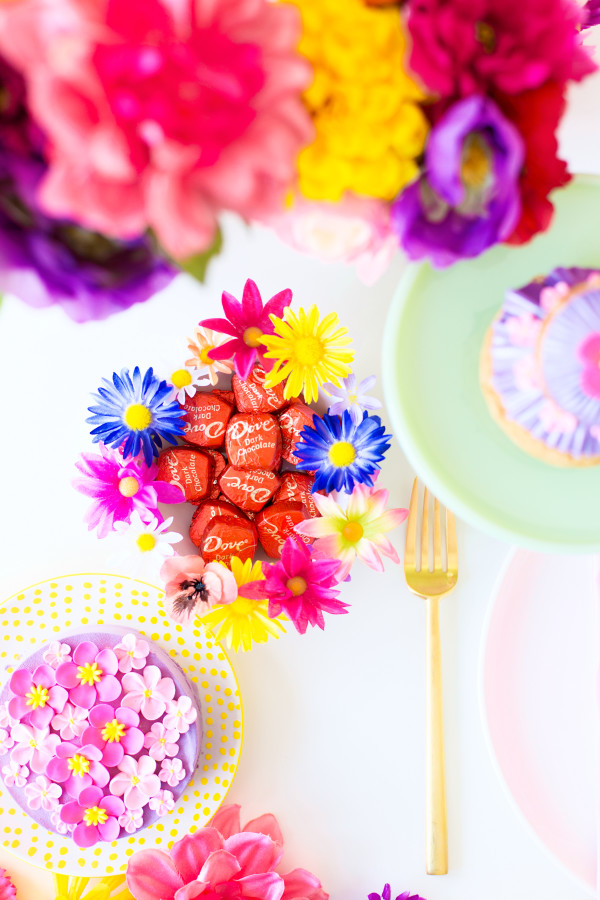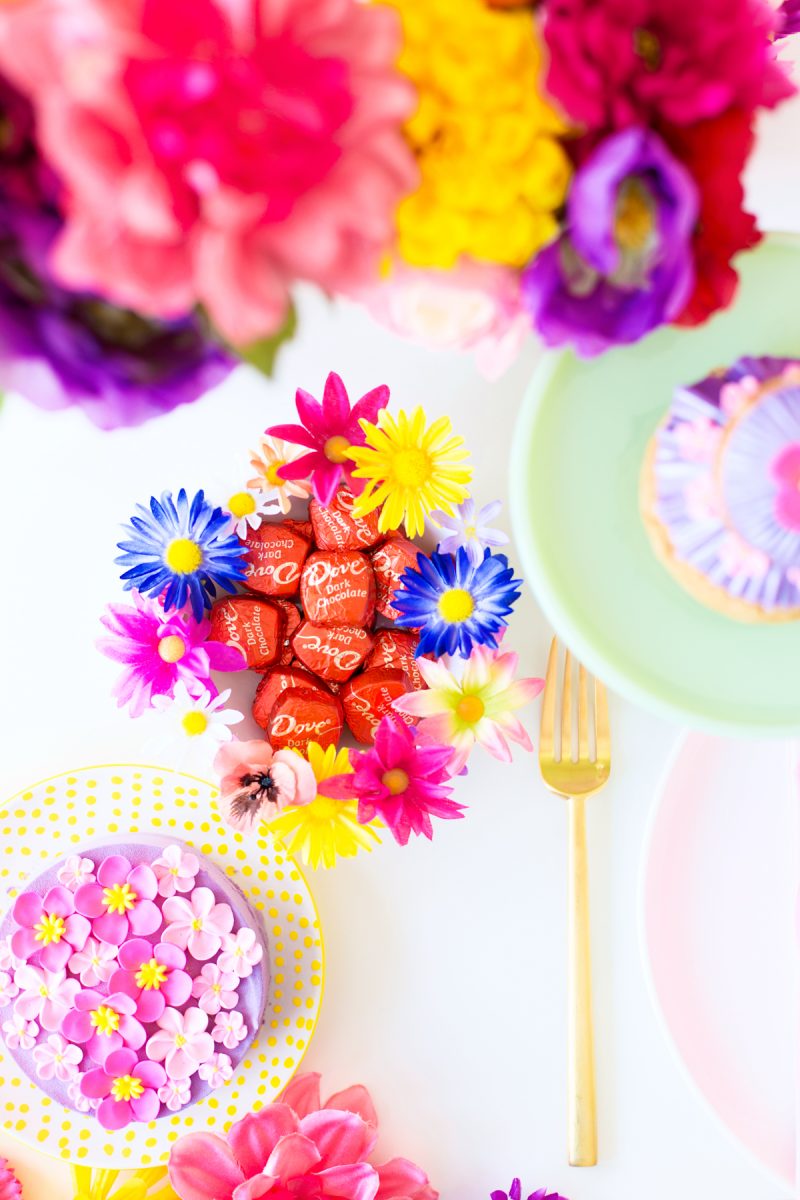 DIY Flower Power Ring Dishes
We bought plain mini bowls and glued small fake flowers along the rim. Filled with chocolates (We chose DOVE PROMISES in Dark Chocolate and Caramel Milk Chocolate.), they make the perfect favor!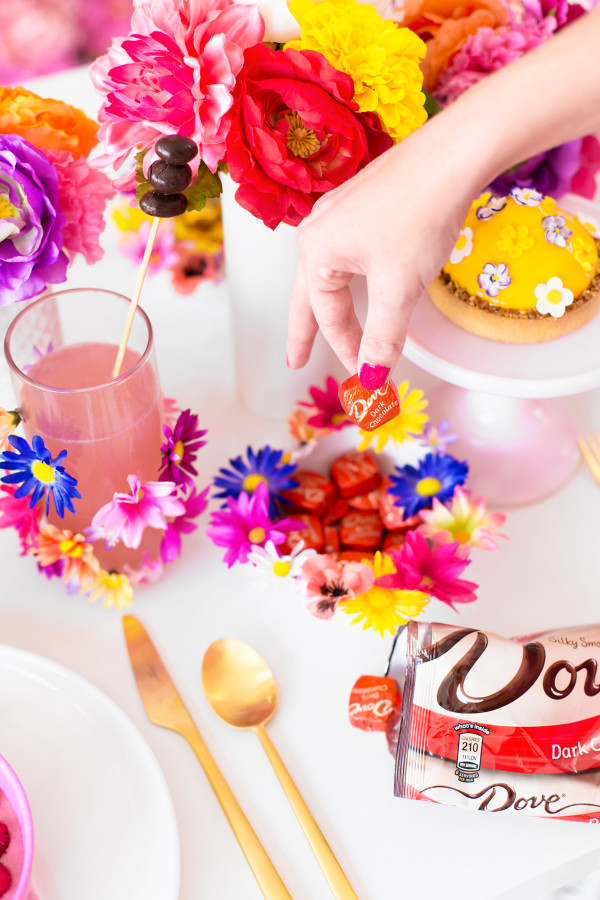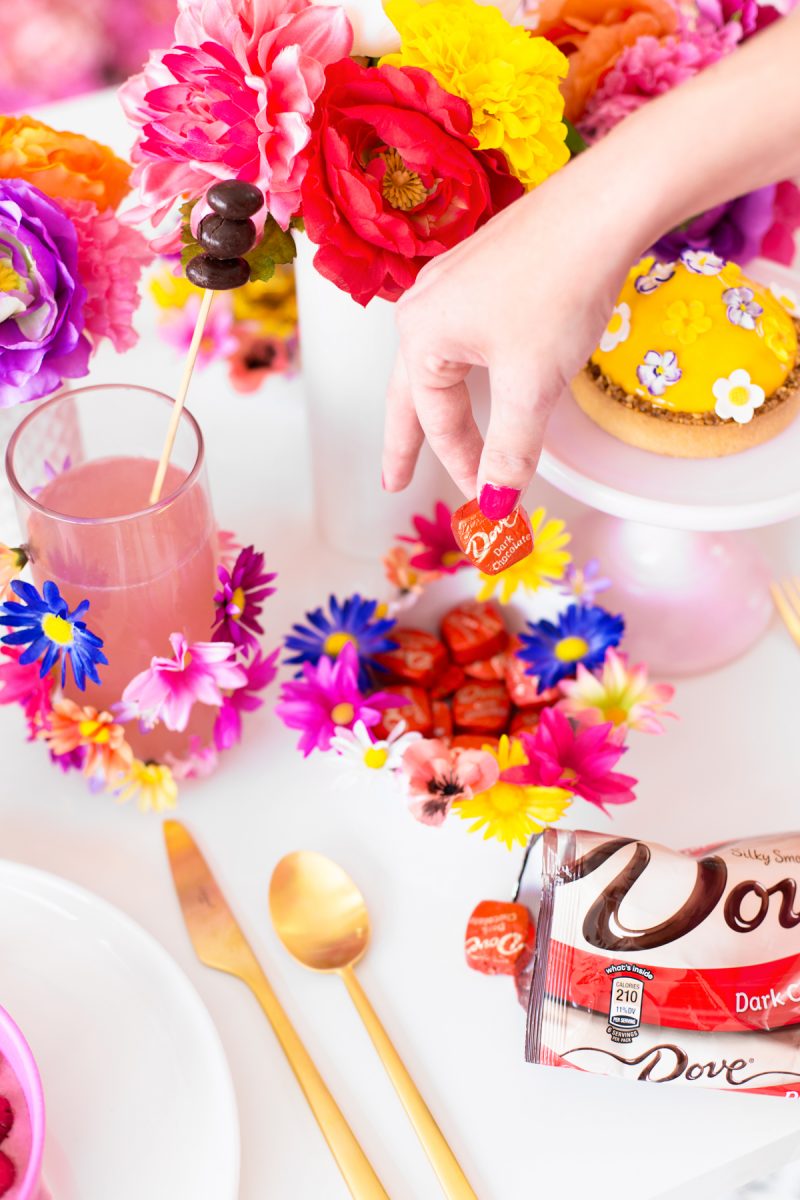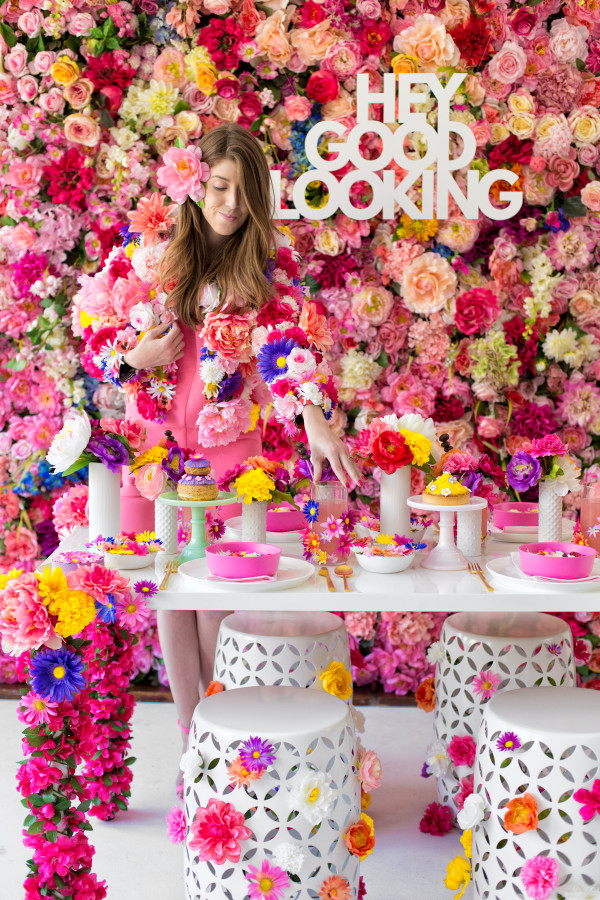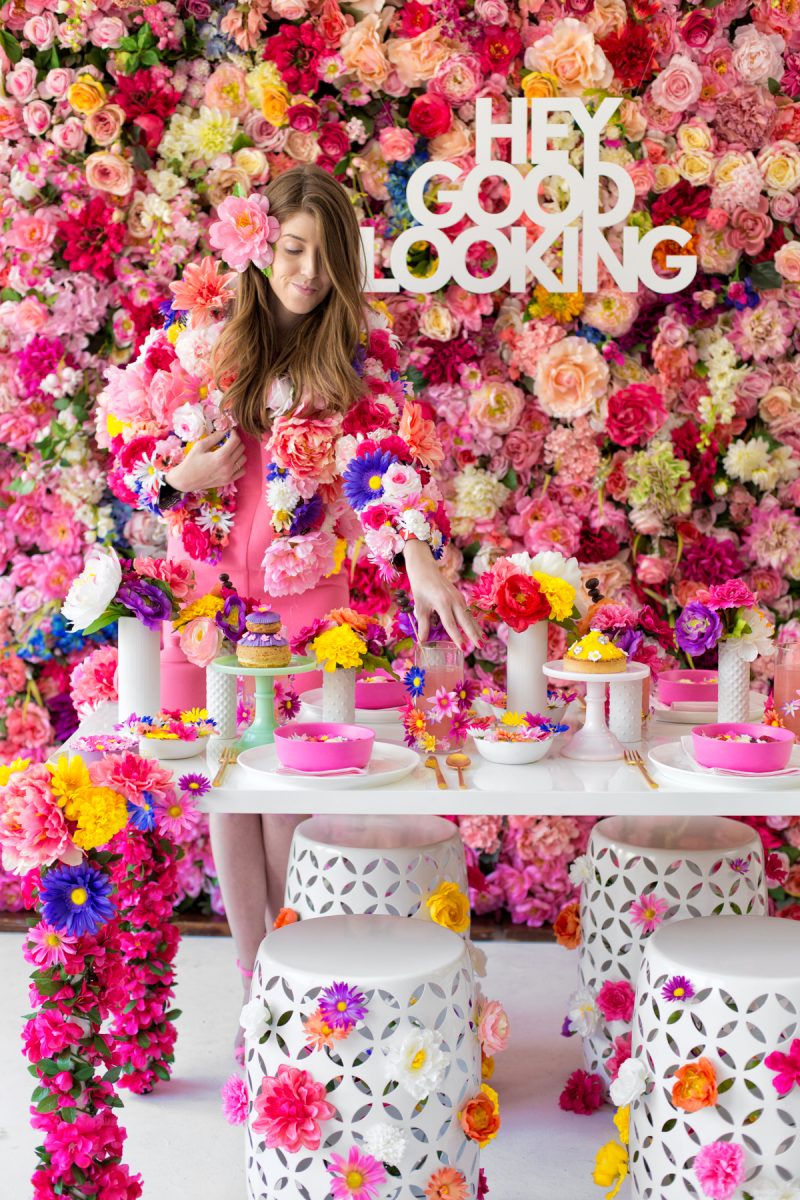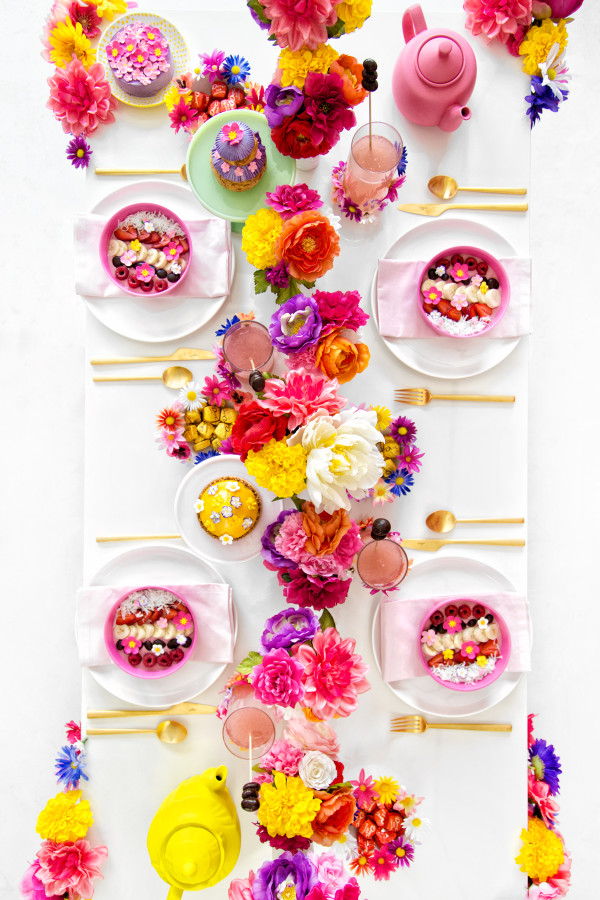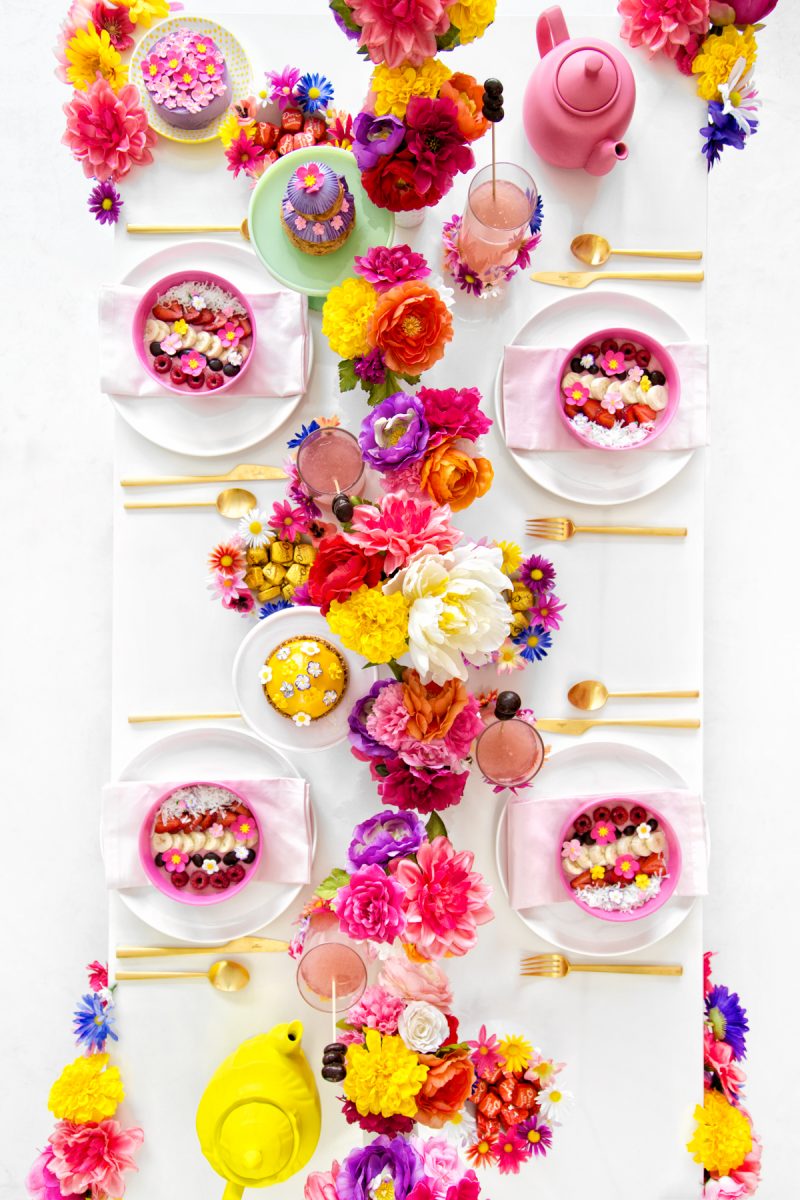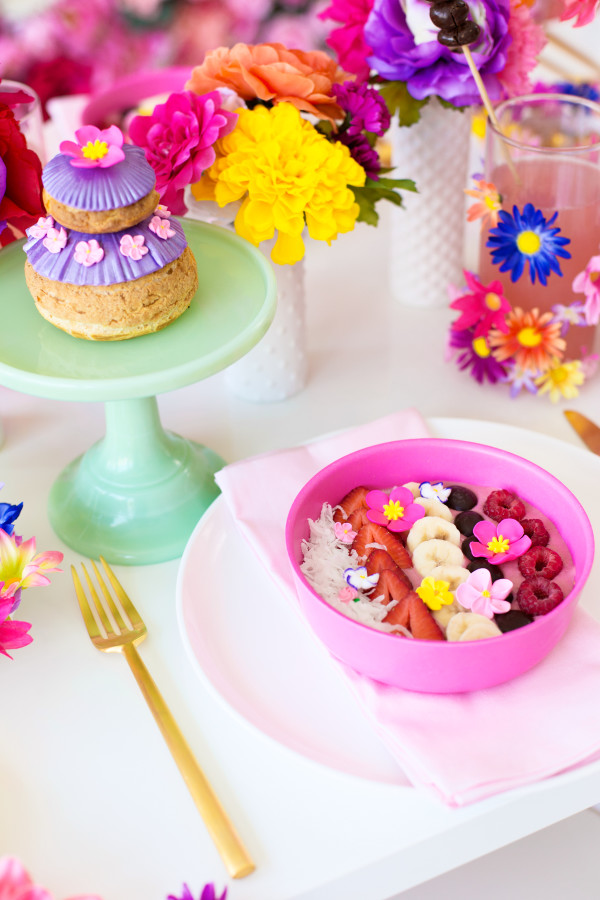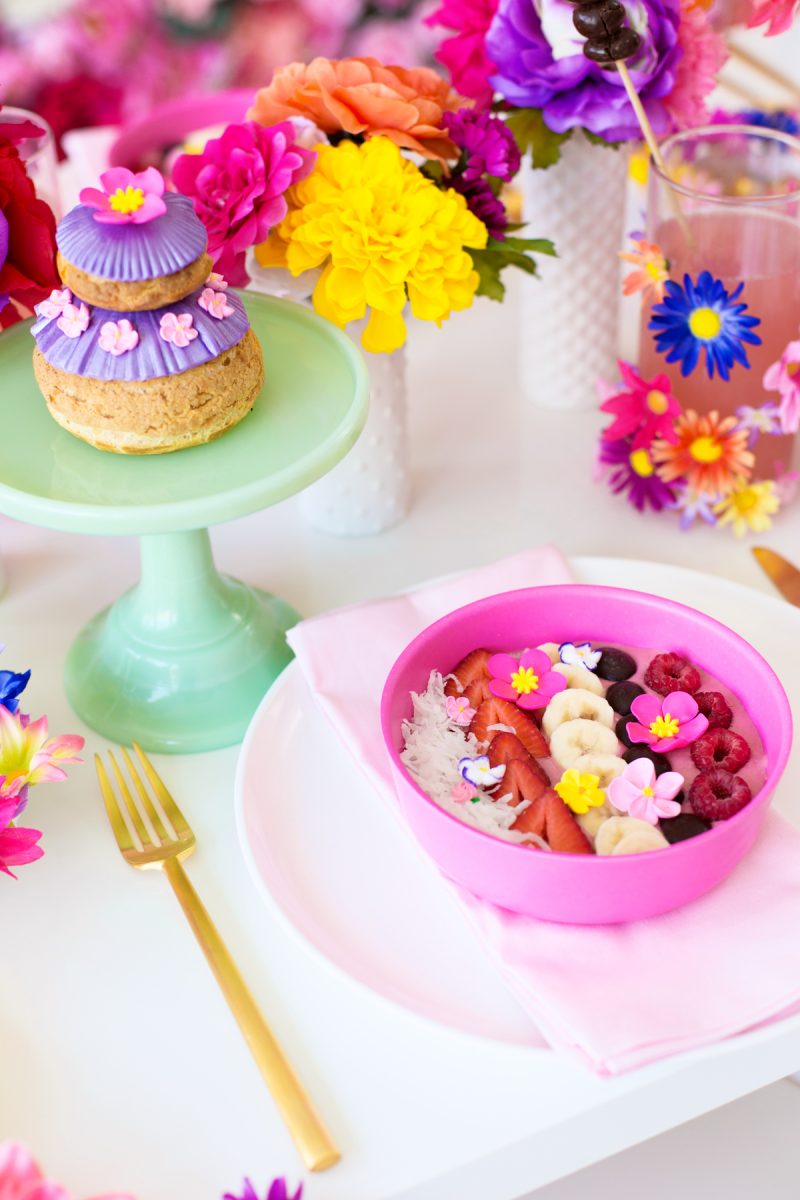 Flower Power Smoothie Bowls
Blend up a batch of your favorite fruit smoothie. (We used frozen strawberries and raspberries, bananas and yogurt!) Pour into bowls and top with "stripes" of sliced fresh fruit, coconut and DOVE® Fruit (We love the strawberry flavored cranberries!). And since we're dedicated to that flower power theme, we finished each with a couple gumpaste flowers.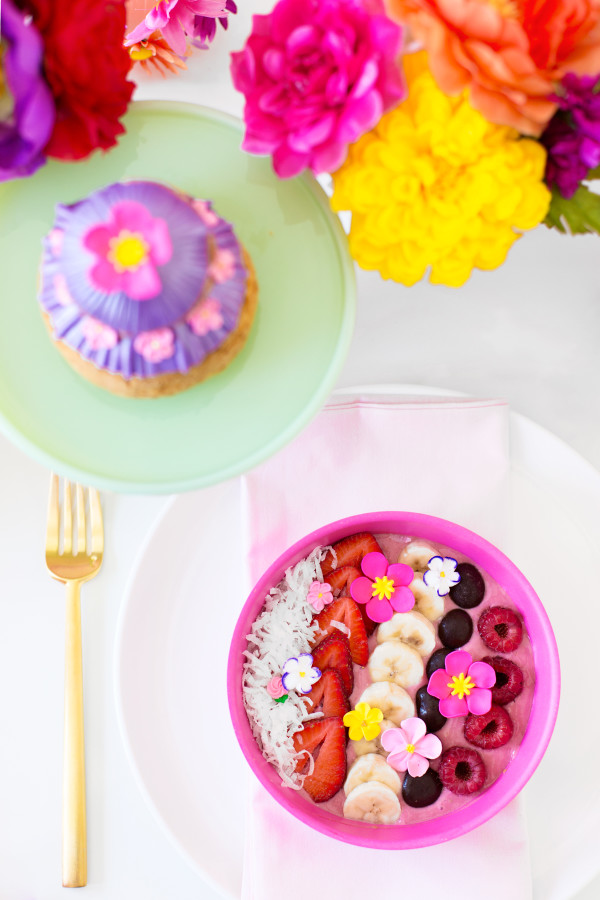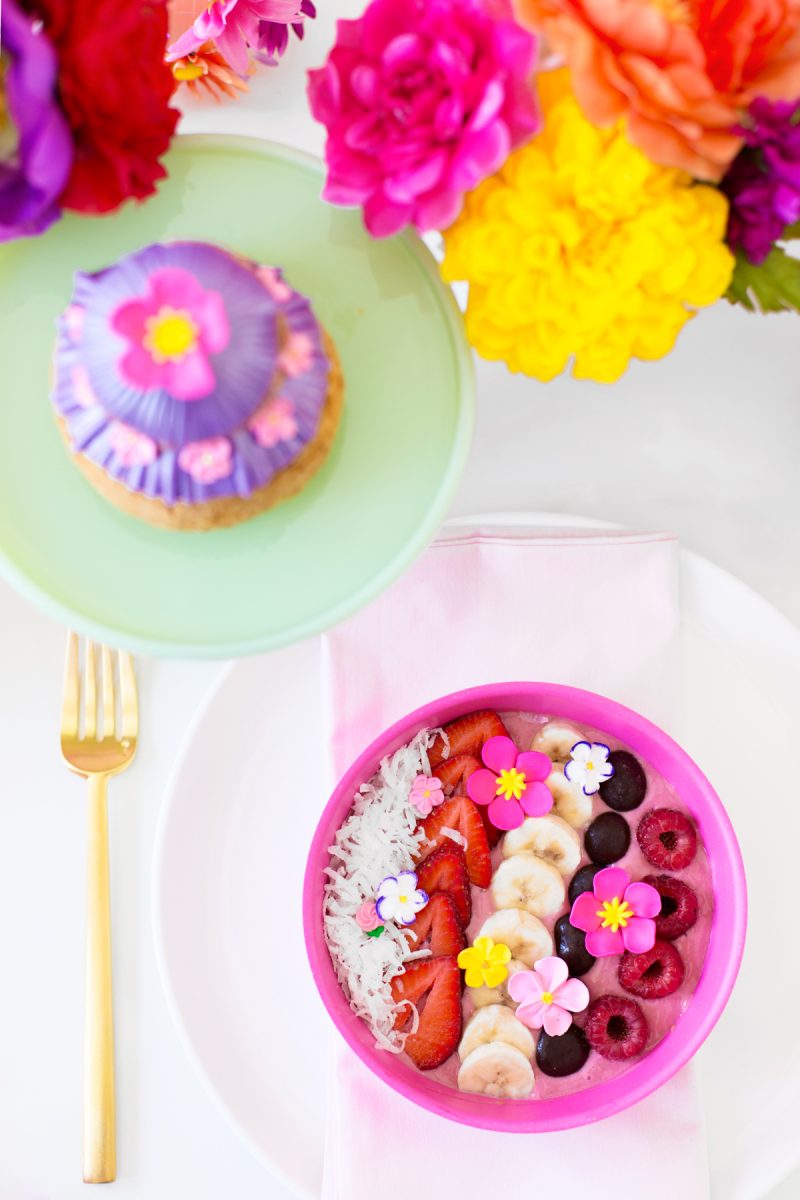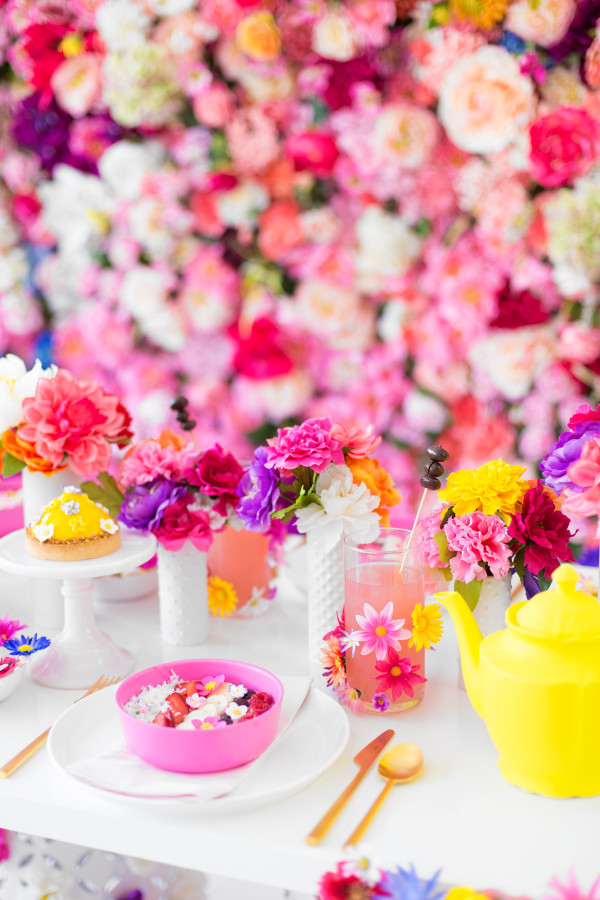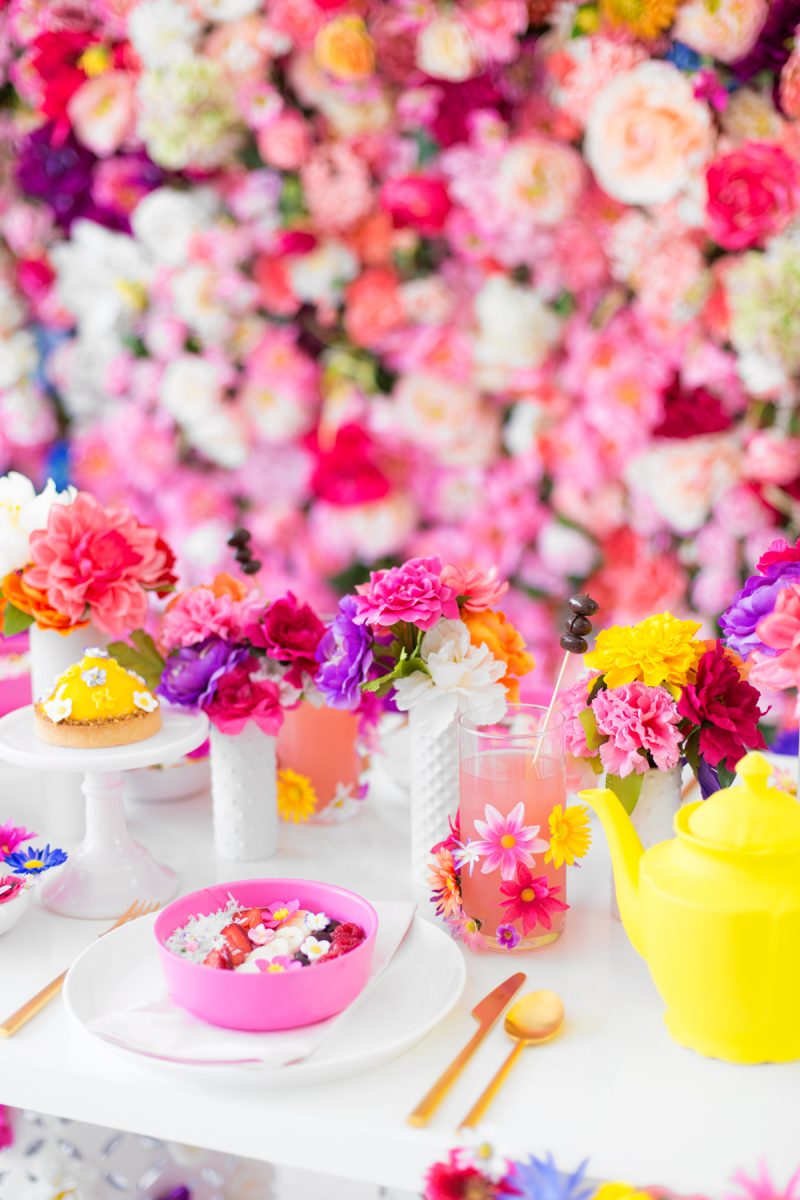 Flower Power Decor
We stuck fake flower stems into the holes in our patterned stools, filled simple white vases with them and of course, brought in that epic flower wall! Like I mentioned, we rented our flower wall but you could make one if you were feeling ambitious! All you need is cardboard or large sheets of foam and a hot glue gun. Oh, and a couple hundred flowers. Even a small one would be fun for a photo backdrop. For the most affordable fake flowers, hit up the dollar store! BAM!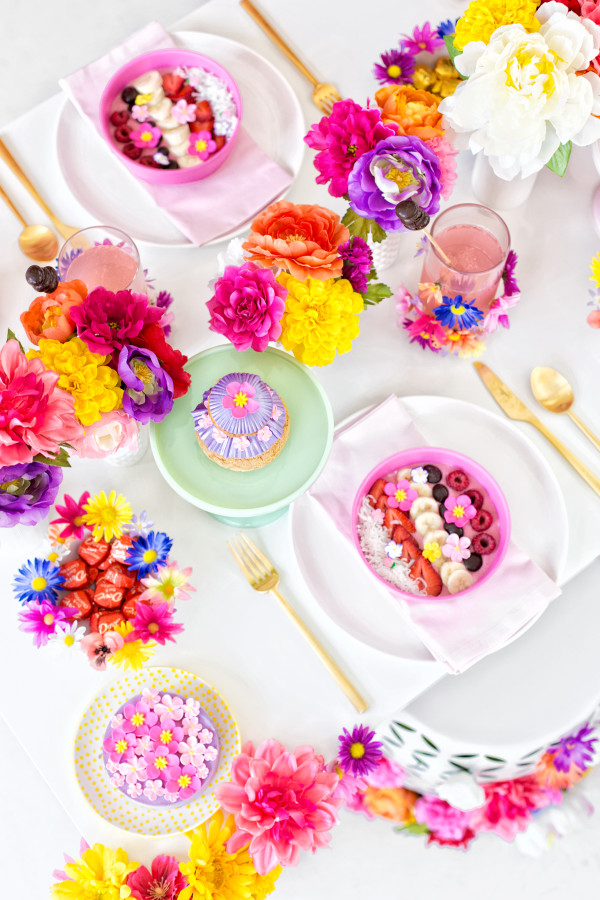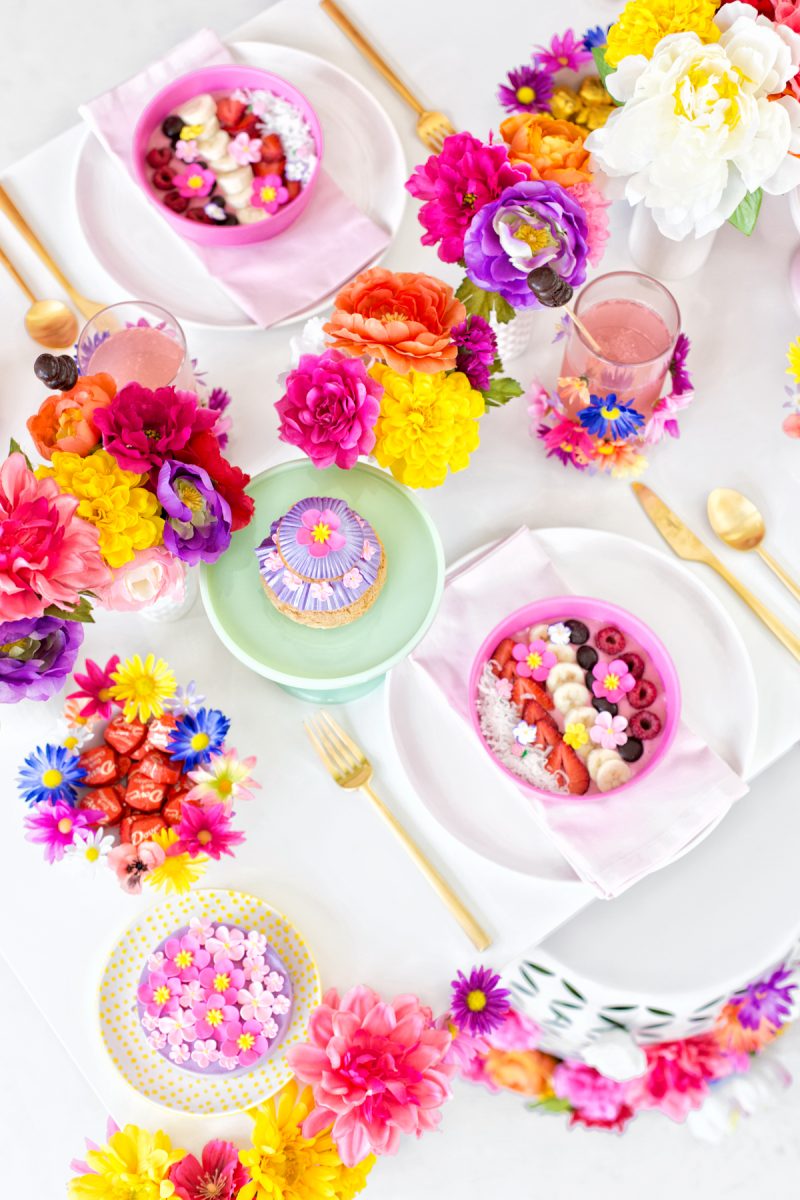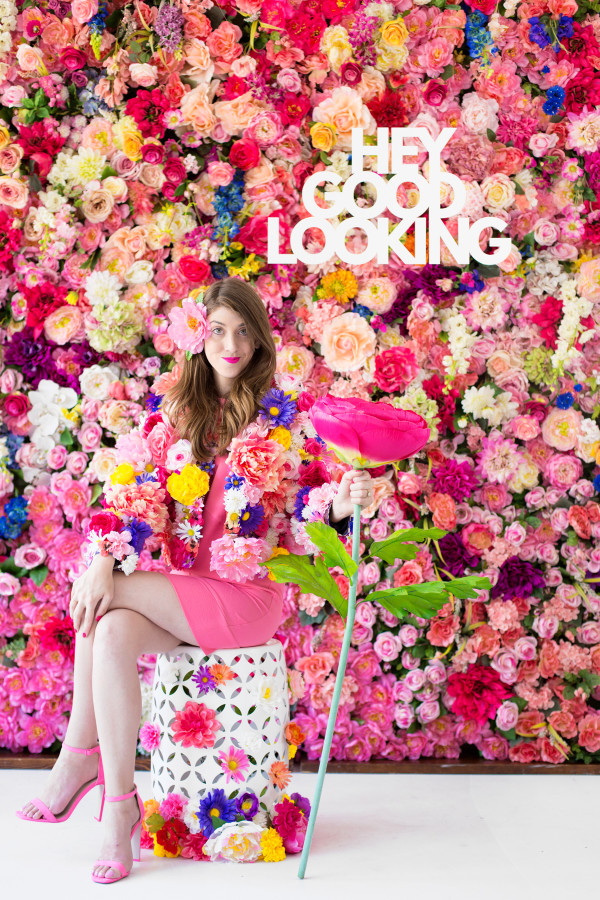 Photos by Jeff Mindell
Sources: Vases | Teapots | Stools | Pink Bowls | White Plates | Gold Flatware | Mini White Bowls
Gumpaste Flowers | Royal Icing Flowers | Gumpaste Daisies
Get the flower jacket tutorial here!
I dunno, do you think we should add some more flowers? Hahaha! Now go show your mom, or fellow mamas, that flower power love!
This post was created in partnership with DOVE® Chocolate. Find more recipes on DOVE's Pinterest! All content and opinions are that of my own! Thank you for supporting the sponsors that keep the Studio DIY party going! Read more about my editorial policies here.