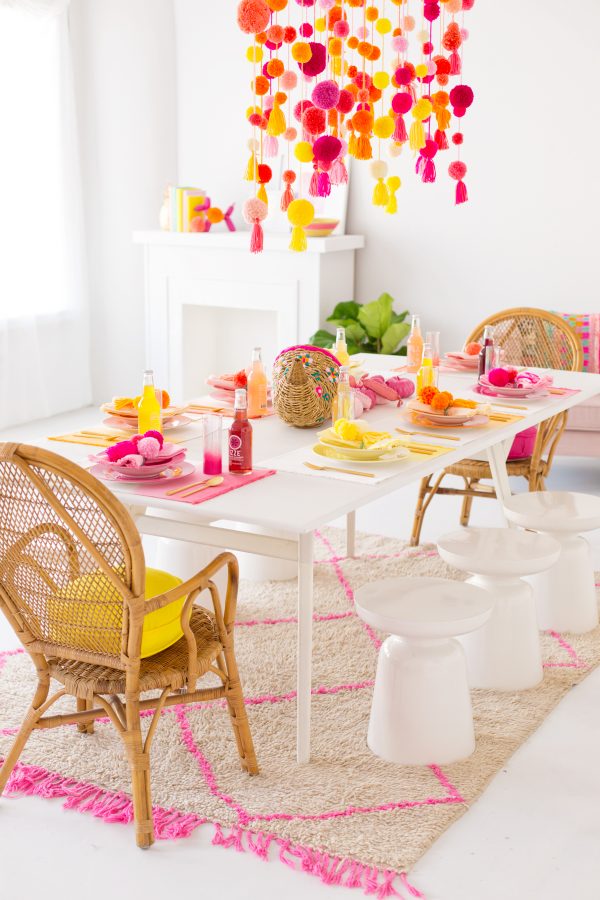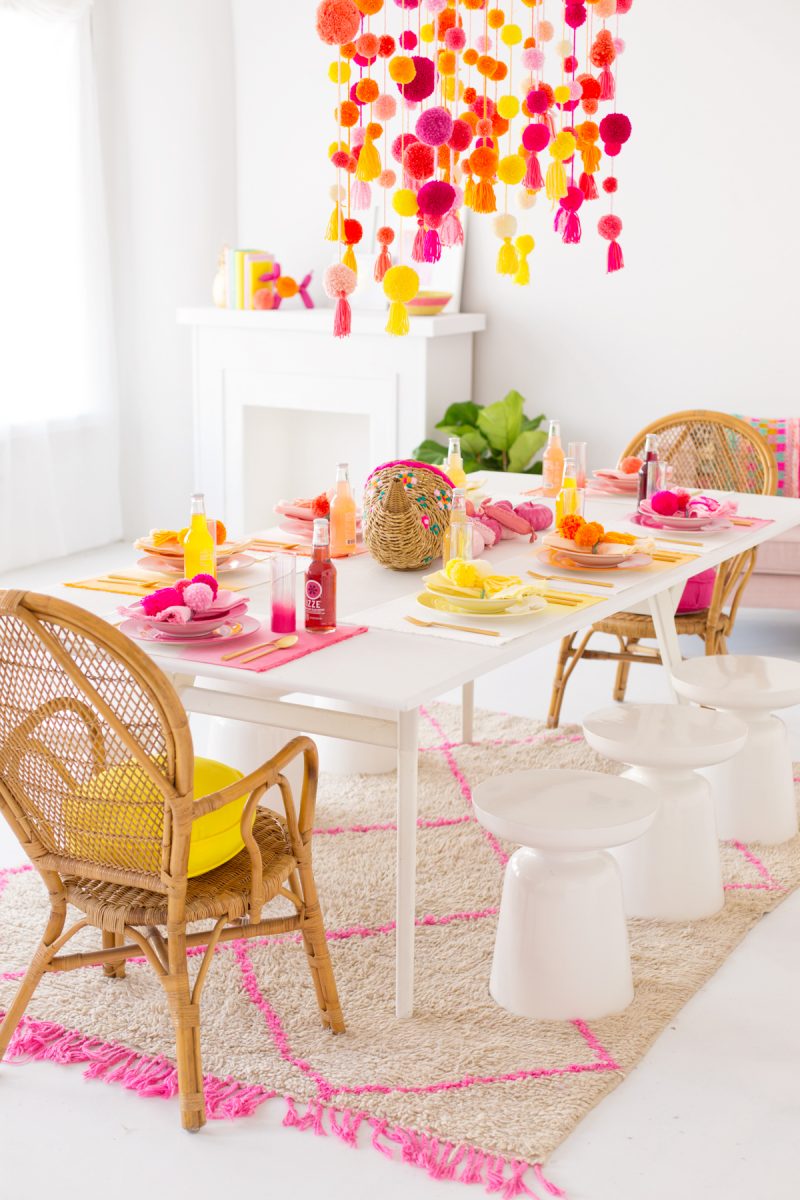 I'm so excited to share this Friendsgiving celebration we put together with you guys today!!! Mostly because it's something a little different for us and I can't wait to see what you think!!!
As Jeff and I made some pretty big life changes this year, I've found myself being drawn more and more to projects and ideas that last. Items that add a lot of fun and color to a special celebration, but can also be stored away or repurposed for years after. So we kept that in mind as we planned this Friendsgiving with our pals at IZZE. With a color palette inspired by their flavors (and ombre place settings to match each one… yesssss!) we created a crazy-awesome pom pom chandelier, a new take on those not-so-cute cornucopias and a "Thank You For Being A Friend" theme! Today, I'm breaking down a few of the ideas we created to help inspire your Friendsgiving this year!!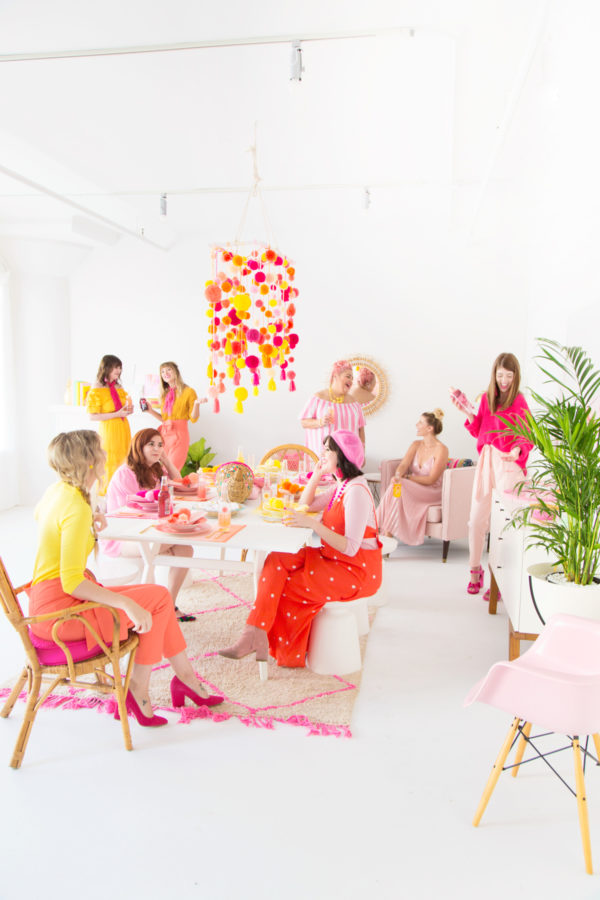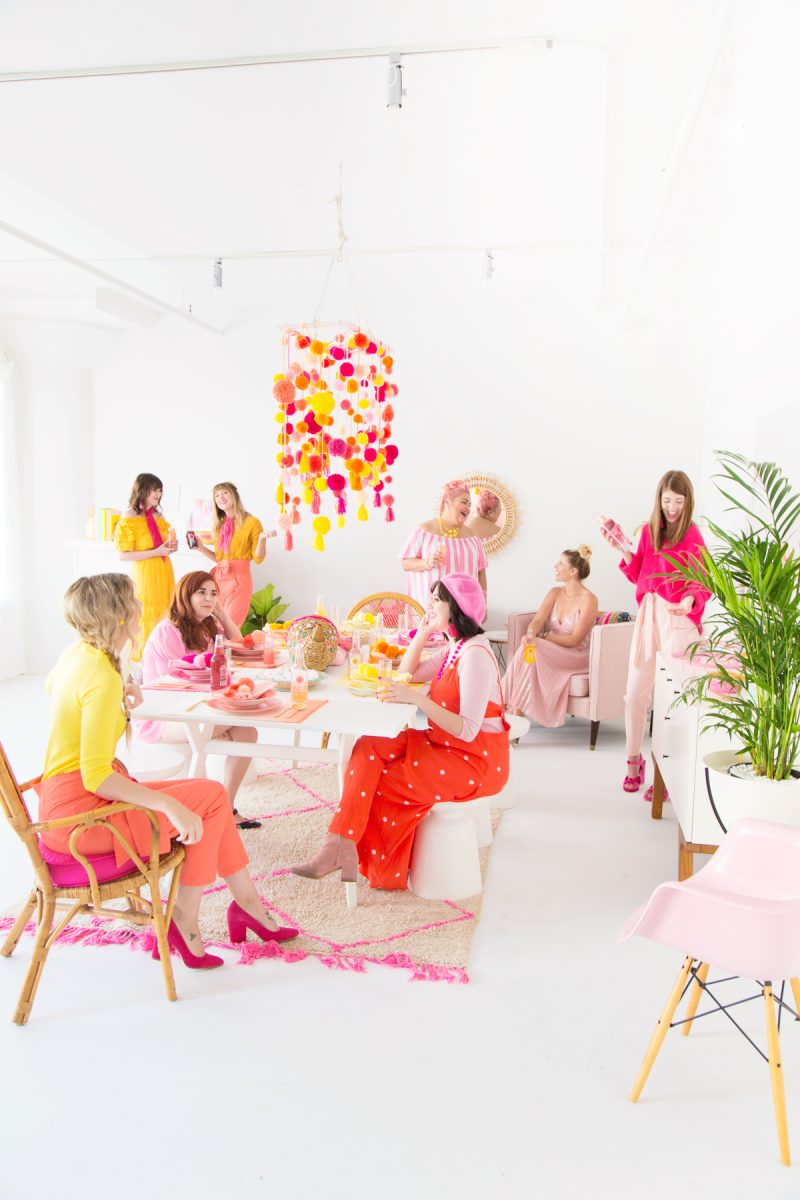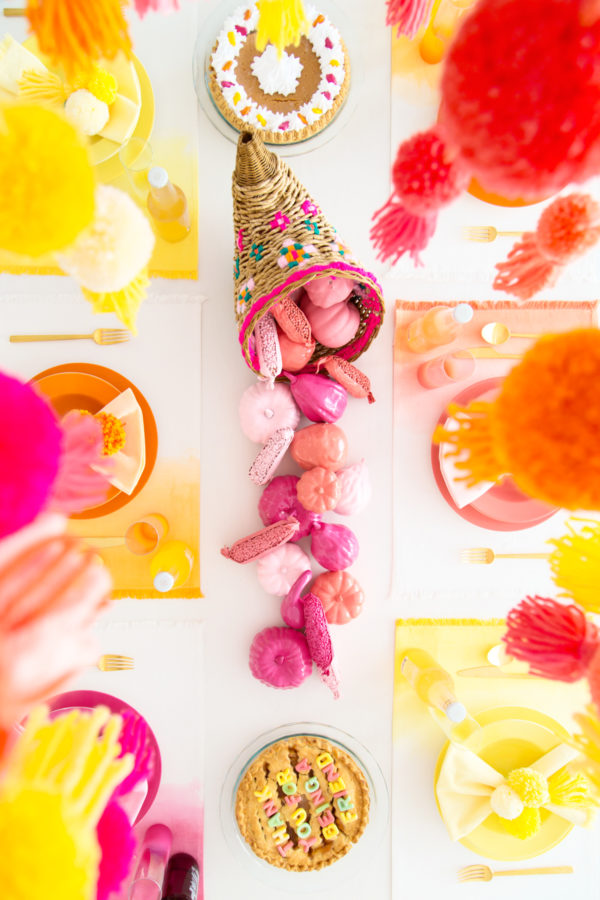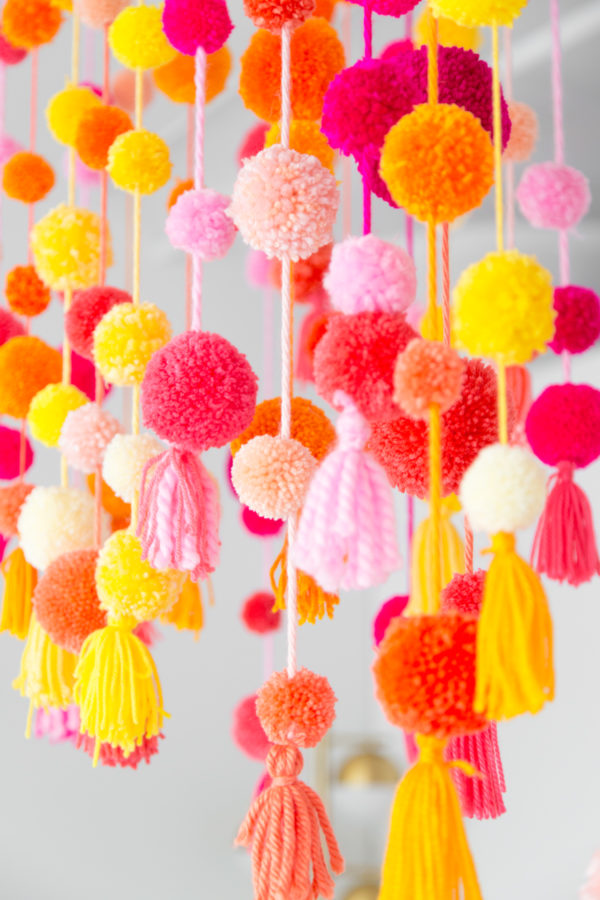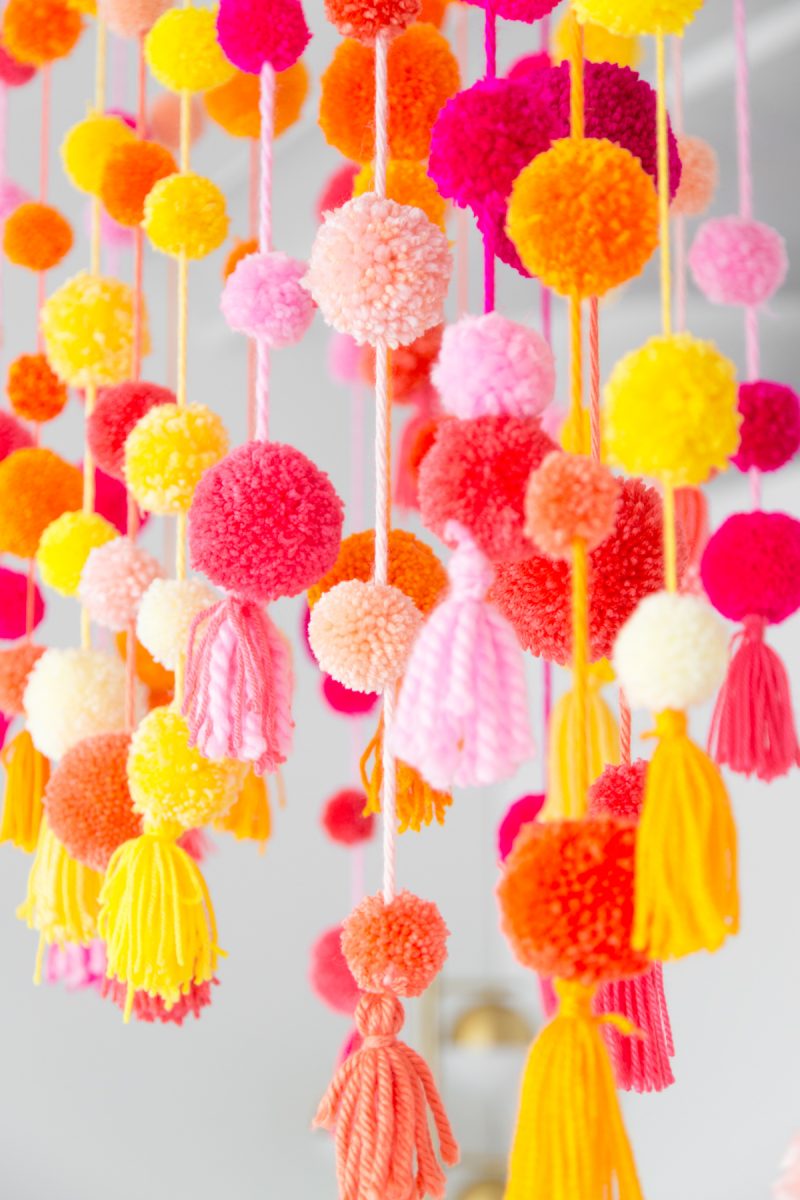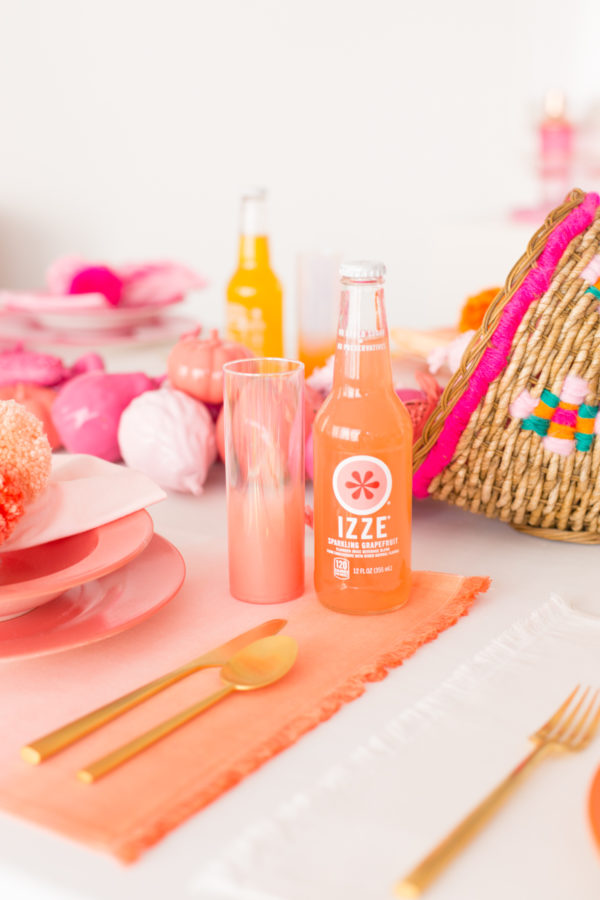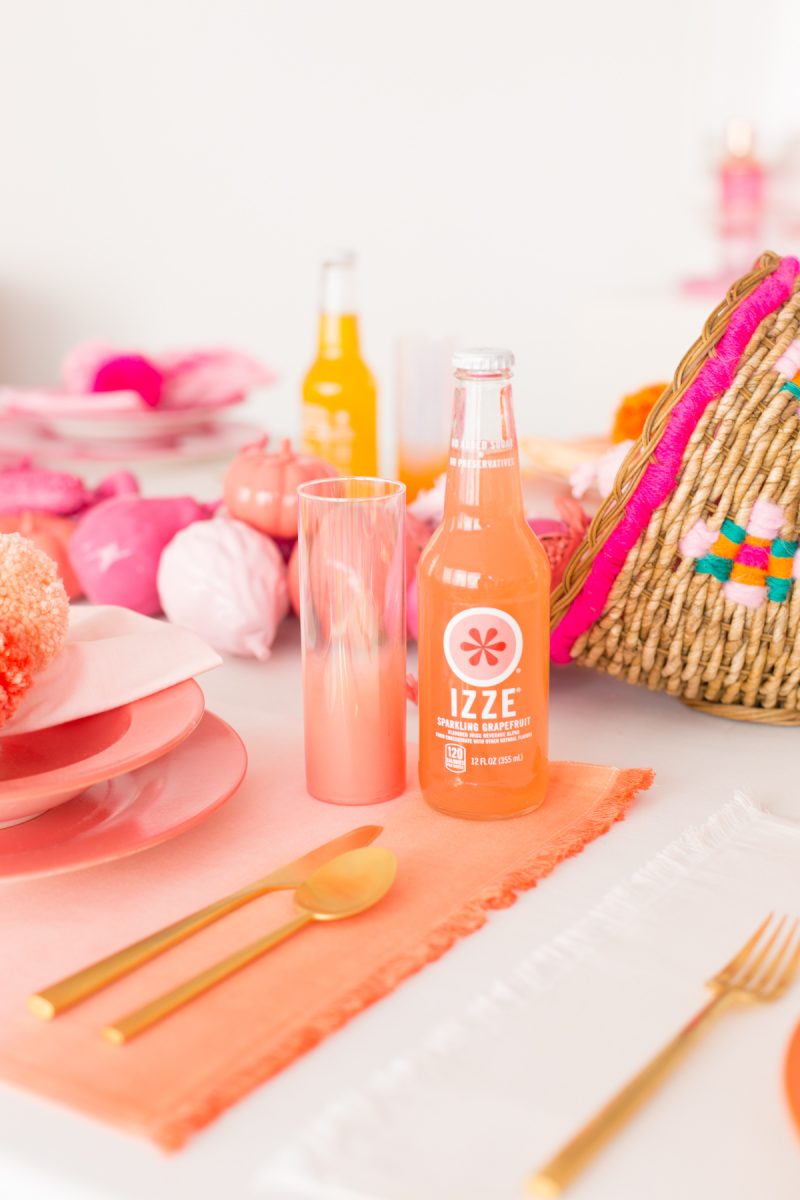 If you haven't noticed, I've been obsessed with everything monochrome lately. I loved the idea of having each place setting be one color, but having all different colors throughout the table. We used IZZE's bright-hearted, fun colors as our inspo and I think we deserve a pat on the back for how well we matched 'em! The best part about this is, everyone can pick their seat based on their favorite flavor!! (Mine at the moment would be Peach. But it changes daily because… who can play favorites?) IZZE is so good as a stand alone drink (which is how we served it!), but guests can also use it as a cocktail mixer! It also never has any added sugar, no preservatives and no artificial sweeteners so you can feel good about serving these at any party!
To complete the look, we dip dyed place mats and used a non-toxic spray paint to add a little color to some simple clear glasses. And…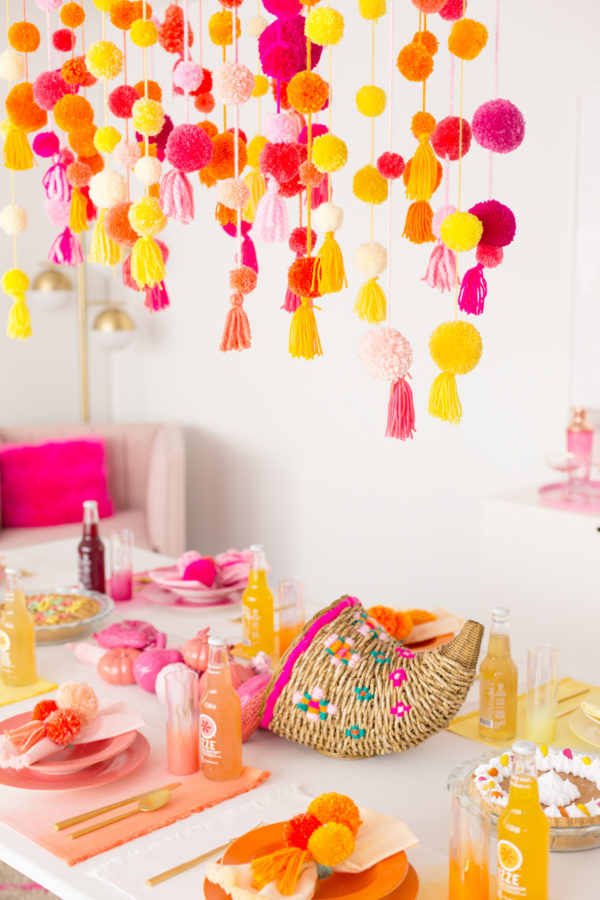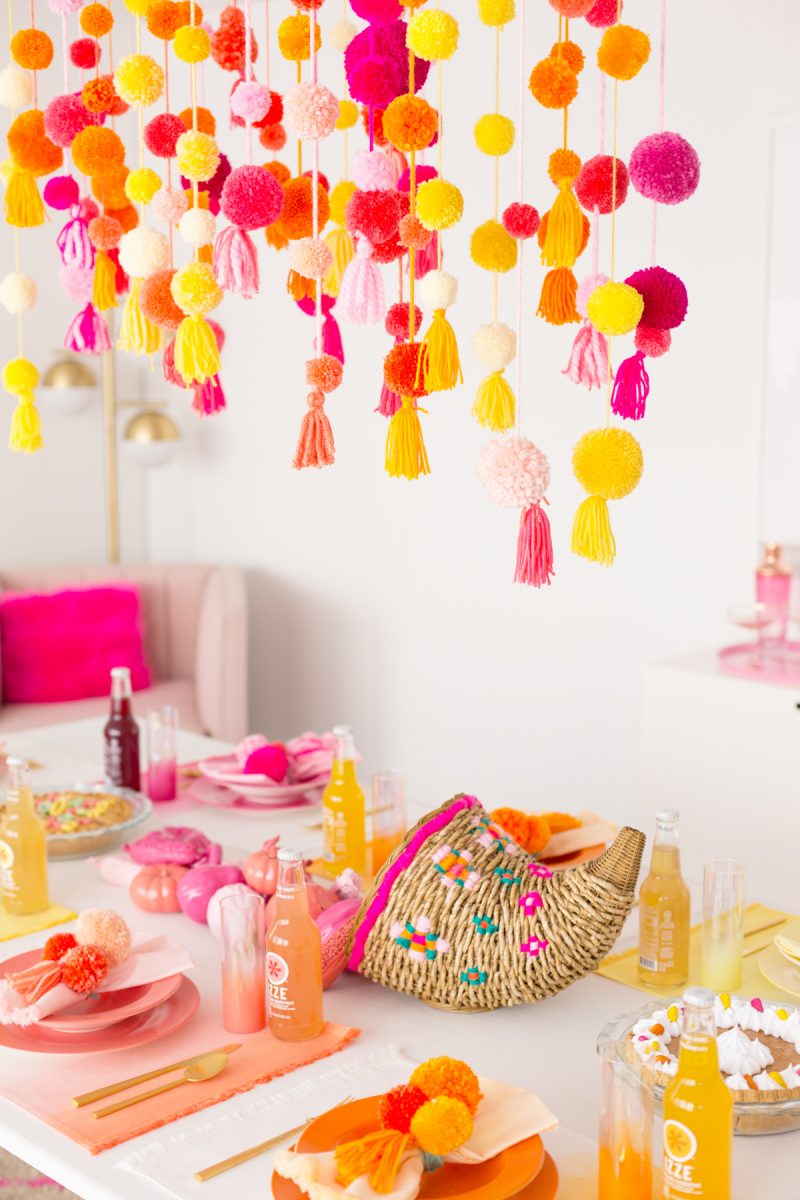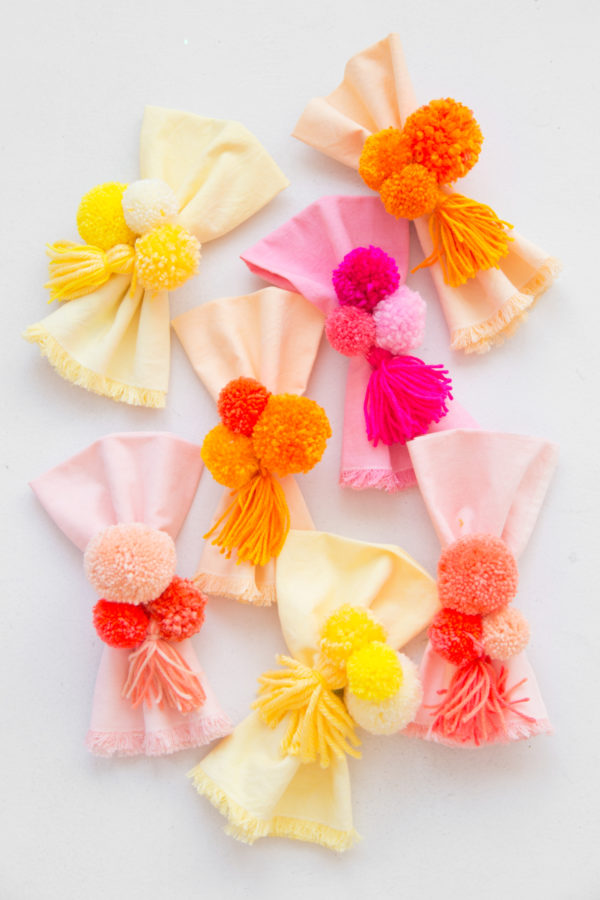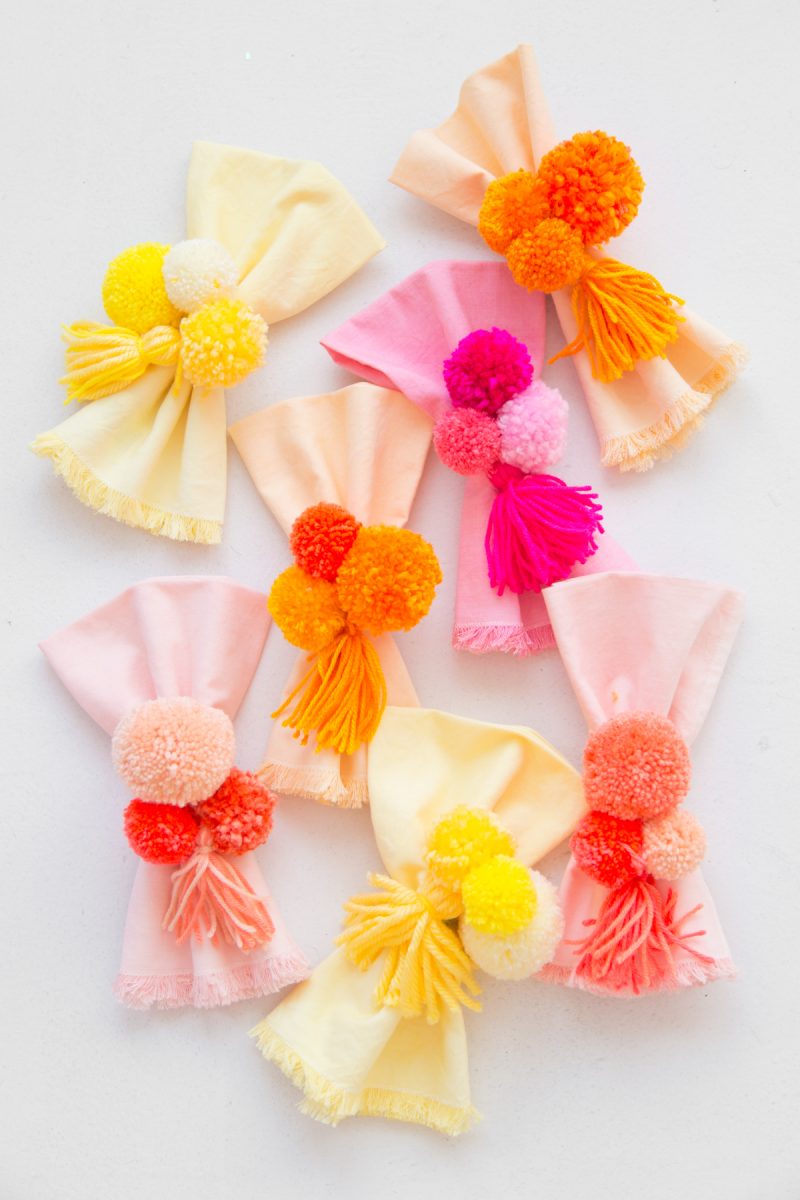 We made these amazing pom pom napkin rings!! Here's the quick recipe for those: three pom poms, one tassel, all tied to a piece of yarn and wrapped around your napkins. Bam! These would be fun favors, too. People could use them as bag or wall charms afterwards!!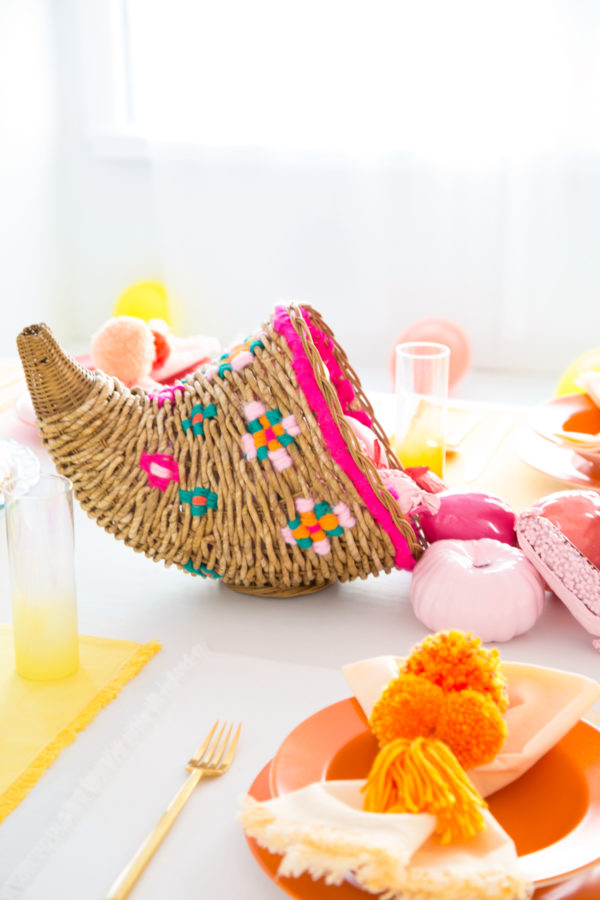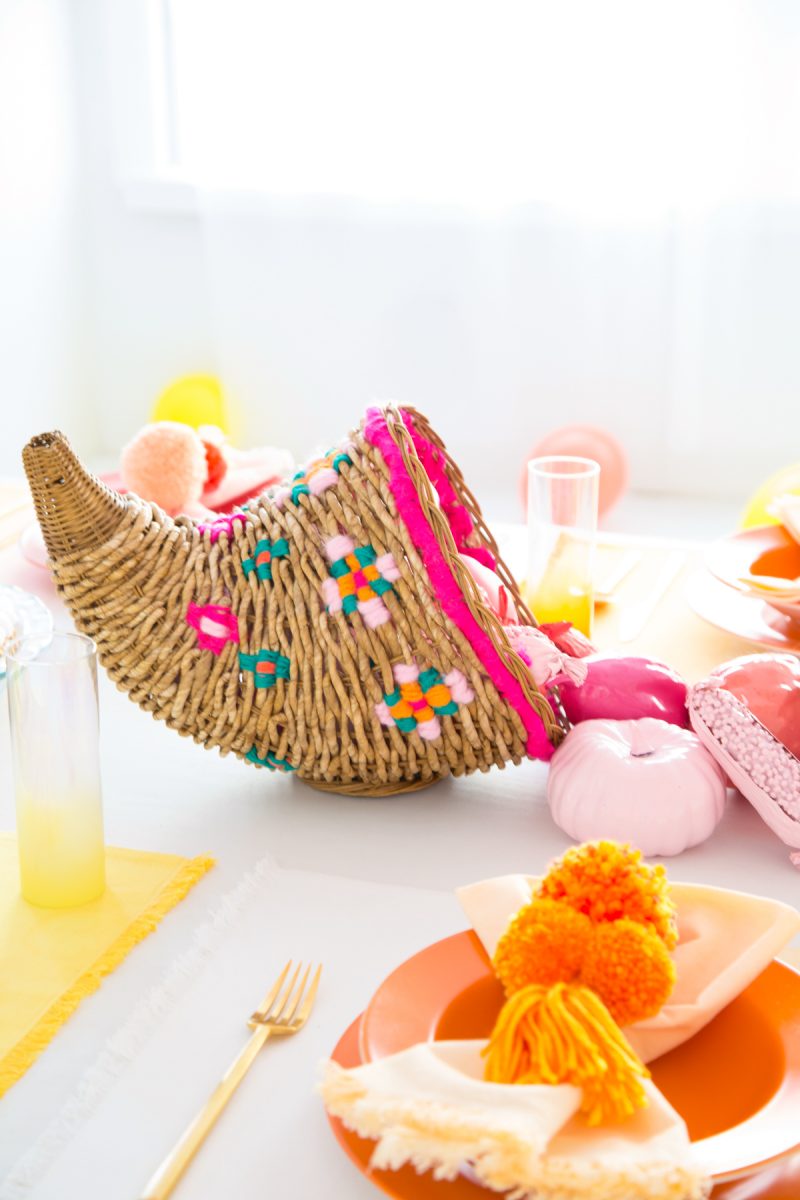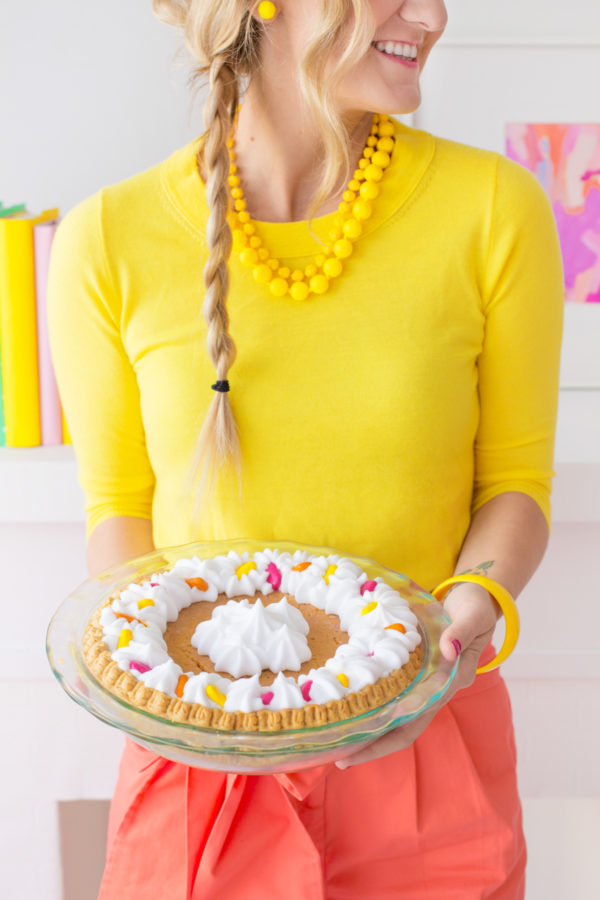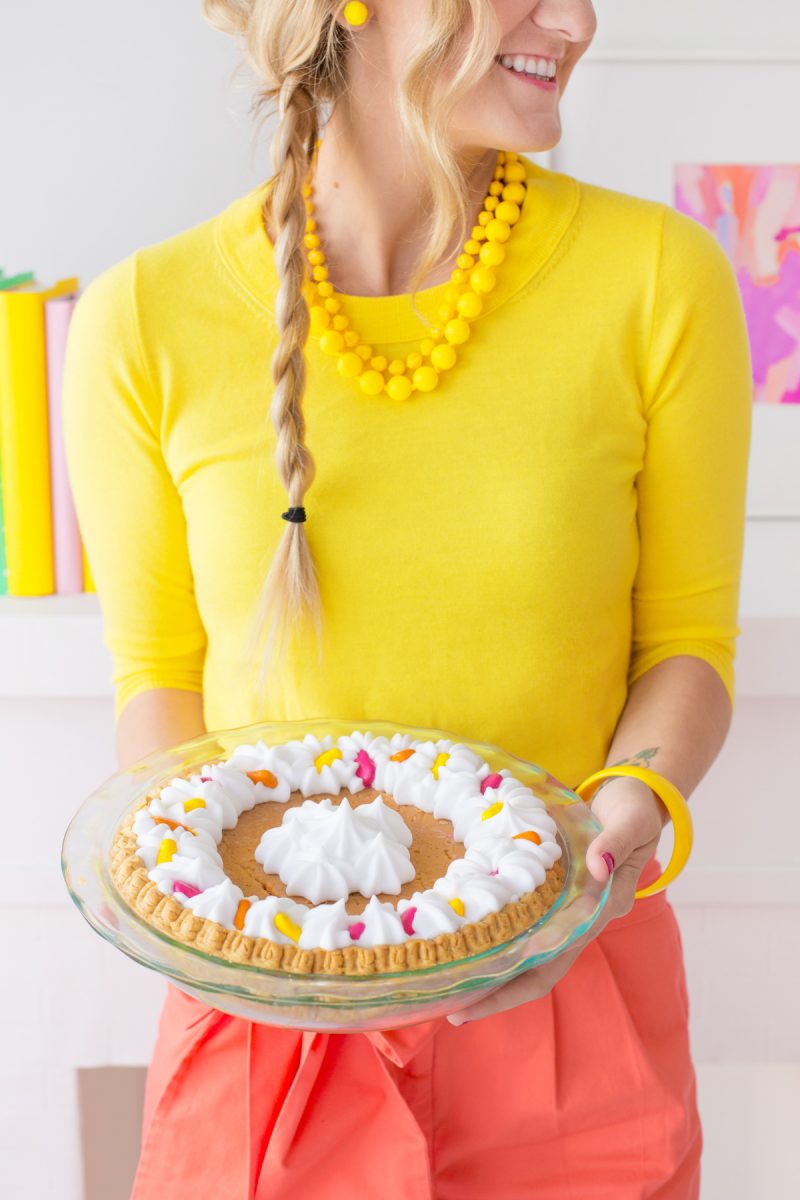 You likely already know we're big fans of adding a little color to our Turkey Day pies. On these, we added colorful candy to the whipped cream of a pumpkin pie and I found some awesome candy letters that we used on top of the apple pie!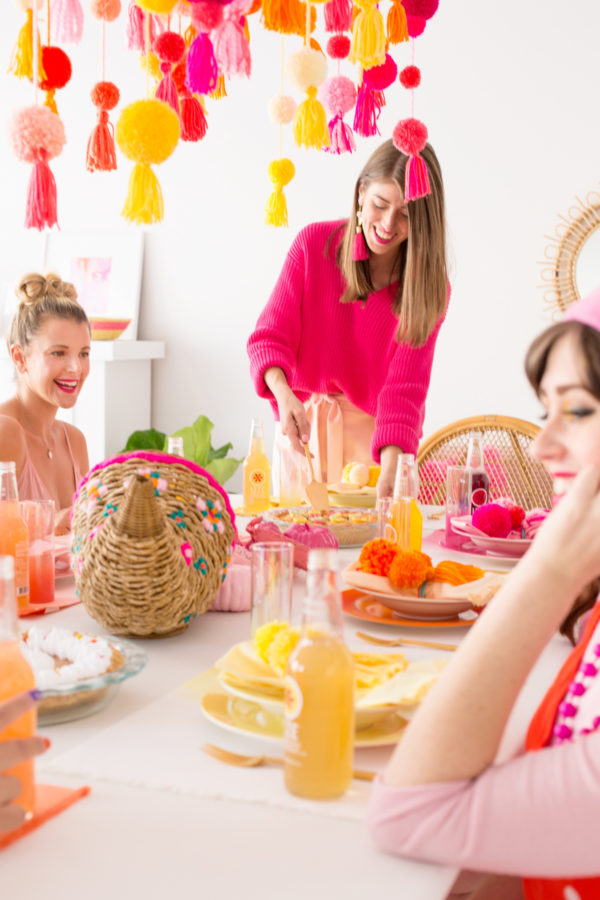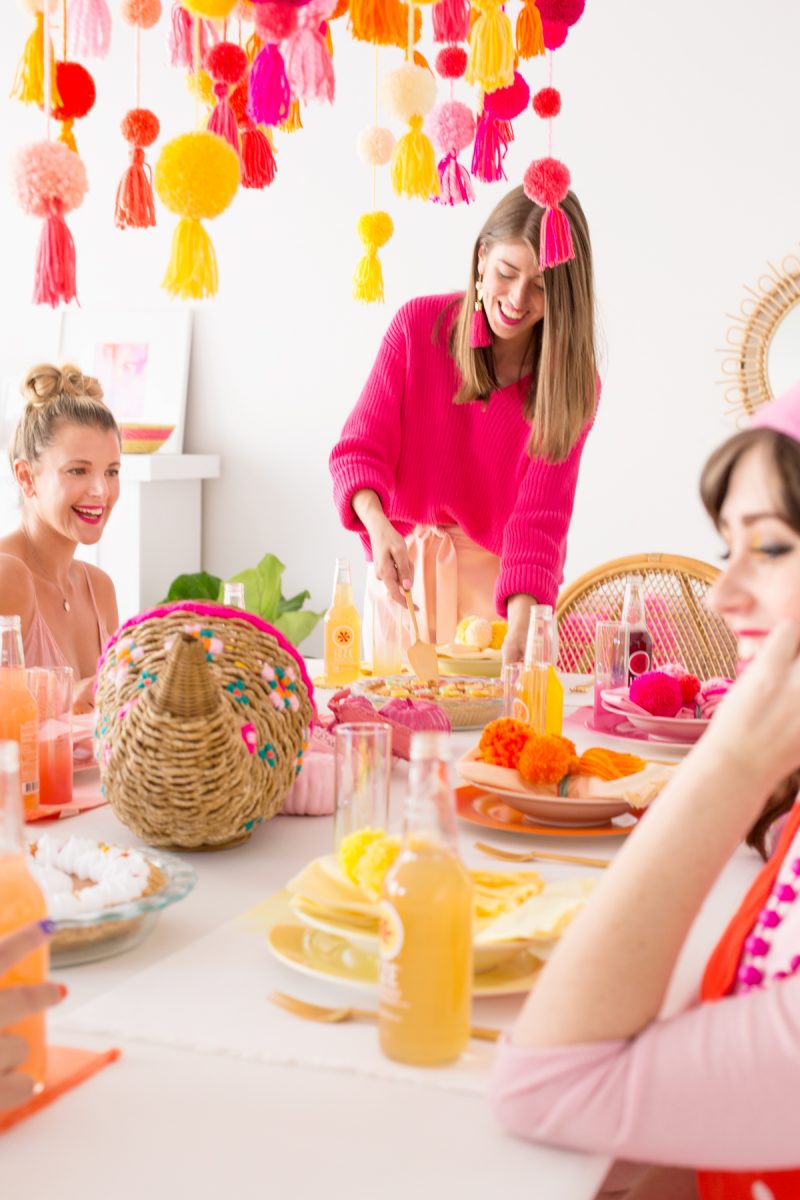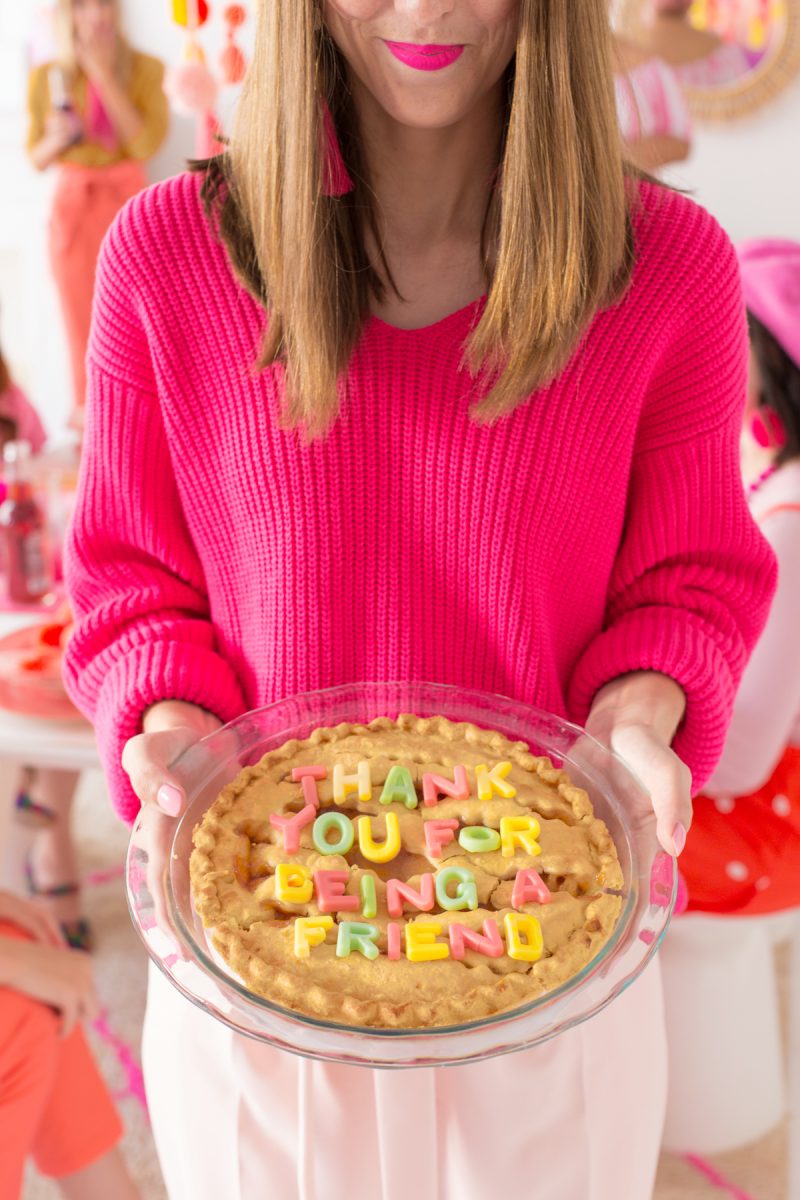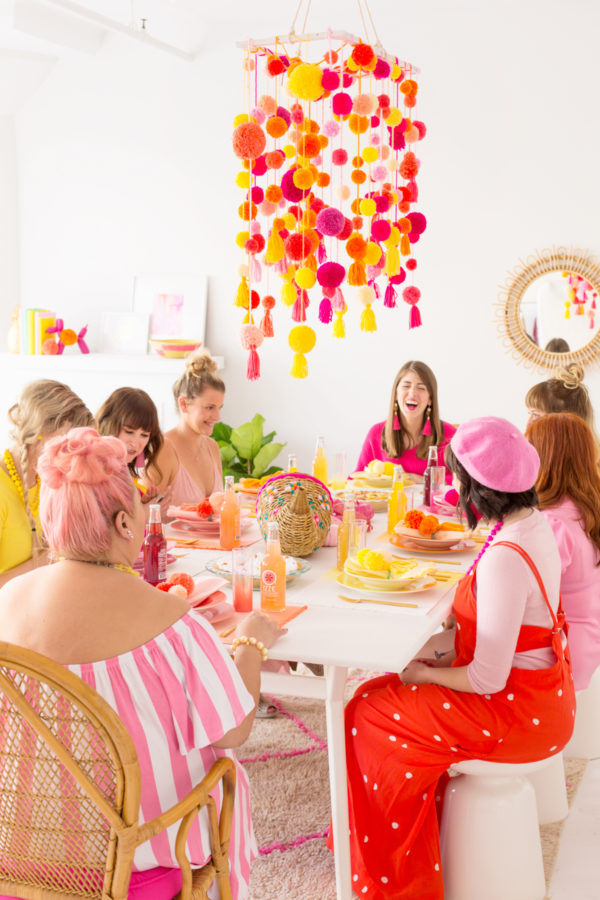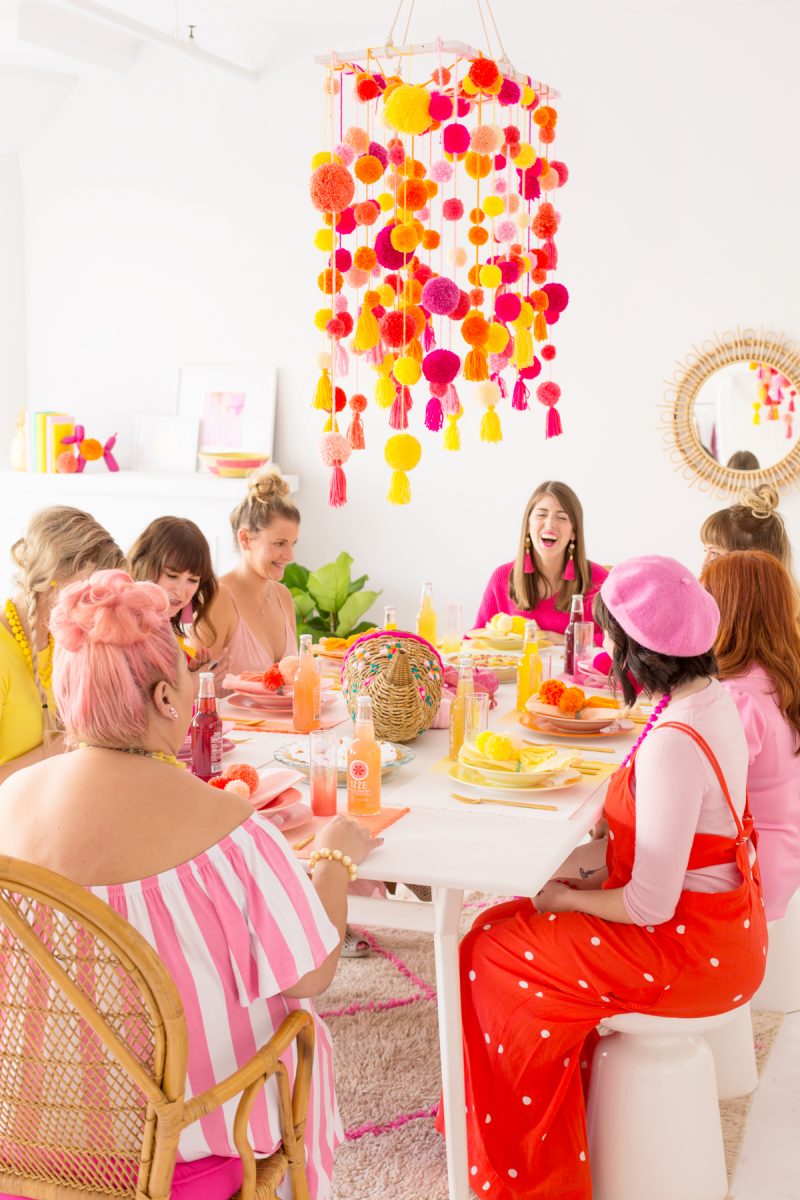 And then, of course, that pom pom chandelier!!!! Don't worry, I'm fully aware this may not be a practical thing to have hanging in your dining room at all times… but what if you re-imagined it as wall hanging!?
For this, we made one billion pom poms and tassels, then strung them together, using all different shades of one color on each strand. We then tied the strands to a wood frame (we used a canvas from the art store, minus the canvas!) and hung it with rope from the ceiling. You could easily replace the wood frame with a wooden dowel to make this an AMAZING wall hanging. In fact, you might see one in my house soon now that I think about… haha!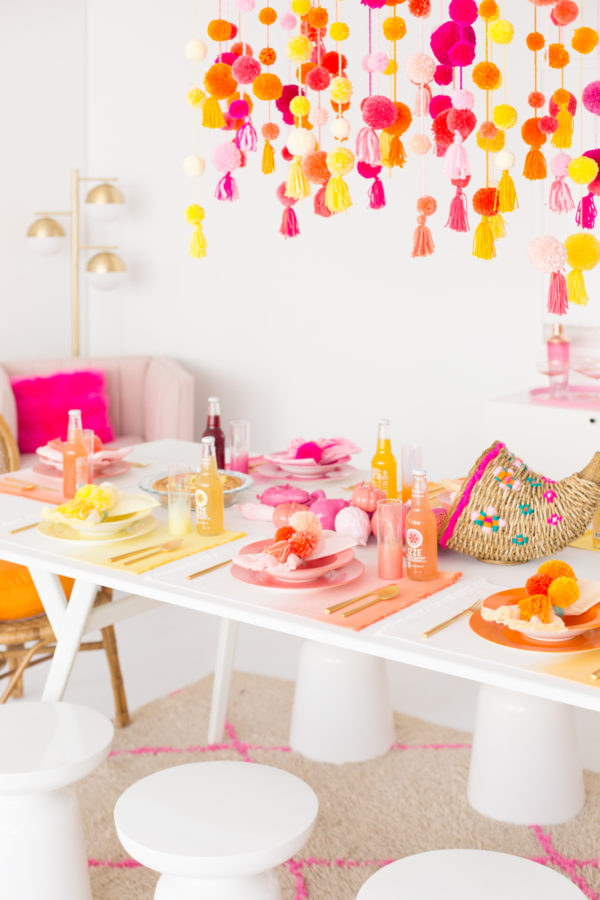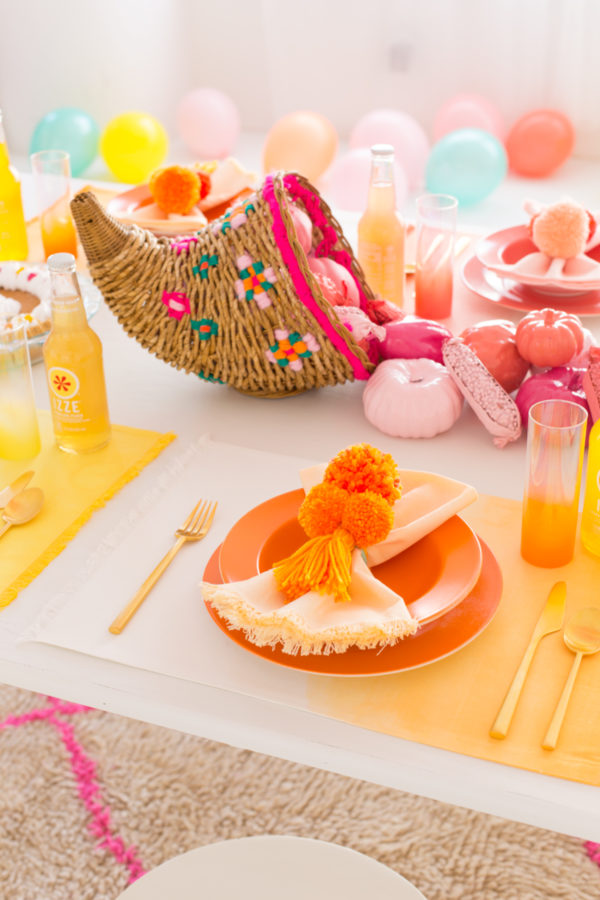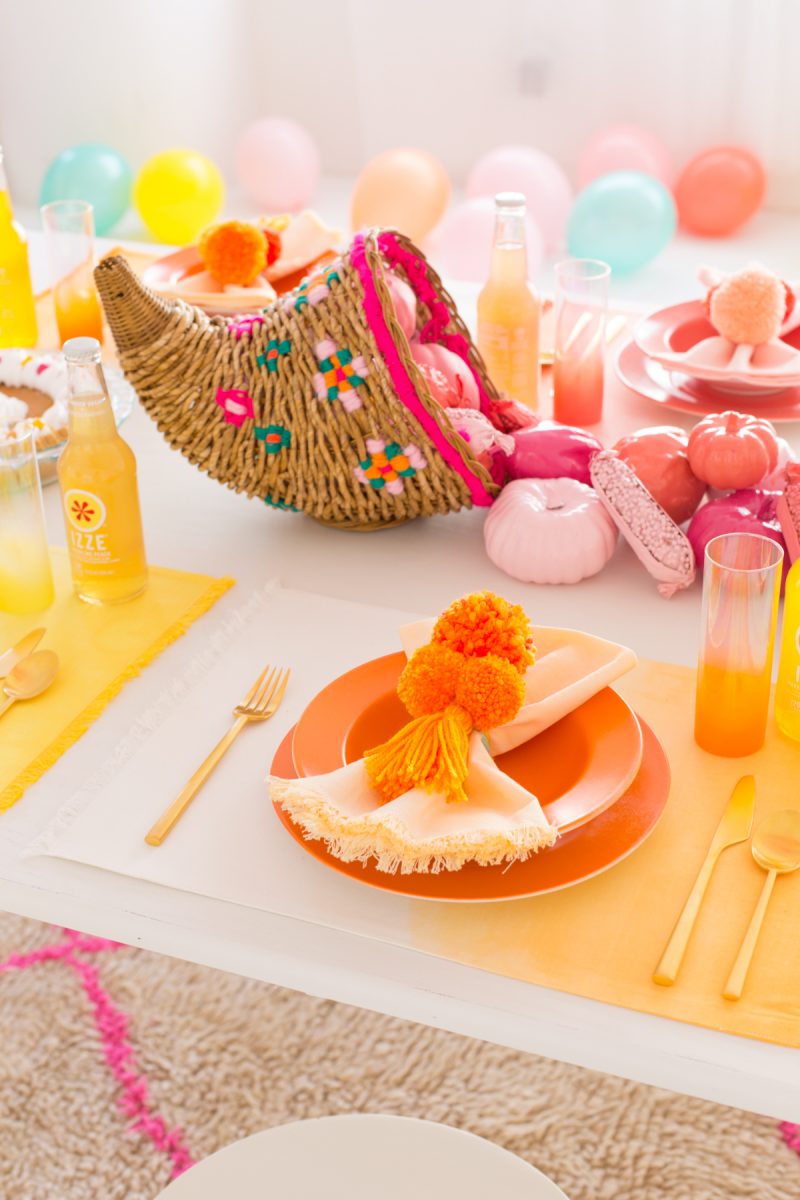 We've got a full post comin' at you on that cornucopia! But *spoiler alert* more yarn was involved there too! 😉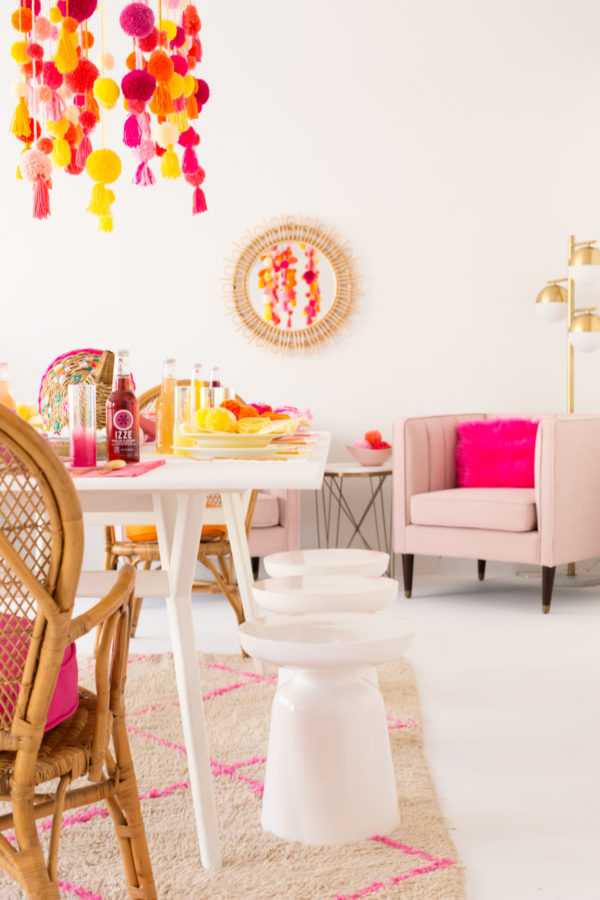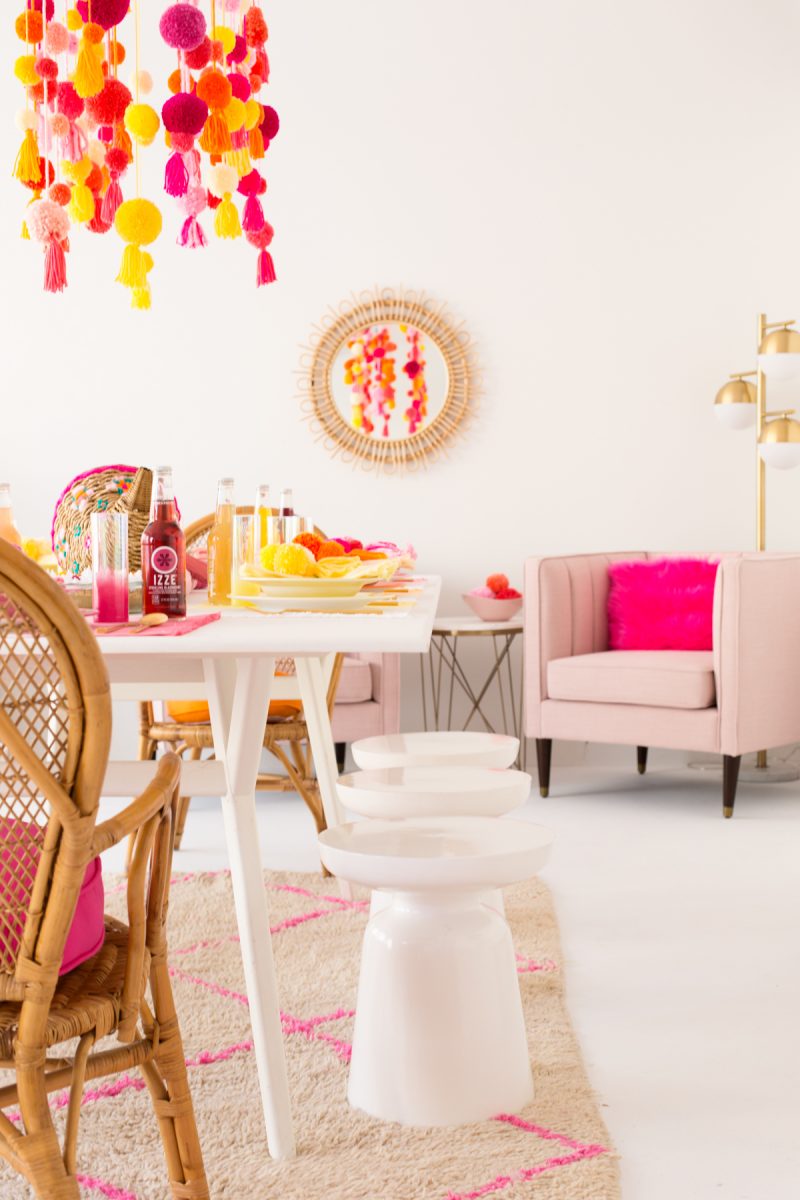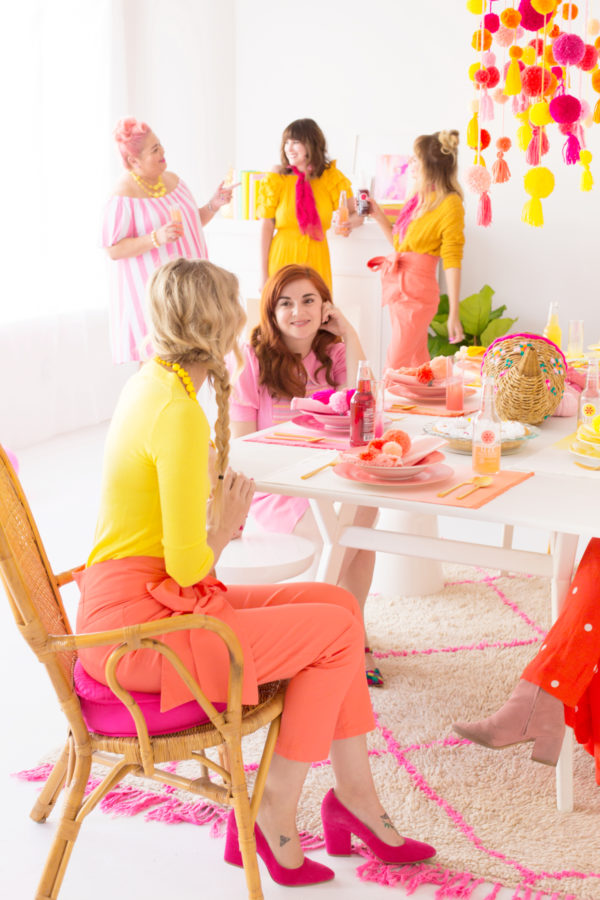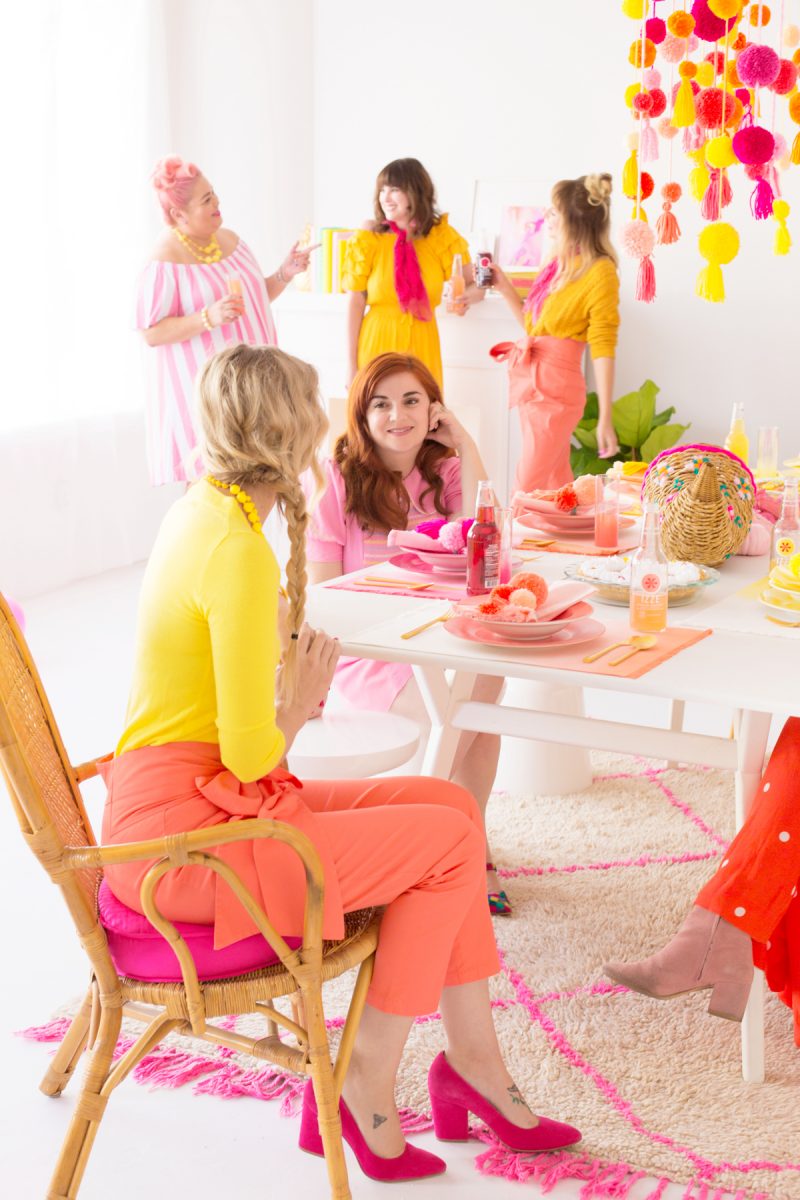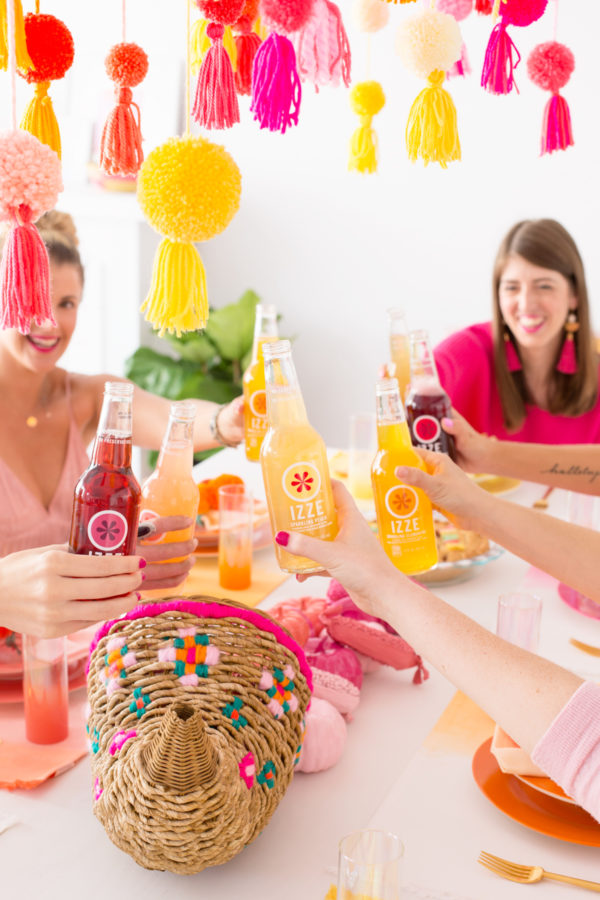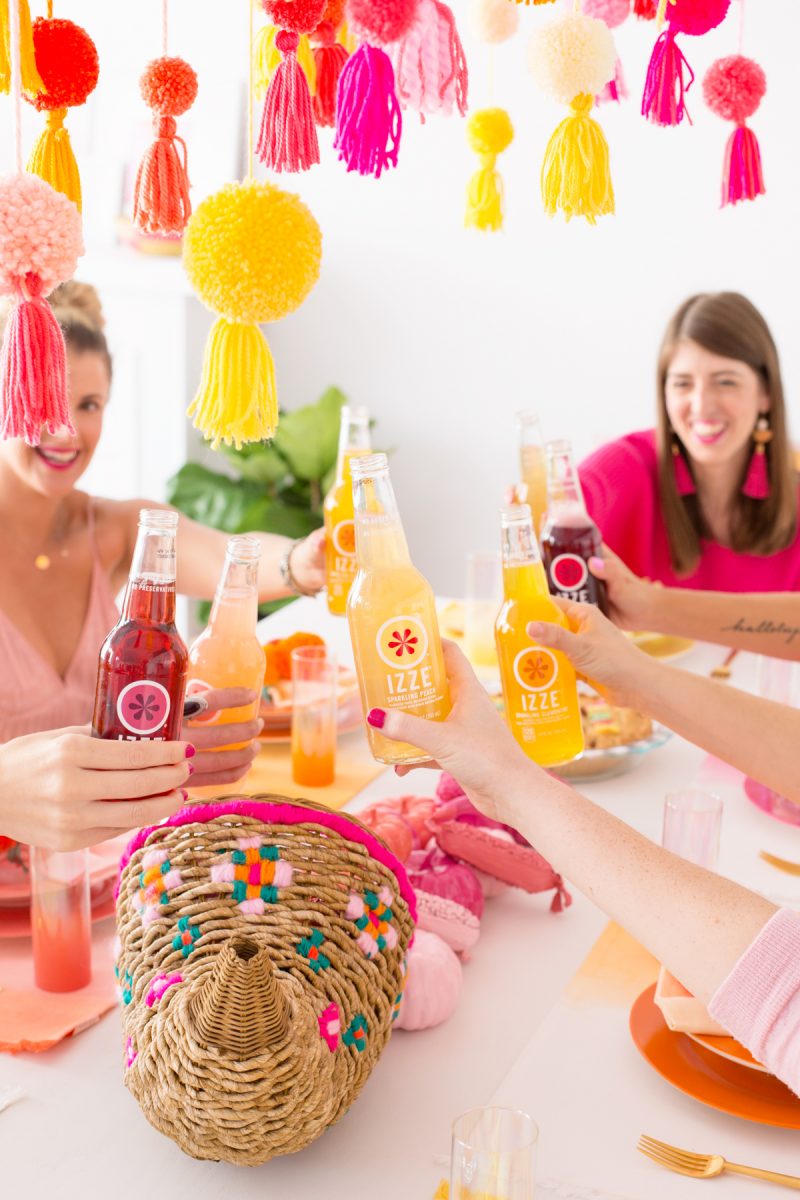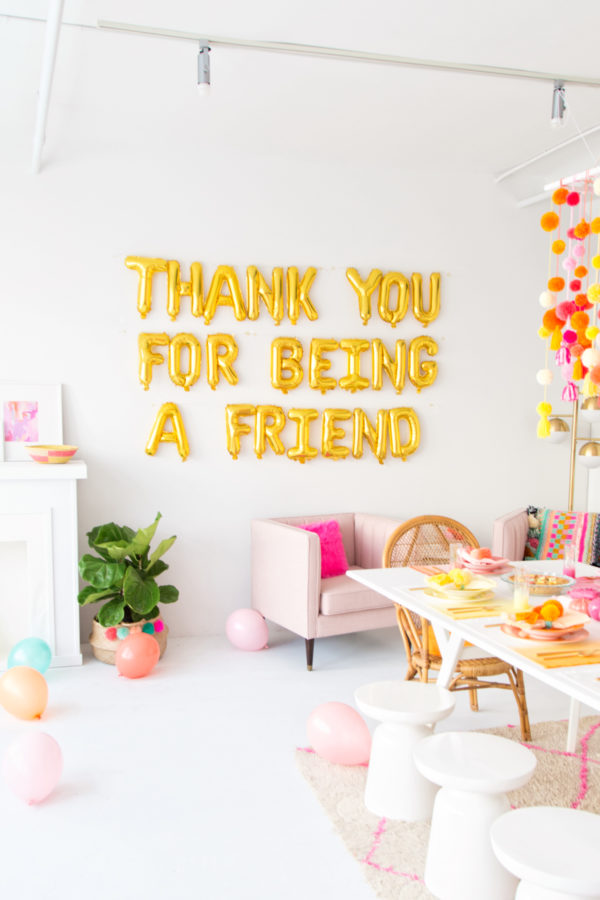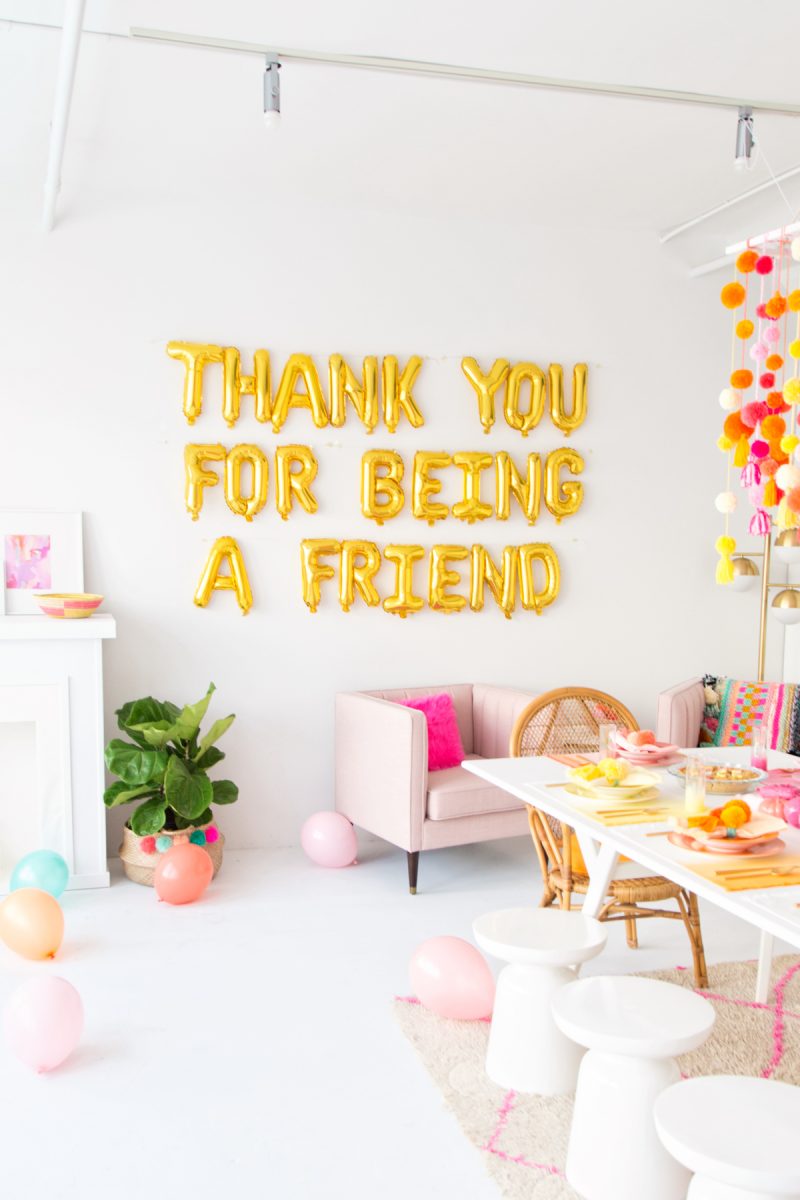 Photos by Jeff Mindell
Creative Direction: Kelly Mindell | Art Direction & Styling: Cyn Moreno
Food Styling: Theresa Rountree | Production Manager: Samantha Martin
Models: Jenna | Cortney | Tisha | Leslie | Rachel | Morgan | Sam
Sources:
Balloons
16″ Gold Letter Balloons
Furniture
Table | Stools | Rattan Chairs (similar) | Pink Chairs | Side Table | Standing Lamp |
Mirror (similar) | Buffet | Flamingo Print | Rug
Food & Bev
IZZE Sparkling Grapefruit | IZZE Sparkling Peach | IZZE Sparkling Clementine | IZZE Sparkling Pomegranate
Plates (DIY) | Glasses (DIY) | Placemats (DIY) | Napkins (DIY) | Flatware
I really love how this celebration turned out, and I love that so many things can be saved for years to come, or given as favors. Or just eaten… like the pie and the IZZE. Ha! What do you guys think!? Any Friendsgiving plans in the work for you??
This post was created in partnership with IZZE. All content and opinions are that of my own! Thank you for supporting the sponsors that keep the Studio DIY party going! Read more about my editorial policies here.
SaveSave
SaveSave
SaveSave