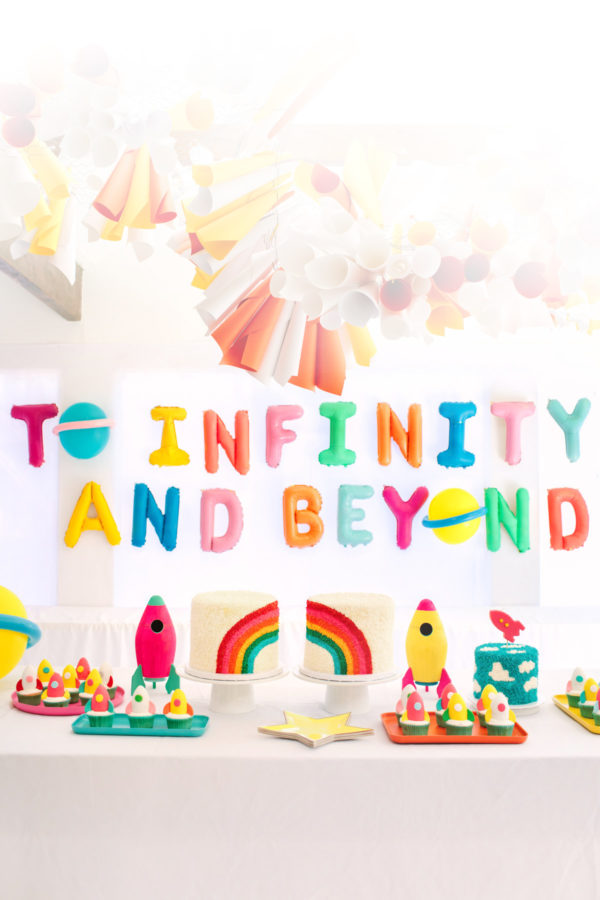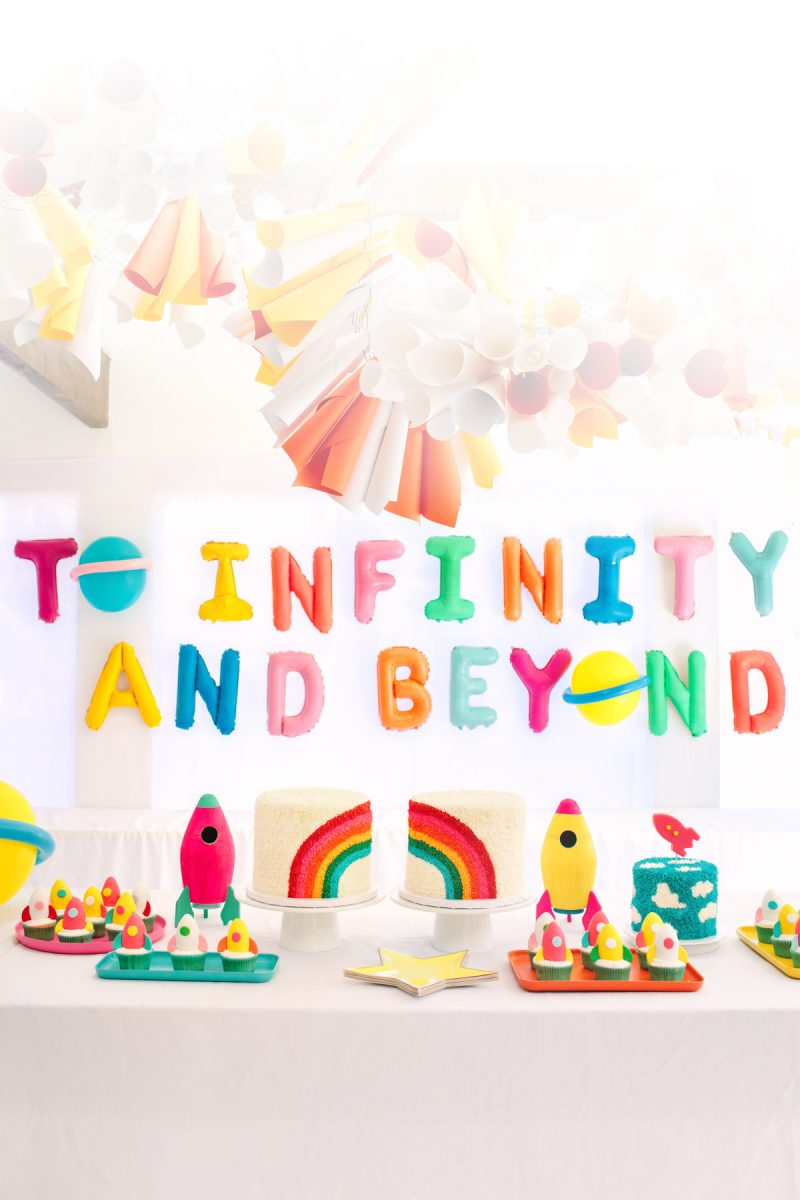 Are you ready for the most epic-ly long blog post of all time, but how do you cut out any photos because your baby only turns one once!??!!? We had the absolute BEST time planning and throwing Arlo a giant first birthday party. Since we never had a baby shower, sip & see or any of those fun baby-things, we decided to go BIG for his birthday and had so many friends and family fly in for the occasion. He is SO loved and we are so lucky.
Inspired by Arlo's most favorite party trick, and our family's general love for all things Pixar, we went with a "To Infinity and Beyond!" theme… with our own colorful spin! It was all about planets and rocket ships and rainbows and clouds and everything in between. It was so happy and colorful and perfect, just like him. It was also the most stress-free party I've ever thrown because I recruited one million people and friends to help me with it. And I'm so excited to share every last detail with you today!!!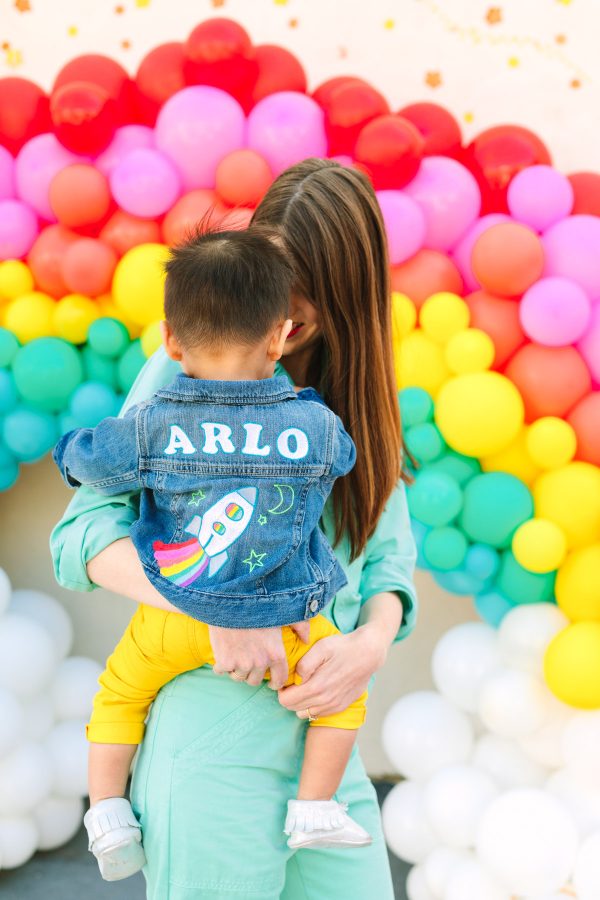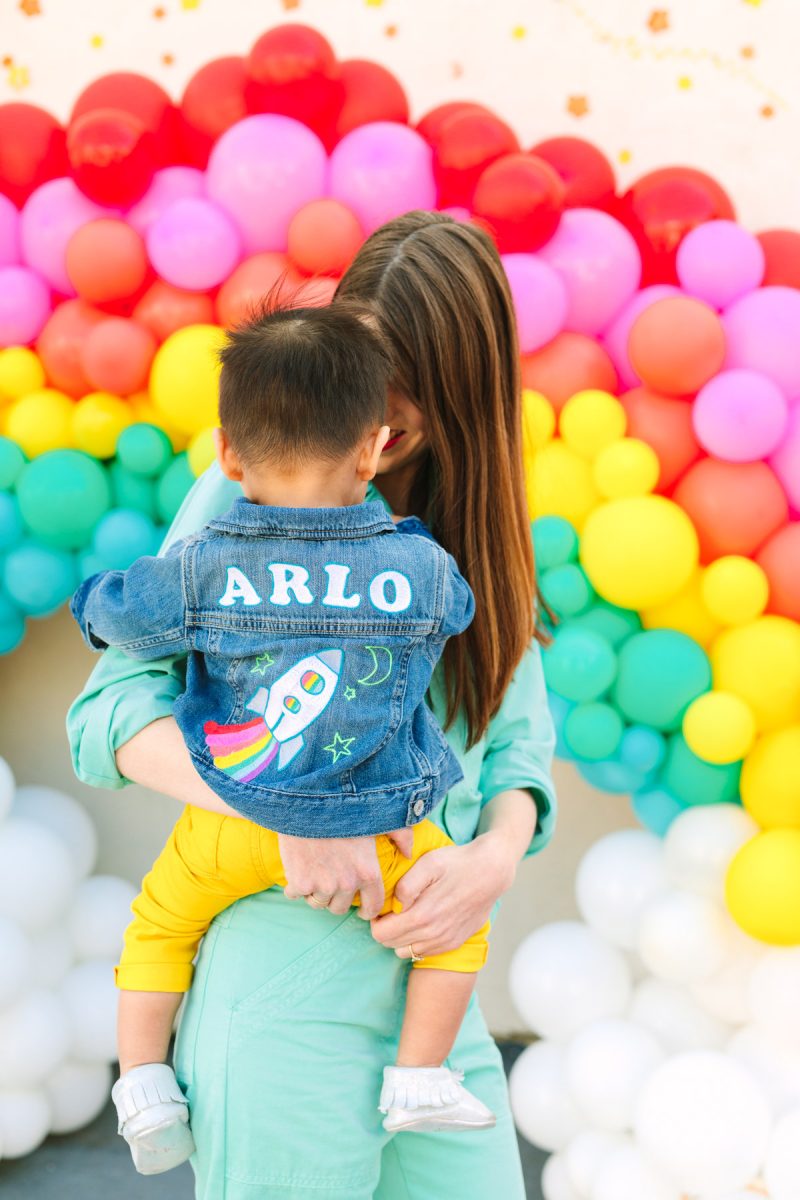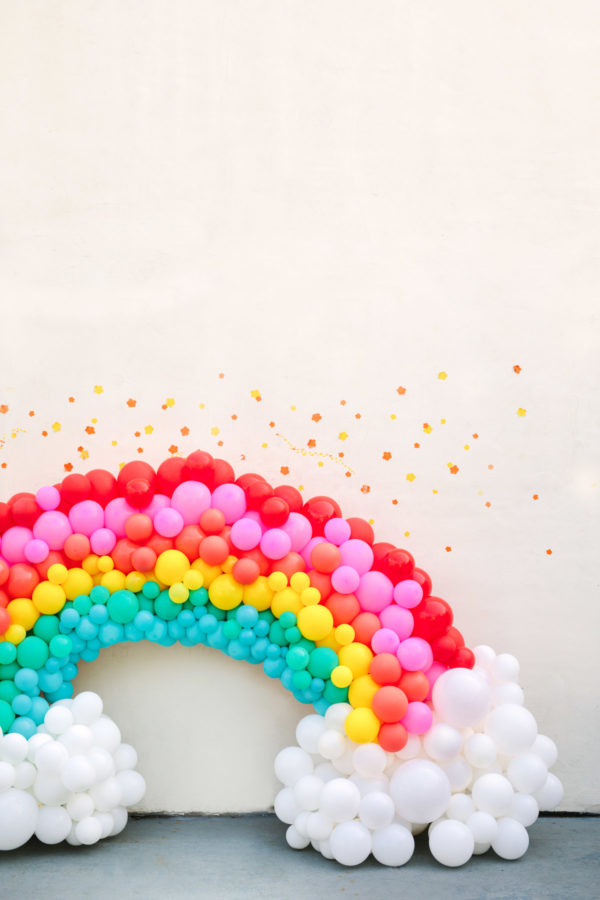 First, let's start with the location. We had initially planned to throw the party at home, but when I realized our not-yet-renovated backyard was basically a death trap for children, we moved the whole shebang to The Coop Los Angeles. Honestly, best decision of my whole life. The Coop is a play and event space for kids that has all the things kids love like a ball pit, a bounce house and lots of toys, PLUS a really pretty party space and outdoor area. Throwing it there meant I got the help of their whole team (who are seriously magicians and solve every problem and make everything happen SO QUICK and perfectly) and it had built-in entertainment so I didn't have to hire anything (or anyone) else. The kids LOVED it. I loved it because I didn't have to do much besides decorate. It was a dream.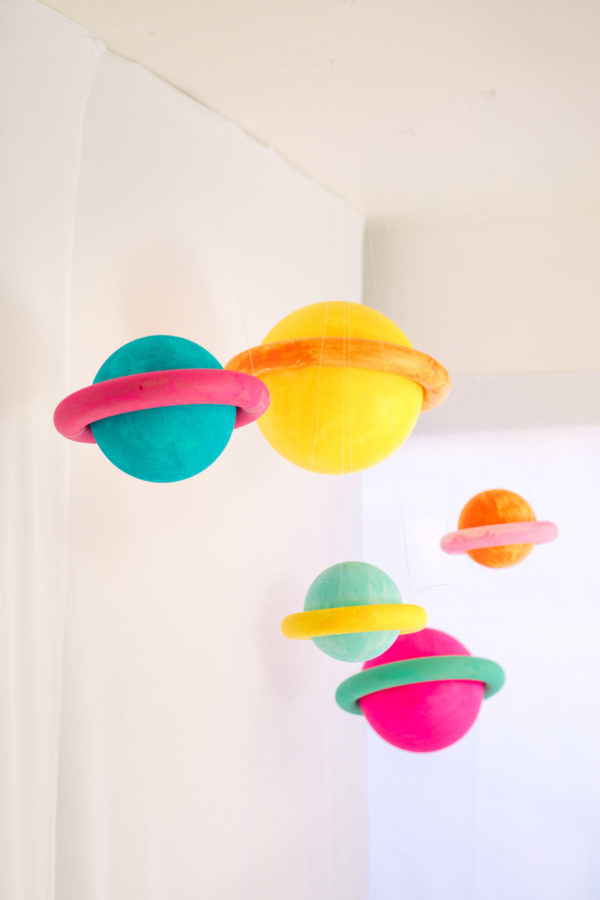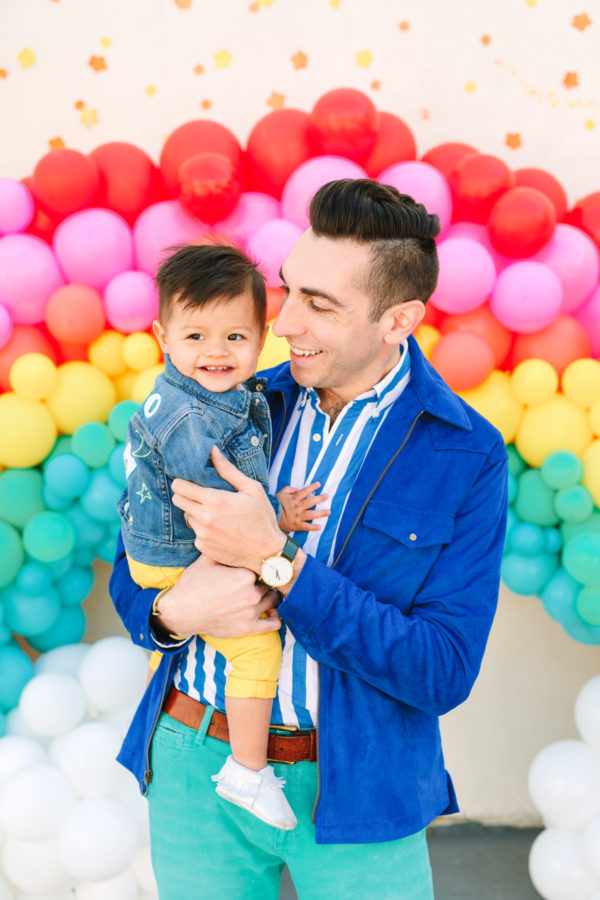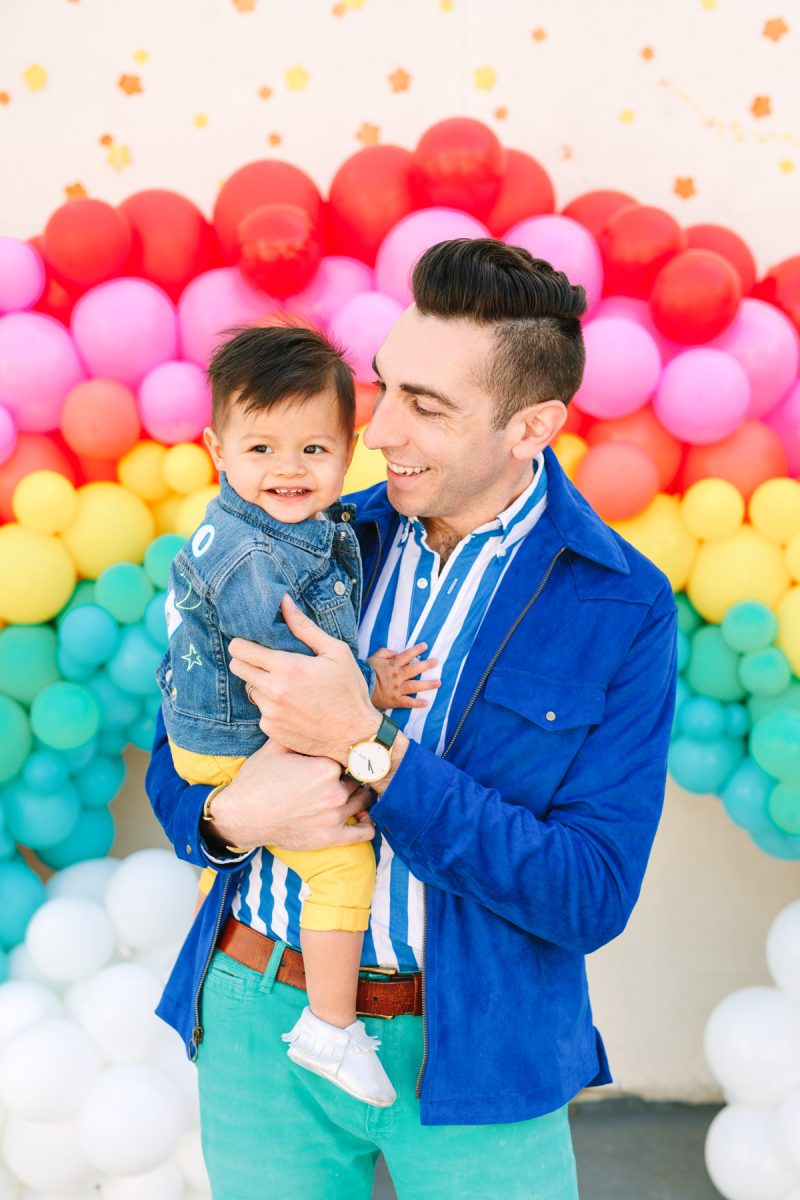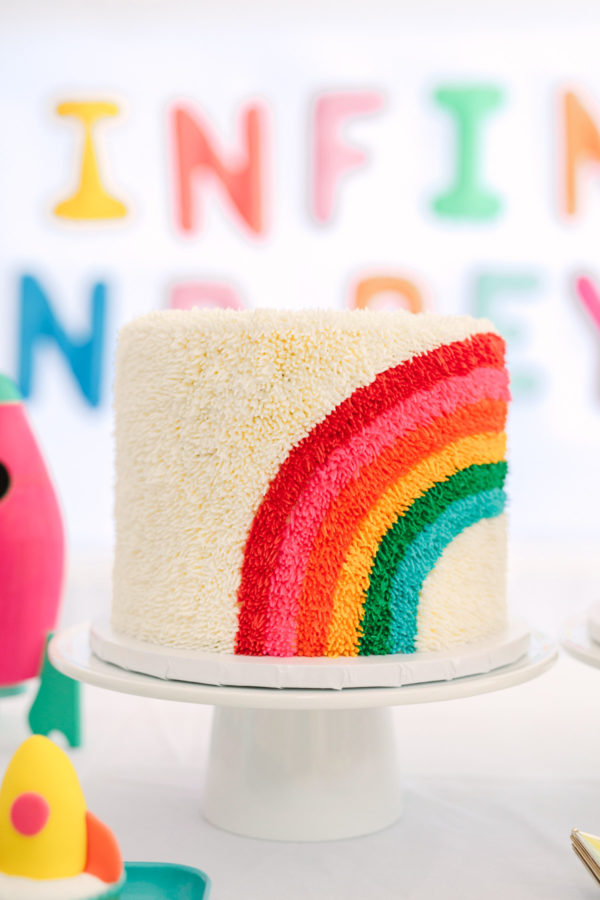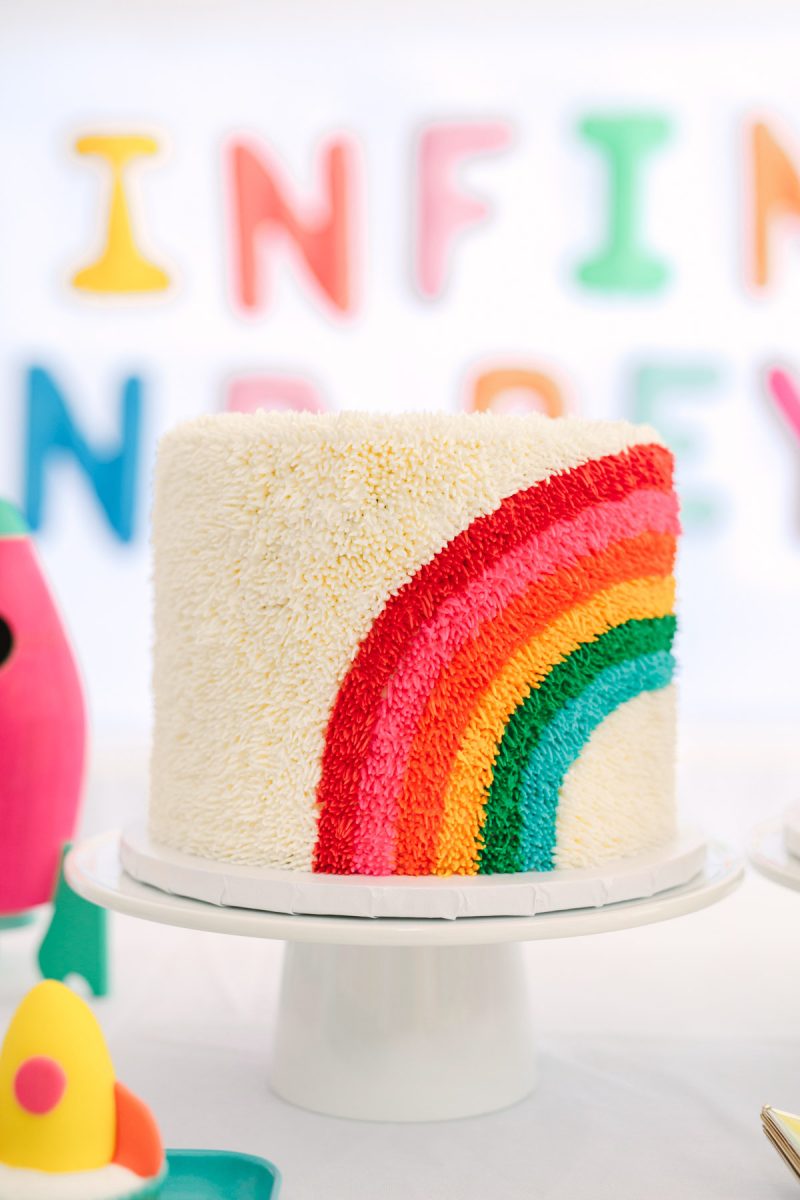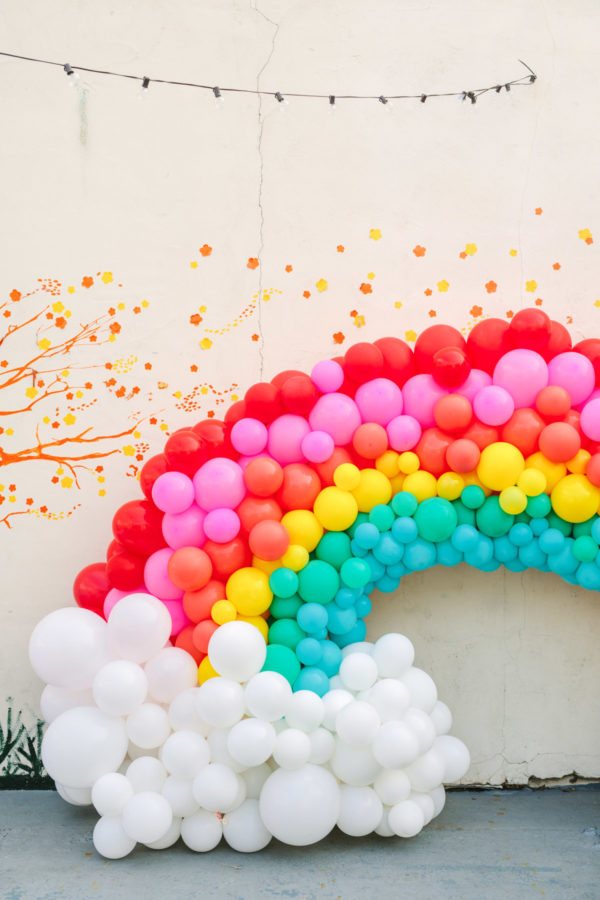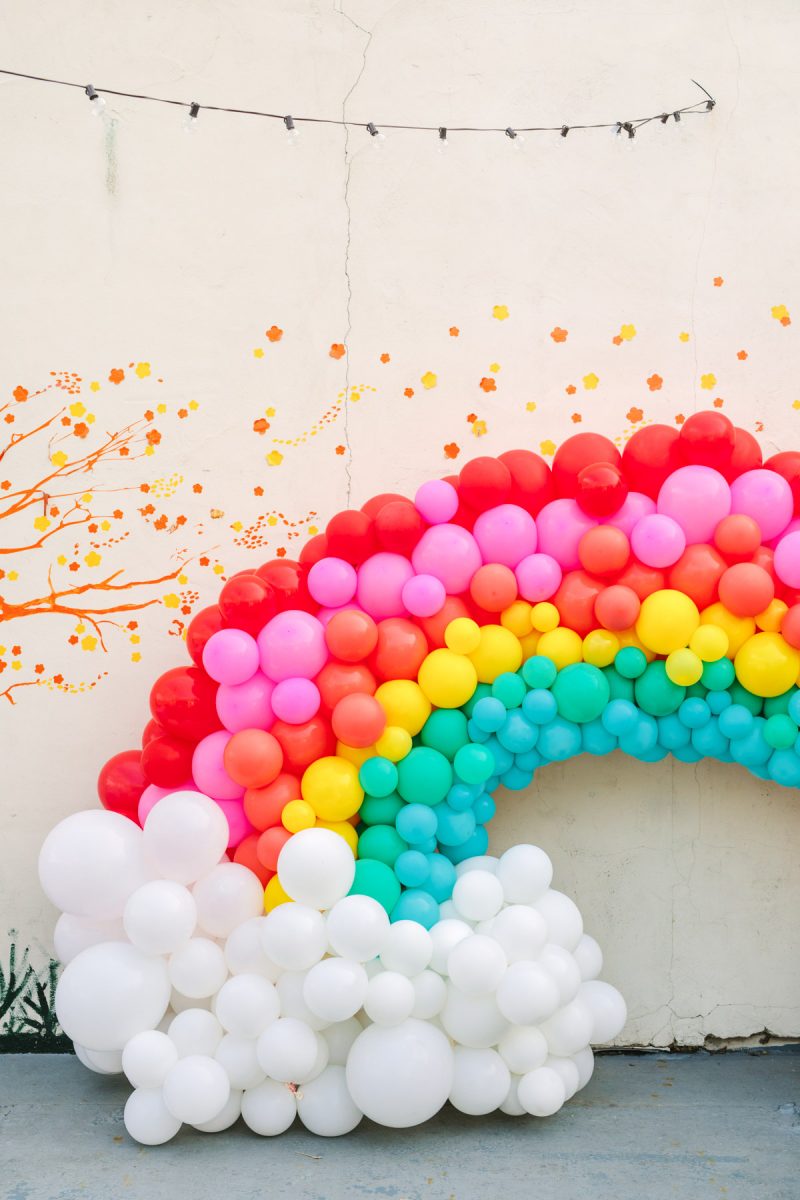 Next, can we talk balloons!?! Obviously had to have a lot. Also knew with 10 people flying in to stay with us that I was never going to be able to make my balloon-dreams happen without crying in a corner so I teamed up with the gals of Bonjour Fete (best LA party store ever!) to make it happen. We schemed up a balloon rainbow, a balloon rocket ship and a colorful "To Infinity And Beyond" balloon phrase and those ladies took it to the next LEVEL using all balloons from our balloon shop!! (Full source list at the bottom of the post.)
Can you believe this rainbow????!!!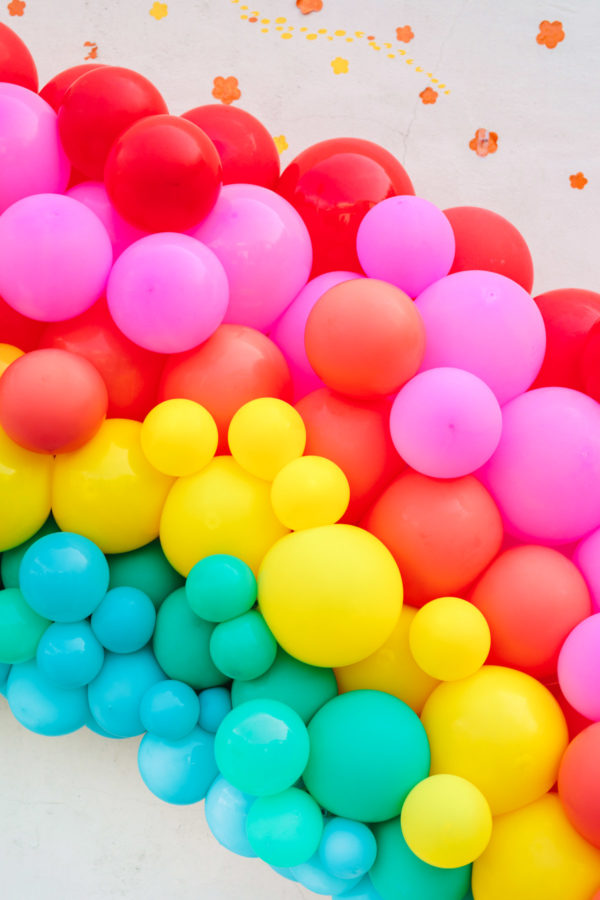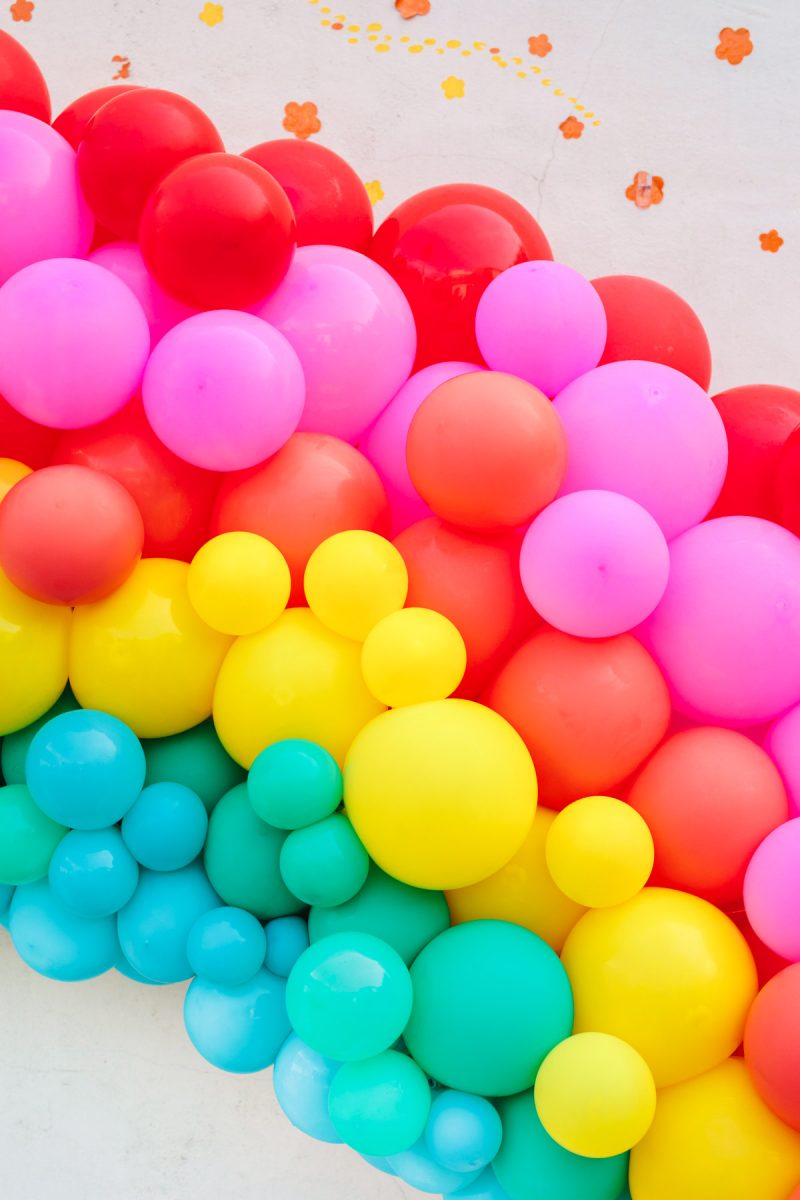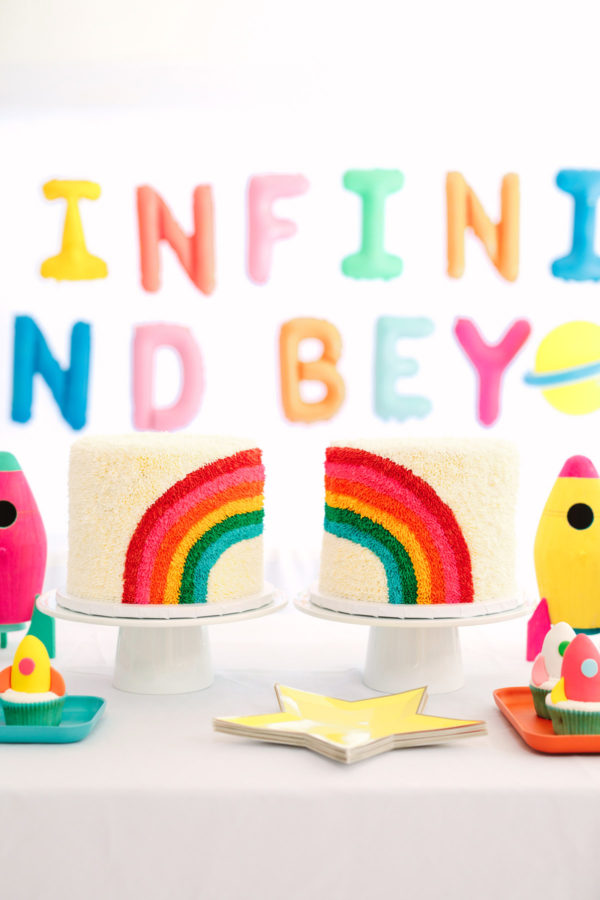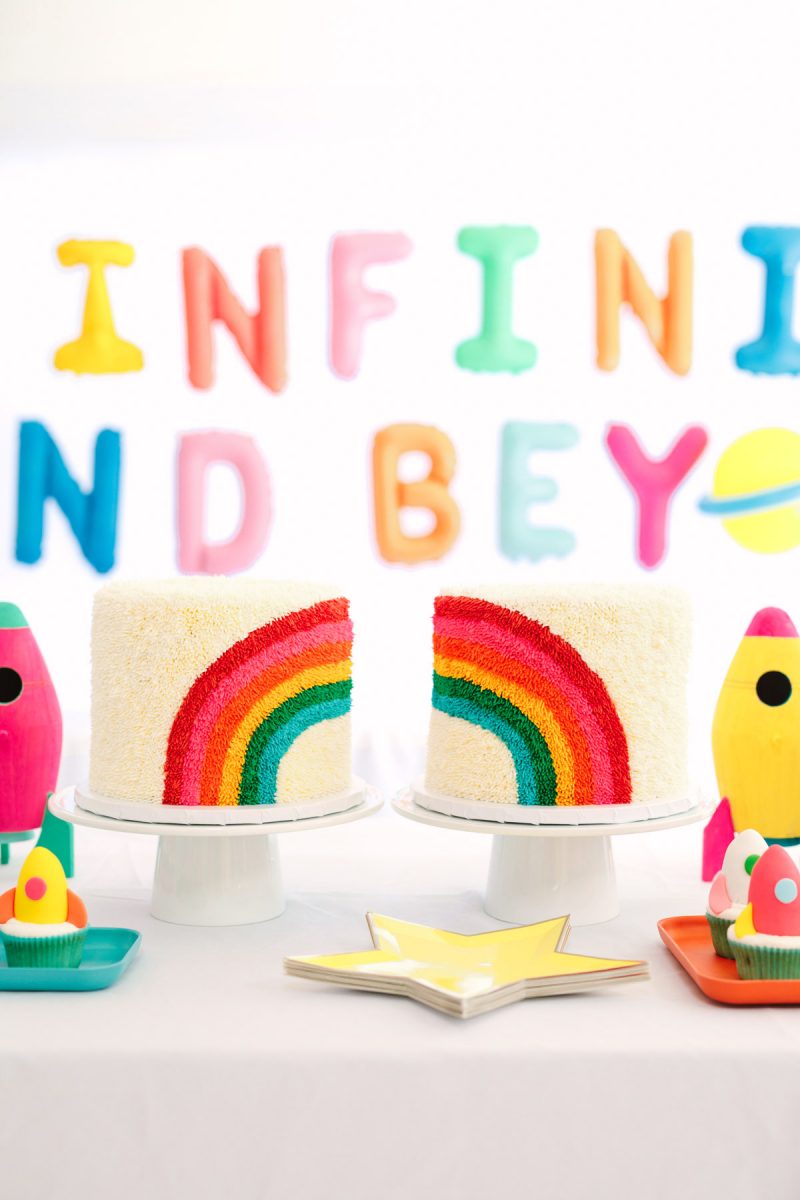 NEXT! The desserts!!! My friend Alana (You following her? You should be!!) is one of the most talented humans on this planet. We had brunch when Arlo was just a few months old and she said "So, what cake am I making him for his first birthday?" Ha, I did NOT forget it. We decided to do two (well, three!) shag cakes, her specialty. First, Alana did a diptych rainbow cake inspired by Arlo's wall hanging!!!!! And then she made him his very own blue sky smash cake, inspired by Andy's famous wallpaper we all know and love. I added a DIY rocket ship candle, and I'm gonna share a full tutorial on how to make that after a bunch of you asked! It was SO easy.)
As if three cakes weren't enough LOL, I knew I wanted something special that the kids would get a kick out of so I had our stellar baking gal extraordinaire Theresa make these rocketship cupcakes!! I screamed when I saw them. There's also a tutorial coming for these!!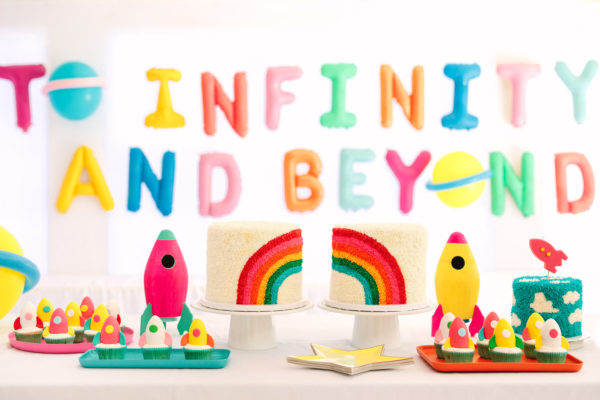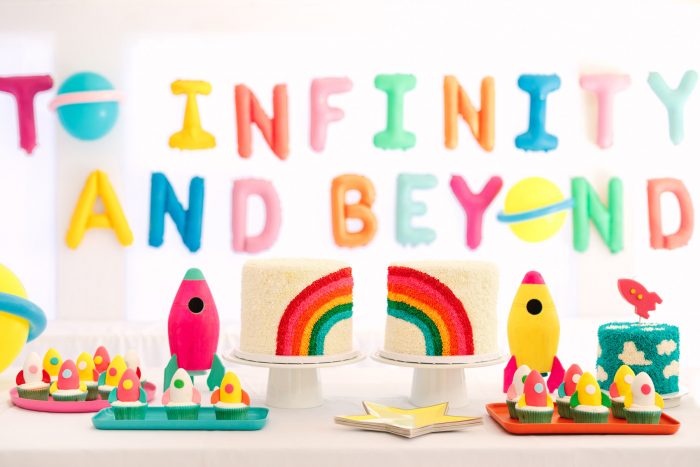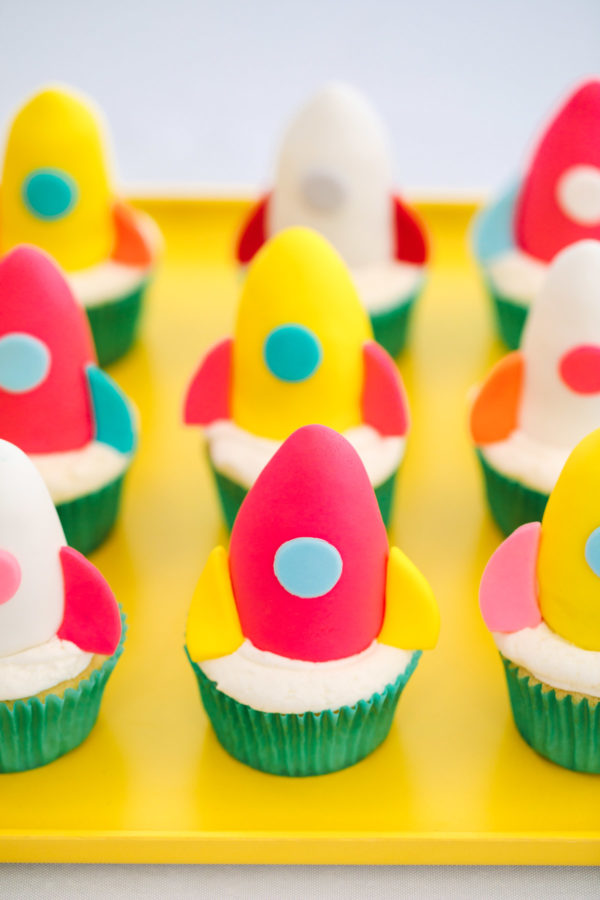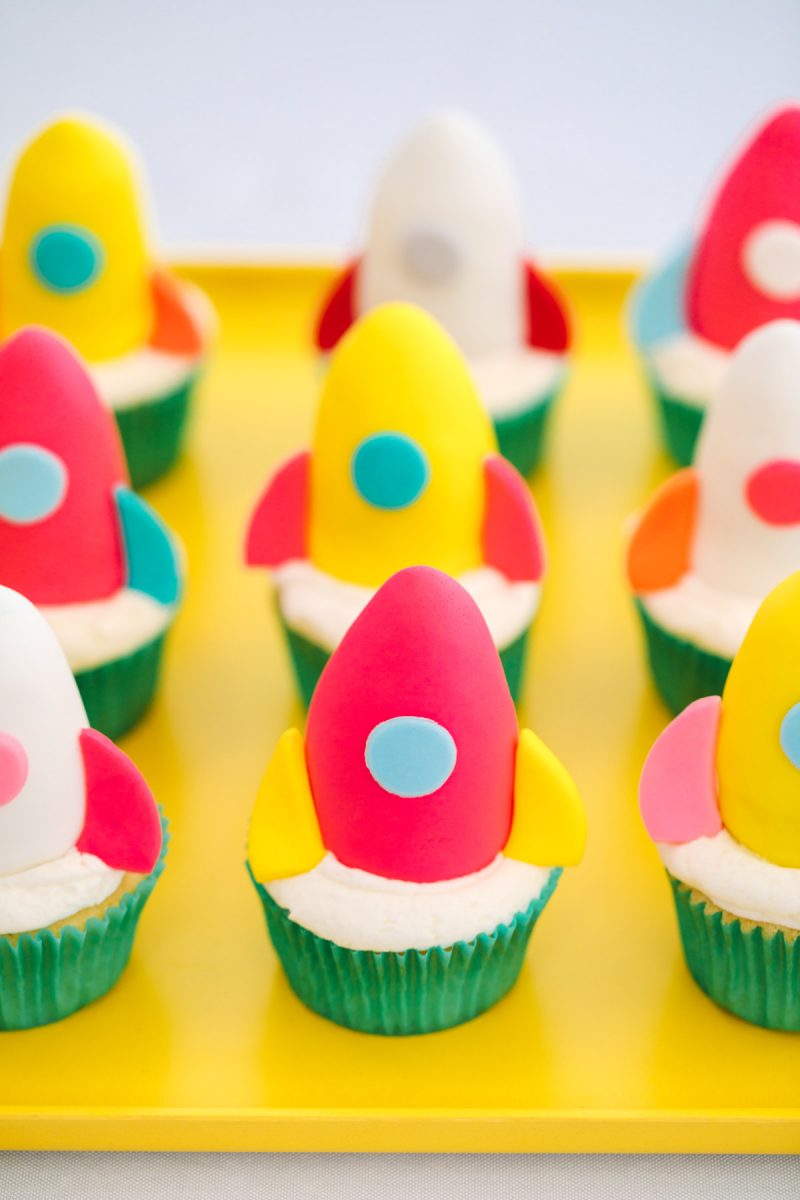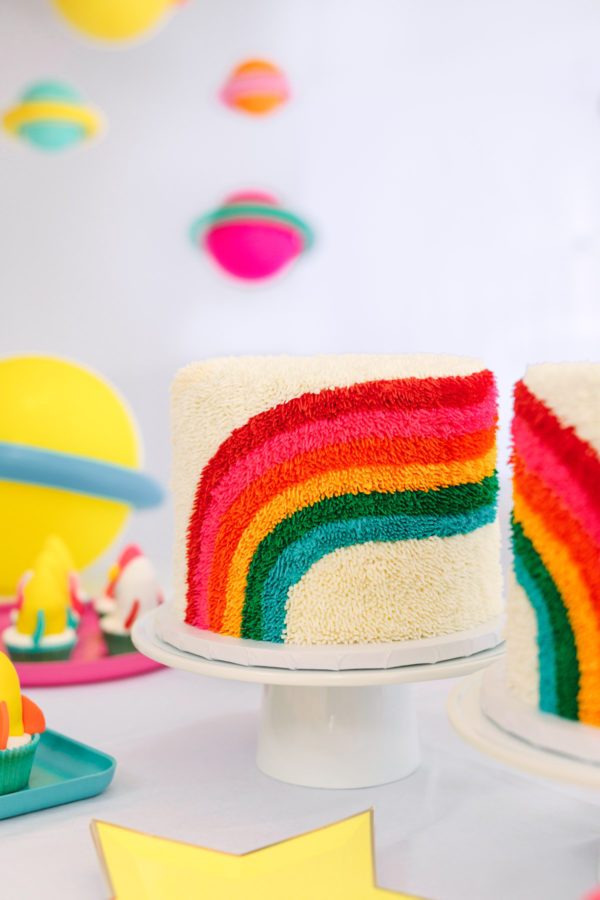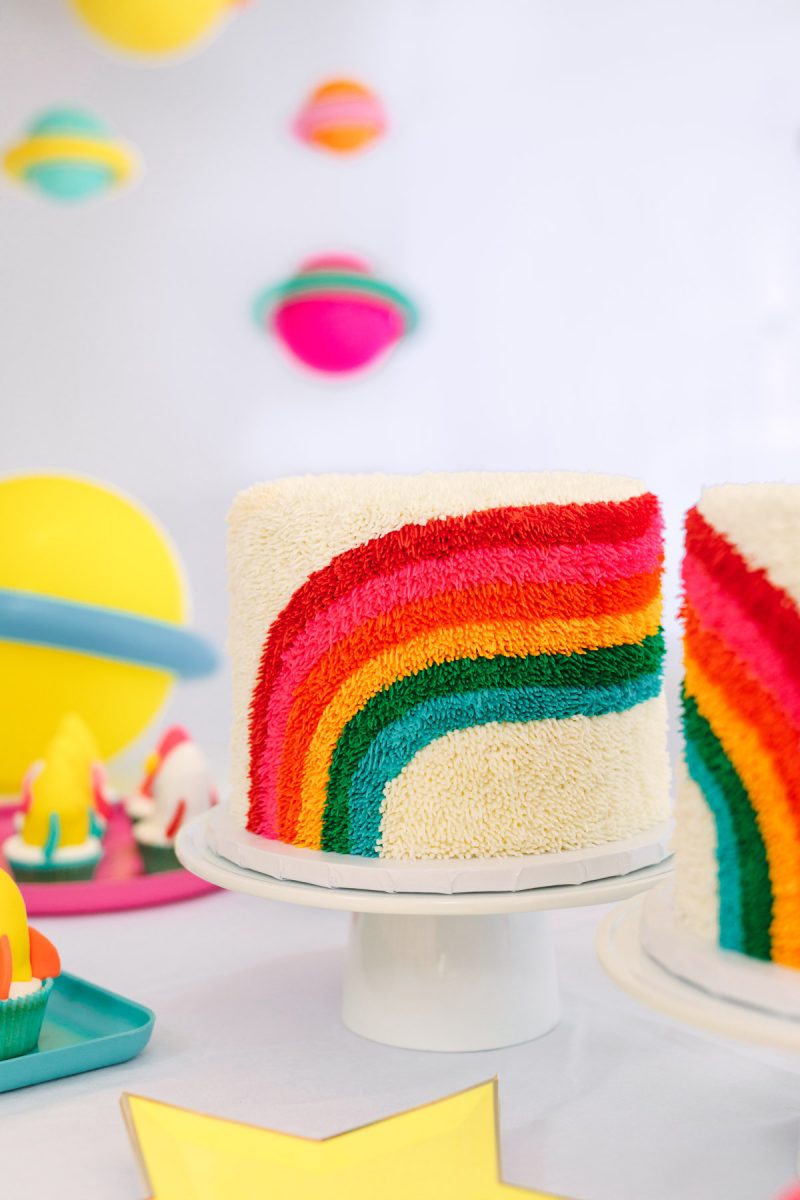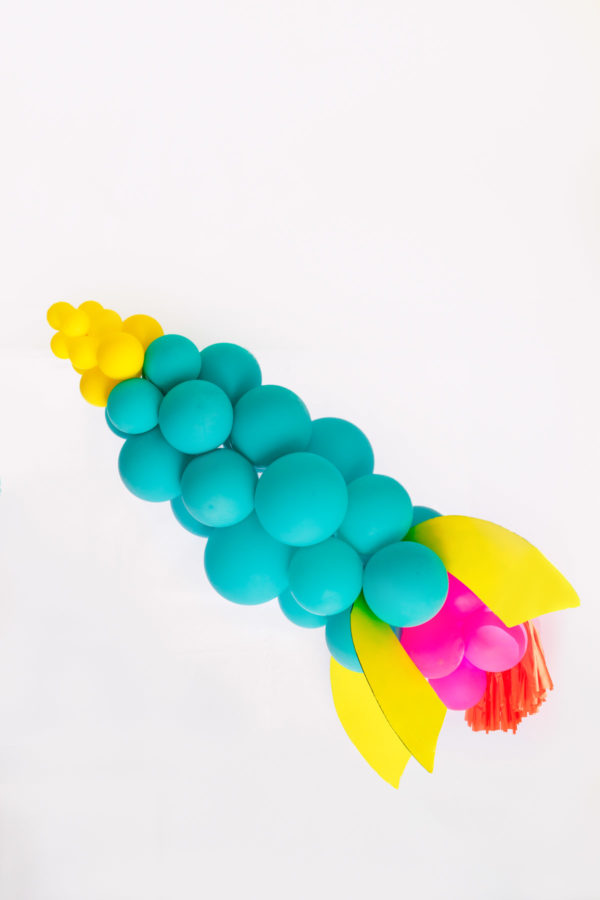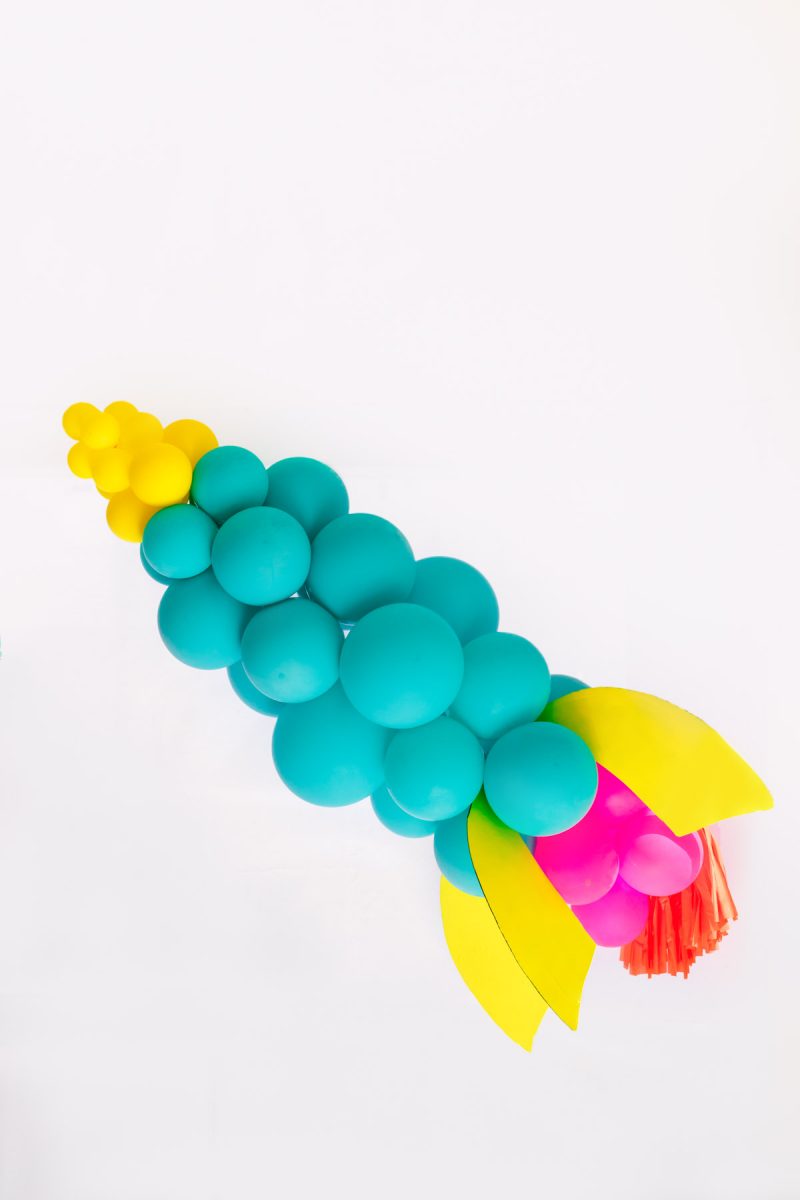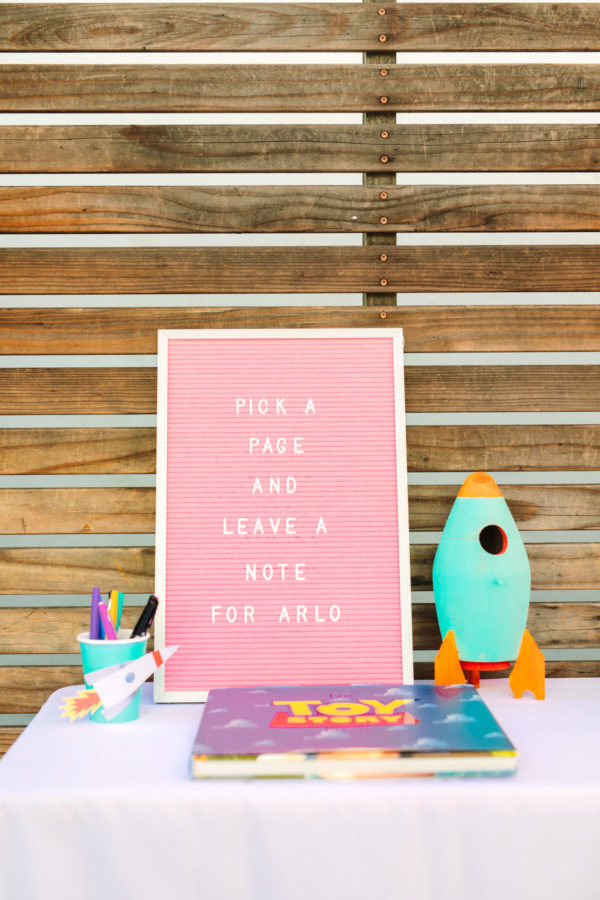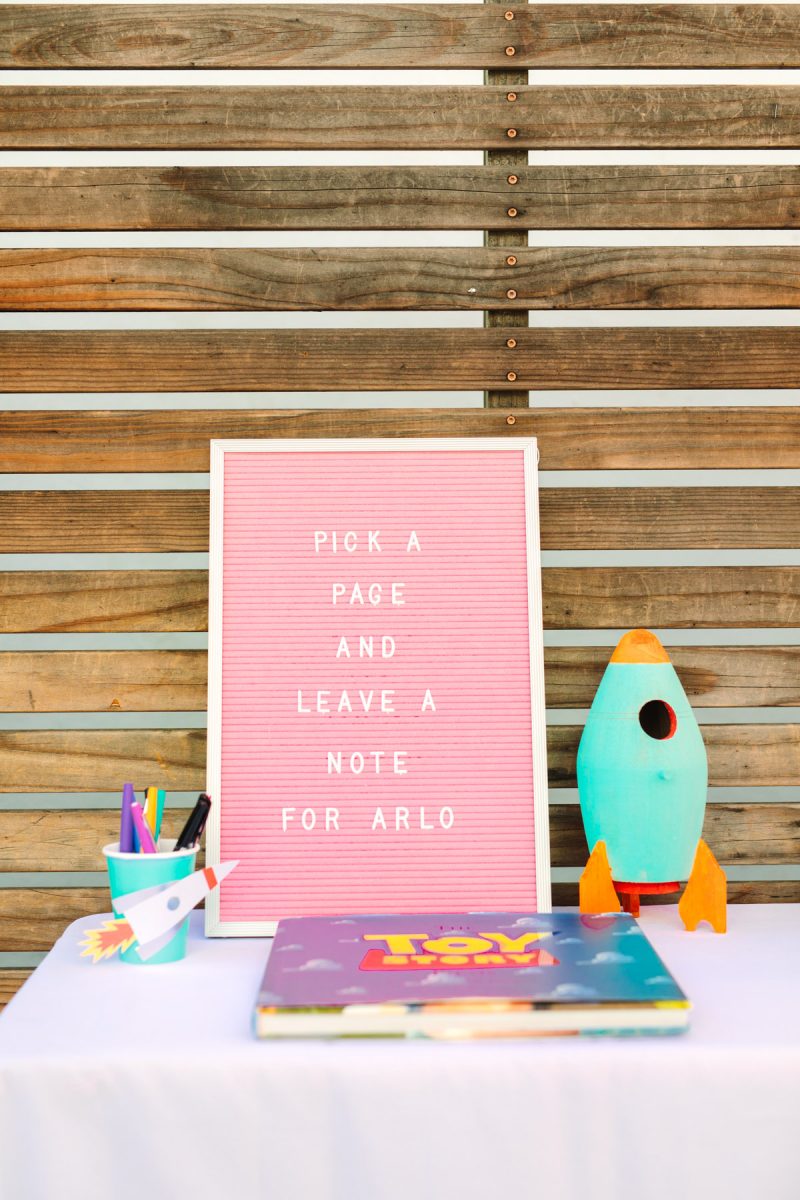 I knew I wanted a guest book since so many loved ones would be in one place. I decided to buy a Toy Story coffee table book and we invited guests to leave a note for Arlo on any page they chose! I love that someday he can have this in his home and look back at it, and in the meantime we can keep it out on our coffee table and flip through it too!
The rocket ships you see throughout the party are wood birdhouses that we painted! Oh also, there were tacos. We didn't just eat dessert. 😉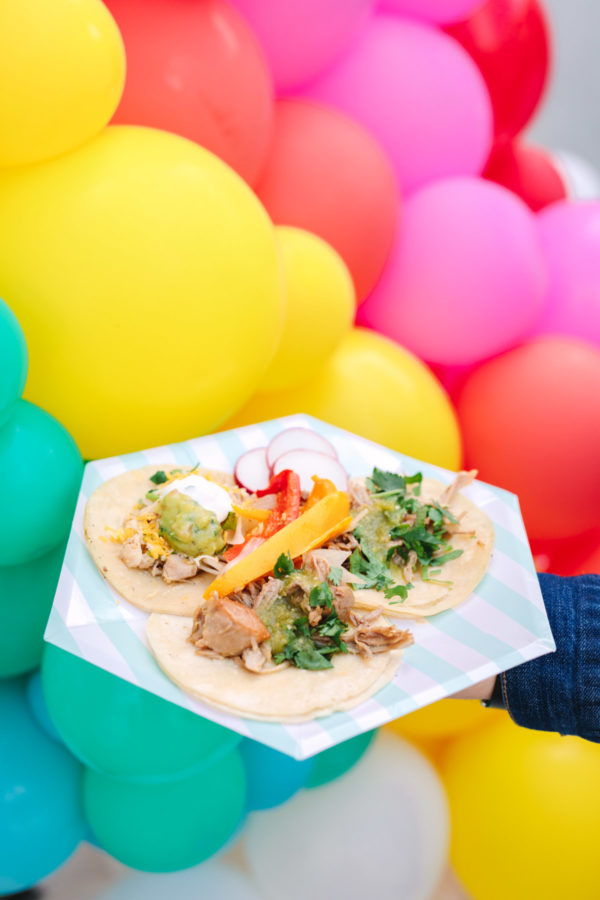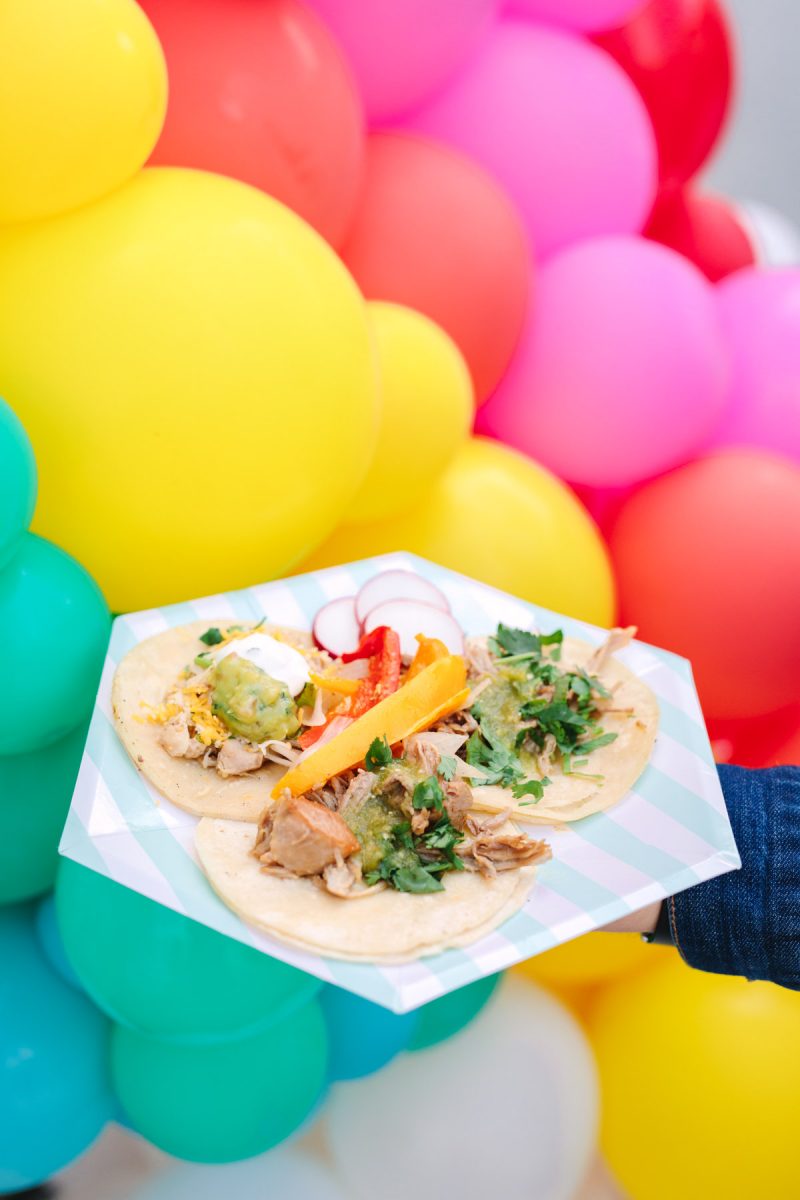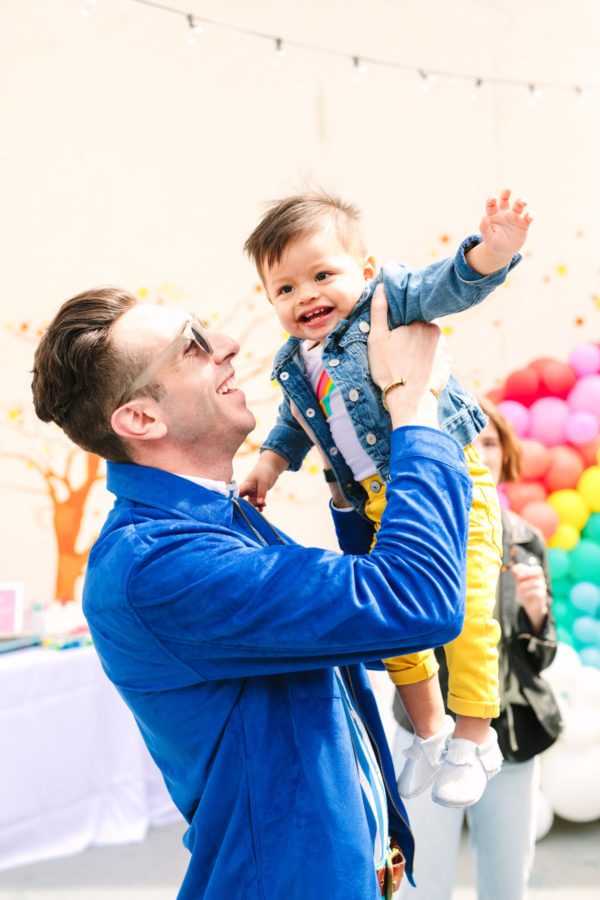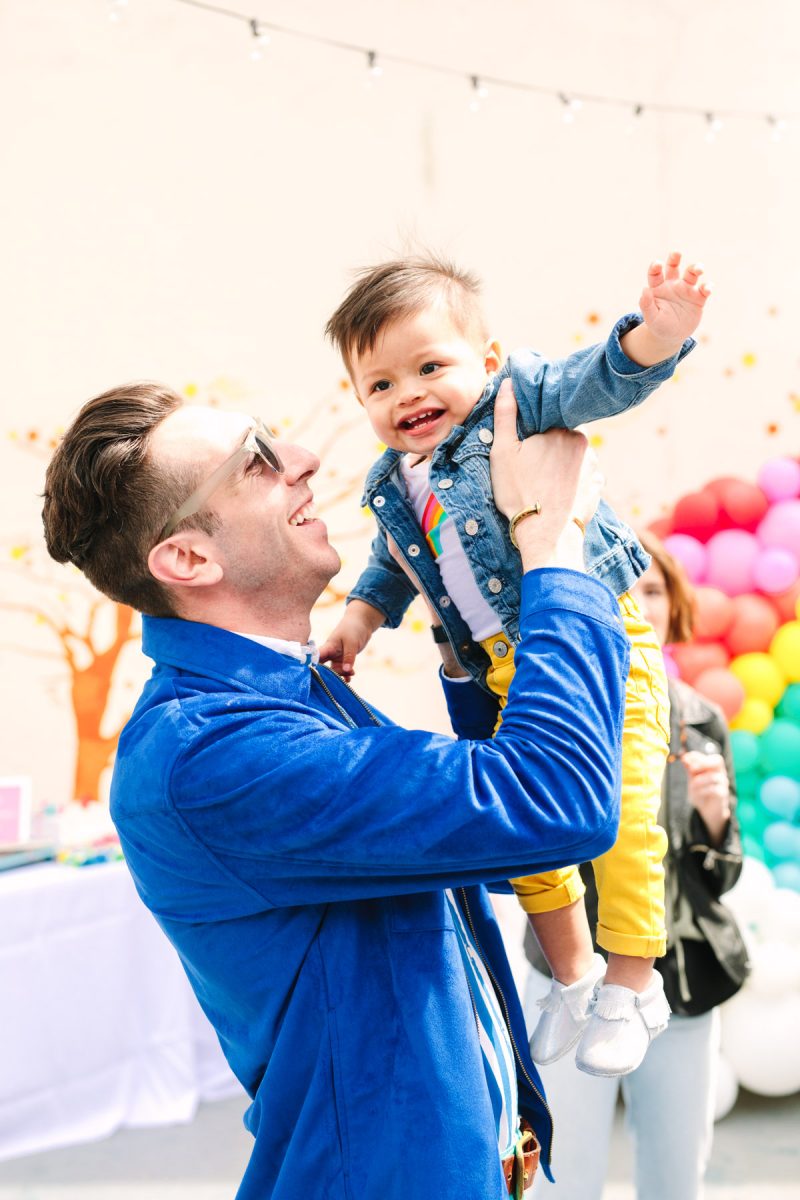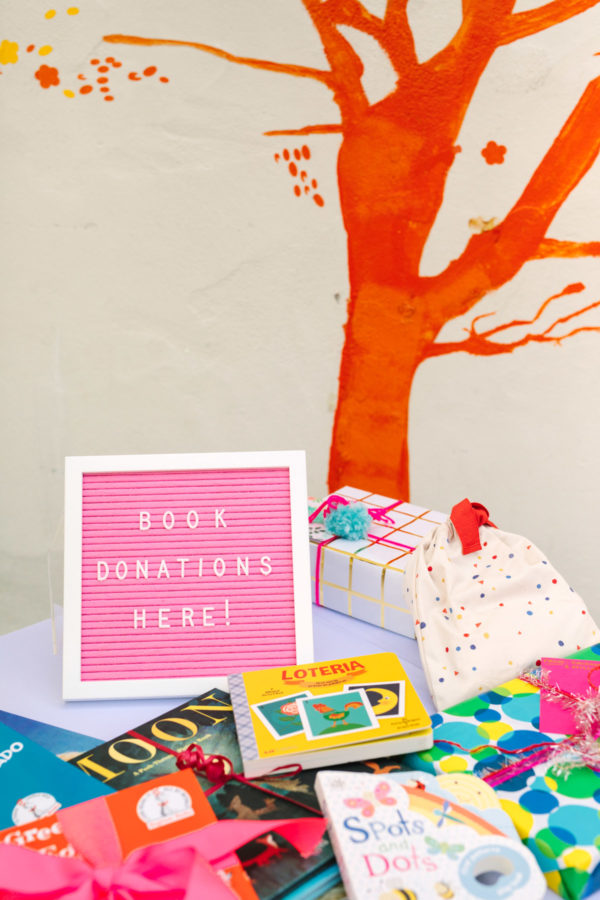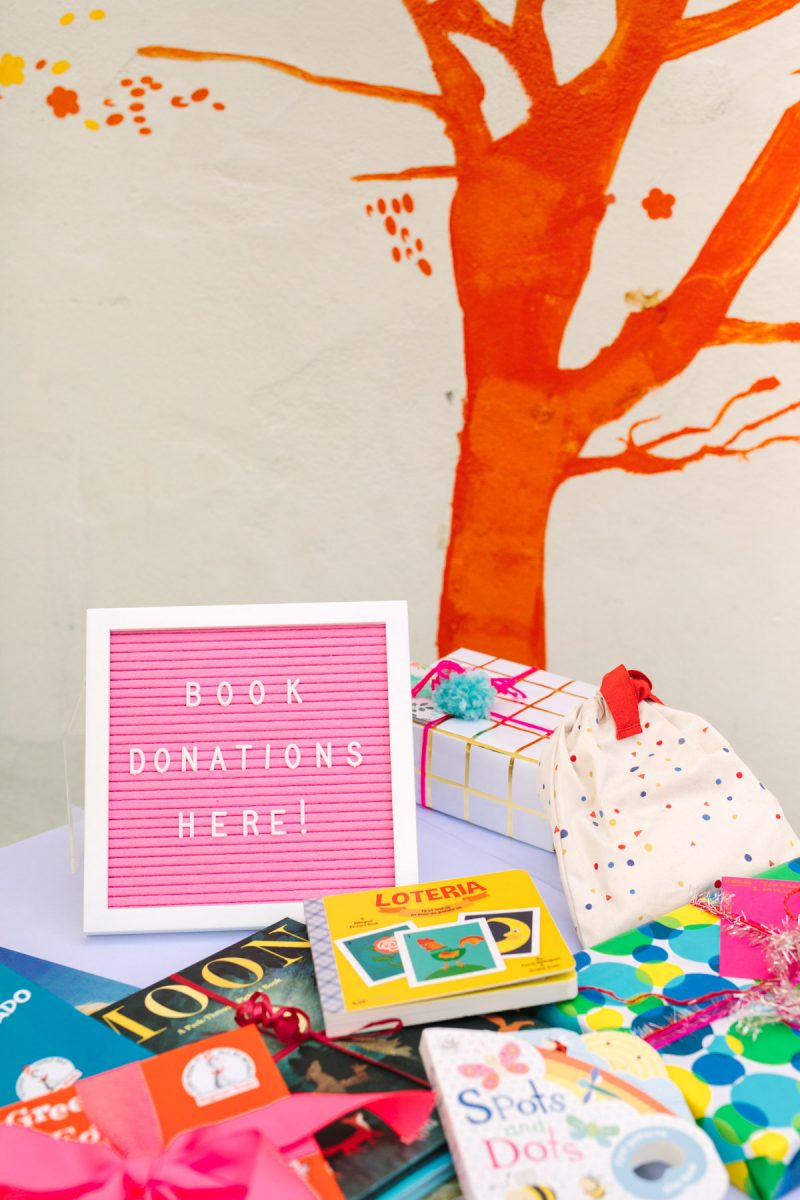 In lieu of gifts, we asked guests to bring a book to donate to children in need instead. This is something we hope to continue for all future birthday parties!
On another note, pro party tip: get yourself a giant sign with your baby's face on it. See all the photos of Arlo beaming in this post? It's because someone was behind the camera dancing with his giant face everytime. Ha! Thanks Crowdsigns!!!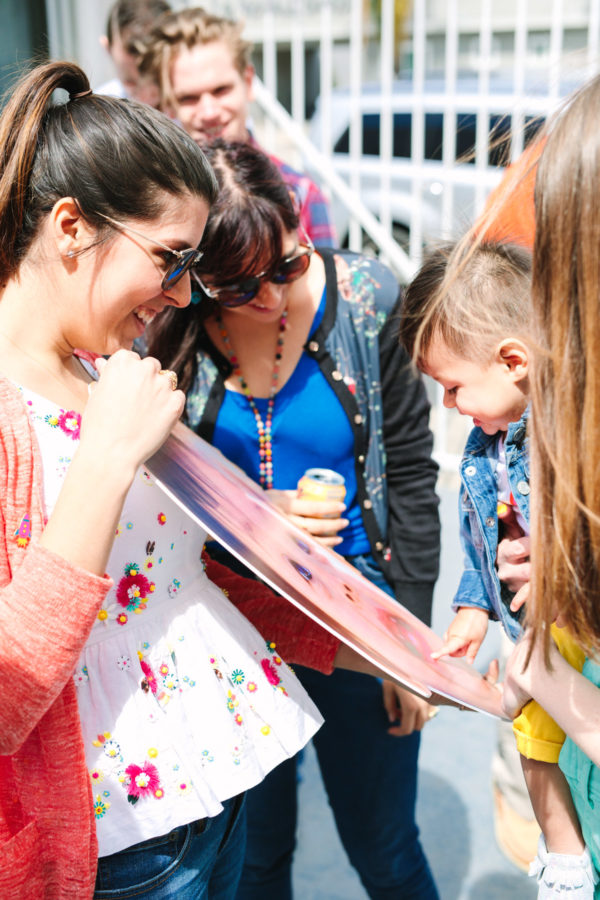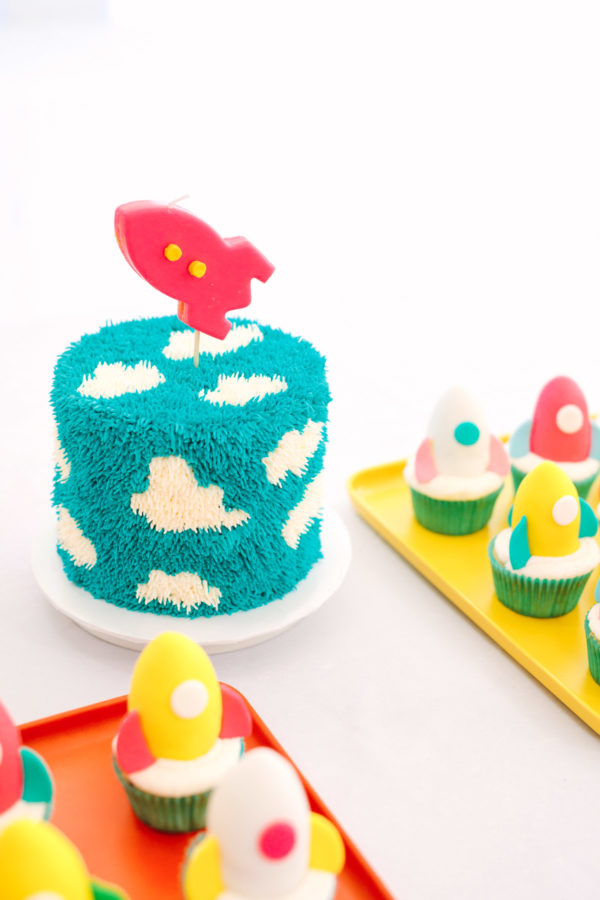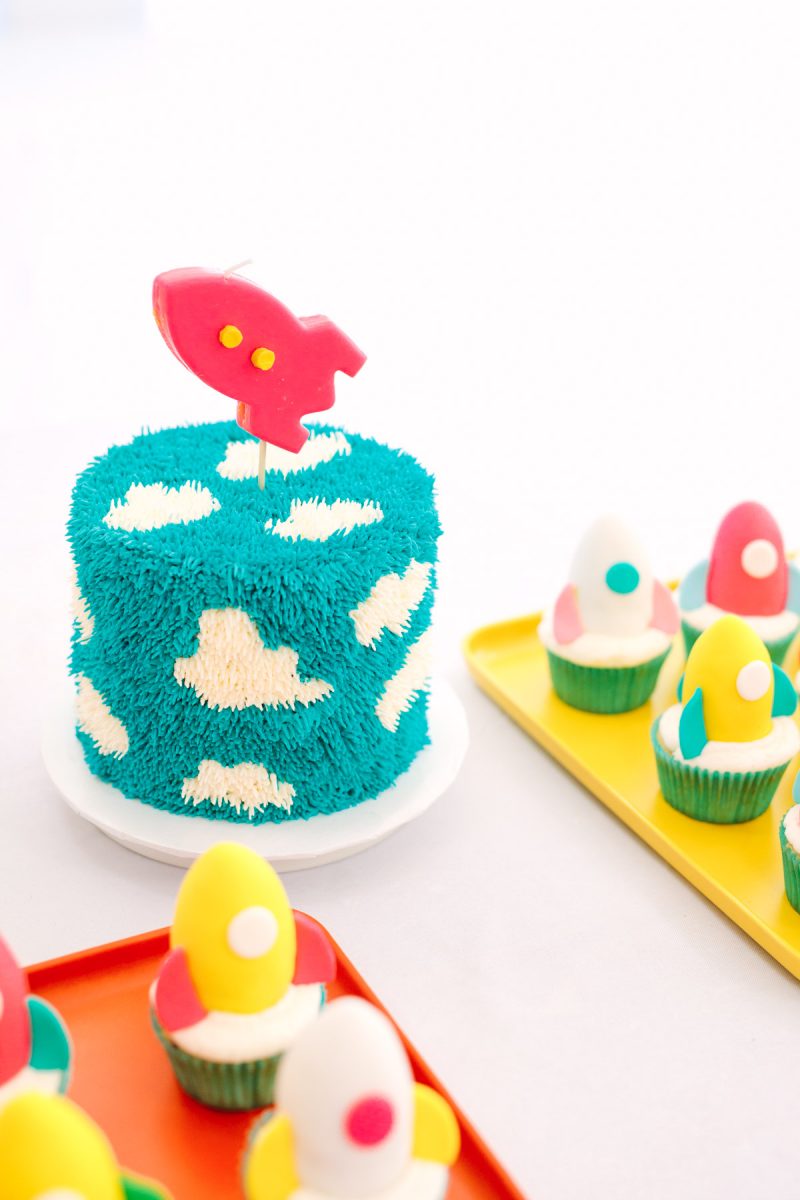 I had really high hopes that Arlo was going to dive face first into his first bite of real sugar, but he decided to just take one delicate swipe at it and then proceed to put it back together and clap for himself. LOL!!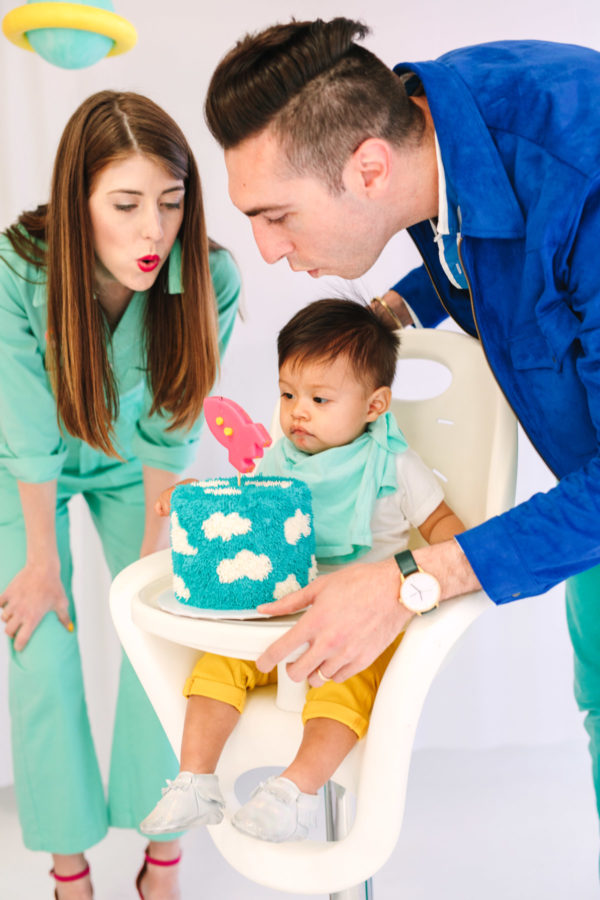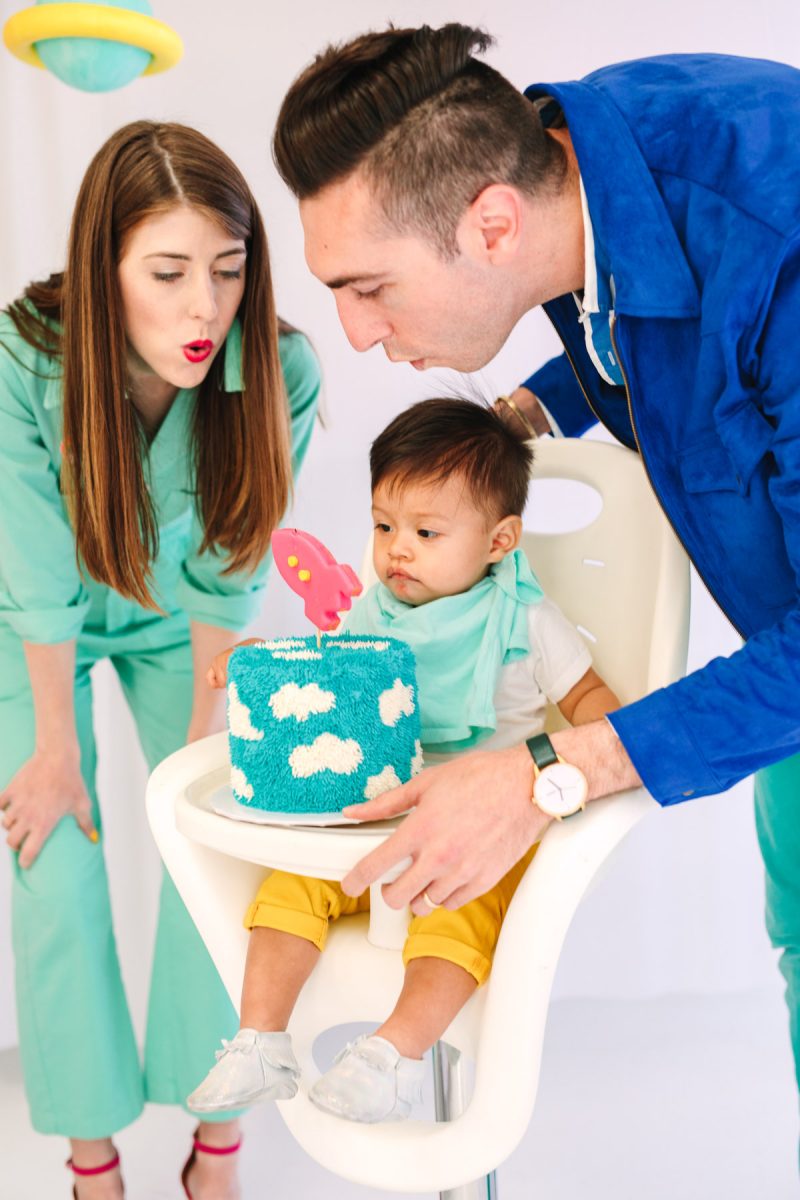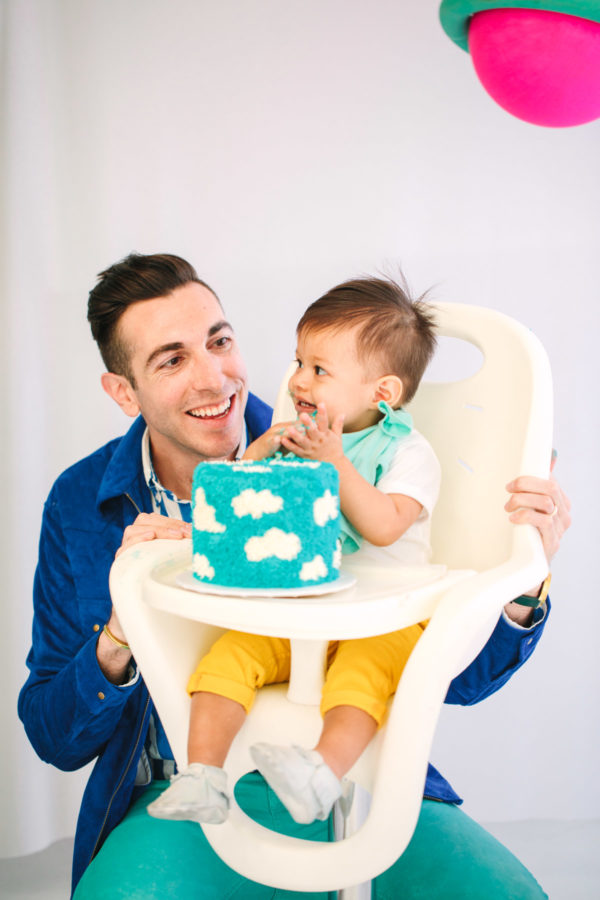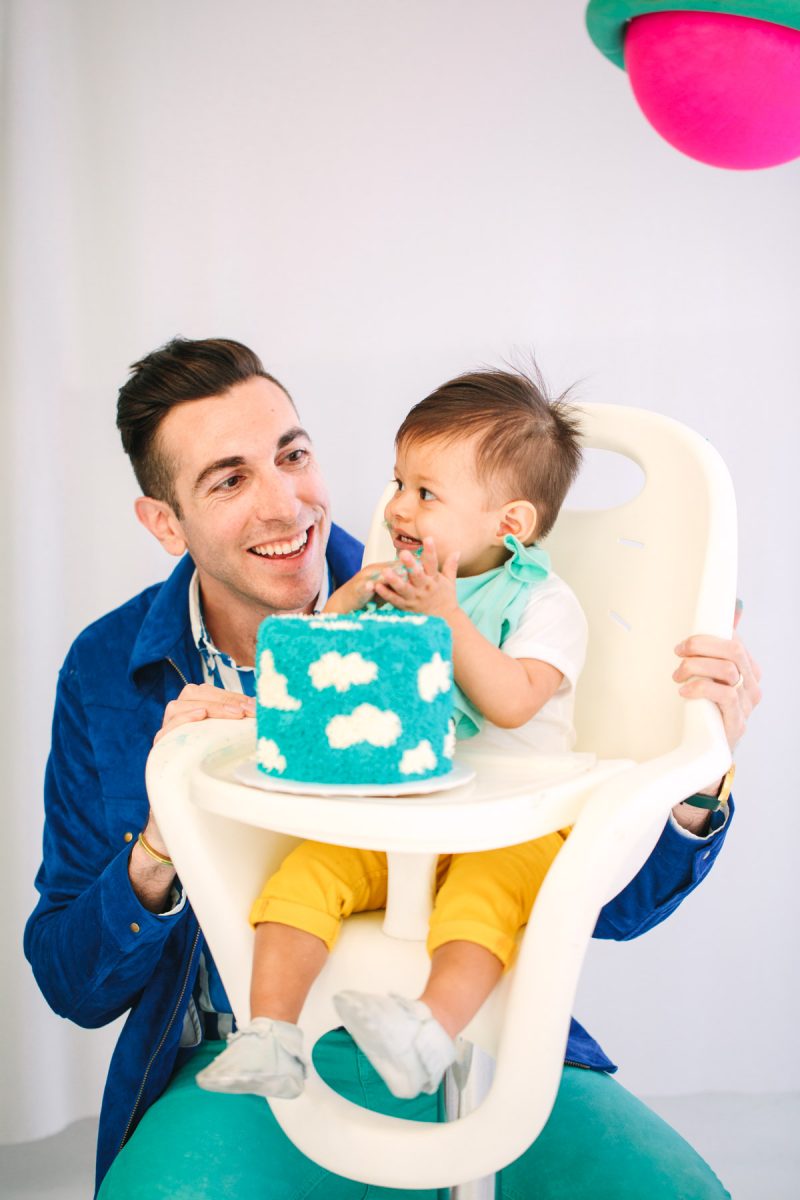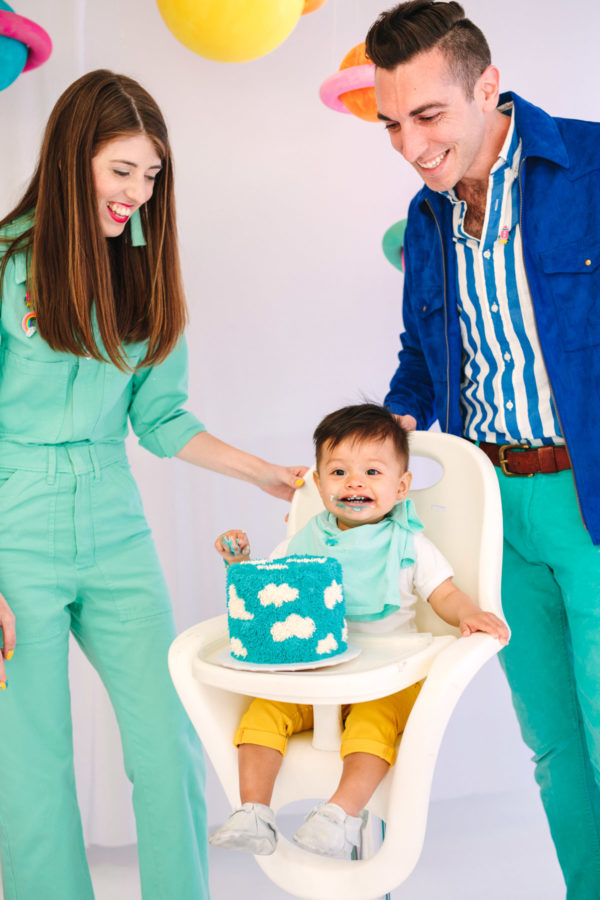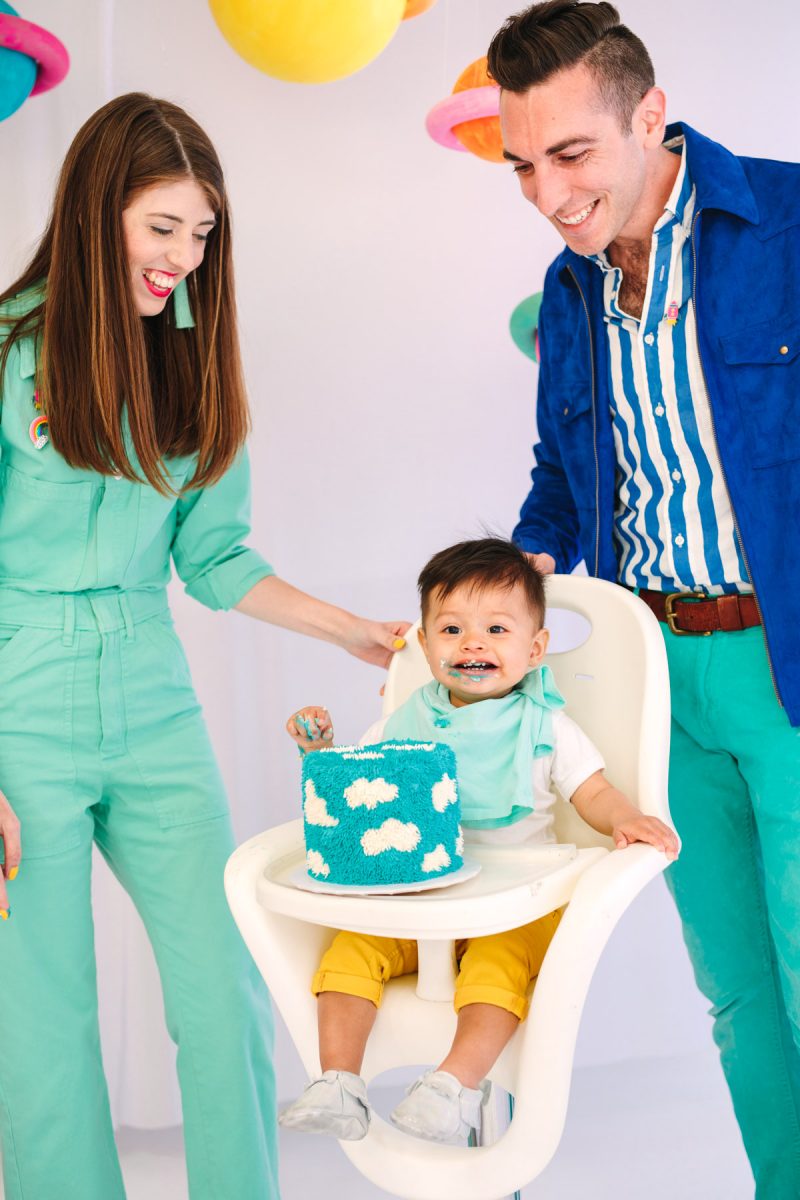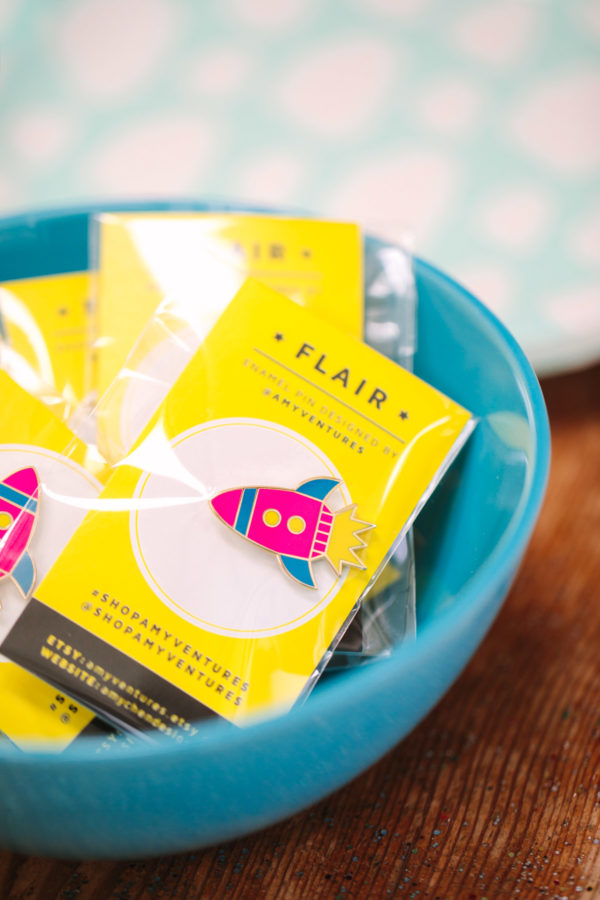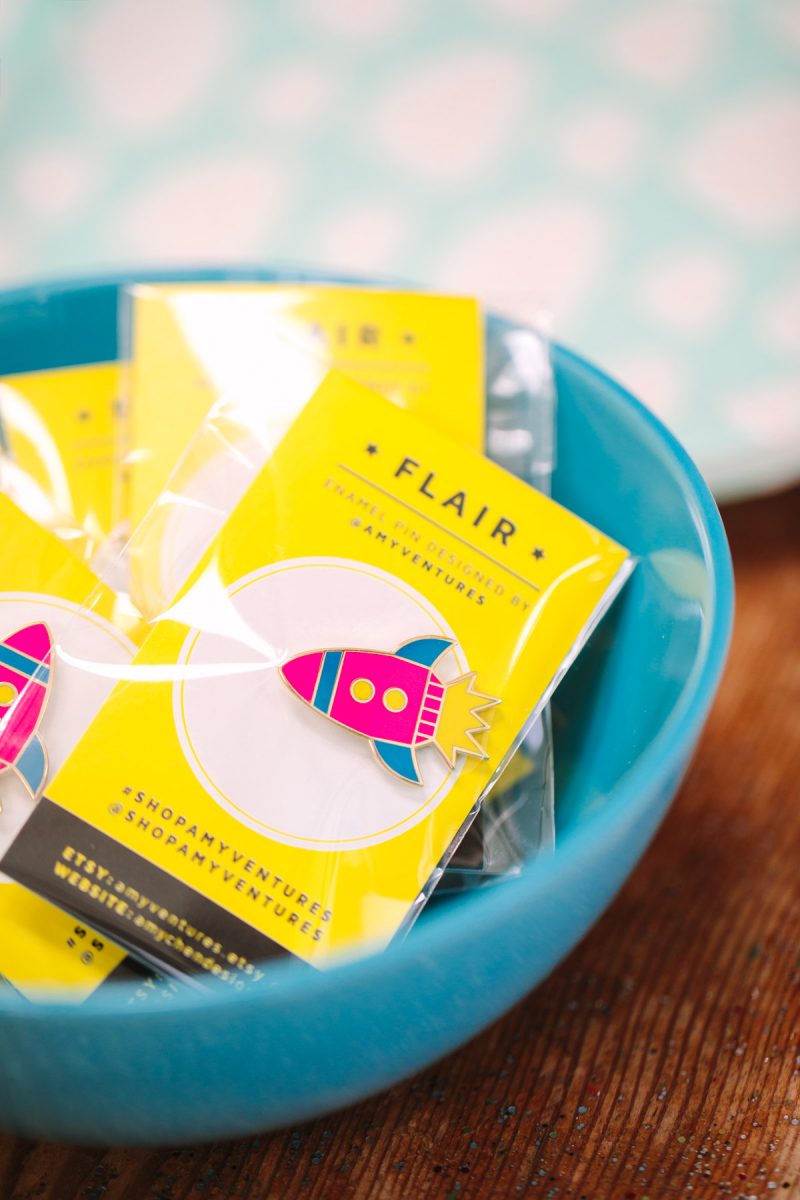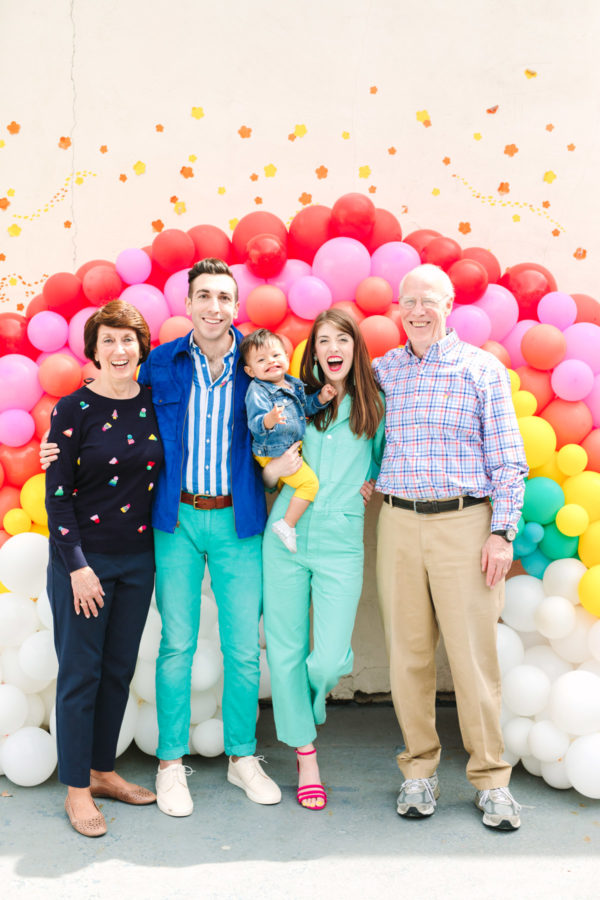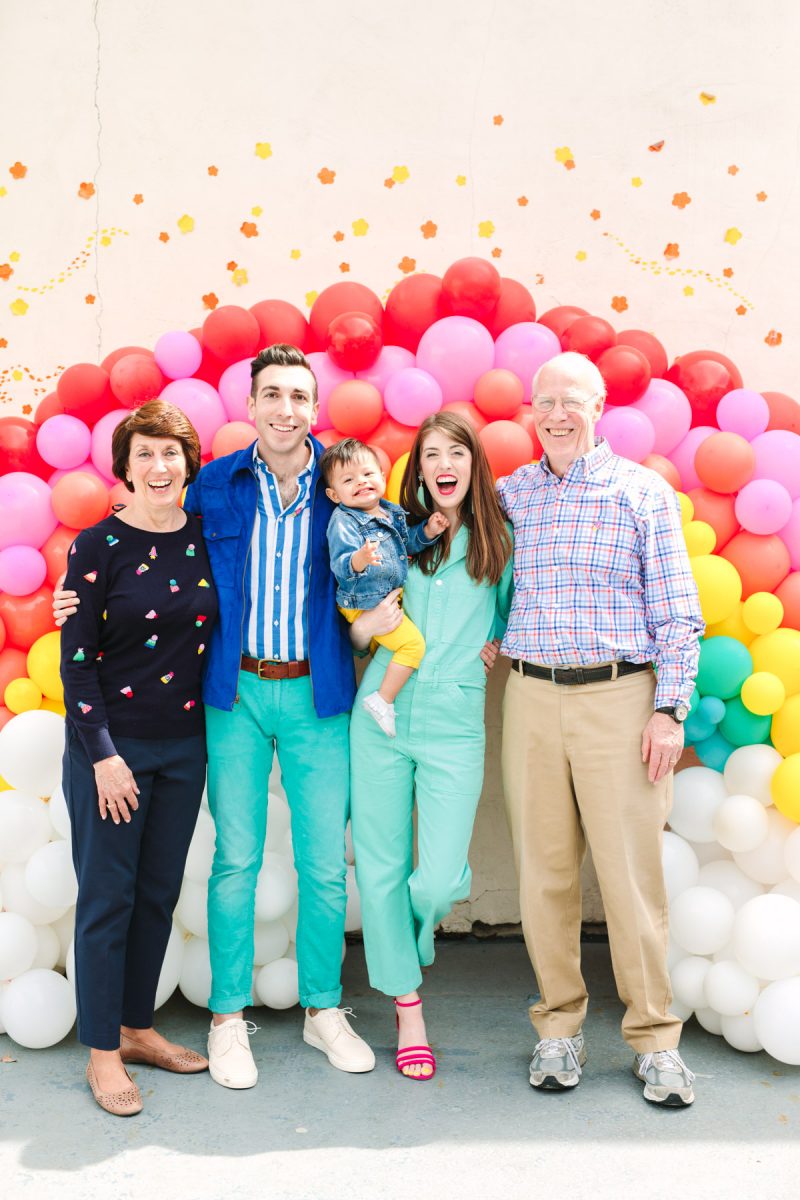 We had a couple of Amy's super cute rocket ship pins for our family to wear! I DIY'd the planets you see hanging above his high chair using smooth foam balls and wreaths from the craft store. We just painted them, let them dry and poked bamboo skewers through them to hold them together. Then we tied fishing line in three or four places around the wreath to hang it from the ceiling on a command hook!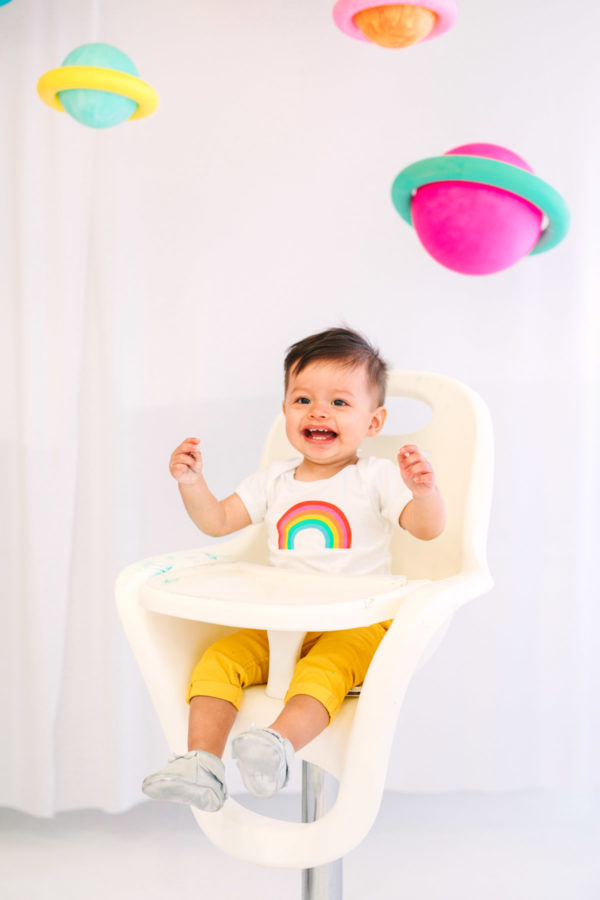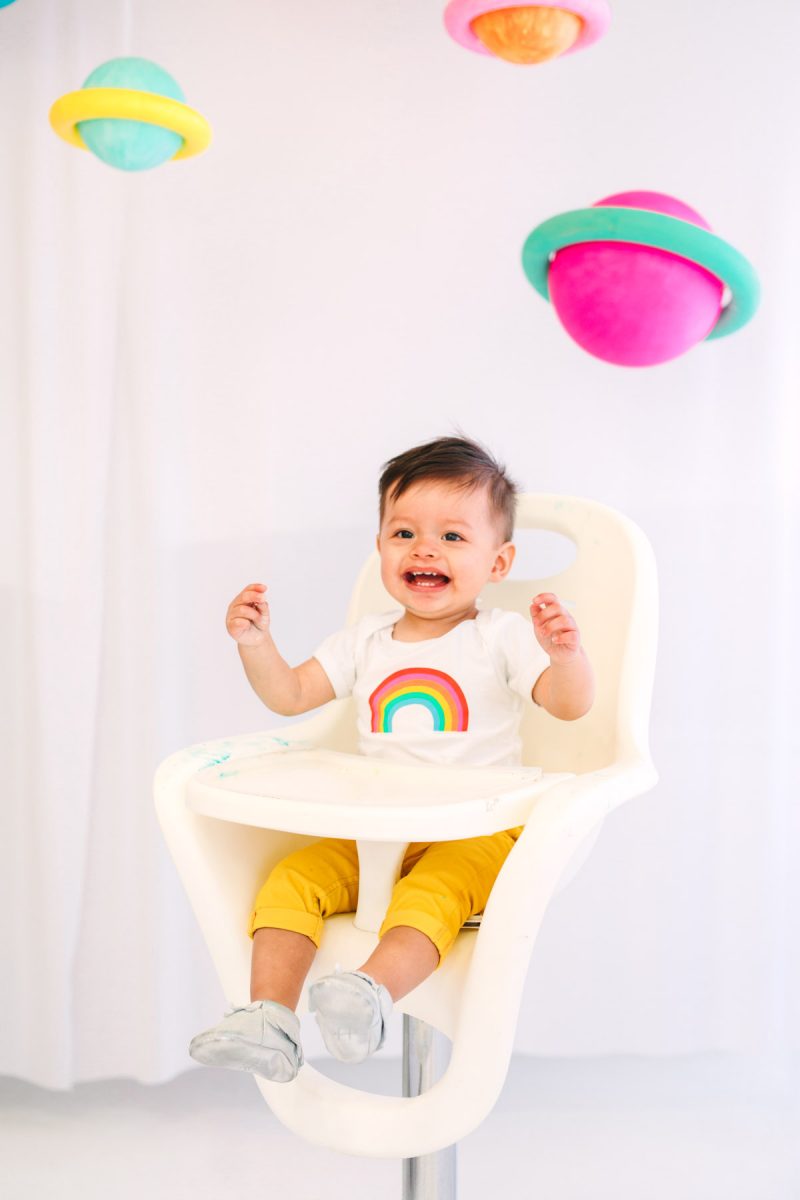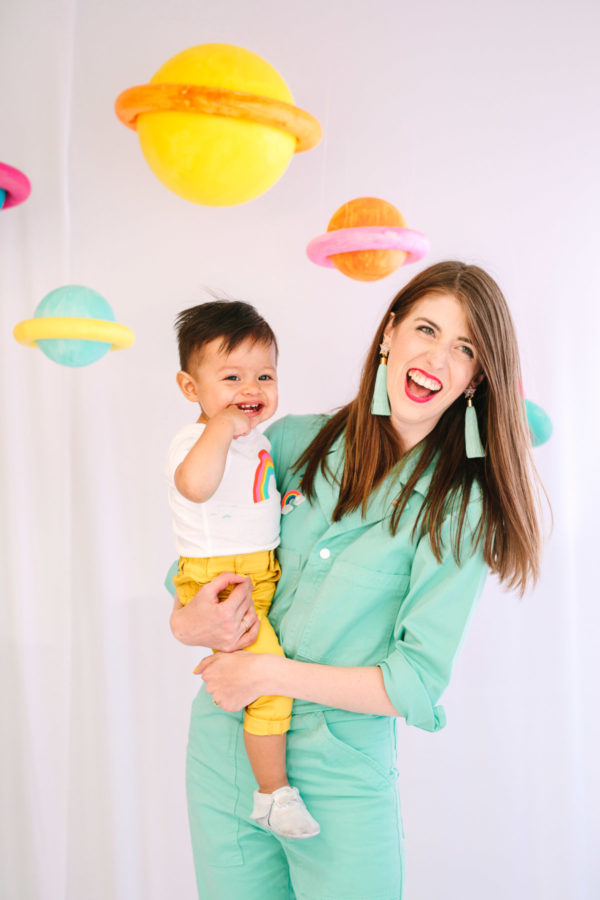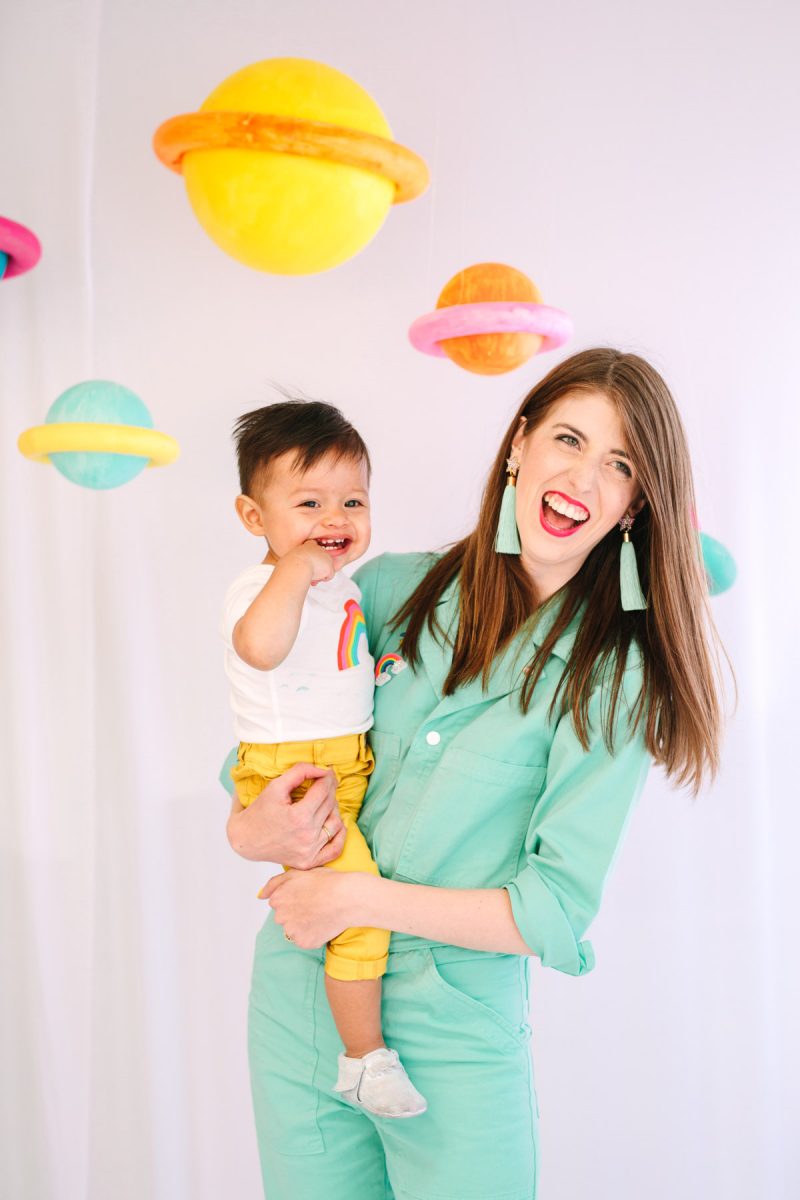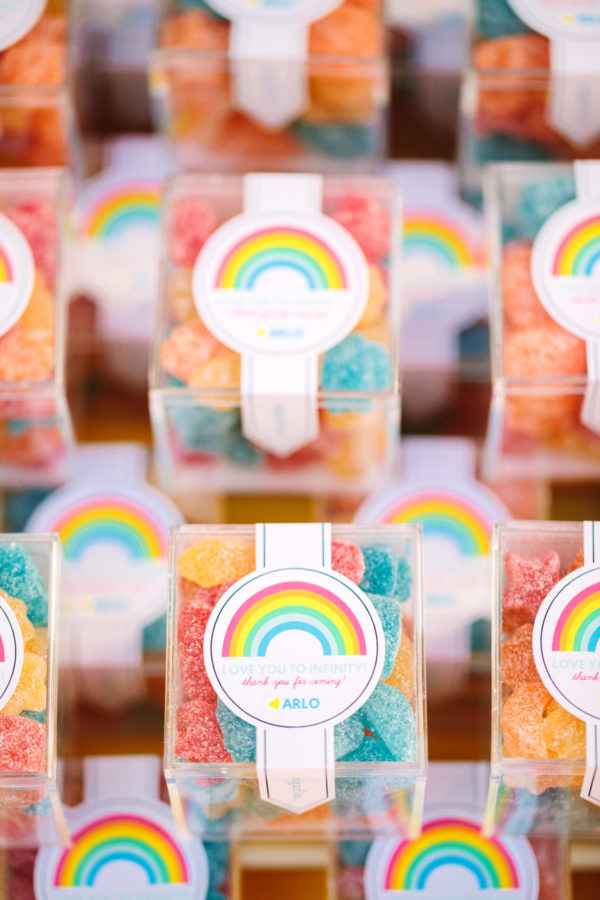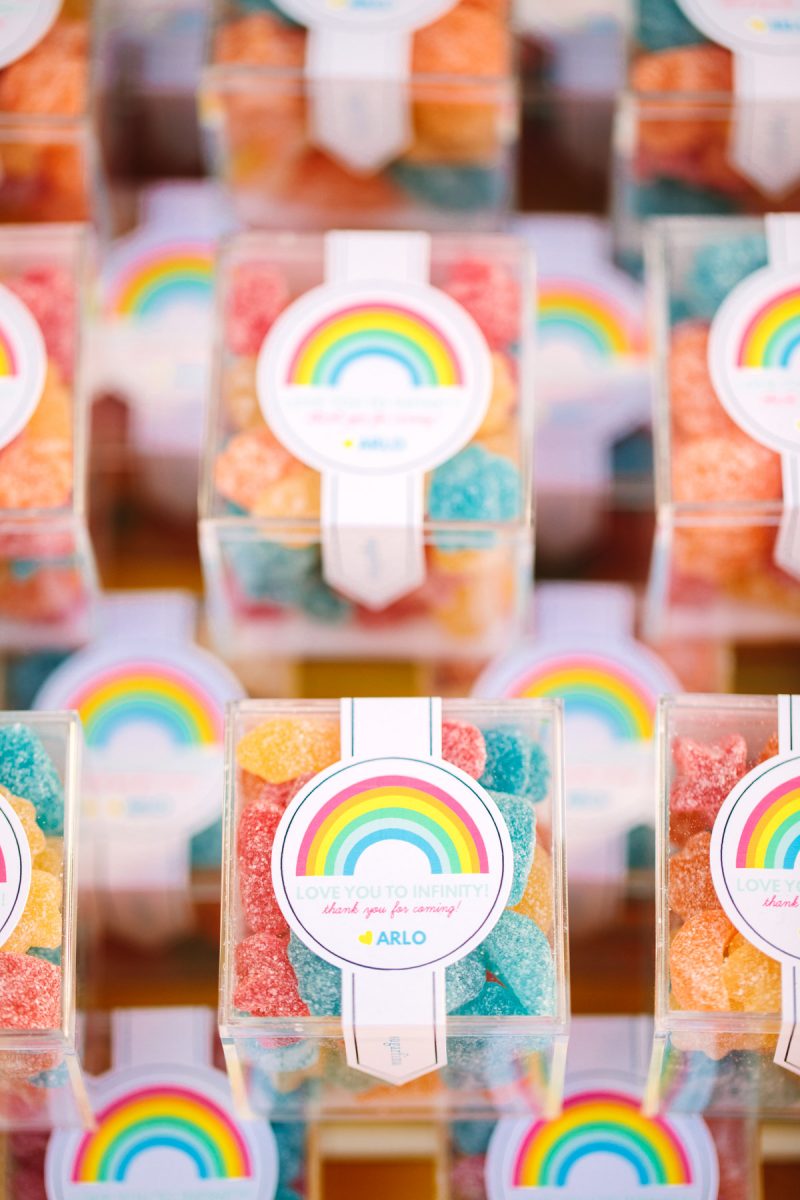 Favors. One of my favorite parts of a party, I don't know why! Just love 'em. For the adults, we had these custom boxes of star gummies made from Sugarfina!! They turned out so freaking cute.
And for the kids, I did an "adopt a planet" station where they each got to take home one of those giant play balls! I needed something that would please all ages and this did the trick. I filled up this giant rocket ship with them and closed the door, than at the end of the party, we opened the door and all the balls rolled out for kids to grab!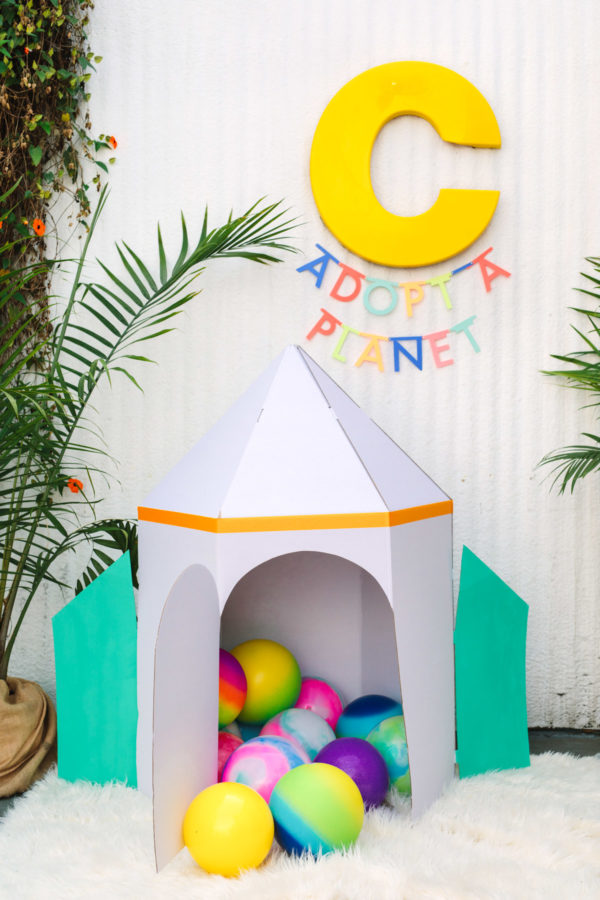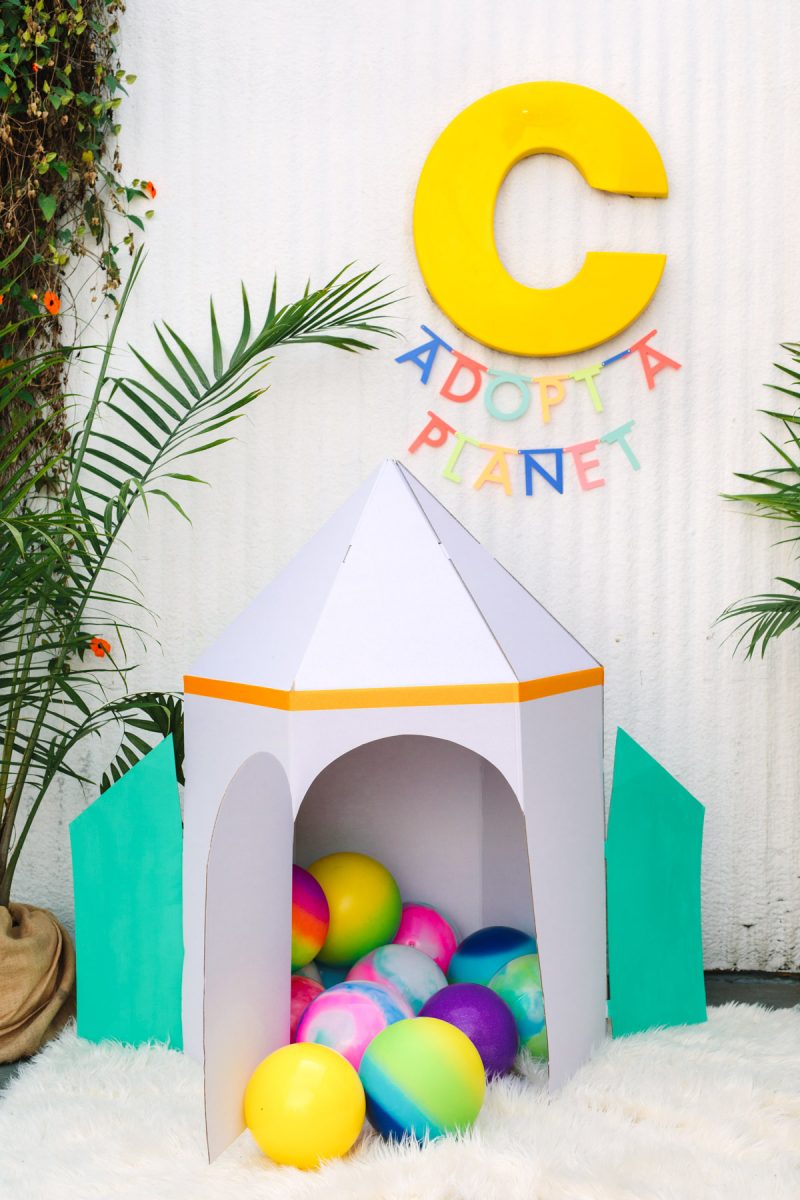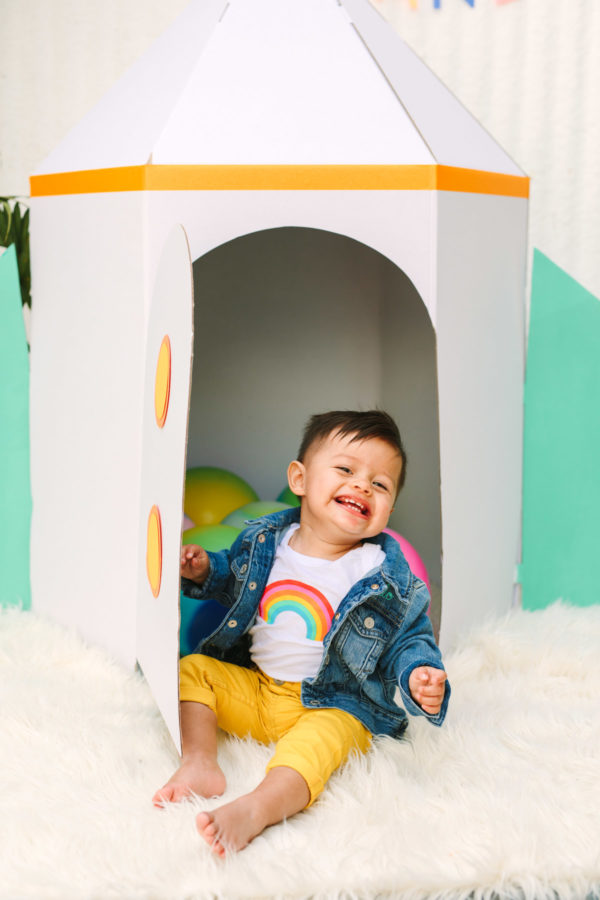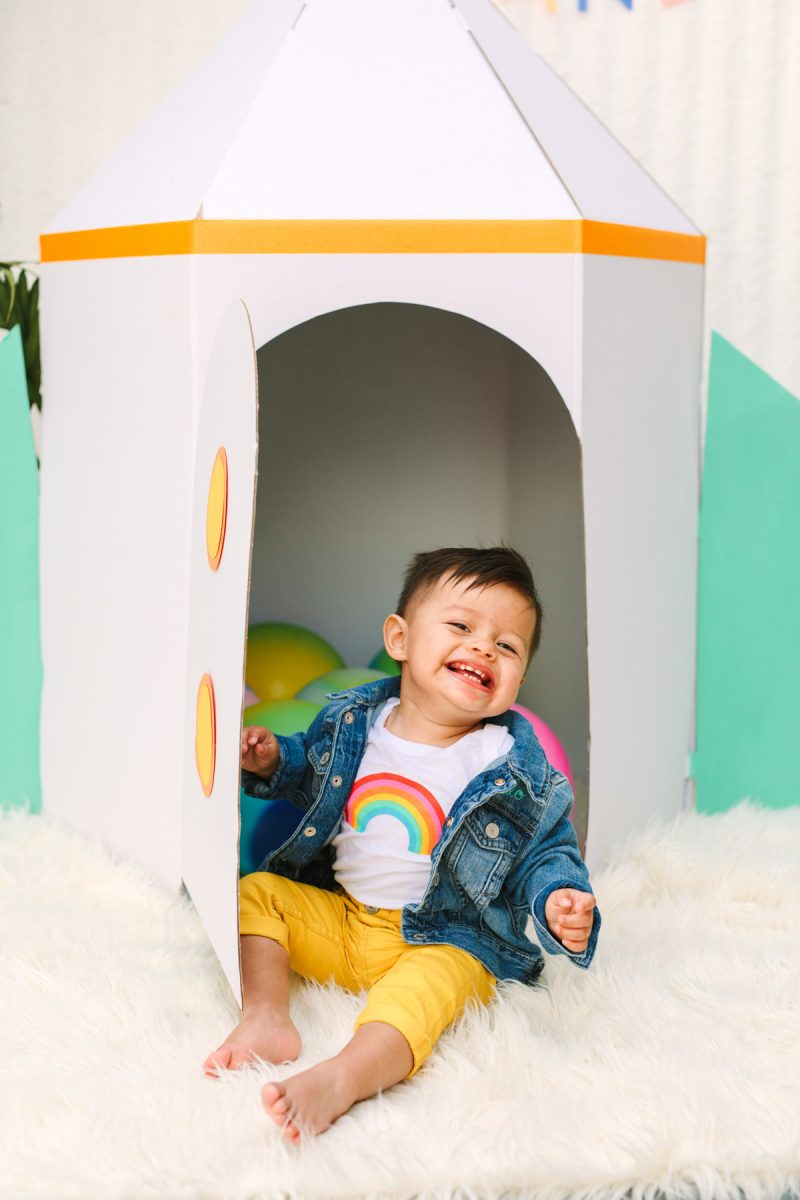 Should we talk outfit details for Arlo? I designed his onesie (!!!!) and it will be available in our shop later this month!! It also comes in a toddler tee version. EEEE!!
His jacket was designed and embroidered by Daily Disco and Jeff and I spent most of the party being really jealous of it. Haha! Abbey is a genius and the detail that went into it is incredible!!!!!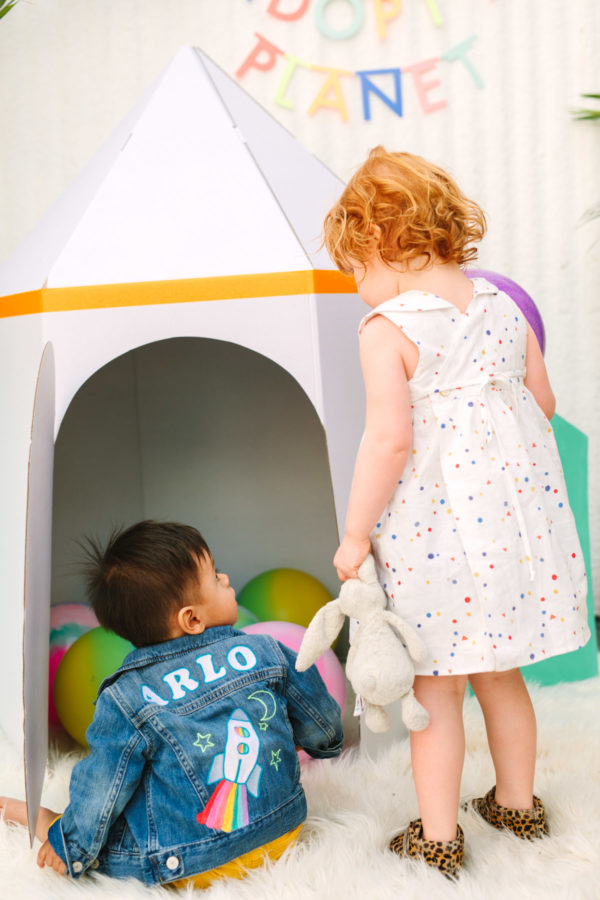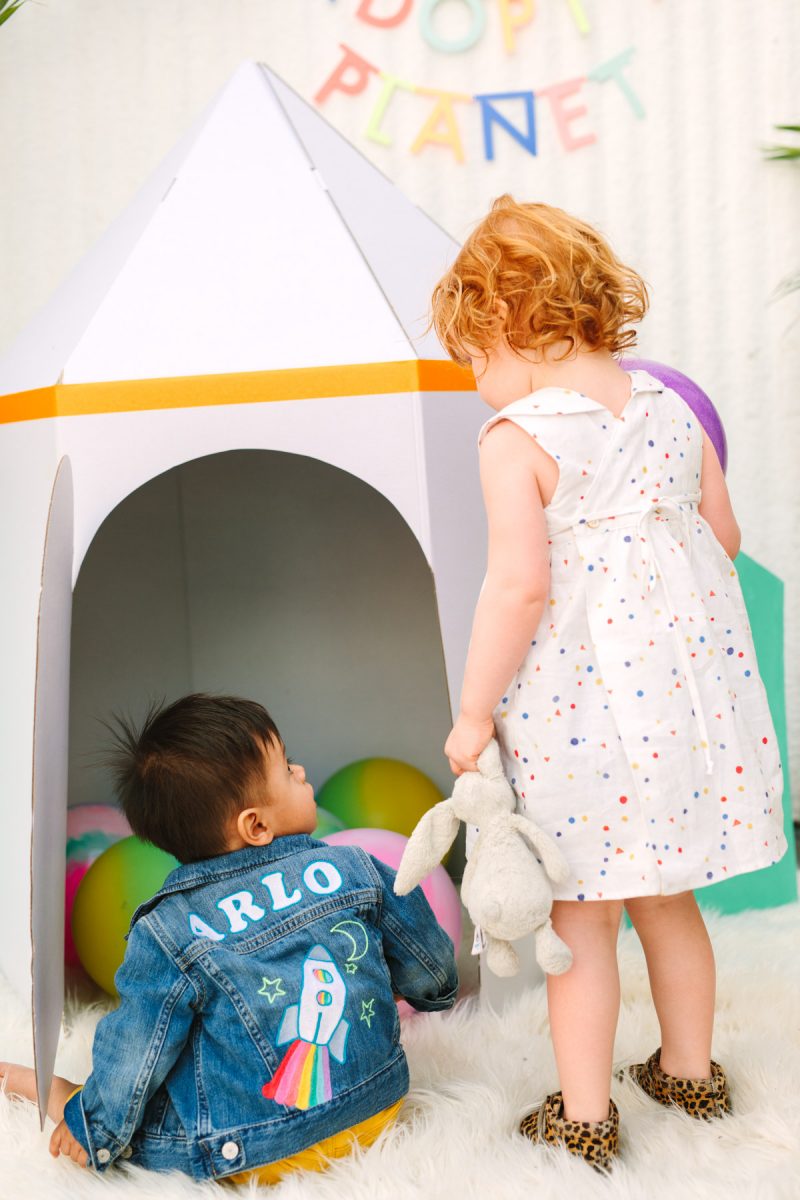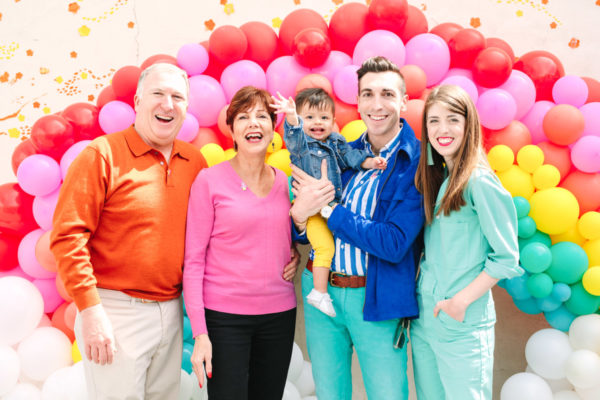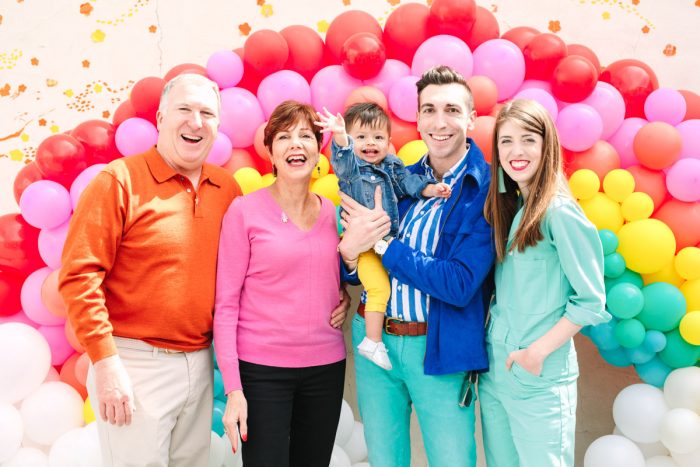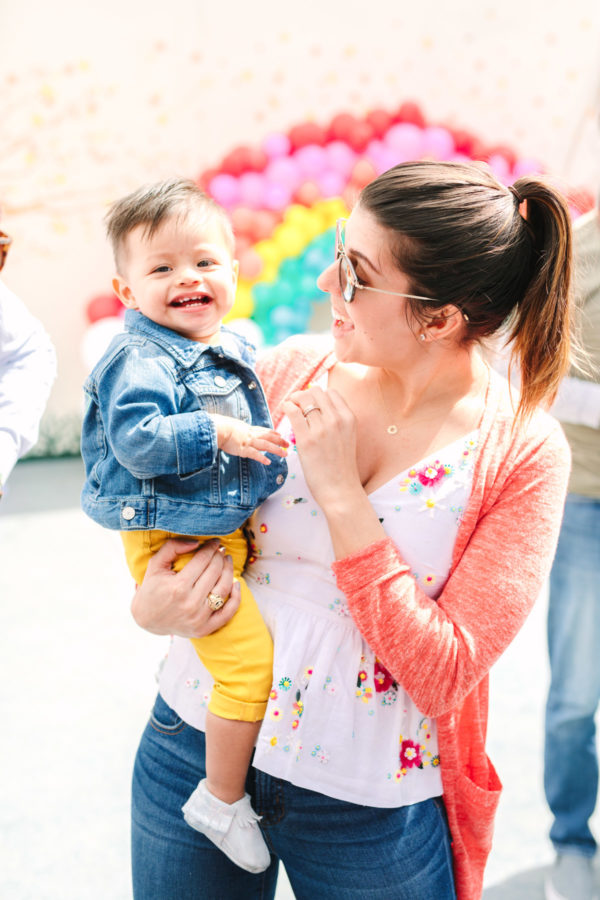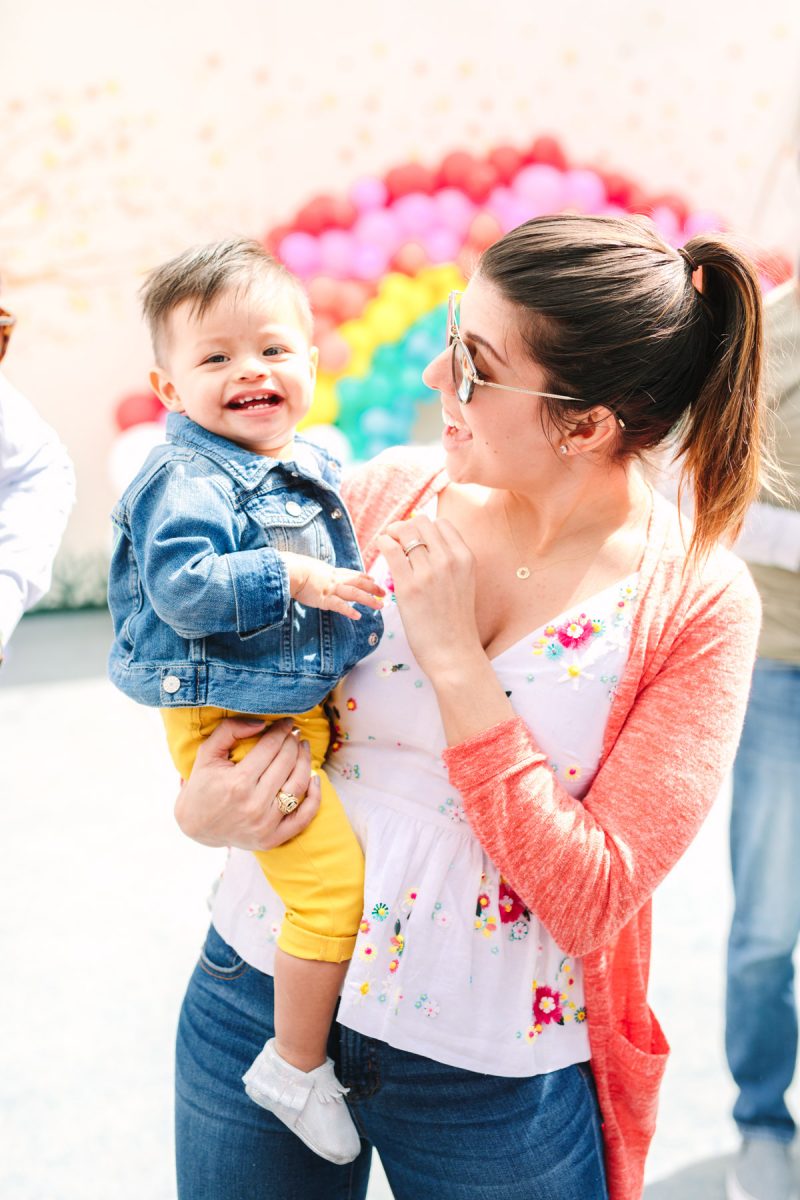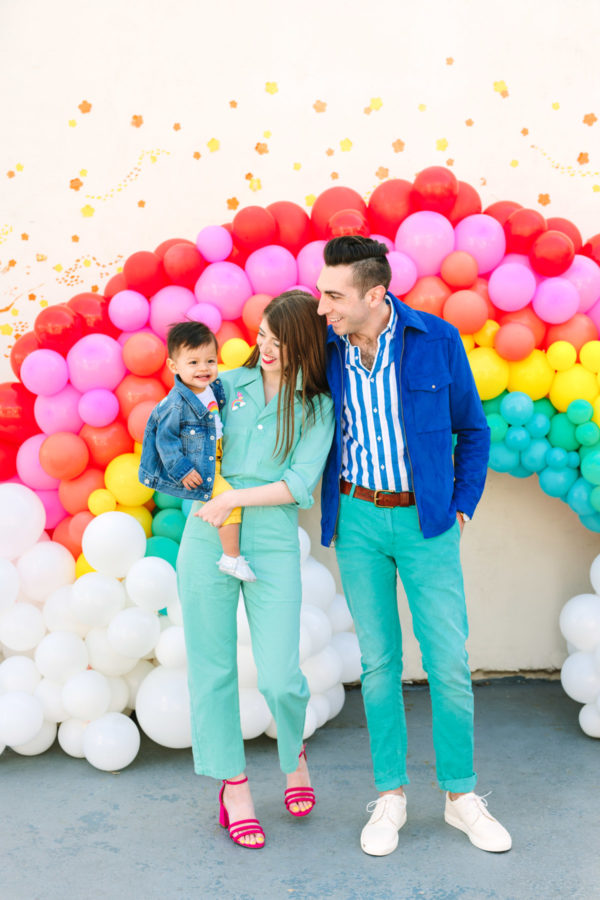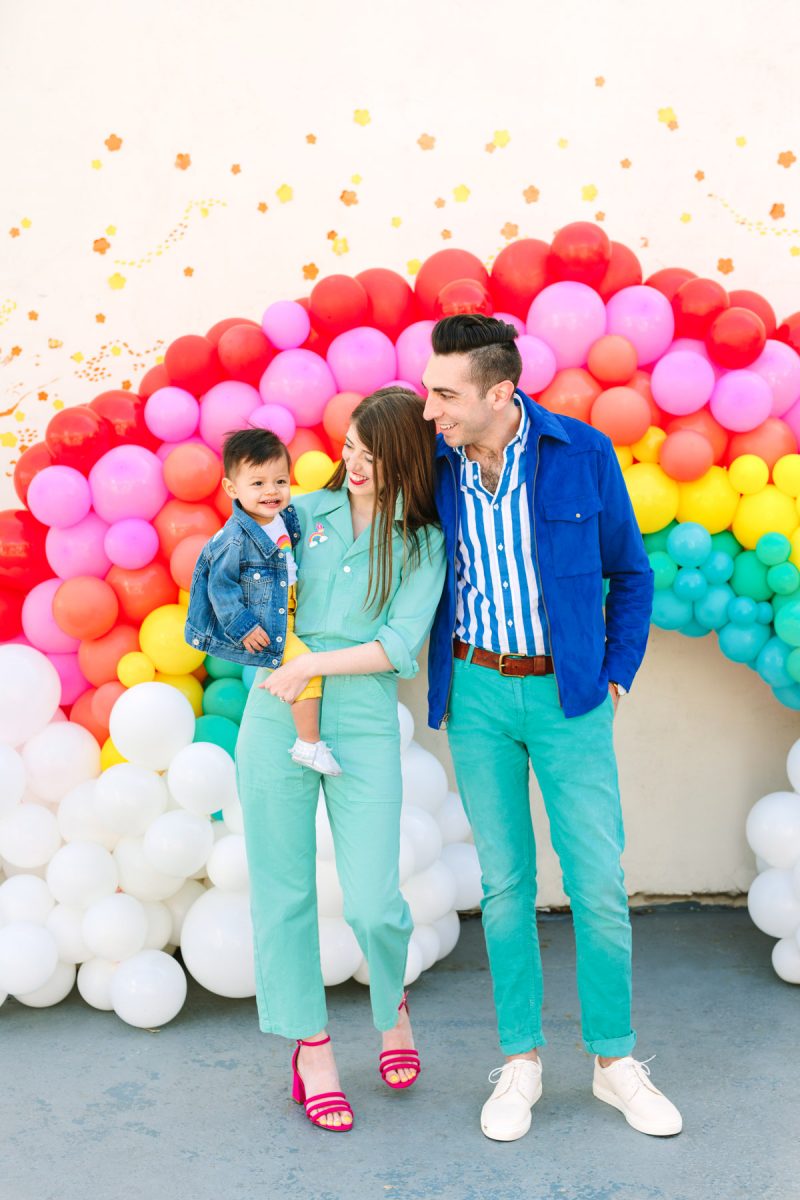 Photos by Mary Costa
Thank you Mary for capturing all these moments so perfectly!!!!!
Party Sources
Venue: The Coop Los Angeles*
Balloon Installations: Bonjour Fete*
Balloons: Shop Studio DIY
Rainbow: Latex Balloons in Watermelon Red, Hot Pink, Coral, Yellow, Wintergreen, Aqua, White + White 17″
Rocketship: Latex Balloons in Aqua, Yellow, Neon Pink
Phrase: Gold Letter Balloons, spray painted with Montana Gold Brand Spray Paint
Rainbow and Cloud Cakes: Alana Jones Mann*
Rocketship Cupcakes: Theresa Rountree
Paper Plates, Trays and Partyware: Bonjour Fete*
(See a full breakdown of all party ware used over in this post!)
Candy Favors: Sugarfina*
Rocketship Playhouse | Wooden Rocketships
Rocketship Pins* | Balls were from the 99cent store!
Planet Supplies from Michaels
Invitations: Printerette
Giant Arlo Face: CrowdSigns
Outfit Sources
On Arlo: Onesie from Shop Studio DIY (Coming soon!) | Jacket by Daily Disco*
Yellow Pants | Holographic Shoes*
On Me: Mint Jumpsuit | Pink Shoes | Rainbow Pin*
On Jeff: Blue Jacket | Blue Striped Shirt | Teal Pants from Barneys | Sneakers
If I forgot any sources, just ask me in the comments below!!
I gotta give a huge thank you to everyone involved. I love getting to throw parties like this because it allows me to work with so many of my talented friends!!!!! Be sure to give 'em some love! =)
We still say every day that we can't believe we have a one year old. Thank you again for the outpouring of love you showed us on his big birthday. He can't talk yet, so I gotta thank you for him!! 😉 You all are the best.
*Indicates items that were graciously gifted to us. All opinions are that of my own!
SaveSave
SaveSaveSaveSaveSaveSave
SaveSaveSaveSave
SaveSaveSaveSave
SaveSaveSaveSaveSaveSaveSaveSaveSaveSave
SaveSave