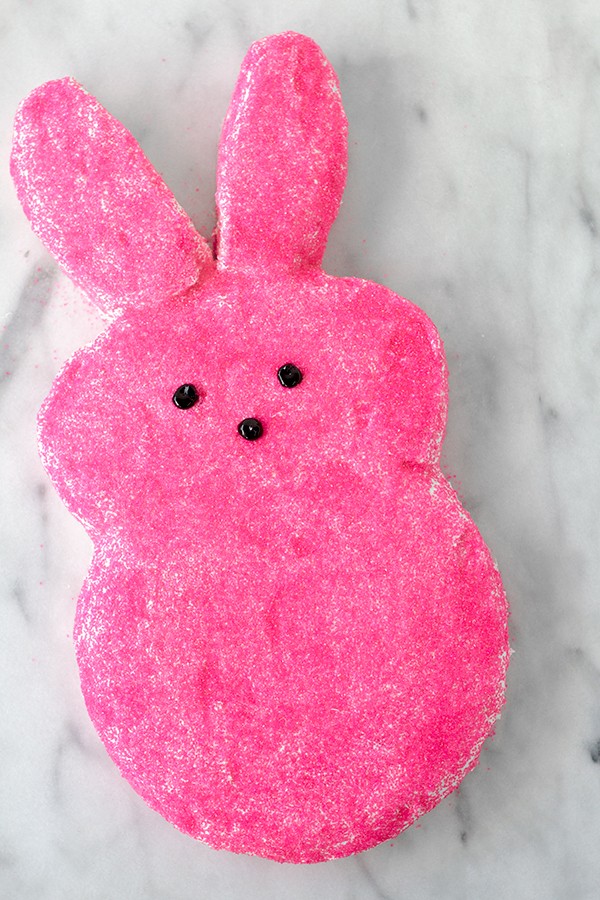 Who here makes a bunny cake on Easter? You know, that classic one where you turn two round cakes into a bunny with just TWO cuts!? My mom and I made one, Jeff's aunt made one and a couple of you mentioned similar traditions too… it seems to be quite the Easter staple. And I love it dearly in it's classic state, but I decided to give it a bit of a twist for this installment of It's Tradition and turn it into…. a PEEP cake! A big ol' giant marshmallow frosted bunny. And guess what? You still only need two round cakes to make this.. just a few more quick cuts required.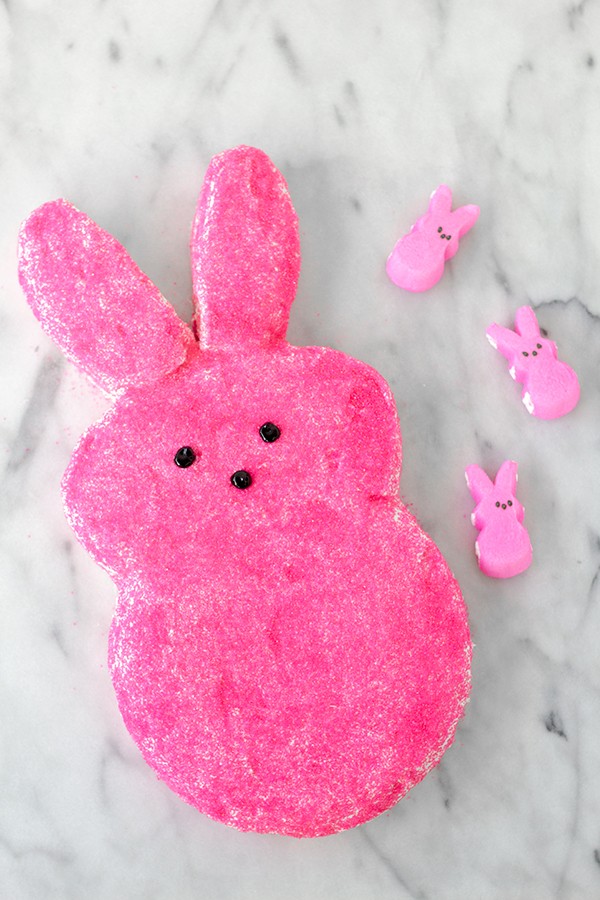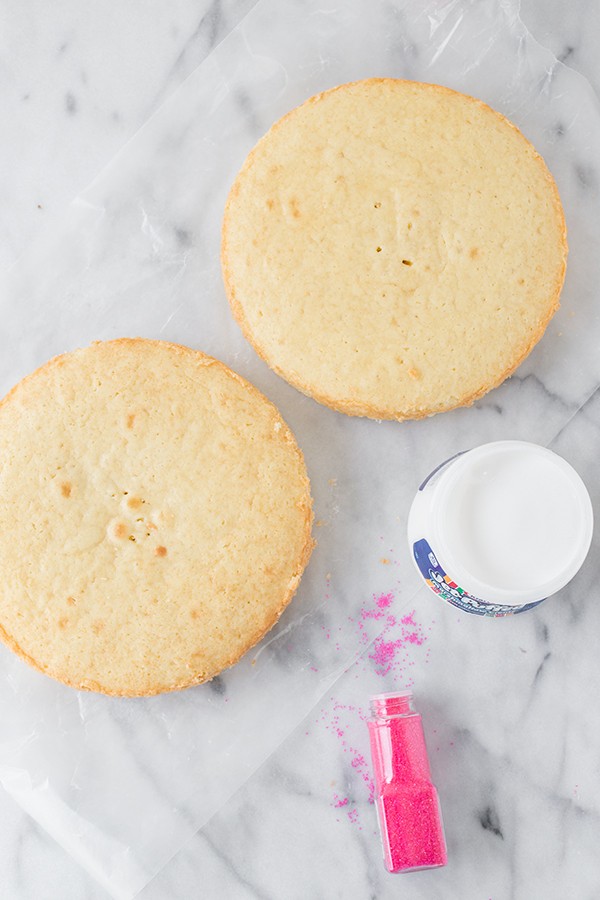 Two Round Cake Layers (I used 8″ cakes and this basic vanilla cake recipe, but you can use whatever size and recipe you'd like!)
Marshmallow Frosting (I made mine with fluff, powdered sugar and butter using this recipe)
Sanding Sugar
Black Cake Decorating Gel
Wax Paper
Cooking Spray
Sharp Knife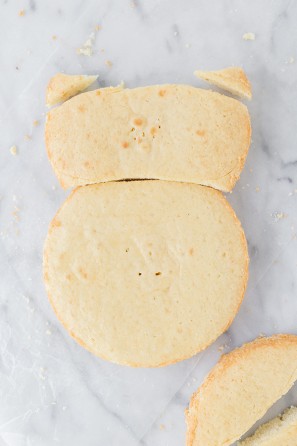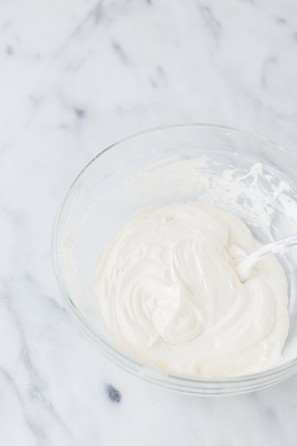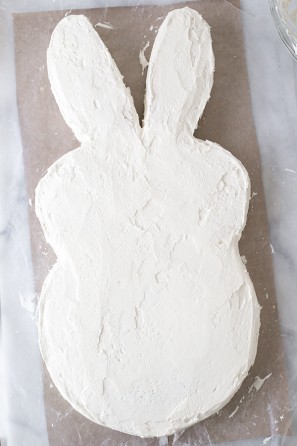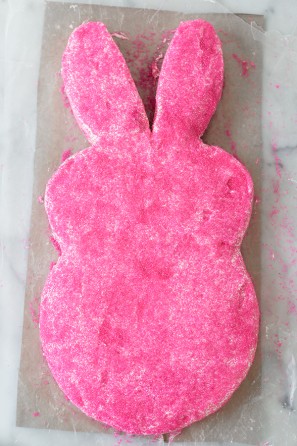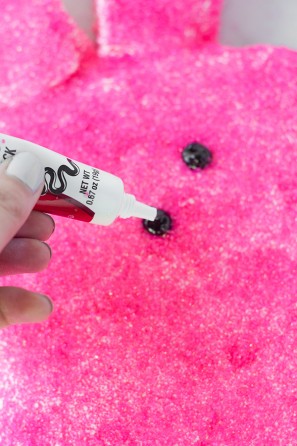 1. I recommend putting your cakes in the freezer for about 15 minutes before beginning. Makes them easier to cut! Using the photo as a guide, cut one cake into three pieces as shown. Then cut the very top curved edge off the other cake.
2. To make your life easier, place your cakes on the surface you plan to serve it on before continuing. (I didn't do this and it was pretty challenging to move. DOH!) Set the middle piece of the cake you divided above the other cake as shown. Trim the top corners of it to form a curved line along the top of the cake. Additionally, trim the top of the remaining two cake pieces so they are rounded and remove the bottom point of each as well. These form the ears!
3. Whip up your marshmallow frosting if you haven't already! I used this recipe.
4. Place the ears above the peep shape you've created and frost the entire cake.
5. After frosting, sprinkle sanding sugar all over the cake. I found a great trick online for getting the sugar on the side of the cake. Spray a small piece (about the height of your cake) of wax paper with cooking spray. Sprinkle the sanding sugar over top the cooking spray and lightly press onto the sides of your cake. The sugar will transfer but the paper won't stick! BAM!
6. Use your decorating gel to pipe eyes and a nose and you're done!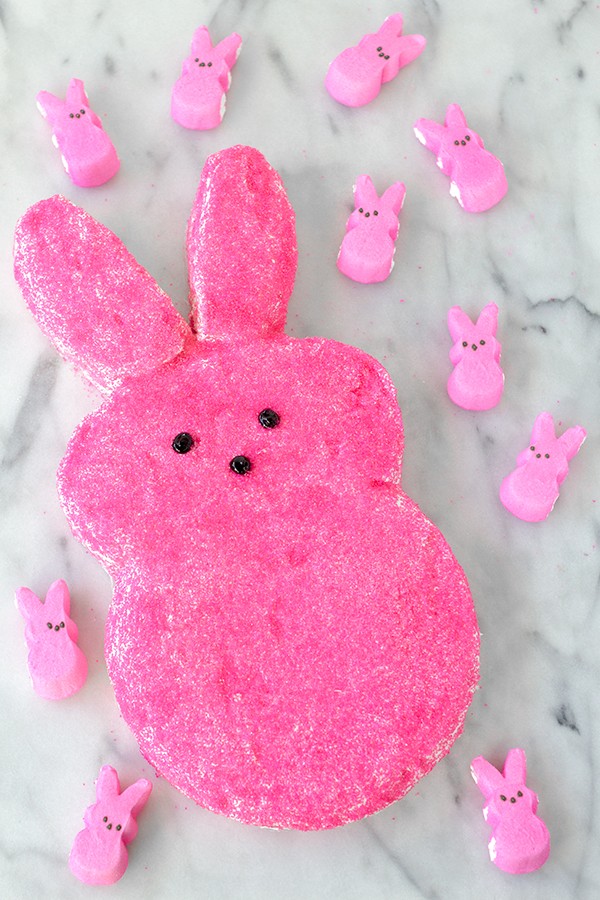 Photos by Studio DIY
Just don't ask me how much sugar is in this cake, ok? 😉 It's all worth it for how stinking cute it is!
Do you have a tradition with your friends or family that you look forward to each year/month/week? It could be for a birthday, anniversary, holiday or any other reason to celebrate. I want to hear about it! Share your traditions in the comments below or tag your photos with #studiodiytraditions and you may just see them in the next installment!