For the first wedding I'm sharing in 2012, Kelli & Brian really set the bar high! Another talented duo (How lucky am I to feature all these creative couples, huh!?), they envisioned an evening garden party with rustic touches and vintage elements. They brought their dream wedding to life with the backdrop of the beautiful Los Calamigos Ranch and a pretty palette of browns, ivory, moss and terra cotta. Cassie of Cfuertez Photography captured everything, from the invitations (Brian carved the clay stamp for their wax seal himself!) to the canopy of lights (LED tea lights bundled together and hung by Kelli)… and this wedding is sure to get your creative juices flowing!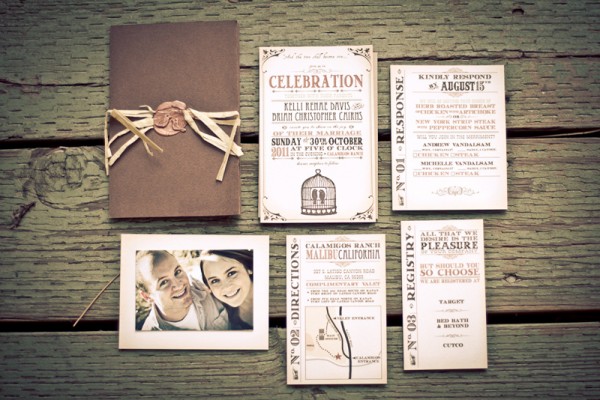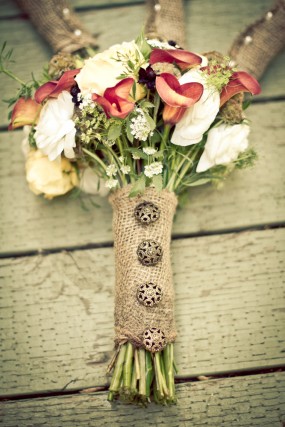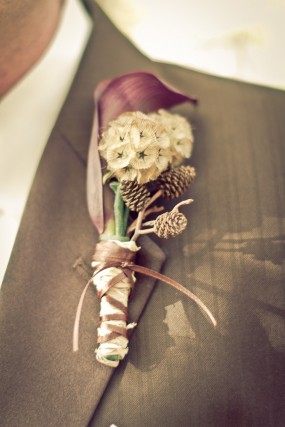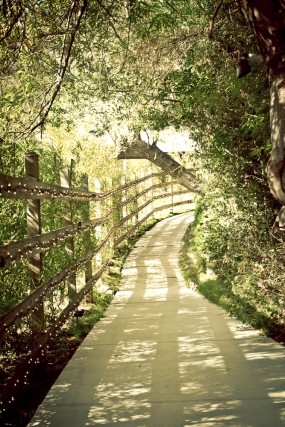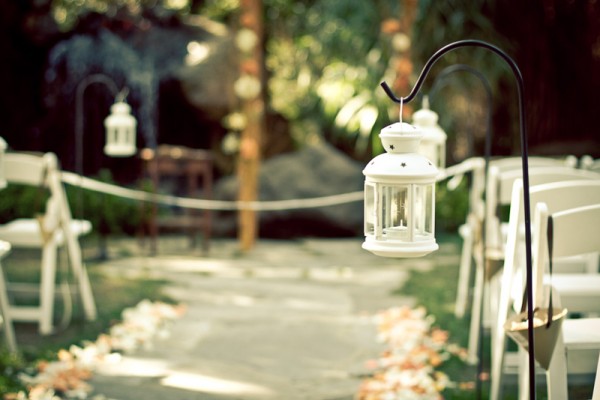 From Kelli, "I scrounged around my parent's garden to find the weathered garden posts that became our escort card display as well as our wedding/ceremony signpost. The riverstone table markers were also collected from home and painted up to match the vintage look. The quill pen for the guest book was handmade from a red hawk feather that I had found while hiking a few years ago, and the napkin accents were alder cones that I had been collecting from the trees around my apartment the few months prior to the wedding."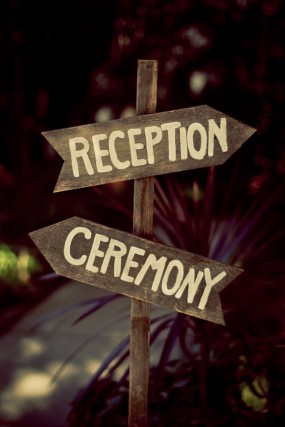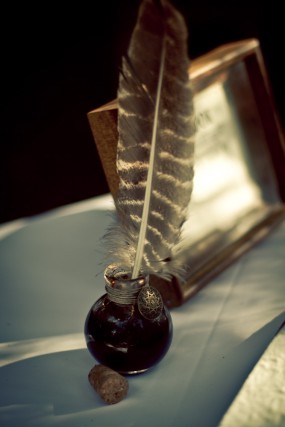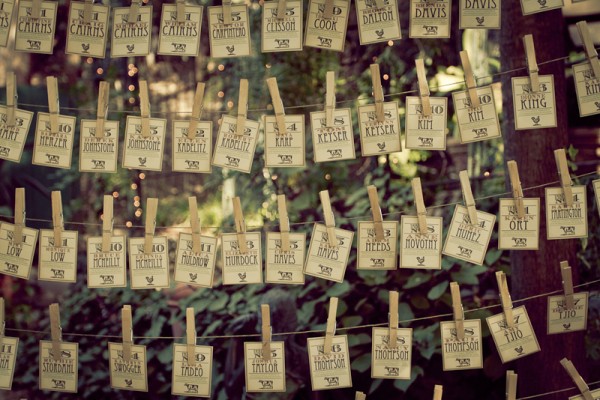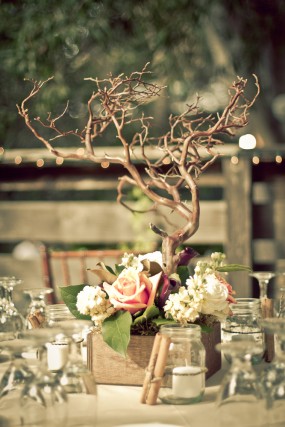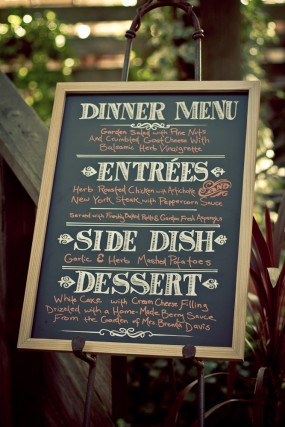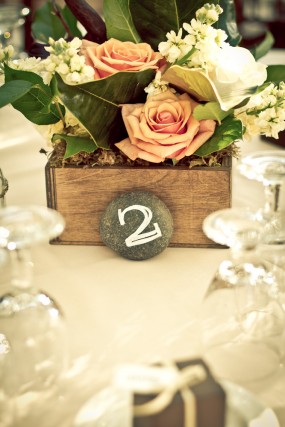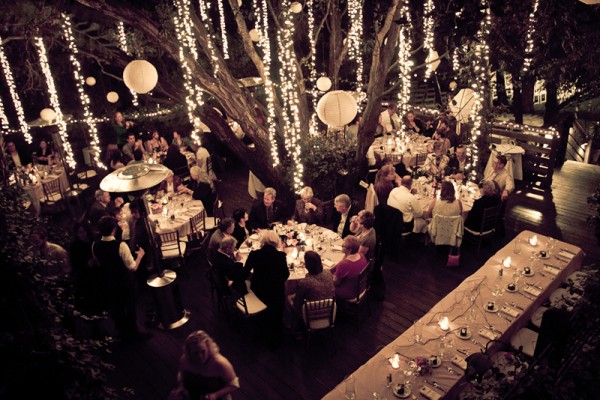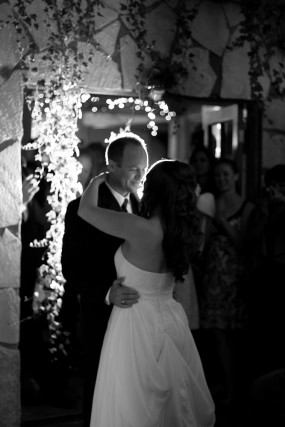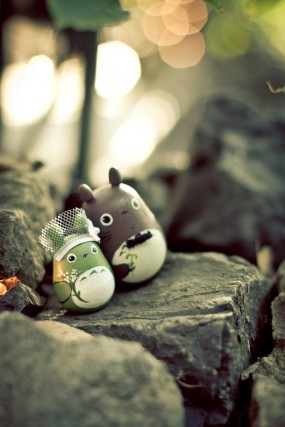 "I think perhaps my favorite piece in the end was the cake stand… the base was a stump that I saved from the campfire that summer and with the help of my dad, got it mounted with a wooden top that I found at Joann's. I added just a little moss and lichen to get the look that it had just been plucked from out of the garden. Kathy, my matron of honor's sister and a long time friend of mine went to the task of building a gorgeous cake from the concept I had painted early on in our planning (You can tell that we are big fans of Miyazaki). I found a recipe for amaretto soaked figs and thought it would make a wonderful filling, so we mixed it with cream cheese and were knocked off our feet! She did all the rest, while I added the finishing touches of the chocolate henna design. Guests were served slices of cake drizzled with my mom's homemade berry sauce—offerings of the previous year's harvest from the boysenberry patch in her garden."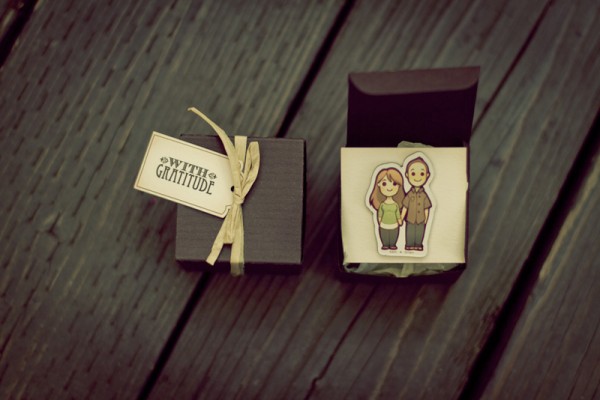 All Photos by Cfuertez Photography
Participating Vendors
Wedding Venue: Los Calamigos Ranch
Floral Designer: Perfectly Pink Floral Design
Makeup: Joanna San Antonio
Hair: Sarah Yoorim Choi
Submitted via Two Bright Lights
Crafting your own event details? The craft supply guide has all the supplies you'll need! Or perhaps you're looking for something handmade for your upcoming party? Head on over to the handmade vendor guide, too!