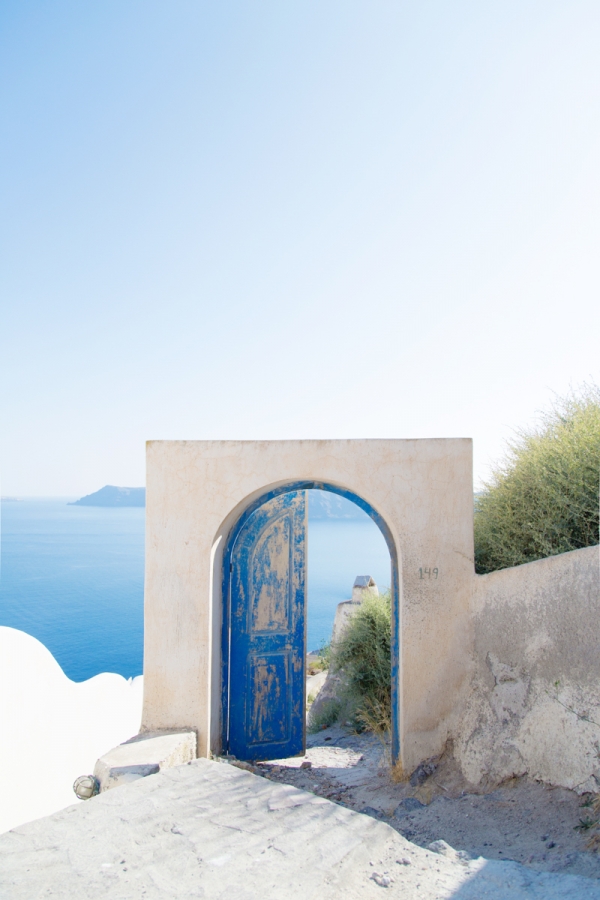 Hey, did I mention we went to Greece? No? 😉 I'm excited to share that part one of our EPIC honeymoon trip was just a total dream! We worked with Katie of Ever After Honeymoons and she hit the nail on the head with her recommendations for destinations, hotels, restaurants, the works! We have been wanting to go to Santorini for as long as I can remember and am so grateful to be able to check that box off my bucket list!
The whole time we were there it just felt like we were on a different planet. I've never seen anything like Santorini, the architecture, the colors. It felt, at times, like it wasn't real. But there it was, staring us in the face like a SHOW OFF! It was hard to narrow down photos because Jeff was in HEAVEN so please indulge me as I share about 20 too many, but if you get through all of them you can check out a map that Kate made with all of our favorite spots, for those of you who may see a trip to Greece in your future!
Click through for more photos from our adventures, and for a map of our top places to hit in Oia!
So first, let's talk about our amazing accommodations. We stayed at the Canaves Oia Suites and yes, that door below is the "entrance" to the hotel's amenities. It's a luxury boutique hotel carved into the cliff of Oia and a really perfect honeymoon spot. We had a stunning (all white! *heart eyes emoji*) suite with our own plunge pool and patio that overlooked the water. Dreamy. Every morning we walked to (an EPIC) breakfast by the pool and then we'd adventure around the village/island before finding ourselves back at the pool in the afternoon for a late lunch (the Santorinian sandwich and greek salad YUM) to relax before dinner.
Everyone at Canaves was so unbelievably kind and accommodating and the location was spectacular. It was so nice to be able to wander Oia and then head back to the hotel for a few hours of relaxing/freshening up before dinner. We felt central to everything, but far enough removed from the mass migration to the tip of Oia for sunsets making it was unbelievably peaceful. It was perfect.
We spent every afternoon just wandering the streets of Oia, which was our most favorite thing to do on the island. There is a car street and a walking street, and there are so many alleys, stairways, walls, doors, buildings along the walking street… GAH! THE COLORS! It was just a dream to walk around and we really enjoyed it.
I will tell you that finding things in Oia can be challenging because there really are no addresses. Every time we had a restaurant in mind, we would ask someone and they would just kind of point and say "It's that way, you can't miss it!" Needless to say, we missed a few reservations because we never did "just see it", ha! This was mostly our fault for not really looking anything up in advance since we tried not to use our cell phones unless we were on wifi. SO, my advice: be prepared with locations before you leave your hotel or be ok with just stumbling upon random places instead!
We spent most of our time in Oia because we liked that everything there was walkable, but on our last day on the island we took a taxi to Fira which we ended up LOVING! It's another village with lots of twists and turns and more beautiful doors, hotels and homes. You can take a cable car down to sea level, which we didn't do but it looked crazy/fun! We ended up taking the bus back to Oia after our adventure and it was super affordable (Only 1.60€ I think!?) compared to the cab there. The ride along the edge of the cliff in a coach bus is mildly terrifying but if you close your eyes, it was worth saving 20€ +!
On our second day there, we took a catamaran with Sunset Oia that took us to the Caldera, along the coast and to few of the beaches. It was a great way to see the picturesque coast and take a dip in the hot springs AND they made the most incredible meal right on the boat for lunch (like literally a full Greek buffet, it was quite impressive). Alcohol was included and free flowing, for those of you who are talented enough to drink and balance on a boat at the same time. (*Hand not raised.*)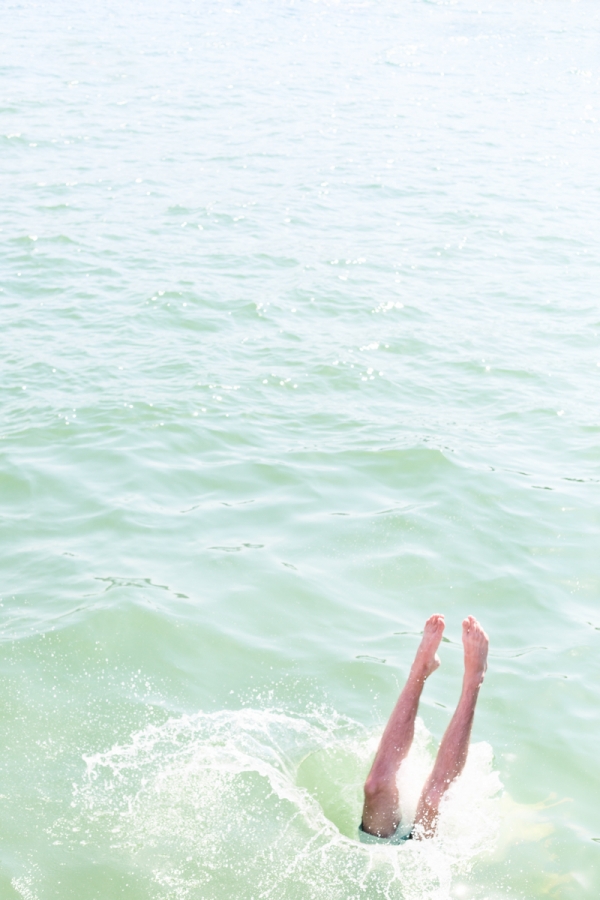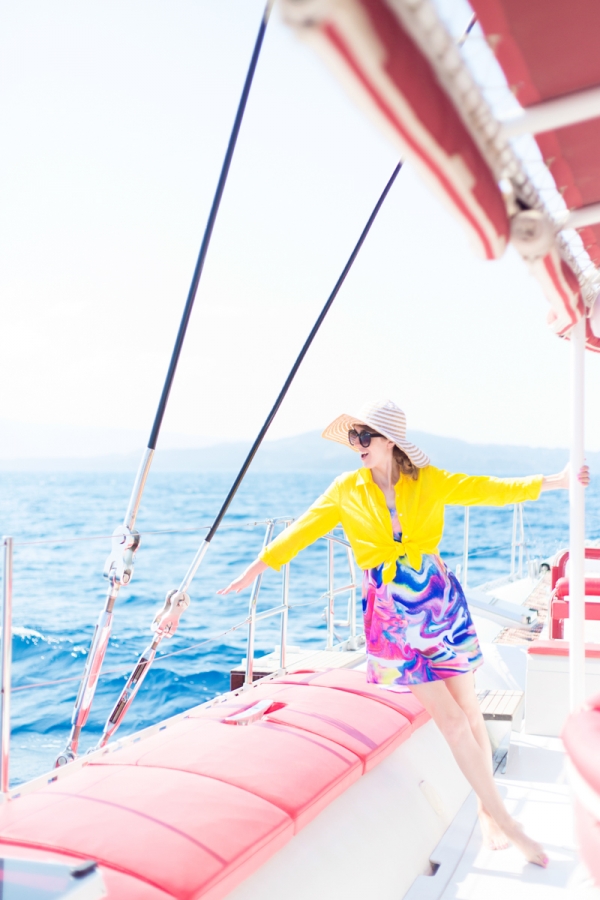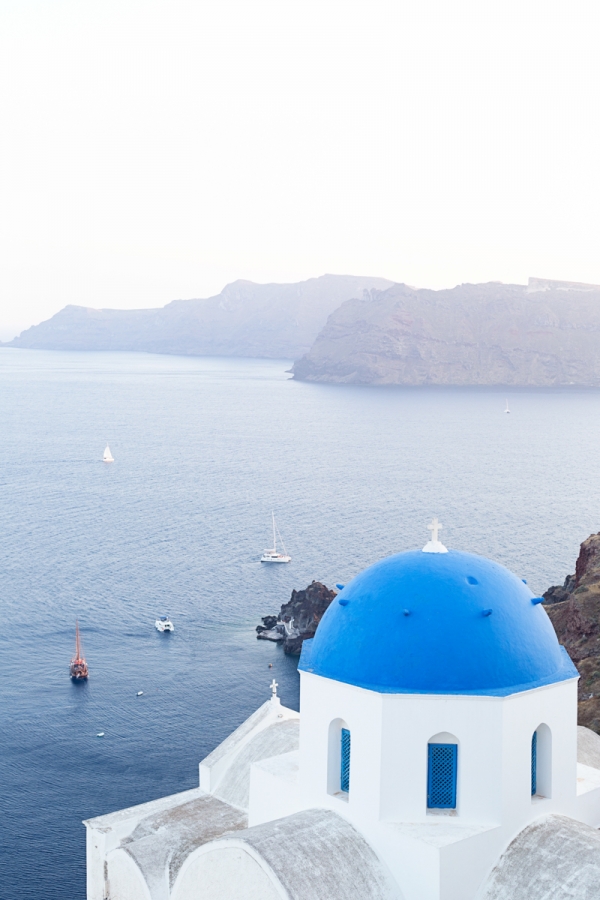 In case you hadn't heard, sunsets are kind of like a religion in Oia. The tourists flocks in MASSES to the tip of the island to watch the sunset. If you want to see the sunsets (and yes, they are beautiful!) I recommend going over to the car road to watch them. Much less crowded, if you're like me and aren't a huge fan of crowds!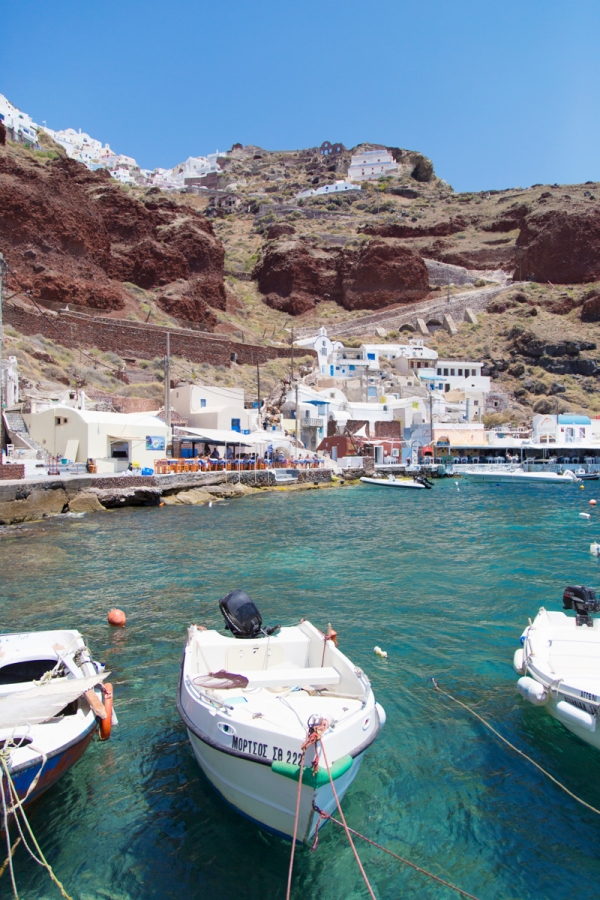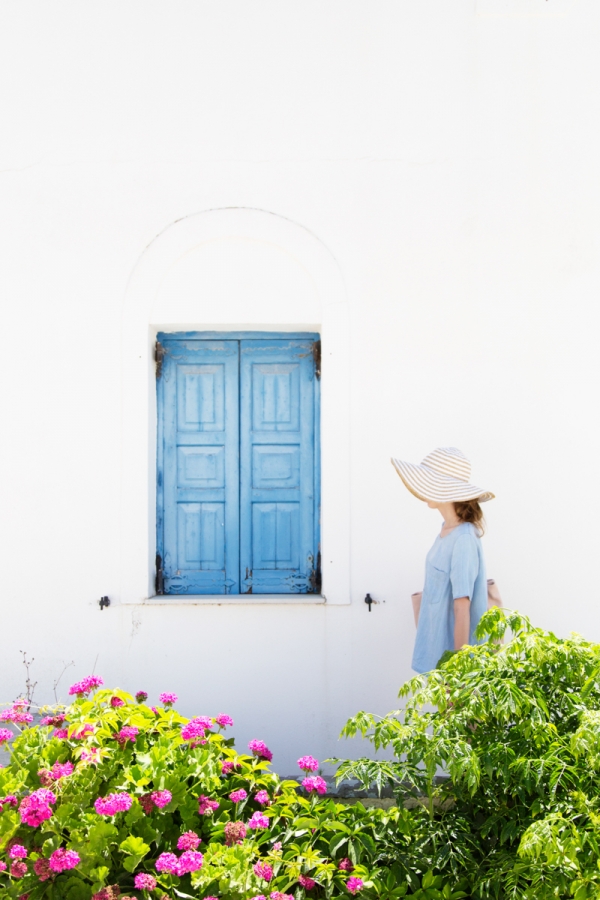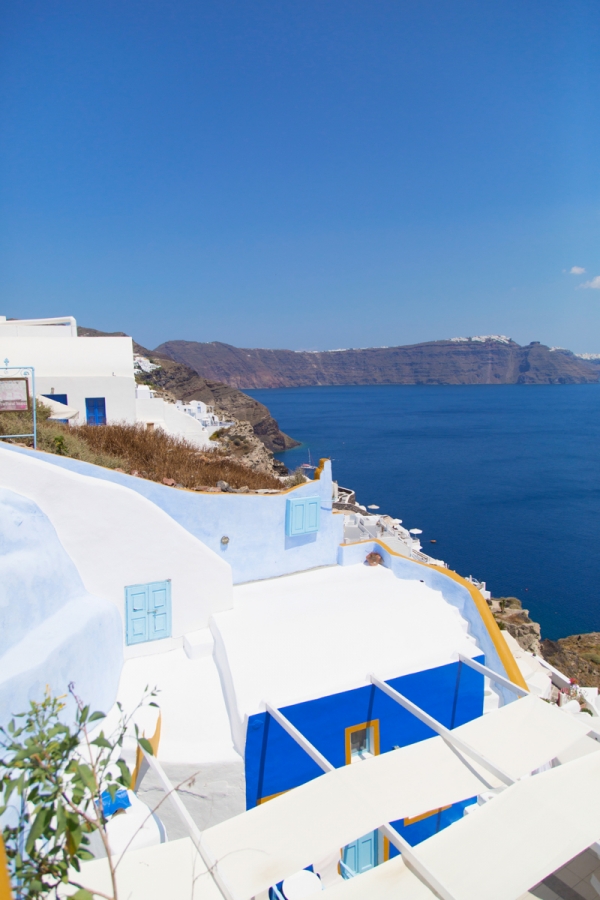 There were so many dogs and kitties running around the island! Which, of course, we loved. We asked a few shop owners about them and they said that they all collectively took care of them and fed them.
At the tip of Oia there are over 200 stairs (which is actually more like 1,000 steps FYI) that take you down to Amoudi Bay. This is where the boats (like our catamaran) leave from, but it's also a really great place to have lunch literally right on the water. When you get to the bottom of the stairs, you can turn left and follow the coast around where there's a little tiny island that you can jump and dive off of. The views walking down the steps are beautiful and you can ride a cute donkey back up if you're too tired to walk it! You'll also pass the house where they filmed Sisterhood of the Traveling Pants (on the right side of that picture of me below), if you're into that kind of thing. 😉
All Photos by Jeff Mindell
I asked Kate to make this fun little map of some of our favorite places in Oia for those of you who may be headed there in the future! I should preface this with we are pretty laid-back and frugal on vacations. Transportation and meals can get pricey, so we kept most of our excursions within walking distance and only did one "fancy" meal! Click the photo of the map below to view it in its full size!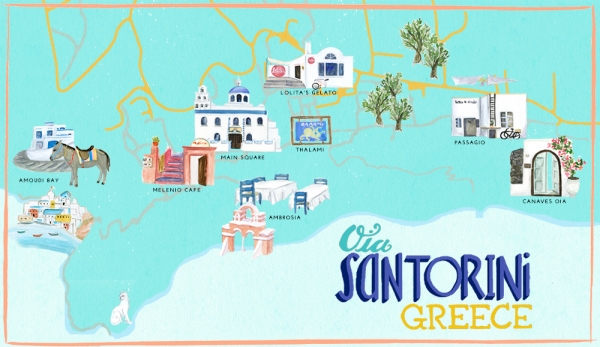 Map Illustration by Striped Cat Studio
To Stay: Canaves Oia Suites
For Coffee + Smoothies: Passagio (Right across the street from Canaves and so delicious!)
For A Refreshing Treat: Lolita's Gelato (This is right by the bus stop, and is just super cute!)
For A Casual Dinner: Thalami (Probably the best pita OF MY LIFE. The souvlaki is great, the tomato croquettes are great, YUM!)
For a Romantic Dinner: Ambrosia (Super tiny and romantic restaurant with great views. We didn't make a reservation so we ended up inside, but it was like this quaint little cave and we loved it! We got some sort of blueberry + cheese pastry appetizer and just YES.)
For Baklava: Melenio (You walk down a tiny narrow set of stairs to get to this little subterranean bakery and the baklava was delish!)
For Linen Clothing: There are a ton of shops selling linen clothing, but we found one that was just to the right of where the stairs down to Amoudi begin and the owner was so kind. I bought an amazing linen shirt dress that I want to LIVE in and Jeff bought a couple shirts that he wore almost every day for the rest of the trip.
For An Adventure: Take a catamaran along the coast from Amoudi Bay and take a dip in the volcanic hot springs!
For Lunch: Walk down the stairs to Amoudi Bay and eat on the water! Take a donkey back up!!
And there you have it! Part one of our trip of a lifetime. A huge huge thank you to Katie for organizing this amazing experience and to Canaves for welcoming us and blowing us away with their exceptional service. You can see all the sources for my outfits in this post, if you're curious! Stay tuned for part two tomorrow… Italy!!!
p.s. Jeff is selling some of his favorite shots from our trip in his Society 6 shop here!
For more of our travel adventures, click here!