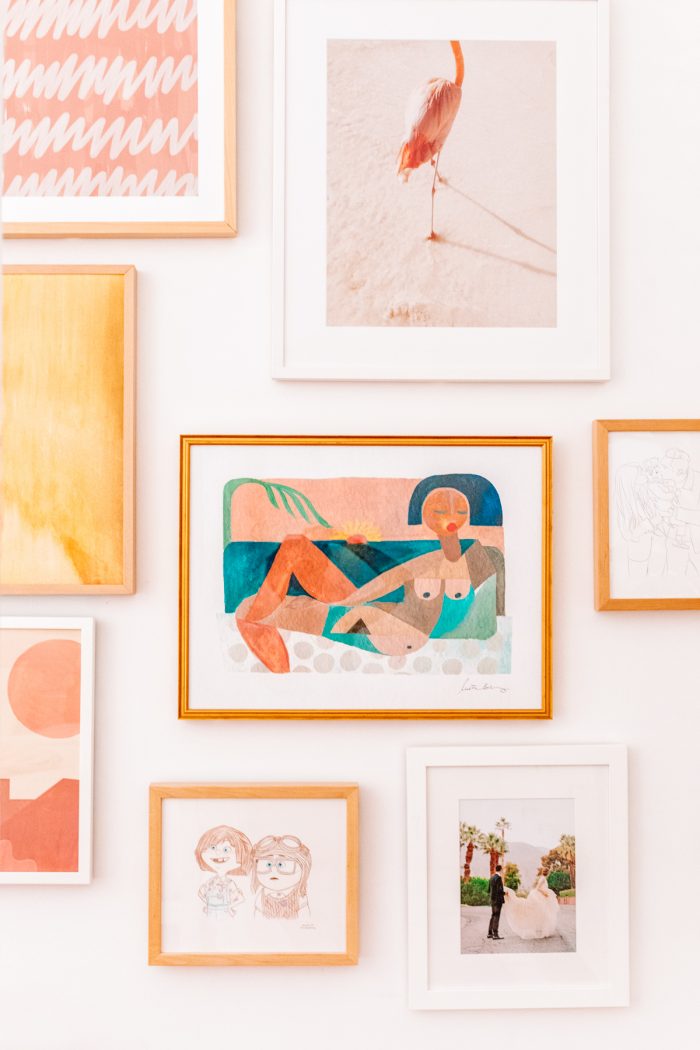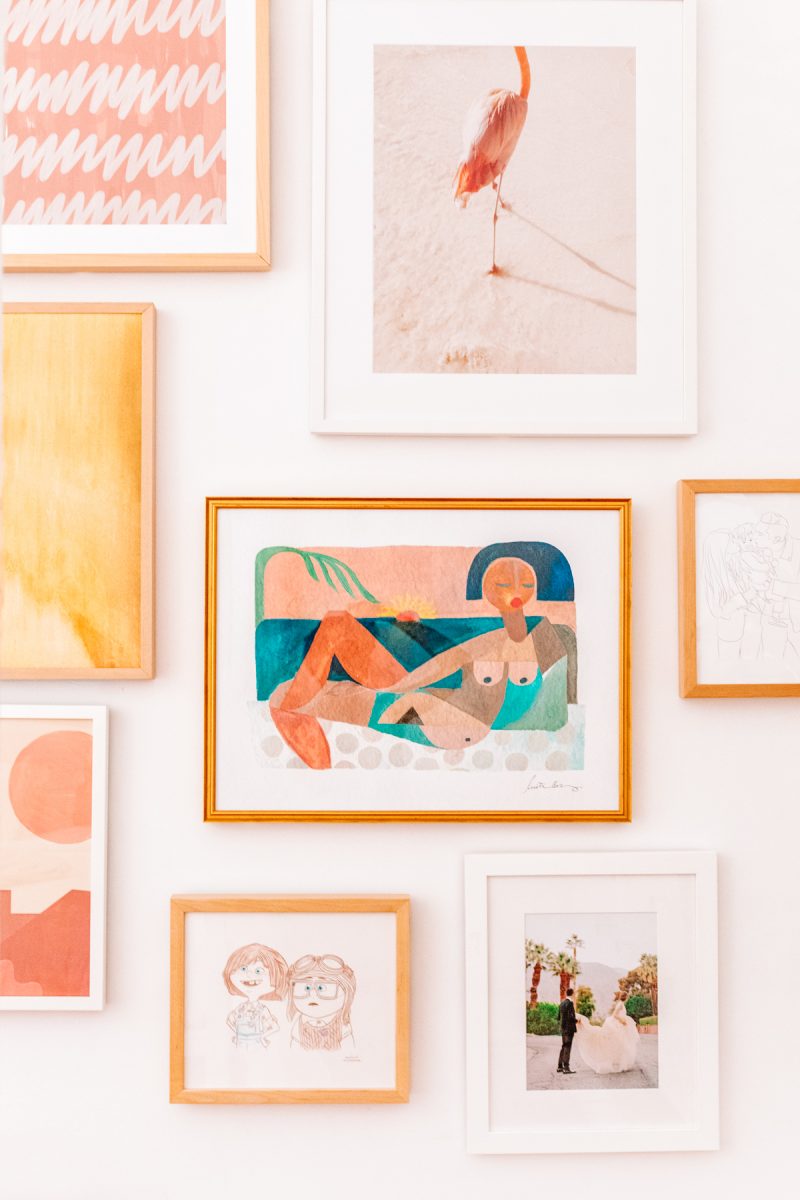 Art is one of the easiest, most noncommittal ways to add color to a space. So if you're looking to brighten up any room in your house, it's the perfect place to start. And the best part? It can be TOTALLY affordable. Even free! I can almost guarantee there's a momento lying around your house that could easily be turned into an art piece on your wall, for example. I put together a list of my favorite sources for art under $100 and my favorite ideas for art that's a bit outside of the box, too.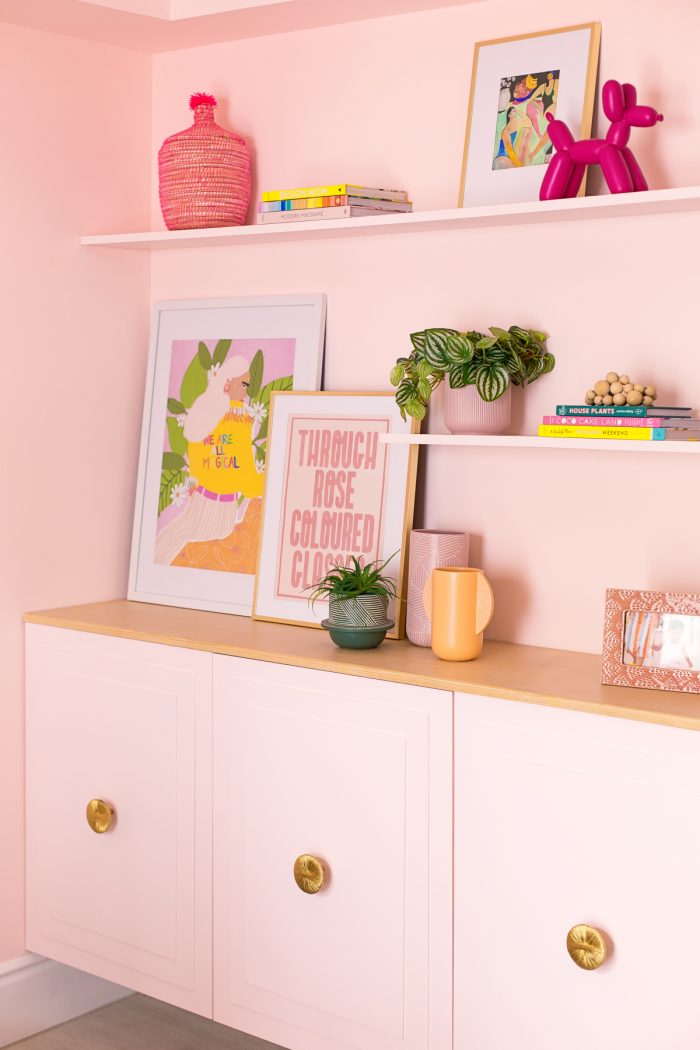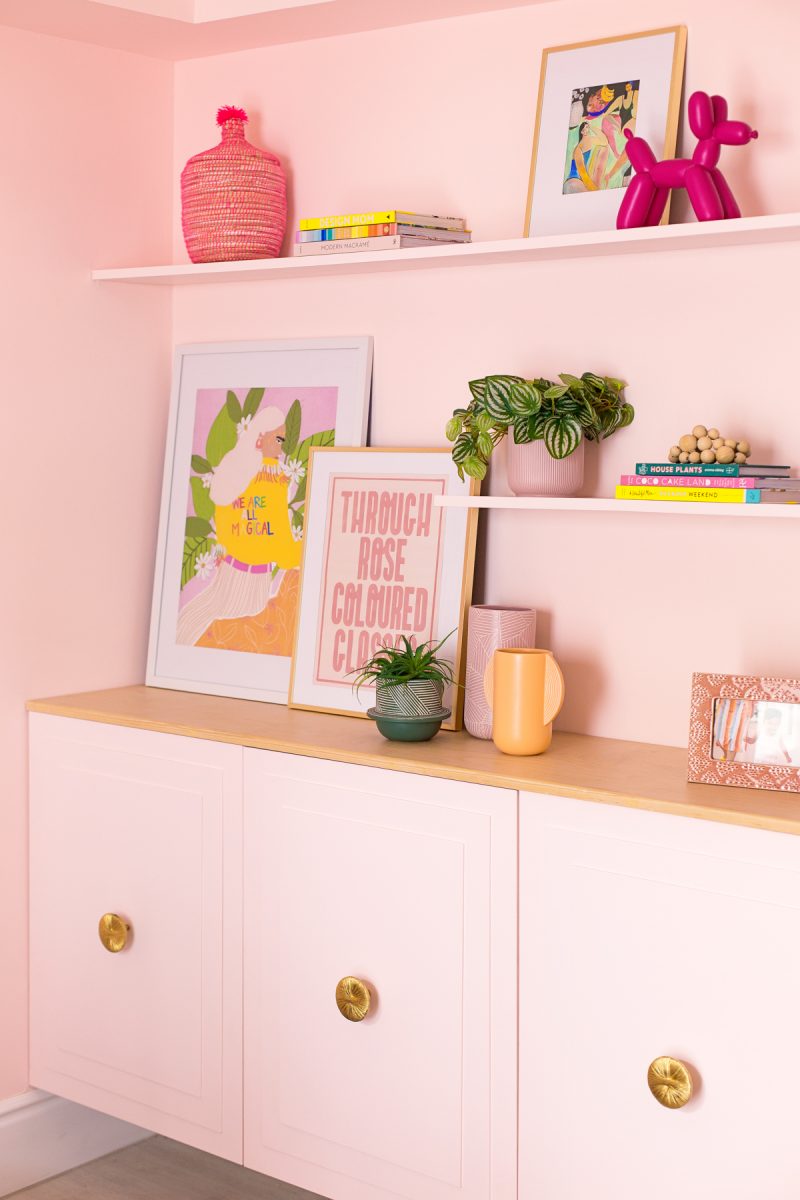 Affordable Art and Photography Prints
Original art is amazing, but it understandably costs a lot. Luckily many artists now offer prints of their work for a much more affordable price and art prints will quickly become your new best friend! I pulled some of my favorite pieces and a list of great sources for art and photography prints below.

1. Textured Print by inaluxe | 2. Banana Skirt by Black Lamp Shop
3. Women by Laura Berger | 4. Flamingo by Arielle Vey
5. Heart by Banquet Workshop | 6. Layered Shapes by inaluxe
7. Cacti by Team Woodnote | 8. Face by Justina Blakeney | 9. Plants by Amber's Textiles
10. Floating Shapes by Almost Makes Perfect | 11. Green & Pink by Studio Hurley
12. Blue Paint by Ashley Mary Art | 13. Mexico by Jeff Mindell
14. Rose Glasses by Jasmine Dowling | 15. Black Rainbows by Ampersand Design Studio
16. Tan & White by Bare Print Studio | 17. Pink Door by Jeff Mindell
18. Floral Headpiece by Victoria Bradley| 19. Women & Fruit by LEOVY
20. Pool by Isabel Feliu | 21. Things Will Work Out by People I've Loved
22. Pink Cabin by Team Woodnote | 23. Pink & Coral Paintstrokes by ffforn Studio
24. Modern Shapes by mpgmb | 25. Pastel Arches by Studio Hurley
26. Big Glasses by Bouffants & Broken Hearts | 27. Coral Stairs by Clare Nicolson
28. Colorful Layers by Angie Stalker | 29. Pink & Olive by Dan Hobday Art
30. Retro Rainbows by Seventy Eight
All of the above shops have so many great pieces besides just the ones featured, so be sure to click through. A few larger sources, that feature several artists and photographers, and offer prints at affordable prices are listed below: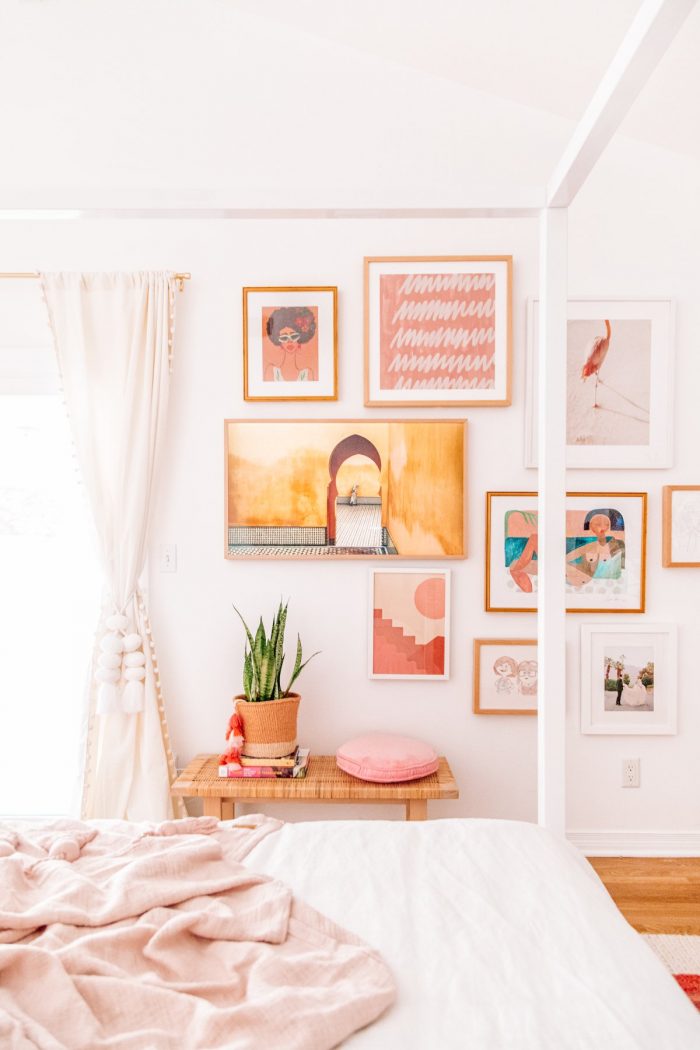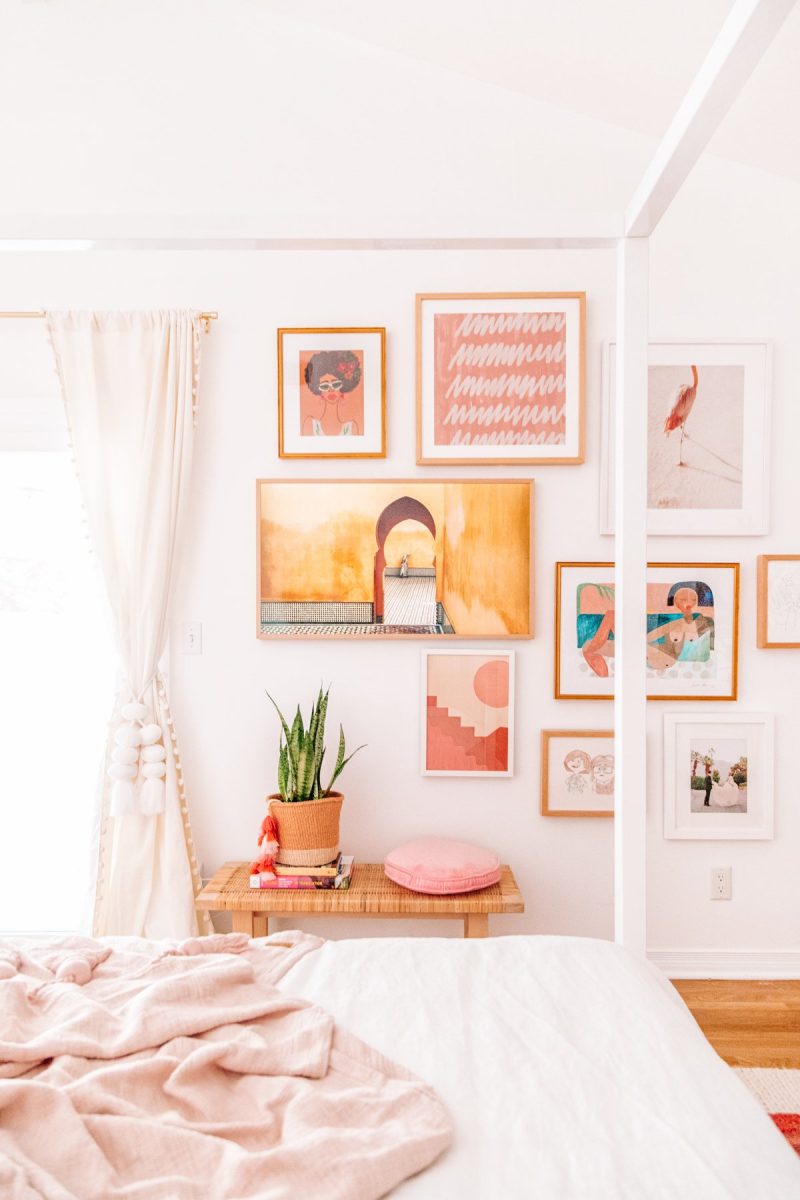 Personal Photos + Momentos
Your own personal photos can make for some of the most meaningful art in your home and you have complete flexibility on the size you want them at!
I love including personal photos within a gallery wall. To make sure the photos feel cohesive with the art you've selected for the wall, dig through your digital stash of photos for ones that have a similar color palette or tone to at least one or two other pieces on the wall.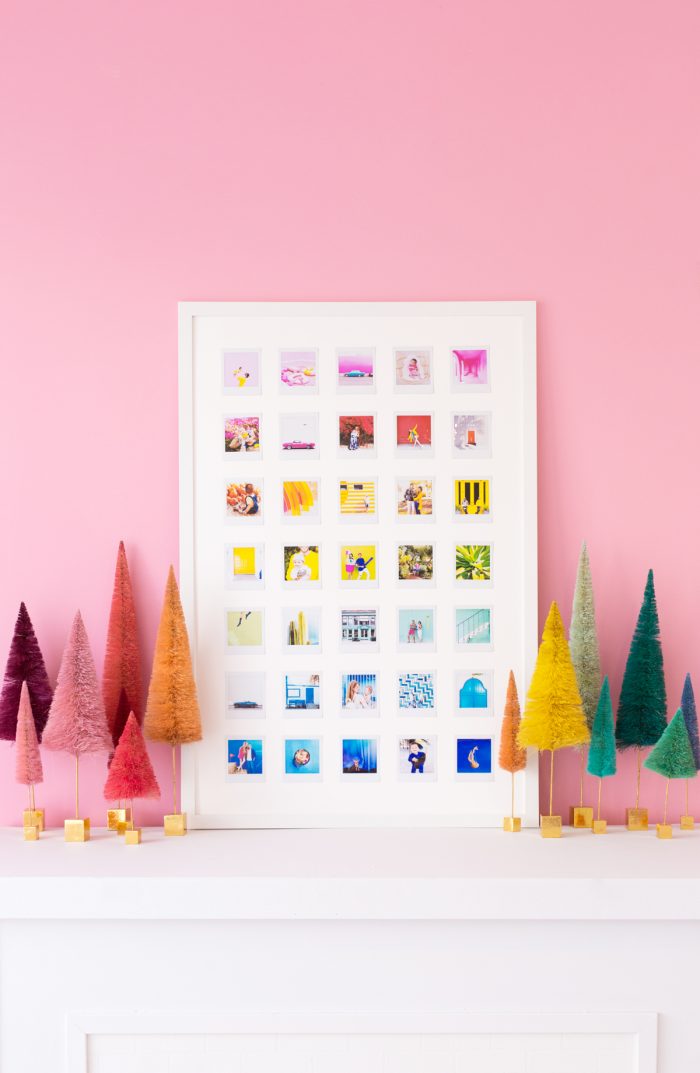 You can print good quality photos, big and small, at your local print or office supply store and find wall frames for relatively cheap at Target, Michaels or IKEA. You can also have fun with an Instax or polaroid camera and create a collage like the above DIY project. Would be so great in a playroom, with photos all taken by your kids!
Other momentos to frame besides photos? Meaningful cards or invitations, notes from a loved one, award ribbons, theater tickets, book pages, you'd be surprised at the number of moments you have in a box somewhere that could easily be put inside a floating frame or shadow box and hung on the wall for you to see in your day to day!
If you want to splurge a bit, we have LOVED every piece we've had framed by Framebridge. They'll frame art prints, photos, canvases and other 3D moments too.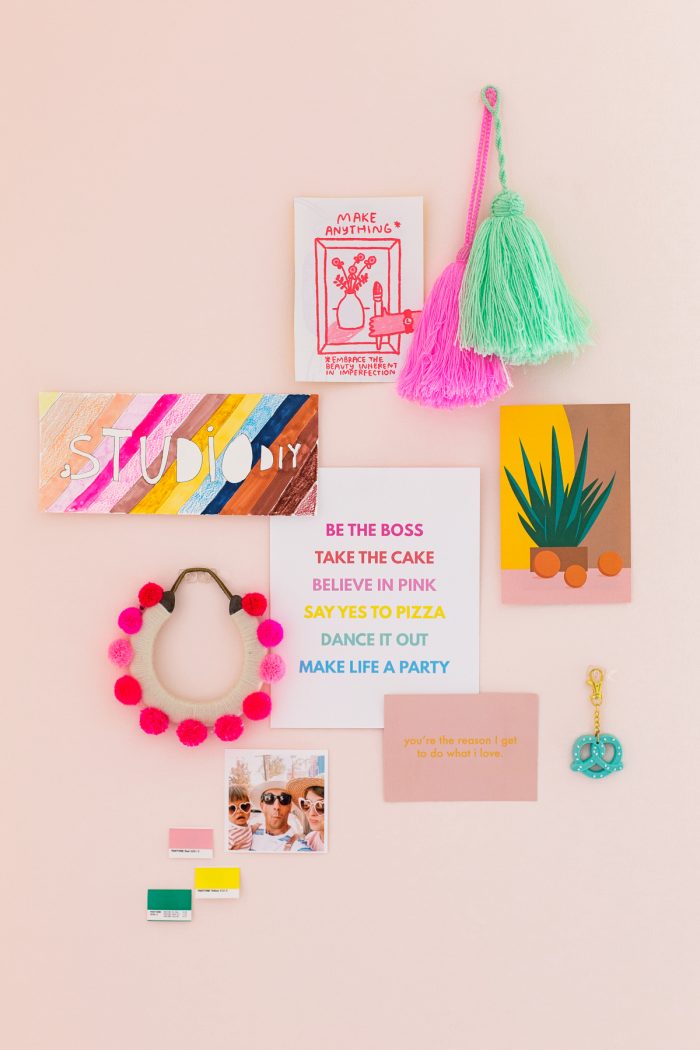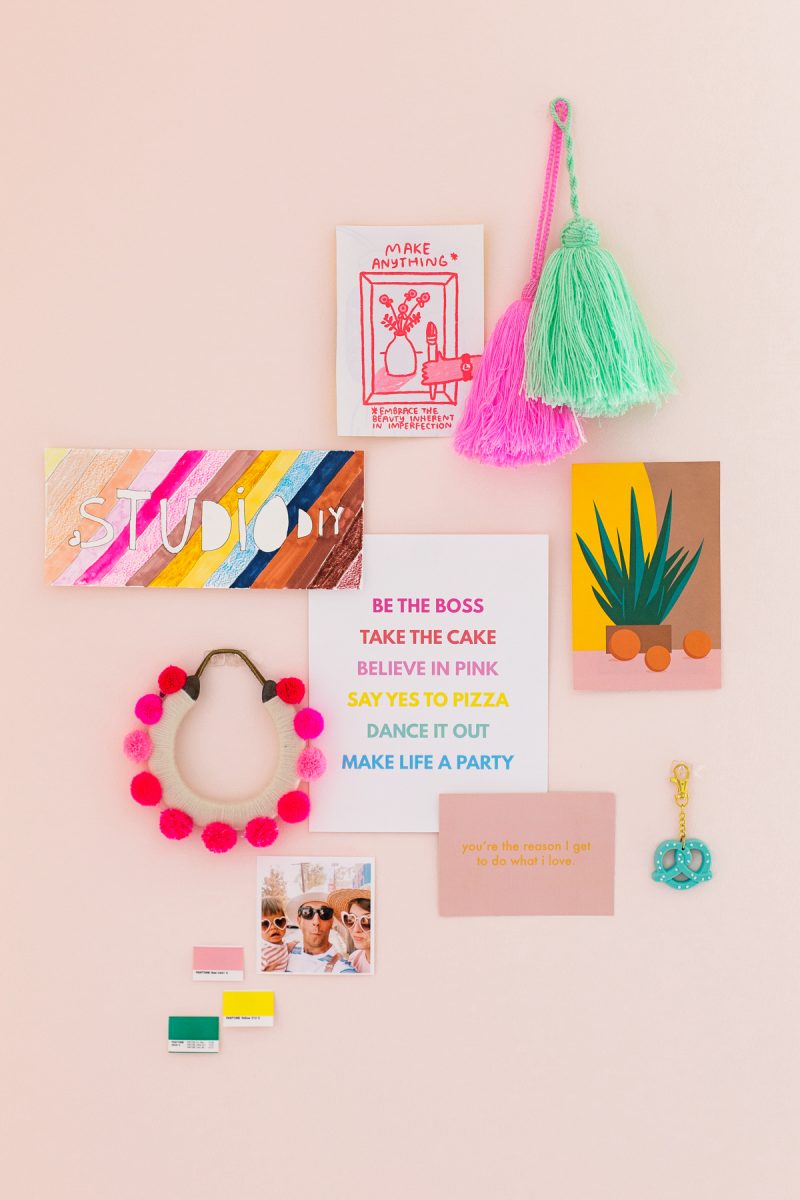 Stationery, Wrapping Paper + Wall Paper
I have absolutely been known to frame a card or two just because I loved the design of it when I spotted it in a paper shop! They are the PERFECT piece of mini art, and only a few dollars a pop! Take a look next time you're at an independent store and see if there's any you love. These look great above a desk space, taped up with washi tape, "inspiration board" style.
Other paper items to consider framing? A piece of beautiful wrapping paper or wallpaper! You may not be ready or able to wallpaper an entire room, but why not frame a piece of it if you love a pattern so much? You can often purchase wallpaper samples which are the perfect size to frame and hang!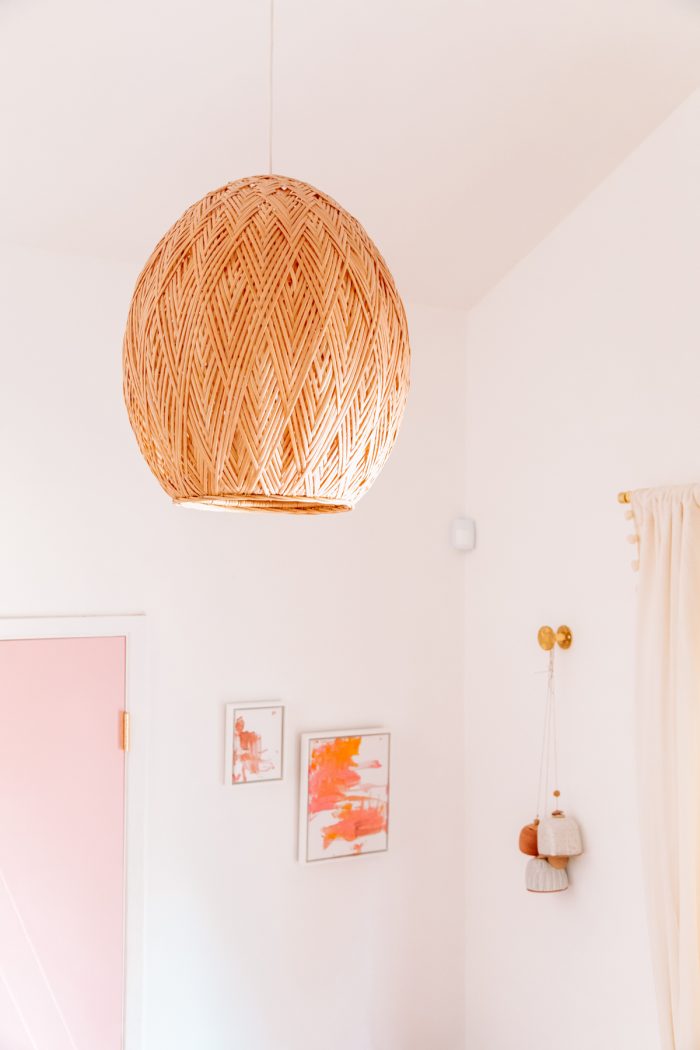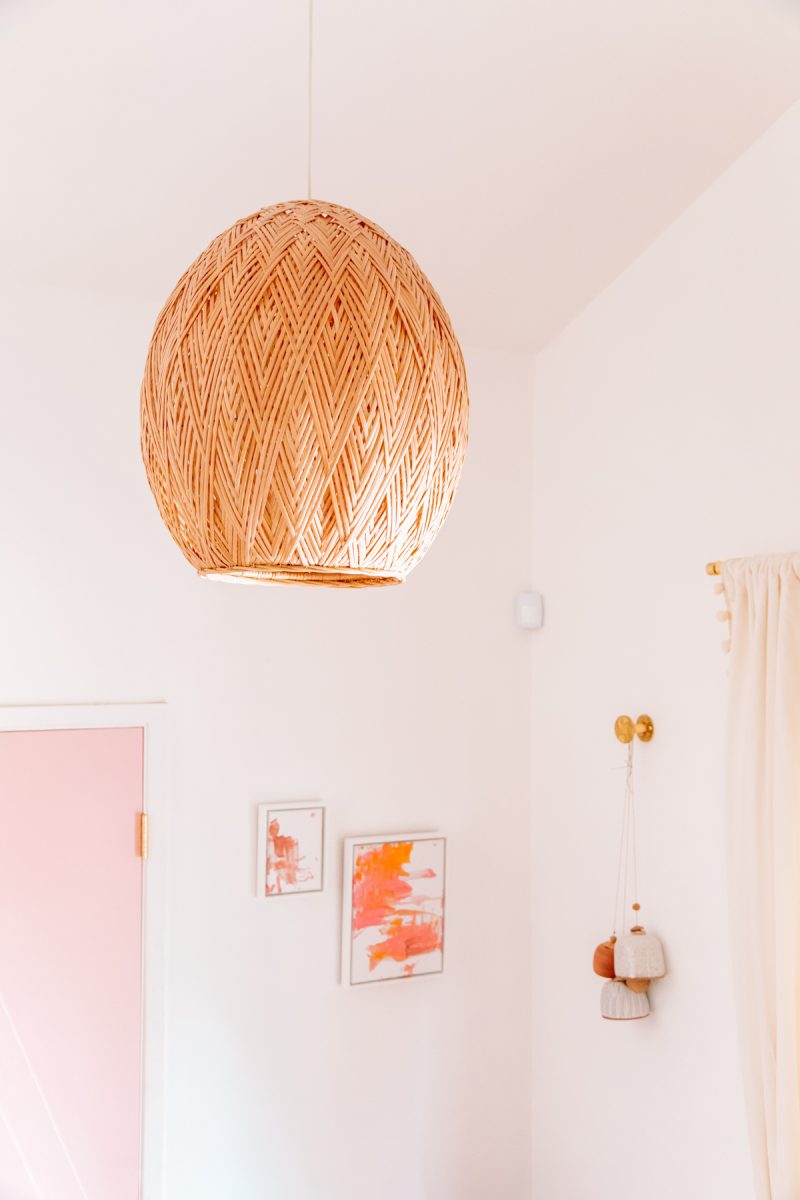 Children's Art
Put those kiddos to work! 😉 I love hanging our son's artwork in our home, and it makes him so proud to see it there and not hidden away in a drawer somewhere. Sure, not every quirky toddler craft project may fit your decor, but if you're looking for a way to add some low-cost art… "commission" a piece from your kiddo especially for your house!
And by commission I mean, help select the color palette so that it coordinates with the room you're decorating, and let them go to town with the paint or other medium. It may turn into the perfect abstract piece for you to frame and display! Here's a few of my tips for painting with a toddler.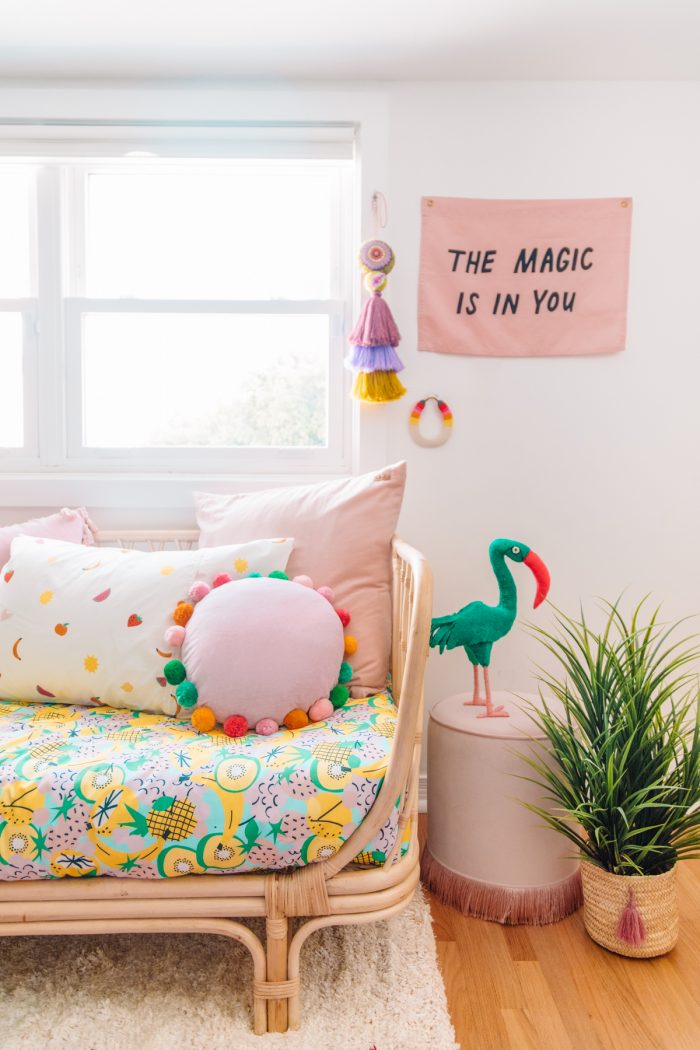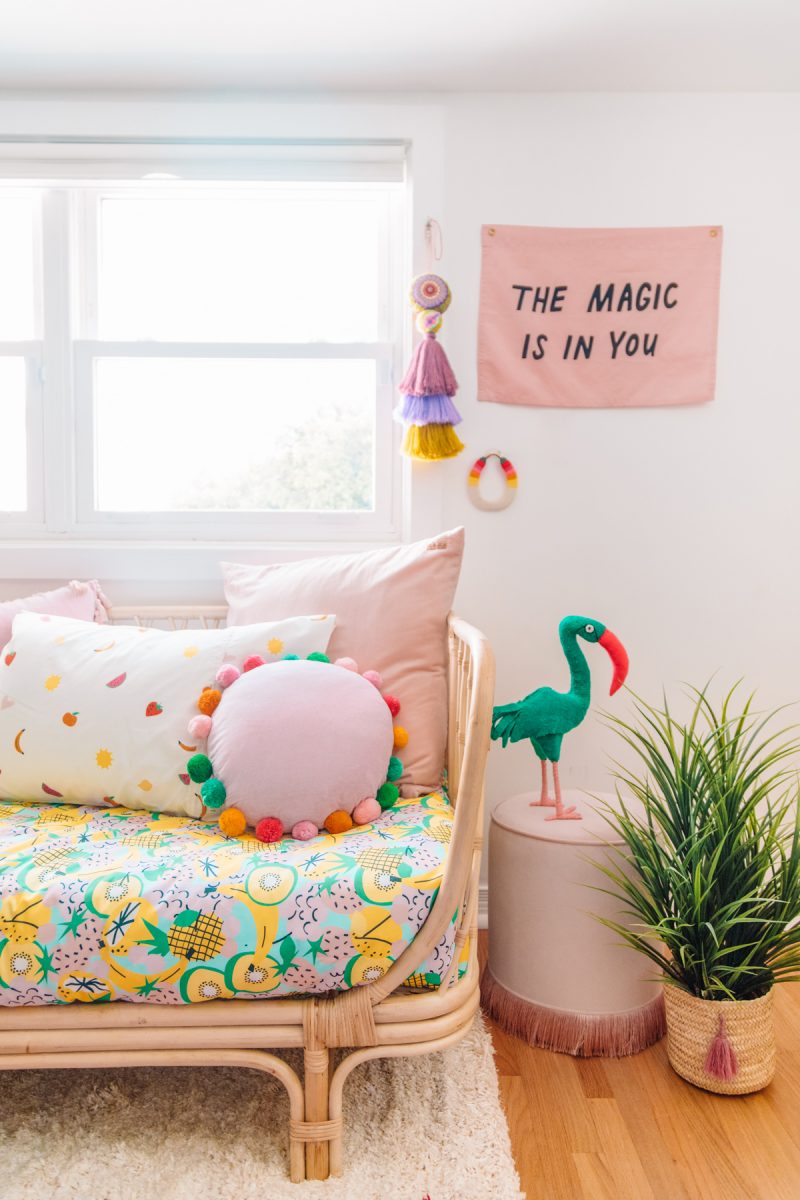 Textiles + Wall Hangings
I love using textiles on the wall because it not only acts as an art piece but also adds texture and warmth to a room. There's also plenty of options for both buying or DIY-ing these items.
If you need one large piece to anchor an empty wall, explore options like a yarn wall hanging or a painted canvas.
If you're creating a gallery wall that feels a bit more freeform and dimensional than just frames, look into things like smaller fabric flags, pennant flags, tea towels, cross stitch or embroidery hoops. They break up all the hard lines perfectly and there's so many talented artists making them. Here are a few of my favorites: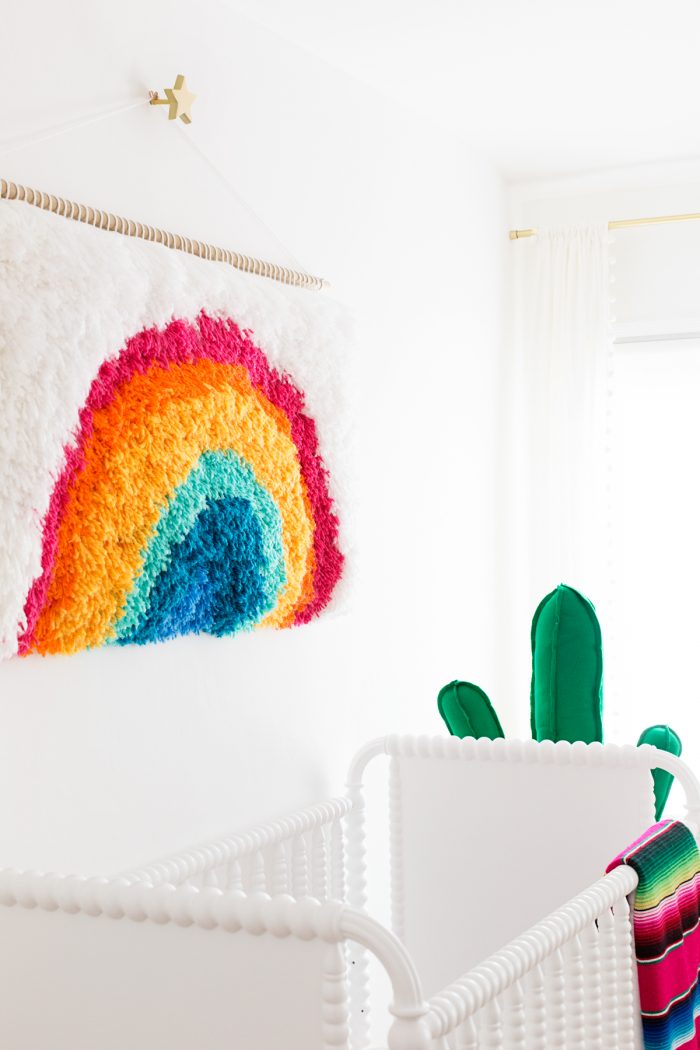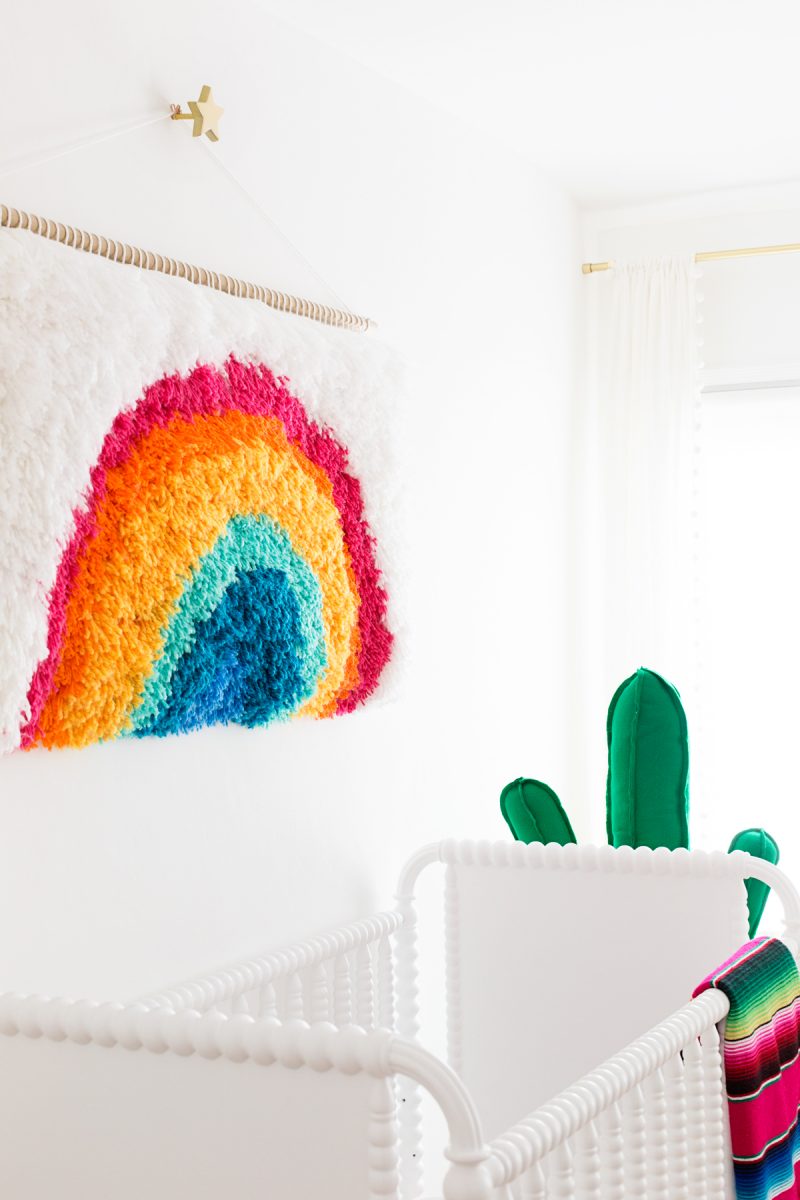 If you're on a budget, try DIY-ing one of these textural pieces! Here's a few ideas:
DIY Rainbow Latch Hook | DIY Fringe Wall Hanging
DIY No-Weave Rainbow Yarn Wall Hanging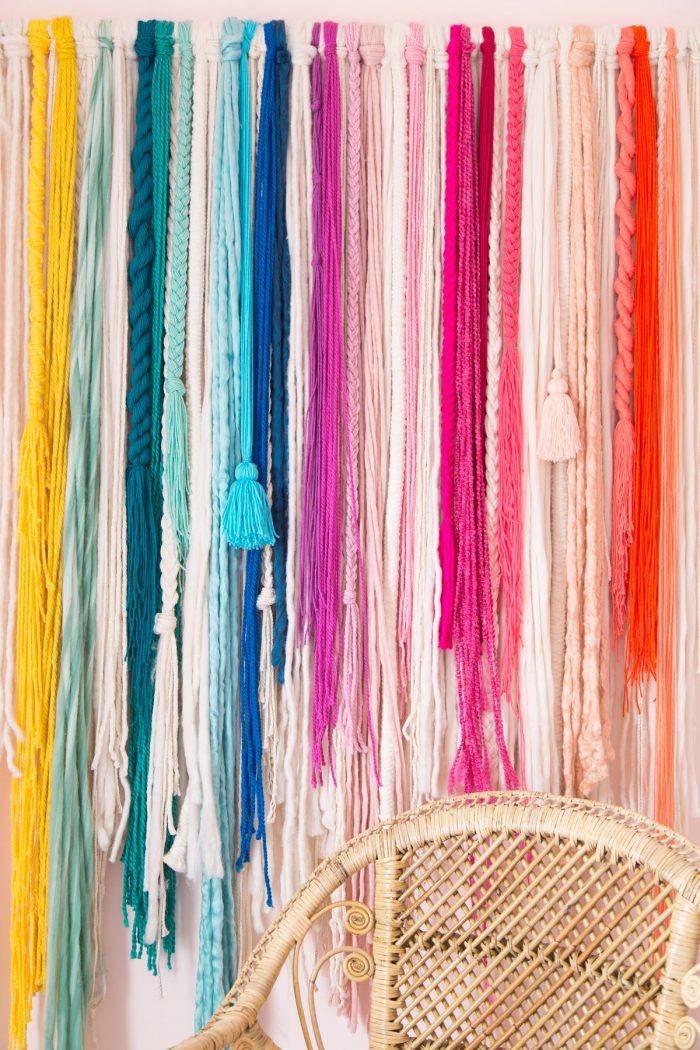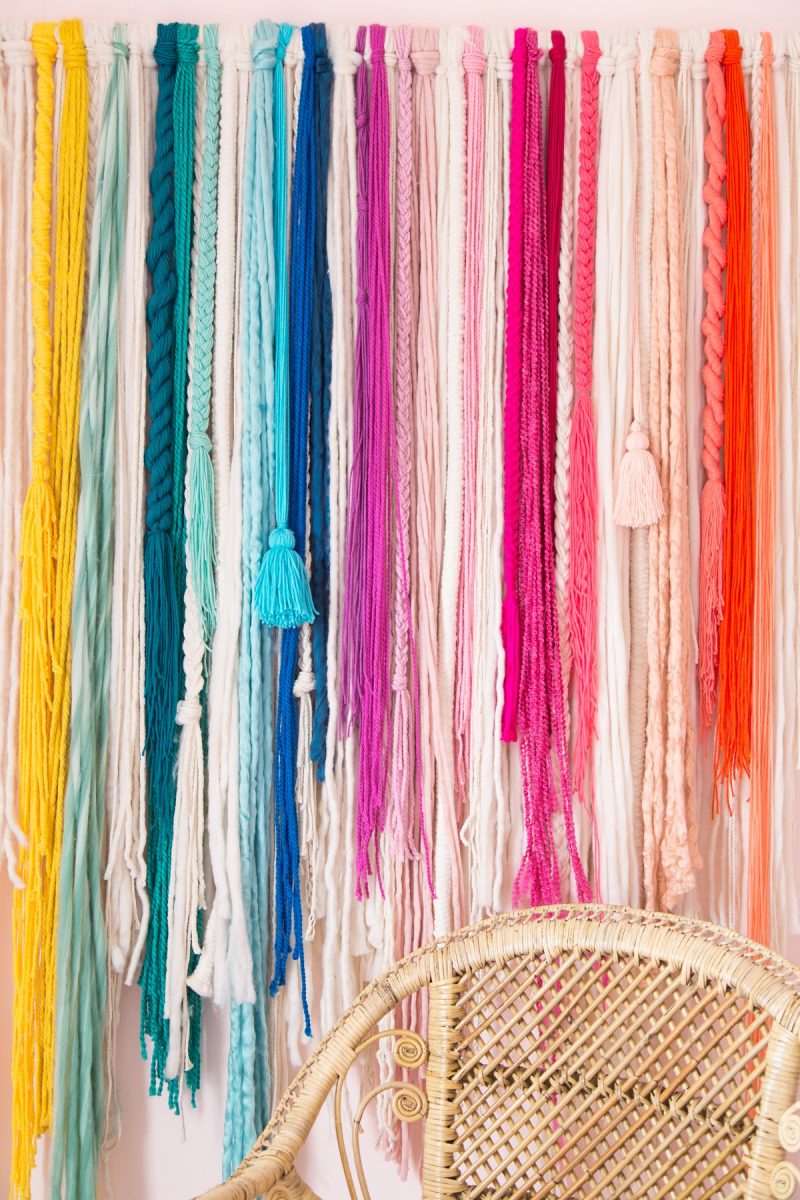 You can also create a pennant flag, like the one below, with just felt, scissors and glue! So simple.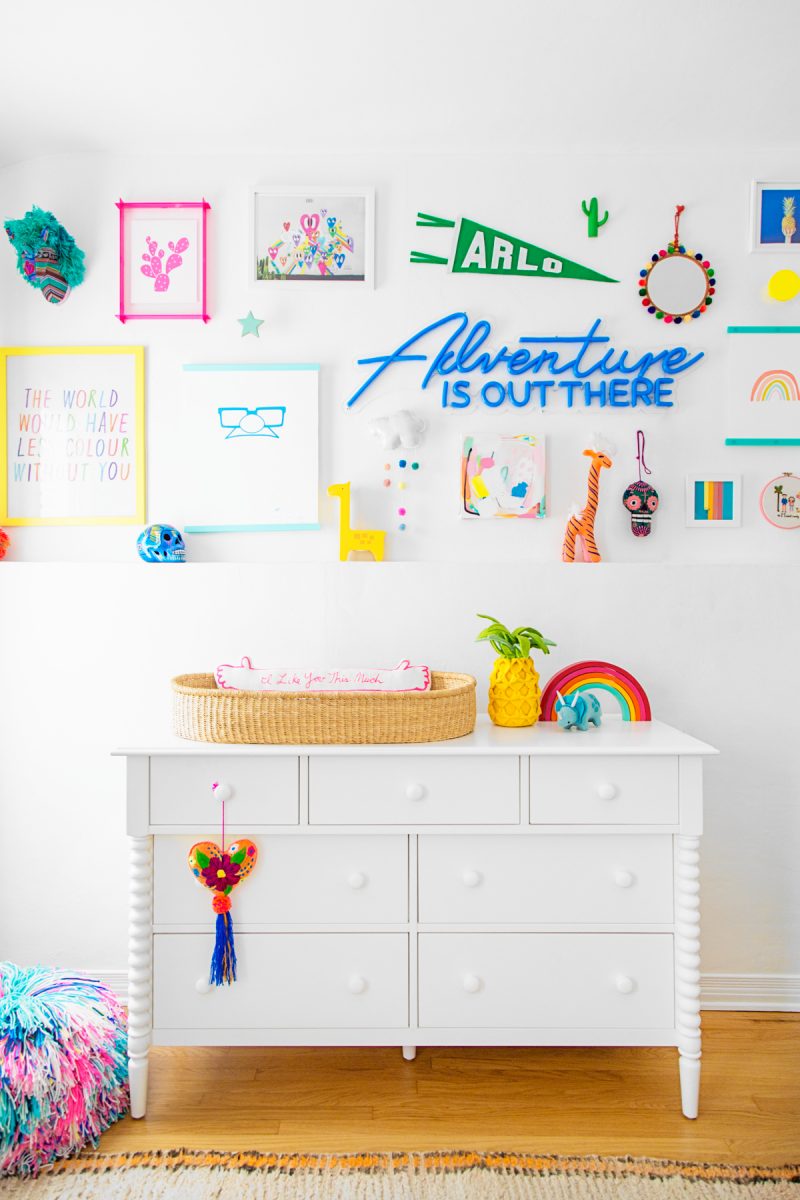 Wall Charms + Other Dimensional Items
We've filled a few awkward spots in our home with dimensional art, like pom poms, horse shoes, baskets or ceramic wall charms. Don't be afraid to get creative! Any item that can have a string strung on it, could easily be hung on a wall to display.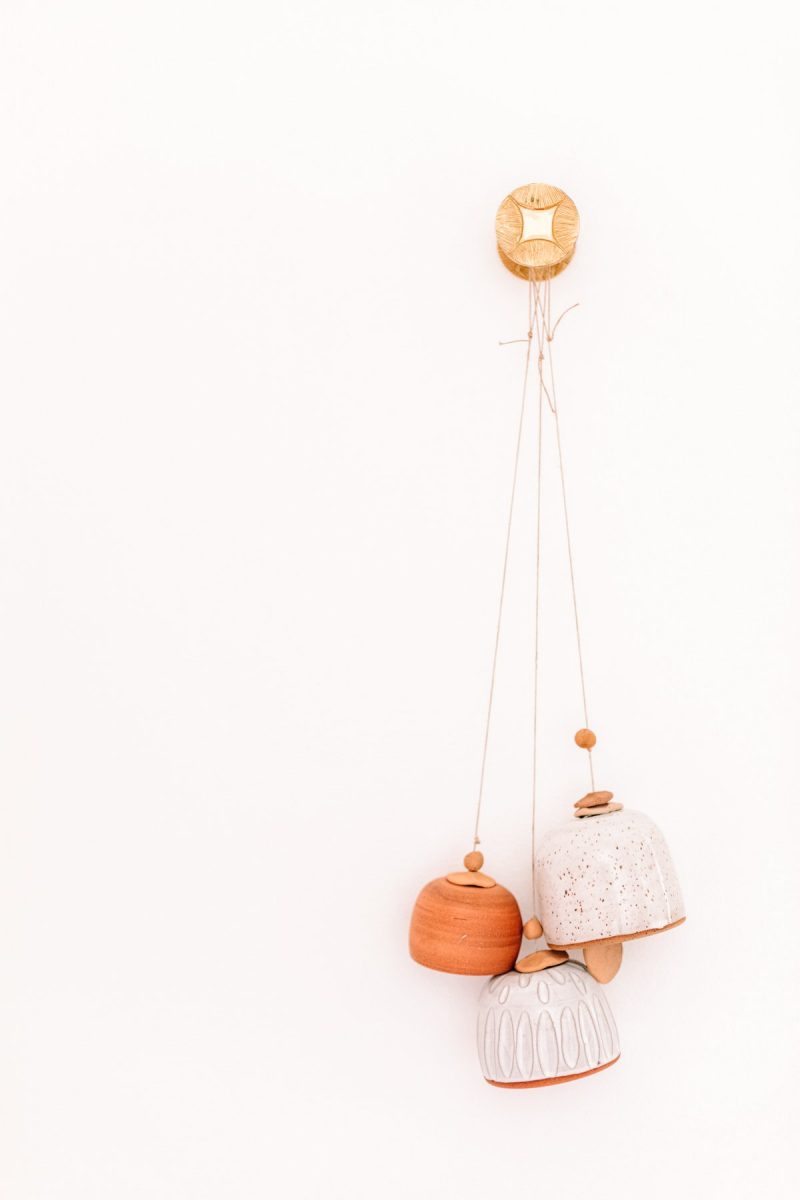 Hope this inspired you to add a new piece (or a bit of color) to your space!