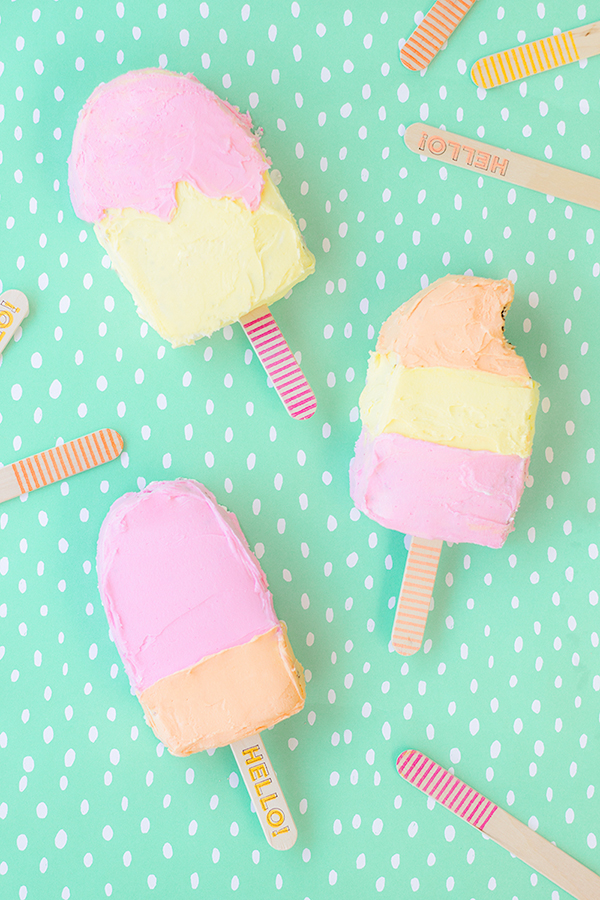 When I made my niece her camera cake a few weeks ago, I forgot to grease the pan properly the first go around like a dummy and so it came out in big messy pieces. So I made a second one and had this one all to myself. And in an effort not to eat the whole darn extra cake with a fork, popsicle cakes were born! See folks, making something awesome out of a mistake! I think these are so perfect for summer birthday parties. Wouldn't it be fun to spell out "Happy Birthday" on them!? Yes, yes it would.
To make these cakes, I made a popsicle shape template out of cardstock and "traced" around it with my knife to cut out the cake shapes. I recommend sticking the cake in the fridge before you cut, makes it easier! Then I did a crumb coat of frosting and popped them back in the fridge. And finally! I dyed my frosting a few different colors and iced the cakes in a couple patterns! I really didn't use any fancy techniques, just the edge of my icing spatula! As a finishing touch I popped these cute popsicle sticks from Sucre Shop into each one! (By the way, I used this cake recipe from Lulu the Baker and this frosting recipe from Sprinklebakes. Both are AWESOME. These are meant to be treated like cakes, not "cake pops" so they do lay flat rather than being held upright like real popsicles!)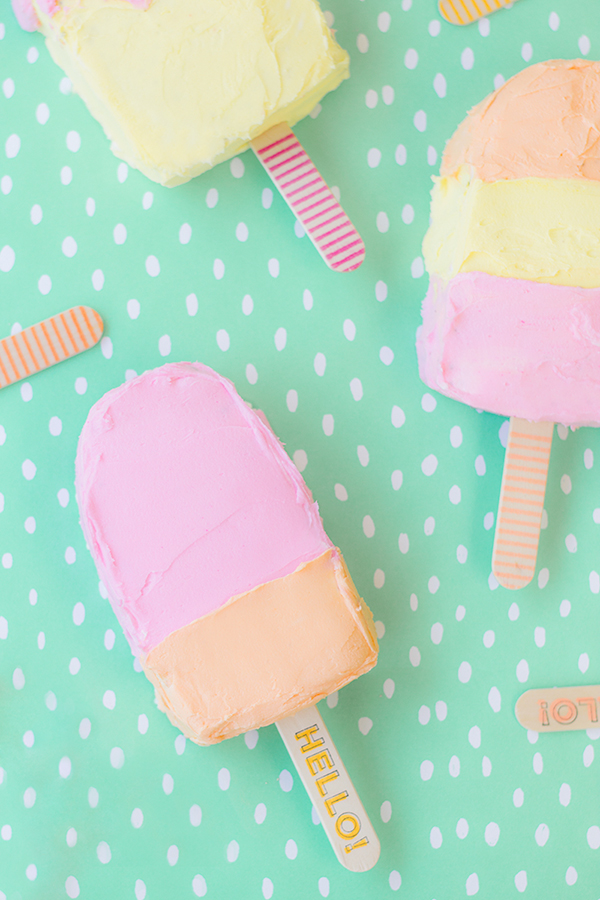 All Photos by Studio DIY
Who else is ready for summer out there!? It's sure felt like summer here in LA lately temperature-wise, but I'm ready for everyone to be on the pool dipping, beach ball tossing, sunglass wearing bandwagon! Ah, summer. You are the best season of them all.
Super cute "Hello" and Stripe popsicle sticks c/o Sucre Shop! And for more edible projects, head on over here!