My Mom visited last week and I decided to surprise her with an early Mother's Day (Off), or so I called it! As we all know, moms don't really ever get a day off! Even now, she's still a busy bee inbetween traveling around to see the kids and grandkids in all four corners of the US of A! So I teamed up with Shari's Berries to throw her a fun "Treat Yourself" day filled with sweets (Ehm.. gourmet chocolate dipped strawberries and yummy cake truffles!), manis and all the good things a relaxing day off should involve. It's the perfect way to say thanks to mom this Mother's Day, so here's a few ideas for making a special day of your own, and printables to go with it too!
First up, I set the stage with a "Treat Yourself… to a day off!" card and all the spa essentials: cucumbers, face masks, lotions… you know, the good stuff. Spa day at home, check!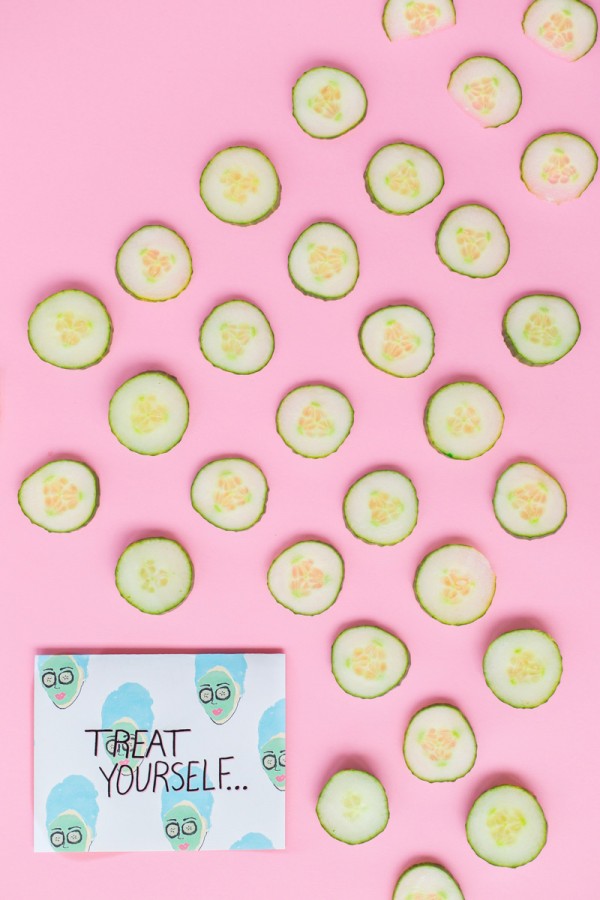 Second, I made sure we were well nourished. My mom and I have long shared a love for chocolate dipped strawberries, so I had Shari's Berries Full Dozen Mother's Day Strawberries and their Mother's Day Assorted Cake Truffles (for good measure) on hand. Go big or go home, people! Let me tell you, these did not disappoint. We may have fought over the cookie dough and red velvet truffles. (DELICIOUS!) Lucky for her, she was the guest of honor and won. 😉 There were even sweet little hidden messages for Mom underneath each truffle!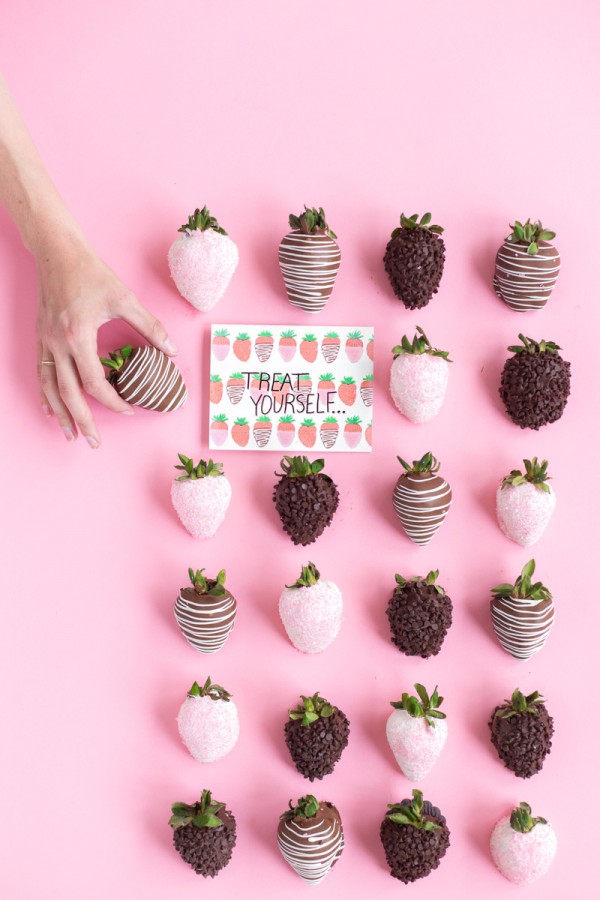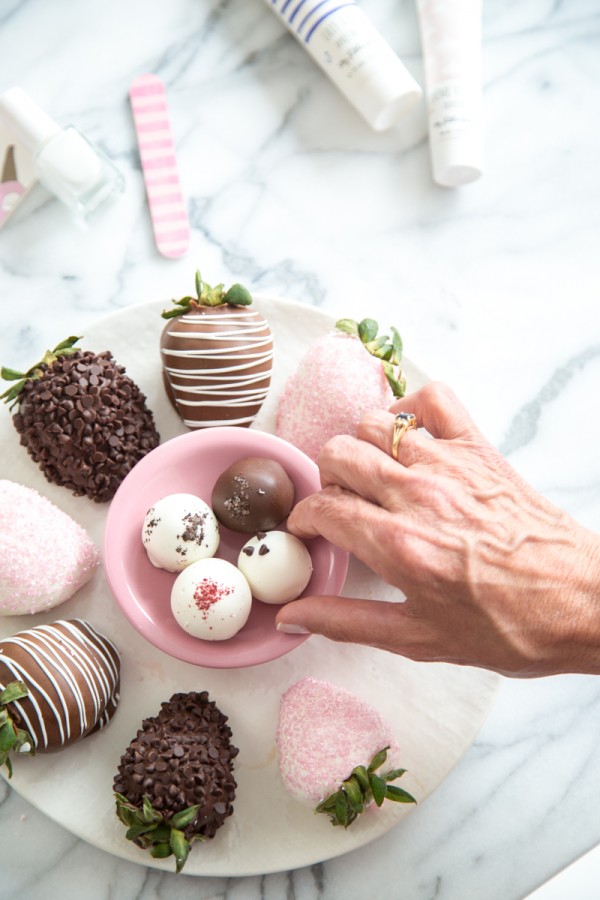 We ended the day with some mani/pedi action, as all good mother/daughter dates should end!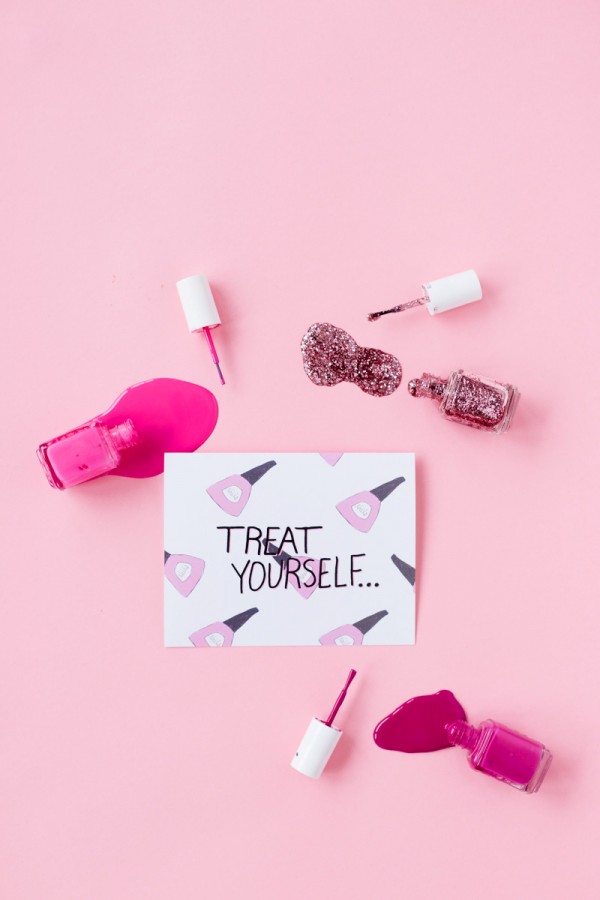 To download + print the free printable "Treat Yourself" cards, click HERE!
Print on cardstock and cut using the guidelines. Fold in the middle in fill in each with the treat(s) you choose!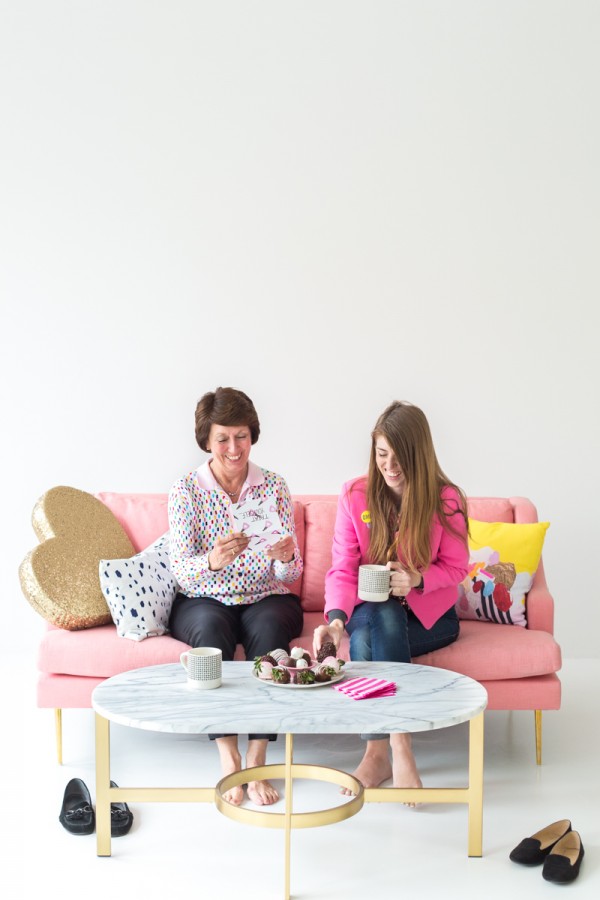 Photos by Jeff Mindell / Illustrations by Bouffants & Broken Hearts
How would your mom want to spend her day off!? Treats and spa treatments (See what I did there?) definitely do the trick, if you ask me!
This post was created in partnership with Shari's Berries. All content and opinions are that of my own! Thank you for supporting the sponsors that keep the Studio DIY party going! Read more about my editorial policies here.