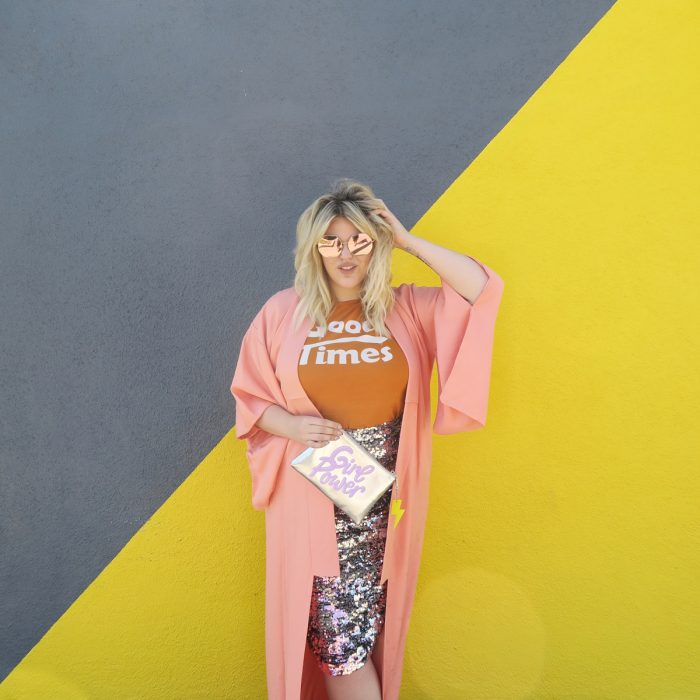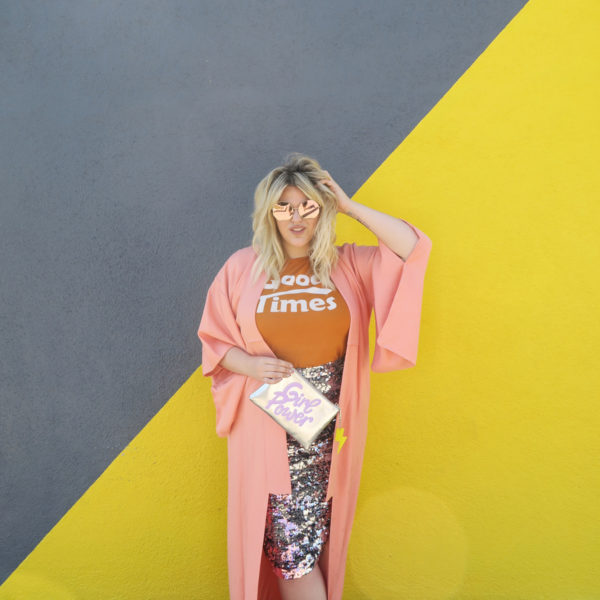 You guys!!!! I know I say this every time, but I really am SO excited about this month's interview with one of my favorite people- Alex Michael May! You may remember her from our DIY manicures, but she's also been a huge part of helping Studio DIY behind the scenes in so many other ways. She's one of the most positive, encouraging people I've ever met, and not to mention she has the best style and most ah-mazing hair. I knew as soon as we designed this clutch that it would be perfect for Alex, so we sat down to chat about what girl power means to her, the advice she would give to her teenage self, and the accessory she's been putting in her hair that's a total game-changer! Let's do it!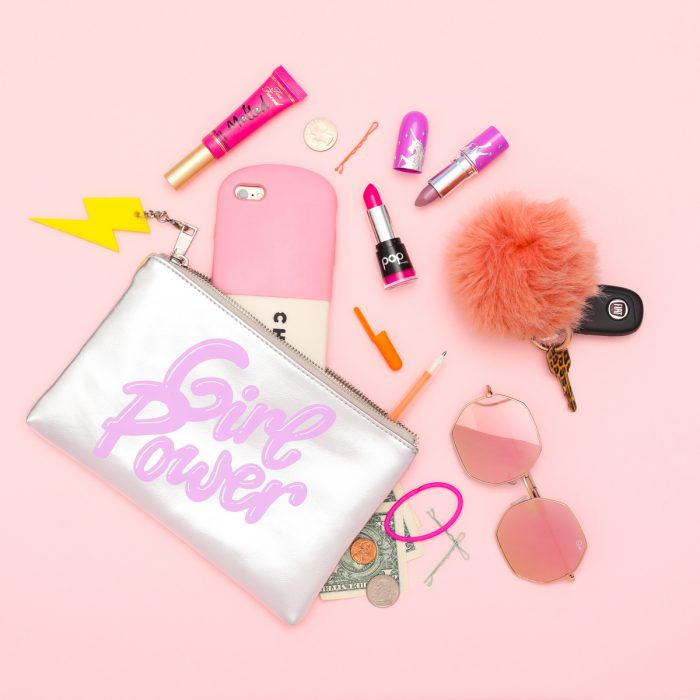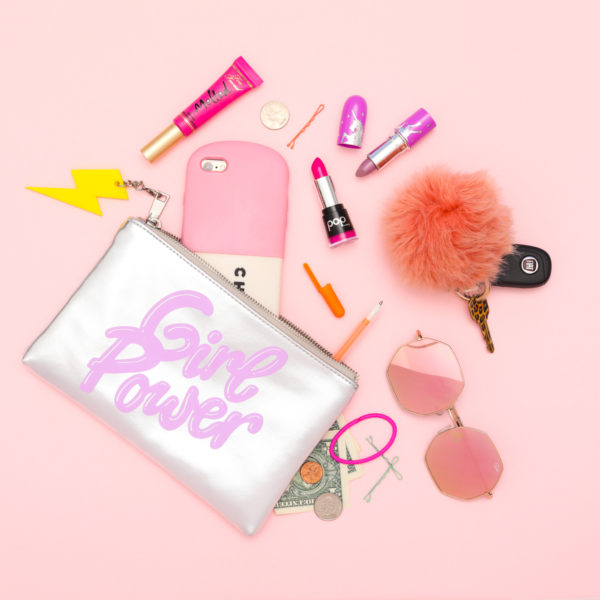 Every time I see you, you're always on the go, go, go! What are the things that you always keep with you in your purse, no matter what?

My phone (duh), my vlogging cam, plenty of lippy options, car keys, fave sunglasses, a pen, money + cards (sometimes in a wallet-y thing, sometimes not!) and always a hair tie and a couple bobby pins in case there's a hair emergency (which, let's face it, more often than not, there is!). Oh, and sometimes snacks. Ha! I like to keep all the important stuff in a clutch that I can tuck inside my bigger bag for work and then I can pull it out at night or when I'm running errands or going out to eat. That's what I love about these clutches! They're like a piece of flare that helps me change up my look whenever I want!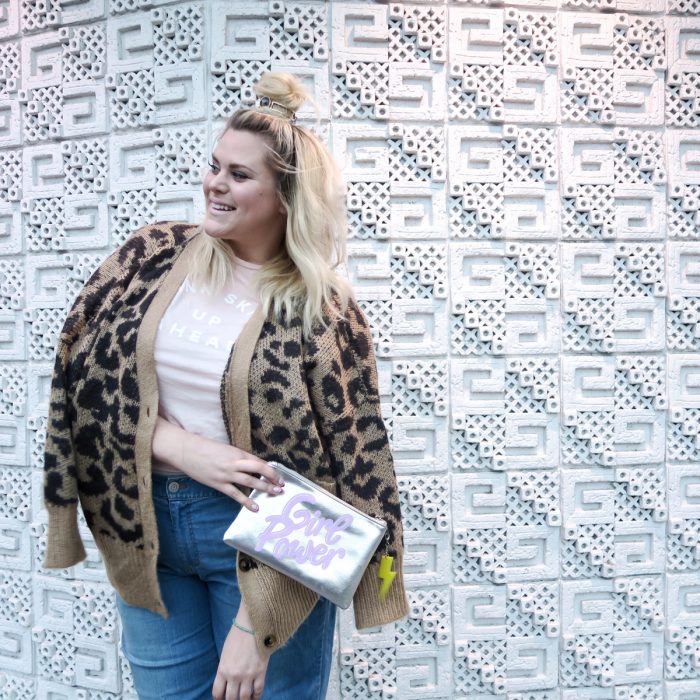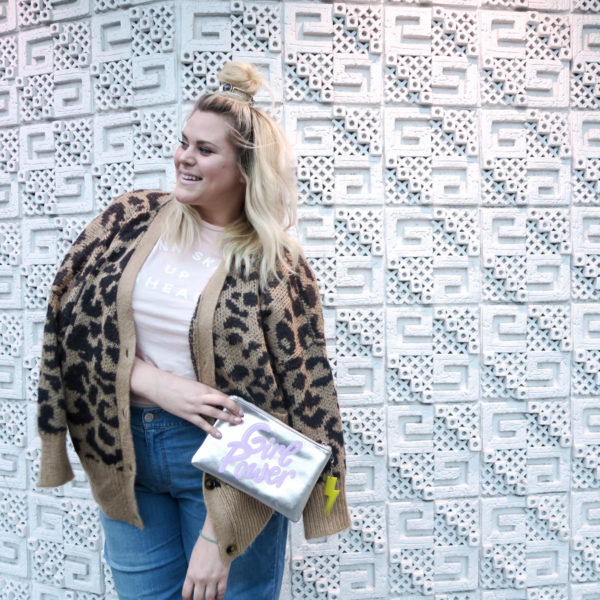 I love thinking about your clutch as a piece of flair! Do you have any other favorite ways to accessorize?

I've been putting weird things in my hair lately! Like bun cuffs or bracelets around my buns, using bobbi pins in creative ways, etc. I also LOVE hats and turbans! And sunglasses—I have WAY too many pairs!
Umm…bracelets around your bun?? How have I never thought of that before! Genius. With all those accessories on hand, have you ever found anything really crazy in your purse?
I have NO idea how this got in my bag, but one time I was driving and grabbing my chapstick out of my purse and my boyfriend's PS3 controller was somehow in my bag! I also once had a pair of frilly socks that didn't fit me leftover from a photoshoot I kept in my bag for way too long!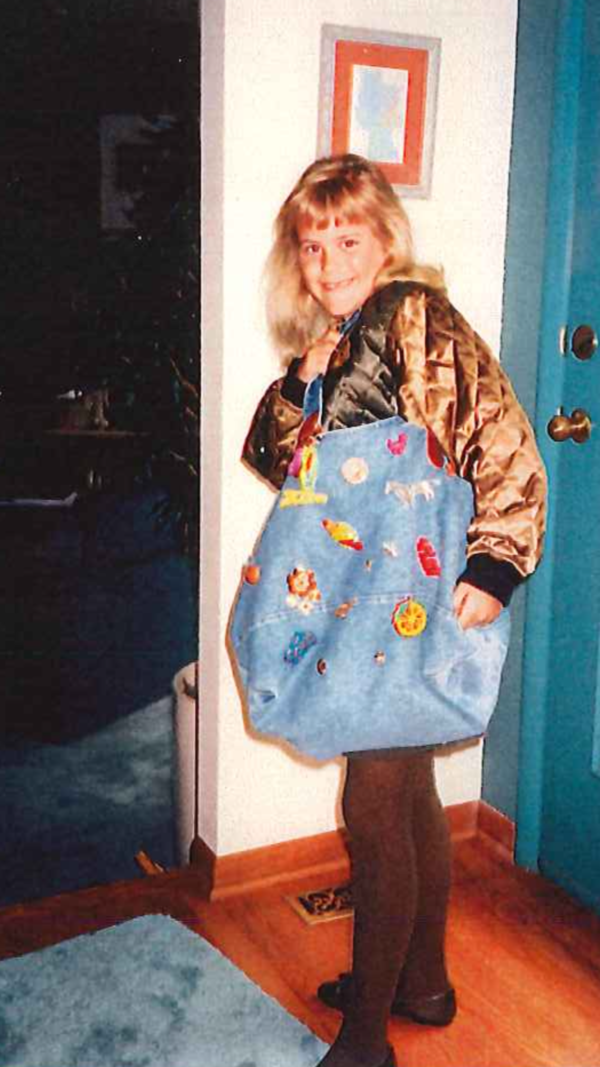 Do you remember your very first purse? Tell us about it!

Listen, I don't want to toot my own horn, but I was pretty early on the pin/patch game. Don't believe me? I HAVE EVIDENCE. I am the self proclaimed OG queen of flair. I would take pins, patches, my grandma's sewing notions and antique costume jewelry and just deck out EVERYTHING. My overalls, my backpack, and, most importantly, my first official purse, which was an acid-washed denim tote bag covered in all that flair-y goodness. Even then I was into totes, and had an understanding of the kind of spaciousness that only a classic tote could provide. Also, denim really matches everything. I wish I had kept it!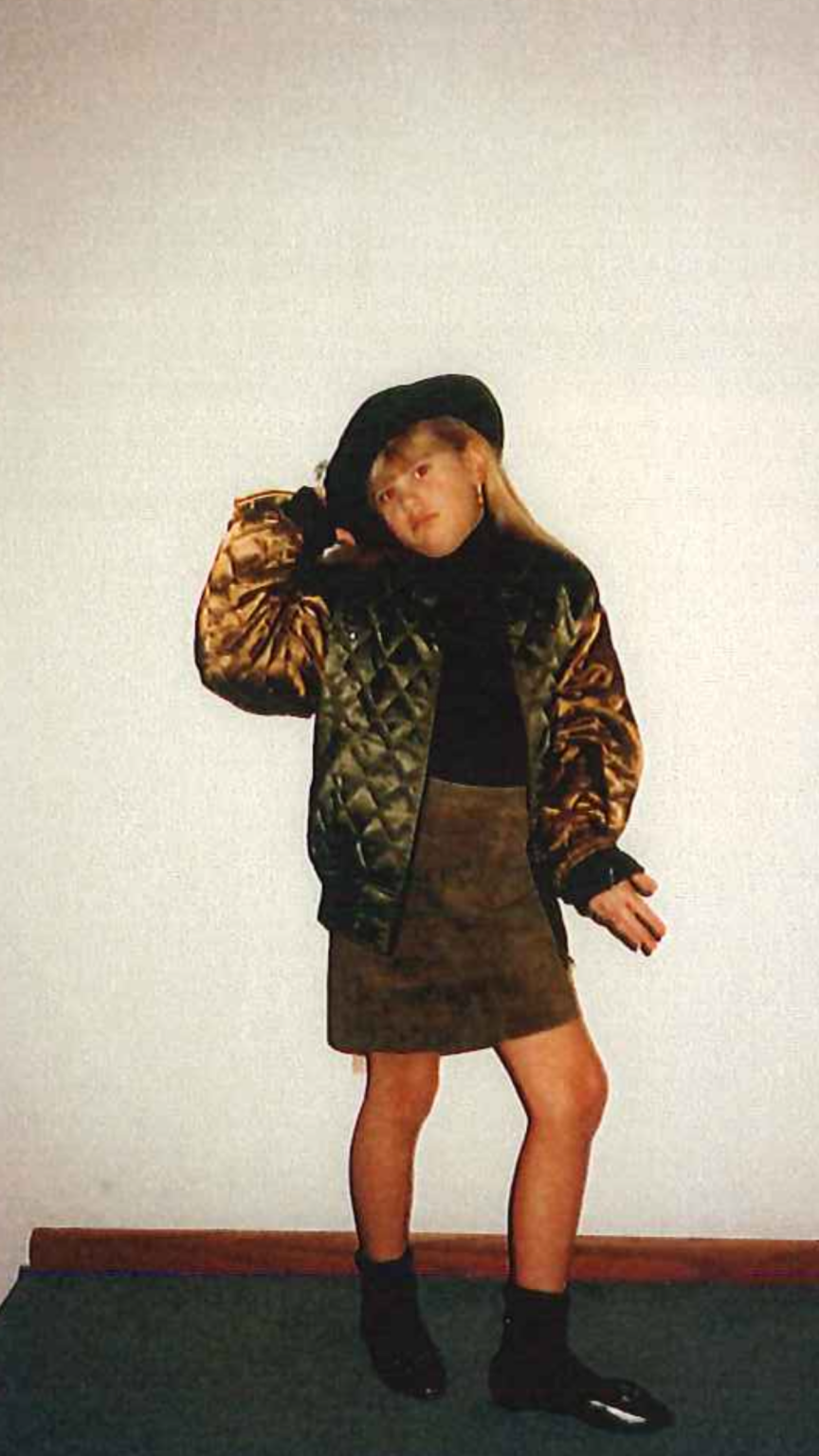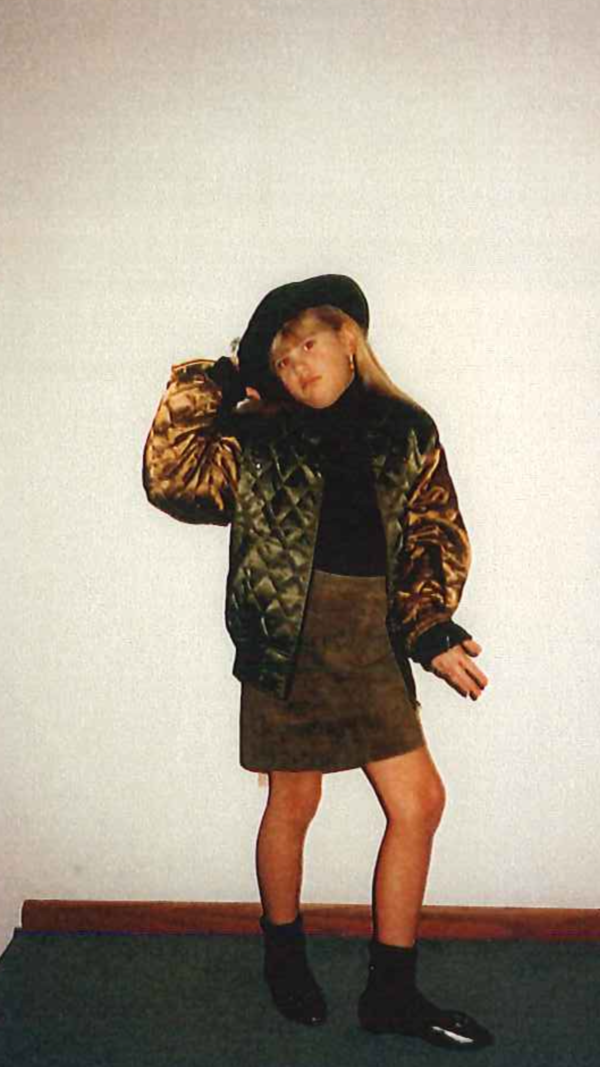 You always have the most fun outfits on! How has your style changed over the years?
My mom used to dress me as a chic mini-adult when I was a child. I didn't realize how awesome she was at putting together my outfits until I look back at school photos and see everyone else dressed as a normal kid.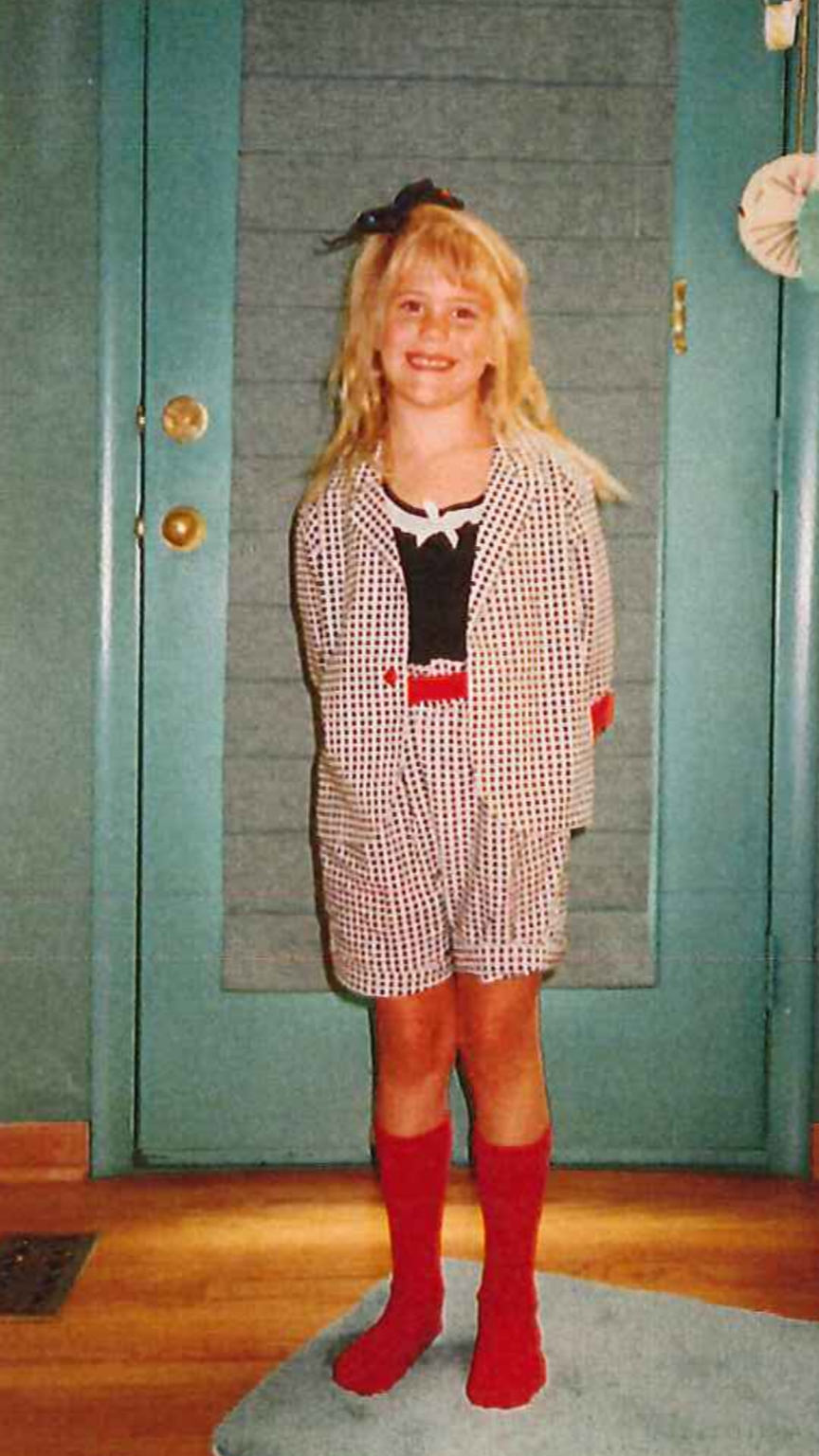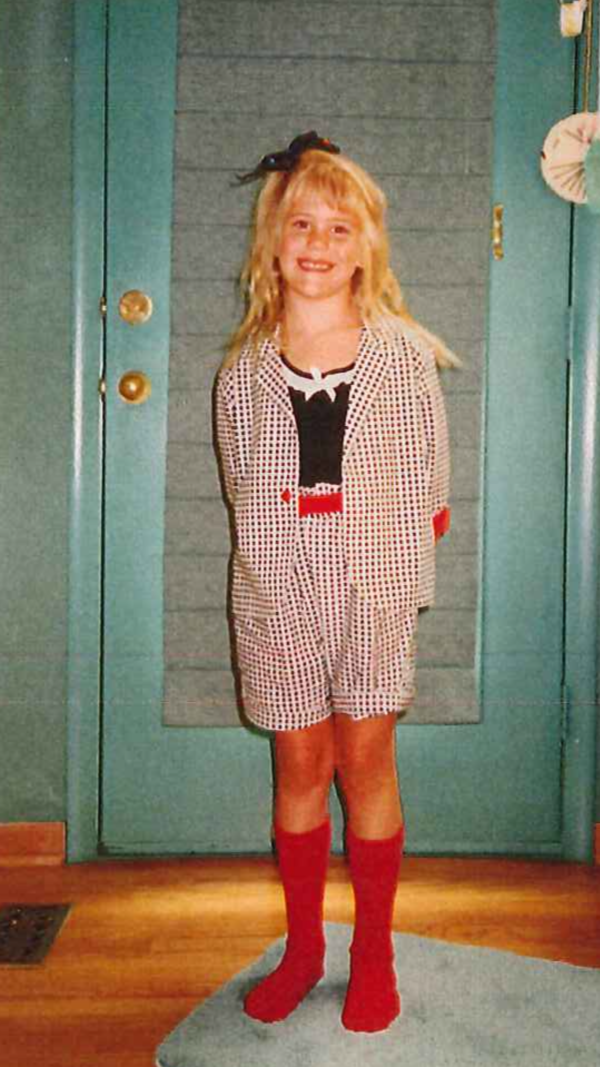 One of my favorite outfits was purple plaid shorts and a matching blazer, with tights and purple suede bejeweled loafers (sadly, not pictured here!). Oh, and my mom had an outfit to match!
Nowadays, my closet primarily consists of the following: sequins, gold and silver metallics, kimonos, silk and velvet. I love the style of the 70s SO much and love the way Rachel Zoe, Stevie Nicks, and, Iris Apfel dress. I love people who are able to use their style as their calling card- to differentiate and be their truest selves through what they wear!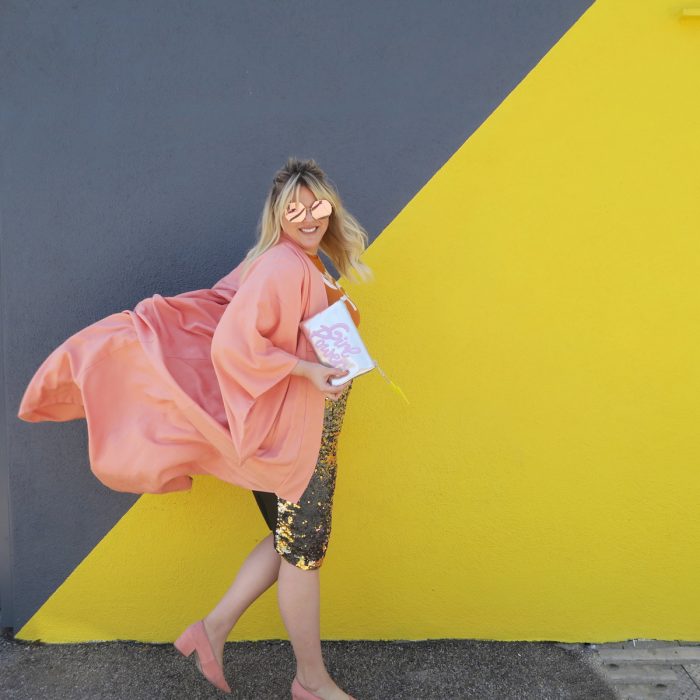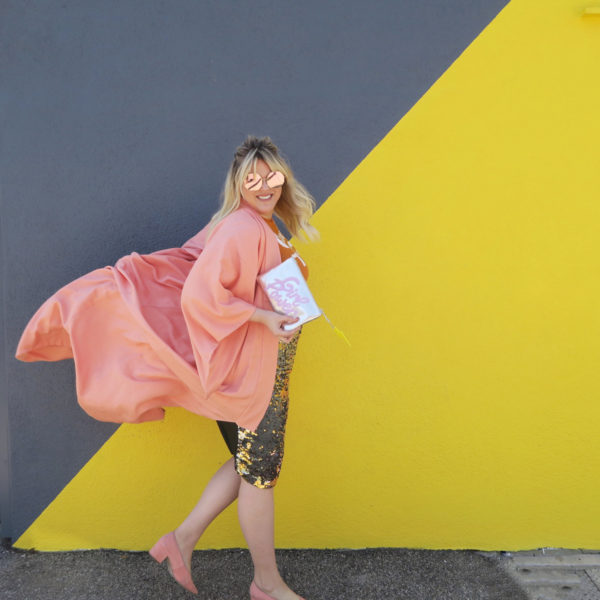 Now tell us a little about what you do! What's your favorite part about your job?

I work as a creative director and consultant and am also in the Instagram and Youtube space, empowering women and advocating for body positivity. I love that I get to be creative every day, and I LOVE connecting with people over issues that affect us all, and helping people to shift their perspective, be brave, and move in the direction of their dreams! I also get to travel and play with a lot of pretty things, so that's not awful 🙂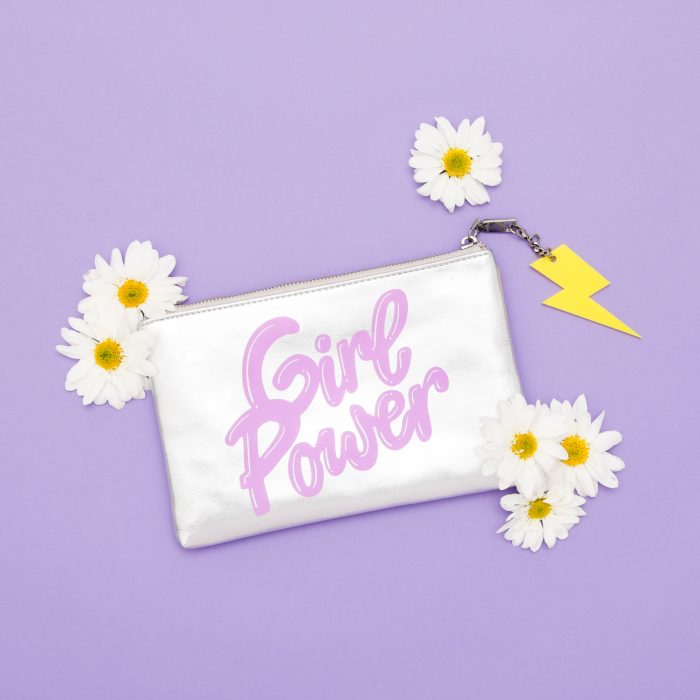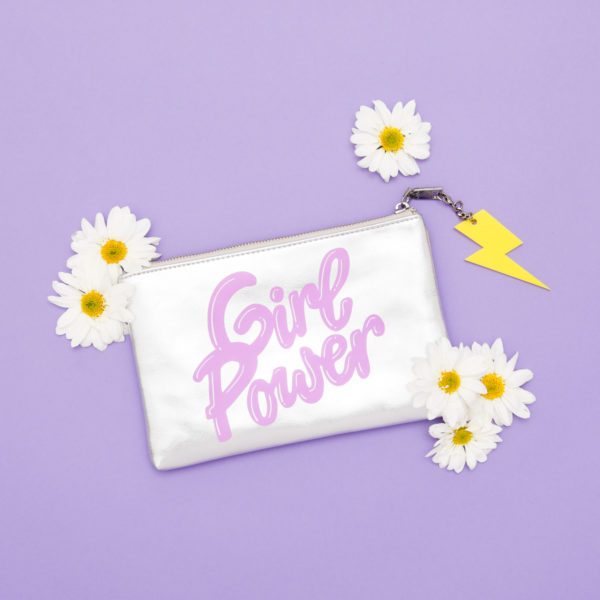 You seem to have such a confident, positive outlook on life! Have you always been like that or was it a process?

GIRL. It has been a journey and it still is! I have always had a flair for the unusual, been silly and a little quirky, but I was also very afraid of judgment and prone to people-pleasing growing up (as many of us are!) I have also struggled with my body image. I had a realization not too long ago and decided that I was not going to wait to be happy. I was going to be happy NOW. Every day I make the decision to be brave, to embrace the good, to see the positive in others and myself. Some days are easier than others, but I'm committed to the journey and to living my best life while encouraging others to do the same. I just try to have fun with whatever I'm doing and choose love over fear.
I love that! If you could go back in time- what advice would you give to teenage Alex?

Girl, stop worrying so much about what others think, and just DO YOU. Focus on the things that matter: being kind, loving others, following your curiosity and passion and doing what makes you come alive. What makes you different is what makes you special, so don't try to change that! You really can do anything you decide to do, but be brave enough to claim it and go after it!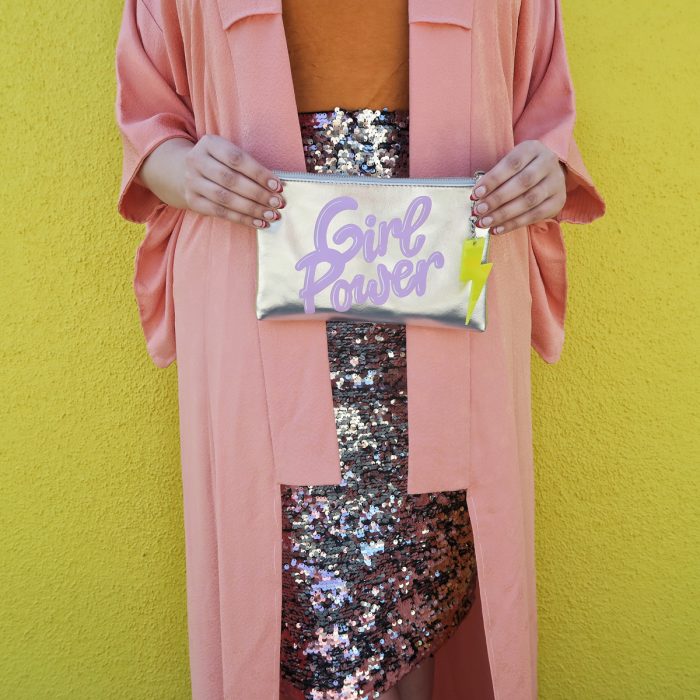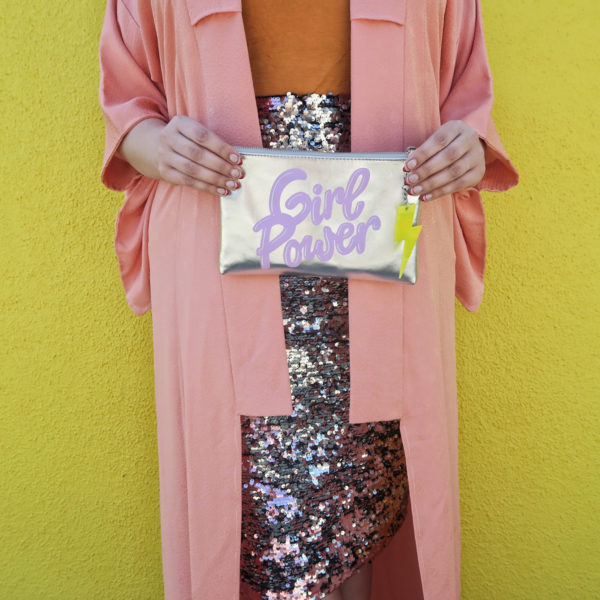 Last, but definitely not least, I gotta know! How do you define "Girl Power"?
I think it's about harnessing your own unique power. We all have something so special and different inside us. A sense a humor, the ability to write, to encourage others, some special gift (or many). I think Girl Power is finding and harnessing your own, using it to bless others, and encouraging your fellow women to do the same. Now, more than ever, we need to build each other up and not tear each other (or ourselves!) down. We are stronger together!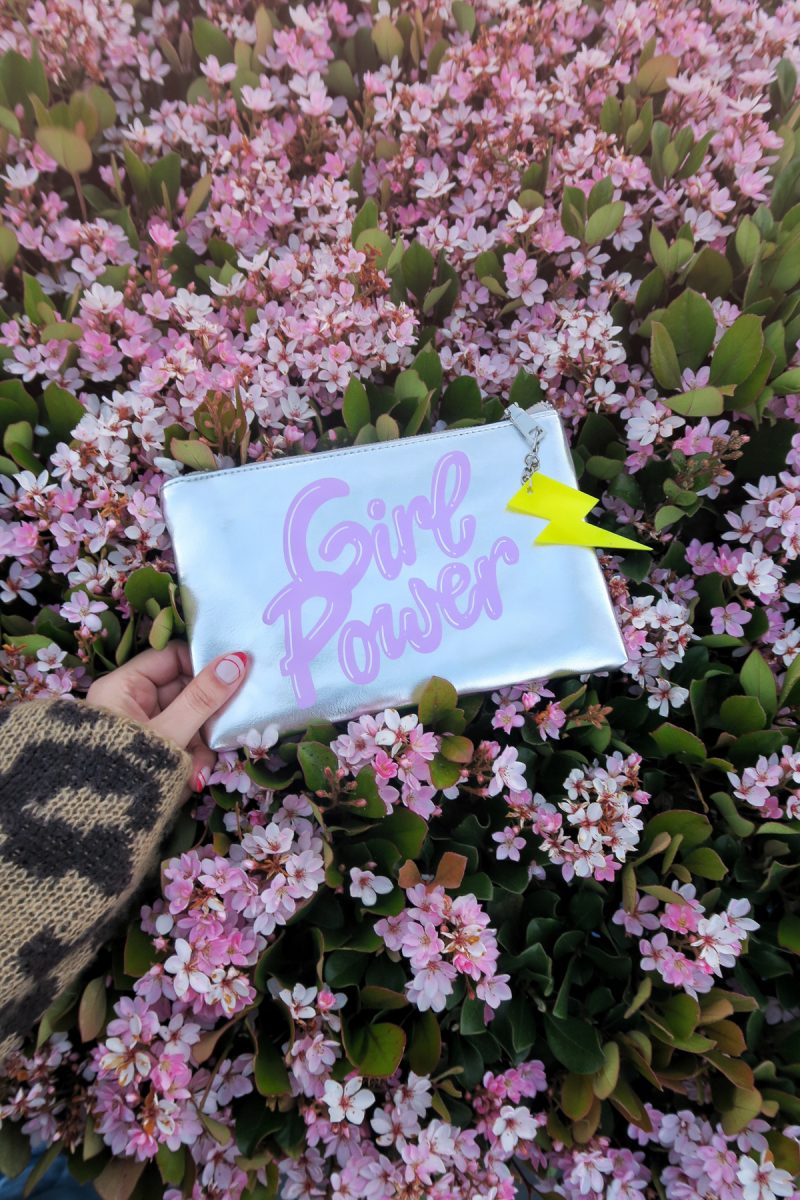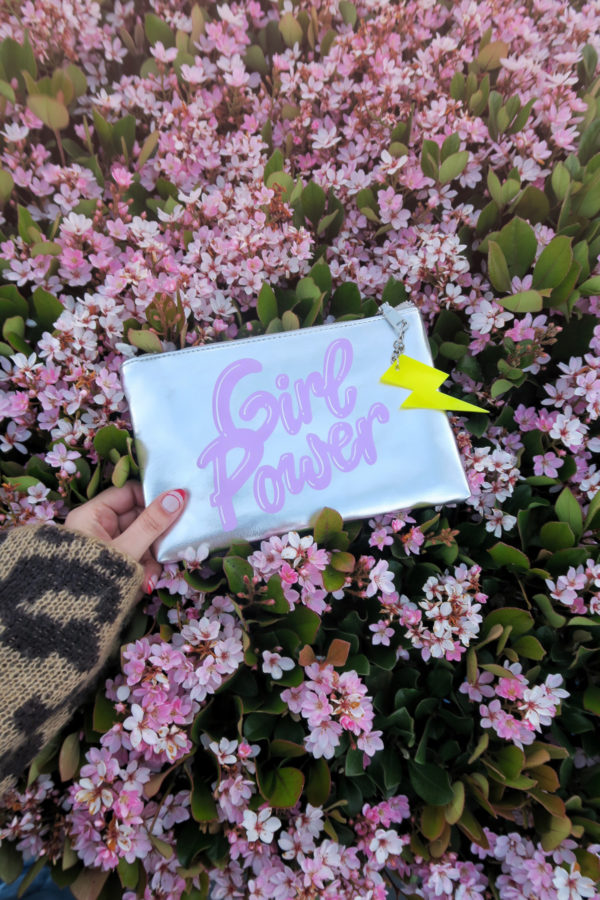 Well there you have it folks! If that doesn't inspire you, I don't know what will. A big, huge thank you to Alex for letting us interview her for this month's clutch. And make sure you're following Alex on Instagram and YouTube. (She just did a pretty amazing expose on eyelash extensions!) Not only will she add a daily dose of sunshine to your feed, but she's going to be doing a giveaway for one of our Girl Power clutches over on her insta later today. Don't miss out!
Remember, the last day to snag your Girl Power clutch is Saturday. Been loving seeing you guys rock yours this month!!!