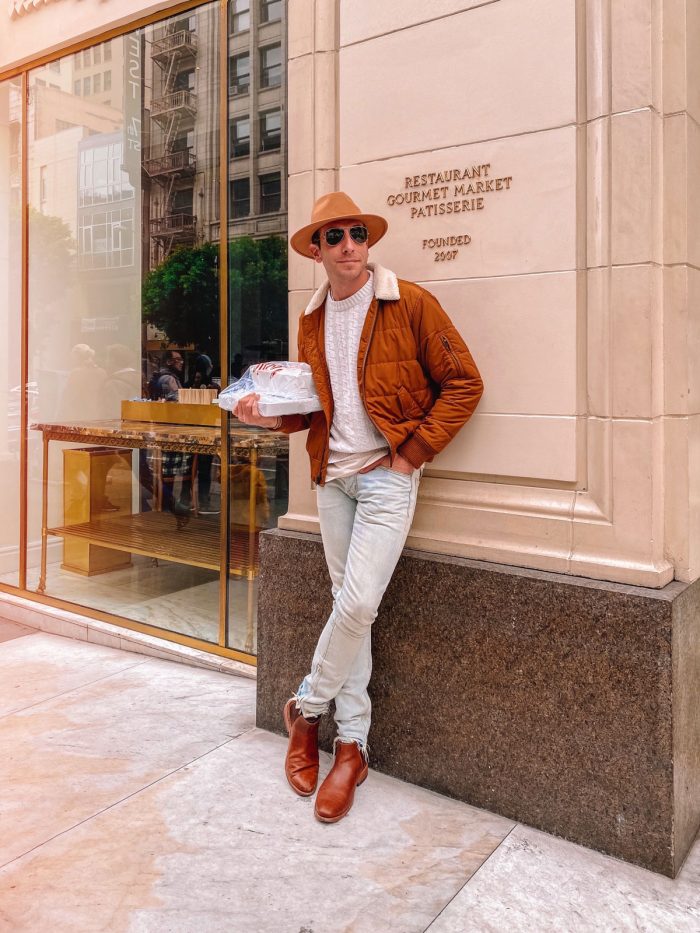 I always get a lot of questions about gift ideas for husbands, boyfriends, brothers… you get the picture! So today I recruited my husband to put together a list of a few of his favorite things he owns, plus a few things on his wishlist too!
Take it away, Jeff!

Graphic by Meagan Knight for Studio DIY
Gift Ideas for Guys
1. Metal Straws: Great eco-friendly stocking stuffer for any coffee drinkers in your life. We have a few sets of metal straws and they're great to keep at home or carry with you on coffee runs.
2. Nisolo Shoes: I can't speak highly enough about this company and their products. Nisolo stands for ethically and responsibly sourcing all their product materials to their factory in Peru. I have their sneakers, slip-ons and Chelsea boots (not currently on the site, but check out their other boots here!). They are offering Studio DIY readers 25% off for Cyber Monday with the code: 'JEFFMINDELL25' (valid through 12/4 at 11:59pm CST!)
3. External Phone Charger: I mean this one is kind of self-explanatory, but having one of these has saved me on more than one occasion. You never know when you're going to board a plane without outlets or bear the stress of a day walking around Disney and your phone is on 5%. I love this one because the wires actually fold back into the body of the charger so it becomes pretty compact and easy to throw in your bag.
4. Atlas Supply "Minimalist" Bag: For the longest time, I was looking for a great camera bag that would safely house my camera plus a few additional lenses and hopefully other tech-cessories before finding this bag. It's SO awesome when I travel as well, with a separate pocket for my computer and multiple zippered compartments, which has been such a timesaver when running through an airport or on a job. AND it's vegan leather and comes in a bunch of great colors!
5. JPG Le Male Cologne: I've been wearing this cologne since college and most people that know me would associate me with this scent in particular. Kelly even kept a bottle with her when I moved to London during my junior year. It's become pretty standard that someone will replenish my bottle every Christmas haha.
6. Baxter Line-Up Shave Gel: When we first moved to LA in 2011, I started getting my haircut at Baxter Finley in West Hollywood, which is where I first discovered the Baxter of California shave products. I've tried tons of different brands in the years since, but Baxter has consistently proven to be the best for my skin. I use this gel to prep before I shave.
7. Goodlife Tees: I pretty much exclusively wear these t-shirts and have a ton in a variety of colors and sleeve length. They fit perfectly and the tri-blend is incredibly soft and comfortable.
8. Reusable Coffee Cup: I was admittedly a little late to the reusable cup and straw game, but considering I get coffee pretty much every day as part of my morning routine, it was time to level up and bring my own. This one comes in a million colors and is dishwasher-safe. Win.
9. Giles & Brother Railroad Spike Cuff: I get more questions from people about this thing on my wrist than anything else I've ever worn. It's a solid brass railroad spike cuff that the brand gifted me when Arlo was born with his name engraved on it. I wear it pretty much every day and make it a point to have it with me on days that I'm not with him. In general, I like things that are different so I loved the design of this (and engraving is free when you order!)
10. Port Products Marine Layer Intense Recovery Treatment: The Port Products brand was developed by two friends of mine, Matt and Madison Ruggieri and they first sent me the mask to try back in 2018. Now, I'd never really had a mask on my face before that and I wasn't sure how it was supposed to feel, but now I usually do it after I shave and it's hands down the most glorious thing I've ever put on my face.
11. Baxter After Shave Balm: Another Baxter rec! After I'm done shaving, I finish with this Shave Balm. Unlike other ones I've tried, this one doesn't burn, but instead has this awesome cooling effect and smells incredible!
12. mnml Jeans: I discovered this LA-based company a couple years back and have been a fan ever since. Their denim is not only local, but extremely well-made and since they exclusively sell online, they are able to keep their prices low compared to traditional retailers. I probably own 8-10 pieces of theirs by now and every time, I'm shocked at the great quality.
13. The Ride of a Lifetime by Robert Iger: It's no secret how deep the love for Disney runs in our family and I've heard nothing but wonderful things about Bob's new book. It's definitely at the top of my list this year!!
Hope that helps some of you who are looking for gift ideas for some of the guys on your list!