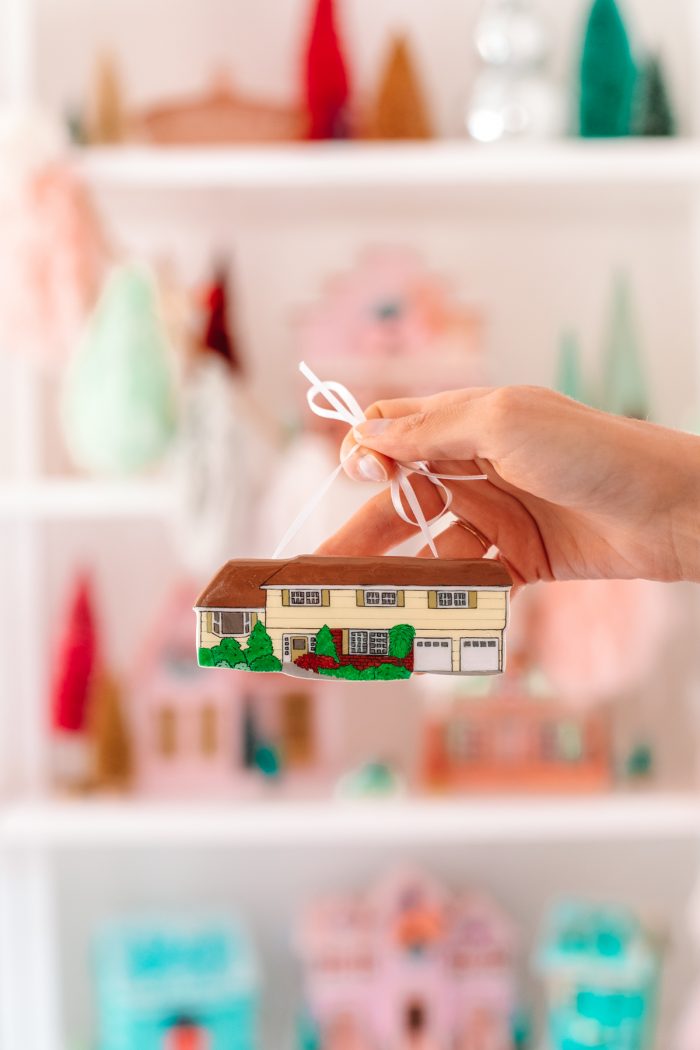 The best gifts I've ever given, or received, have been the really personal, meaningful ones: My A necklace after my son was born, the custom ornament of my husband's childhood home, the photo books we put together each year for the grandparents. They're things we'll have forever, or wear every day. Today, I wanted to take a moment to round up some of my favorite personalized and sentimental gift ideas.
From family portraits to ways to commemorate family recipes to ways to turn a child's drawing into a tangible gift and more! These gifts are perfect for parents, grandparents, best friends and any of those extra sentimental folks in your life. Several of these are items I own or have gifted, and almost every single item is from a small business!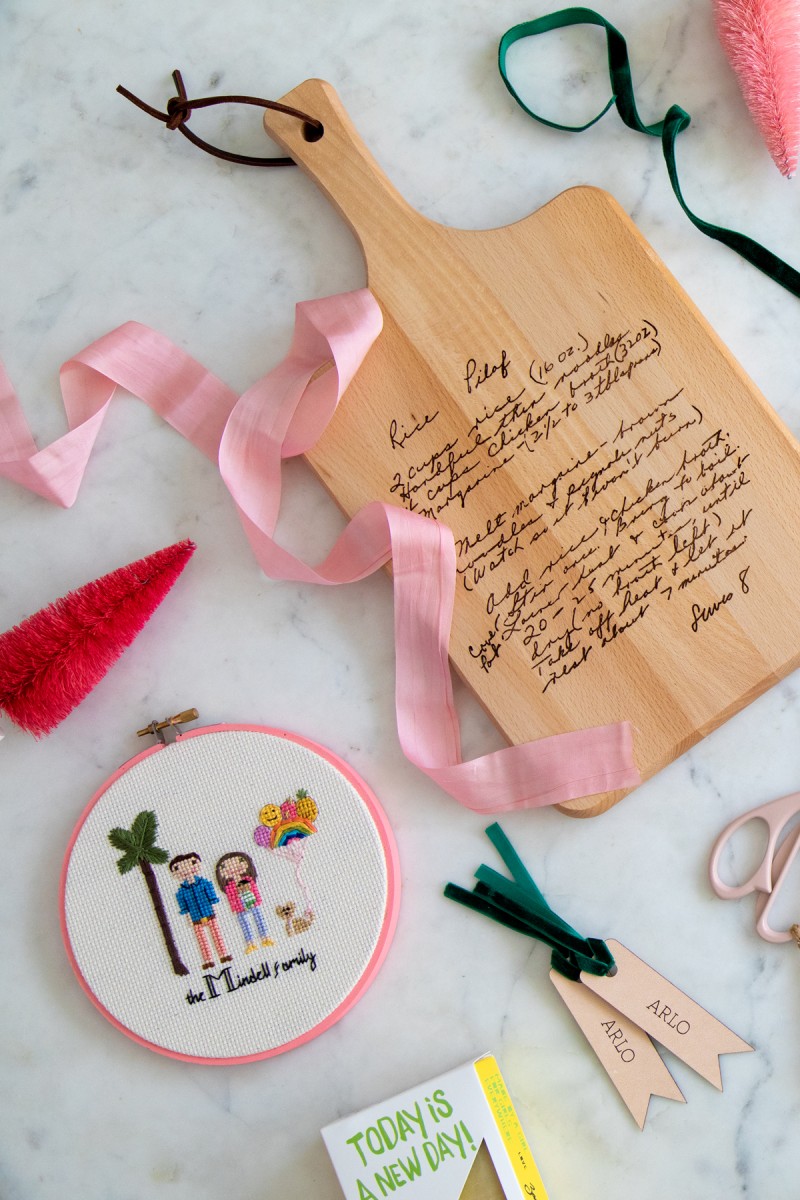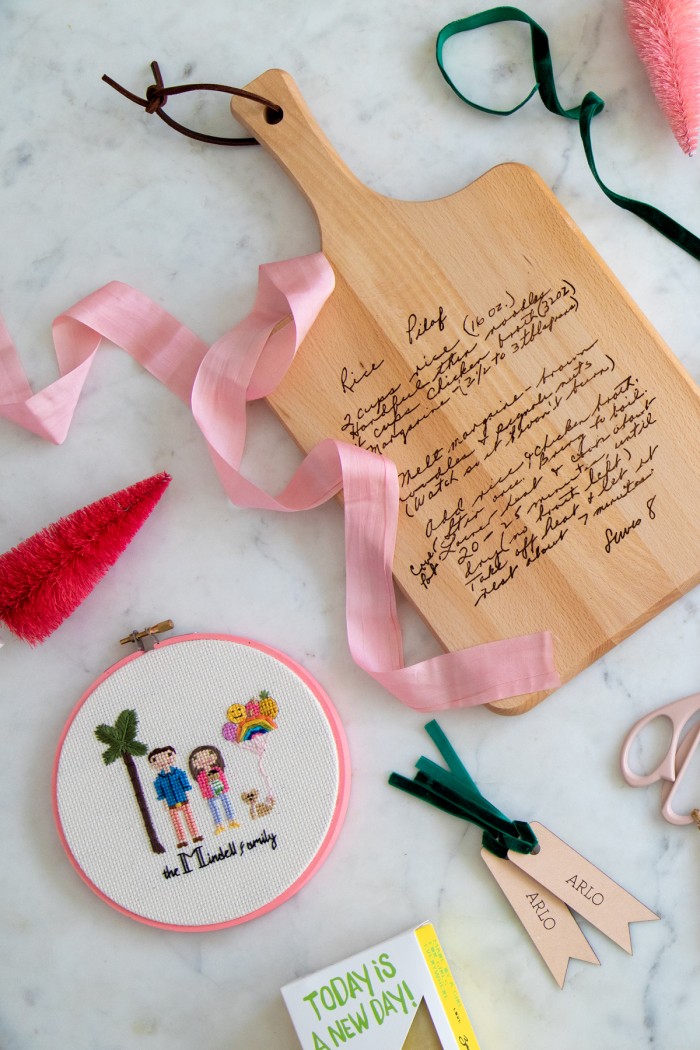 Custom Portrait Gifts
Family photo sessions are common for holiday cards, but what about turning a family portrait into a holiday gift, too? These unique takes on portraits, of a family member or the whole group, are so creative!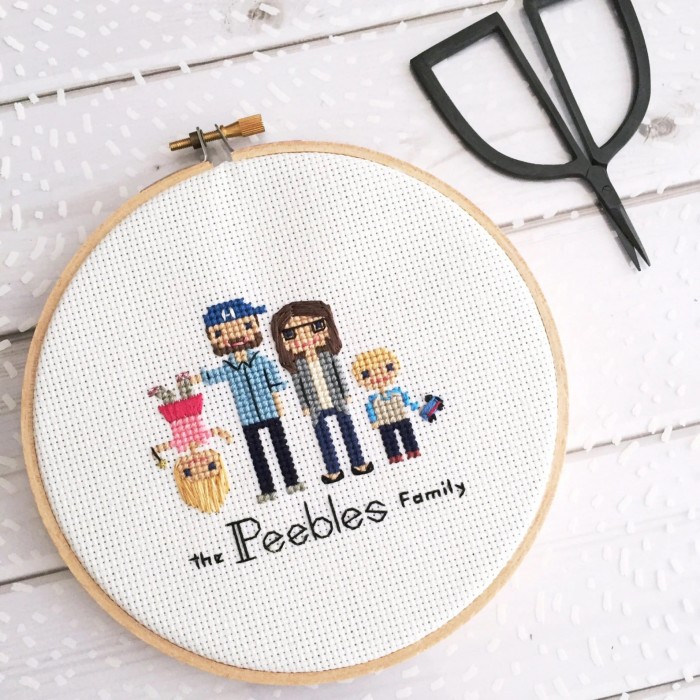 Custom Cross Stitch Family Portrait: A unique take on a family portrait! Consider starting a tradition of documenting your family, and how it changes and grows, each year with a different style portrait every time!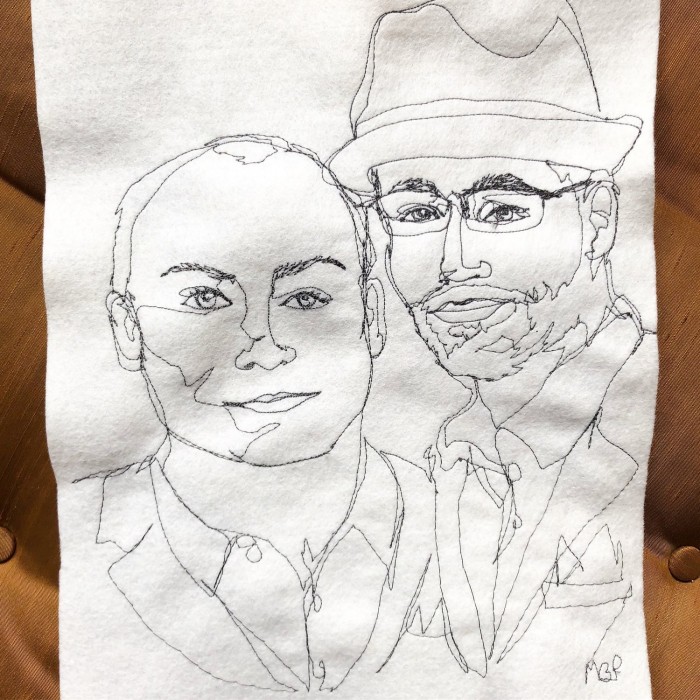 Freehand Embroidered Family Portrait: One of my most cherished positions is the freehand embroidered portrait Michael Birch-Pierce did of our son. Freehand! On a sewing machine! The talent.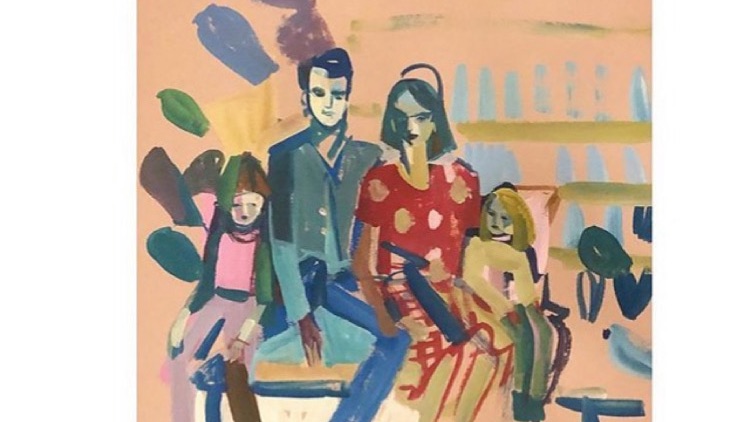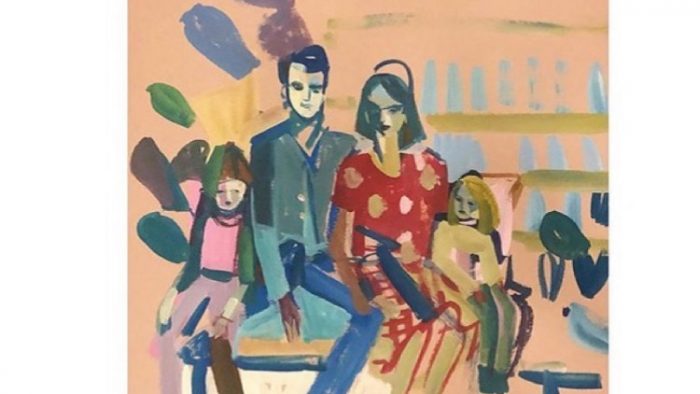 Colorful Portrait Gouache Painting: Hands down, I will be commissioning one of these portraits some day. The colors pop so beautiful against the dark background. You can do them in person, if you're local to the artist, or over zoom!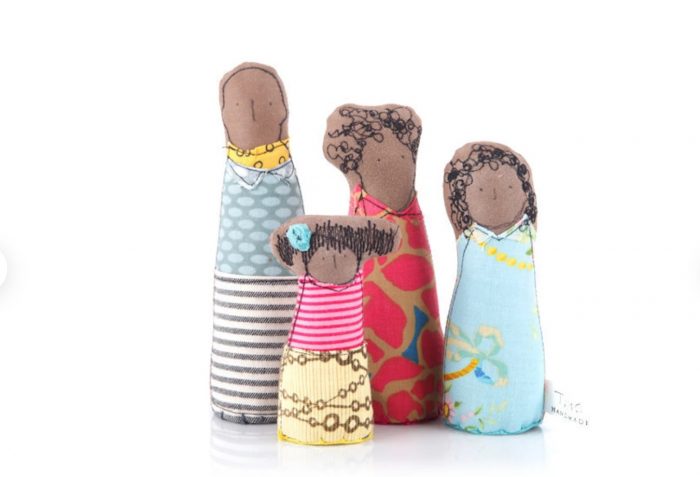 Custom Doll Portrait: A unique take on a portrait… portrait dolls! An heirloom gift, without a doubt, that would look great on someone's shelf or as an heirloom toy to pass down to future grandchildren!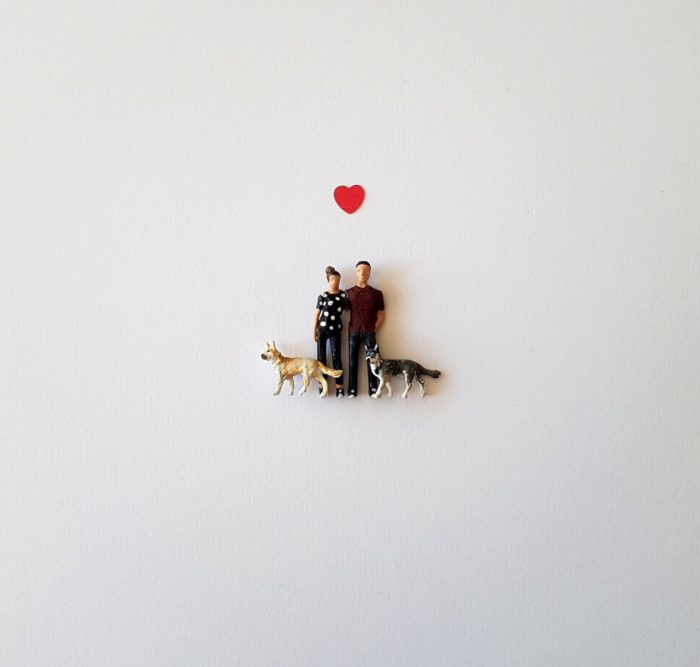 Miniature Family Portraits: There's nothing like a miniature! These miniature portraits with the large white space surrounding them look like they belong in a museum!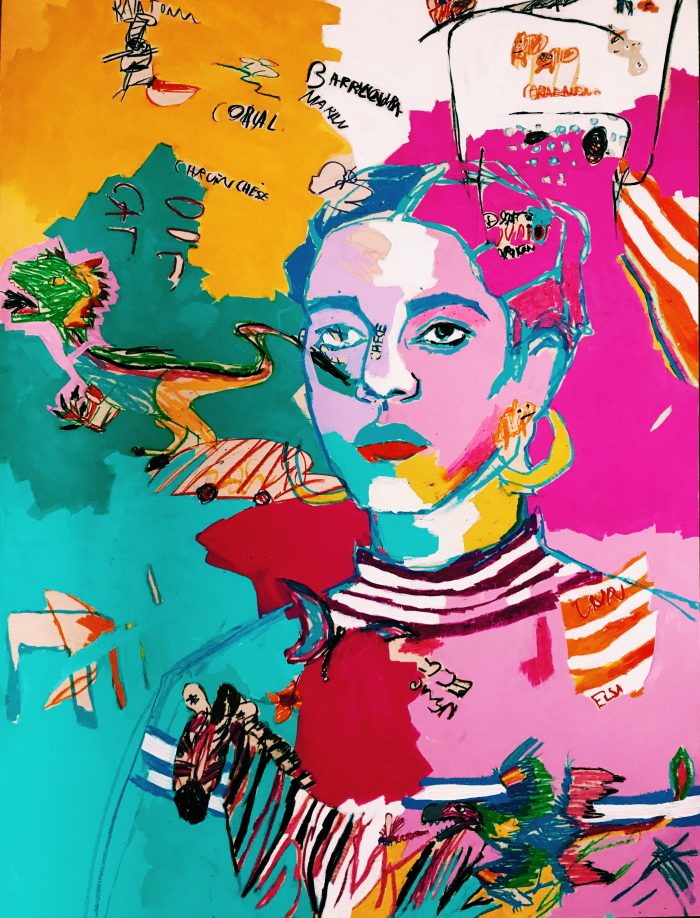 Colorful Abstract Portrait: If you have a family member who loves color, one of these portraits would make the most perfect and unique gift.
Custom Gifts for Pet-Lovers
Custom Pet Magnet: Have a pet lover in your life? Make them a custom magnet of their little pet! Magnets are often overlooked as gifts but they are ALWAYS needed. I love giving and getting magnets, so practical and something the recipient will see every day on their fridge!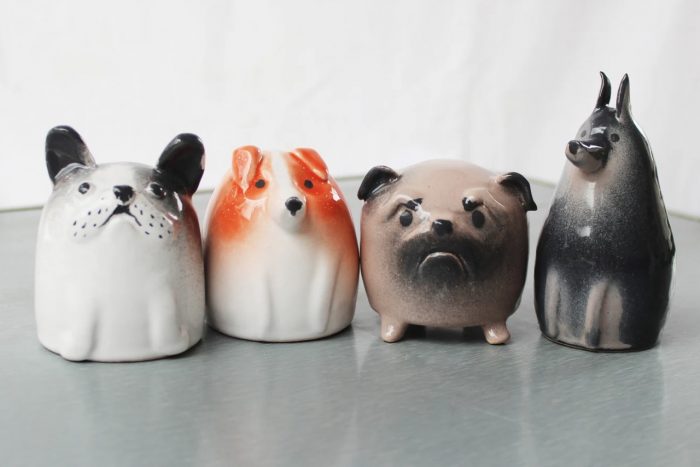 Custom Ceramic Pet Portrait: These ceramic pet portraits could not be any more adorable, and would like perfect on a mantle or bookshelf. I love that they're a beautiful nod to a family pet, and something you'd actually want to display in your home!
Custom Pet Peg Doll: Custom peg dolls make excellent gifts. Usually more affordable than a custom painted portrait or doll, but with equal sentimental value!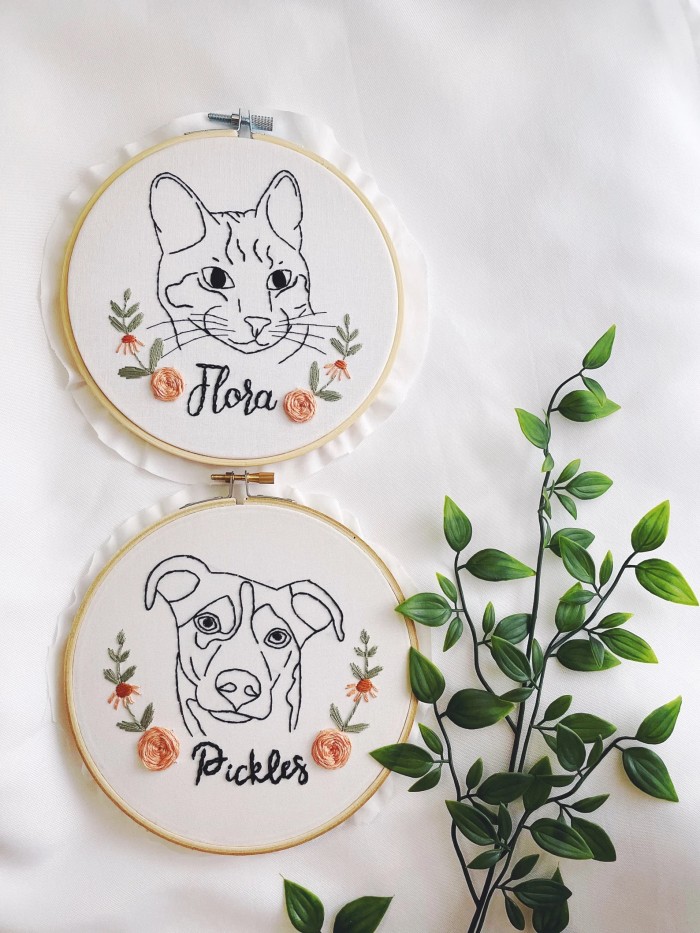 Custom Pet Portrait Embroidery Kit: Send in a photo of a pet and receive a pre-printed embroidery kit! Great gift for the crafty pet owner!
Personalized Sentimental Jewelry Gifts
Sentimental jewelry is something I wear every day. Pieces inspired by loved ones or big life events quickly become family heirlooms that are passed down for generations.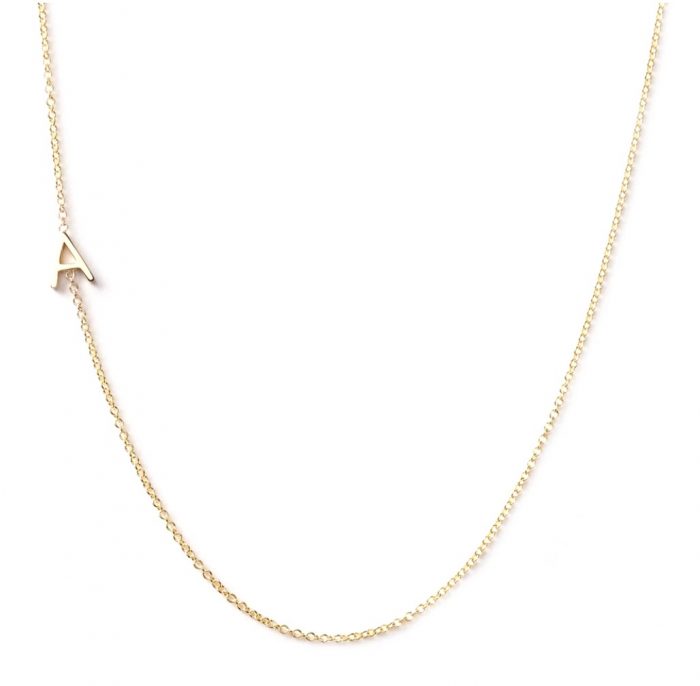 Initial Necklace: This is an item I wear every day. These necklaces are simple, delicate and beautiful. Great for a new mom or grandma. And you can send them back to add additional initials if and when your family grows.
Birthstone Stacking Rings: I'm not typically one for birthstones but these rings are so simple and delicate, I absolute love them. They would be perfect for anyone who has a "stack" of rings/bands they add to for meaningful life events.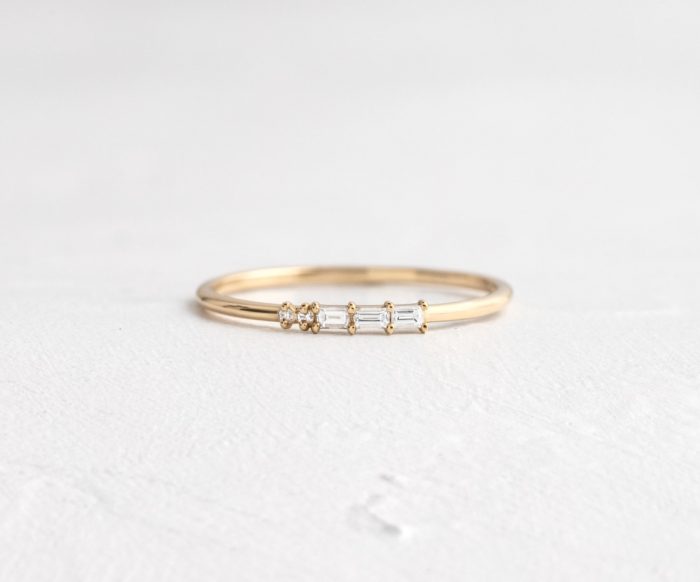 Morse Code Rings: I love the idea of an important date, initial or name being commemorated in a unique way, like these morse code rings. It's a great, new alternative to a monogram or birthstone.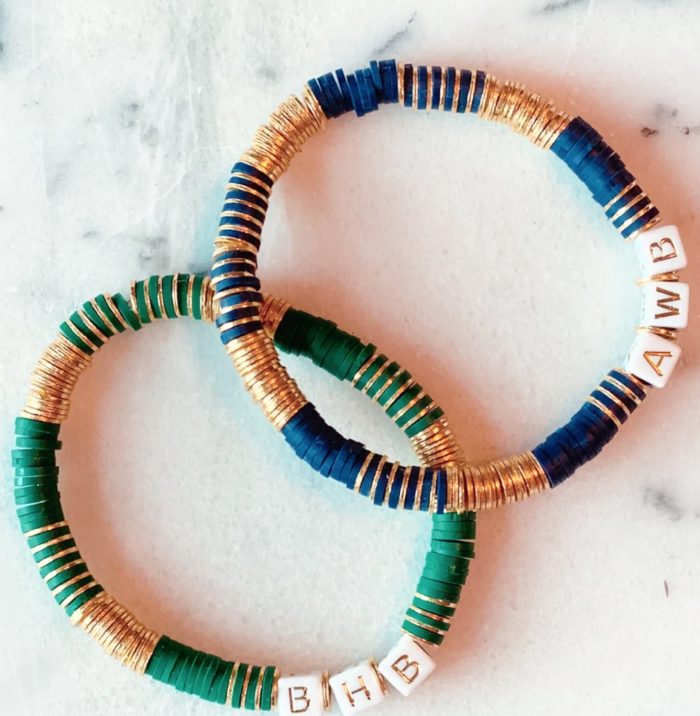 Custom Mom & Me or Friendship Bracelets: How sweet would mom & me friendship bracelets be for a mom and daughter duo in your life? You can completely customize the colors, size and personalization.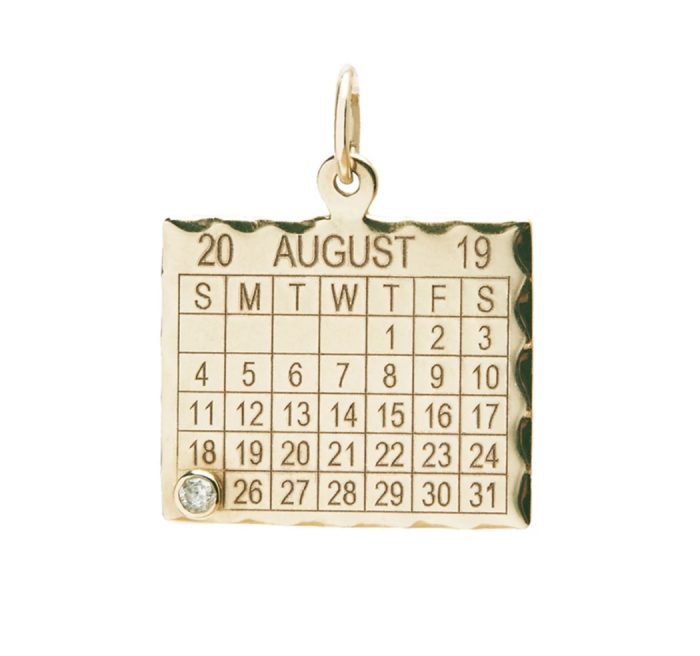 Important Date Calendar Charm: Commemorate a birthdate, anniversary date or other important day in someone's life with these keepsake calendar charms.
Sentimental Gifts That Preserve A Family Recipe or Letter
Family recipes and letters can now be memorialized forever on a piece to use in your kitchen or home.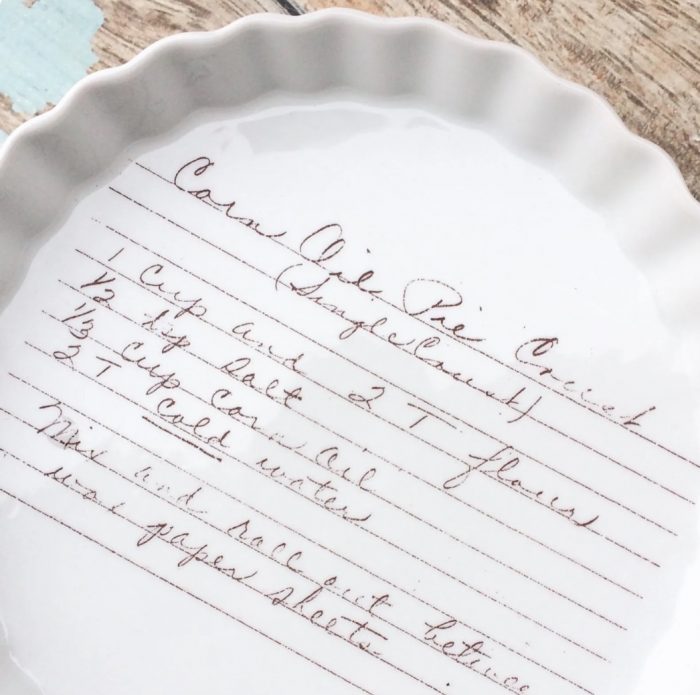 Family Recipe Pie Plate: Have a cherished family recipe in your family? This would be the perfect way to commemorate it. This shop has all sorts of ceramic dishes and will print the handwritten recipe right on it! This is something I see being passed down for generations, just like the recipe on it. 😉
Engraved Family Recipe Cutting Board: For the sentimental entertainer in your family, have a handwritten family recipe custom engraved into a cutting board! They can set it out at every gathering as a cheeseboard and it will be the perfect conversation piece.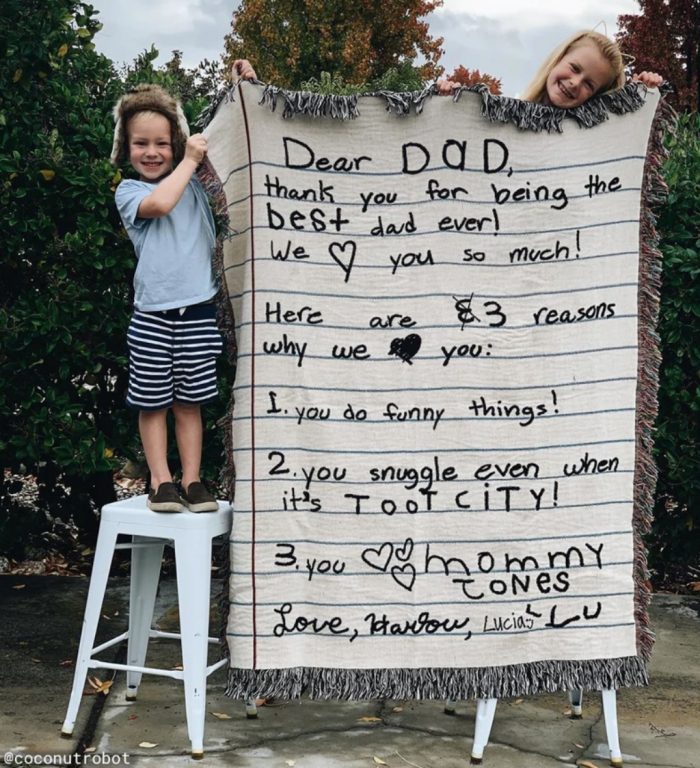 Custom Handwritten Letter Blanket: If you ever found any old family letters, perhaps from someone who has passed, this custom letter blanket is an incredible way to commemorate their words.
Children's Drawings Turned Gifts
There are so many parents out there that love kid art, I'm one of them! These gifts turn children's drawings into gift items to treasure.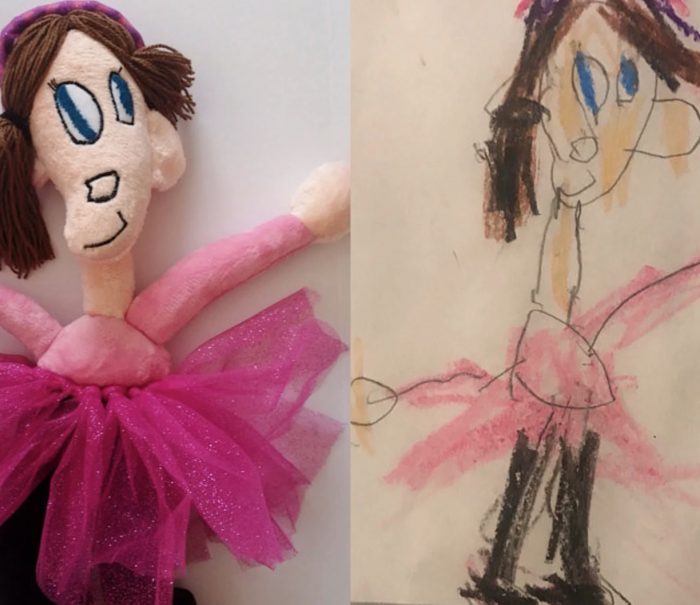 Custom Plush Toy From a Drawing: How special would it be for a child to see a drawing come to life in stuffed animal form!? Guaranteed to blow their minds!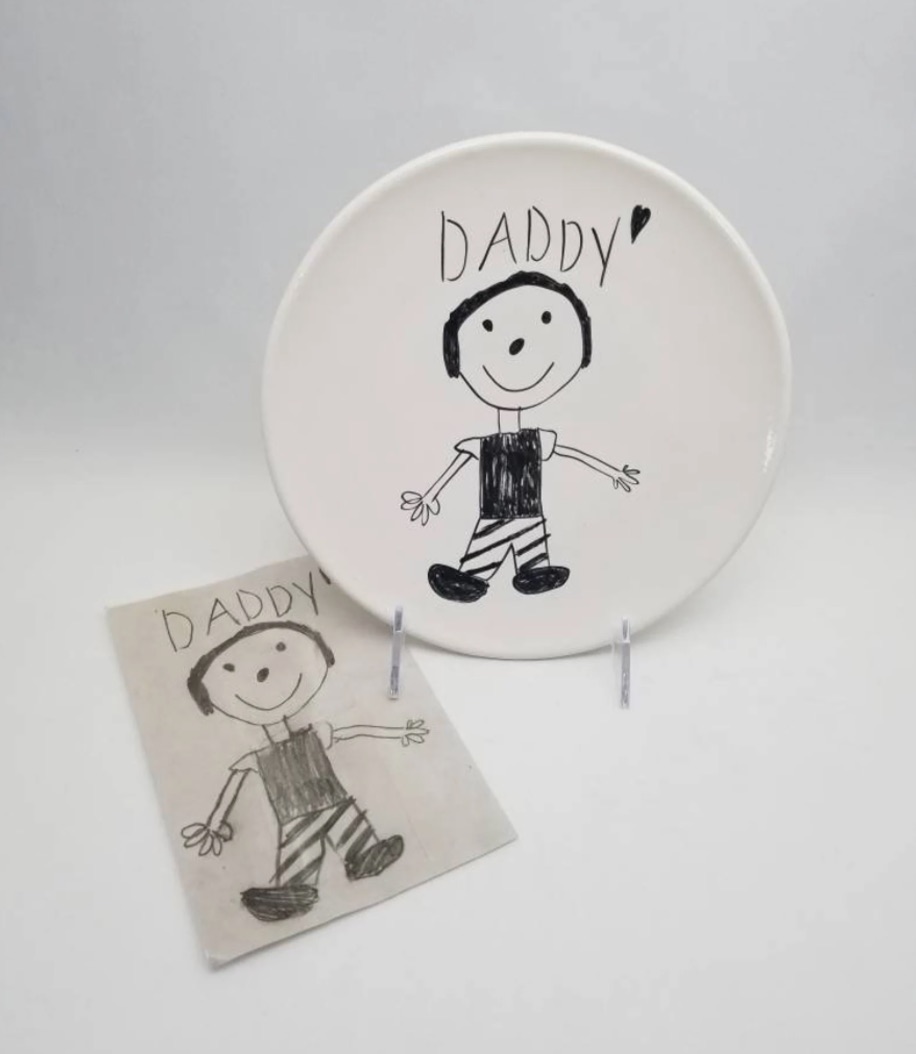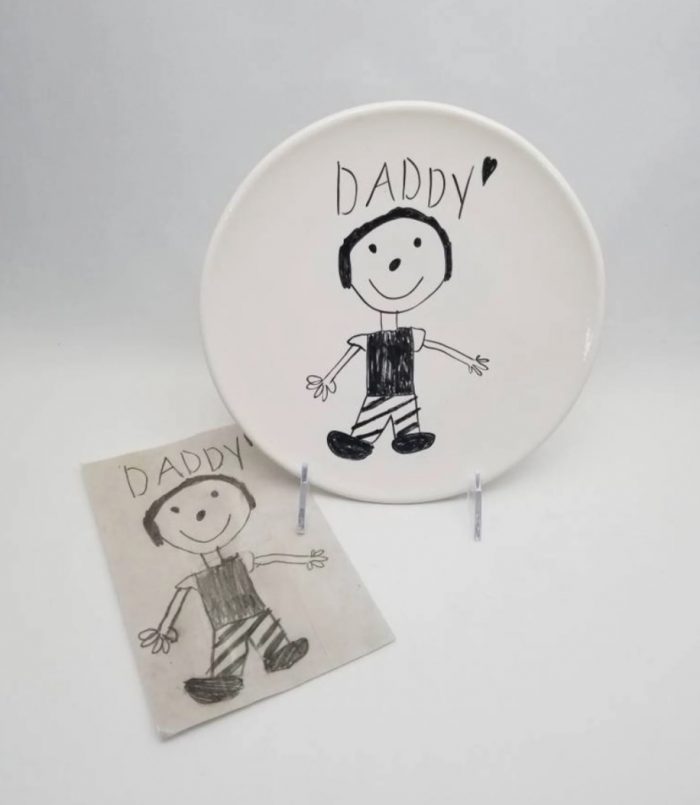 Plate with Child's Drawing: Such a sweet gift for a parent, aunt, uncle or grandparent, a plate with a child's drawing on it. Makes such a sweet and sentimental gift that you know they'll keep forever.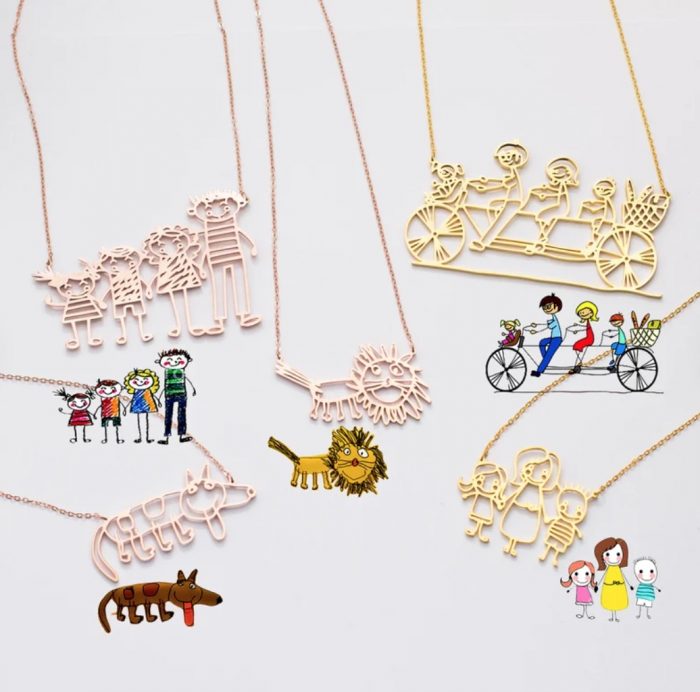 Necklace from Child's Drawing: For the sentimental kid-art loving parent, a necklace made from a child's drawing!
Custom House Portraits & Gifts
Whether it's a new house or a family home for generations, these gifts help remind you of the special places you've called home.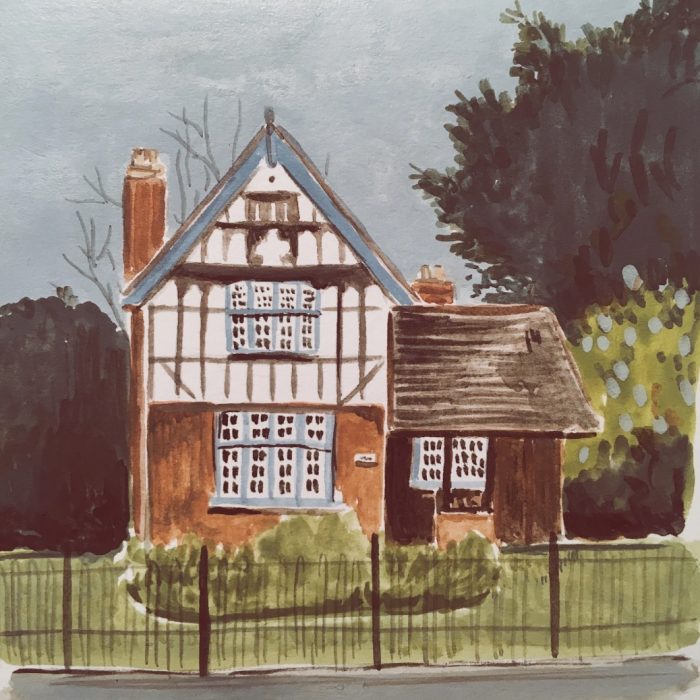 Custom Watercolor House Portrait: If you know someone who moved into a new home recently, how perfect would this be? Same goes for someone who especially cherishes their childhood or family home. The watercolor style is stunning.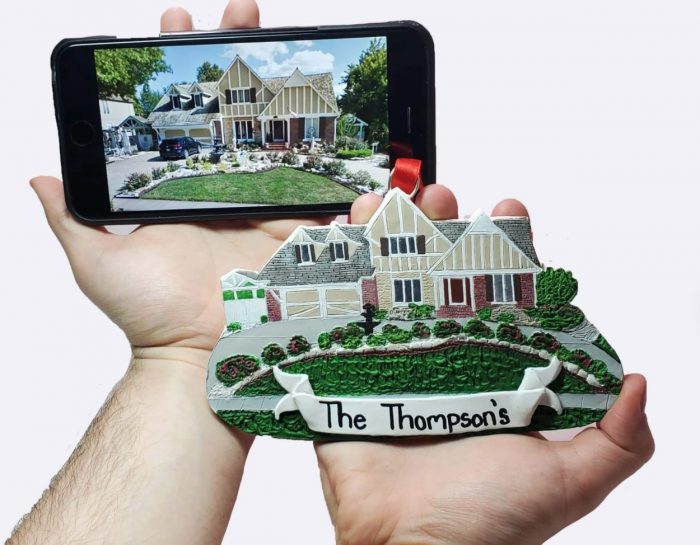 Custom House Ornament: One of my favorite gifts I've ever given is the custom house ornament I had made of my husband's childhood home. So much so that we got another house ornament for his parents.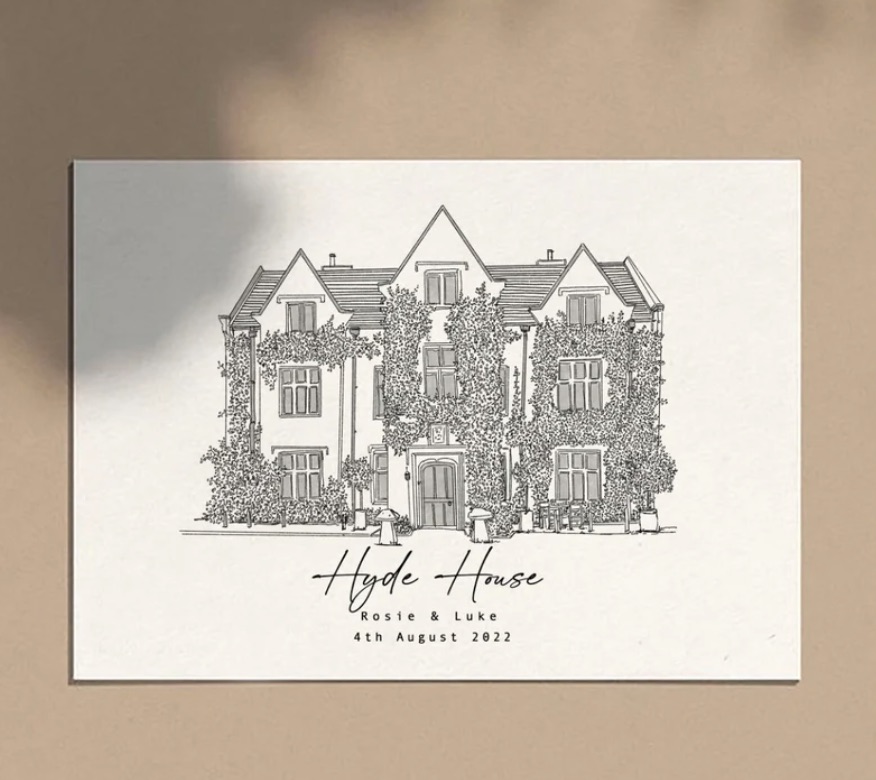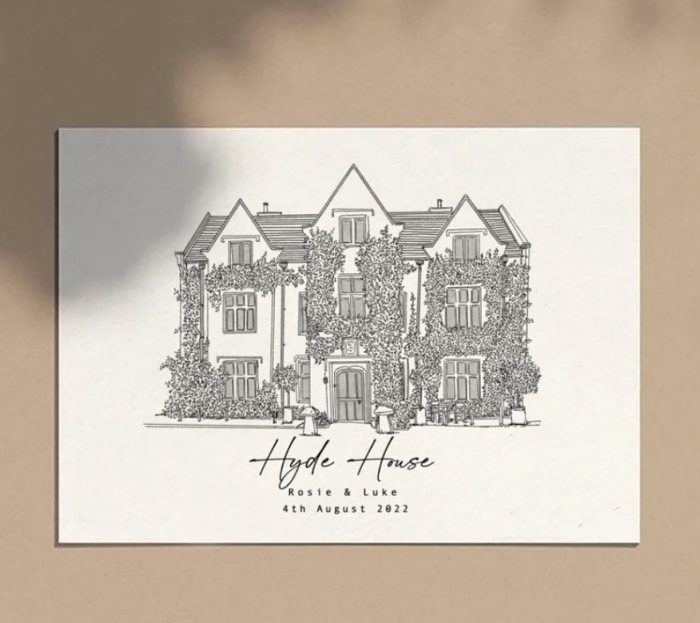 Custom House or Wedding Venue Sketch: If you know any newlyweds who got married in an especially meaningful or beautiful venue, how incredible of a gift would a sketch of the venue be for a gallery wall in their home? This artist also does home sketches in the same style.
Custom Photo Gifts
Photo gifts are the biggest hit with grandparents and parents.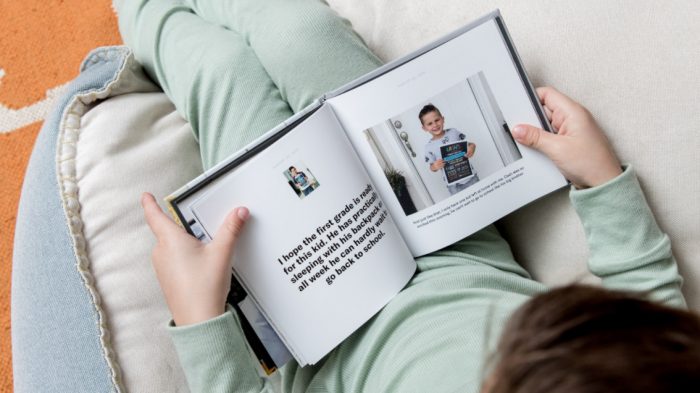 Personalized Photo Books: We make personalized photo books for the grandparents every year. This one makes it super simple because you can connect your Instagram and select photos from there, or simply upload from your camera roll!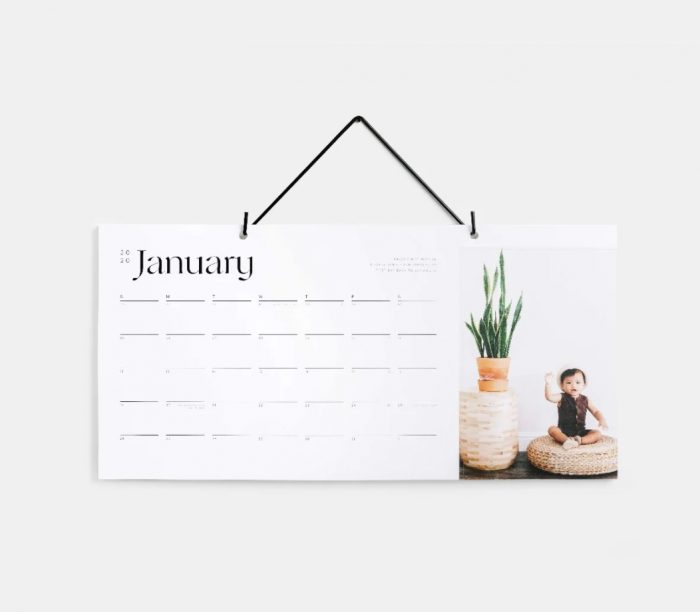 Custom Photo Calendar (That turns into art prints!): If you want to commemorate a family trip, special place (like Disneyland or a family lake house) or other sentimental memory, this custom photo calendar is a beautiful gift. The best part is, the photos are perforated and tear off to become art prints after the month is over!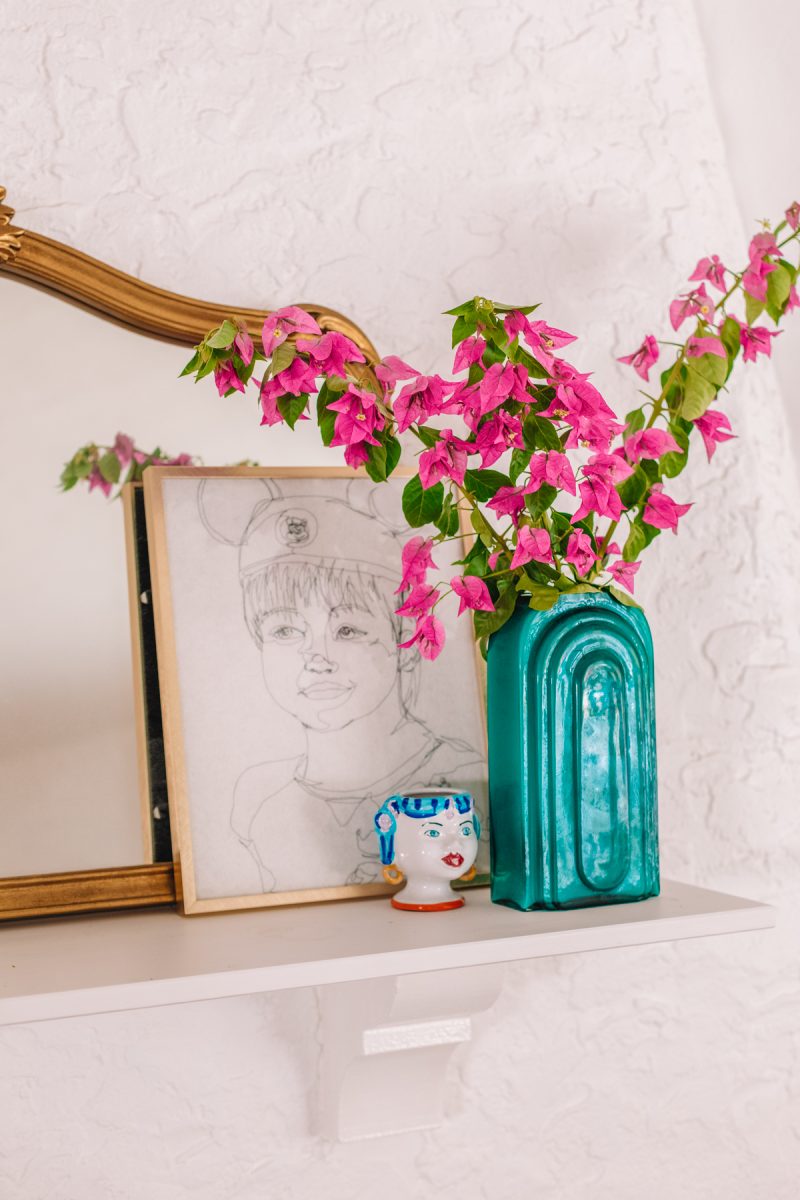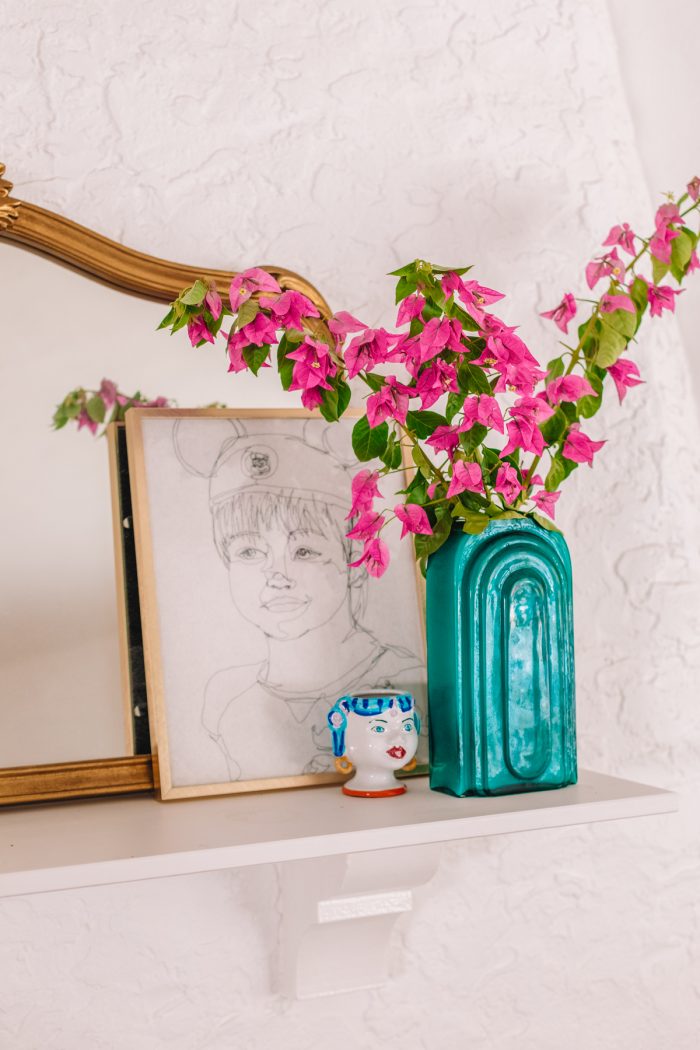 Though Starters for Personalized and Sentimental Gifts
Here are a few questions to ask if you're trying to figure out which of these are the perfect personalized gift for someone on your list: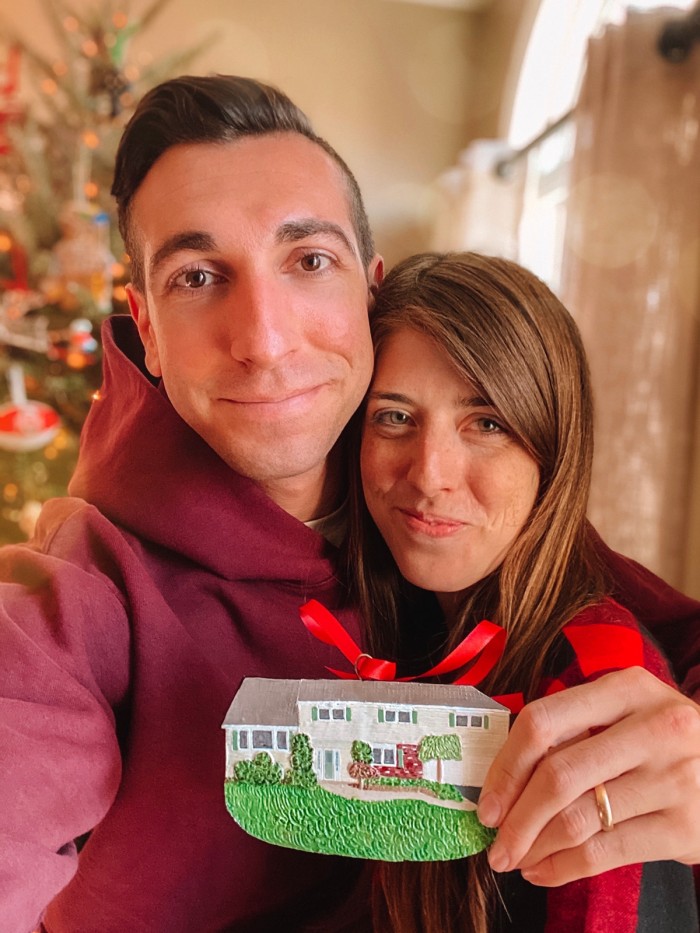 Photos by Jeff Mindell
Understandably, custom gifts can have quite a long lead time. Consider ordering as soon as possible. Or, if the shop can't meat that Christmas deadline, wrap up a hint or preview of the gift instead! Gifts like these are always worth the wait.
Is there another sentimental gift you've given or received that was extra special to you? Would love to hear it below!