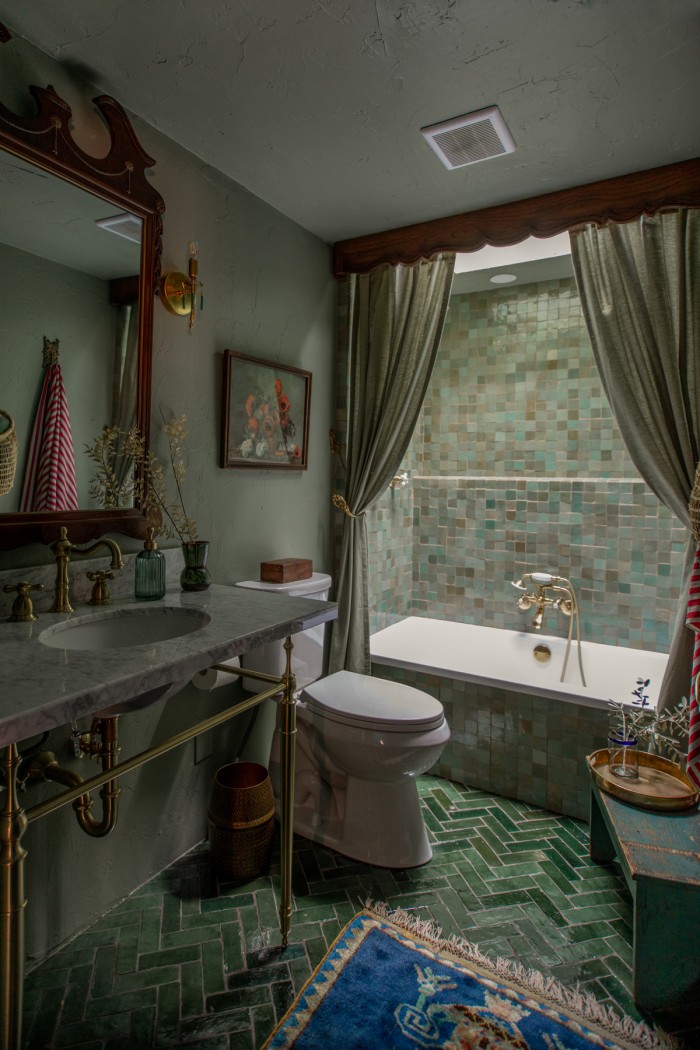 This sage green bathroom feels so refreshing. It started with a light, bright tiled green shower but then I layered it with those unexpected dark details and pops of rich hues that made it feel lived-in and storied, even though every inch of this space was brand new.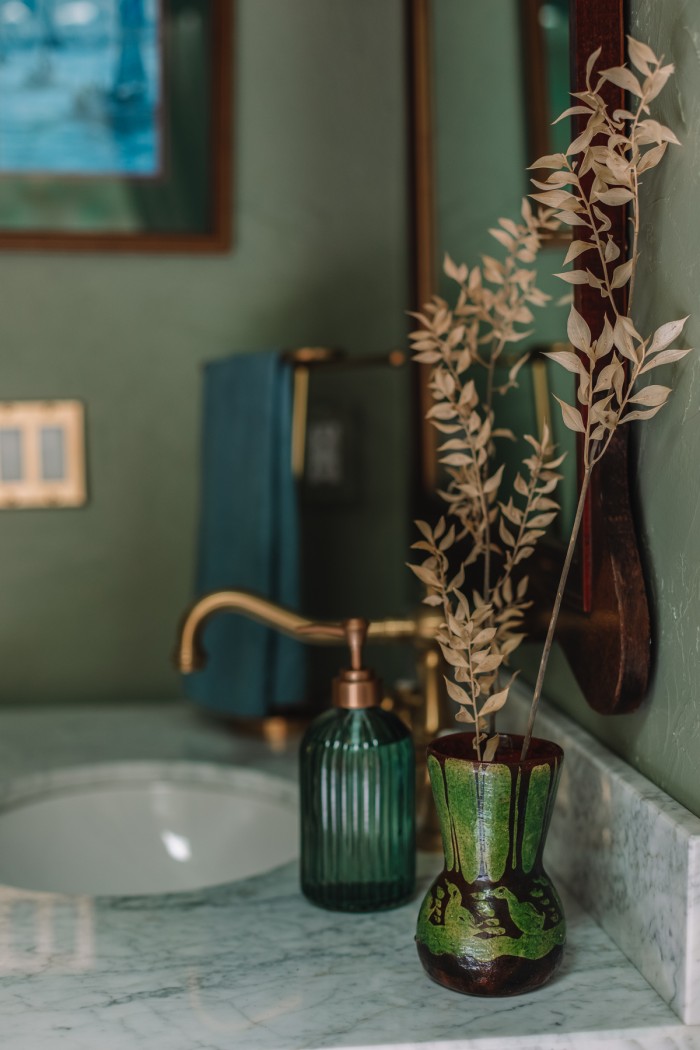 Choosing the Sage Green Bathroom Color Scheme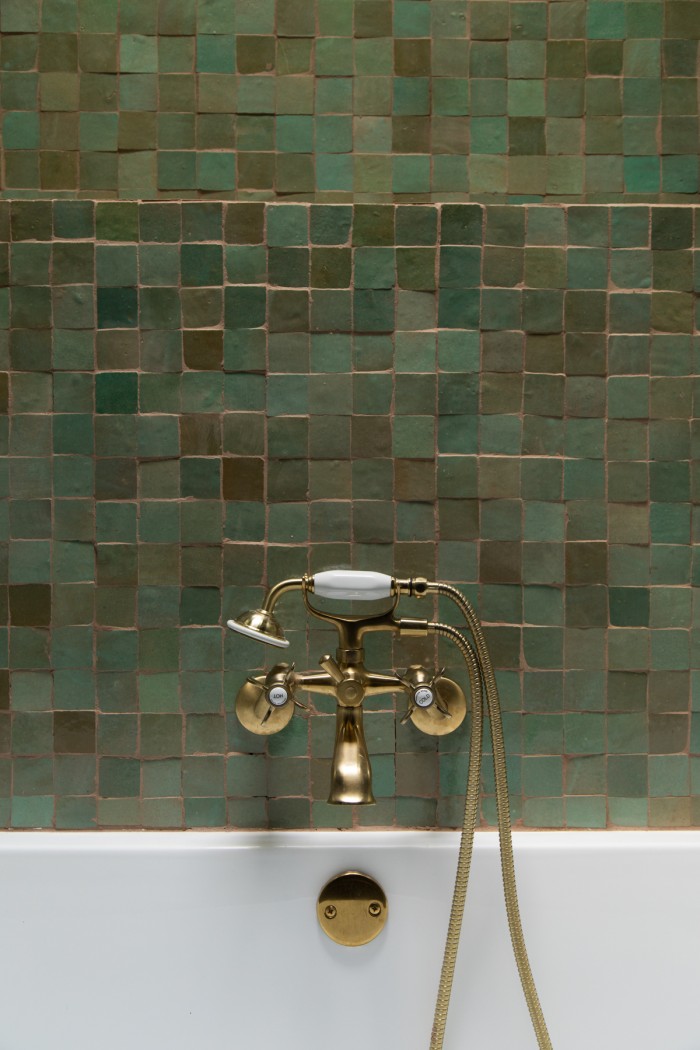 This home didn't have a bathtub when we bought it, and we knew we needed to add one. But how could we make a bathtub/shower combination feel special in a tight space?
This tile was the answer. It's a 2×2″ zellige called Tidepool from our partners Zia Tile and it is mesmerizing. There are so many shades, from sage green to aquamarine in it. I knew it was just what we needed in this space.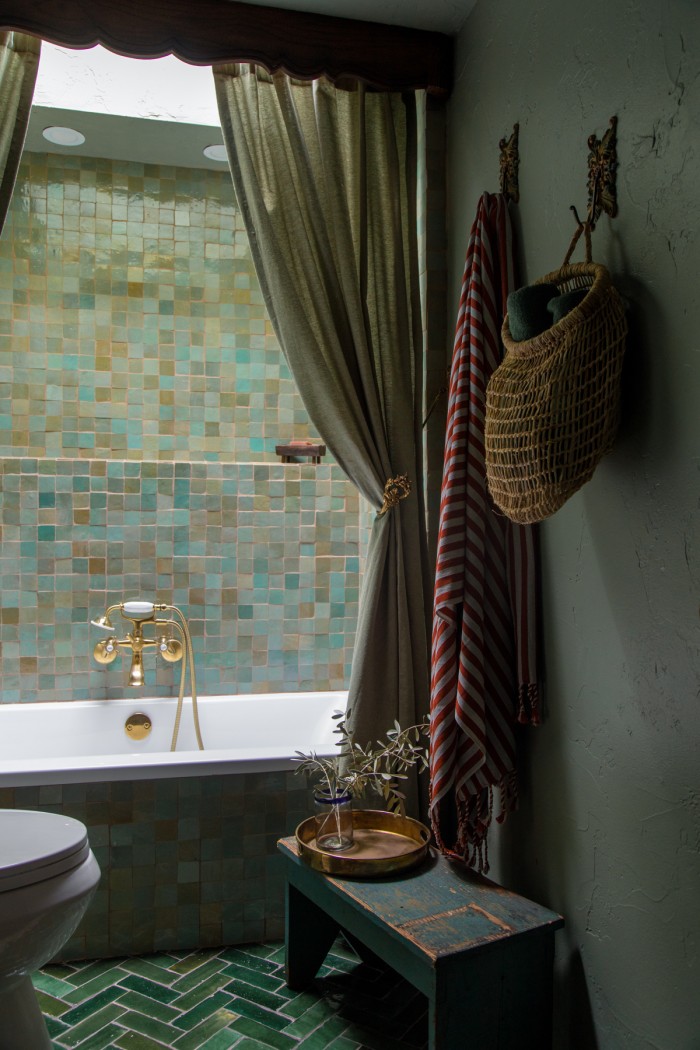 With that tile as the jumping off point, I set to deciding on the other colors in the space. I decided to contrast the cool, lighter tones in the shower zellige with a darker, and slightly warmer, green for the floors.
Zia Tile's racing green 2×6 zellige laid in a herringbone added more pattern and dimension to the bathroom and warmed it up a bit, too. Mixing greens is something I've loved doing in this home.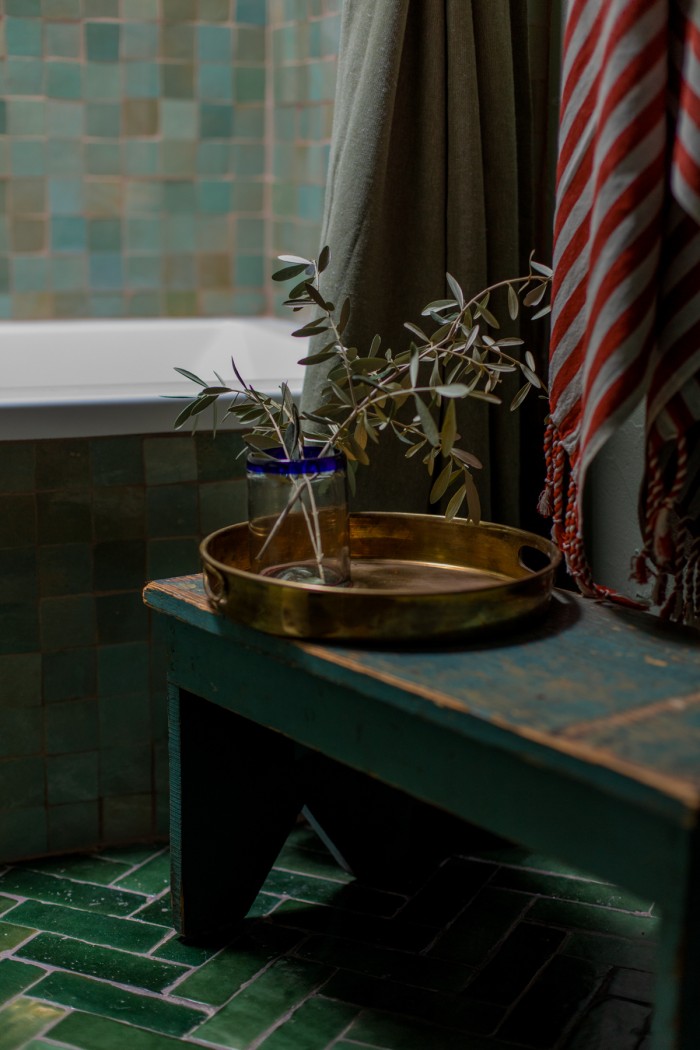 I pulled a sage green tone from the Tidepool tile for the walls, Meadowood from Dunn Edwards to be exact. It's perfectly muted, but somehow still has plenty of depth, letting the tile shine while not feeling boring on it's own.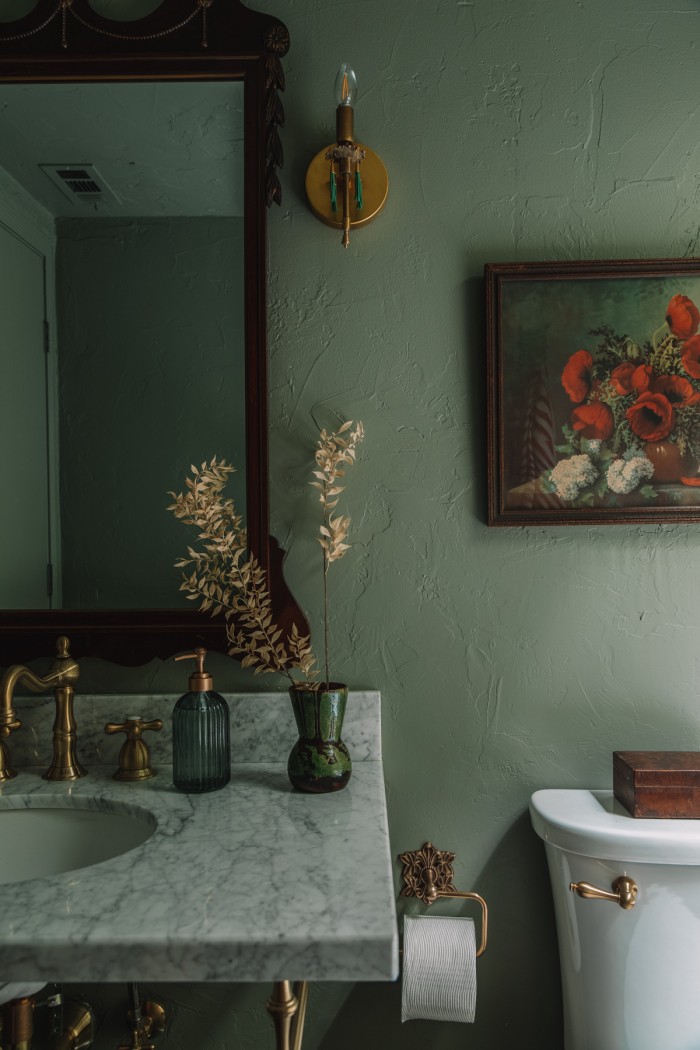 This bathroom was the only room in the home that didn't have wood ceilings. Instead, I brought in the drama of dark wood through a vintage mirror and a shower header (which I'll talk about more below!)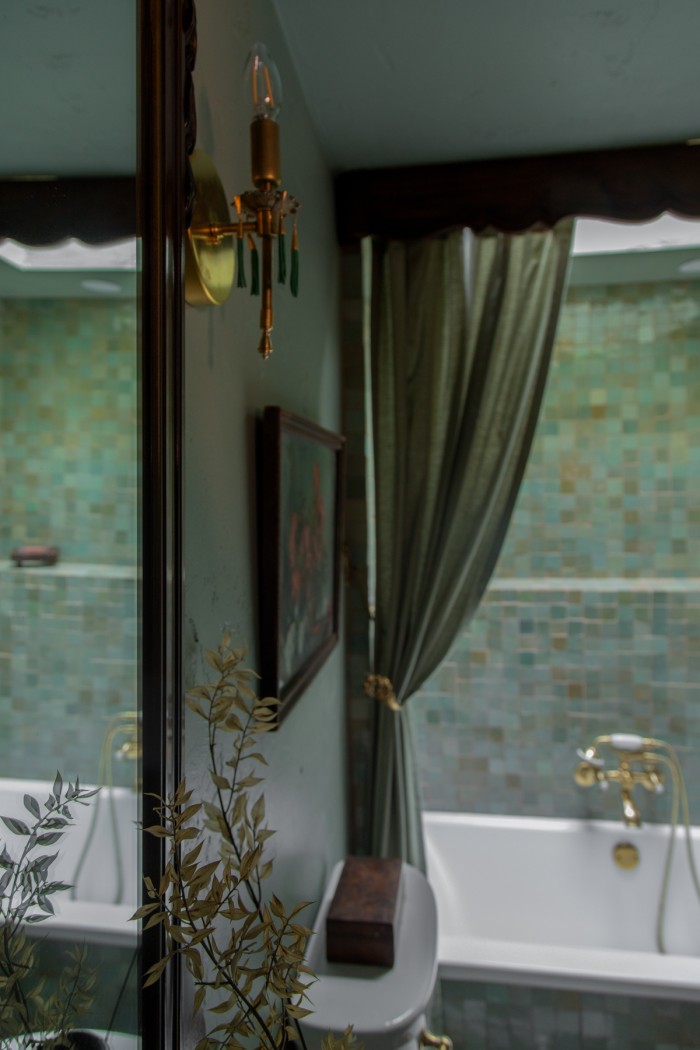 And last were those unexpected pops of color. A Kelly green in the tassels on these stunning Sazerac Stitches sconces, red in the art and towels, and even a hint of teals and blues to tie it into the adjacent bunk bed room.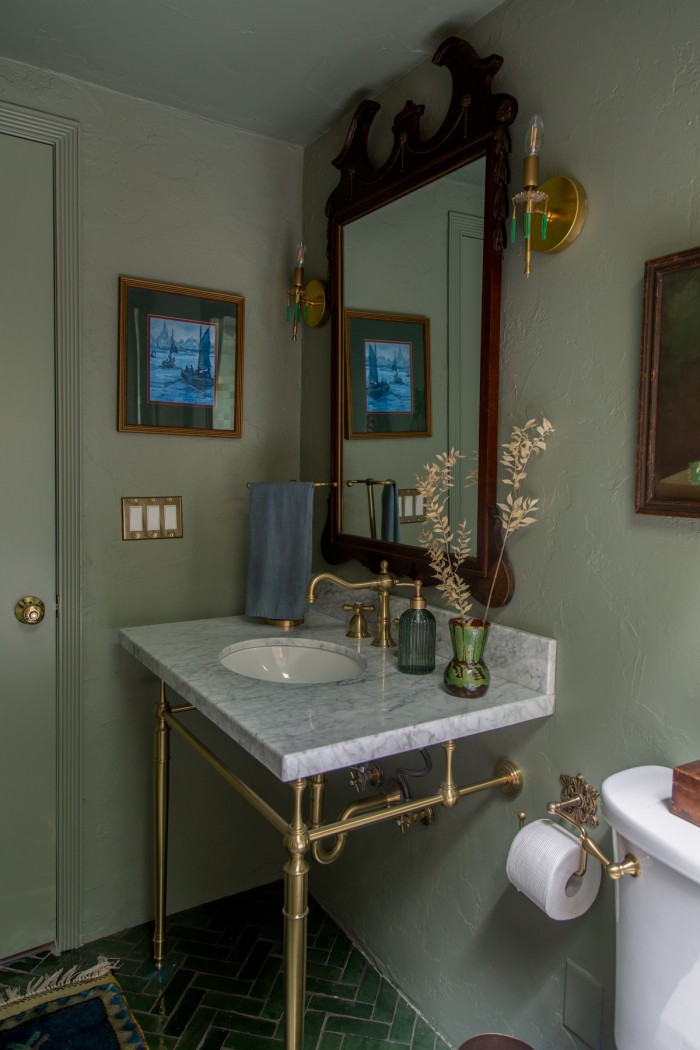 Marble & Brass Console Sink | Brass Faucet
Adding Natural Light To Rooms with No Windows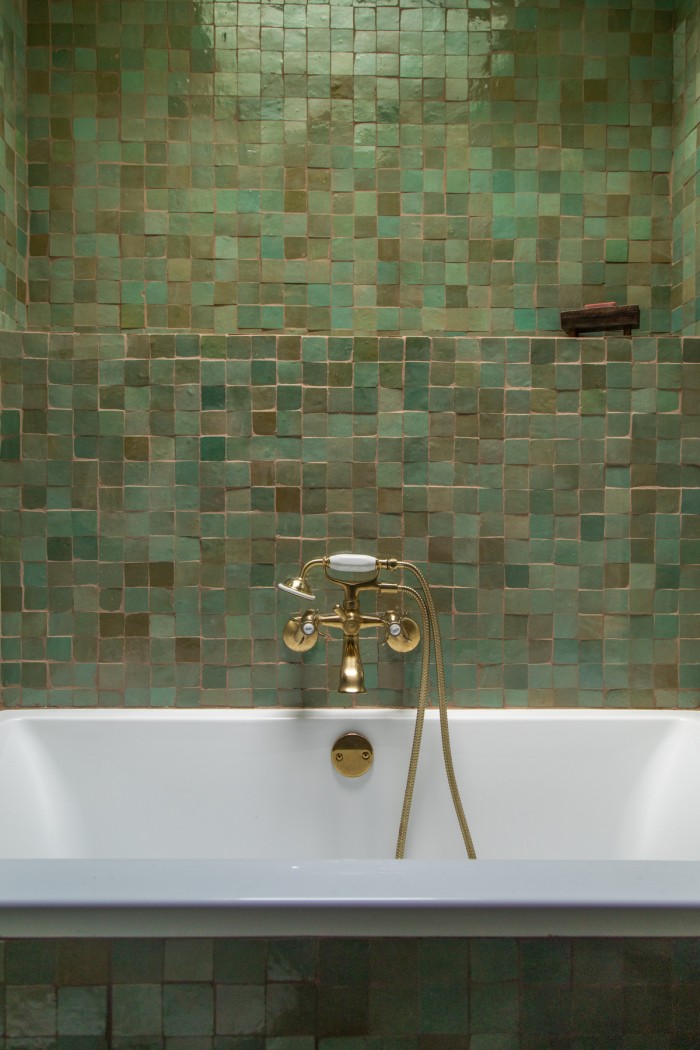 This bathroom is an interior room with no windows. That meant the only way to add natural light to this space, to let that tile really shine, was through skylights. Which is exactly what we did!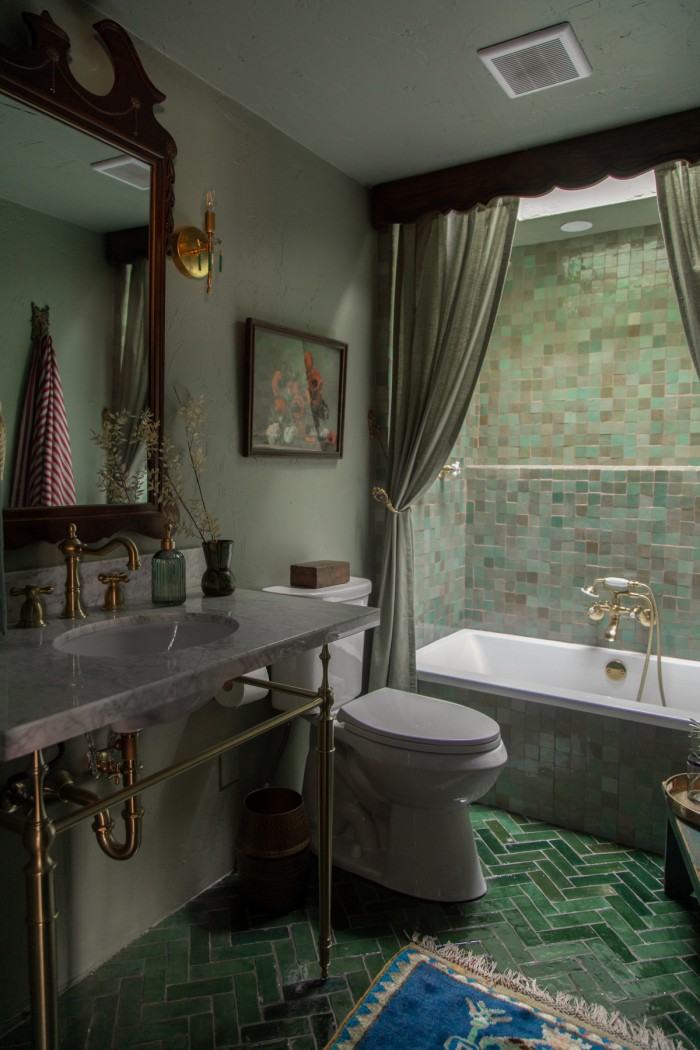 We worked with our longtime partners at VELUX to add a large skylight above the tub. Look at how much it lights up this beautiful tile!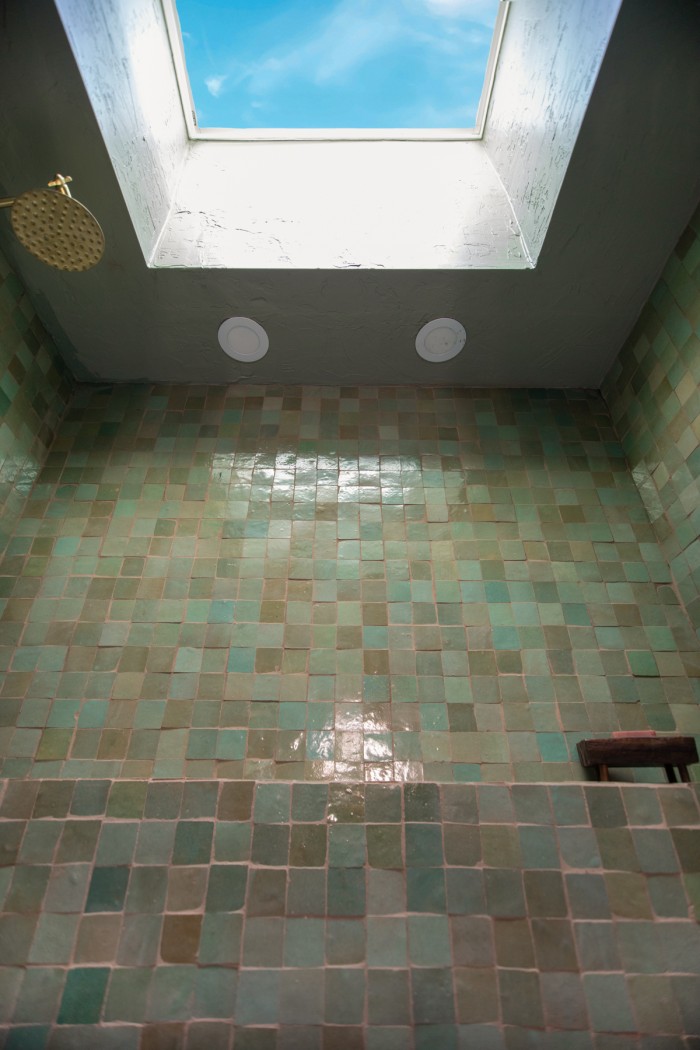 Elevating A Shower Curtain
I personally do not love the look of a glass door on a shower/tub combination, so I knew shower curtains were going to be our best option in this sage green bathroom. But how could I make them special?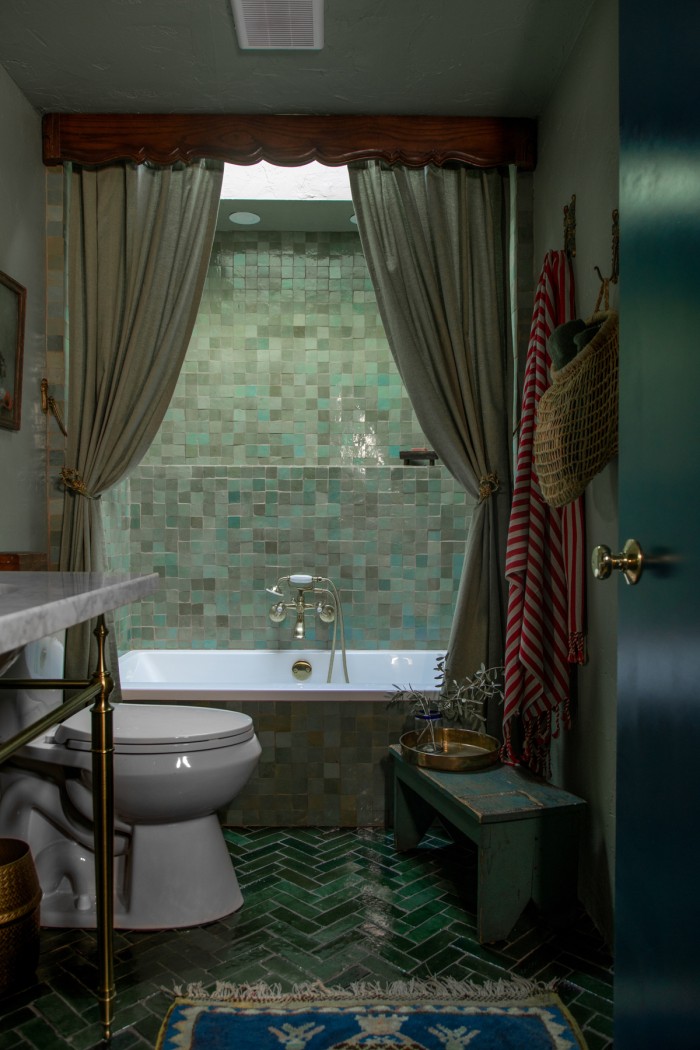 I started by thinking of them as curtains, that would separate at the middle to reveal the beautiful, naturally lit tile behind it. But to make them feel fully built-in, I wanted to add a header to cover the shower rod, which can admittedly be quite unattractive.
I found a headboard at a thrift store that was the near perfect size and cut the decorative wood trim off of it. Our handyman bolted it to the ceiling and it gives a custom, built-in feel to this shower privacy solution that was far more budget-friendly.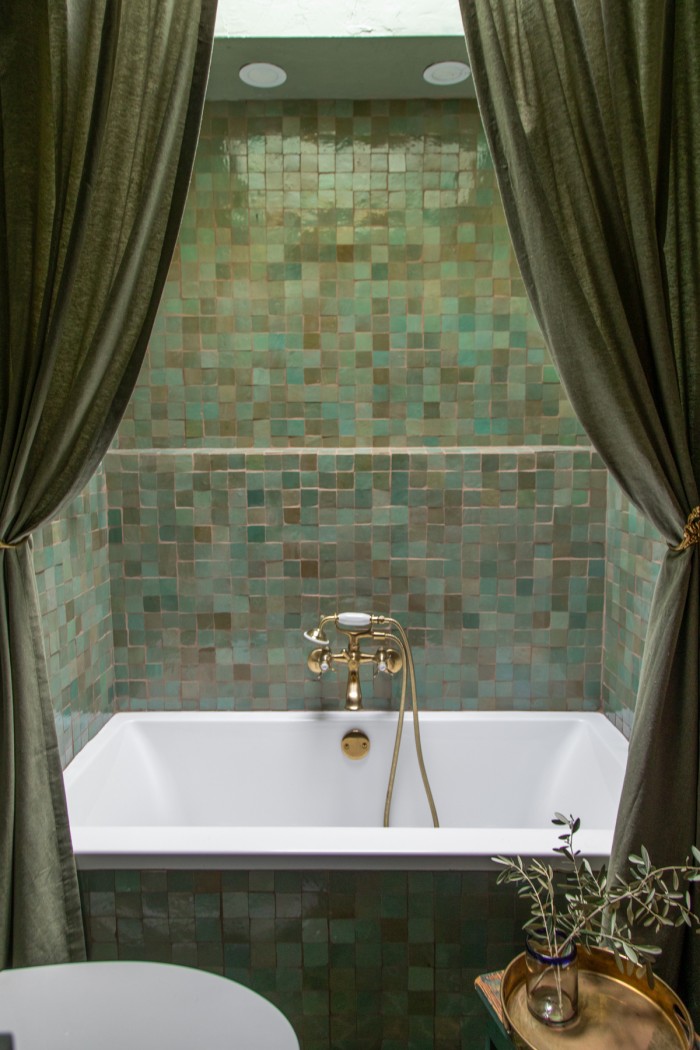 To tie them back, I used the same style brass swan-neck curtain tie-backs I used in our purple bathroom. They look elegant when in use, but lay flat against the wall when not in use so they aren't awkwardly sticking out.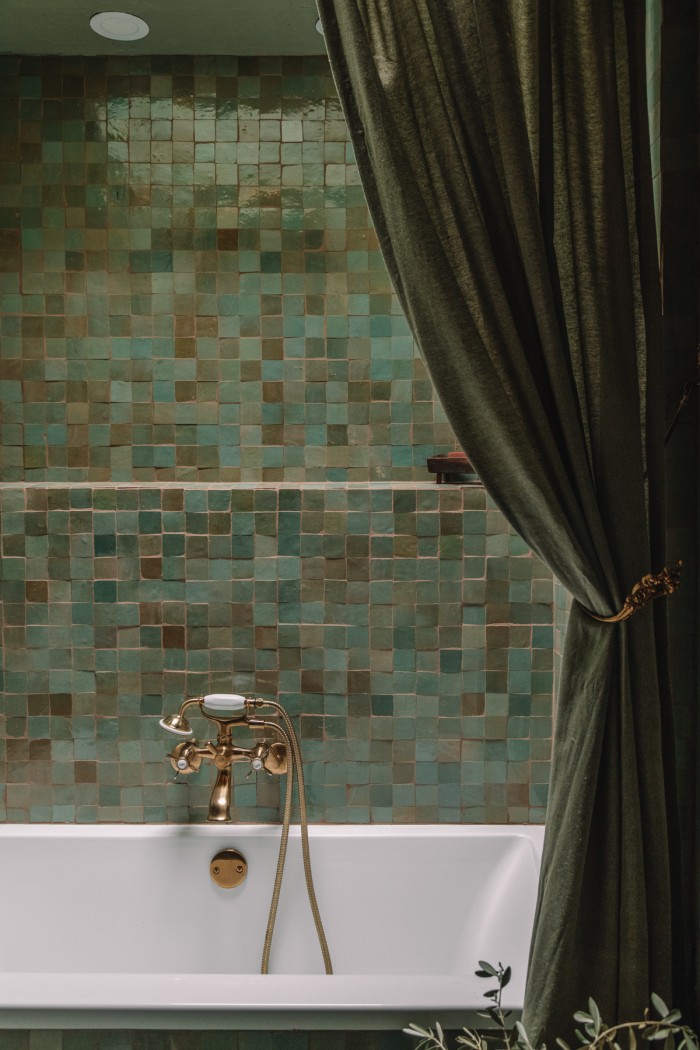 This was my first no-window space I've ever decorated and it was tricky, but with the addition of that natural light from the skylight and the layers of color and texture, I am so happy with how this sage green bathroom turned out!
Photos by Jeff Mindell, Design by Kelly Mindell
Sage Green Bathroom Sources
Paint Color: Meadowood by Dunn Edwards*
Tidepool 2×2 Zellige Tile: Zia Tile*
Racing Green 2×6 Zellige Tile: Zia Tile*
Skylight: Velux Skylights*
Toilet: Home Depot
Brass Shower Head: Kingston Brass
Brass Handshower: Kingston Brass
Tassel Sconces: Sazerac Stitches*
Marble & Brass Console Sink: Kingston Brass
All other decor items not listed here or above in the space were antique or second-hand.
Studio DIY contains affiliate links. This means that we may receive a small commission on sales of products that are purchased through links on this site, at no additional cost to you. Product gifted to Studio DIY is indicated with an (*).