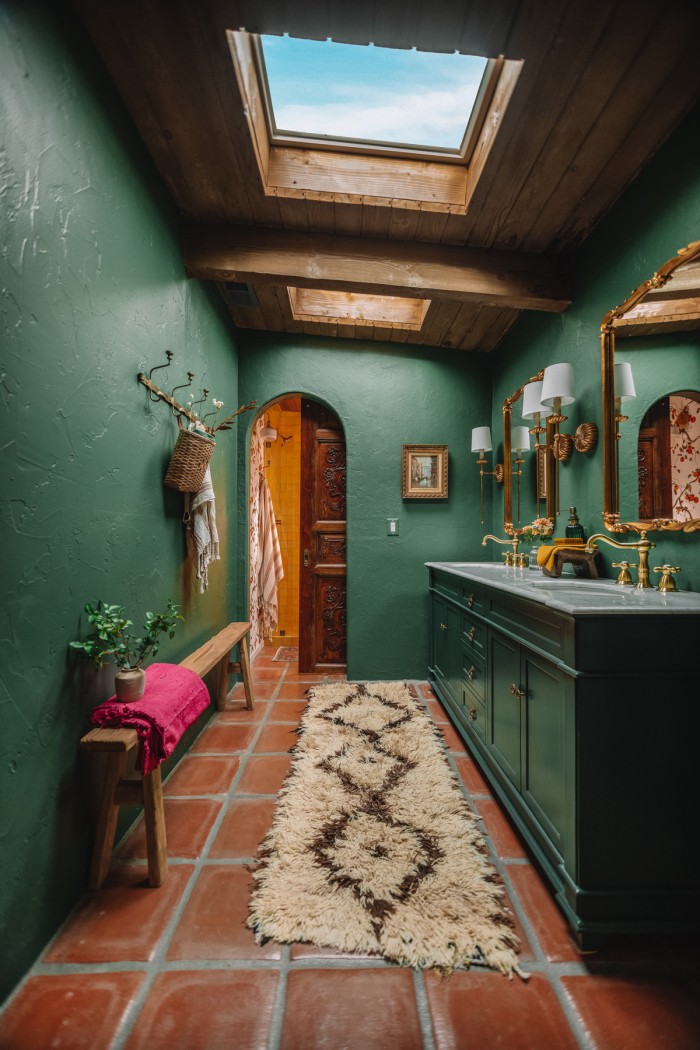 This dark green bathroom couldn't have gotten a bigger transformation! I have always loved green bathrooms. Green is what I call a bold neutral. It is a deep, rich color, but it's versatile enough to pair with so many styles and other hues that I tend to use it as a neutral.
This bathroom may be green, but that bright yellow tile is the real pop of color. I enjoyed combining the two tones with pattern and natural textures to make this bathroom feel storied, layered and dynamic. Let's dive in!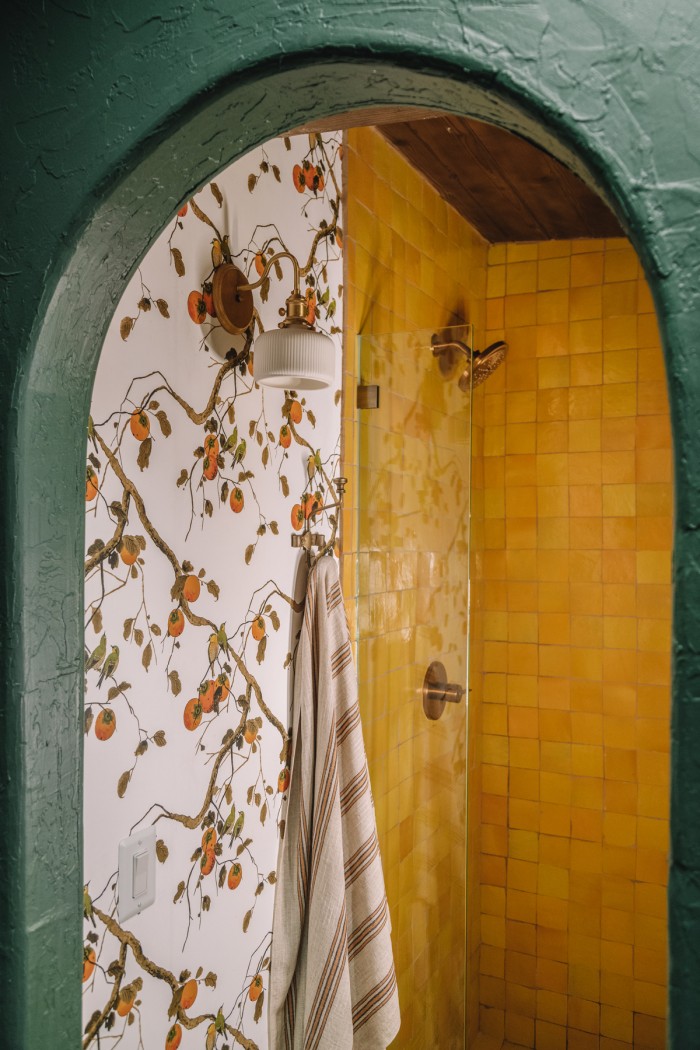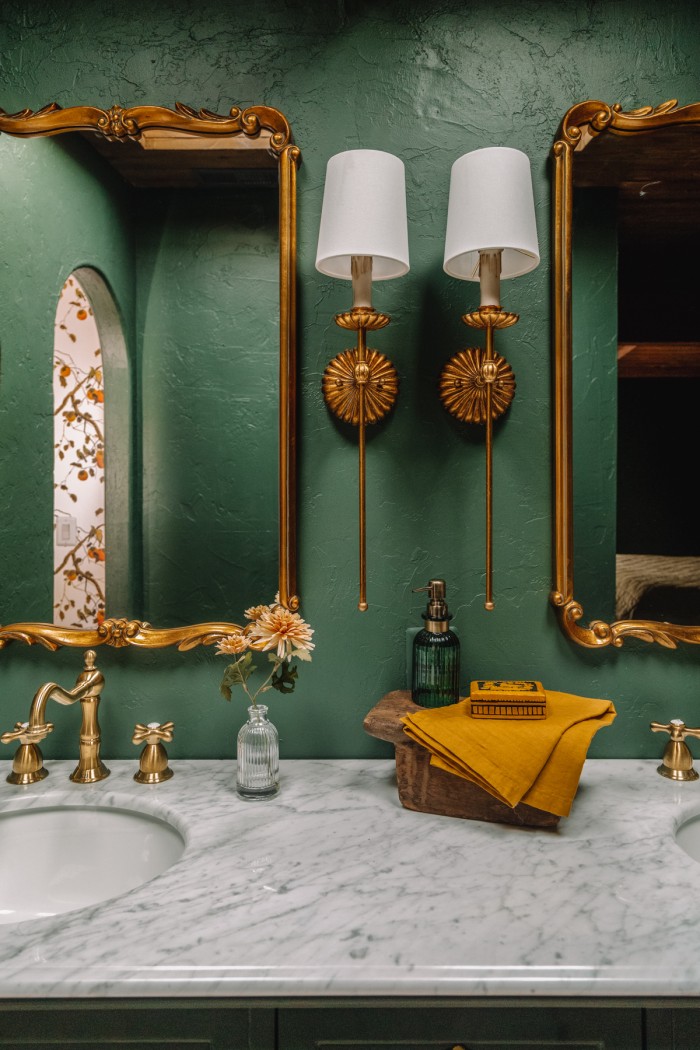 Before & After
Below you can see the Palm Springs midcentury style renovation this bathroom previously underwent.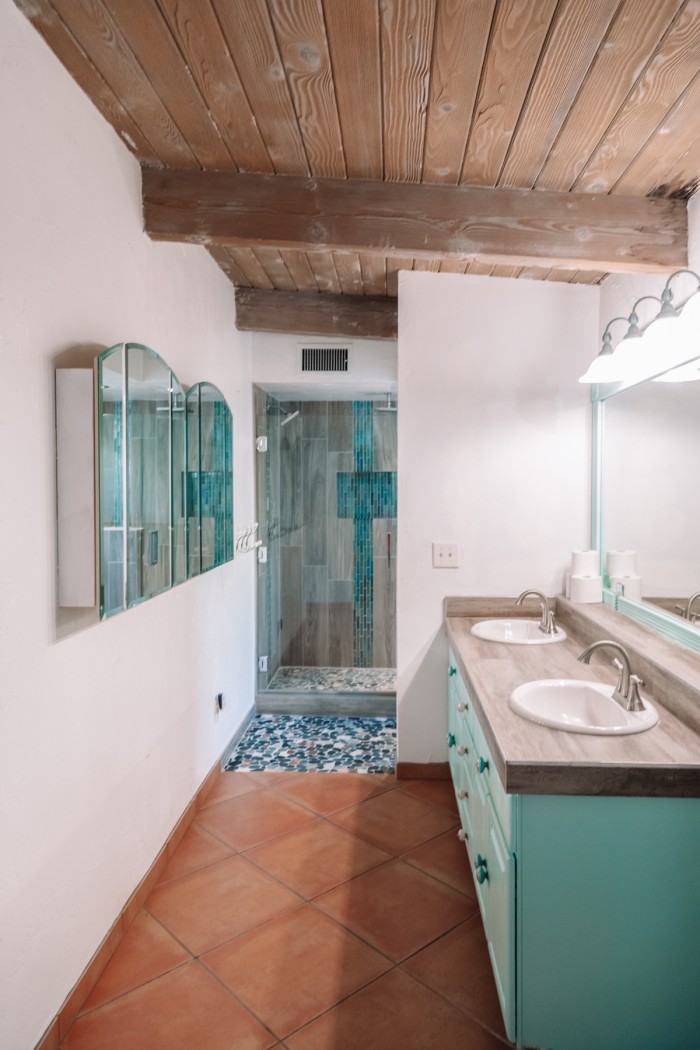 And where I took it, to a style I felt was more true to the house, embracing the wood ceilings as one of the stars of the show.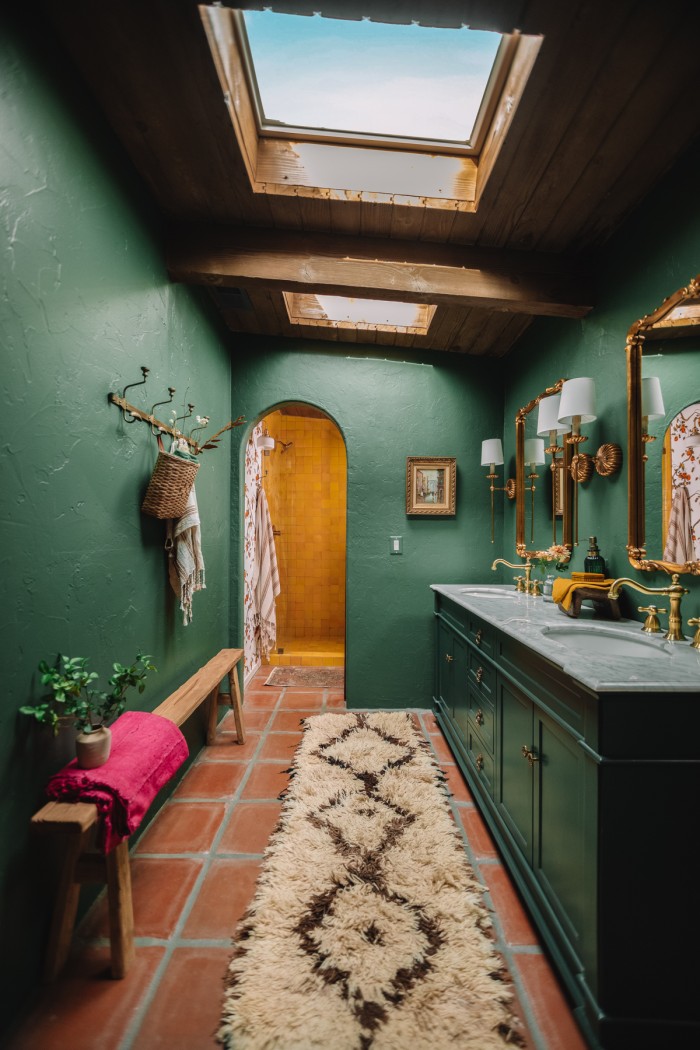 I feel this bathroom is a prime example of investing in a few key changes to transform it without redoing the layout or space entirely.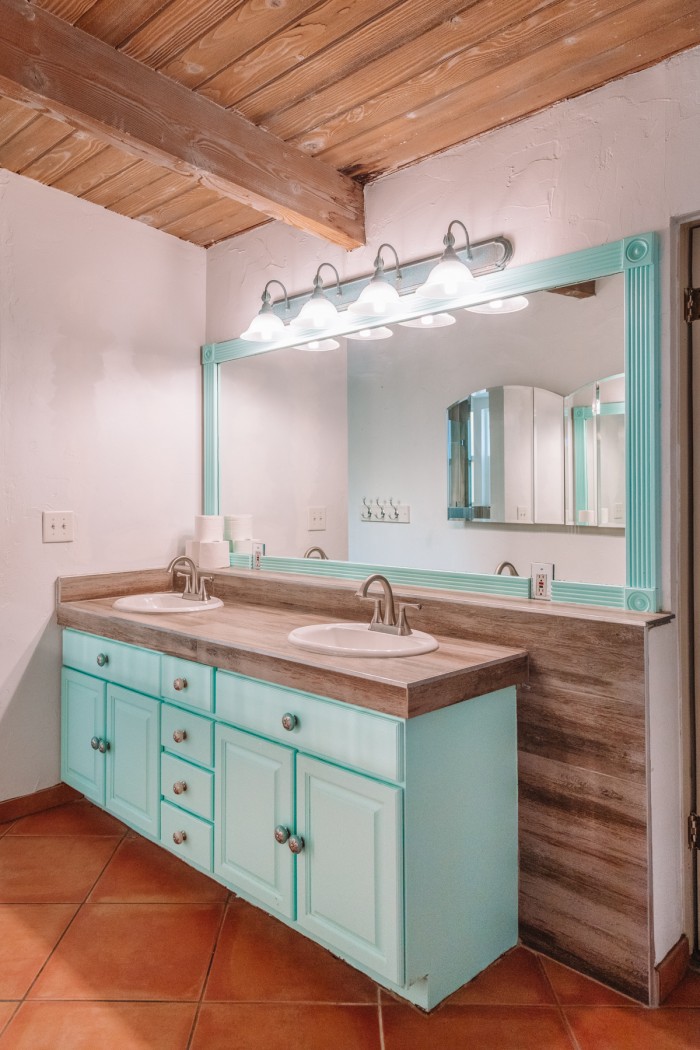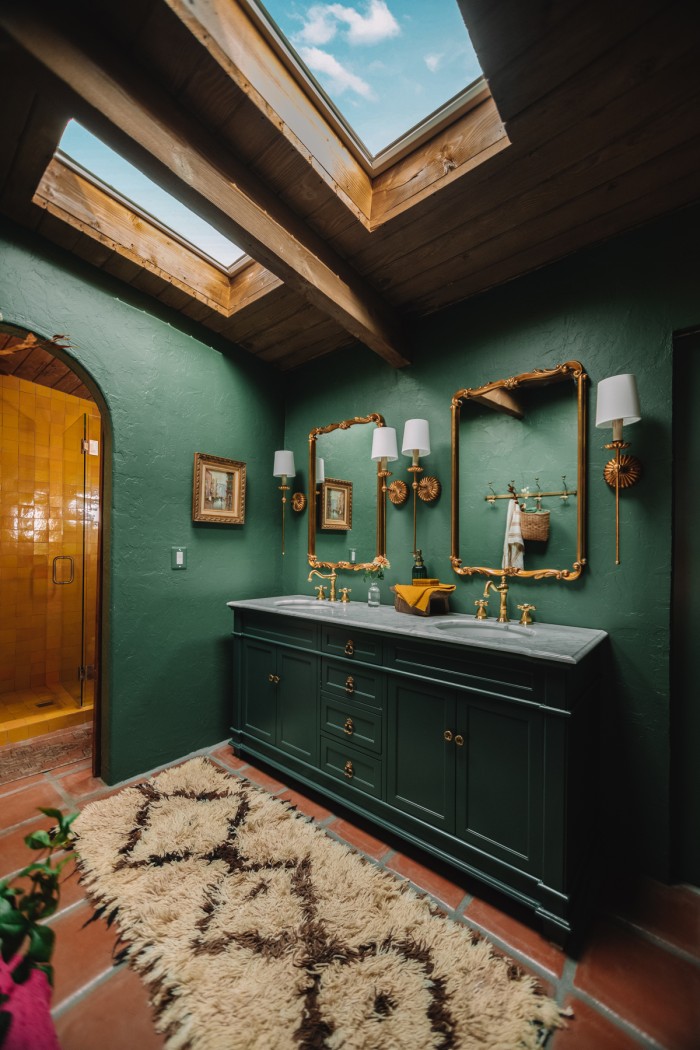 Let's dive in to how we restored this space!
Choosing the Perfect Dark Green Bathroom Paint Color
Our dark green bathroom vanity was one of the first pieces I picked for the space. I knew I wanted the connecting primary bedroom to be a dark green jewel and there was no dividing wall between the two spaces, so the bathroom would be too.
The vanity was the exact color I was looking for. Then came coordinating a paint color that complimented it.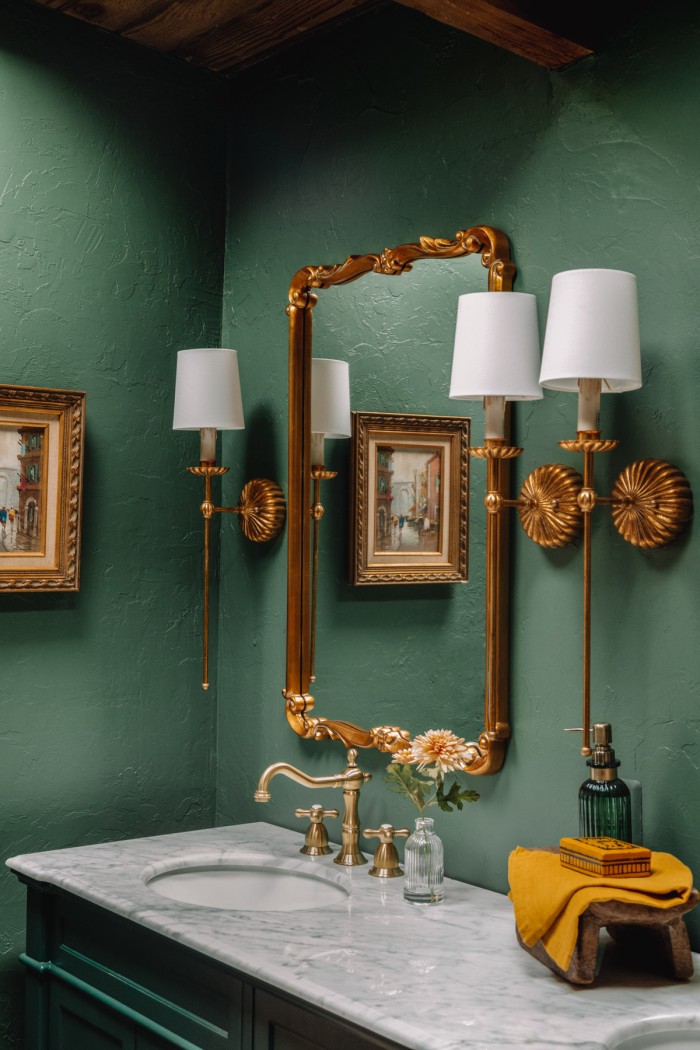 After testing several shades we landed on Deep in the Jungle from our partner, Dunn Edwards. It's bold, but not overly vibrant or overwhelming and pulls out the cool tones in the vanity while contrasting the warm tones in the wood, floors and shower.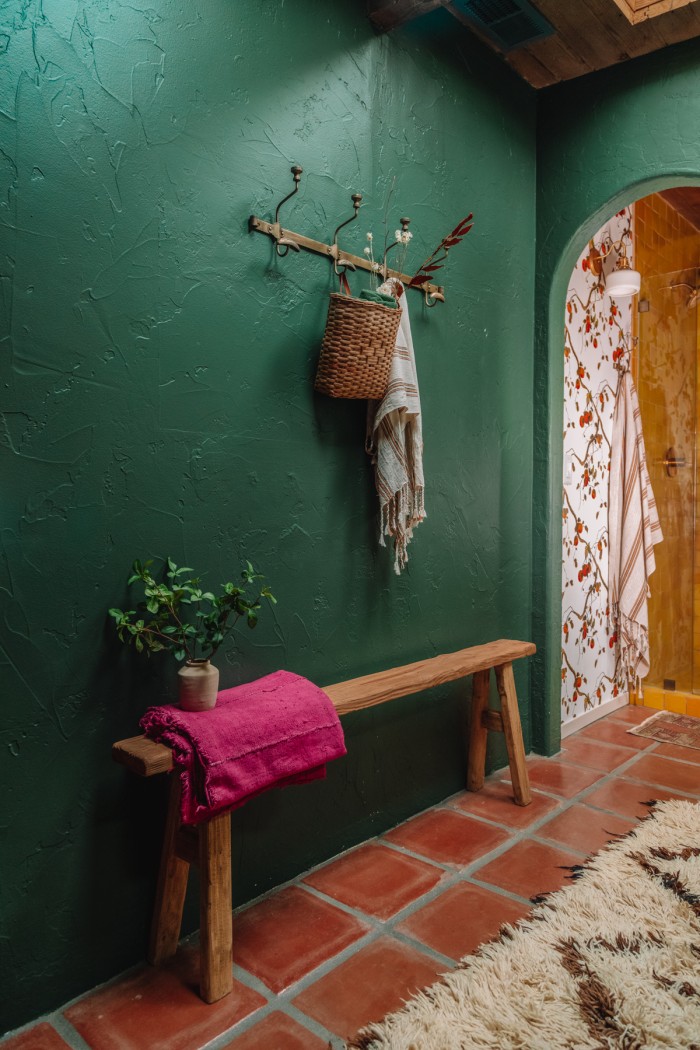 Adding Light to a Dark Bathroom Space
Because of the dark wood ceilings in this home, every space is quite cozy and moody which I adore. It keeps the home cool in the hot desert temperatures.
There are only large windows and doors on one side of the home and this bathroom exists on the other side.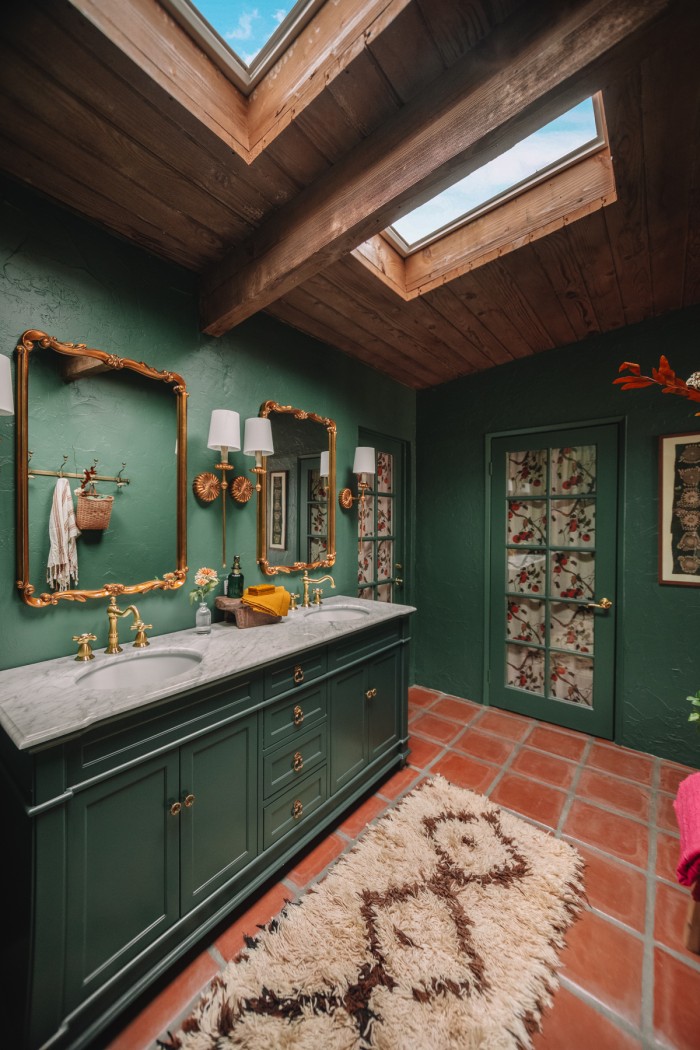 As a result, we decided to partner with VELUX to add solar-powered Fresh Air Skylights to this space and bring in a huge swath of natural light, so that for most of the day, this bathroom could be used without having to turn on any artificial light which, to me, is crucial for a vanity area!
They absolutely transformed the space. Plus, they offer fresh air ventilation and light-filtering shades for if/when we do want to filter any light.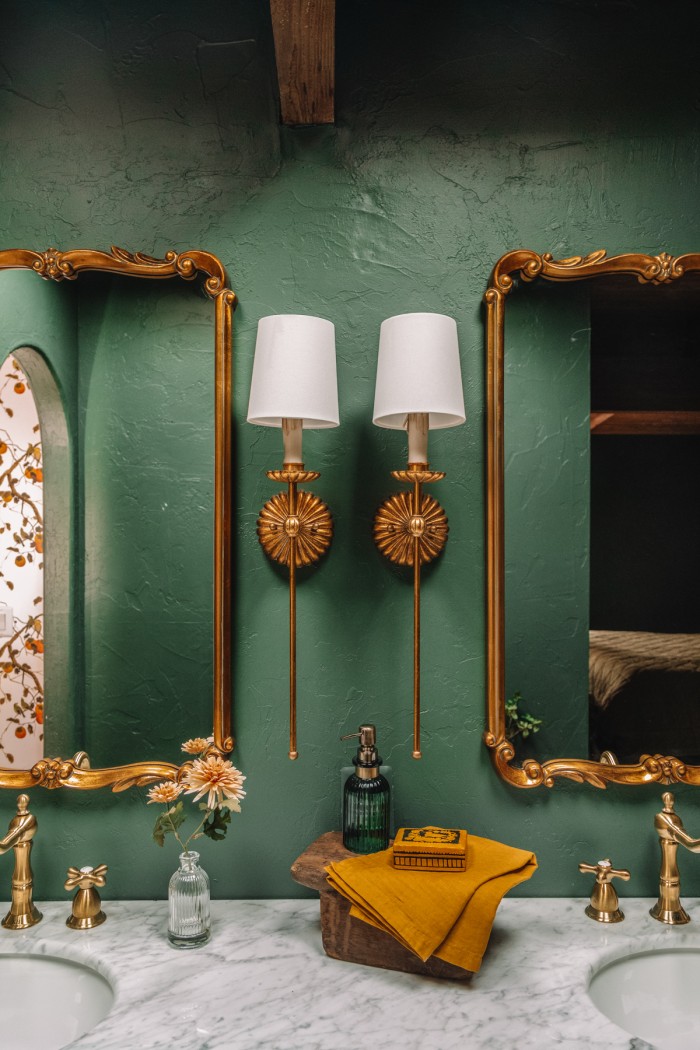 Brass Sconces | Brass Mirrors | Green Soap Dispenser | Linen Tea Towel
The only artificial light source we added were four dramatic, elongated sconces on either side of the mirrors which bring interest to that wall during the day, and provide all the light needed once the sun dips in the evening.
Antique Door Turned Barn Door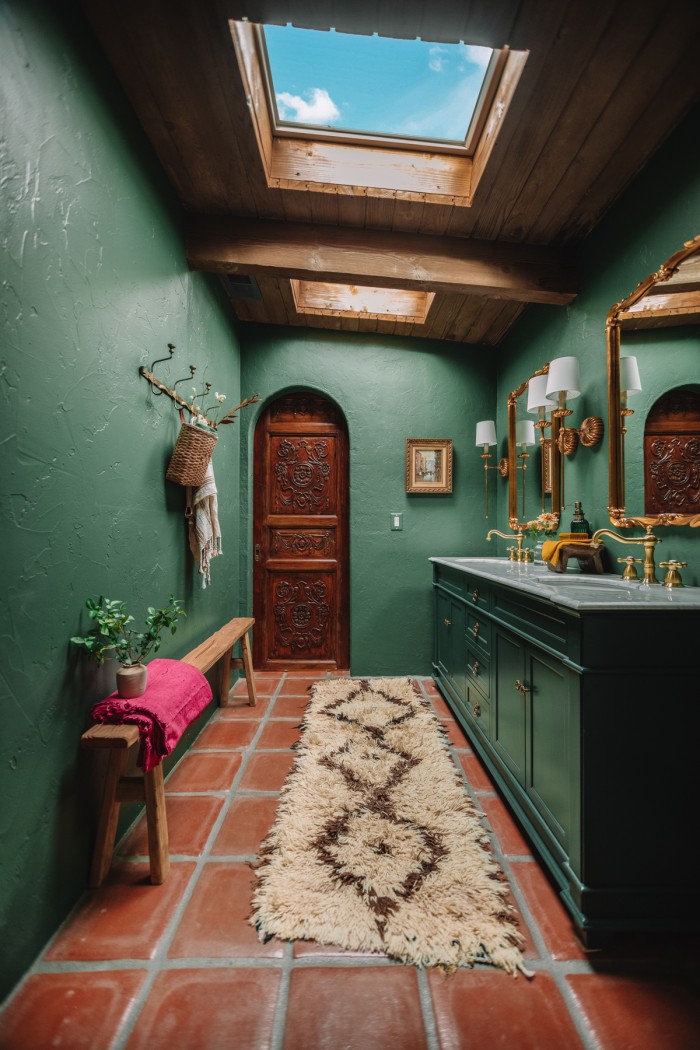 I'm not sure who enjoys a toilet without a door, but it is not me. This bathroom didn't have a single door on it, not from the bedroom into the vanity area and not from the vanity area into the toilet and shower. I wanted to change that, without changing the layout and knowing that the space was tight.
The solution? A barn door.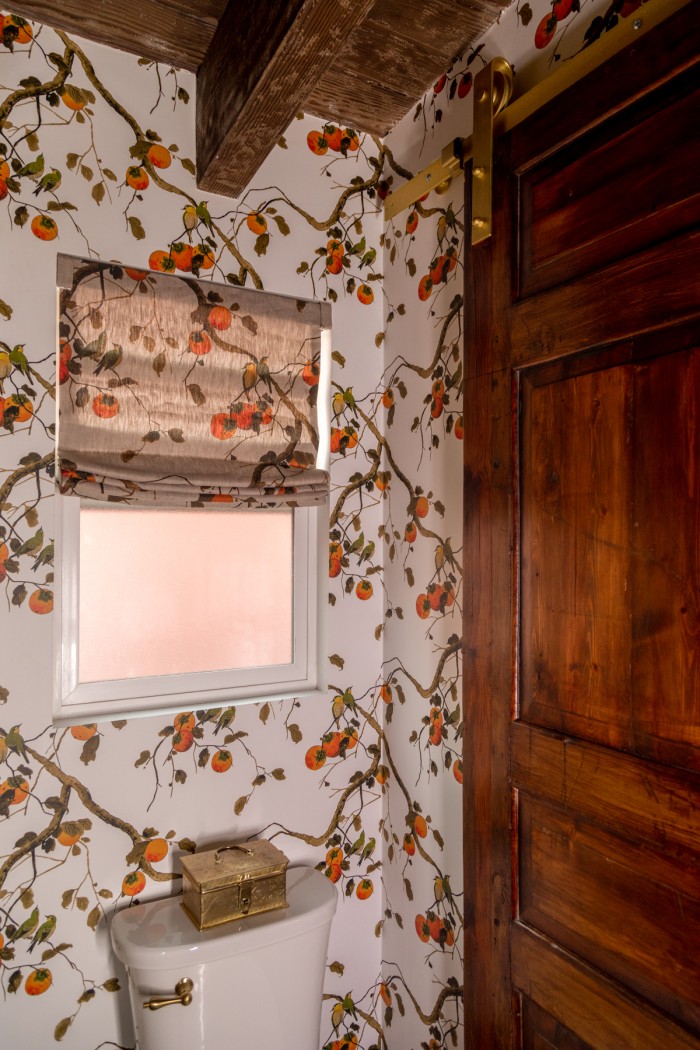 But since farmhouse is not my style, nor would it be fitting with the style of this house, I decided to turn an antique wood door from Spain into a barn door.
And to add even more character to the opening, which we needed to enclose slightly in order to have a spot to mount the barn door hardware, we created a narrow archway for the door to peek out from.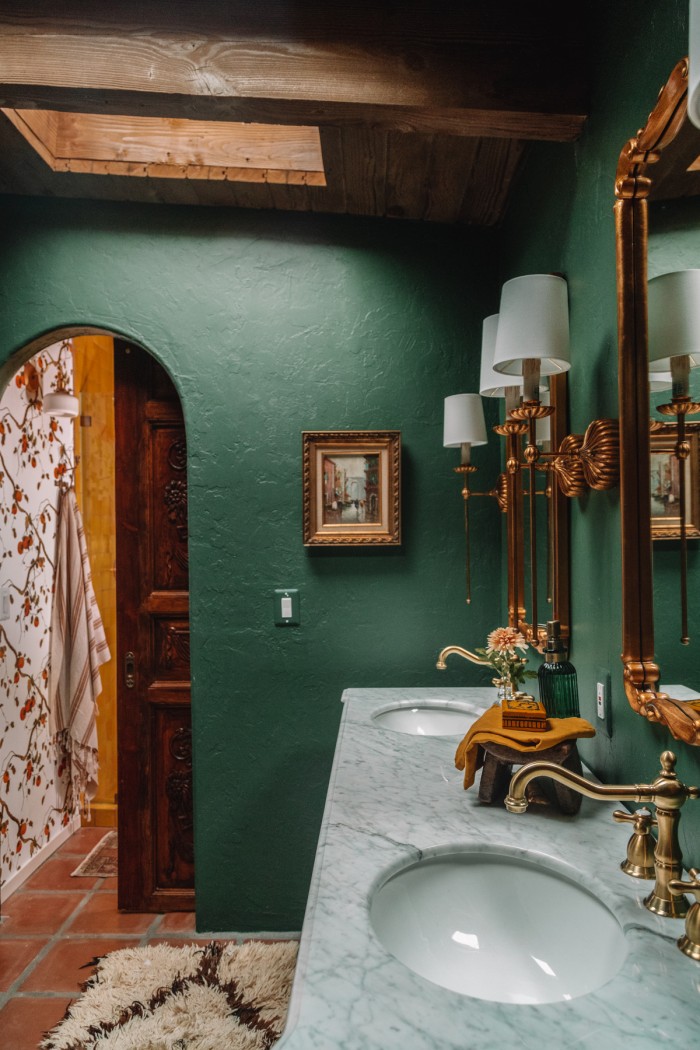 The door hides completely behind the wall so you would never know it was there. It's a complete surprise and I love a surprise.
Bold Yellow Shower Tile
Now let's talk about this yellow shower tile! We've used zellige tile throughout our bathroom and kitchen in our Los Angeles home and the texture it brings is unmatched for a surface like tile that is usually so sleek and cold.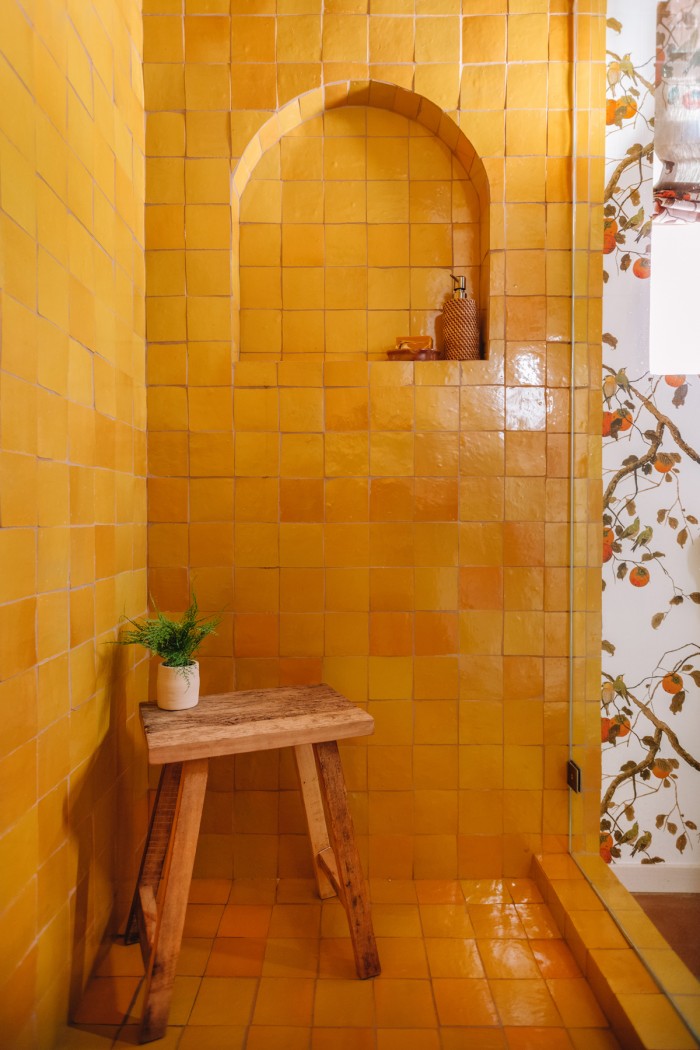 We partnered with Zia Tile and used their 4×4 Cadmium Yellow Zellige. It's sunny and bright and an unexpected pop of color against the dark green bathroom walls.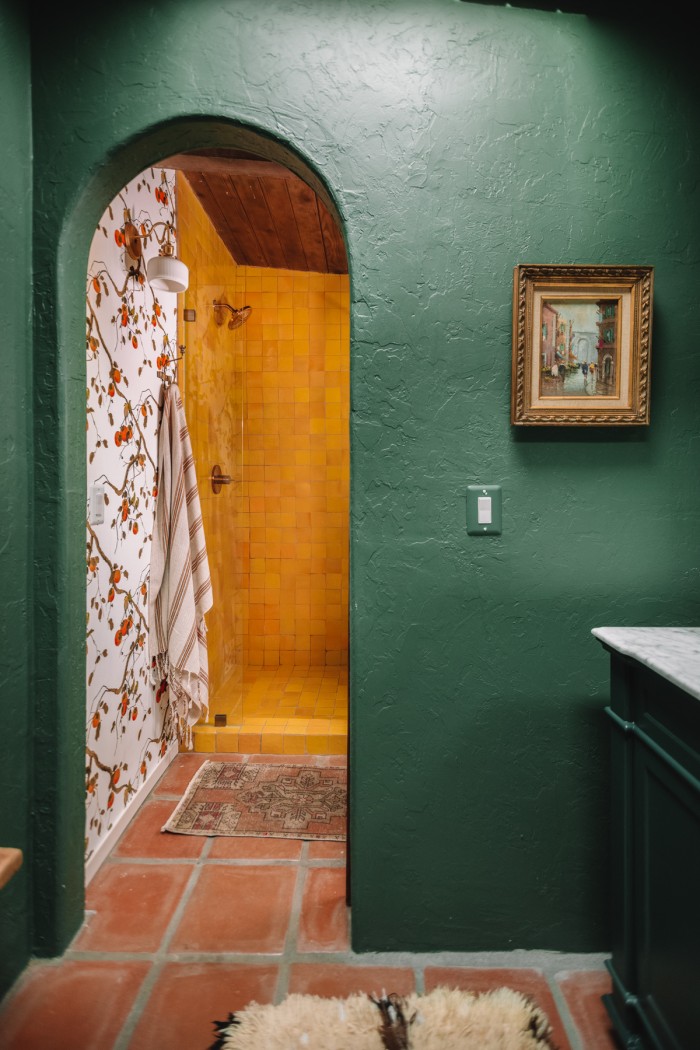 This yellow is a nice tie-in to our honey-toned kitchen and living space in the house and it brightens up the one area of the bathroom where there is only a small window.
The arch niche brings interest to a tall and otherwise plain wall!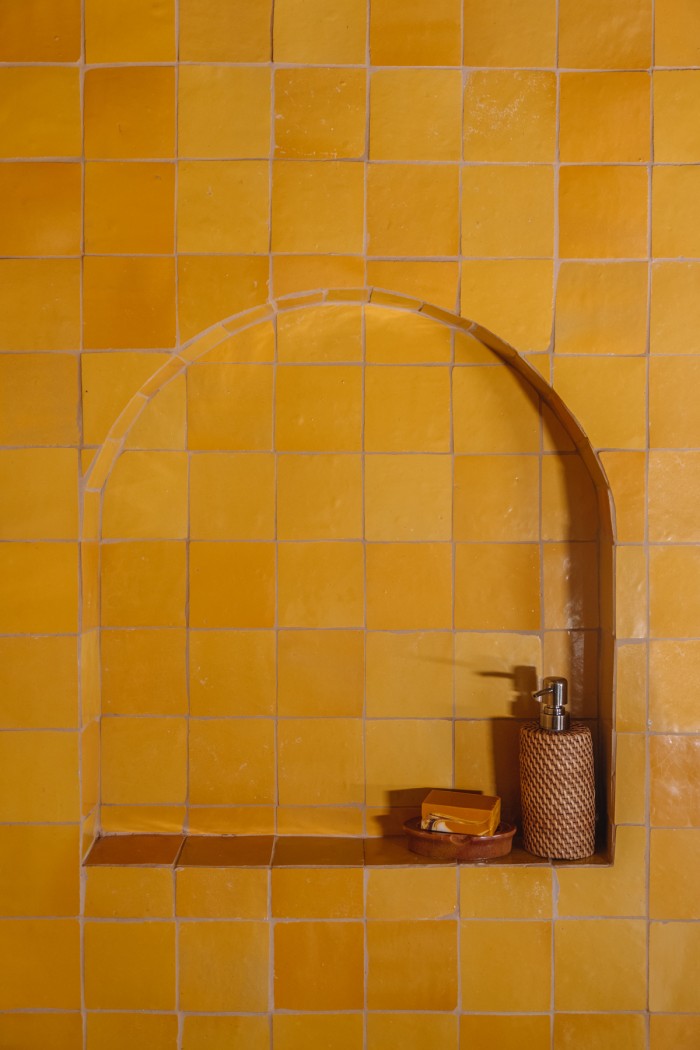 Design Details to Compliment A Dark Green Bathroom
Because the dark green bathroom walls and yellow tile were in stark contrast to each other, I thought we needed something to break up the two, instead of running the green paint straight up to the tile line.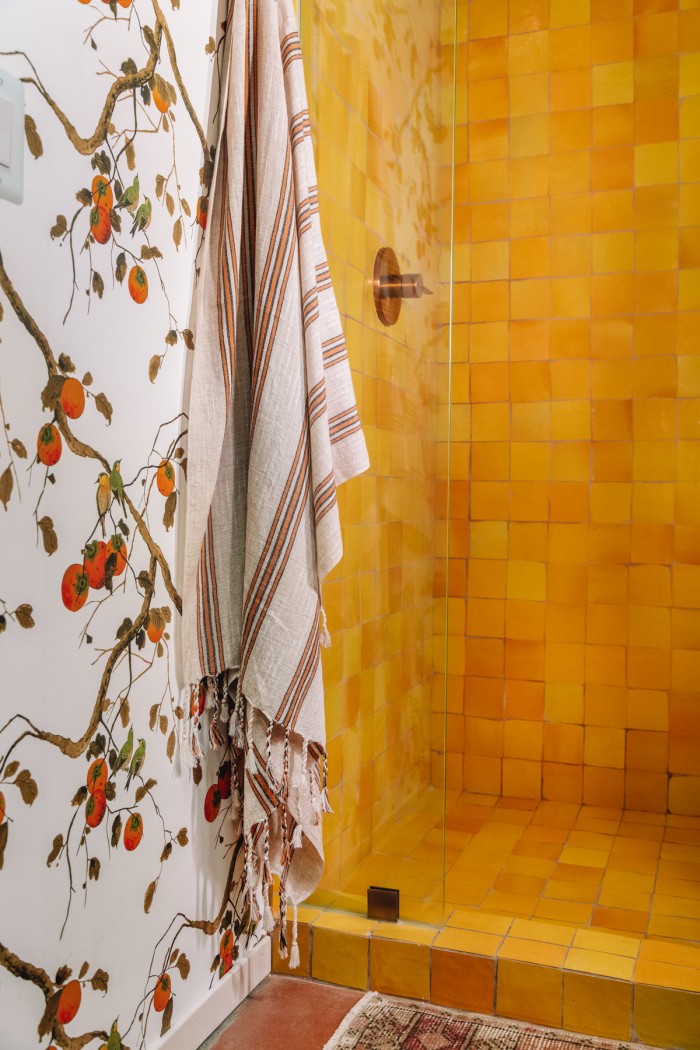 This was the perfect opportunity to add wallpaper that pulled the whole space together!
I used Nathan Turner's Persimmon Birds wallpaper from Wallshoppe. It allowed me to bring in a new orange tone and an olive green, in addition to the other two prominent shades in the space along with tying in the deep browns of the ceiling and door.
The pattern is exactly what this space needed!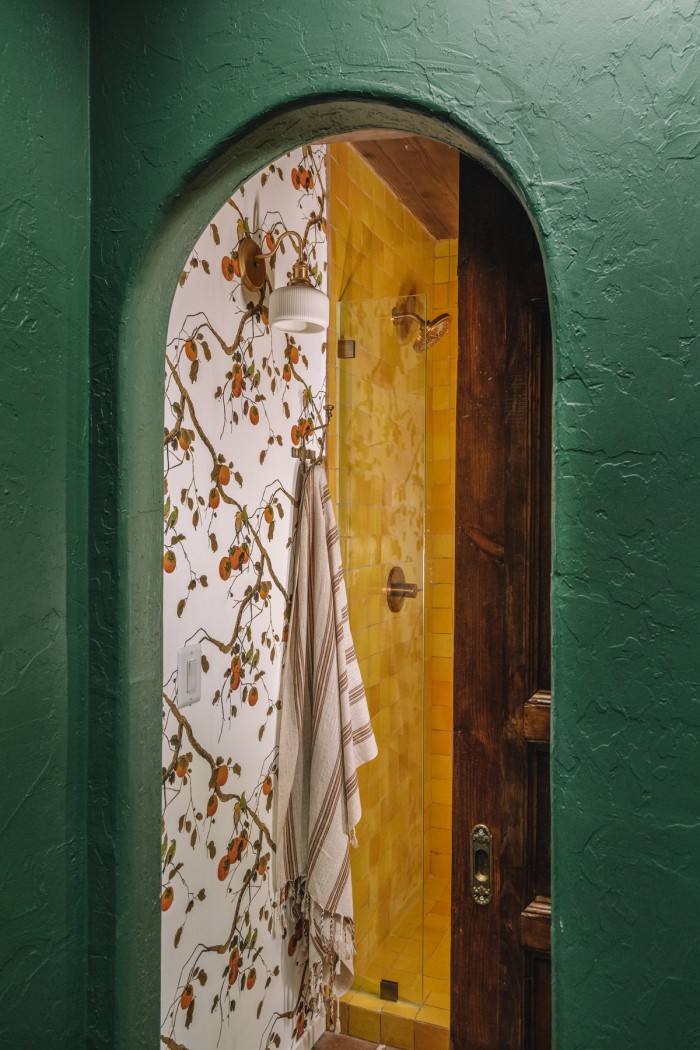 Wallshoppe also sells this pattern in flax linen fabric, and I decided to use that to create a few curtains. First, a faux roman shade using a cheap wood blind and this tutorial. It turned out beautifully!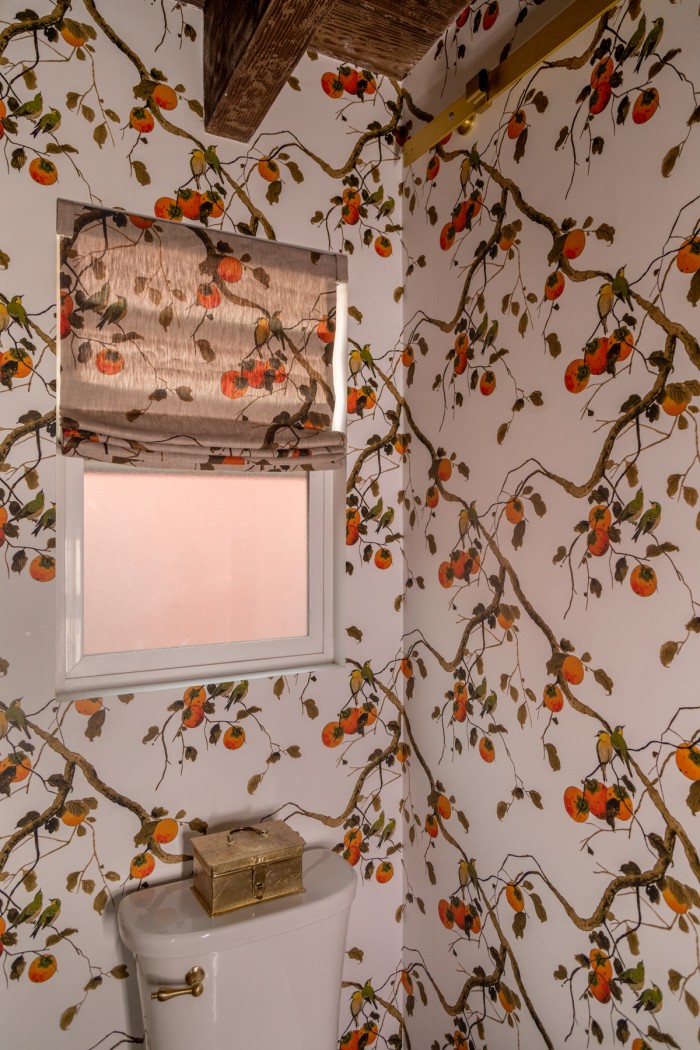 Persimmon Birds Fabric | Persimmon Bird Wallpaper
And second, I made curtains that would hide any messes that might accumulate in the closets behind those glass doors.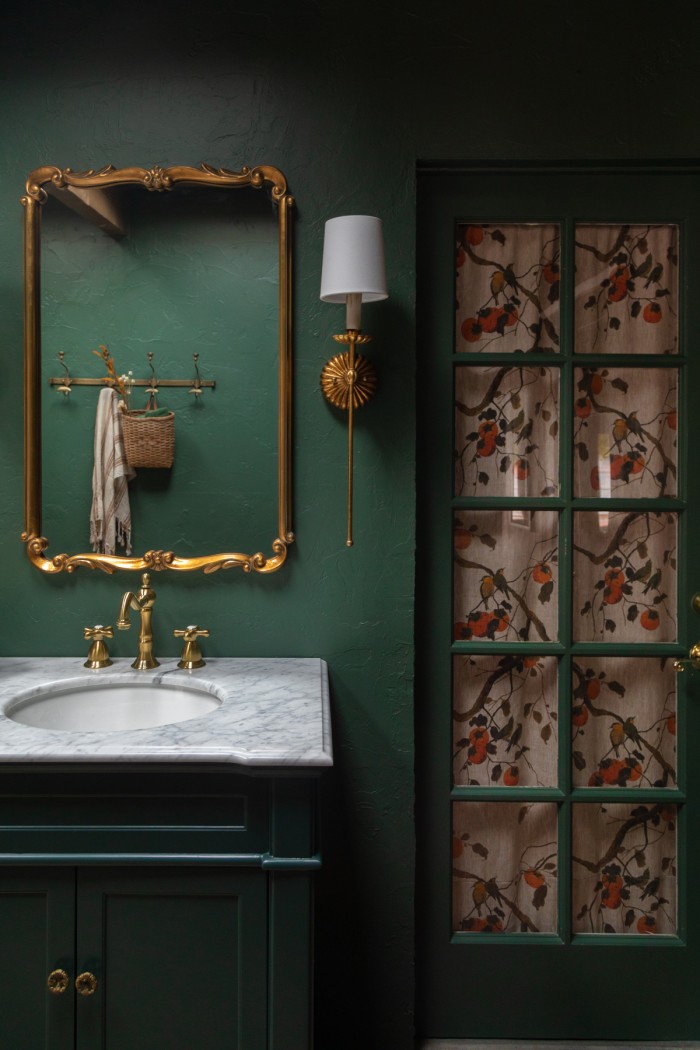 Brass was the other key element in this space. I found this pre-fab green vanity which had silver detailing and hardware, so I swapped it for antique knobs and antique style faucets to make it feel more age appropriate to the space.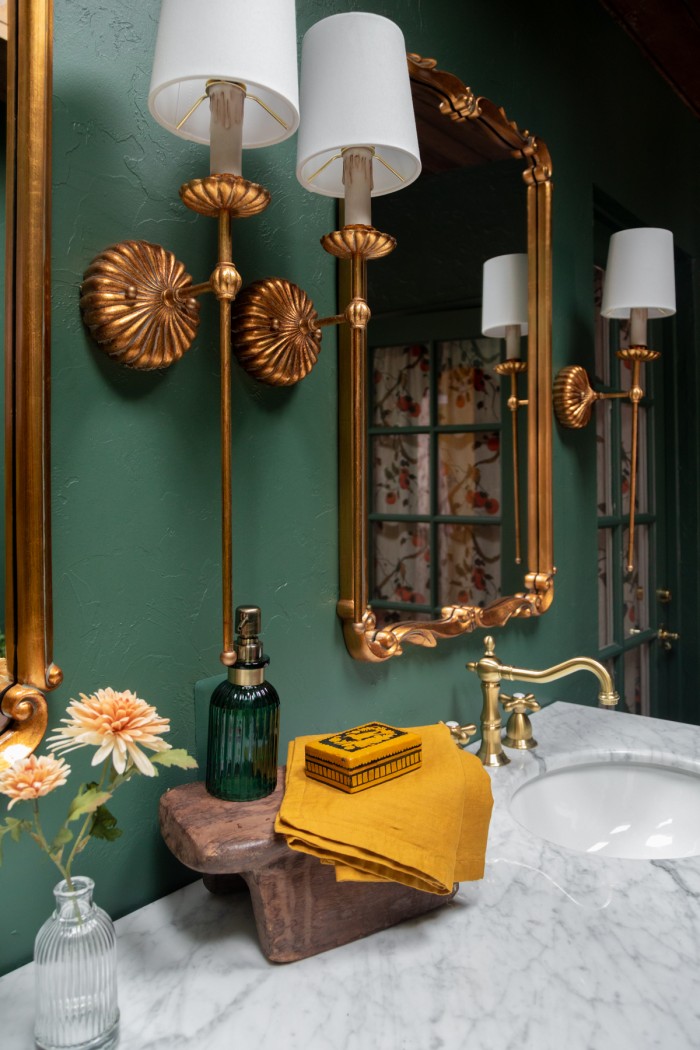 Then, the mirrors and sconces layered in more gold tones and ornate details, too. More is more in the space!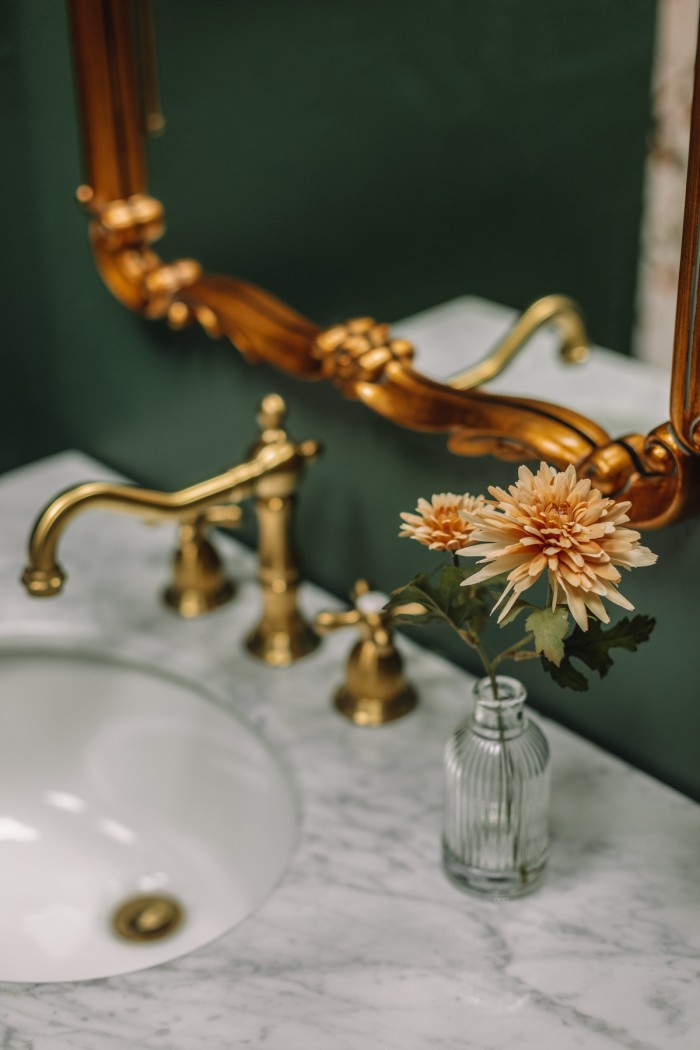 Because the details of the vanity area were so prominent, I wanted the opposing wall to be simple. I found a narrow elm wood bench and hung a simple towel rack above it.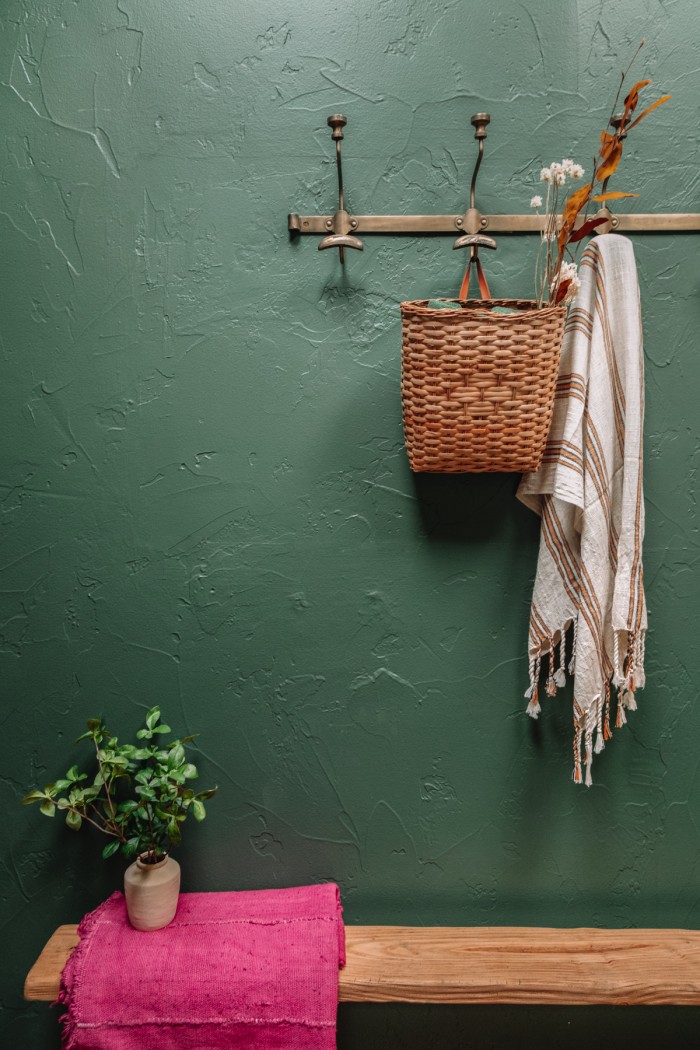 Brass Hook Rack | Hanging Basket | Striped Towel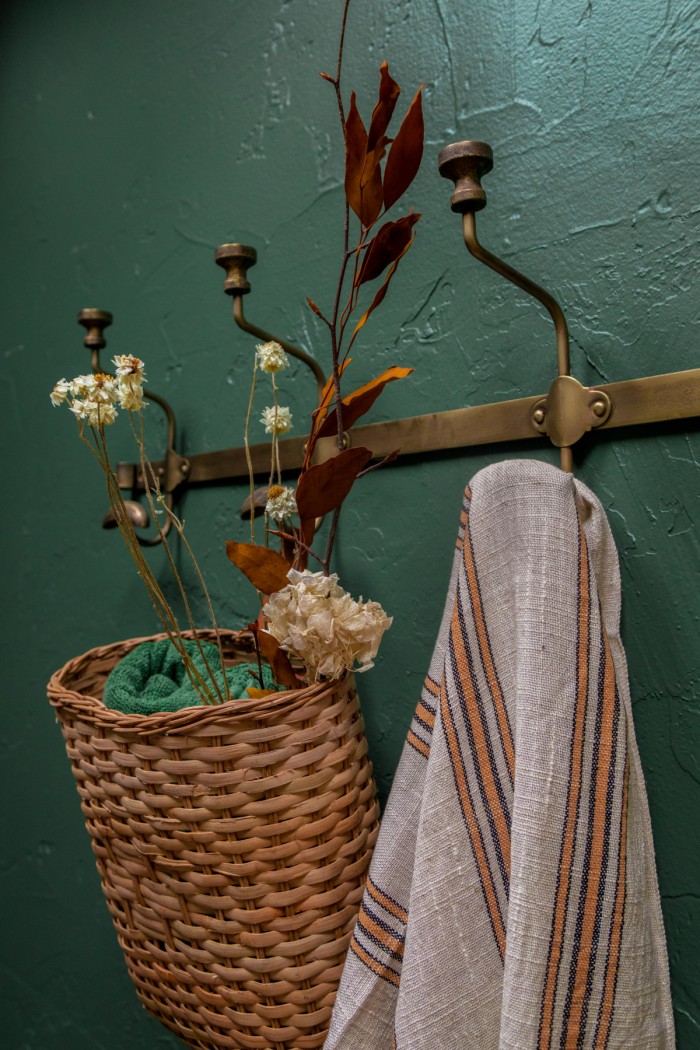 Stripes are a pattern I incorporate into every room if I can. These striped linen towels were just what the space needed!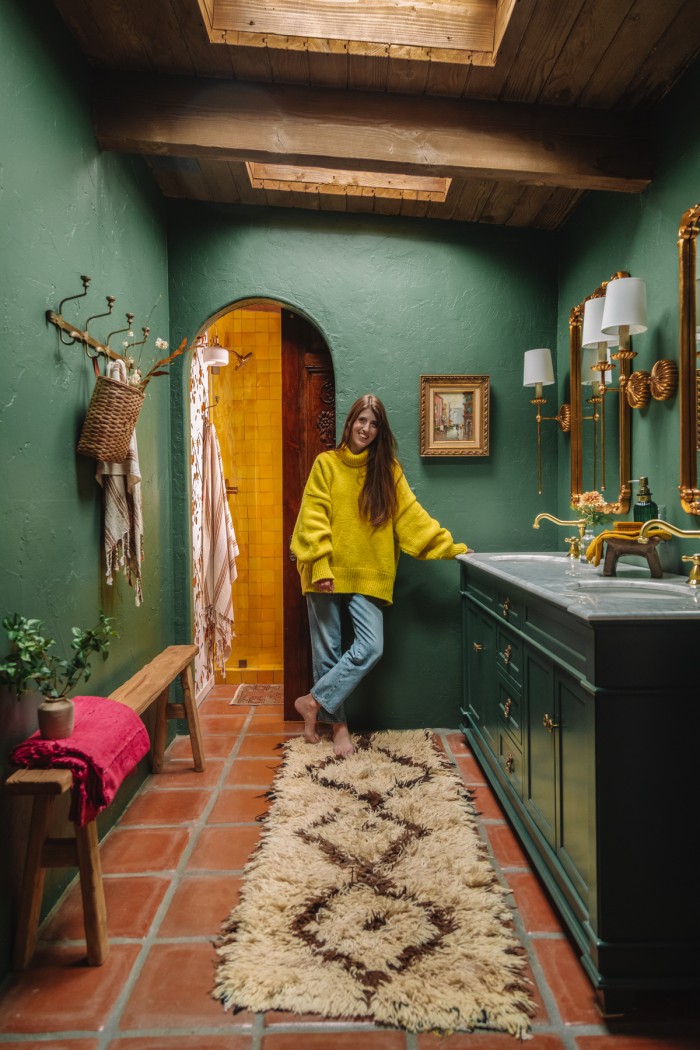 Texture, texture and more texture is what I wanted in this space and I think I achieved that. It is so much warmer and welcoming now!
Photos by Jeff Mindell, Design by Kelly Mindell
Dark Green Bathroom Sources
Paint Color: Deep in the Jungle by Dunn Edwards*
Cadmium Zellige Tile: Zia Tile*
Saltillo Tile: Colores de Mexico
Skylights: Velux USA*
Green Vanity: Home Depot
Gold Faucets: Kingston Brass
Gold Shower Hardware: Moen
Toilet: Home Depot
Antiqued Gold Mirrors: One Kings Lane
Brass Sconces: Nordstrom
White Ceramic Sconce: Etsy
Persimmon Birds Wallpaper by Nathan Turner in Persimmon: Wallshoppe
Persimmon Birds Fabric by Nathan Turner in Persimmon on Flax Linen: Wallshoppe
Brass Towel Hook Rack: Magnolia
Brass Towel Hook: Magnolia
Antique Door: Arte de Mexico
Brass Barn Door Hardware: Amazon
All other decor items in the space were antique or second-hand.
On me: Babaa Sweater, Citizens of Humanity Jeans
Studio DIY contains affiliate links. This means that we may receive a small commission on sales of products that are purchased through links on this site, at no additional cost to you. Product gifted to Studio DIY is indicated with an (*).