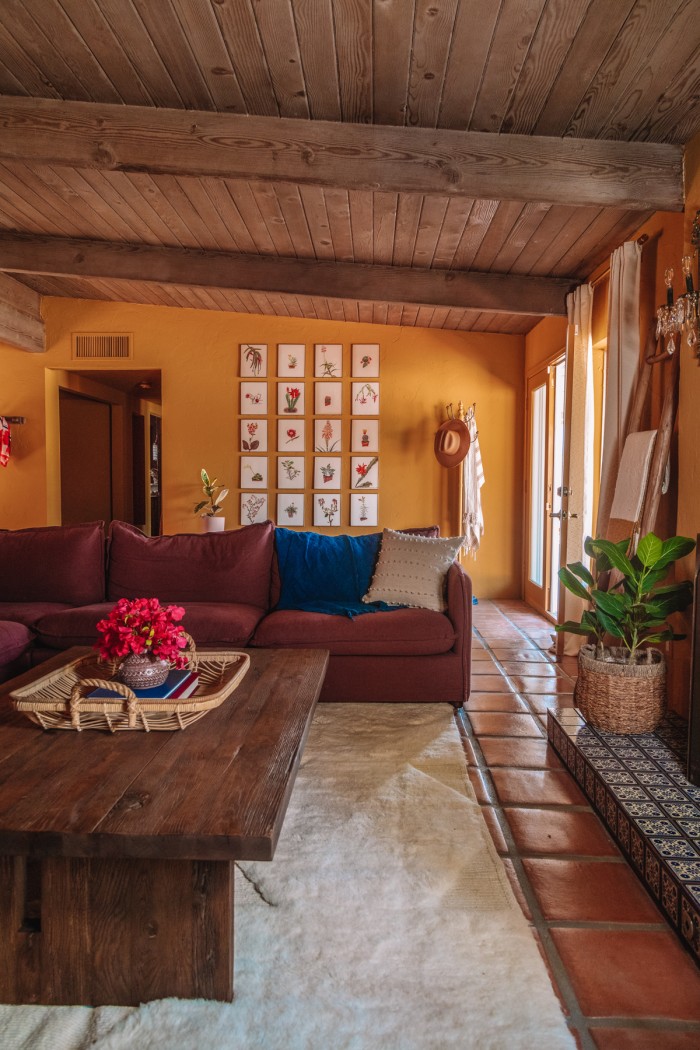 Welcome to our warm and moody living room in our Palm Springs home! With ochre walls, lots of deep wood tones and the coziest couch to ever exist, this room feels so inviting. This is the first room you enter when you walk into our home, and I wanted people to immediately feel welcome.
I think we accomplished that! First, let's check out the before and after of how we made it happen!
Before & After
When we purchased the house, the walls were white in this room and the floors were a faux Saltillo-look tile. Here's the transformation!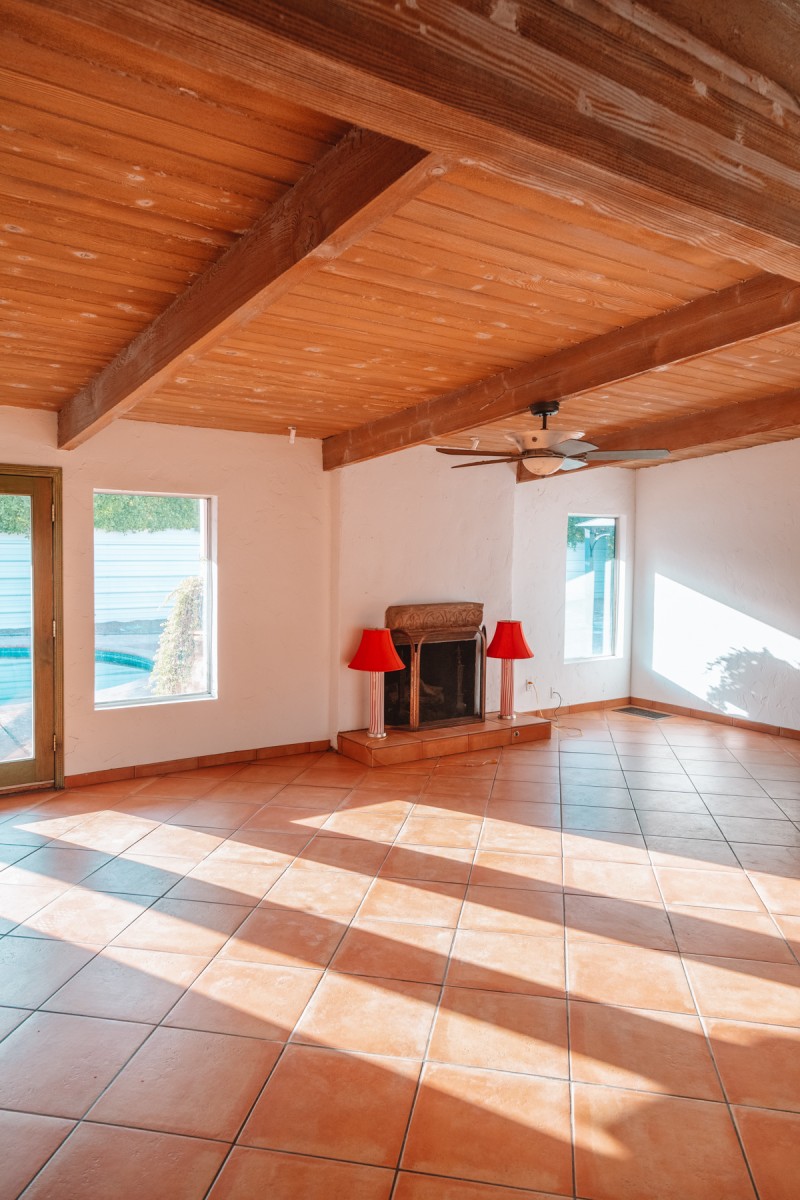 Choosing Ochre Living Room Walls
The entry way, living room and kitchen flow together in this home and I knew I wanted to try ochre walls for the space. It felt like the perfect bold color, yet neutral enough to allow other colors to pop against it.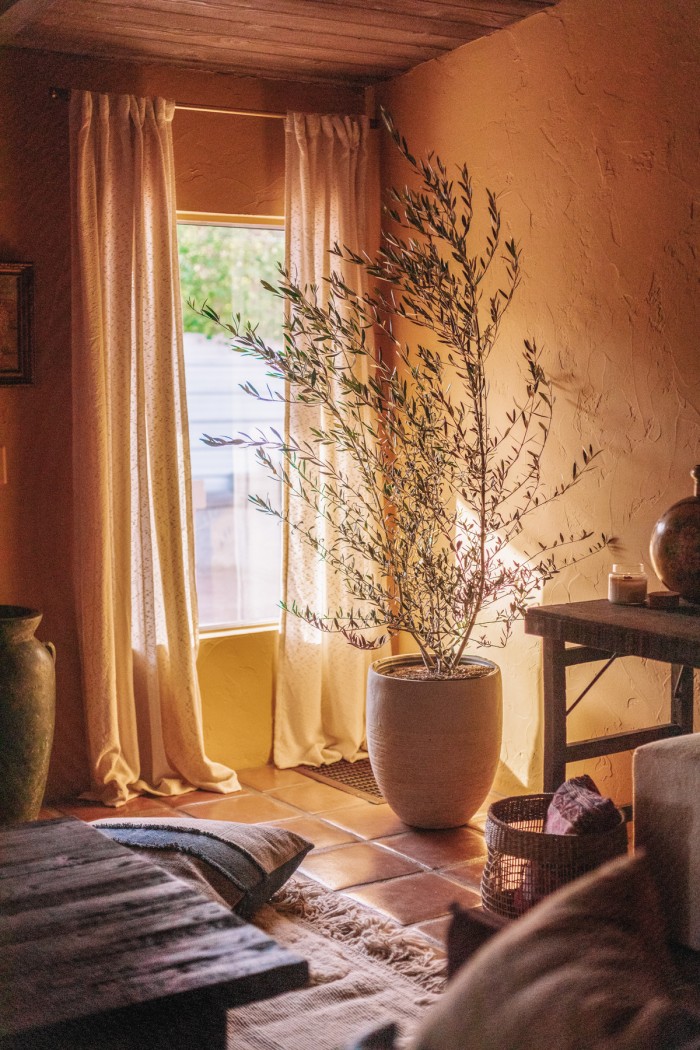 We chose 'Wildflower Honey' by Dunn Edwards and couldn't be happier with our choice. Yellow is a color that looks so different in every light and at any point during the day, so it's really important to test it on all walls and at all times of day and night. We did exactly that and loved how this tone looked in every corner.
Ochre looks good paired with greens, plums, pinks, deep reds and cobalt blue tones. It's also beautiful with deep wood tones, which we layered throughout the house in addition to the ceilings which we had custom stained to the perfect shade.
Ochre also makes a fantastic contrast with warm ivory tones, like the Soukie Modern Moroccan rug we layered into this room.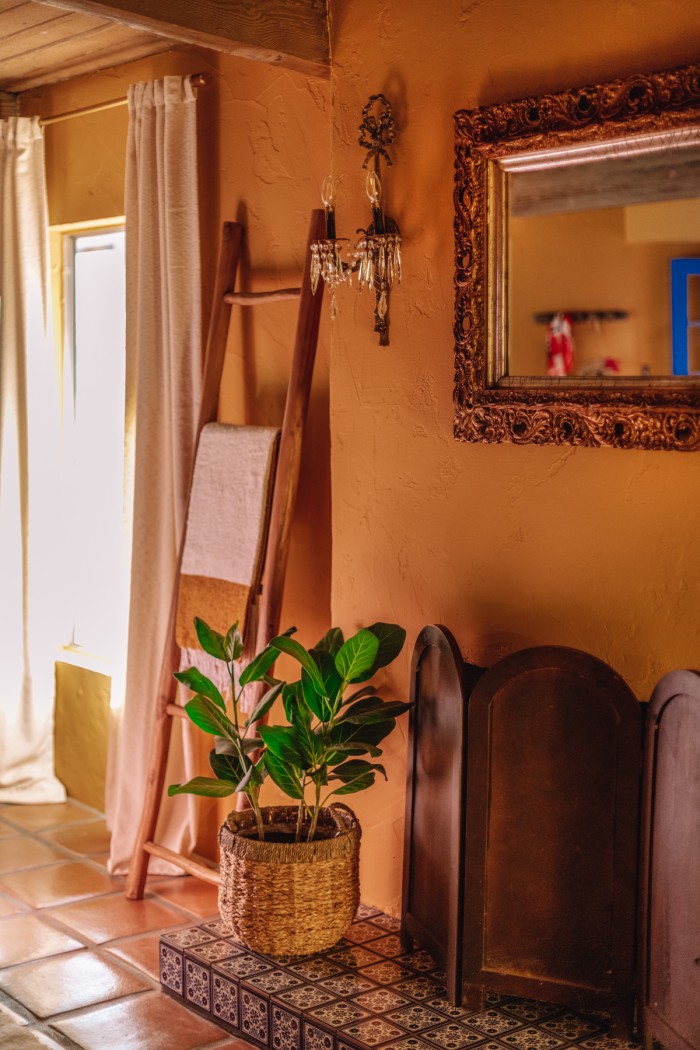 Botanical Gallery Wall
You enter the home into the living room and straight ahead are French doors to the backyard. I wanted to create an entry way with this space by adding a long bench and coat rack.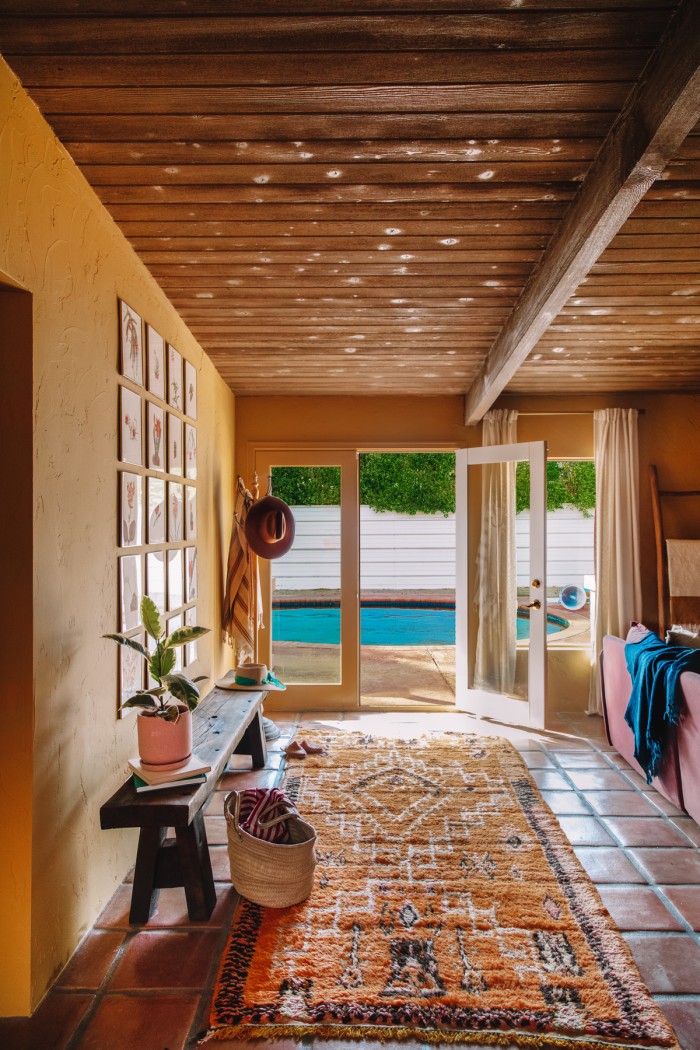 Above the bench, I created a gallery wall out of rock plant book illustrations from the 1940s. I framed each one in a thin brass frame and think it adds the perfect amount of height to this space!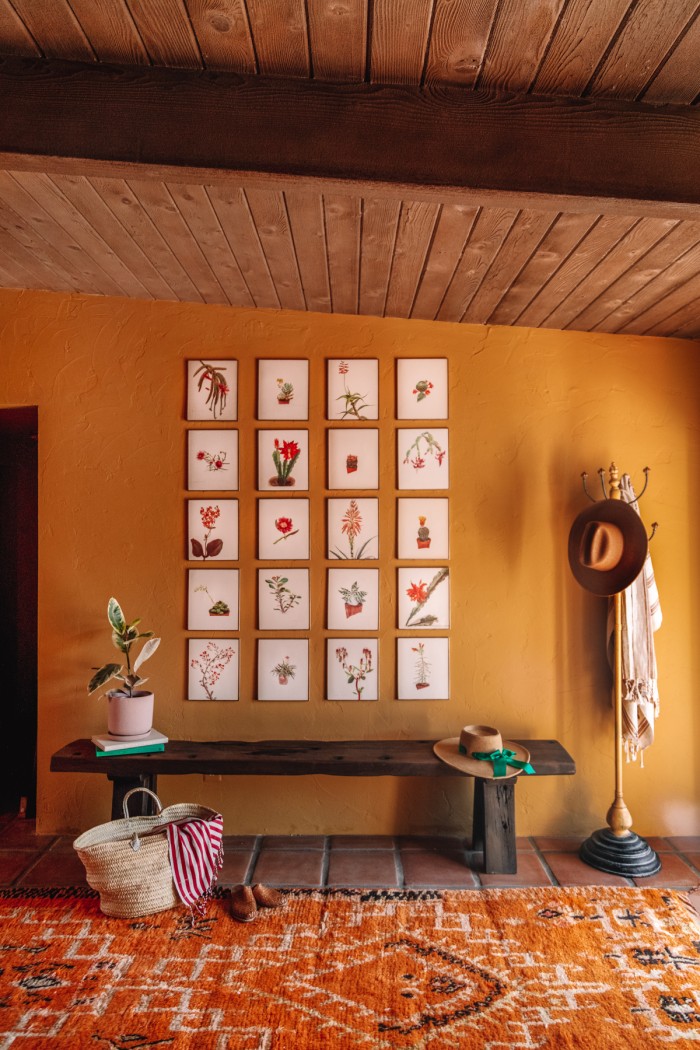 The bench was custom made in Mexico from Buena Vista Furniture and we added a vintage rug from June & Blue in front to add another shade of yellow into the space.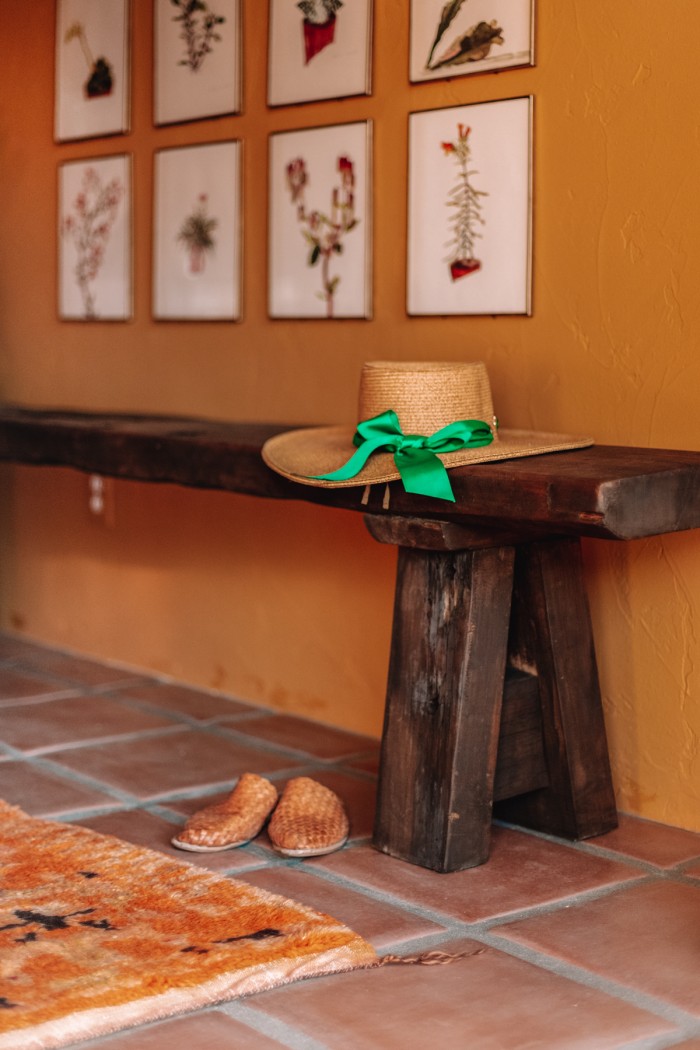 Our Plum Sixpenny Sectional
The living room is a large space and needed a large sectional to anchor it. I've longed wanted a Sixpenny sectional and knew it would be the perfect fit in here. I was so excited to get to partner with them on this space.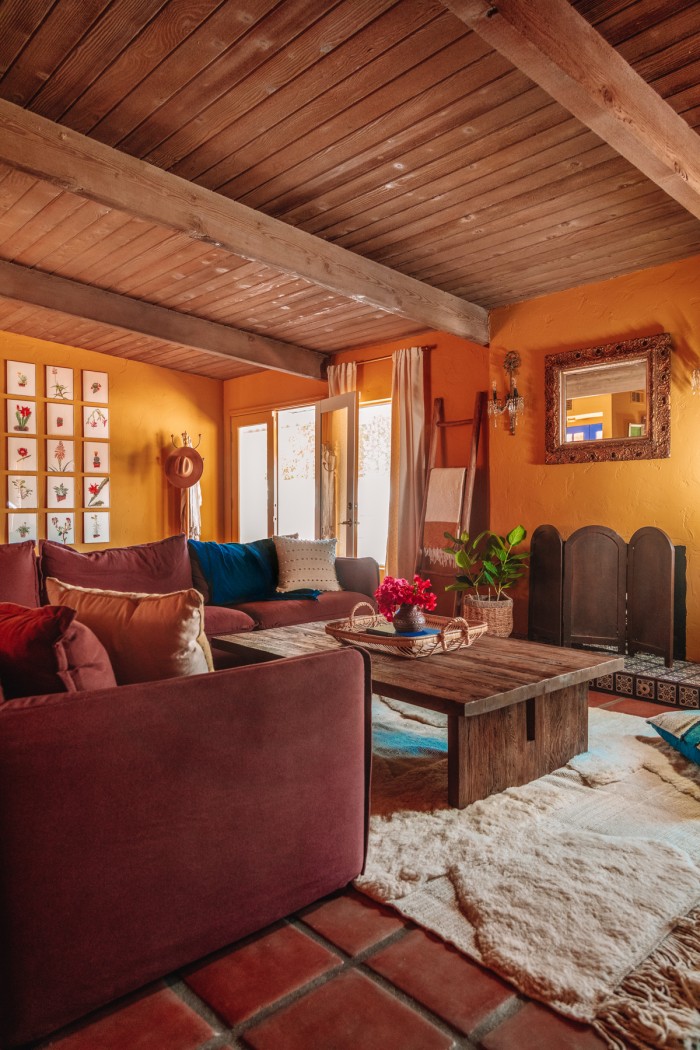 We went with the Neva Corner Sectional in their summer plum thread dyed cotton linen. The deep plum color is such a bold and stunning contrast to the ochre walls and a great addition to this moody living room space.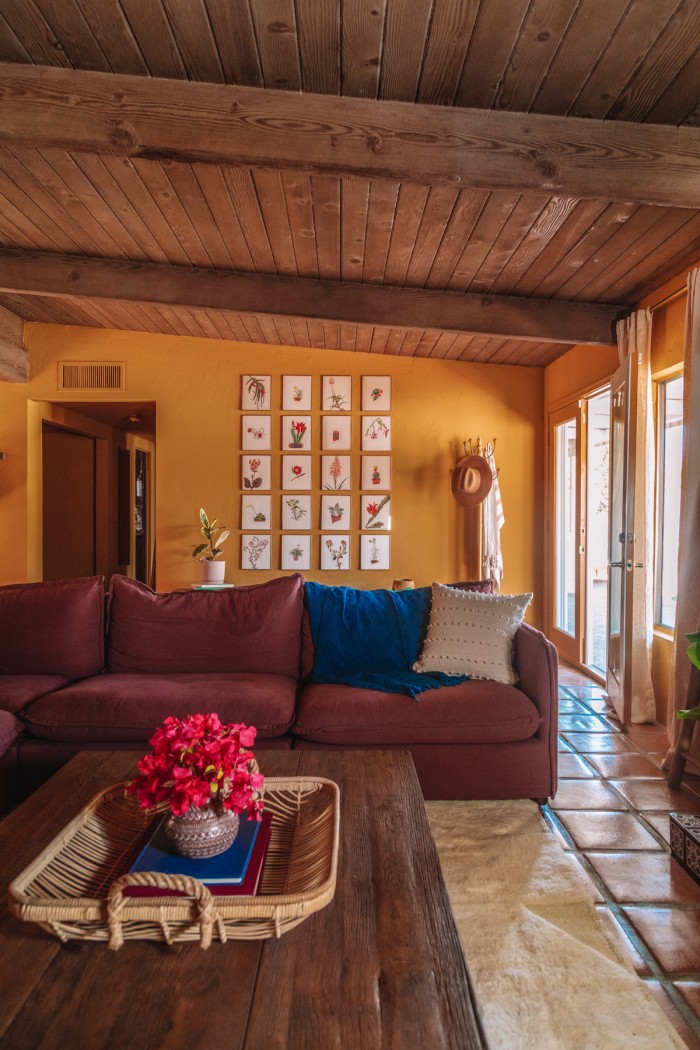 I don't think there is a sofa more comfy and beautiful than a Sixpenny one. That's not always an easy combination to find! Clean simple lines, but with French seams that add so much character and deep seats with the fluffiest feather down fill to make it so comfortable and perfectly lived in.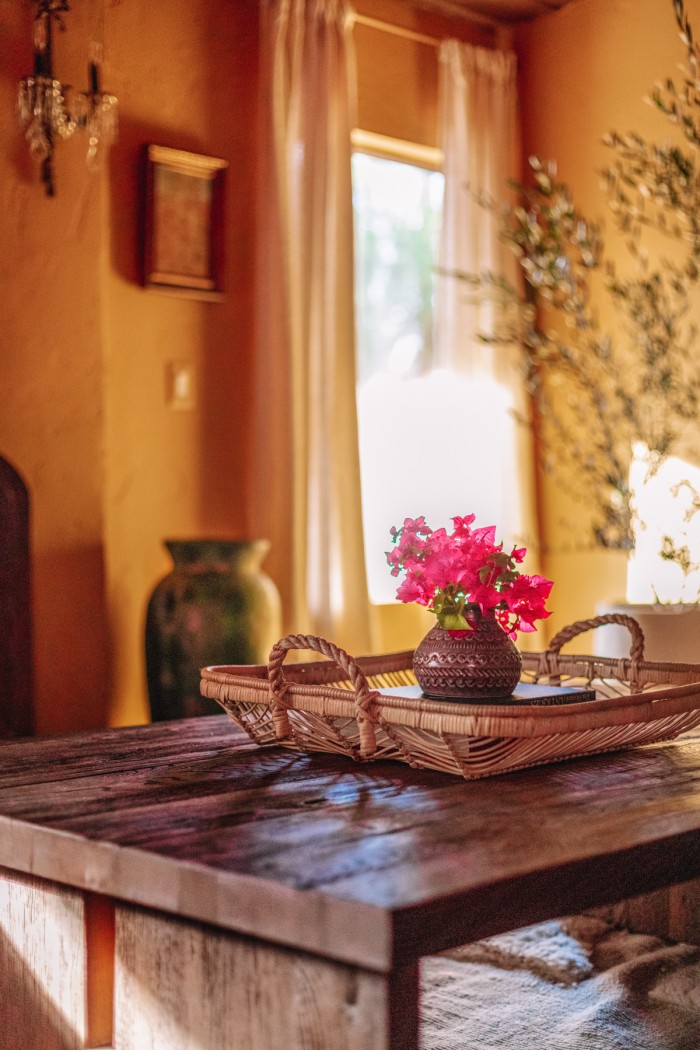 I could not recommend it more. We also added their reclaimed oak Kai Coffee Table. It plays so well off the age of the wood ceilings in this room and is the perfect size paired with the sofa.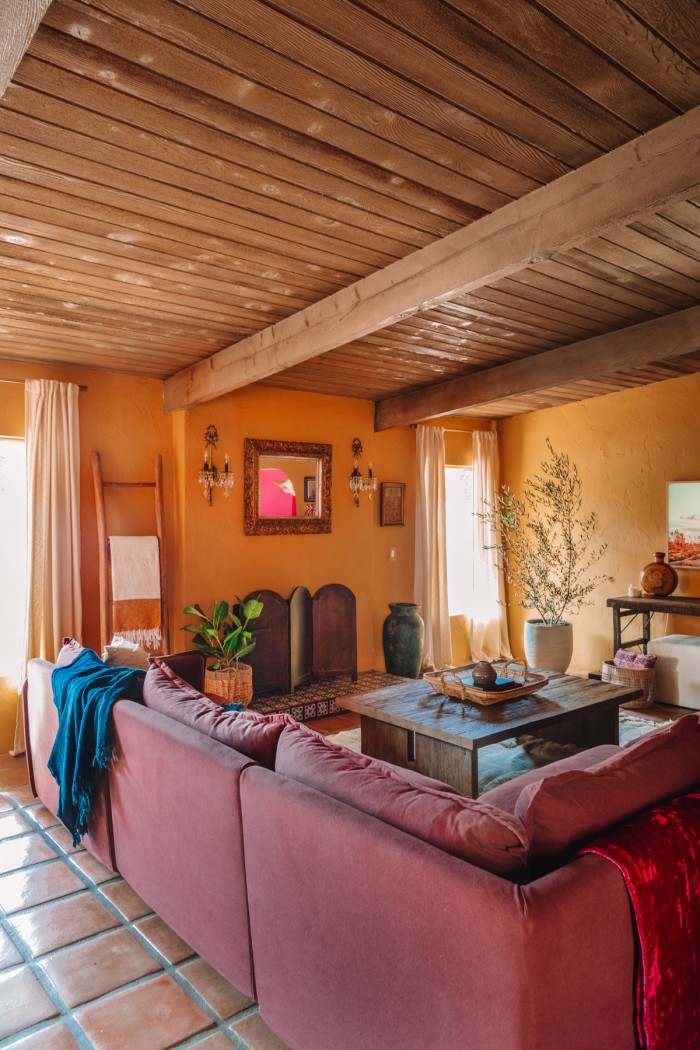 Incorporating Antiques in the Living Room
So many of the remaining items in the space are vintage or antique finds. Incorporating antiques into any space gives the design so much history and charm.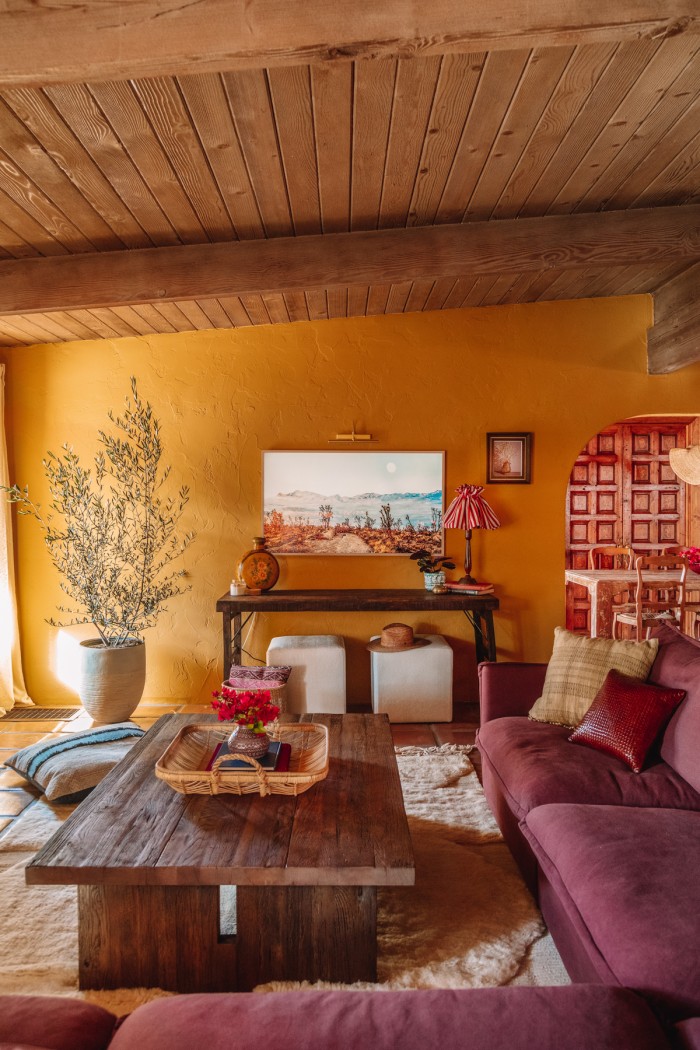 Our media console is an antique Indian wedding table, which we slid two ottomans underneath for extra seating options. Contrasted with a sleek Samsung Frame TV that looks like art and a brass battery operated picture light brings so much dimension to this large wall next to the large olive tree.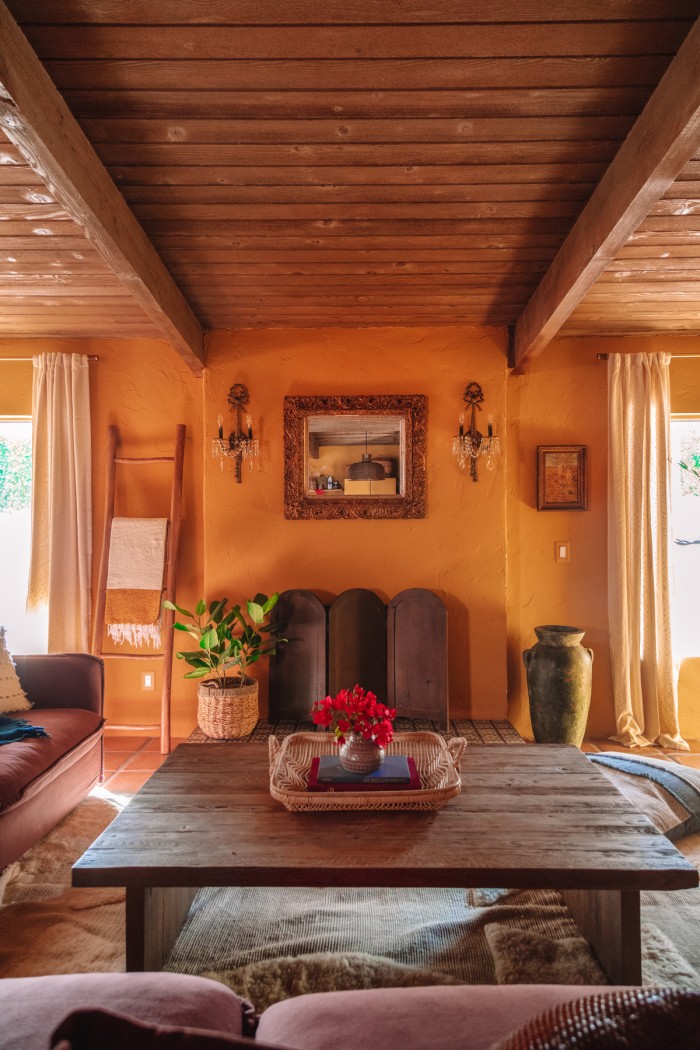 Above the fireplace we added an antique brass mirror and sconces, with a wood folding screen set in front of the fireplace, which is nonfunctioning but a great focal point.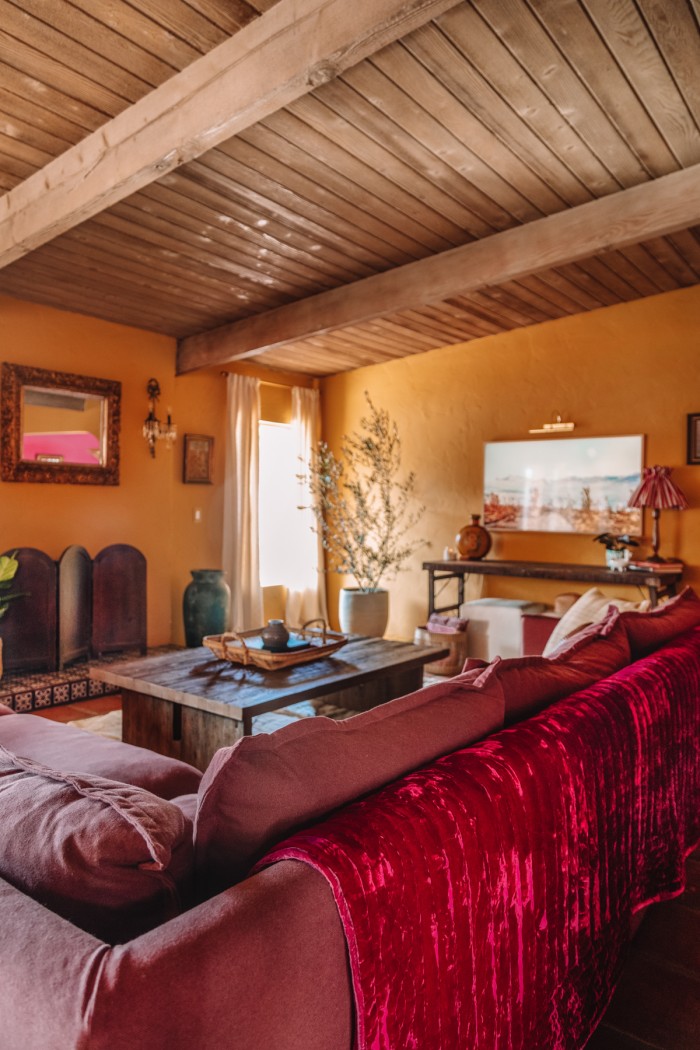 Layering in Pops of Color to a Moody Living Room
I still wanted a few bright pops of color in this moody living room.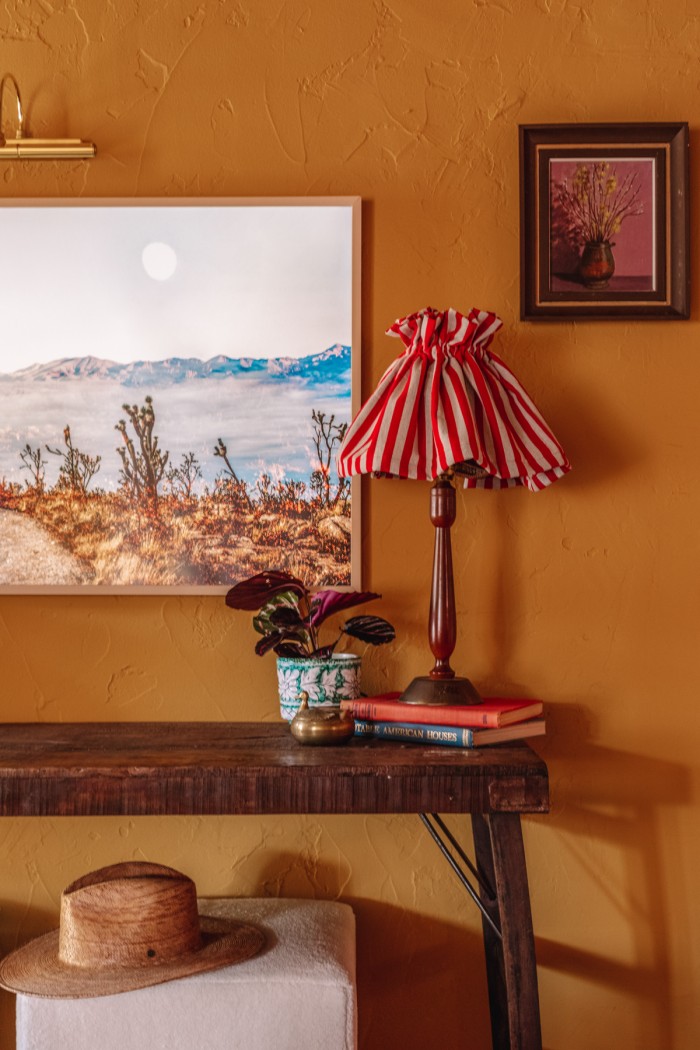 A vintage green pot next to the blue tiled fireplace (leftover from our kitchen, stay tuned for that reveal!), a DIY red striped lampshade and a raspberry hued velvet quilt added hints of color to draw your eye around the room.
Of course, there's also the berry pink dining room peeking in in the background, stay tuned for that reveal!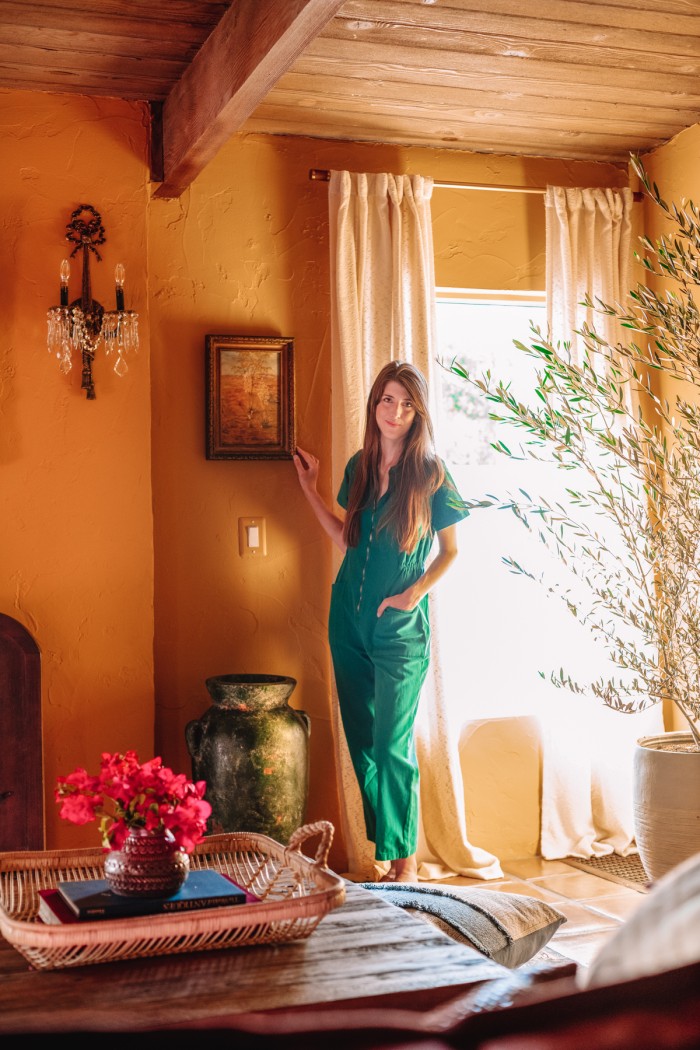 Living Room Sources
Paint: Wildflower Honey by Dunn Edwards*
Sofa: Sixpenny Neva Corner Sectional in Summer Plum Thread-Dyed Cotton Linen*
Coffee Table: Sixpenny Kai Coffee Table*
Ivory Moroccan Rug: Soukie Modern
Pink Velvet Quilt: Gru Home
Botanical Illustrations: Vintage from Long Beach Antique Market
Brass Frames: Target
Wood Bench: Buena Vista Furniture
Coat Rack: Vintage from Hide & Seek
Mustard Vintage Moroccan Rug: June & Blue
Blanket Ladder: Goodies
Mirror: Arte de Mexico
Sconces: Vintage from Rose Bowl Flea Market
Folding Wood Screen: Victoria's Attic Antique Mall
Brass Curtain Rods: Target
Cream Curtains: Target
Olive Tree & Pot: Lowes
Indian Wedding Table: Vintage from Long Beach Antique Market
Boucle Ottomans: Target
TV: Samsung Frame TV, 55″ with Beige Bezel
Brass Picture Light: Amazon
All other decor not listed above: Vintage or Secondhand
My jumpsuit is by Noble.