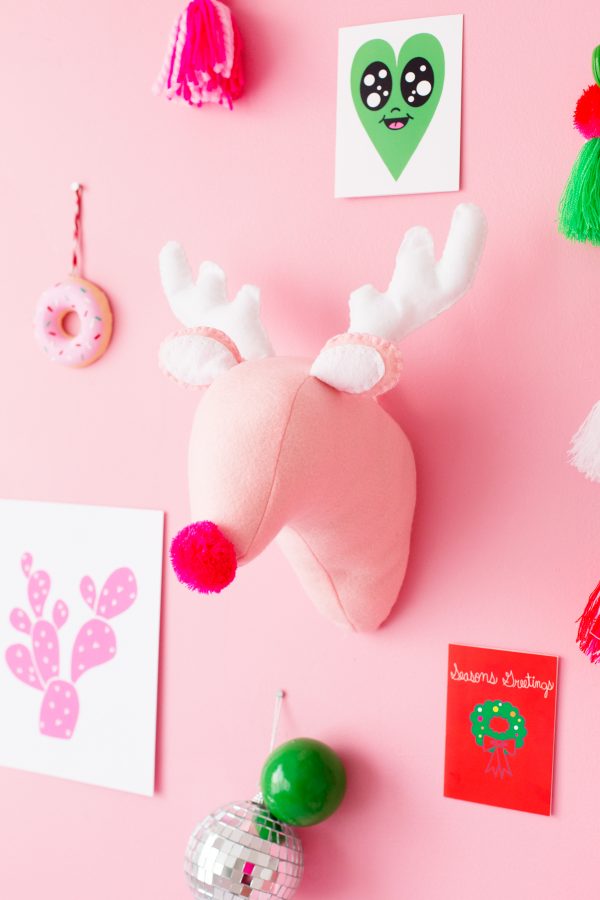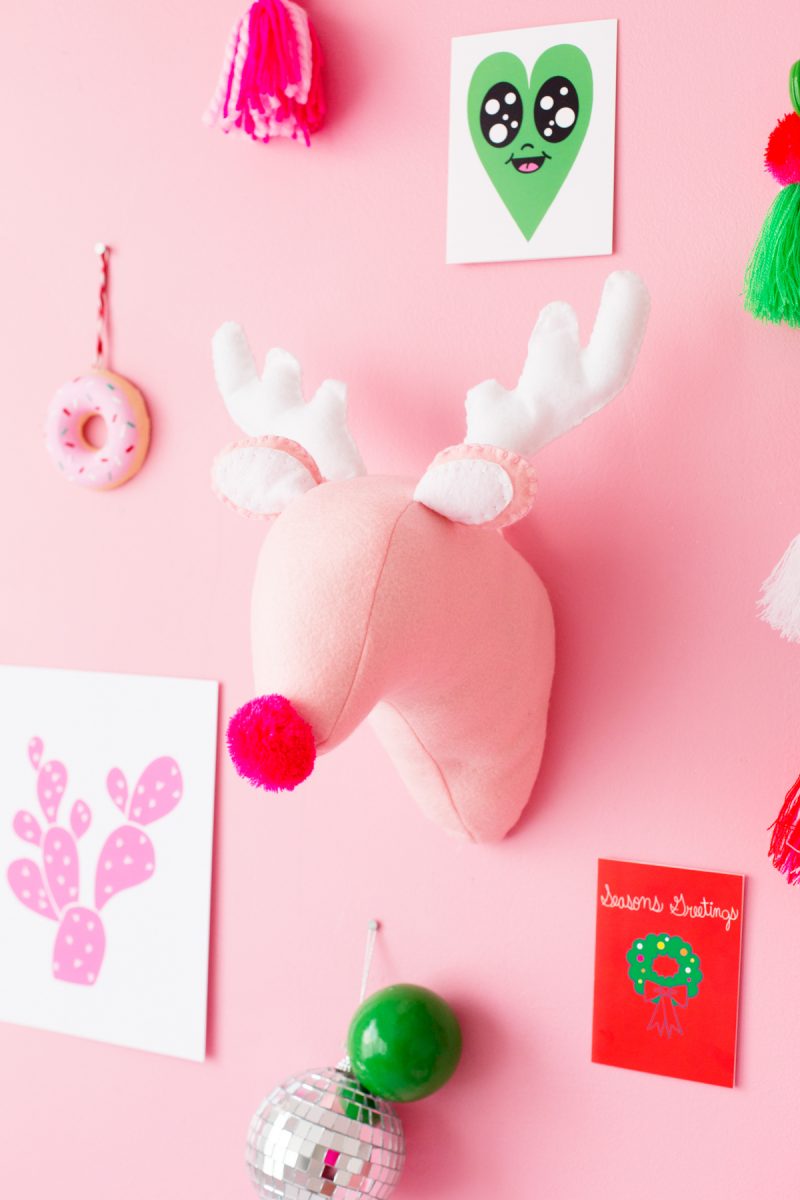 I like to make Christmas decorations for our home that we can re-use year after year. We have the Christmas village and now we have a plush reindeer head!
If you're the sewing type, I've got the whole pattern and tutorial here for you today to make a plush reindeer head too! It actually comes together pretty easily and you could probably hand-sew the whole thing if you wanted.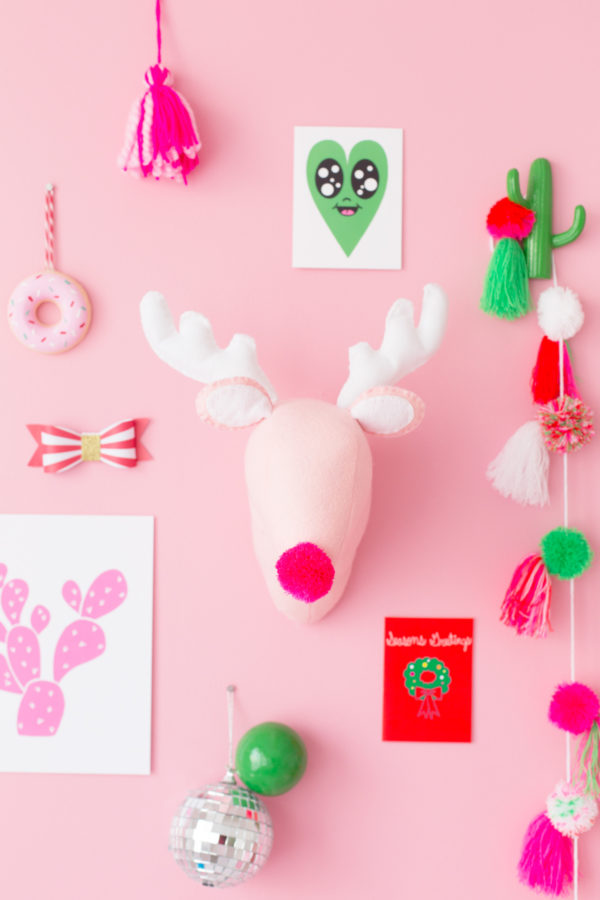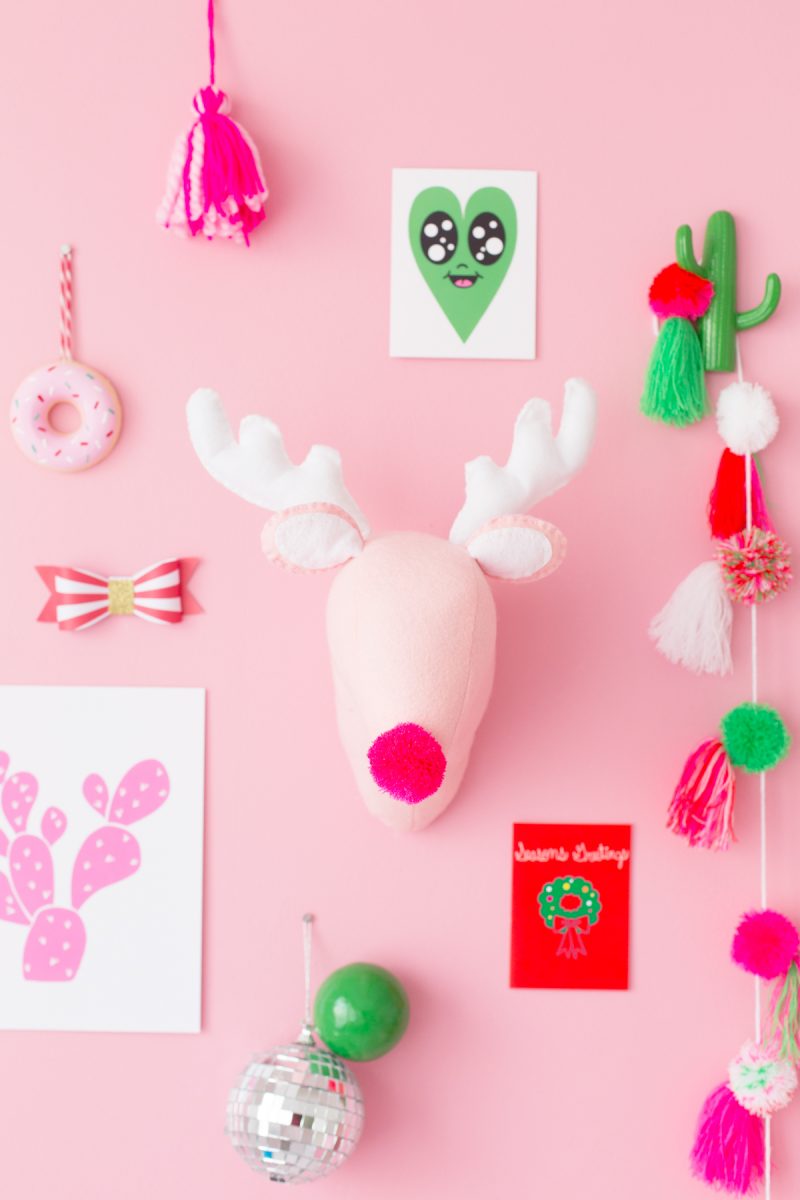 I'm so happy with how it turned out.
Step-by-Step Tutorial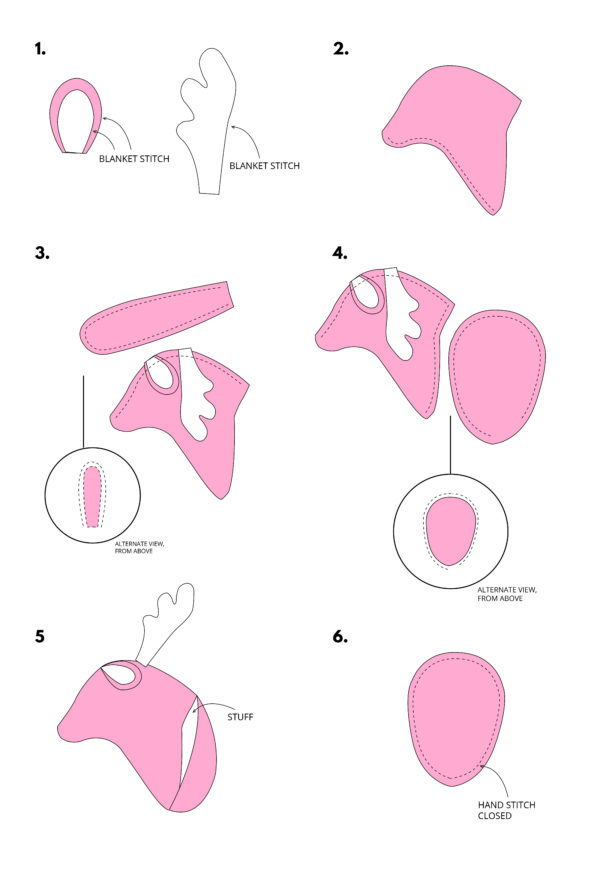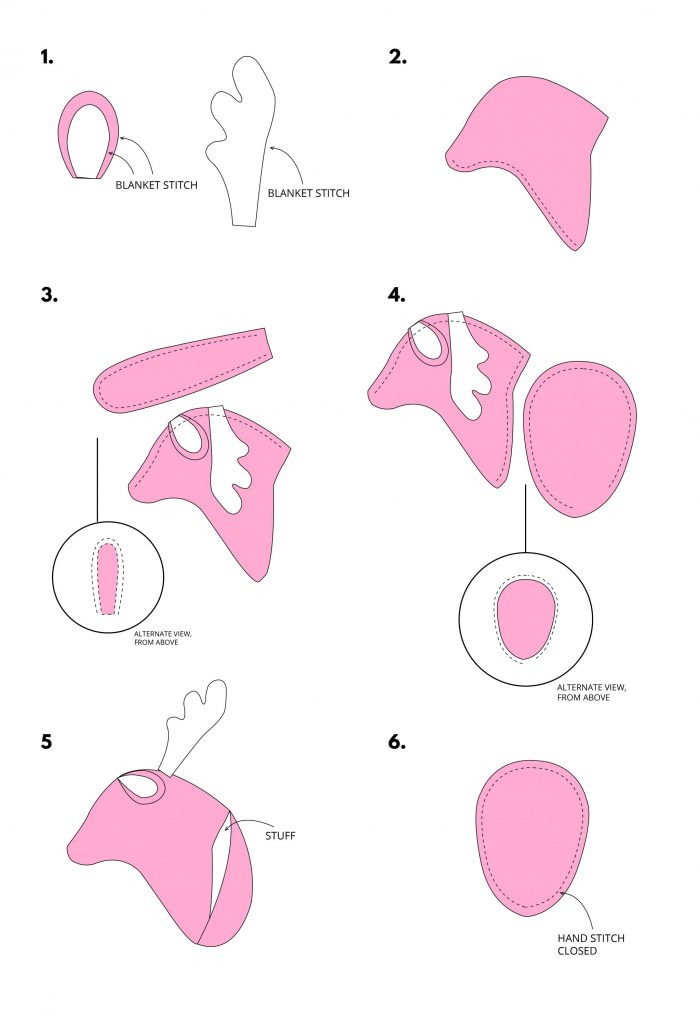 How To Make A Plush Reindeer Head
Make this fun plush reindeer head for your kids room at Christmas!
Equipment
Sewing Machine

Scissors

Needle & Thread
Materials
4

sheets

pink felt

2

sheets

white felt

Pink and white embroidery floss

Stuffing

Pom Pom

for nose
Instructions
Cut out the reindeer pieces from your desired felt colors. I used light pink for all the head pieces and the large ear shape, and white for the inner ear and antlers.

Start with the ears. Use embroidery thread and a blanket stitch to stitch the inner ears to the outer ear shapes.

Then, with good sides facing OUT, blanket stitch the front and back pieces of each ear together, leaving the bottom open for stuffing. Stuff each ear with just a little bit of stuffing.

Blanket stitch together each the front and back of each antler, leaving the bottom open for stuffing. Stuff each antler with a little stuffing.

Stitch the "neck" of the two main head pieces together, as shown. Use a 1/2" seam.

Now you'll need to stitch the center head piece to the piece you just sewed. This is also where you'll stitch in the ears and antlers. Pin an ear and antler to each side of the head, making sure they are lined up with each other.

Then, with good sides together, pin the center head piece all along the head and sew through all layers.

Fold the small rectangle you cut out in half, lengthwise, and stitch with a 1/4" seam. You don't need to turn this piece right sides out, but you can if you want! This will be your hook for hanging.

Pin both ends of the hook you just made to the top-back of the reindeer head. Then pin and sew on the back, leaving a few inches open for turning and stuffing.

Turn the head so it is right side out and stuff it.

Hand stitch together the opening you left. Tack the ears and/or antlers up if they are not sitting where desired. (Depending on how stuffed they are, they may "fall" a little, so you can just take them so they are more upright!)

Hand stitch the pom pom on the front of the nose!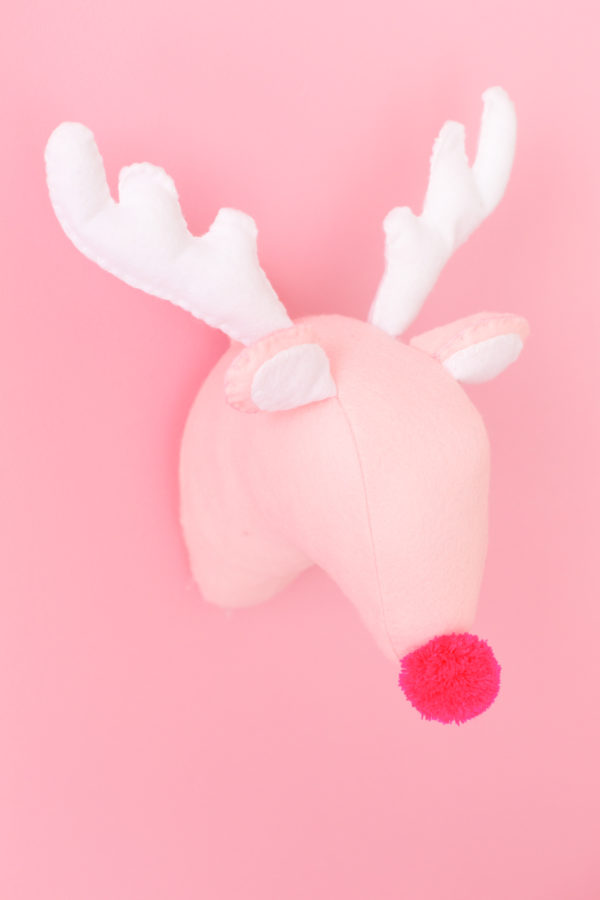 Where To Hang a Plush Reindeer Head
I like to swap out regular art for Christmas themed art. Add this reindeer head into a gallery wall in your home somewhere!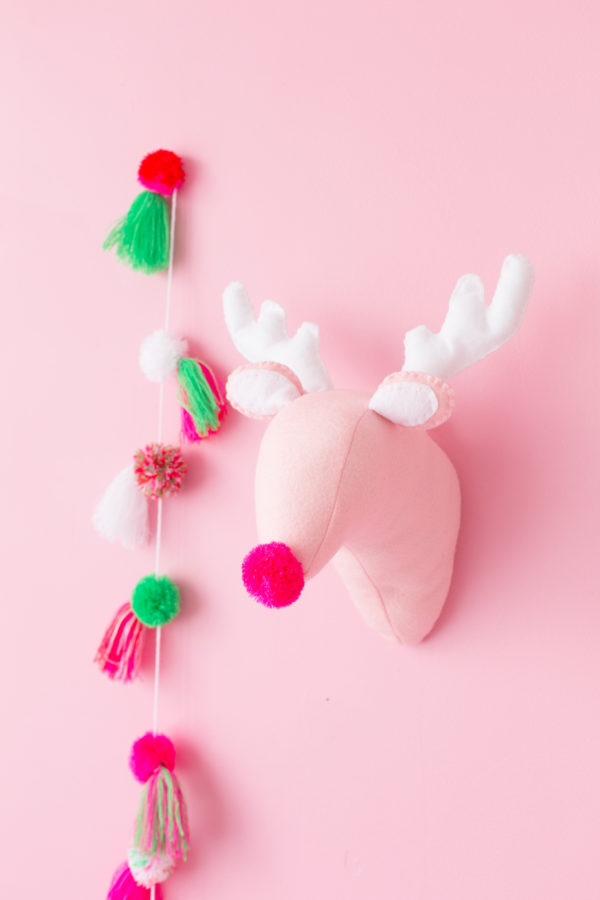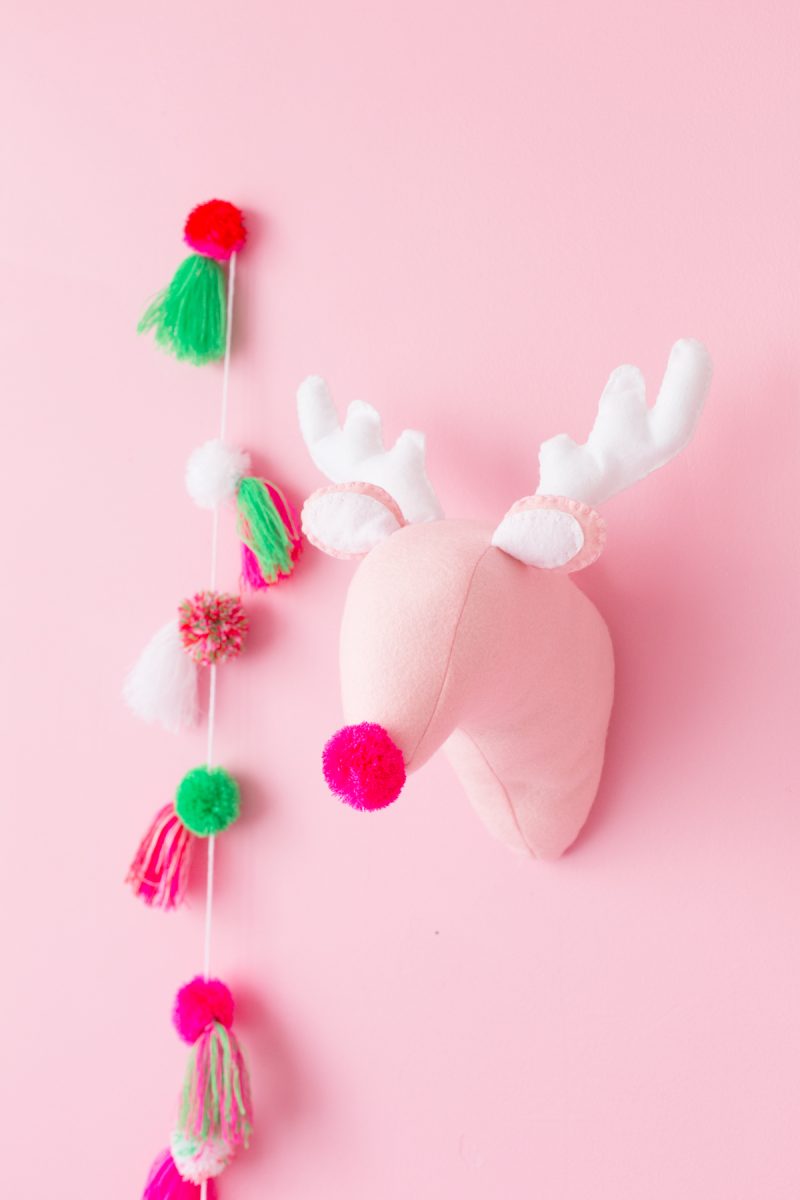 These reindeer busts would also look adorable in a kids room or playroom.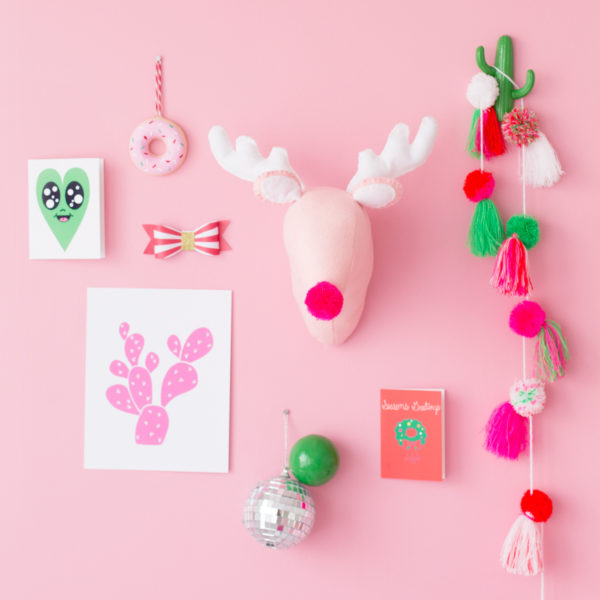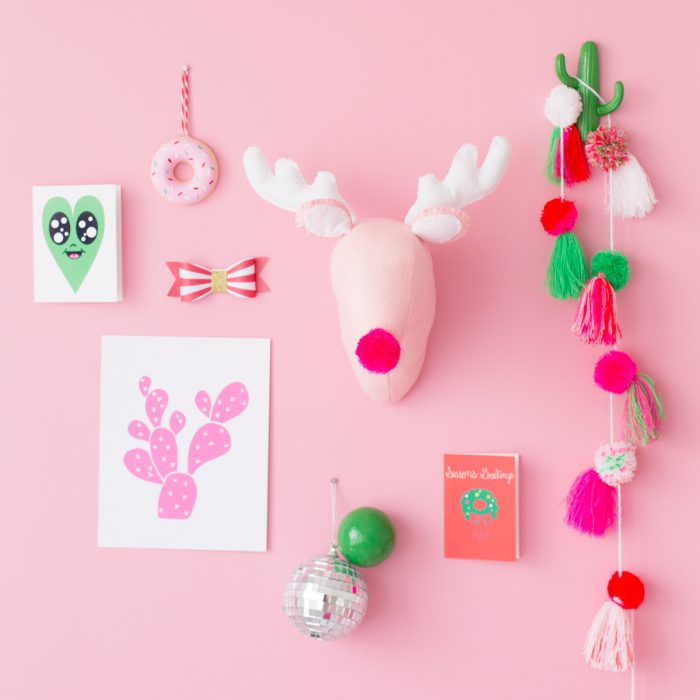 Photos by Jeff Mindell
Imagine making eight of them to make an entire Santa's crew worth of reindeer?
p.s. DIY Rudolph Ornaments!
SaveSaveSaveSave
SaveSaveSaveSave
SaveSave
SaveSave