SURPRISE!! Today is a very, very special day! As some of you may know, a good bloggy friend of mine, Lexy of The Proper Pinwheel, is expecting her first little pinwheel this October! Eeee! Brittni and I decided that since we couldn't throw Lexy a baby shower in person (Darn geography!) it would be super fun to throw her a virtual one! So we got a bunch of Lexy's bloggy friends on board and have officially declared today Lexy's Virtual Baby Shower!!!! A bunch of us have posted a baby shower DIY or recipe in honor of Lexy and her soon to be little lady and if you scroll to the bottom of this post you can click on through to them all. And what did I choose to make? Well, Lexy and I have certainly bonded over our mutual sweet tooths (teeth?) and I know the girl loves donuts just as much as I do. So what better a project in her honor than a giant donut piñata!?!? We have to teach this little baby about the important things in life from the very beginning, both donuts and piñatas included. So without further ado… it's baby shower piñata time!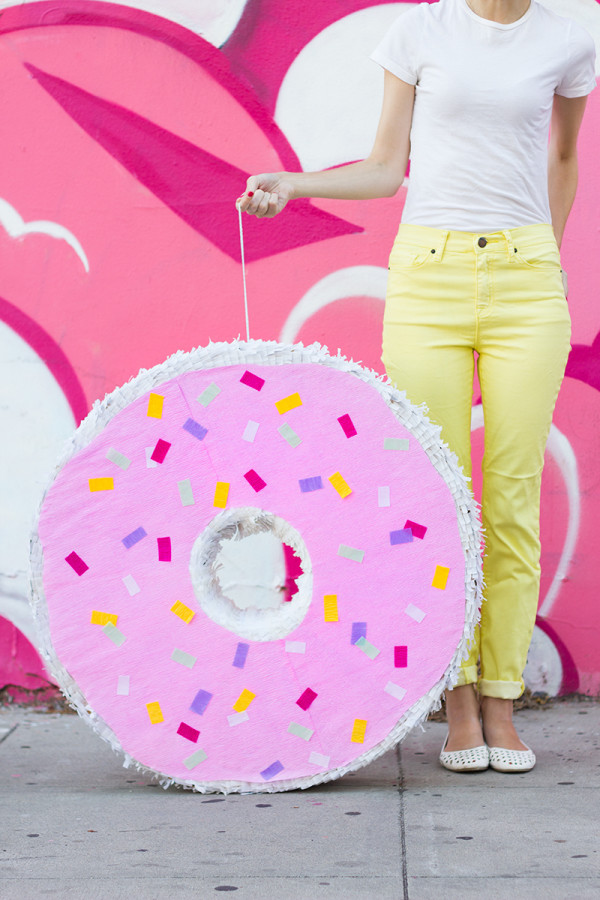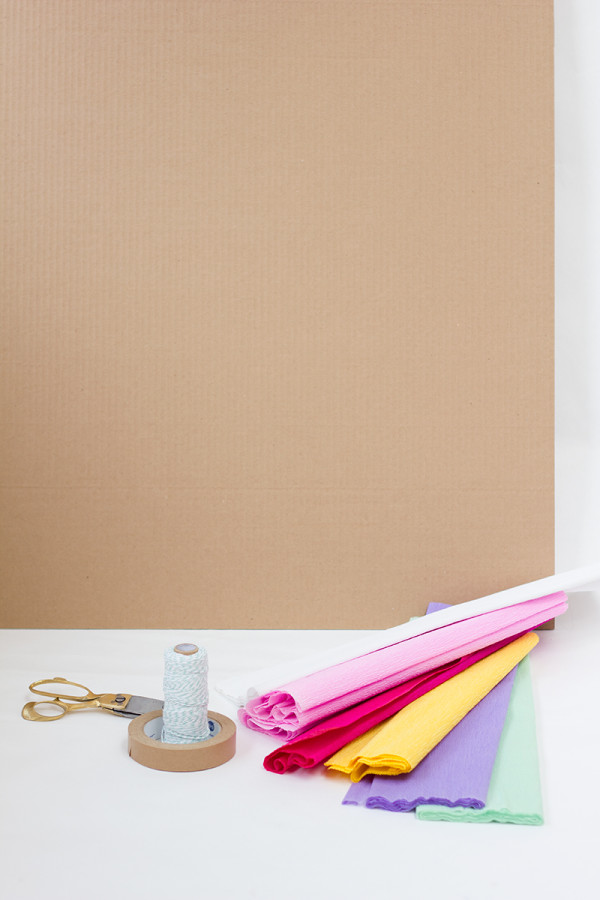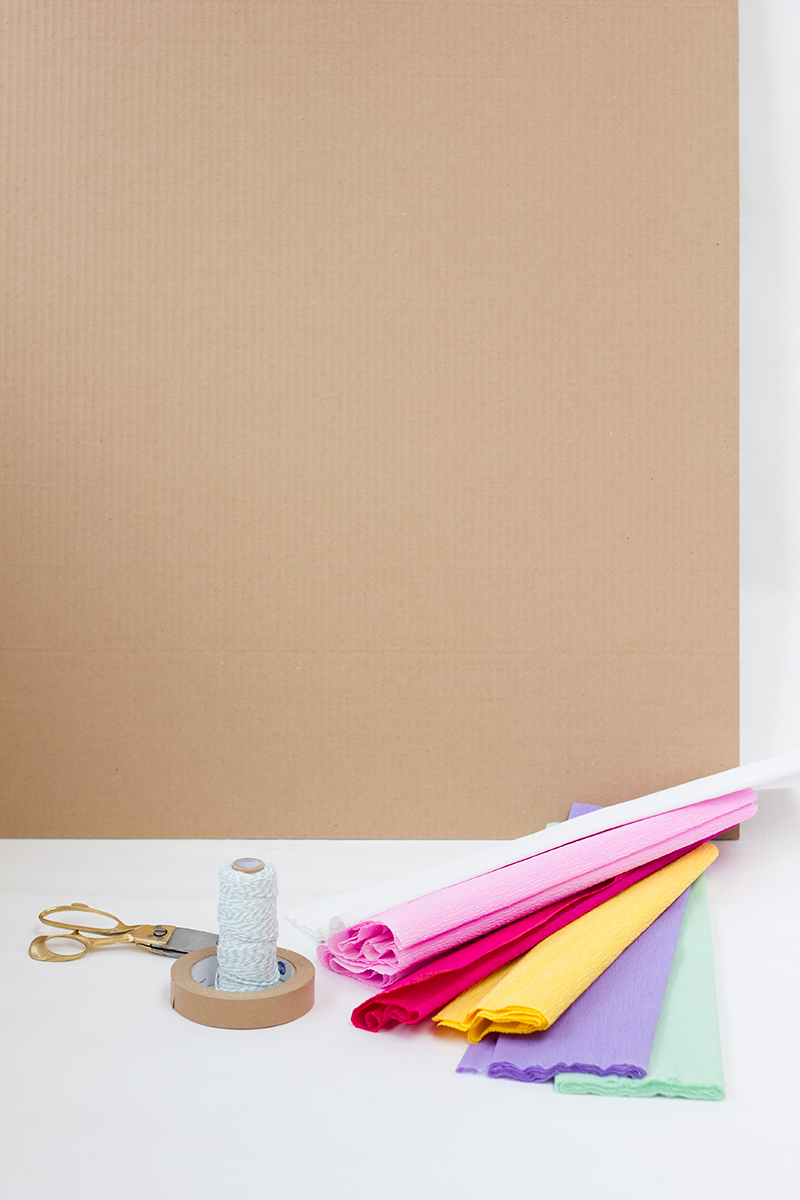 Cardboard
Crepe Paper (One color for the donut, one for the frosting and a few for the sprinkles)
Masking or Kraft Tape
White Craft Glue
Twine
Scissors
Start by making your donut shape. It's helpful if you have some sort of large circle object to trace for the outside, and a bowl to trace for the inside. My outer circle was about 30″ wide, and my inner circle was about 8″ wide. Cut out two of these shapes, then cut out several 6″ (or wider) strips for the sides. Start by taping one of your strips along the inside circle of one of your donut shapes. You'll have to bend the cardboard to make it curve and fit. (I typically like to bend the cardboard before I start taping.)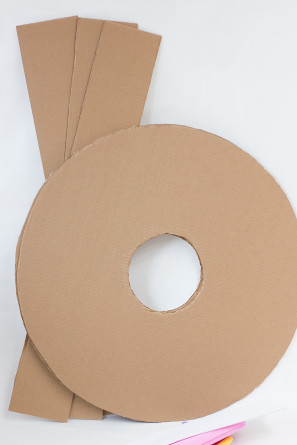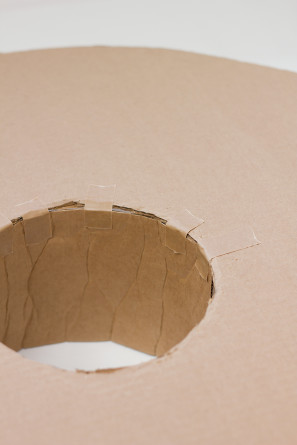 Repeat this same process for the outer circle. (I cut the strip for the inner circle a bit to short, which is why you see an extra piece in there!) If you want to be able to fill your piñata at a later time, leave a piece on the outer circle untaped to act as a flap. Also use this time to add a string to the top, if desired, by poking a hole and stringing a piece of twine through. (I always forget this step in the beginning, but it's much easier to do it now!)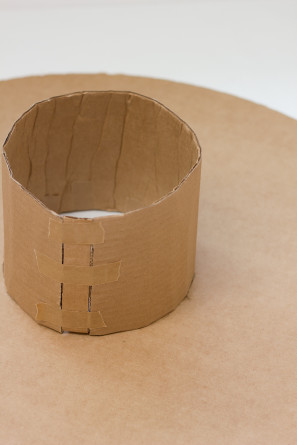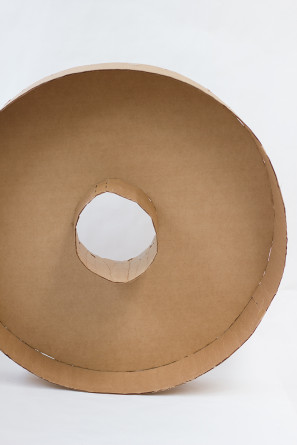 Tape the other donut shape on top using the same method. Then it's time to cut a lot of fringe. For reference, I used two full sheets of fine crepe paper and one entire large roll of crepe paper streamers (I was working with what I had!) to fringe this guy.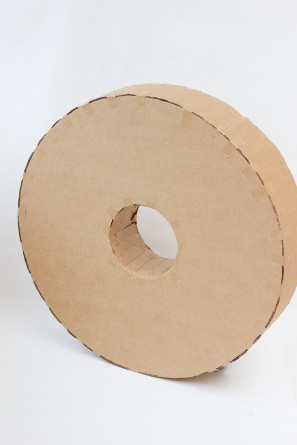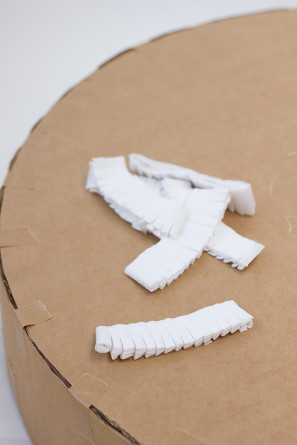 Now for the wrapping! I chose to "wrap" my fringe to cover this piñata. I started at the inside and wrapped all the way around and around. Since the inner circle is much, much smaller, the fringe should overlap much more there than it will on the outer edges.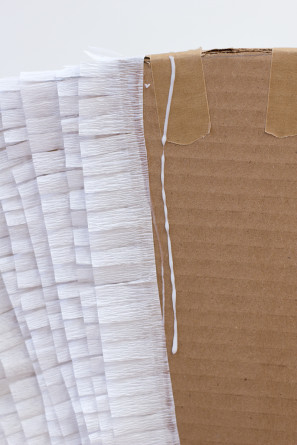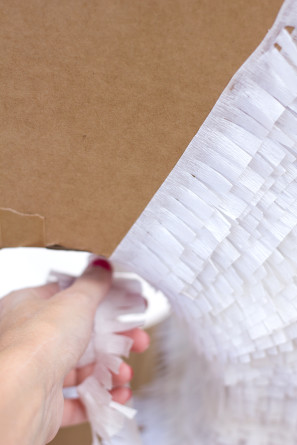 This is easy but tedious, but on a good movie and wrap, wrap wrap. When you get to the final wrap or two, bend the fringe that's already there "up" so you can access the cardboard underneath to glue the final piece.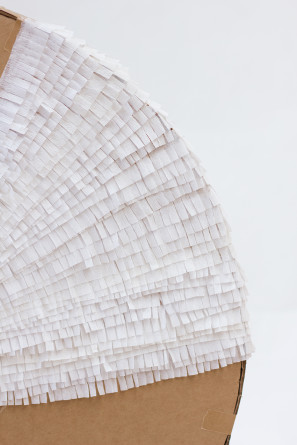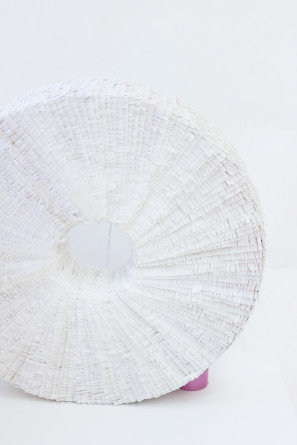 Now you need to frost this thing! I cut an uneven circular shape out of pink crepe paper and then cut a hole in the center. Since this piñata is so big, I had to do it in two halves. I used white glue to glue this to the piñata but it did leave a few glue marks (Not as many as you see below though, this was taken before it was dry.) Alternatively you could use double stick tape or a glue stick to avoid this. (I just covered the visible glue spots with my "sprinkles!" Problem solved.)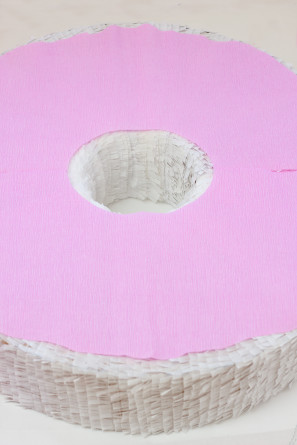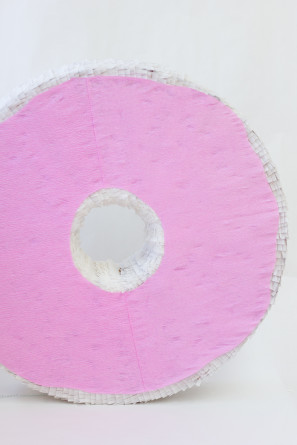 Cut a bunch of small crepe paper rectangles to form your sprinkles and use glue or double stick tape to adhere them to the frosting.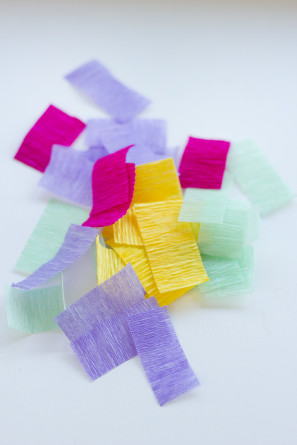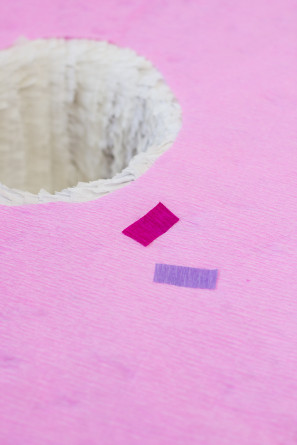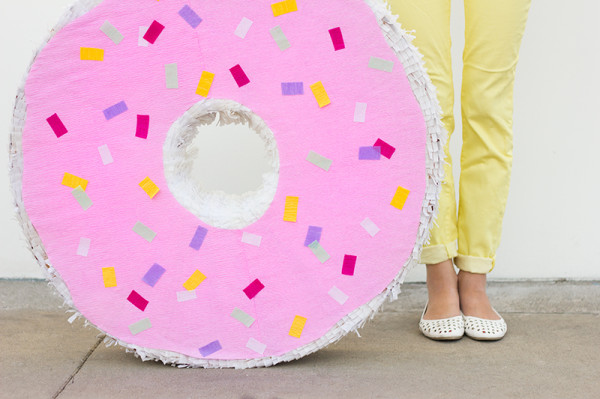 BAM! Giant. Donut. Piñata. It's what happiness is made of.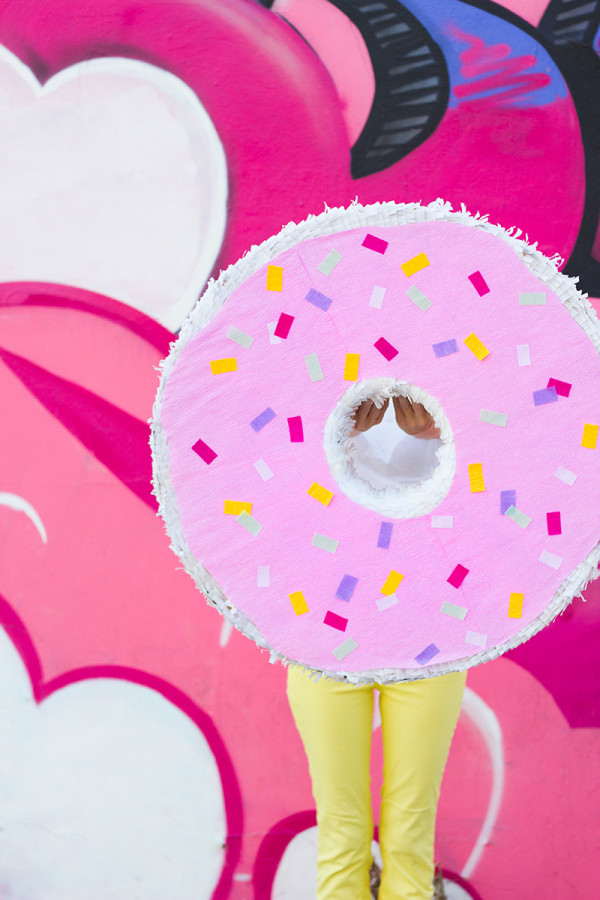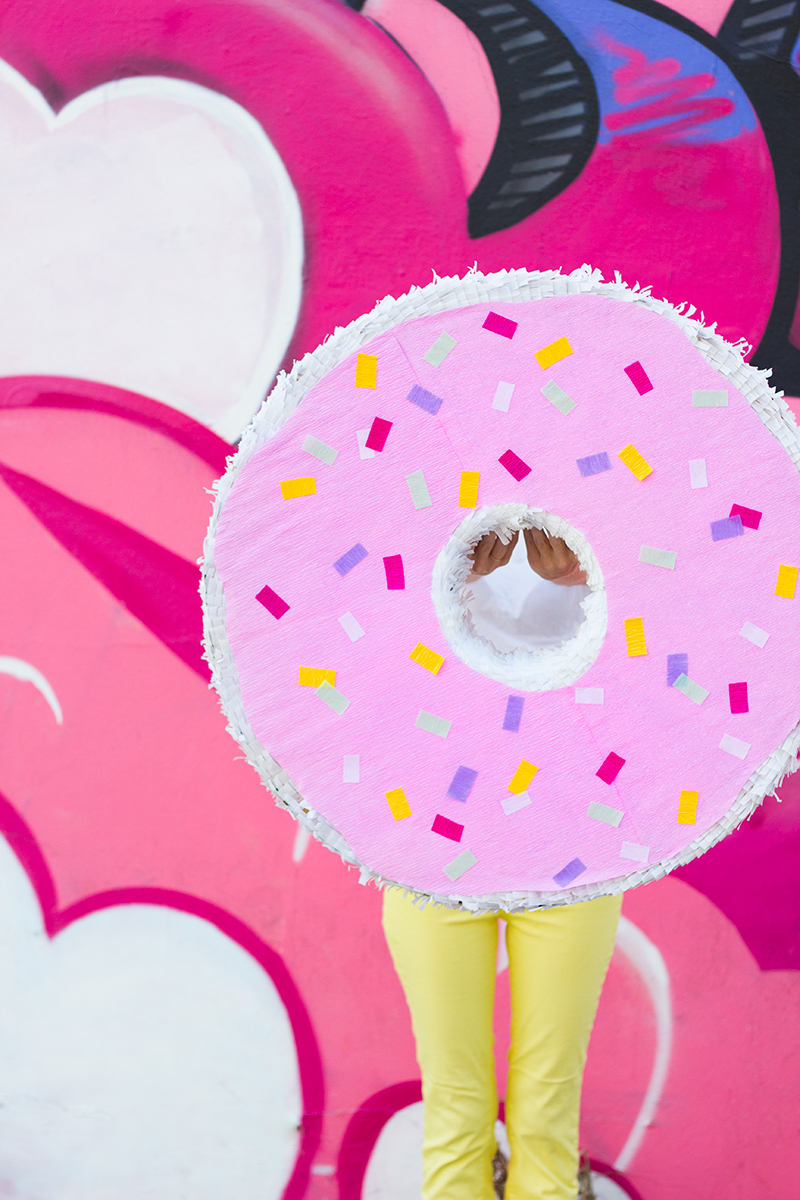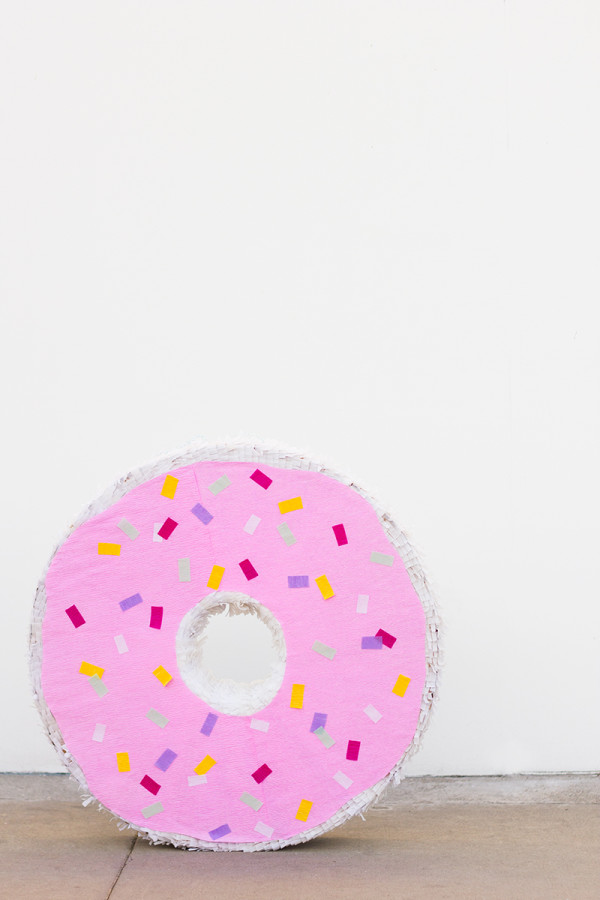 All Photos by Studio DIY
Hooray!! I had so much fun crafting this guy and hope I did Lexy and my donut obsession justice. Let's all send Lex our best wishes for mommyhood, shall we!? She is one of the sweetest, funniest, dance-craziest (That's most important.) and craftiest ladies I know and she is going to be an amazing mama.
Now, to check out all the other baby shower projects created for Lexy's virtual shower, go ahead and click the links below! There's some really great stuff in there, folks. Imagine if this was an actual, in-person shower!? I don't think the world could handle it.
Kelly of Studio DIY // Brittni of Paper & Stitch // Chelsea of Lovely Indeed // Melanie of You are my Fave // Ashley of Sugar & Cloth // Melissa of The Faux Martha // Erin of Art Social // Lauren of A Fabulous Fete // Jenny of Hank & Hunt
Hope you were quite surprised, Lexy!!