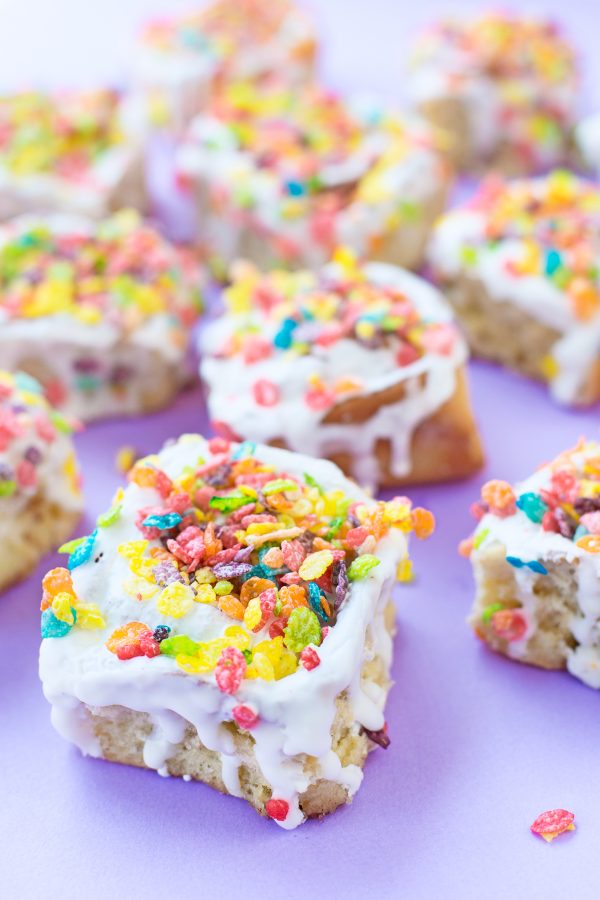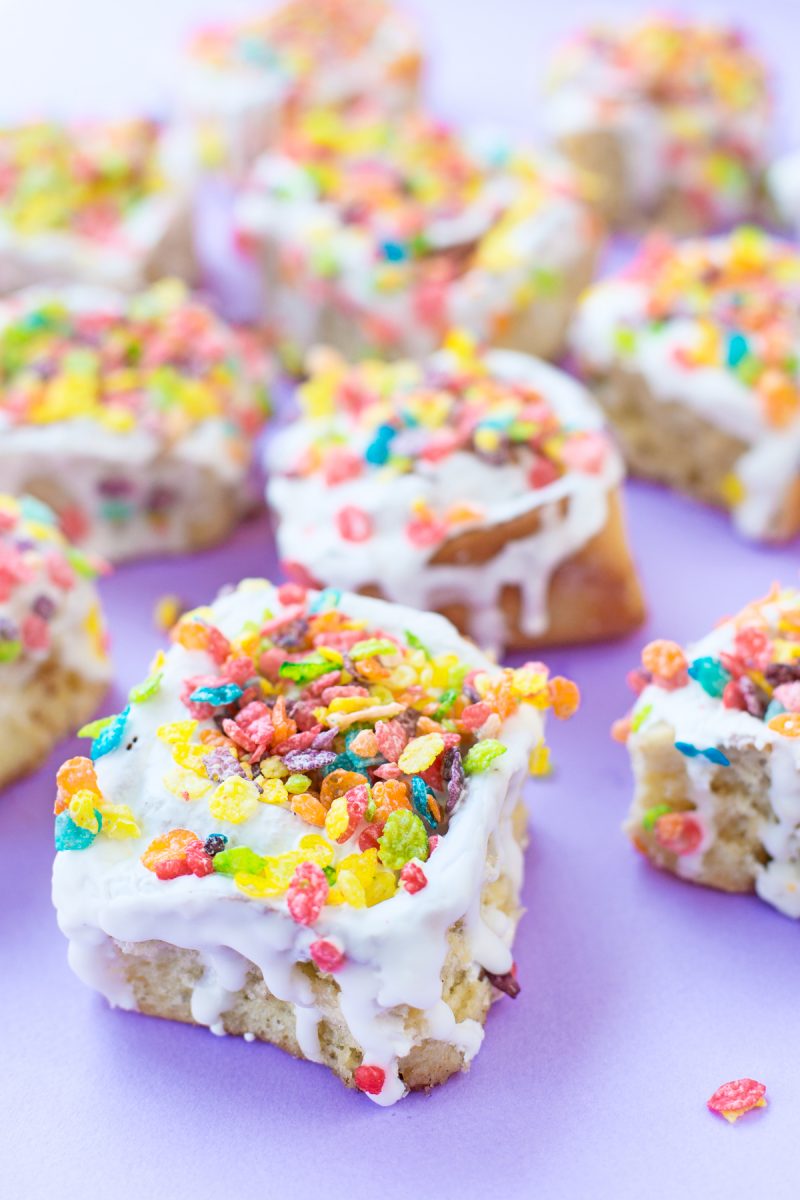 What happens when you combine two of breakfast's most wonderful stars? You get cereal milk cinnamon rolls!! Mhm-mhm. You probably won't want to read the rest of this intro because you're already off to the kitchen to gather the ingredients (It's cool. I understand.) so I'll just get right to the recipe…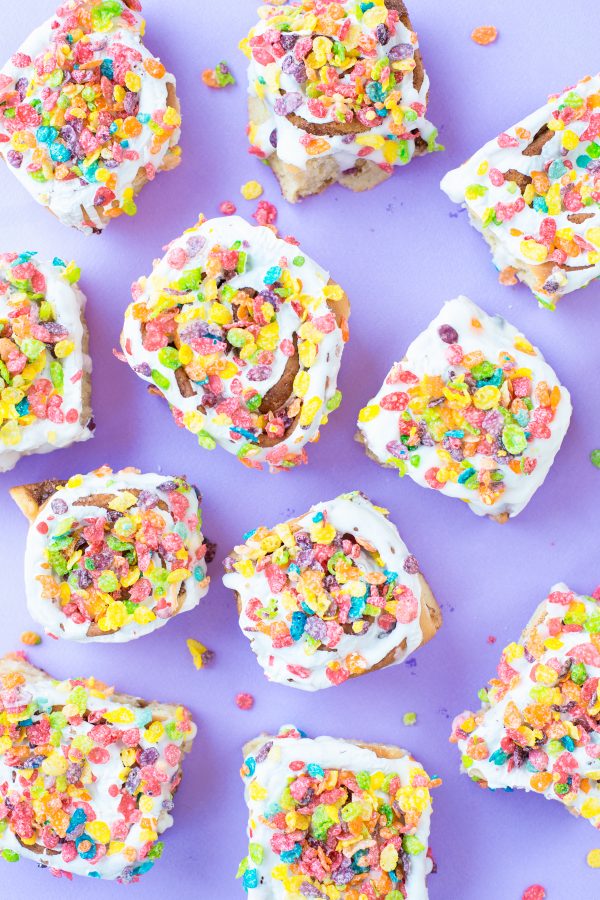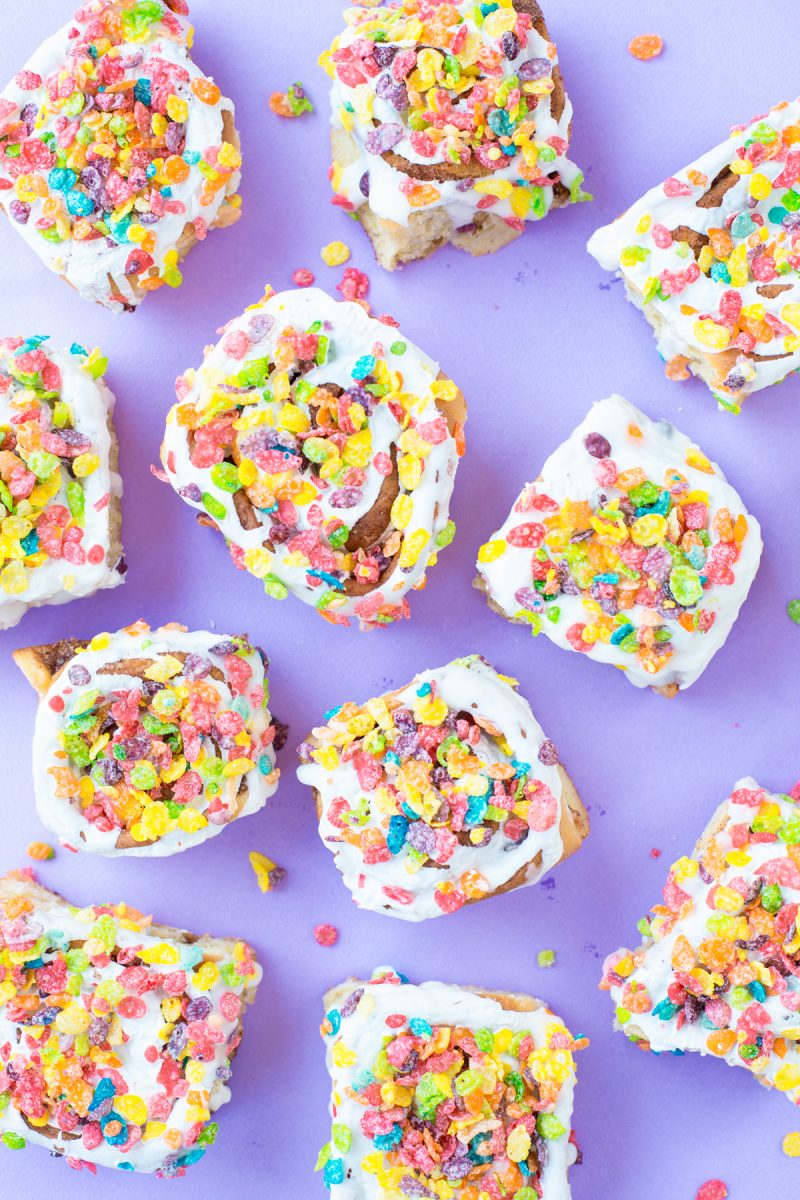 Cereal Milk Cinnamon Buns
Ingredients
For the Momofuku Milk Bar's Cereal Milk:




2 3/4

cups

cornflakes

3 3/4

cups

milk

2

tablespoons

light brown sugar

1/4

teaspoon

salt




For the Cereal Milk Cinnamon Rolls:




Dough:

1 14-

ounch package yeast

1

cup

cereal milk

warmed

1/4

cup

sugar

1/3

cup

melted butter

1

teaspoon

salt

1

egg

3 1/2

cups

all-purpose flour

plus more for dusting




Filling:

1/2

cup

softened butter

plus more for the pan

3/4

cup

sugar

2

tablespoons

cinnamon




Glaze:

4

tablespoons

softened butter

2

cups

powdered sugar

1

teaspoon

vanilla extract

3 to 6

tablespoons

cereal milk

1

cup

Fruity Pebbles
Instructions
For the cereal milk: Heat oven to 300 degrees F. Spread the cornflakes on a parchment-lined sheet pan.

Bake for 15 minutes, until lightly toasted. Cool completely.

Transfer the cooled cornflakes to a large pitches.

Pour the milk into the pitcher and stir vigorously. Let steep for 20 minutes at room temperature.

Strain the mixture through a fine-mesh sieve, collecting the milk in a medium bowl. Using the back of a spoon or your hand, wring the milk out of the cornflakes.

Whisk the brown sugar and salt into the milk. Store in the fridge.

For the cinnamon rolls:

In a small bowl, dissolve yeast in the warm cereal milk and let sit for 5 minutes.

In bowl of stand mixer fitted with bread hook or paddle attachment, combine yeast mixture, sugar, melted butter, salt, and egg. Mix.

Gradually add in flour and mix till a soft dough forms.

Knead dough for 5 minutes on lightly floured surface.

Place dough in a large greased bowl. Cover and let sit until doubled in size, 1 to 1 1/2 hours.

Once risen, roll out dough on a lightly floured surface into a 15 by 9 inch rectangle.

Spread the 1/2 cup of softened butter over the surface of the dough.

Mix together the sugar and cinnamon and sprinkle over the butter.

Starting at the longer edge, roll up the dough into a cylinder and pinch the edges to seal.

Using a sharp knife, slice into 12 to 15 rolls. Place rolls close together cut sides town in a buttered baking dish.

Cover and let rise till doubled, about 45 minutes. Meanwhile, preheat oven to 350 degrees F.

Bake for about 30 minutes till nicely browned. While the rolls are baking, prepare the glaze.

In the bowl of a stand mixer fitted with the paddle attachment, cream the butter till smooth.

Add in the powdered sugar, vanilla, and cereal milk. Start with 3 tablespoons of cereal milk and add more if necessary. Mix till smooth.

Drizzle the icing over the cinnamon rolls while they are still warm. Top with fruity pebbles. Serve warm!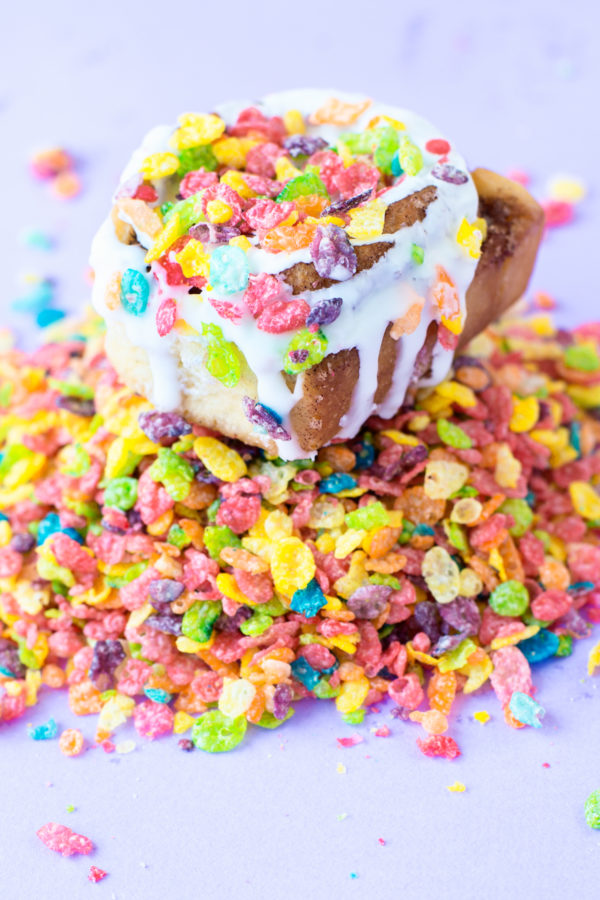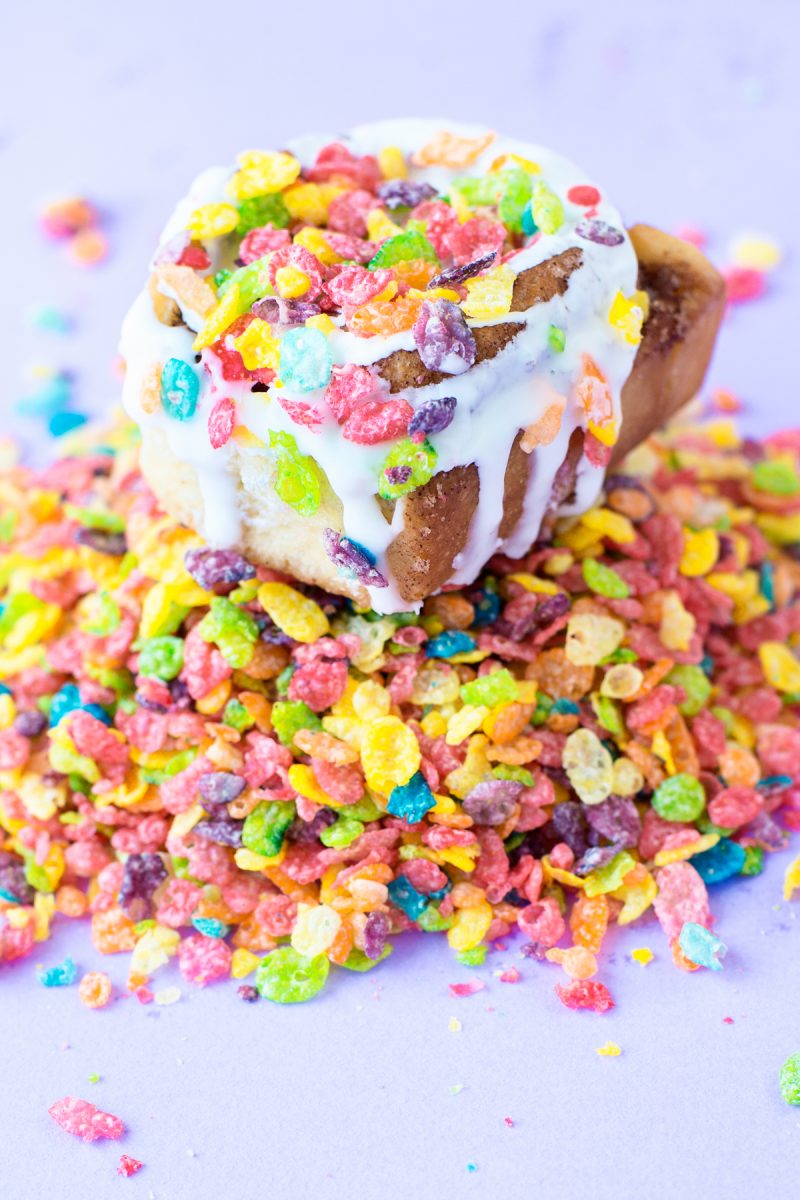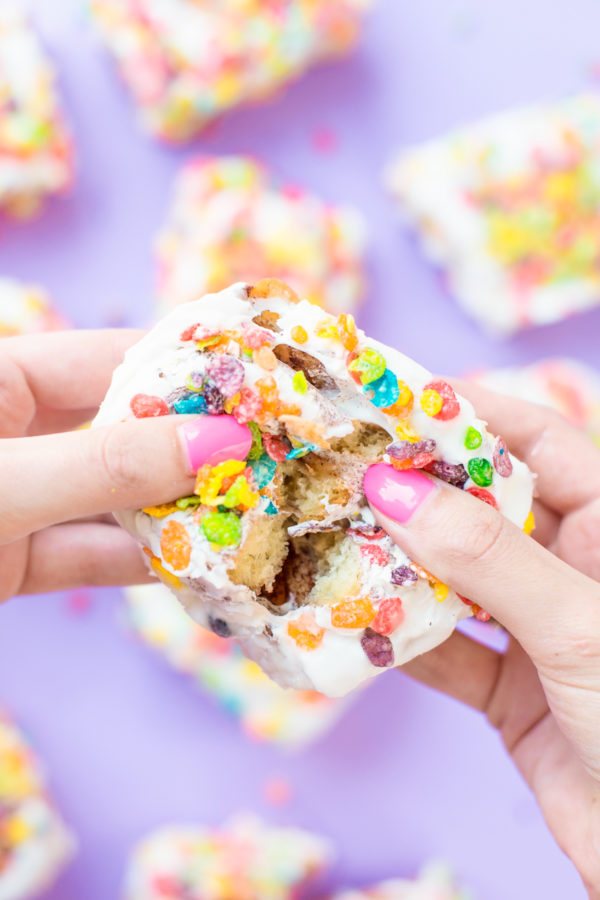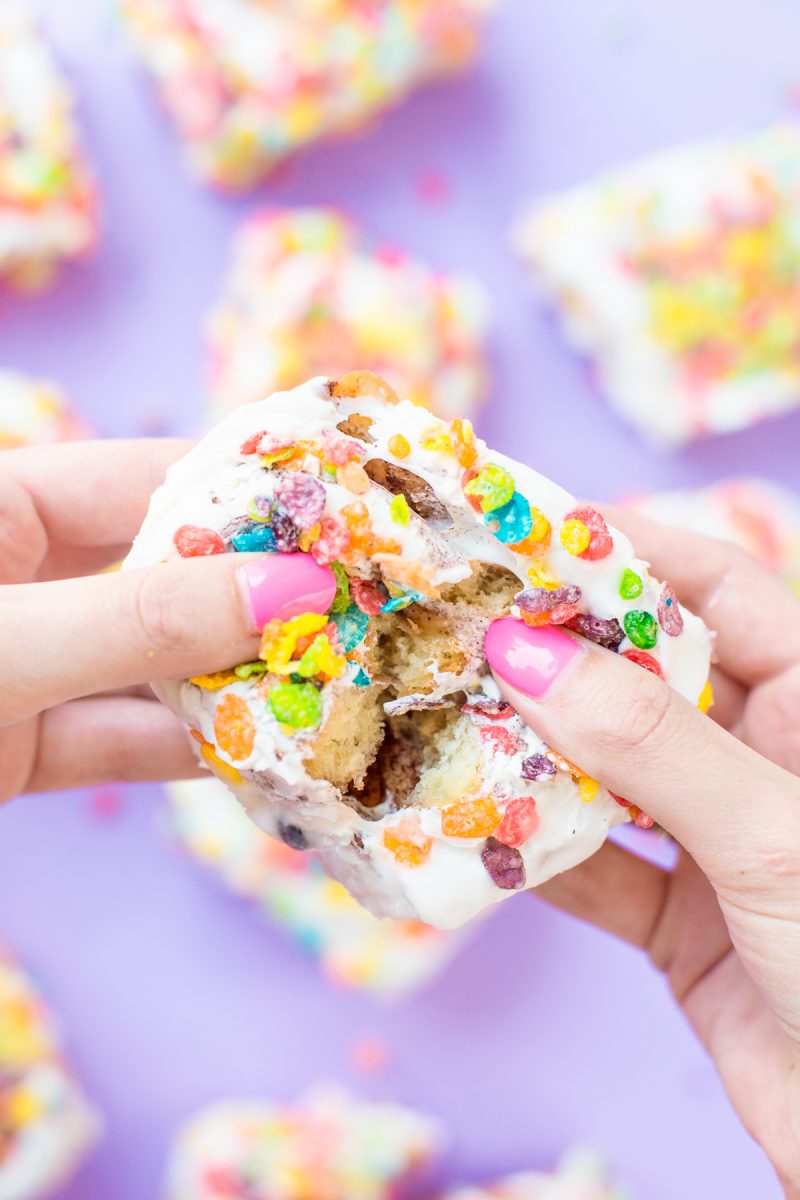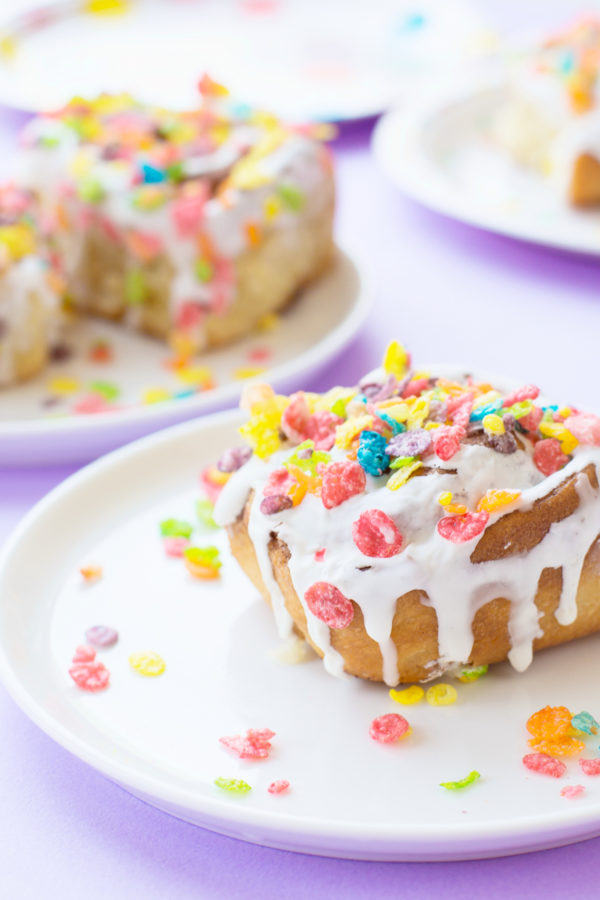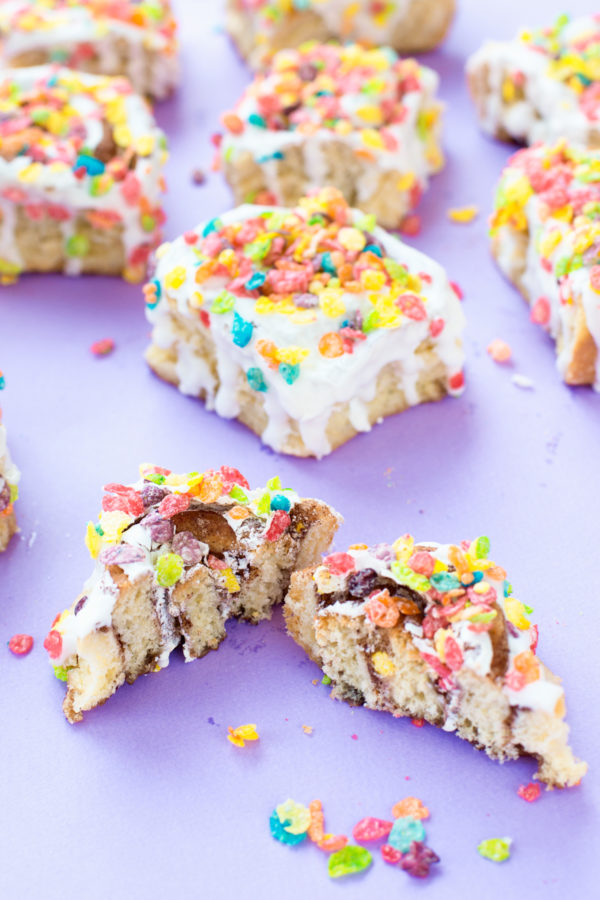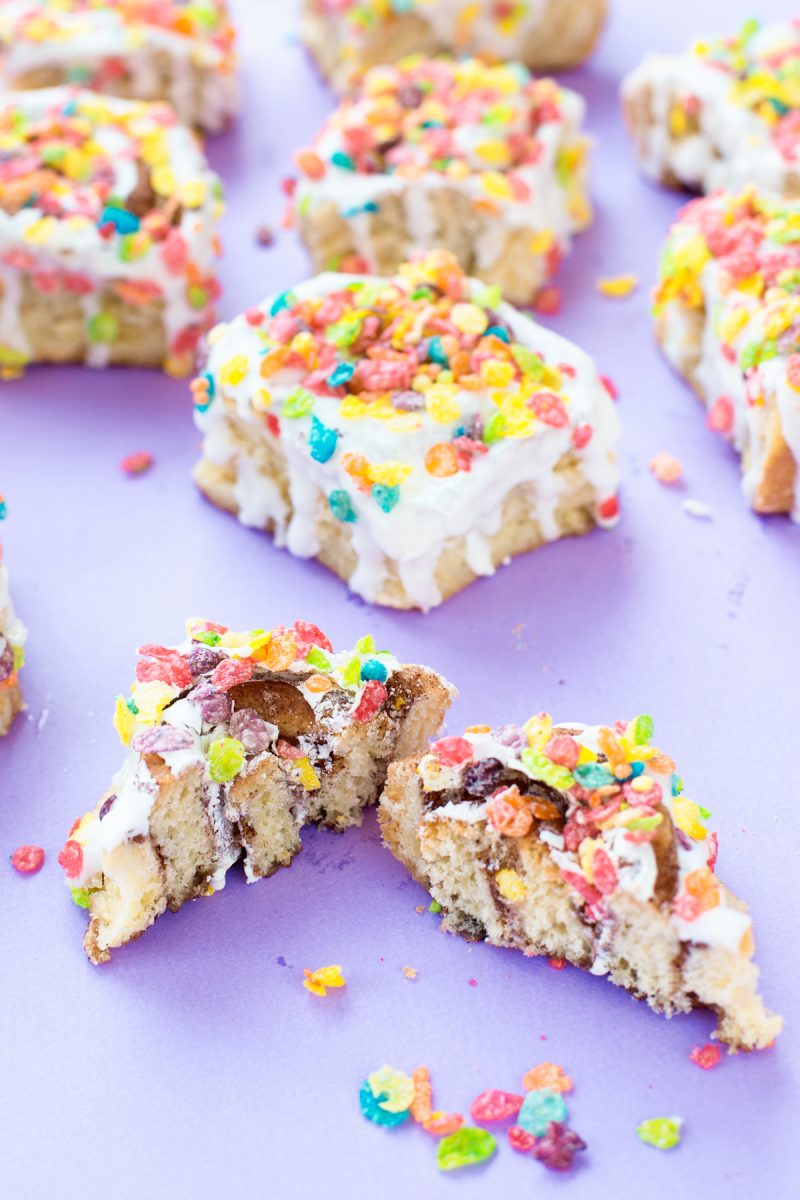 Photos by Jeff Mindell | Recipe by Theresa Rountree
They are as good as they look, by the way!
I had an inner debate about whether these should be called cinnamon buns or cinnamon rolls? Jeff and I both defaulted to cinnamon buns (is it a Jersey thing?) but the internet seemed to have a cinnamon roll consensus. Any of you have any insight? What would you call them?