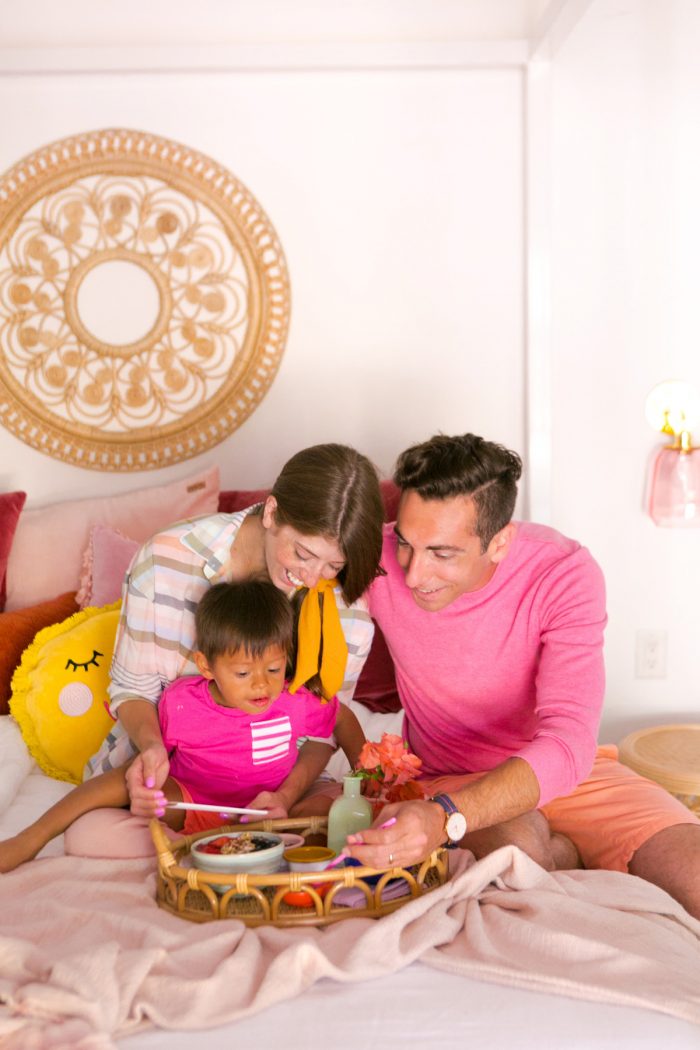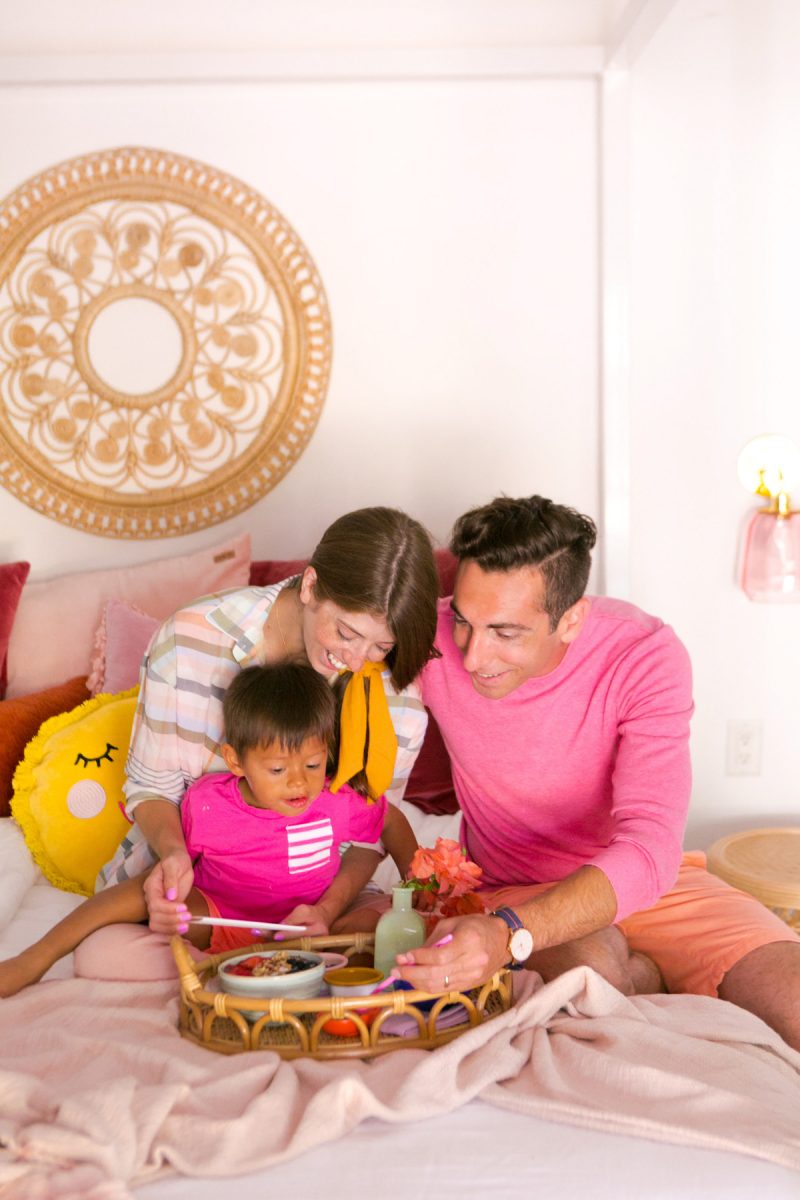 I'm a creature of habit and every day I eat the same thing for breakfast: scrambled eggs and avocado.The other 2/3 of my family are generally cereal eaters. But usually on Saturdays and special occasions we'll do something different and pull from some of our favorite breakfast recipes we've tried!
After sharing some of our favorite dinner recipes and dessert recipes I thought I'd share some of our family's tried and true favorite breakfast recipes and treats for those special occasions! If we want a baking project, if we have guests coming over or if I'm looking for away to pack in some extra nutrients to my pre-schooler, here's a few recipes we love!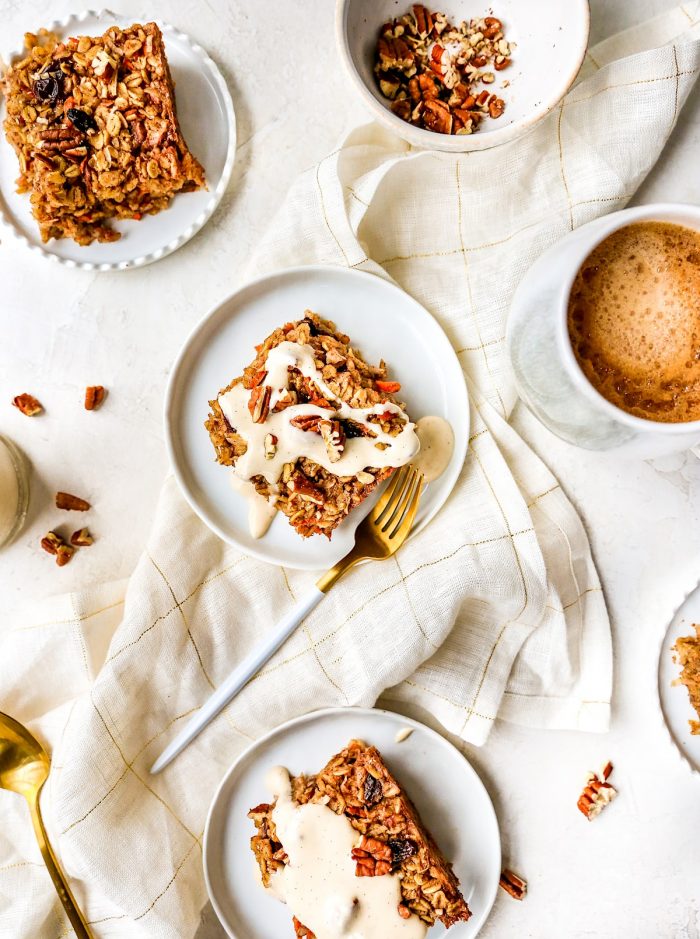 Carrot Cake Baked Oatmeal
I could not love this baked oatmeal more. It is SO. GOOD. I usually pair it with this cashew "cream cheese" and wow. I'd make it every week if I could!
Get the carrot cake baked oatmeal recipe here!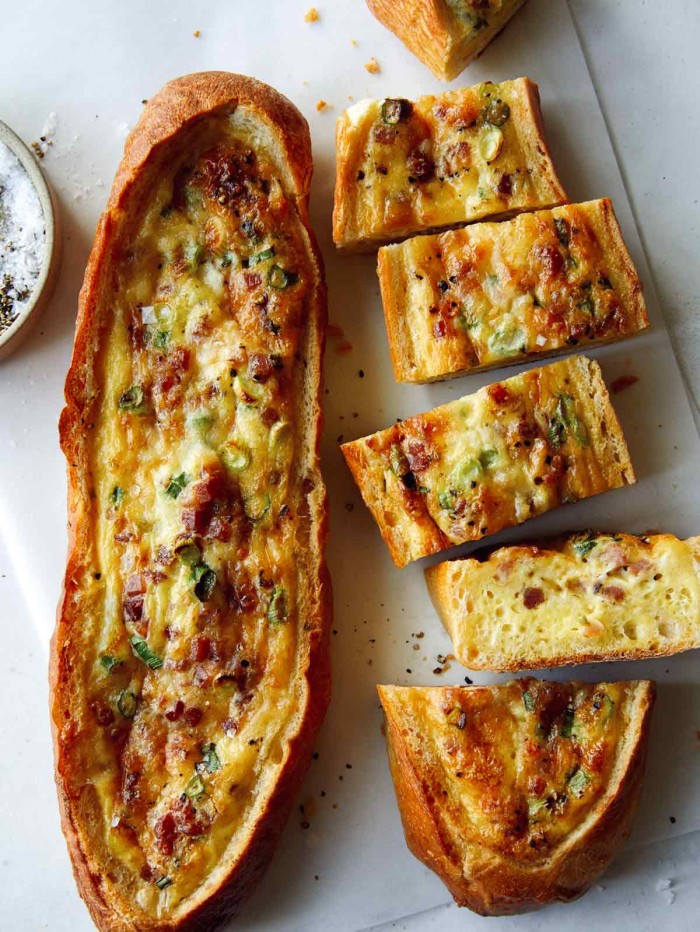 Baked Breakfast Boats
This is the PERFECT brunch dish to serve if you have guests over. It's SO easy and such a crowd pleaser. And, of course, it's delicious.
Get the baked breakfast boats recipe!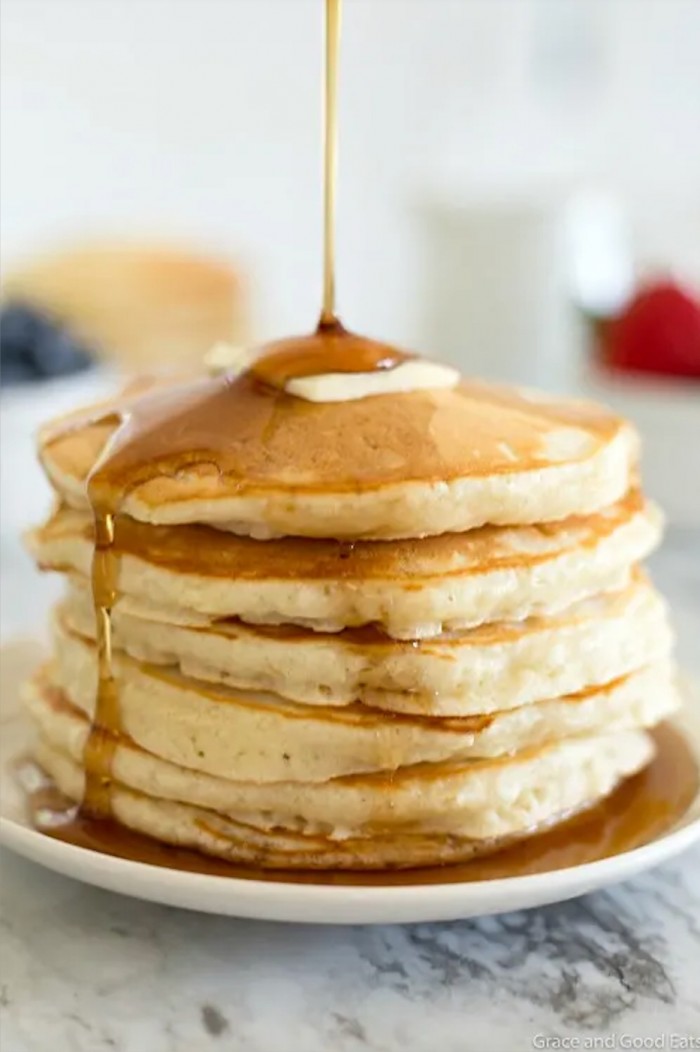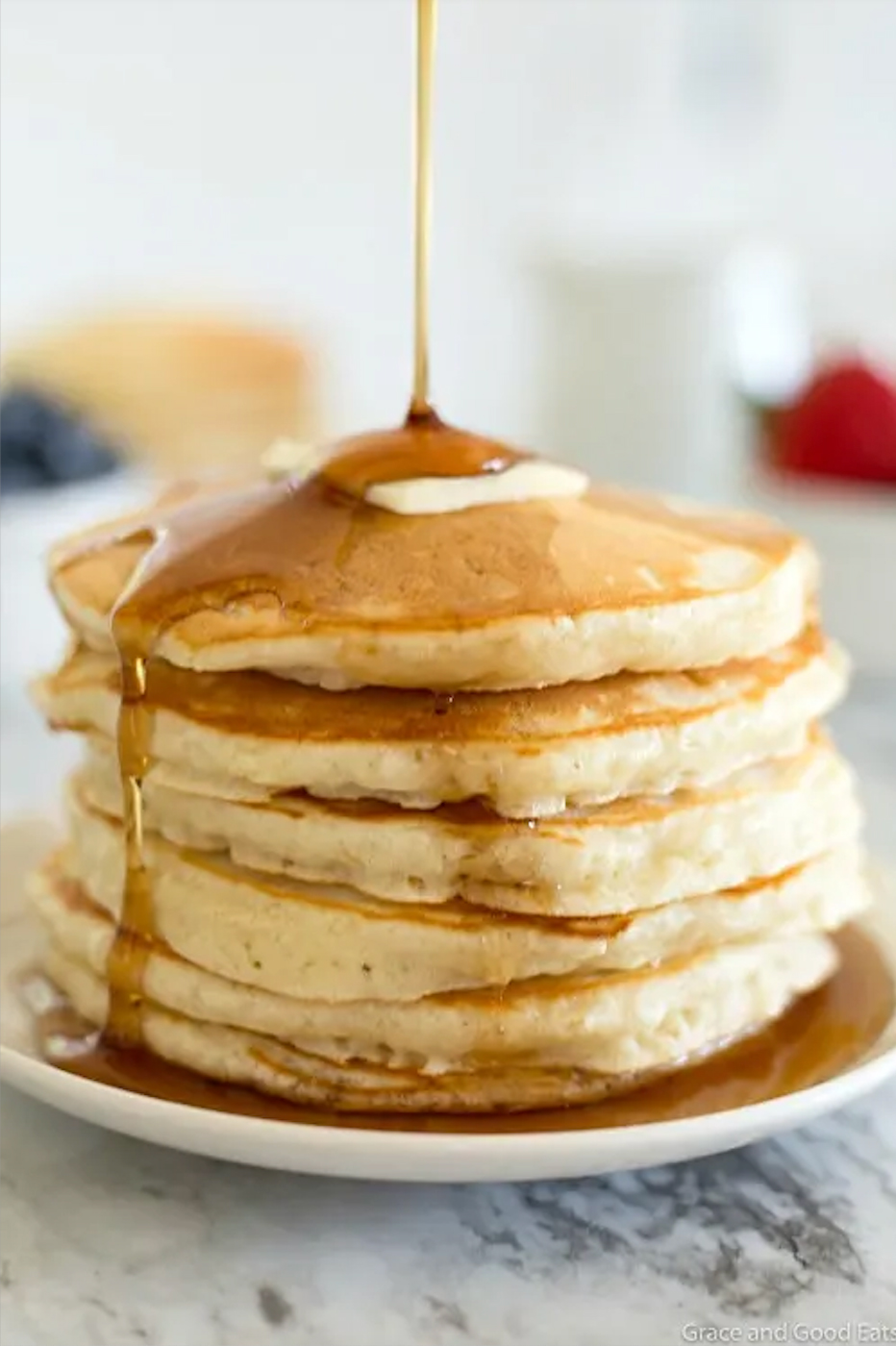 Best Ever Pancakes
We randomly made these pancakes one day and holy WOW. Truly the best ever pancakes, the perfect flavor and texture.
Get the best ever pancakes recipe here!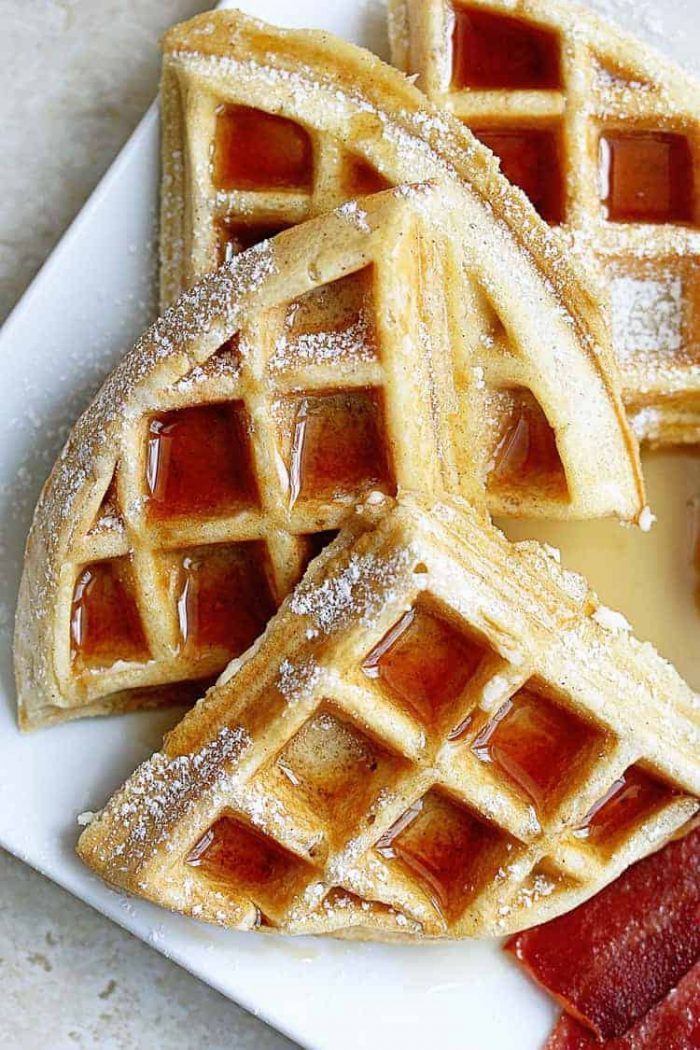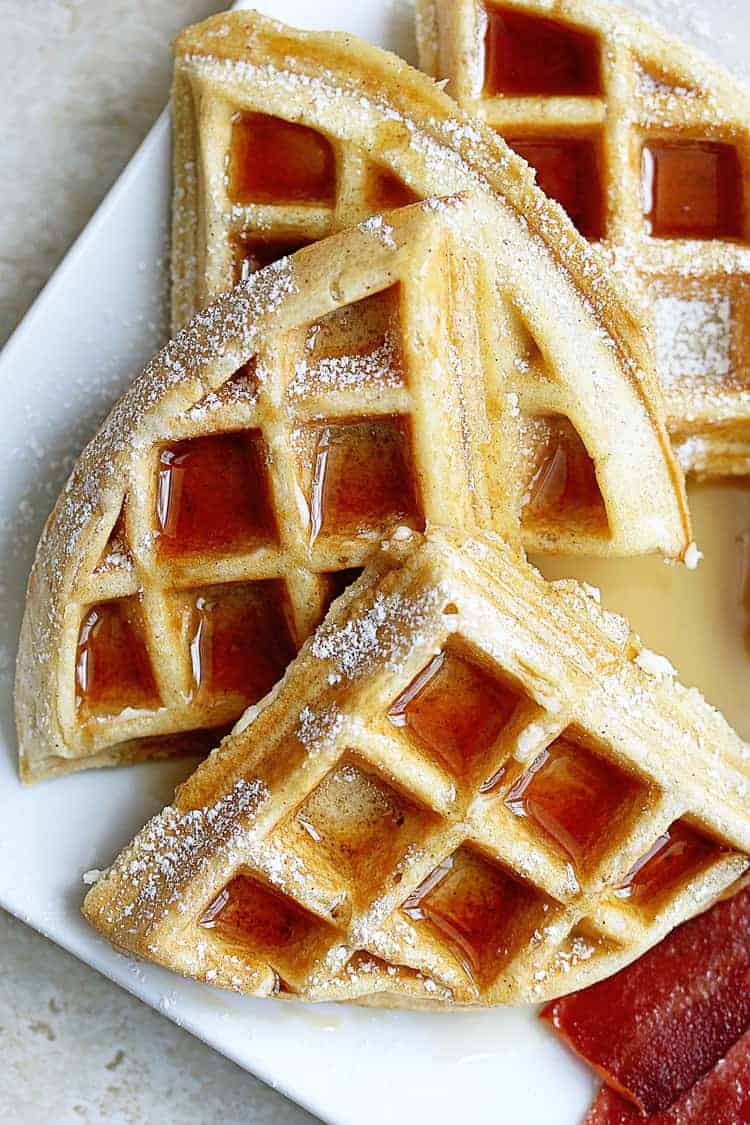 Buttermilk Waffles
We've gotten into the habit of making waffles every Saturday in our Mickey waffle iron. (p.s. This Mickey waffle iron is way better, if you have room for it) and we finally found our fave easy recipe. Simple and so delicious! (We make it with Ripple milk and a bit of lemon juice to make it "buttermilk" since we don't usually have regular milk or buttermilk in the house.
Get the buttermilk waffles recipe here!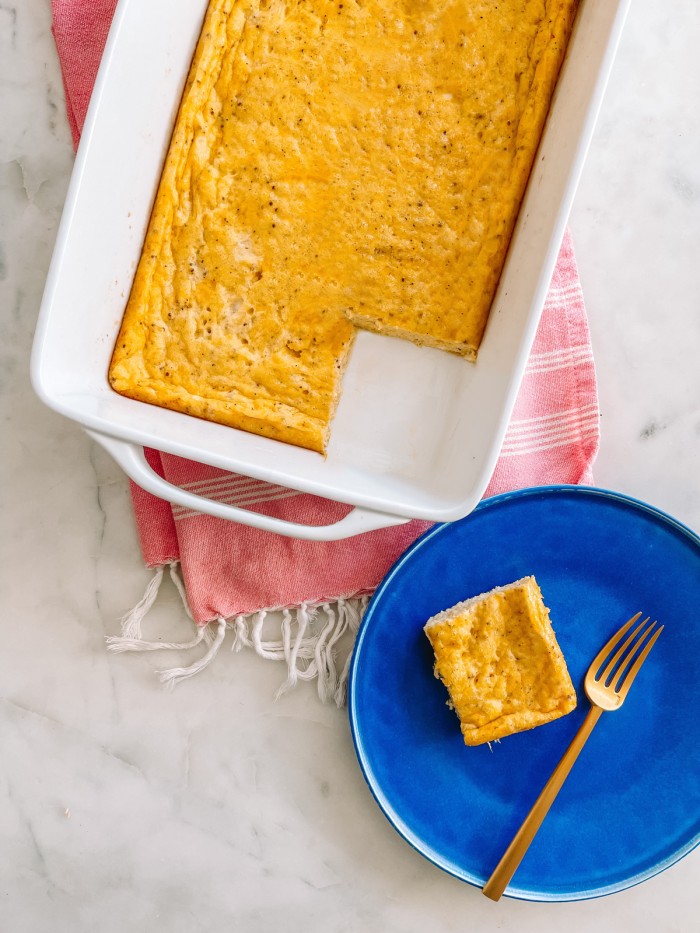 Cheddar Egg Bake
It's tradition for us for Christmas to make my mom's egg bake. It's my favorite meal of the year and so simple!! The secret ingredient is… mustard! Such a crowd pleaser!
Get the cheddar egg bake recipe here!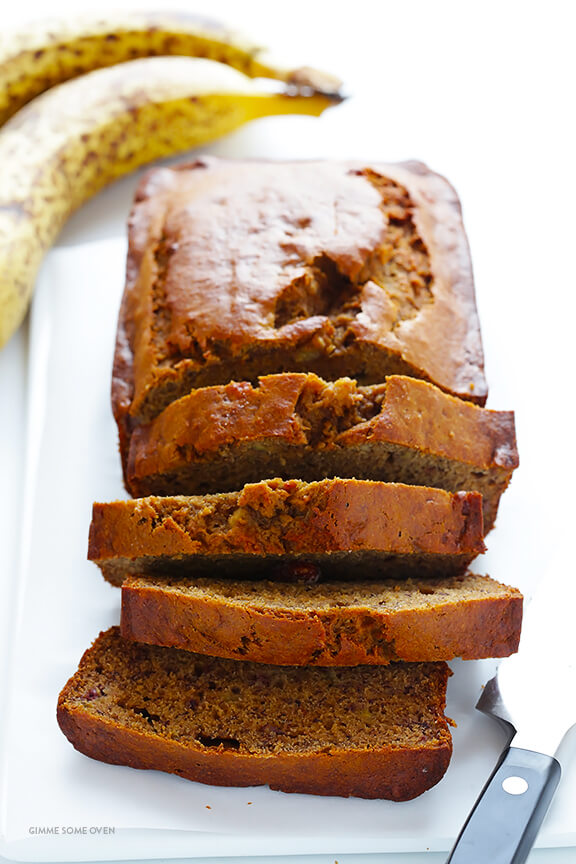 Banana Bread
I make banana bread…. often. This is my go to. I tend to just use whatever milk and flour I have on hand and I always add chocolate chips!
Get the banana bread recipe here!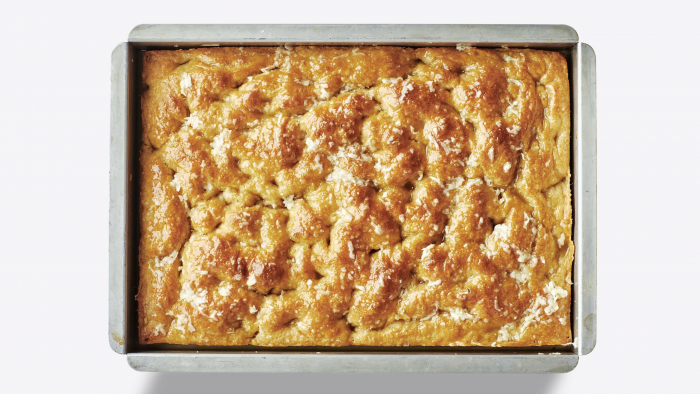 No-Knead Focaccia
Early on in our quarantining I got on the bread making train with everyone else. Except I wanted something simple, no knead. This BLEW our mind. Frankly, we just ate about half of it by itself but the rest we used for breakfast sandwiches and it will probably be one of the best life decisions you ever make.
Get the no-knead focaccia recipe here!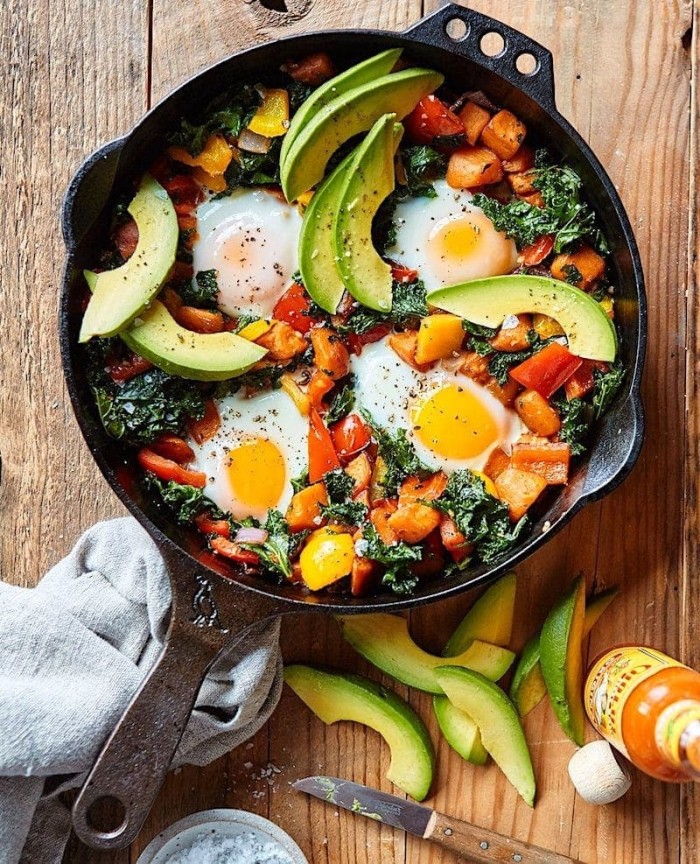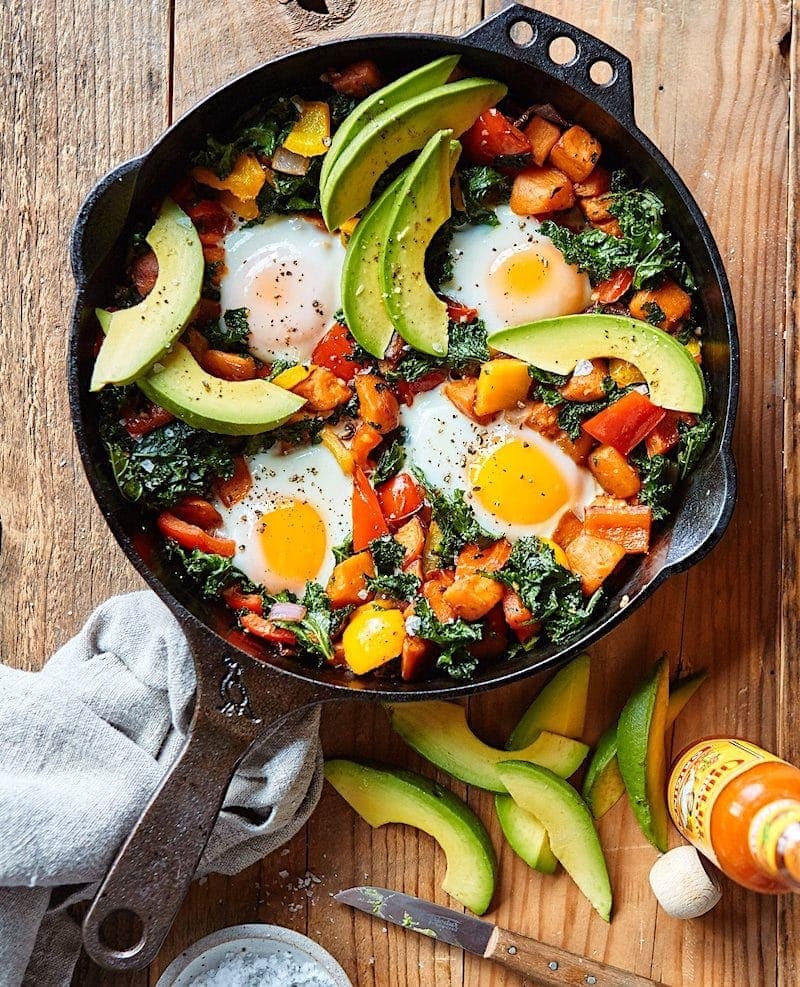 Sweet Potato Hash
I actually shared this recipe as one of my favorite easy dinner recipes because we usually make this for dinner but since it's technically a breakfast recipe, wanted to include it here!
Notes: I microwave my diced sweet potatoes in a covered bowl with some water instead of boiling, because I'm lazy. Then I continue with the recipe as written, adding in whatever veggies we have that make sense (we love adding leftover brussel-sprouts to this dish!). But instead of adding the eggs and baking it, I just fry a few eggs separately and add them on top of each of our bowls along with the avocado, and usually hot sauce too!
Get the sweet potato hash recipe here!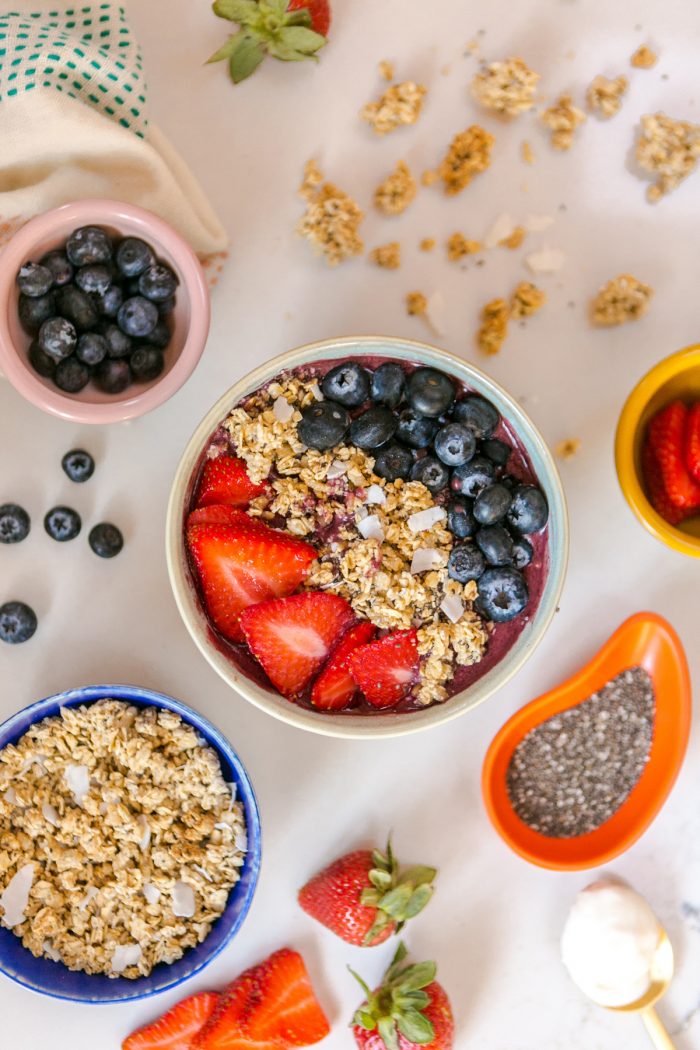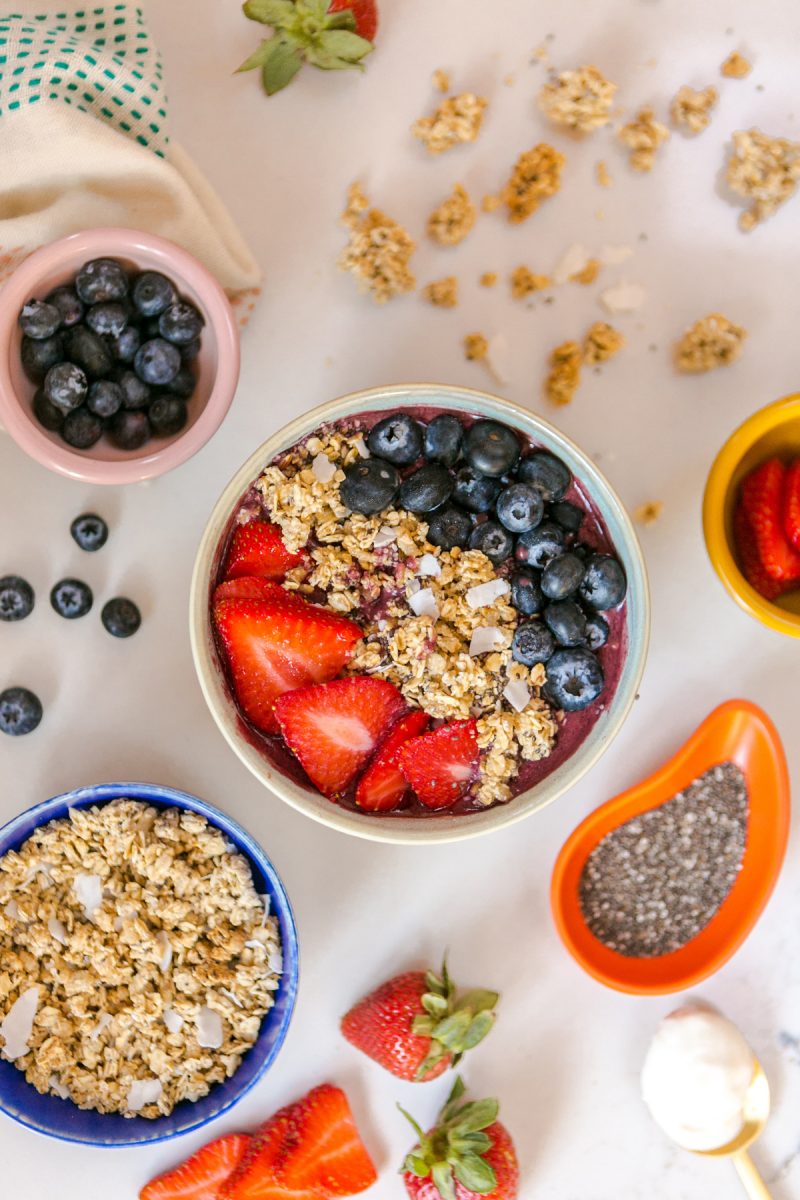 Smoothie Bowls
We love a smoothie bowl once summer rolls around and I shared our favorite smoothie bowl recipe on the blog a few years back.
Note: We also often make an açaí version with açaí powder, and sometimes leave out the cherries and add more berries in!
Get our favorite smoothie bowl recipe here!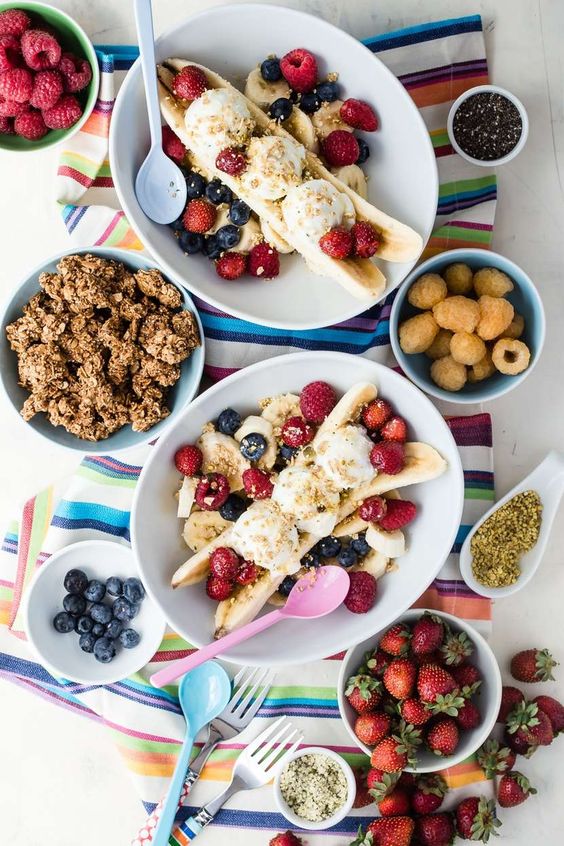 Breakfast Banana Splits
These are a HUGE hit in our house, as is anything that resembles ice cream. We do, however, add sprinkles to our breakfast banana splits because why not!
Get the breakfast banana split bowl recipe!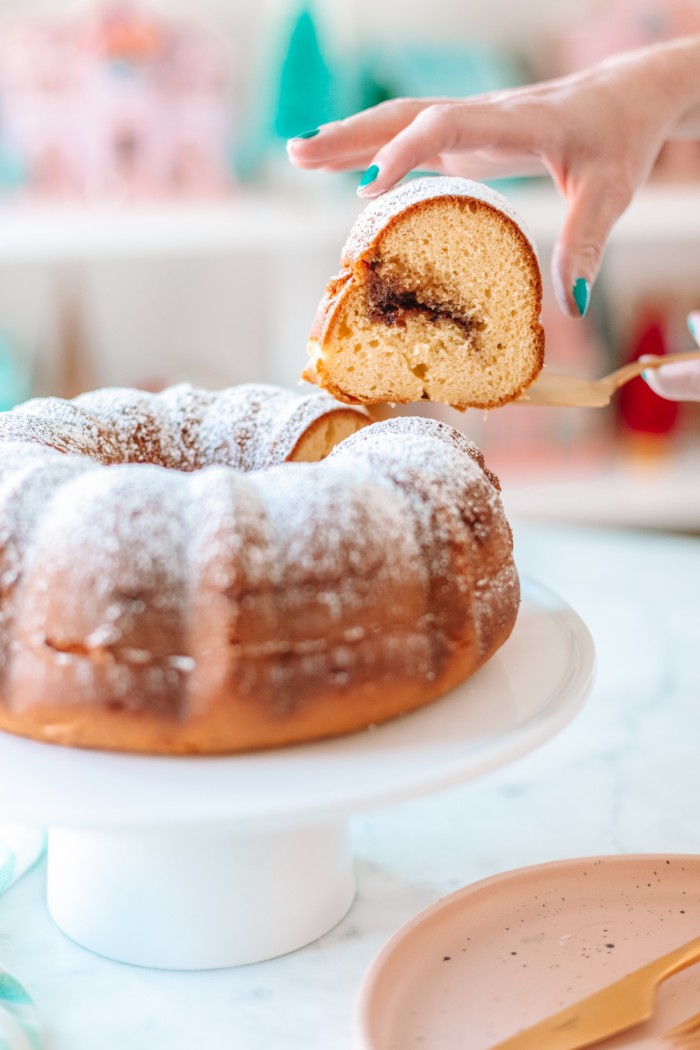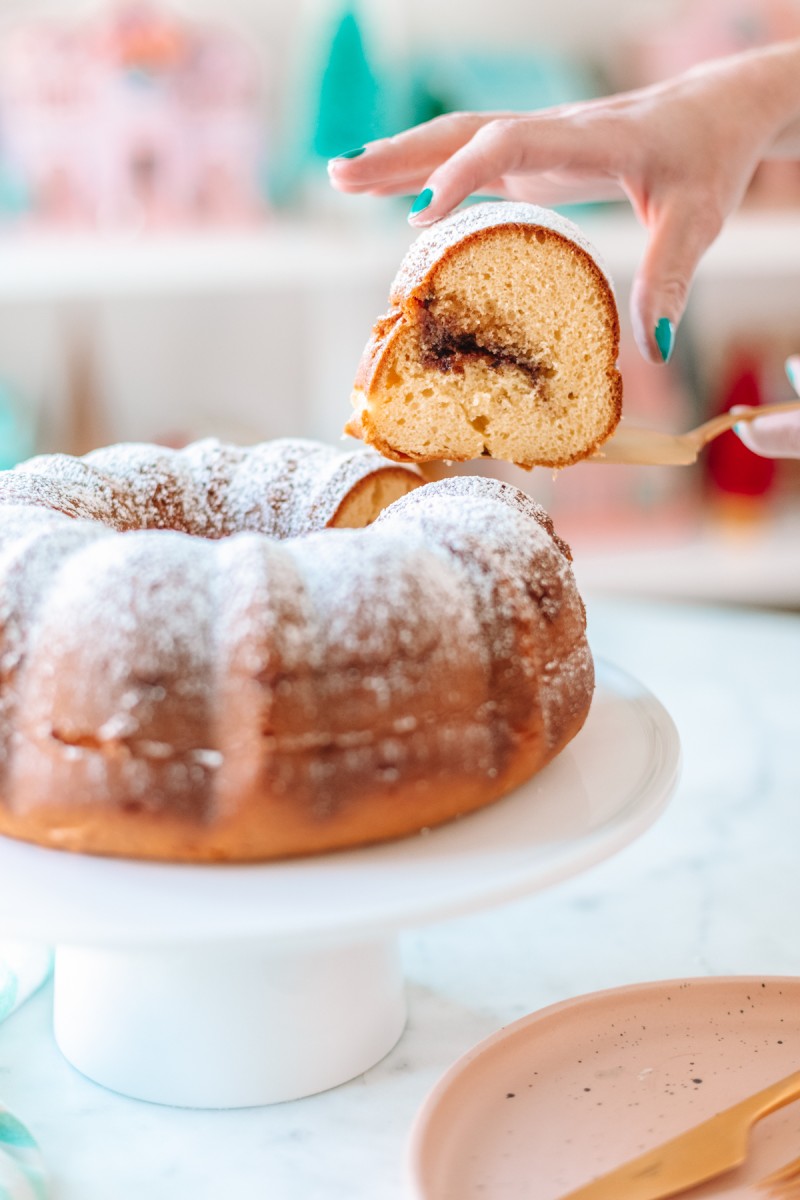 Coffee Bundt Cake
This is our favorite sweet addition to our Christmas brunch every year. An easy coffee bundt cake to whip together, it's absolutely delicious… and pretty on your brunch table, too!
Get the coffee bundt cake recipe here!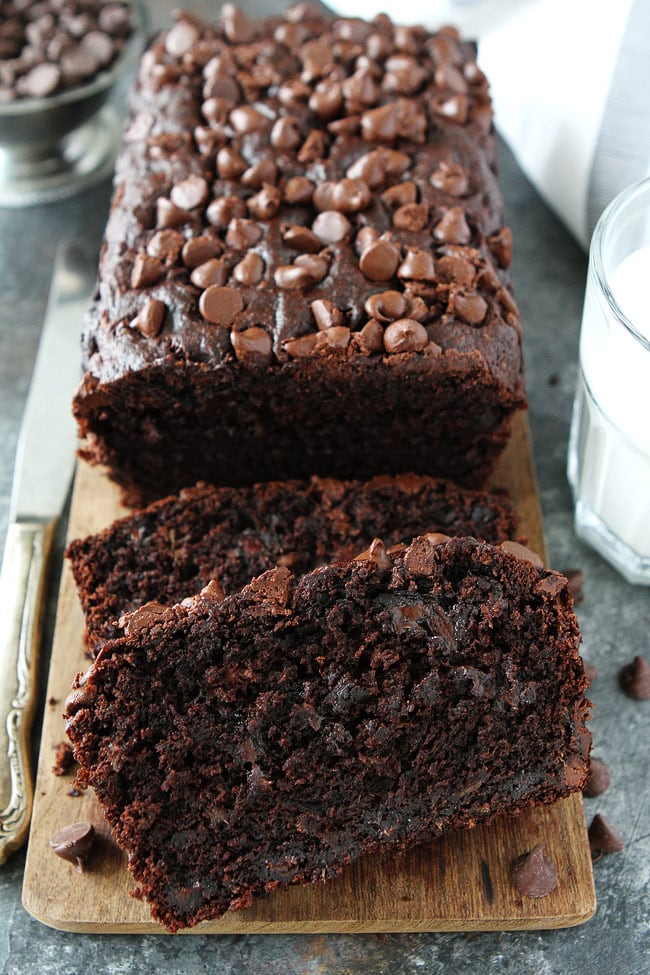 Chocolate Banana Bread
It's pretty well known in this house that I almost never make a dessert unless it involves chocolate, so if I want an even chocolatier banana bread, I go with this one! It's incredible and I've turned soooo many people onto this recipe.
Get the chocolate banana bread recipe here!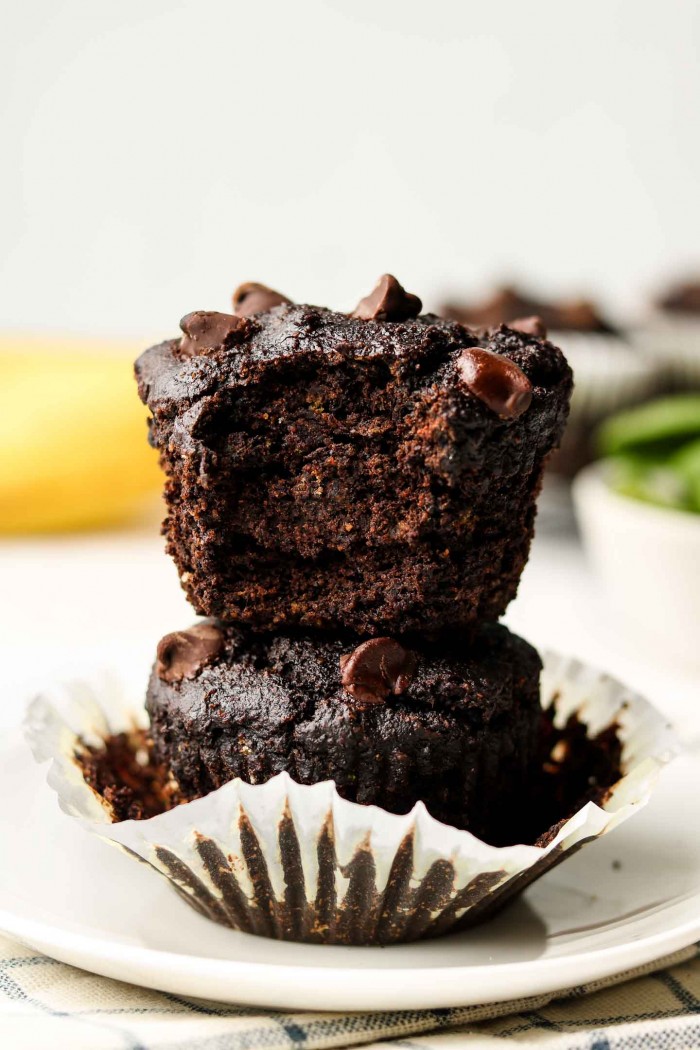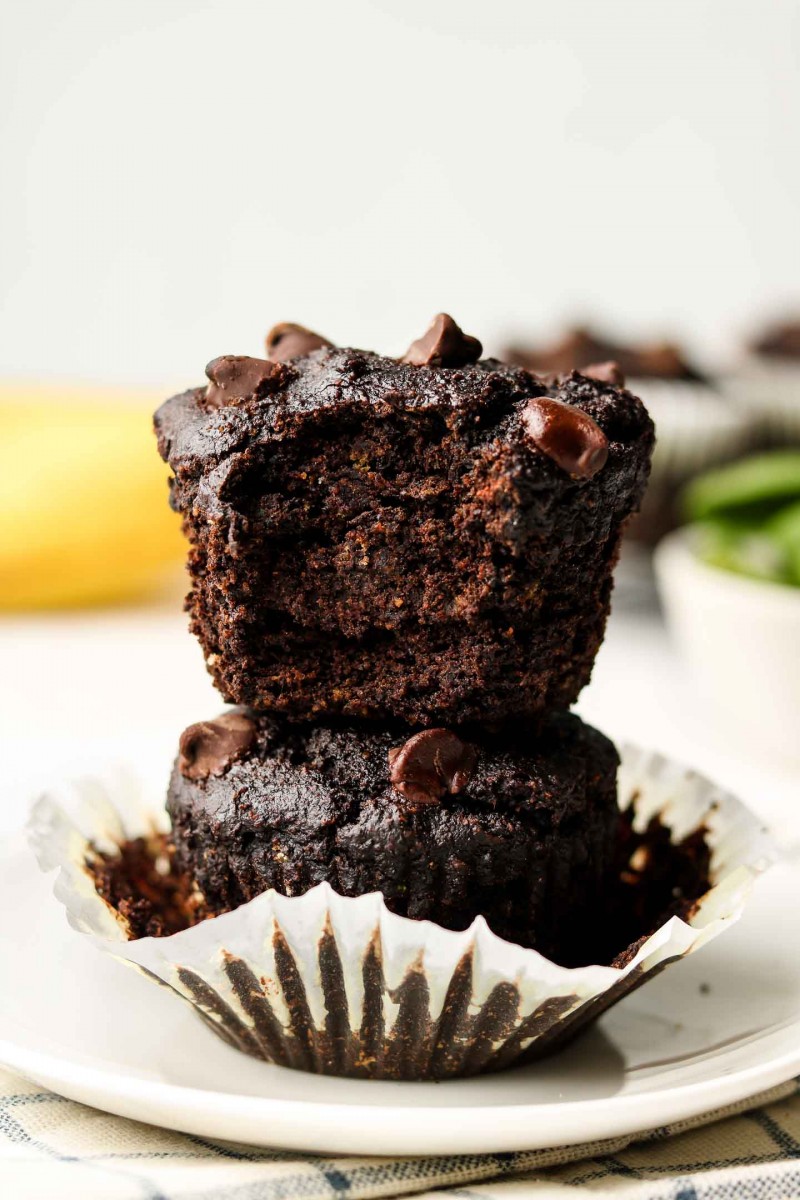 Chocolate Green Smoothie Muffins
Not surprisingly, I have also passed on my chocolate obsession to my child. So one day I was googling chocolate recipes that had at least something green in it and found these muffins! They were delicious and he gobbled them up and called them "chocolate cupcakes." WIN!
Get the chocolate green smoothie muffin recipe here!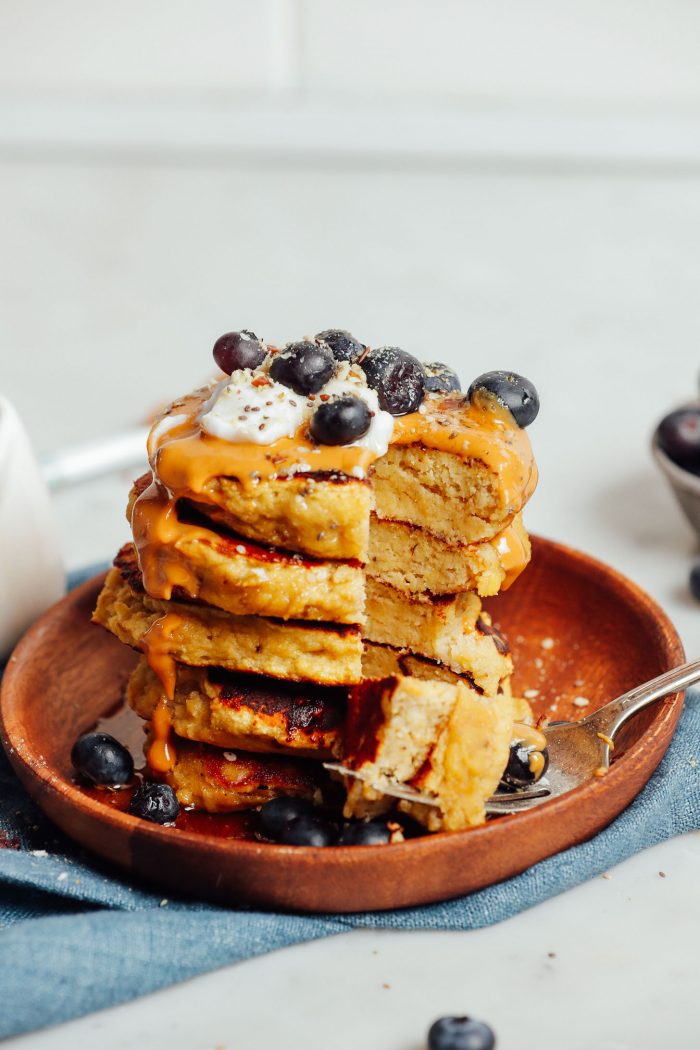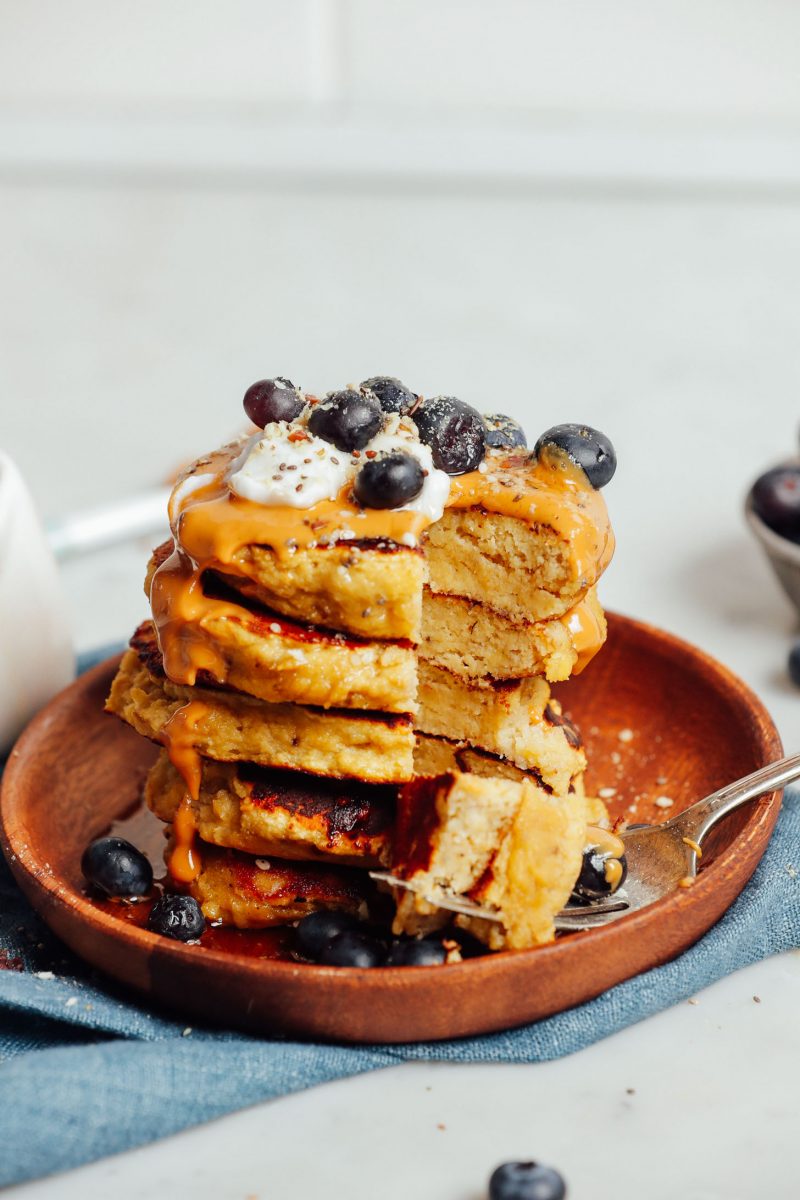 Five Ingredient Banana Pancakes
I actually make these about once a week! I love that they're only five ingredients (plus gluten free) and everyone in the fam loves them. They're quite easy to throw together but definitely read the instructions and cover with a lid if you want them to cook through the middle properly!
Get the five ingredient banana pancake recipe here!
Any fun or special breakfast recipes you love? I'll continue to add more here as we find others we love!