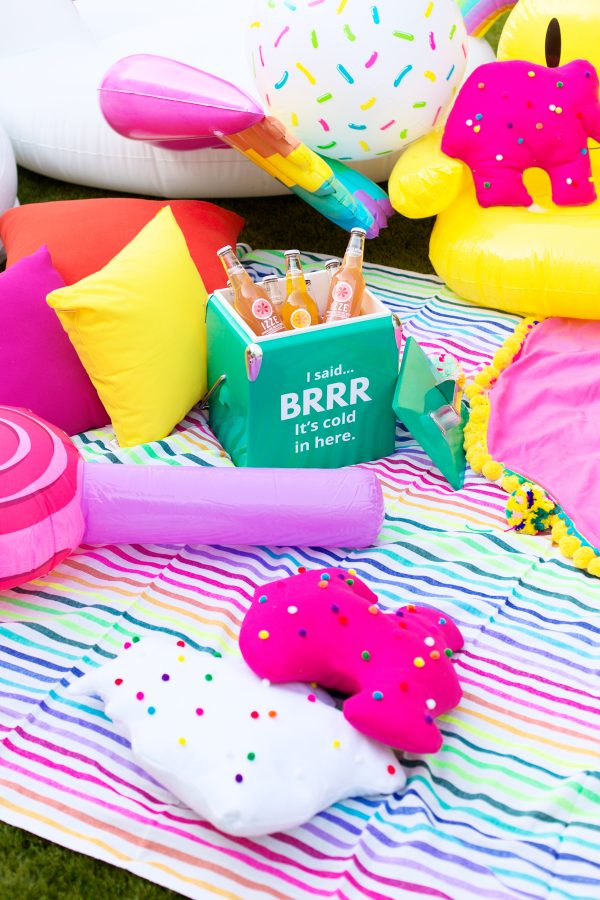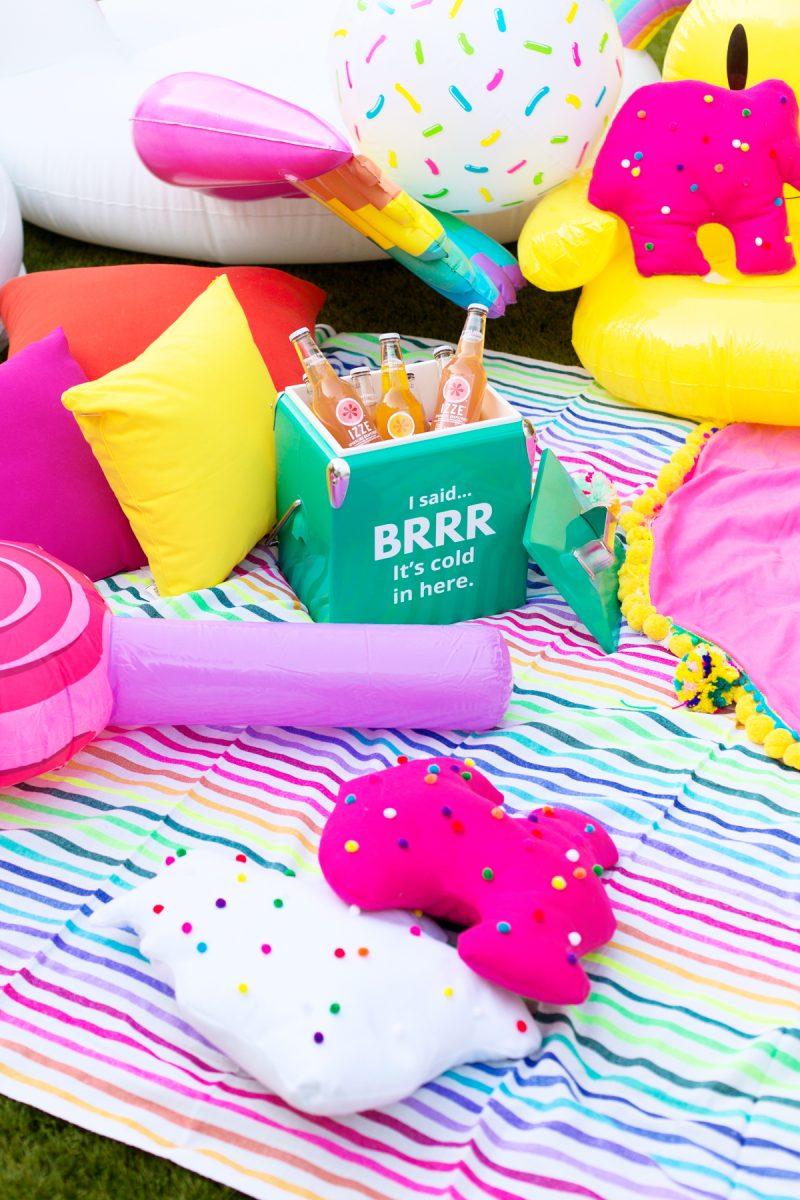 Someday when I have a backyard, I'm gonna throw the best movie nights EVER! Luckily, in the meantime, I have a brother to mooch off of who has a great one. 😉 We teamed up with our pals at IZZE to put together a super colorful backyard movie night to help inspire some summer gal pal gatherings and #FriendsdayNight moments! We've got personal snack kits, a popcorn bar, DIY koozies AND a free printable movie poster! Ready!?
Make A Summer Movie Playlist
Can't have a backyard movie night without some good movies! Lucky for you, we put together a movie must list that you can print as a poster! Of course, getting through all these movies would be quite the marathon, but you can have guests vote or you can work your way through the list throughout the summer!
To print the Summer Movie Musts list, click here!
The poster can be printed as large as 18″x24″. We recommend printing it as a colored engineer print at your local office supply shop as the most affordable option!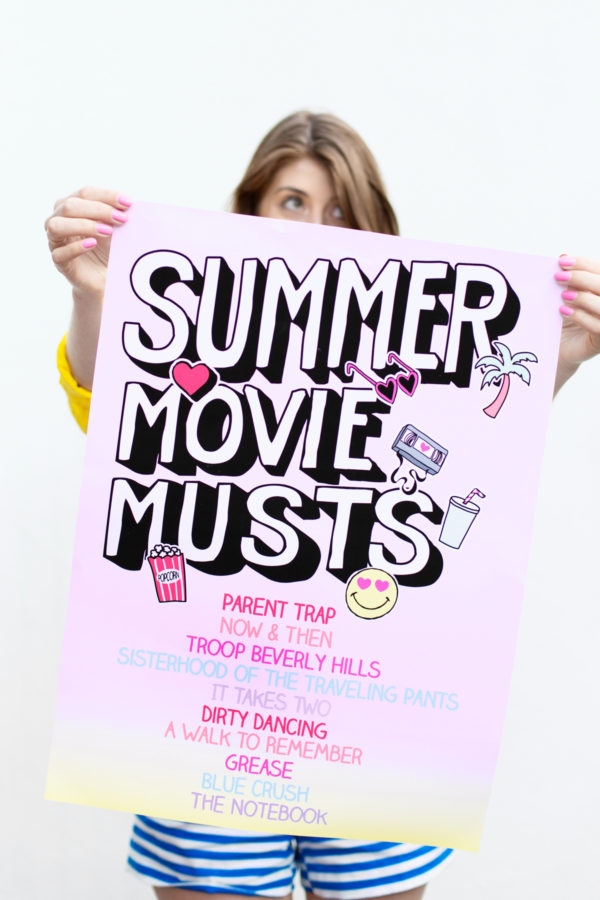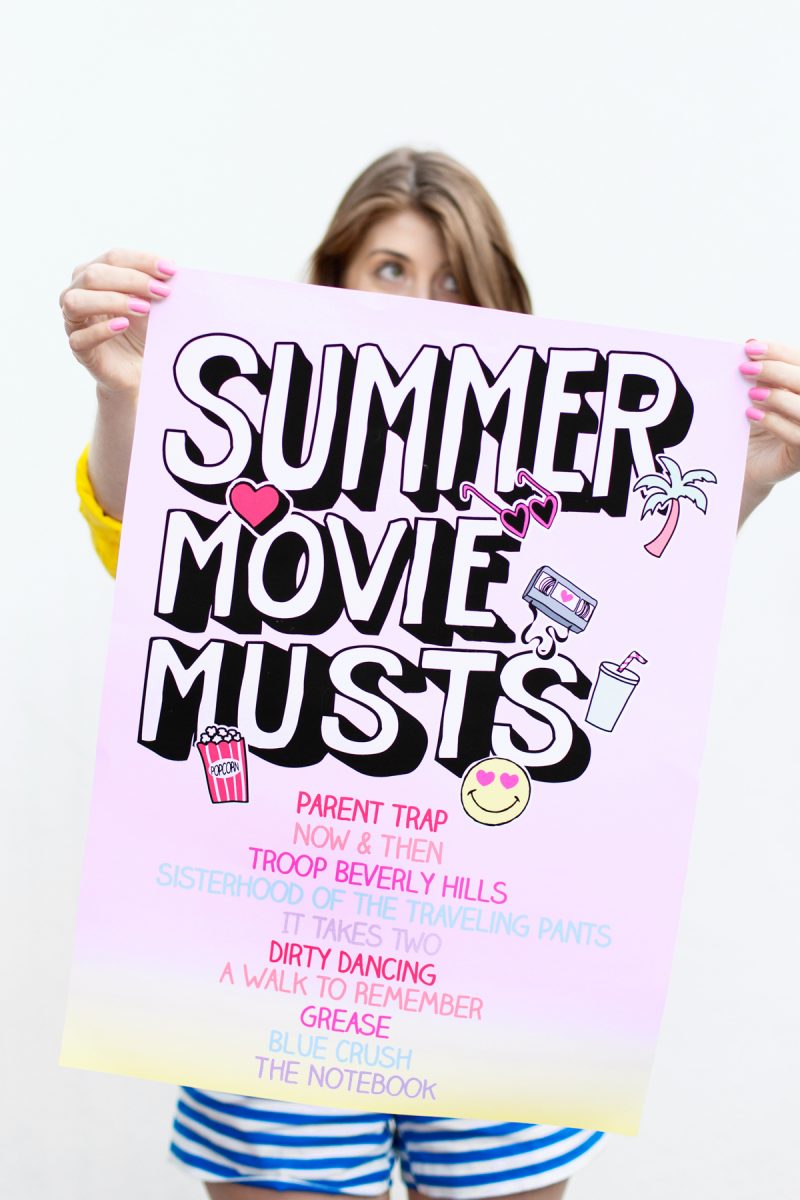 Blow Up the Seating!
You can ask your guests to bring blankets and pillows for a cozy vibe, but I think it's pretty fun to throw in some old-school blow up chairs, and even re-purpose some pool floats, too!
Seating Sources: Unicorn Float | Smiley Chair | Sprinkle Beach Ball | Lollipop Inflatable | Candy Inflatable | Striped Blanket | Pom Pom Blanket | Animal Cookie Pillows | Solid Color Pillows | Cooler | Light Box
On Me: Shorts | Button Down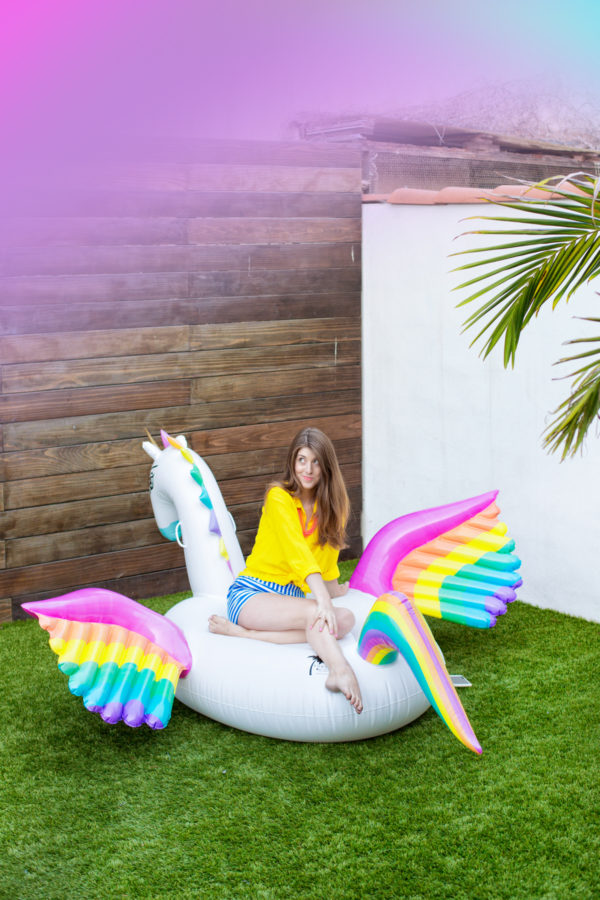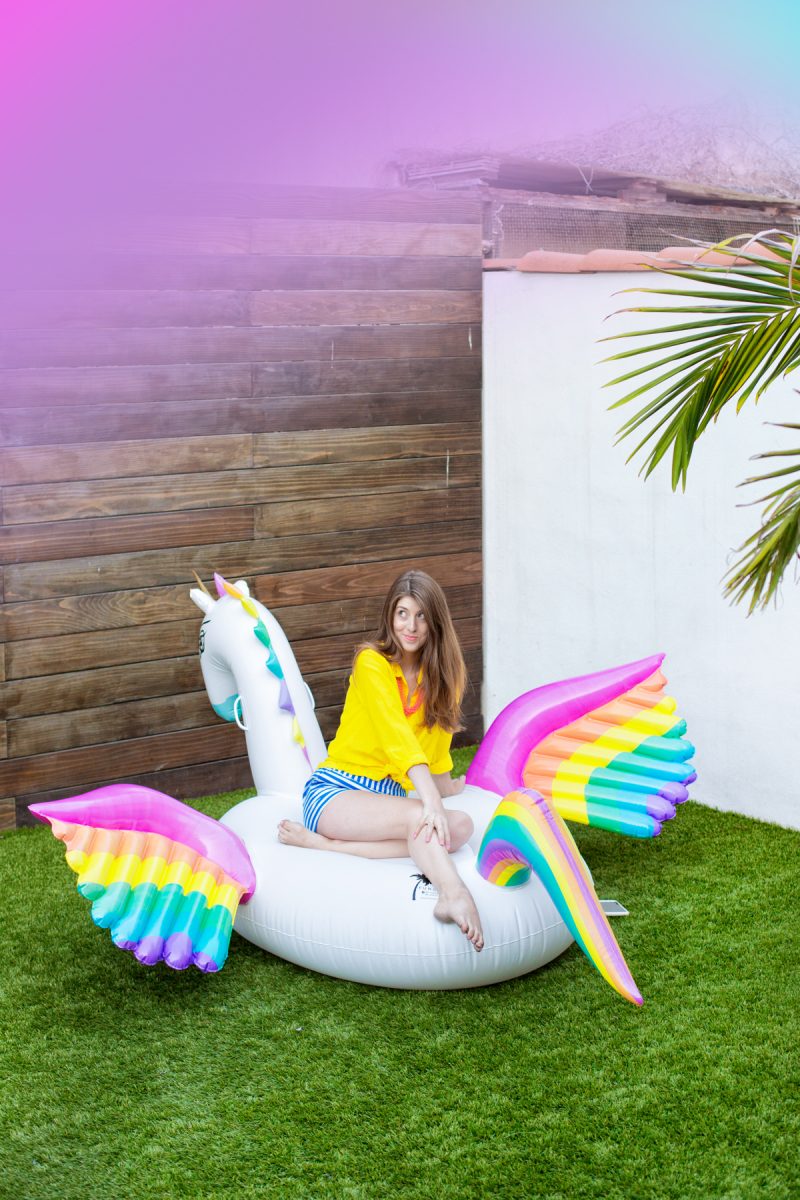 Put Those Drinks on Ice!
Fill up a cooler with drinks for everyone so they don't have to go far if they're feelin' that summer heat! We picked IZZE's Sparkling Clementine and Sparkling Grapefruit because both flavors are super summery and refreshing. We also gave our cooler a little makeover by adding letter stickers!
IZZE Sources: IZZE Finder | Amazon.com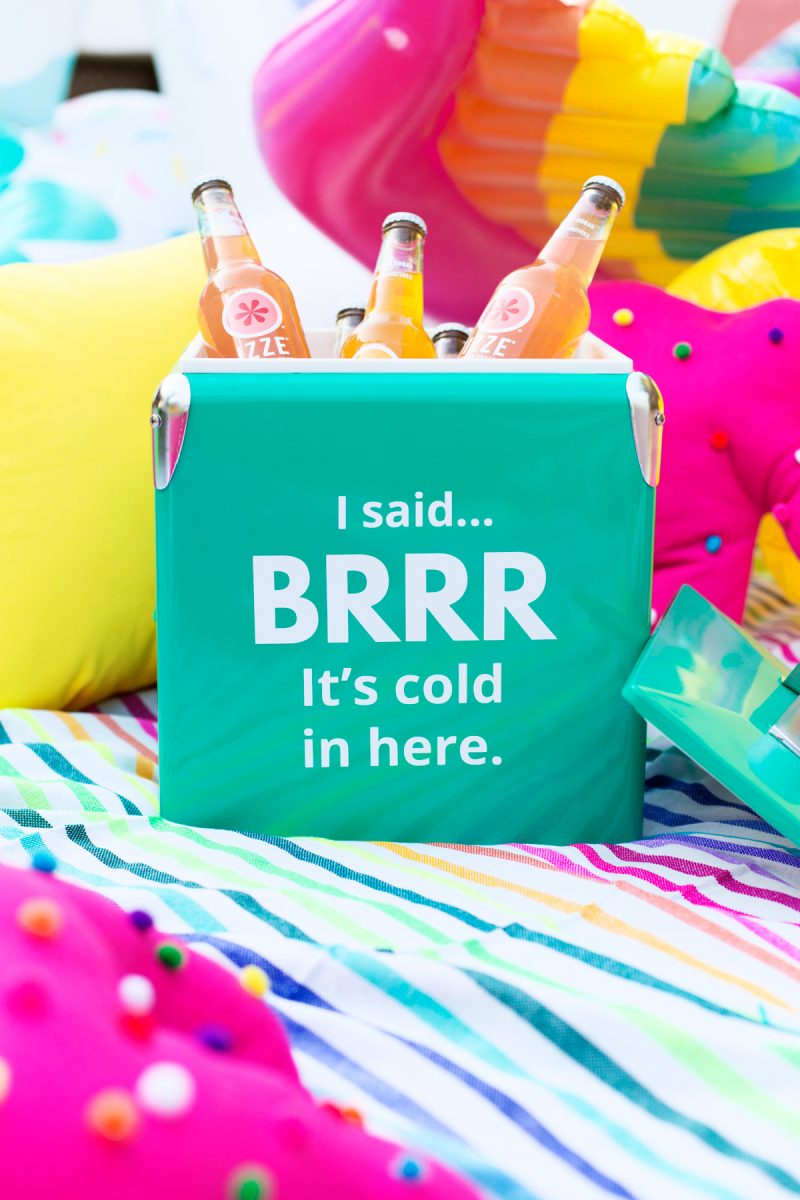 Put Together A Popcorn Bar!
A movie night without popcorn is like peanut butter without the jelly. Create a fun popcorn bar for your guests so they can make their own mix! Provide different candies, sprinkles, flavored salts and other mix-ins along with a big ol' bucket of popcorn. We added vinyl letters to ours too! Before the movie starts, everyone can deck out their popcorn just how they want it!
Popcorn Bar Sources: Popcorn Container | Hot Pink Bowl | Faceted Bowls | Hot Pink Cup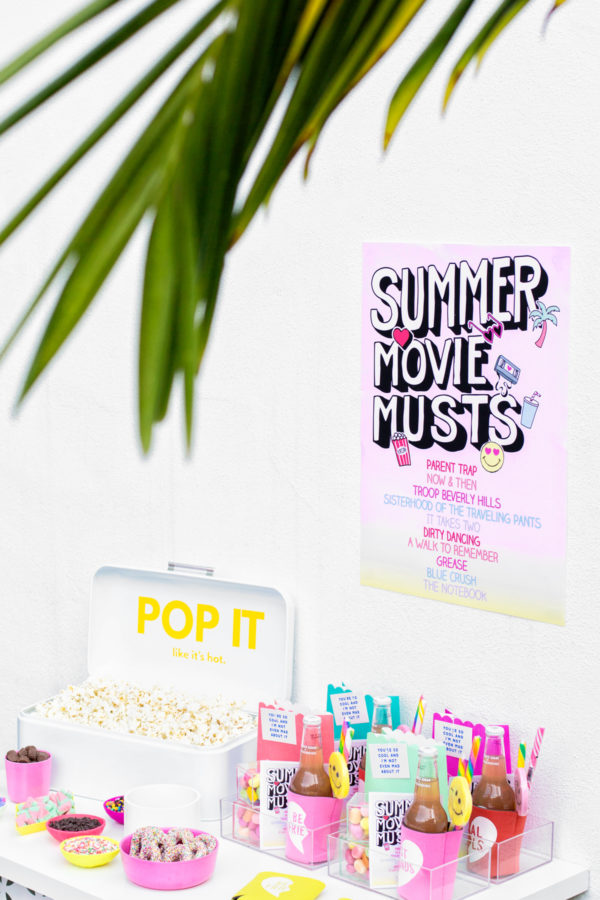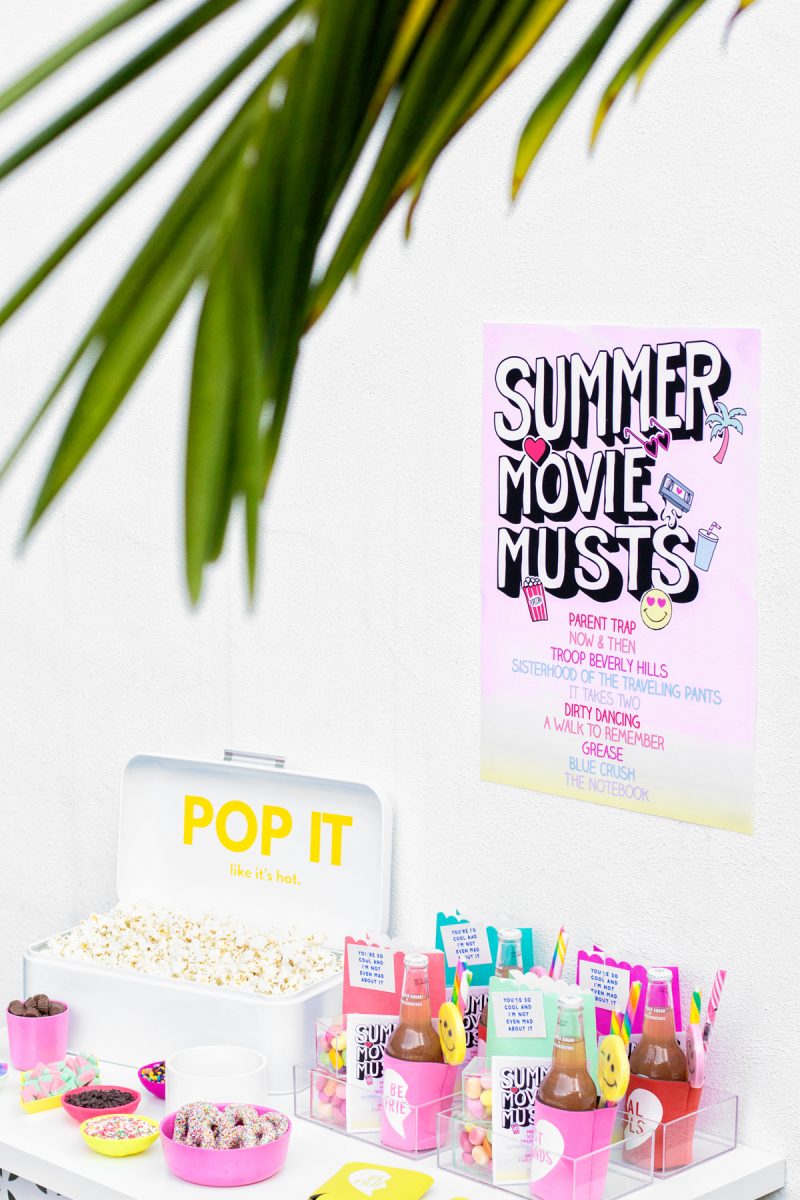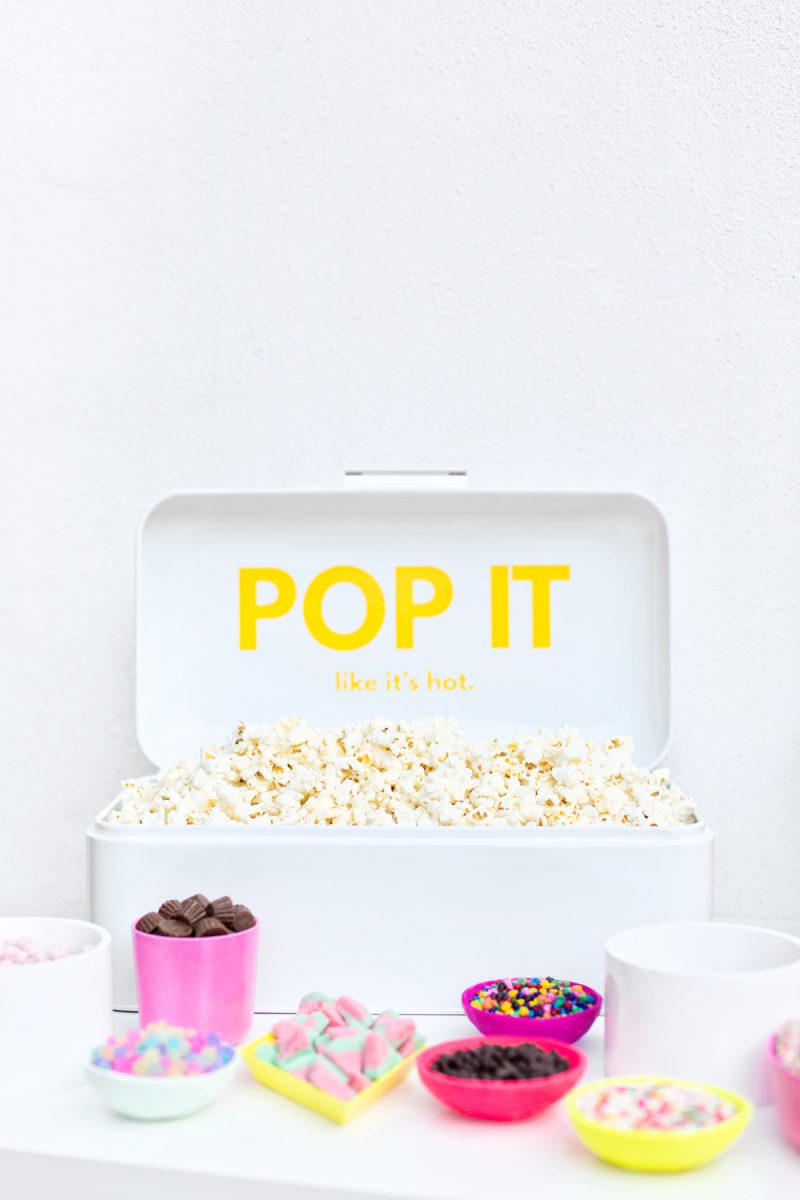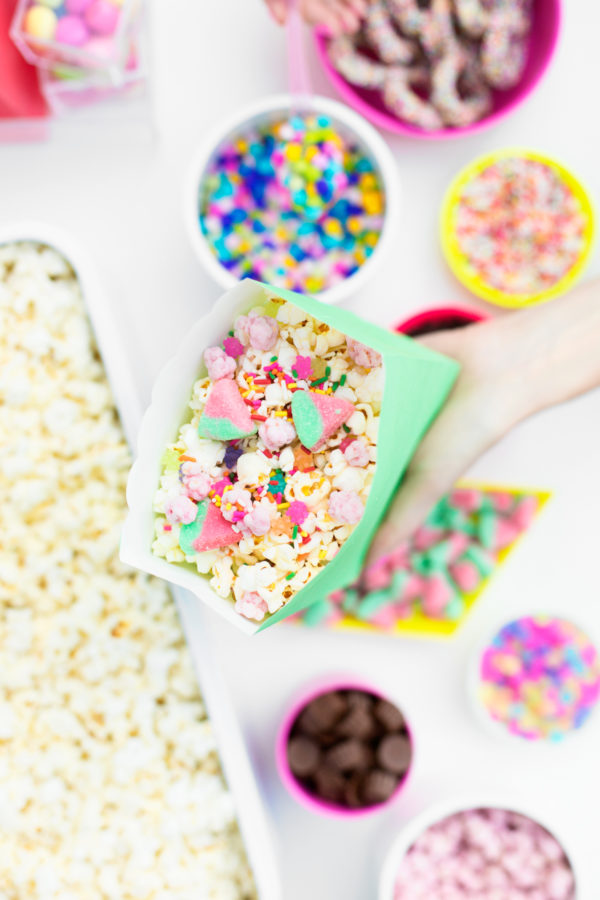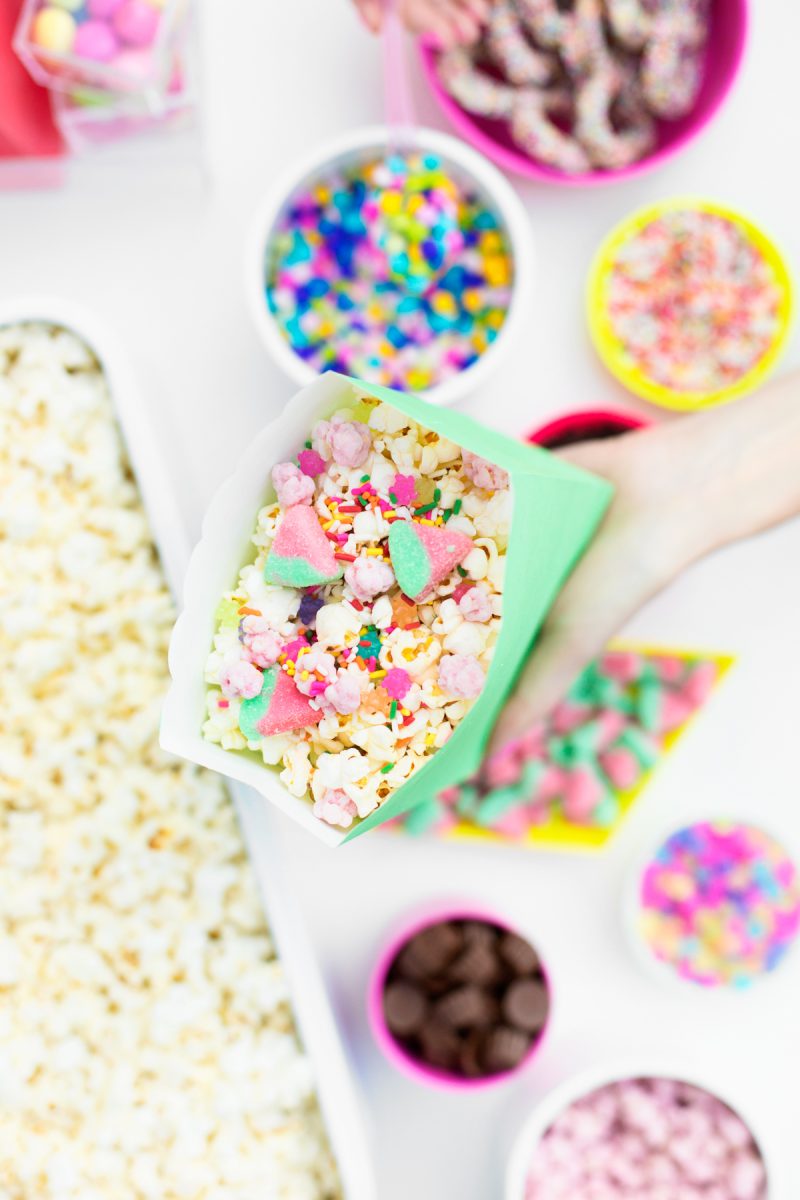 Make Individual Movie Kits!
Remember those cardboard kid snack boxes they had at the movies? They had like a little drink, popcorn and candy? Time to make your own… adult style! Find a cute little box or tray and fill it with the following: a bag or container for popcorn, a few movie-friendly candies, an IZZE in a DIY koozie (more on that below!) and a mini version of the movie poster! (Just print them at 25% size!)
Kit Sources: Acrylic Trays | Popcorn Bags from Target | "You're So Cool" Cards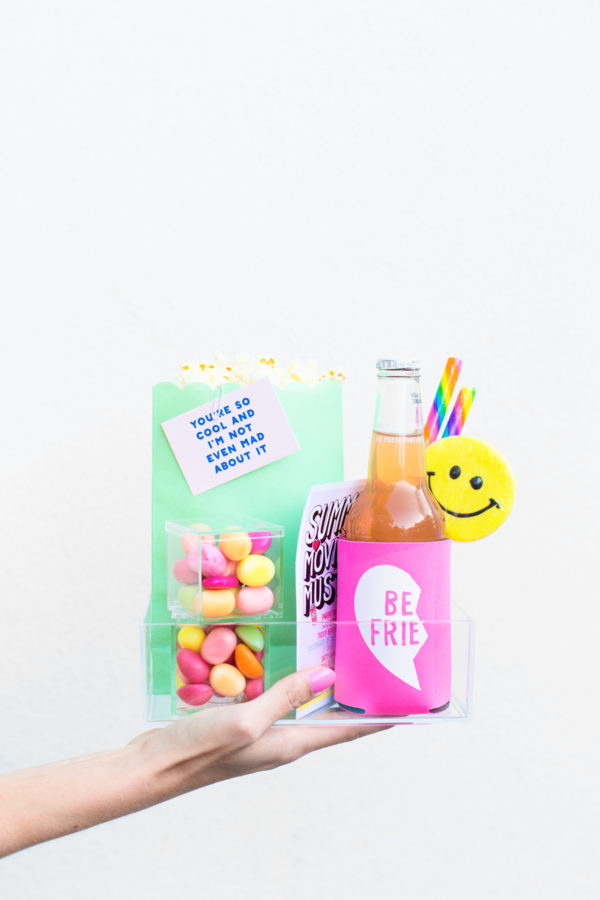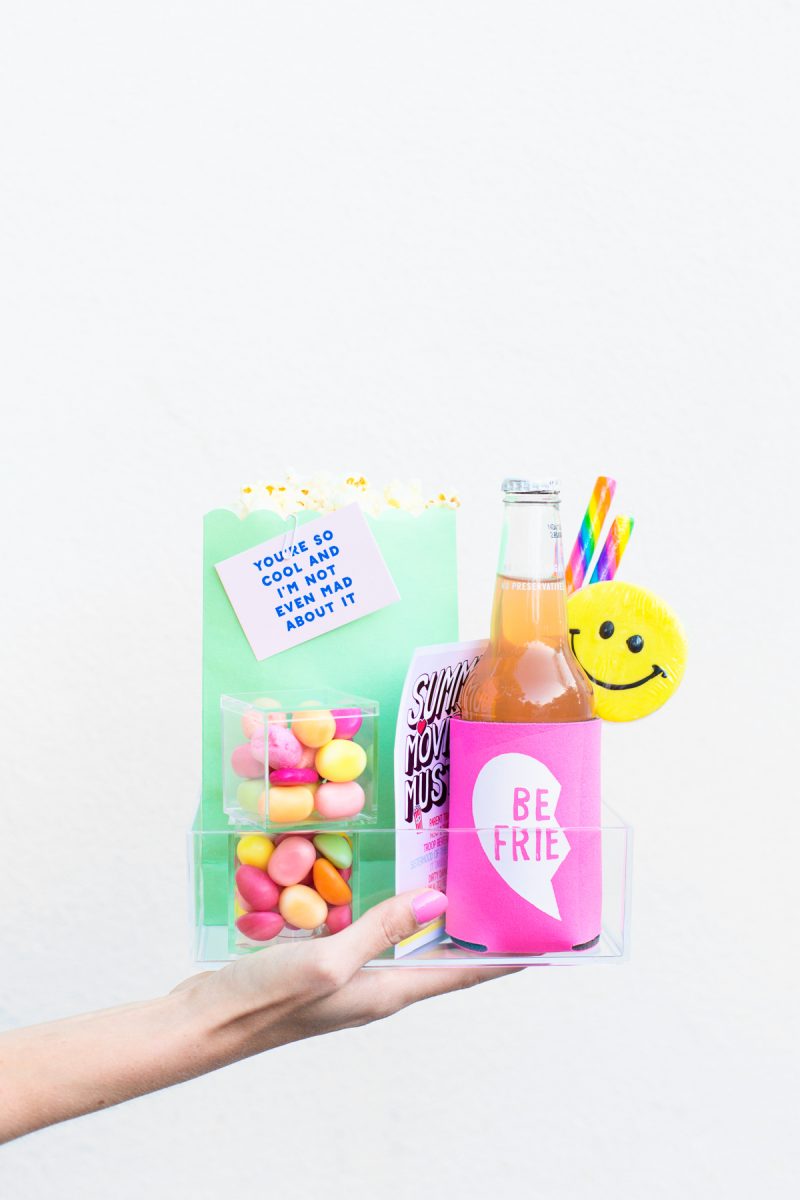 Make some BFF koozies!
Hey, we're all friends here! How fun would it be to have BFF koozies!?!? We've got two free printables here for you, one set says "Best Friends: and the other says "Gal Pals"!
Click here to download the BFF koozie templates!
Download the files and print them out on computer paper. Use scissors to cut them out the heart halves and the letters within them. Then, trace them (backwards) on to the non-shiny side of the iron-on vinyl and cut again. Follow the instructions on your vinyl (each brand is slightly different!) to iron on to solid color koozies!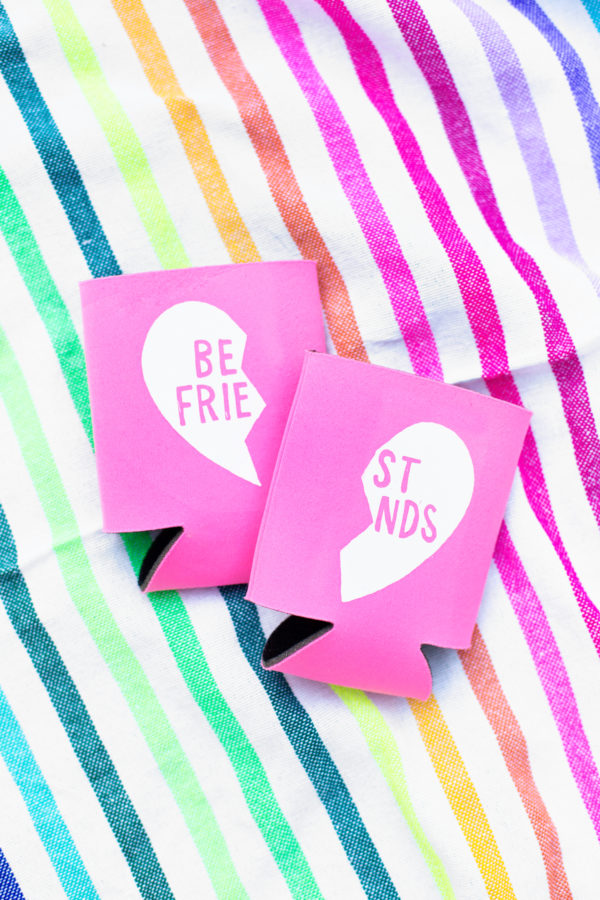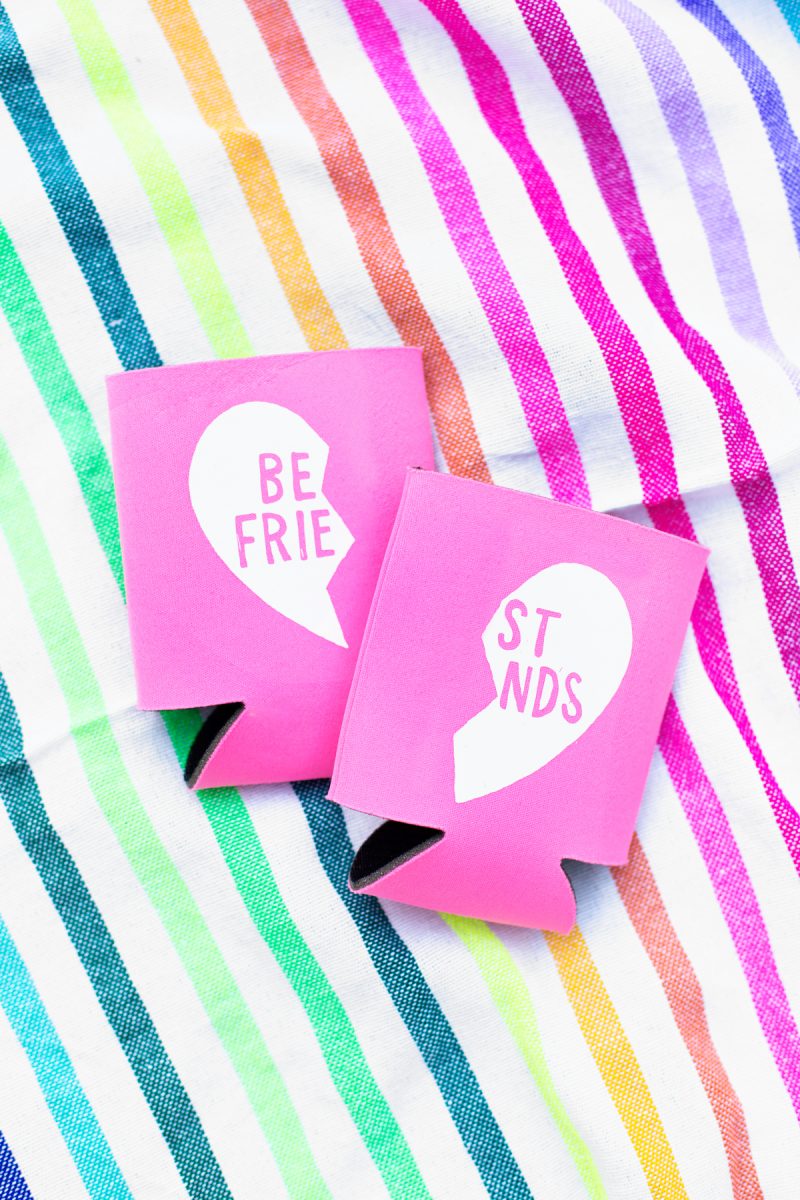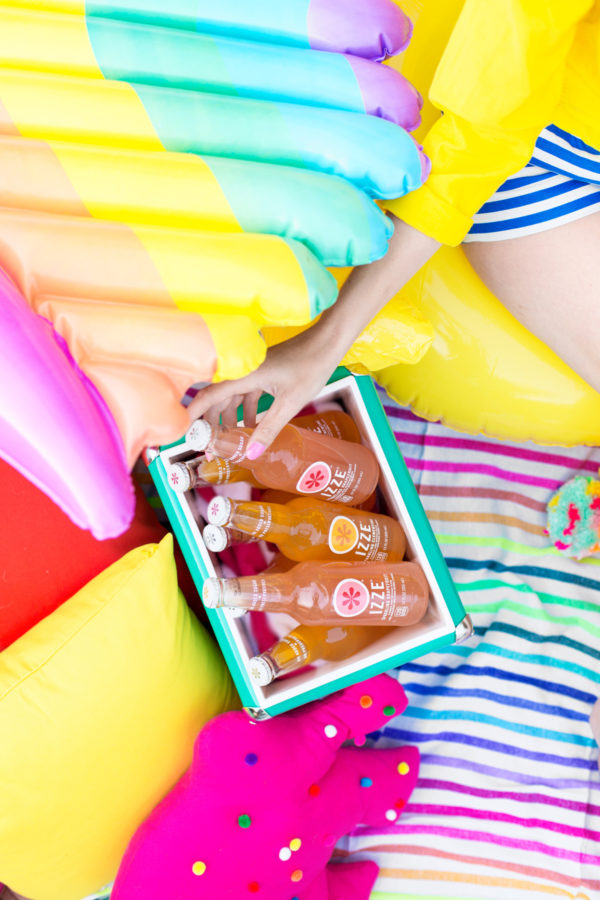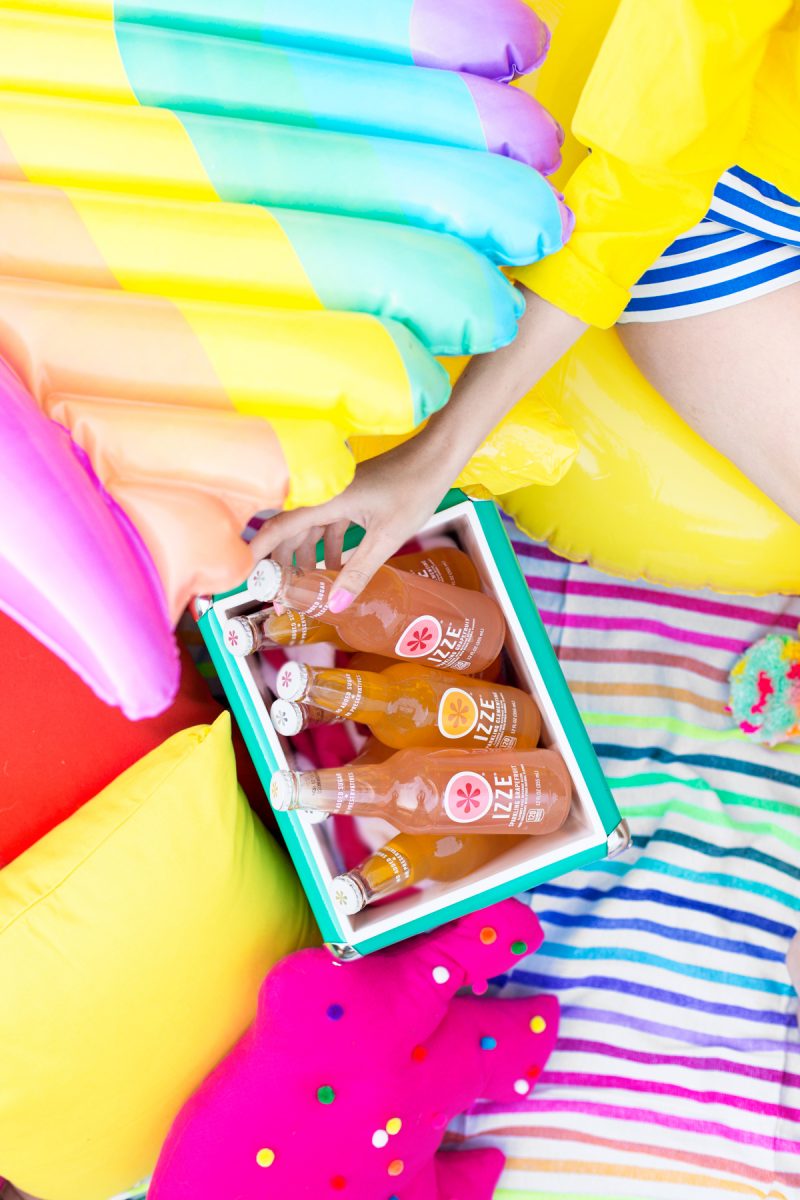 Put it together and what have you got….?
Ha, sorry couldn't resist! Use a solid wall or hang a large white sheet outside as a screen and set up a projector. Make sure you arrange your seating so nobody is blocking the projection onto the screen. Invite everyone over before dusk so you can hang out, get your snacks prepped and pick a movie! And then… enjoy!!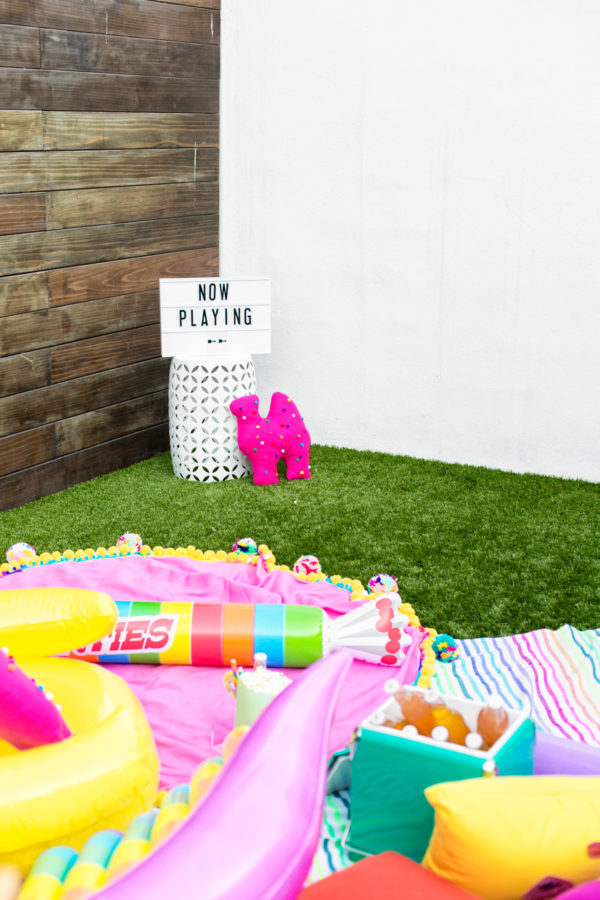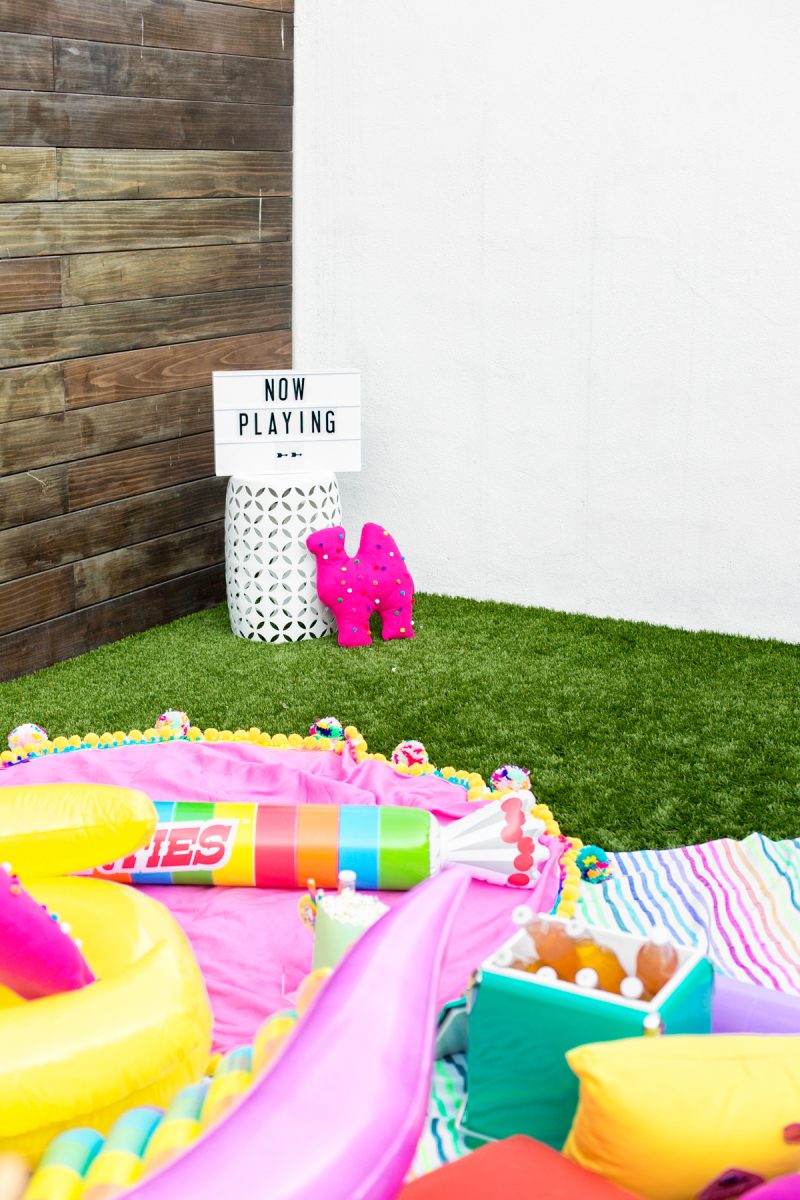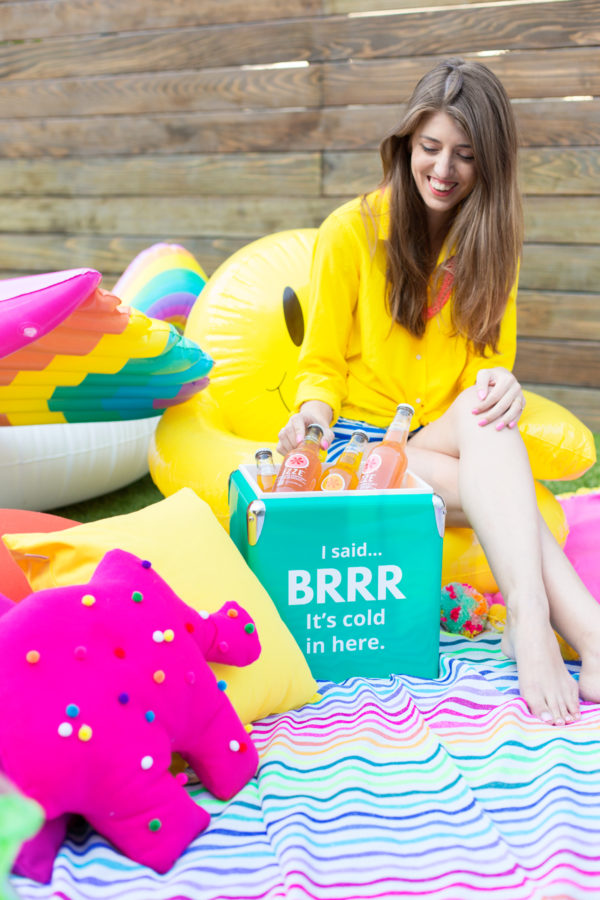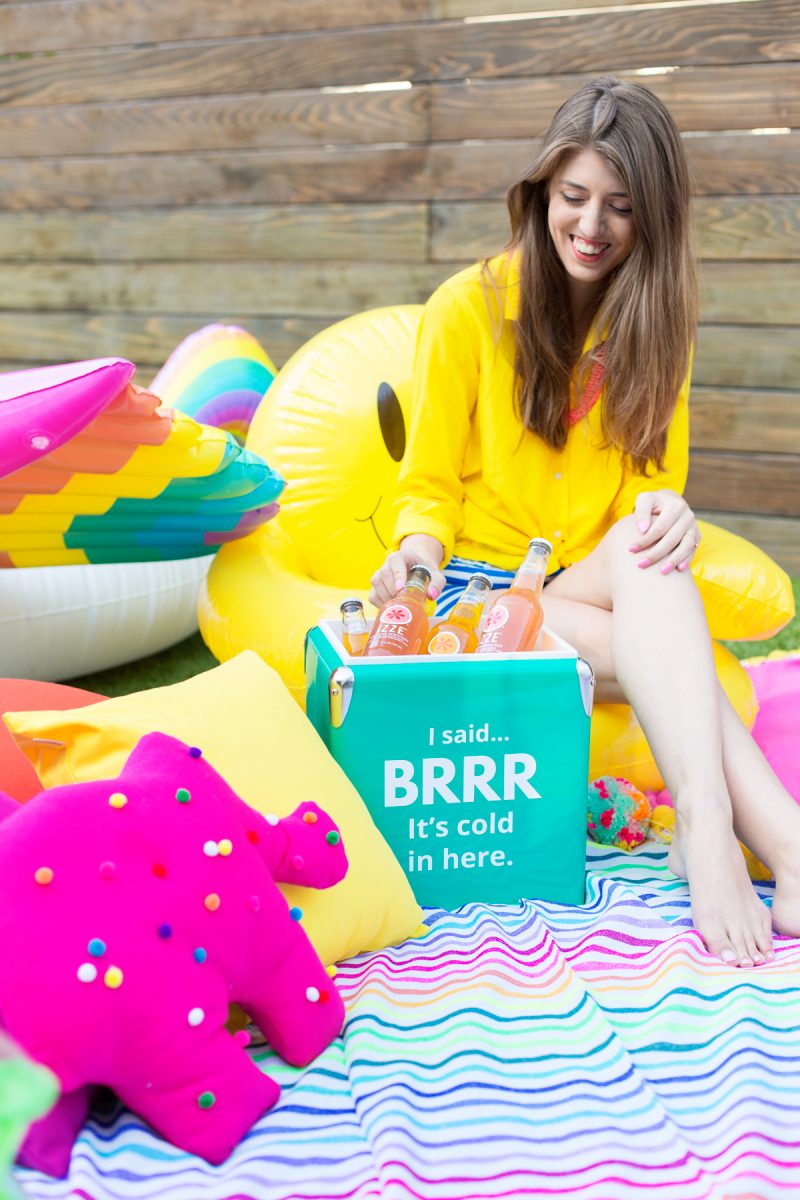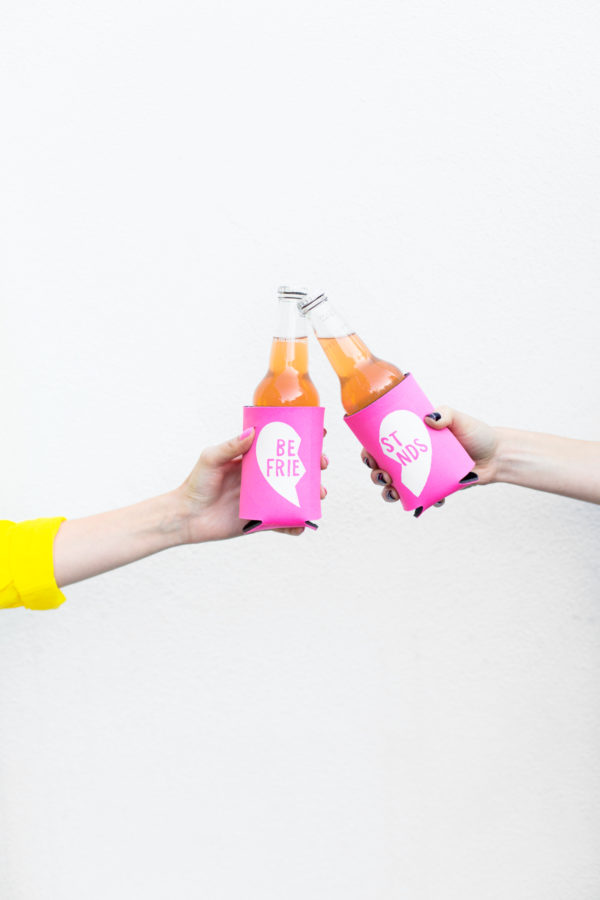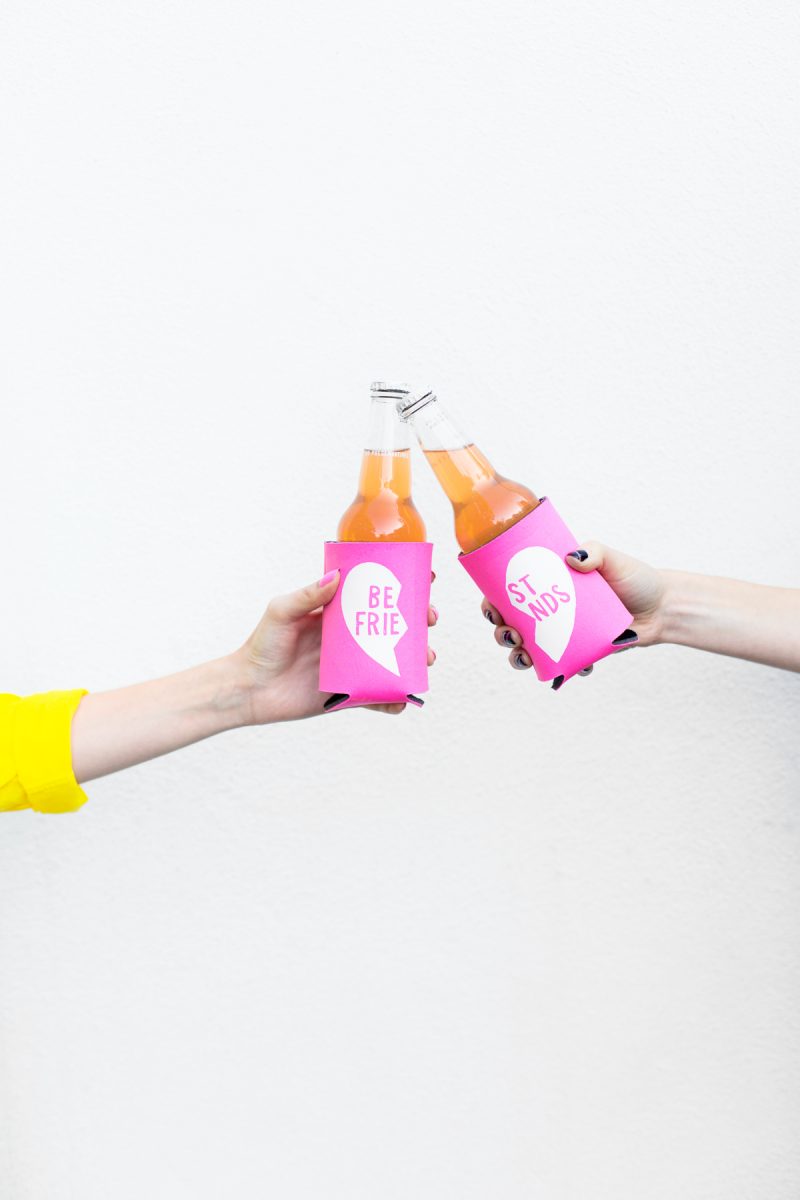 Photos by Jeff Mindell | Poster + Koozie Designs by Katy Jones
I mean… if you ever went to a movie night and got your own little snack kit wouldn't you just DIE!? I would. Have you ever thrown a backyard movie night!? What's your favorite summer movie to watch??
This post was created in partnership with IZZE. All content and opinions are that of my own! Thank you for supporting the sponsors that keep the Studio DIY party going! Read more about my editorial policies here.