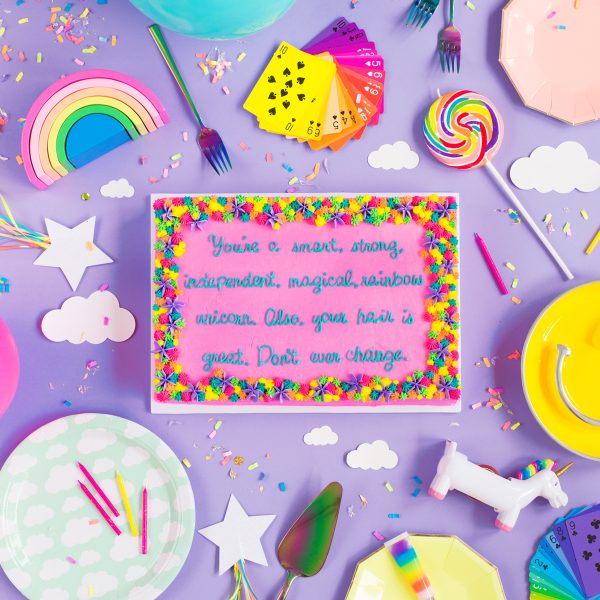 You've probably seen some of our compliment cakes floating around on Instagram in partnership with Mentos and their #RandomActsOfCompliMentos campaign! I've really loved being a part of this campaign and the idea of giving compliments to people just because!
Sooooo since today is National Best Friends Day, we wanted to share our tutorial for how we made these fun cakes! Because it turns out writing on cakes doesn't have to be hard. It's actually CRAZY EASY!! We even have free templates for a couple of 'em. Giving compliment cakes for no reason other than your friend just being awesome and deserving one… well, that's kind of the best.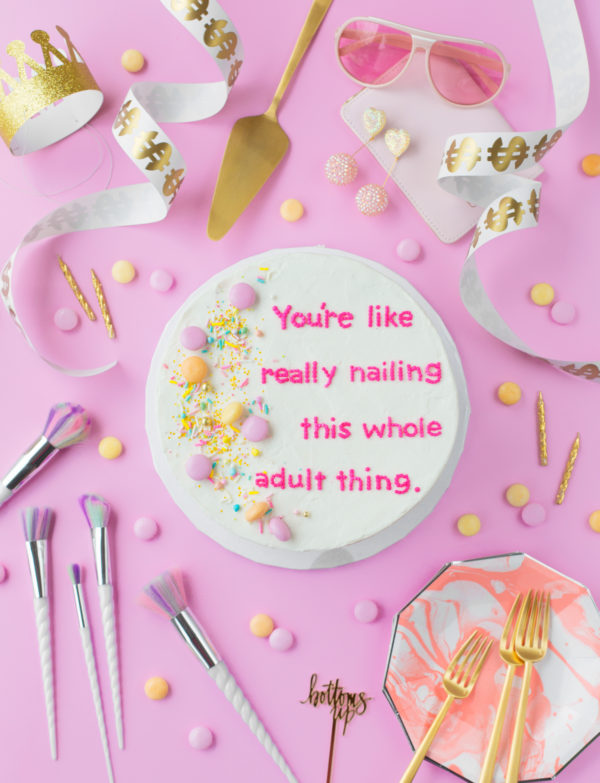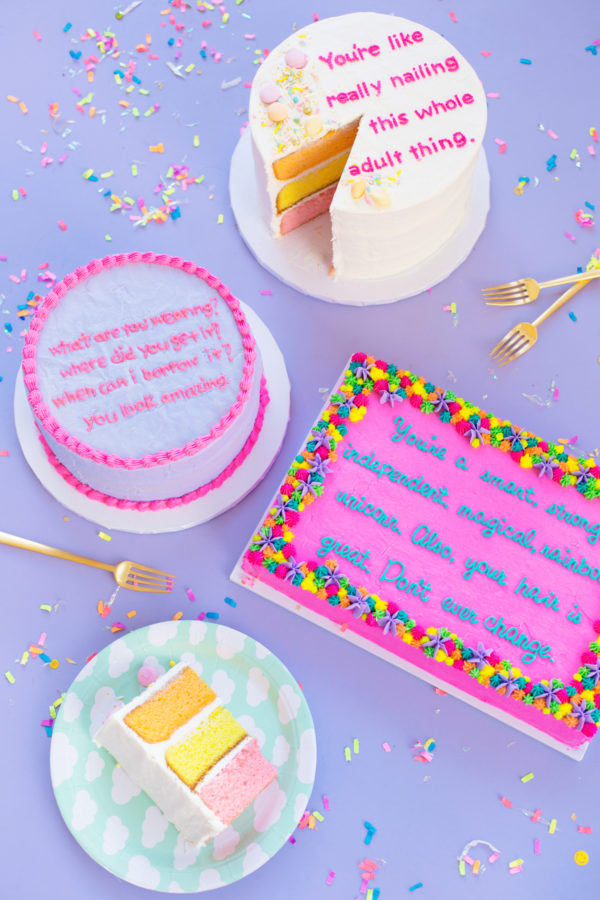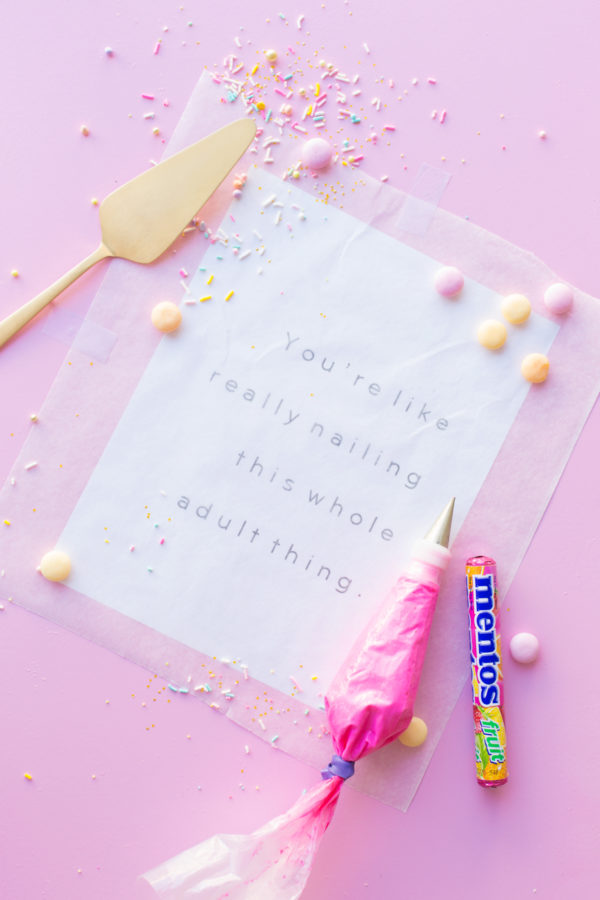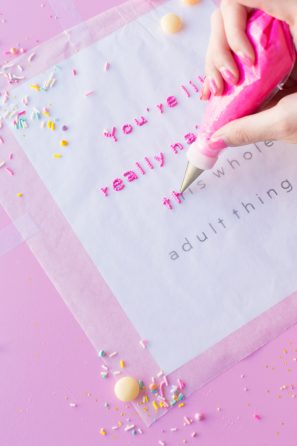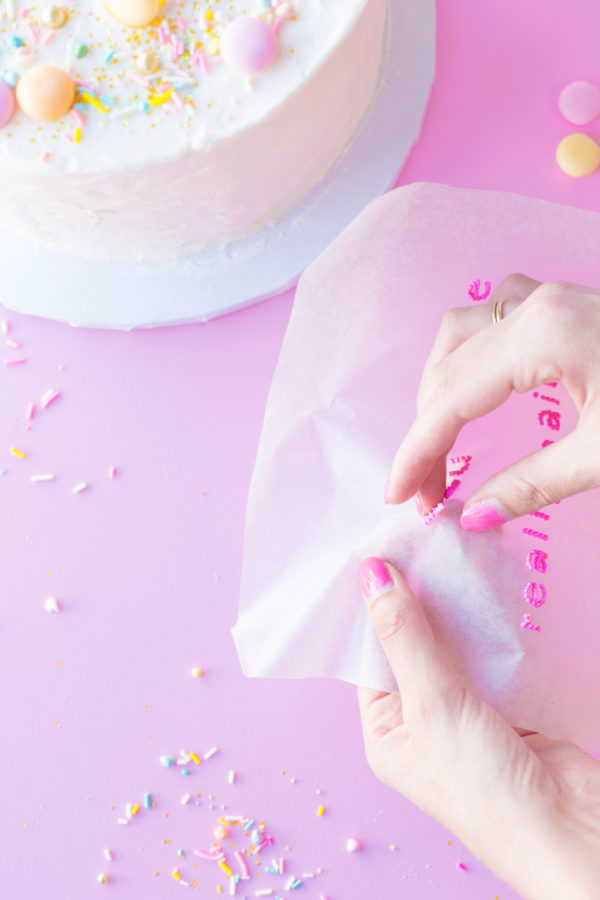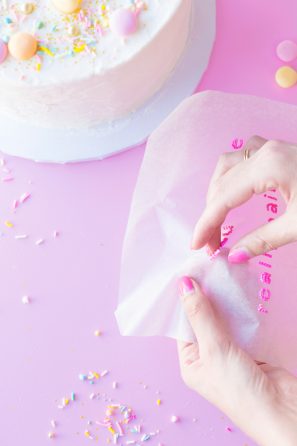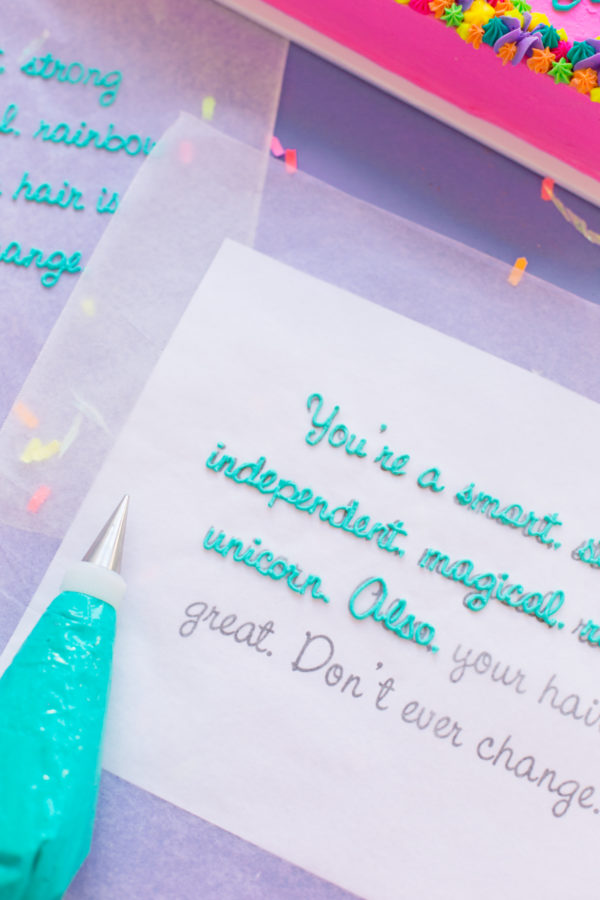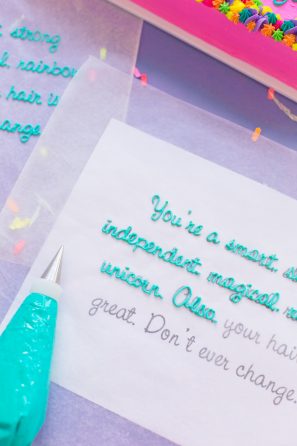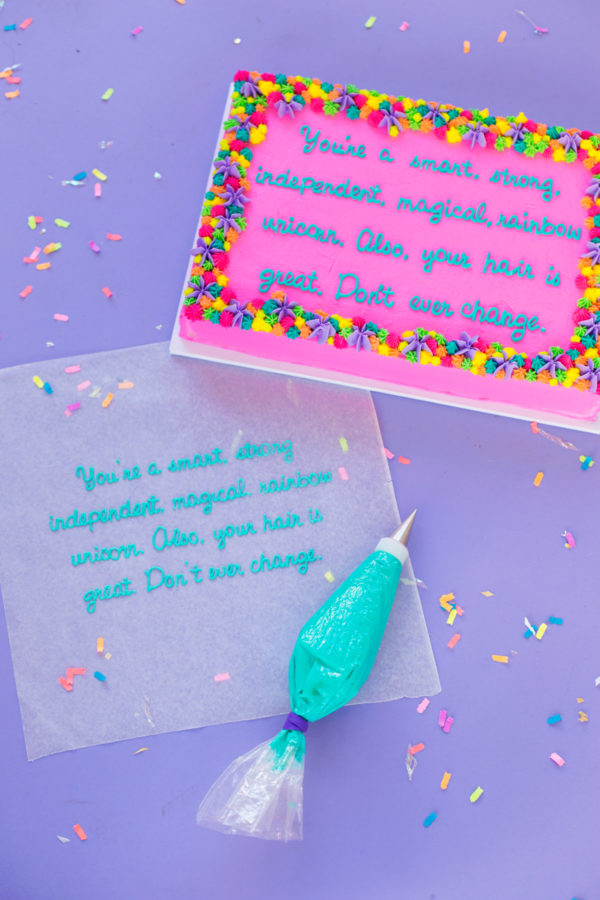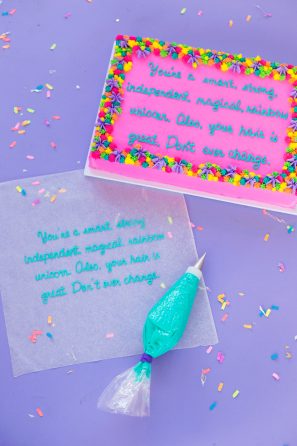 DIY Compliment Cakes
Total Time:
Supplies
For the Royal Icing:
1 1/2 tablespoons meringue powder
2 cups sifted powder sugar
2 to 3 tablespoons water
For the cakes:
Royal Icing
Piping bag (or resealable plastic bag)
Piping Tip
Wax Paper
Tape
Word Template (You can download our unicorn one here and adulting one here, or type up your own in a text-editing program and print it out!)
Directions
1. For the royal icing: Combine all ingredients in the bowl of a stand mixer fitted with the whisk attachment. Beat for 5 to 7 minutes till stiff peaks form. Add desired food coloring. Check for consistency at this point. For the dotted style, you want the icing on the thicker side. For thin detailed lettering like cursive, thin out the icing with a bit more water.
2. Lay your printed word template on a hard surface and place a piece of wax paper over the top. Tape it in place on at least two sides. This will help it stay in palce while you pipe!
3. Fill your piping bag, fitted with the piping tip, with royal icing.
4. Choose your writing style:
For the dotted style (as seen in the adulting cake): Pipe small dots right next to eachother, following the lines of the words you chose.
For the script style (as seen in the unicorn cake): Pipe in a continuous motion, following the letters, just as you would if you were writing with a pen or pencil.
For the sans serif (as seen on the "what are you wearing" cake): We used our handwriting for this one instead of a font. Write out what you want to say on a piece of paper. Place it under wax paper, just as stated above, and use that as your template!
5. Let the piping set completely, several hours or over night.
6. Then, carefully peel the wax paper off of each letter. It's best to peel the wax paper back (versus the trying to peel the letters up) to ensure they remains in tact*. Place the letters on your cake as desired!
*Note: If you have a letter or two that breaks, they'll fit right back together like puzzle pieces on the cake and you won't even be able to tell! Just continue as planned placing letters on the cake.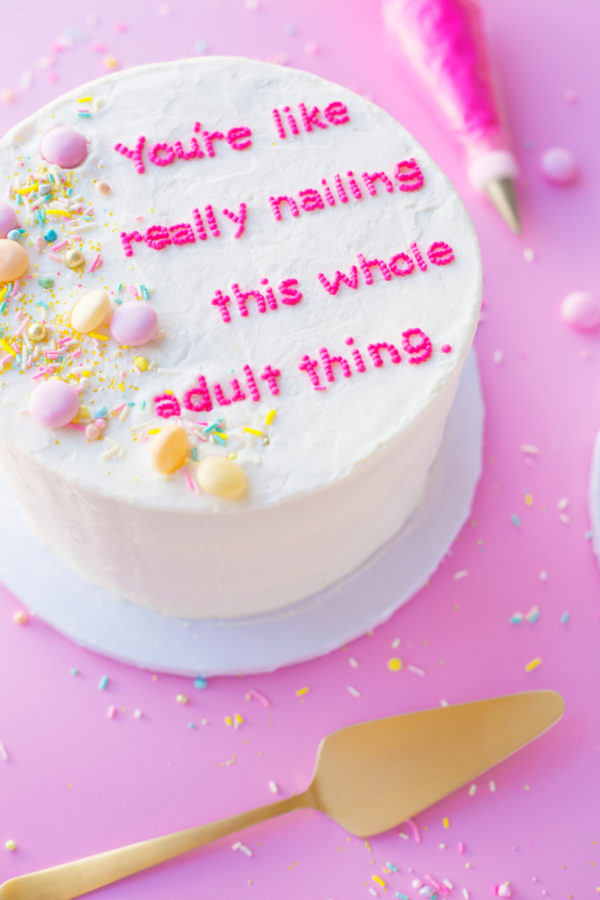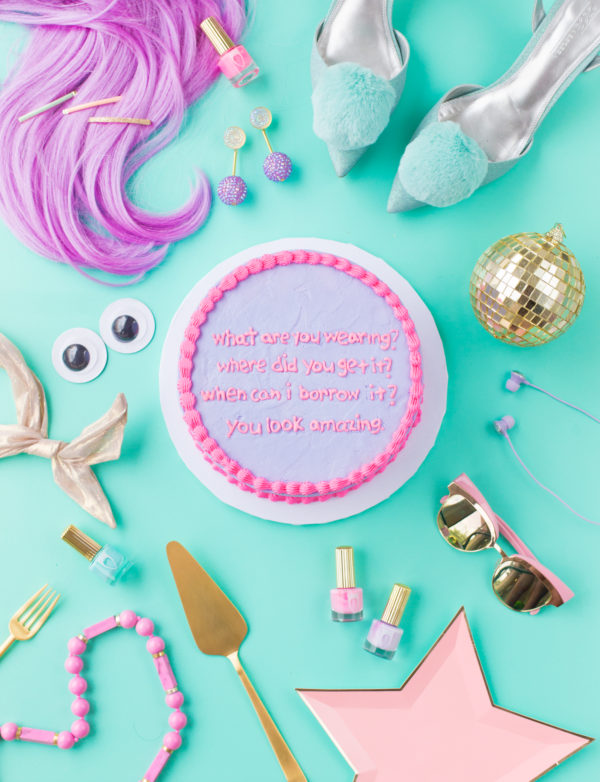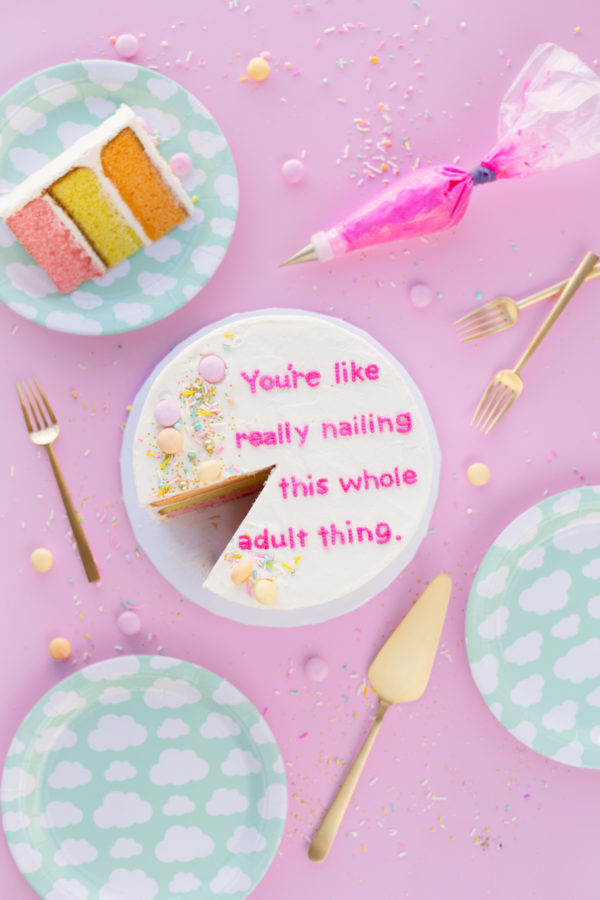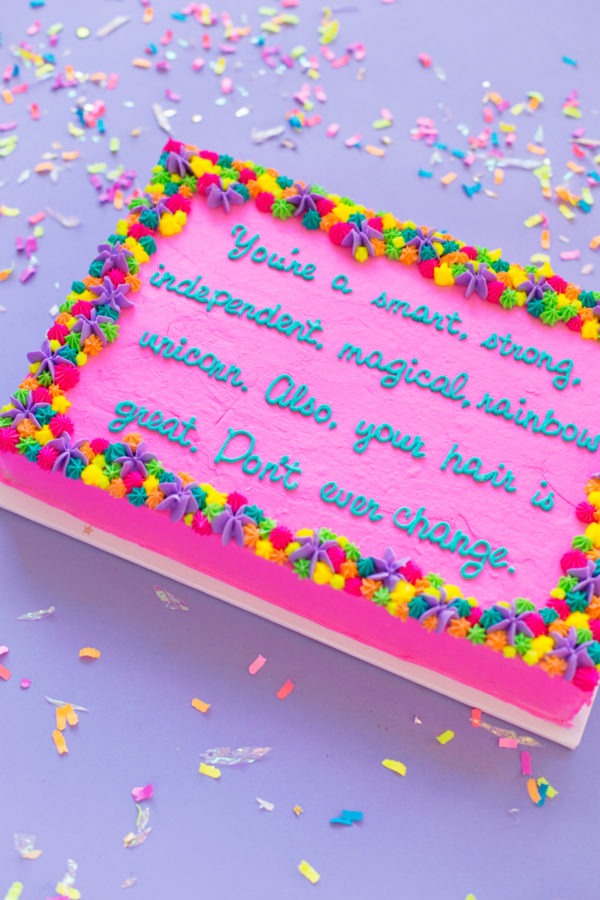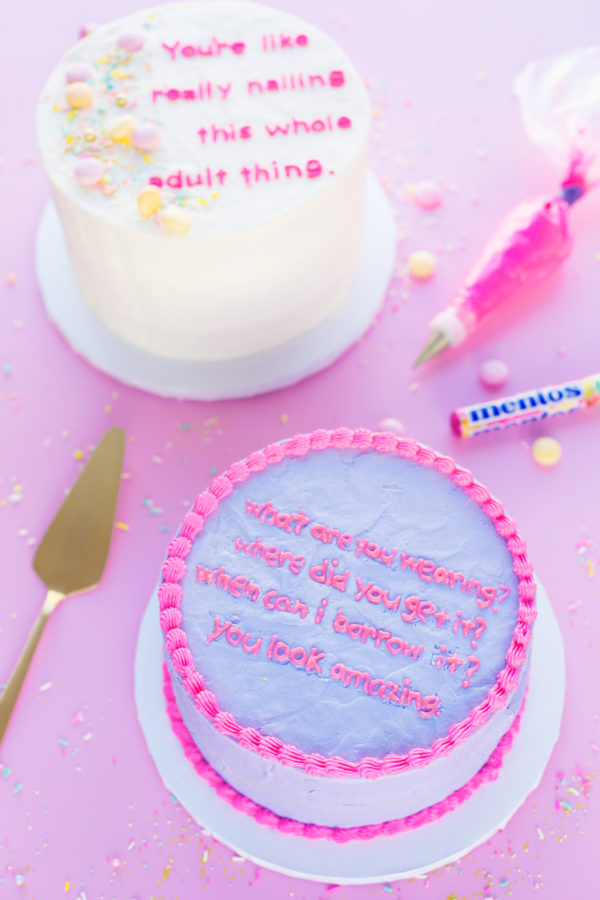 Photos by Jeff Mindell
Well Happy National Best Friends Day, you guys!!! What would your compliment cake for your BFF say!? If you make one, be sure to share it on Instagram and tag #RandomActsOfCompliMentos so we can see it!!
This post was created in partnership with Mentos, All content and opinions are that of my own! Thank you for supporting the sponsors that keep the Studio DIY party going! Read more about my editorial policies here.