Taking a break from my recent cake obsession to bring you a little party supply makeover! You know those confetti cannons, also known as party poppers, that they sell at the party store? They aren't too cute to look at, but they explode with confetti… so who wouldn't want one!? Well, I solved the not-cute problem today by giving them a little makeover! Those ugly wrappers can so easily be fixed with some stripes, tassels and disco balls! I didn't intend for this to be a Valentine's Day DIY (those are coming at you in full force soon!), but I couldn't resist adding a little sparkly heart. You could put a note that says "You make my heart POP!" with it, perhaps? Or just label it "heart attack" (hehe!) and call it a day. Whether it's for a birthday, Valentine's Day, or any day… here's the easy peasy makeover how-to!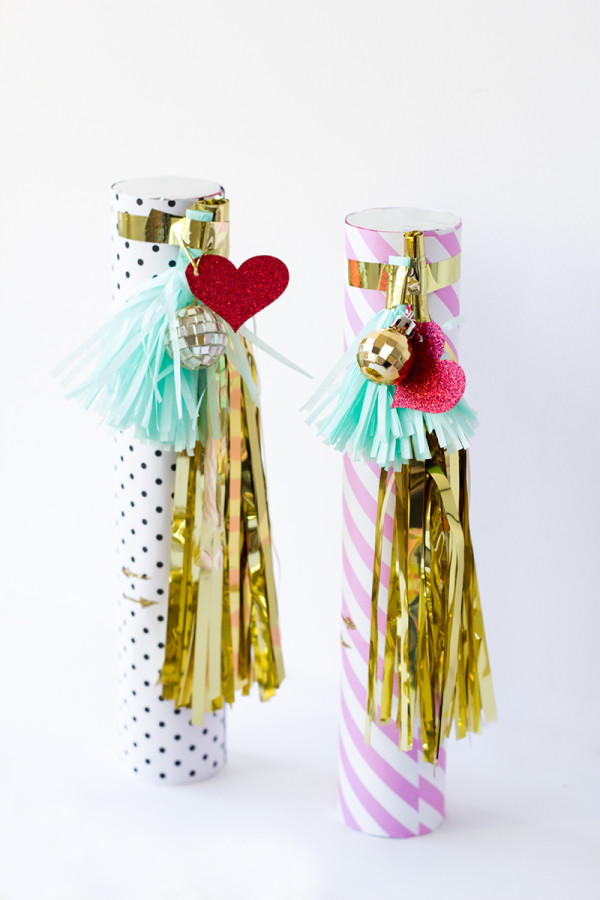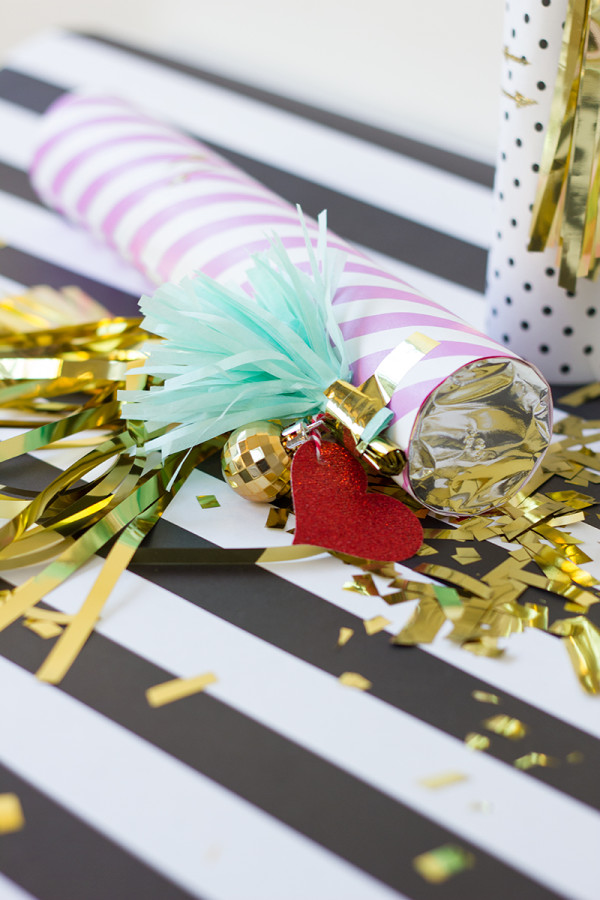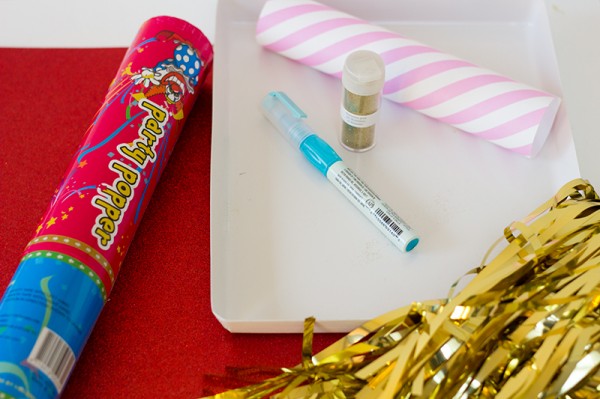 Confetti Cannons/Party Poppers*
Wrapping Paper (I used this from Fig. 2 Design + this from Sugar Paper)
Glue Pen
Glitter (I used this awesome glitter tray
from Martha Stewart too. It collects all the glitter and has an opening to easily pour at back into the container. WHAT!? Genius.)
Double-stick Tape
Trimmings! (I used glitter paper, gold mylar curtains, tissue paper and mini disco balls.)
*It's hard to know what color the confetti is inside the cannons, and don't always trust what the store tells you! I was told these were rainbow, but they were Mardi Gras colors inside. Sometimes they have mylar versions as well. Just know, whatever comes out of it, it's so exciting… nobody is going to care about the color!
First things first, let's cover up that ugly wrapper! Cut a piece of wrapping paper that is the length of your cannon and wide enough to wrap around the cannon once and overlap about 1/4″. In order to explode these cannons, you have to be able to twist them, so now you'll need to divide your wrapping paper into a top and bottom piece. Use the twisting line already indicated on the cannon to help you size these pieces appropriately. Before adhering the wrap, take note of which direction the arrows on the cannon are pointing. Then, adhere the top and bottom pieces of wrap using double stick tape and rolling it up, covering the whole cannon! Now you'll need to re-indicate the arrows so the recipient knows which way to twist. I did this by drawing on the arrows with a glue pen…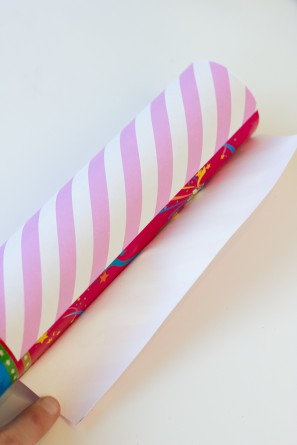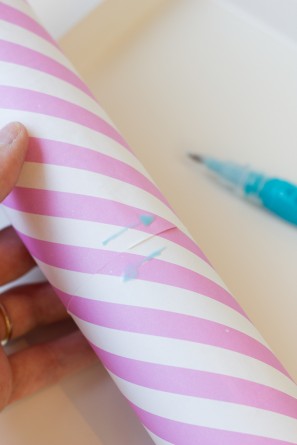 …and glittering them up! Shake off excess and let dry. Then it's time to fancy it up! I made tassels using foil curtains (cut to the length you want, roll up and tape) and fringed tissue paper (same steps as the foil!). I cut out hearts from glitter paper, sliped it over the string of a mini disco ball and taped all my trimmings right to the cannon with some pretty gold tape.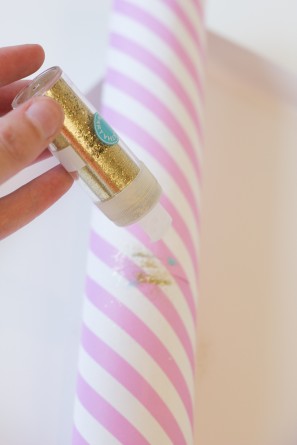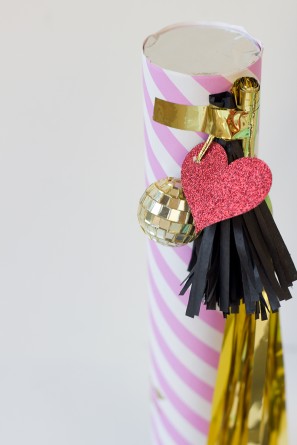 Done!!!! If you haven't ever exploded a confetti cannon, I should warn you… they are loud, and powerful, and shouldn't be pointed directly at someone when exploding. If you think your recipient might not realize the intensity, I'd recommend adding a little note with it. Safety first!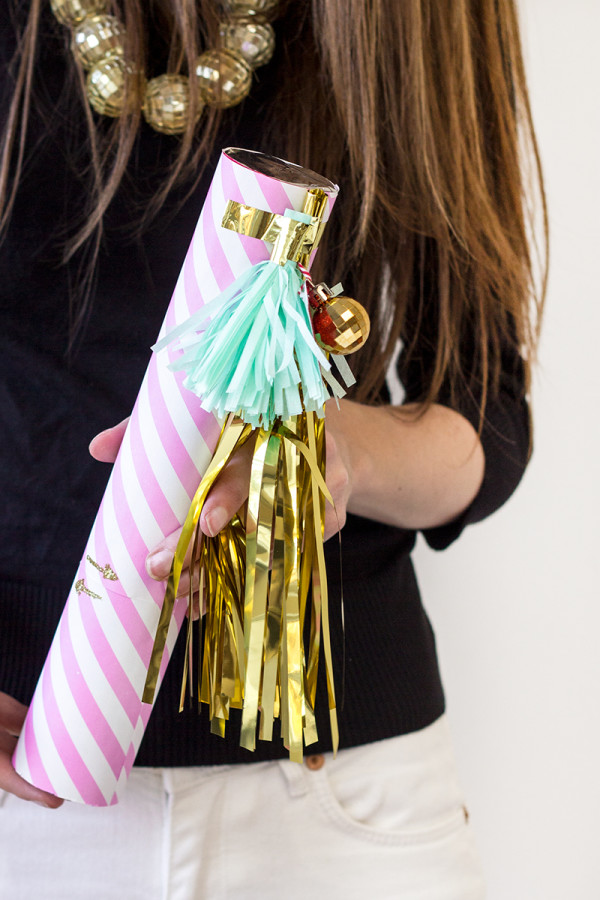 Tada! The Mardi Gras colors were an interesting surprise! Ha!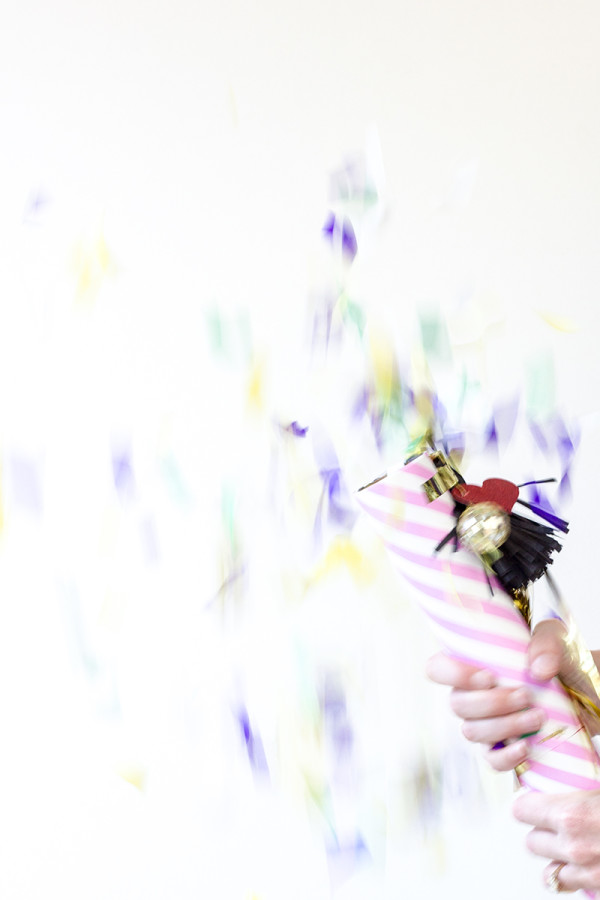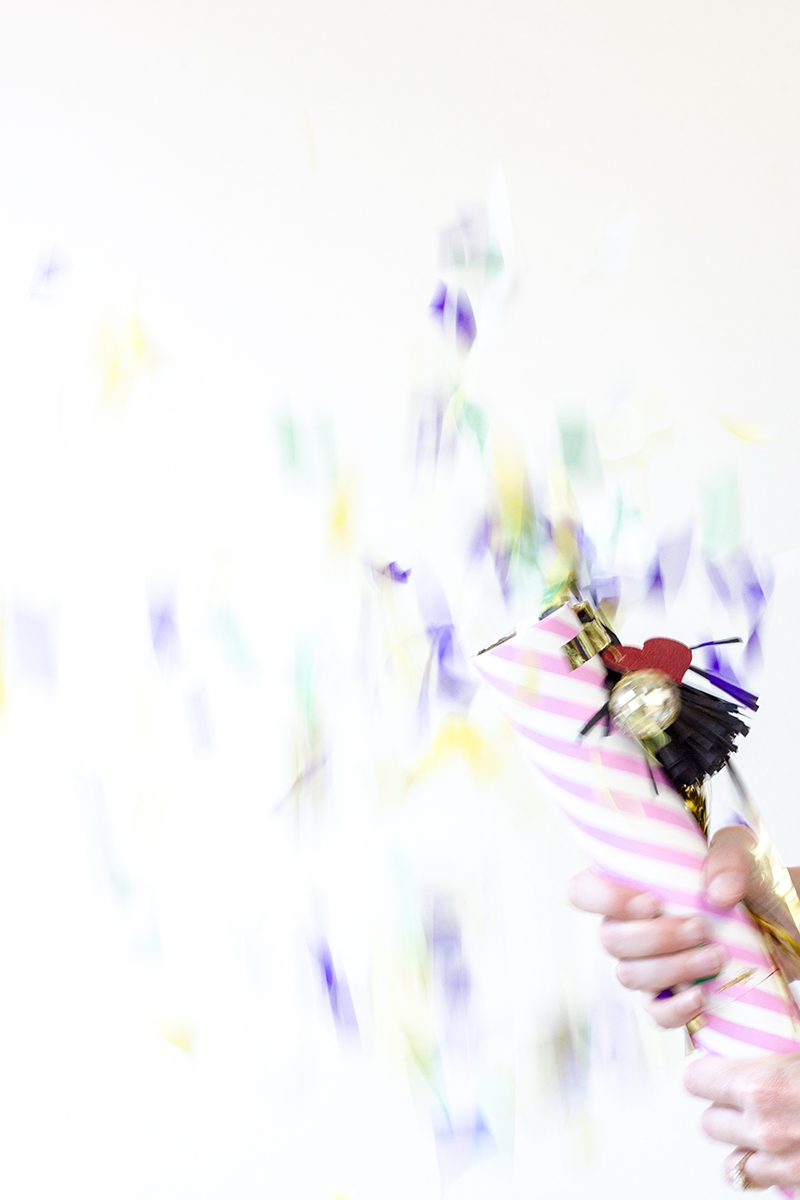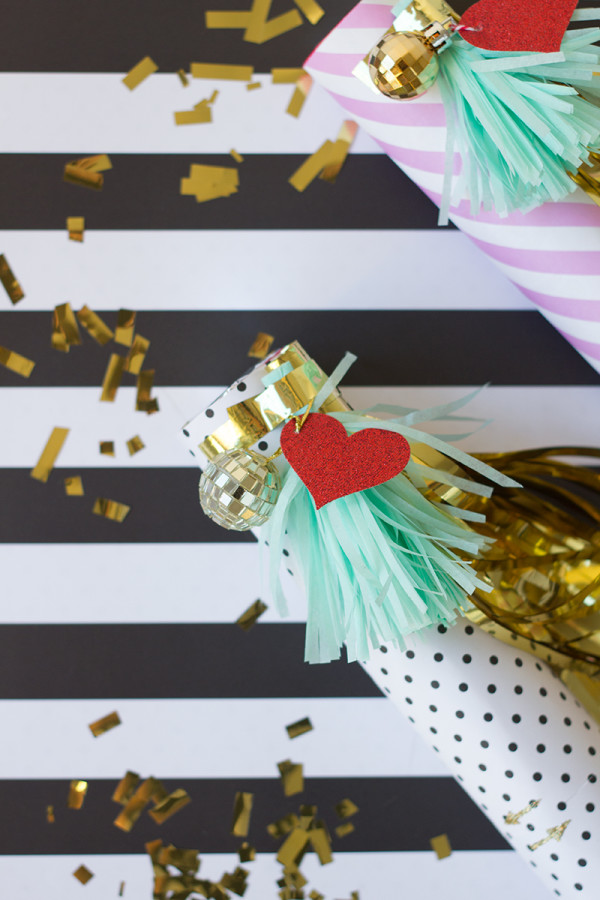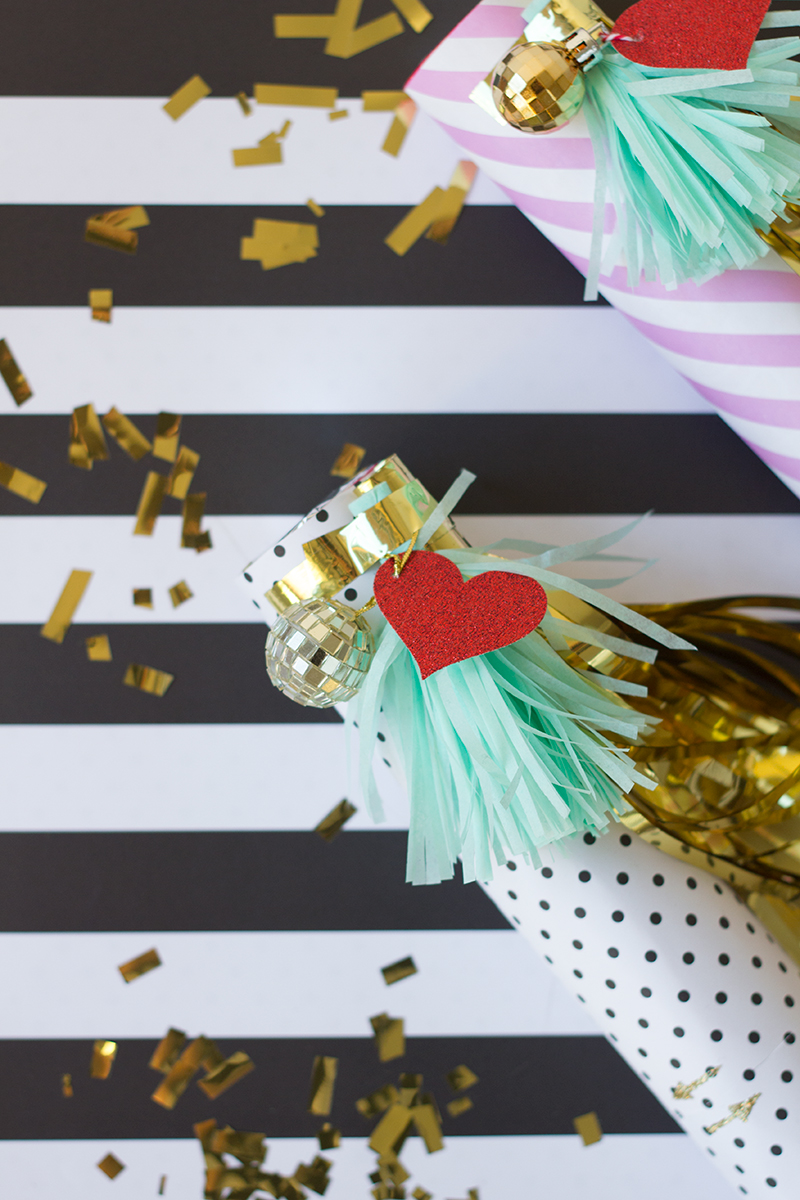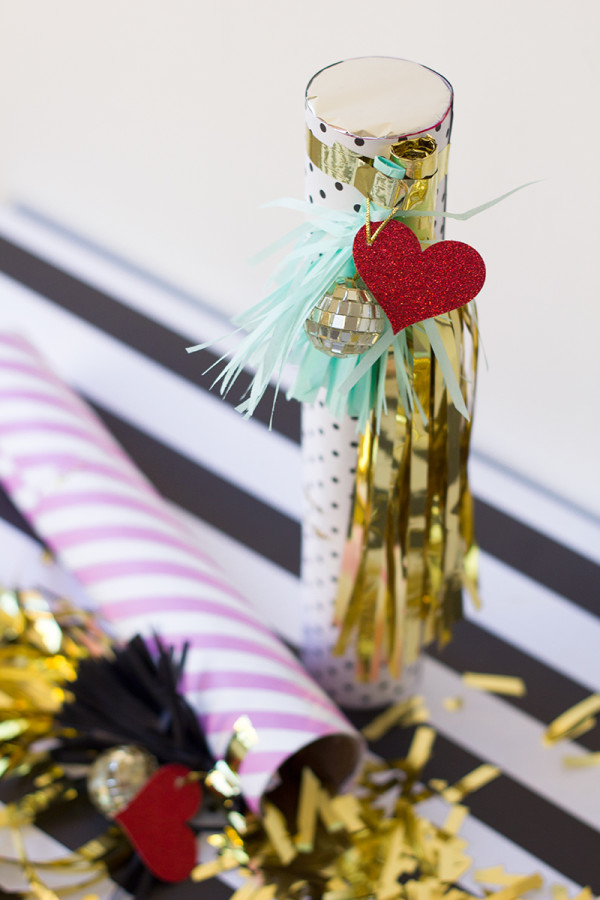 All Photos by Studio DIY
And there you have it, another way to make a party store staple.. not so party store looking. I would love your opinions here! I've done a few party supply makeovers in the past… like this gilded piñata and this piñata-gram. I was thinking… perhaps I should make this a new little series on Studio DIY? I know it's not always easy to make party decor from scratch, so I'd love to keep showing you guys how to turn the basics into the awesomes! (Yep, I said awesomes. Plural.) What do you think!? Would you like to see more of these ideas?
For more confetti filled ideas, head over here!
This post is a part of the 12 Months of Martha program, all content and opinions are that of my own.