Today's DIY project is sponsored by The Confetti Bar.
Confetti poppers just got better, folks. For not one but two reasons. First of all, The Confetti Bar is now open and ready to fill all your confetti needs. Yep, it's a shop that just sells all things confetti (I'm sorry, am I dreaming!?), so you better bet when the shop's founder Jessica approached me to work together I was all over that. We've partnered up for a few fun projects this summer, and it all starts with the classic confetti popper. But it's not so classic anymore… I've hidden a super fun surprise message banner inside! This burst of confetti doesn't just say "Hooray!", it screams it! You ready?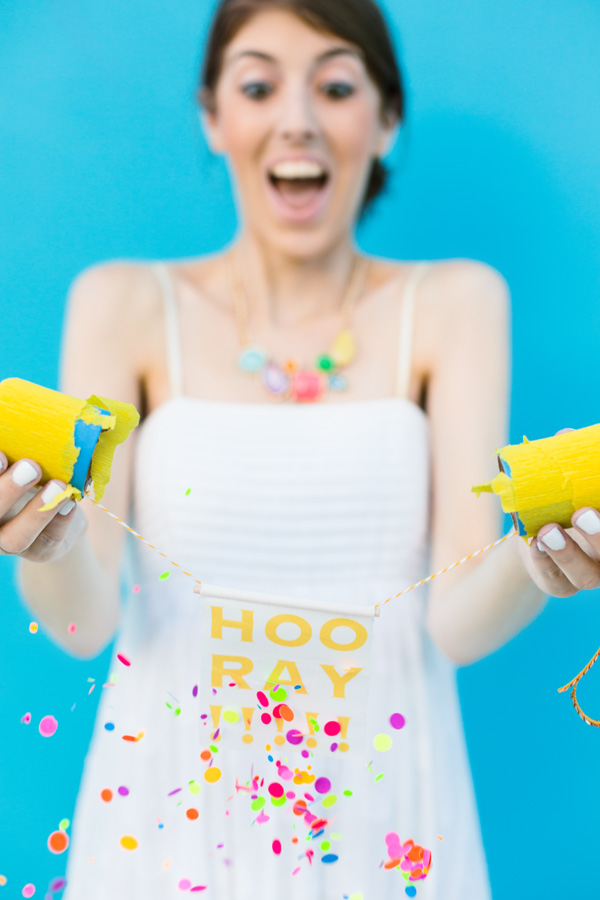 All of The Confetti Bar's smaller confetti comes in these cute little jars, perfect for everyday confetti needs… yes? There are so many different kinds to choose from, but I am particularly fond of the letters and numbers, and the neon variety!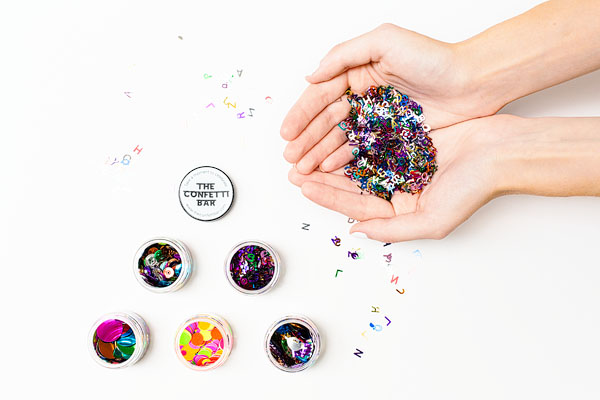 Now let's put some of that good stuff to use…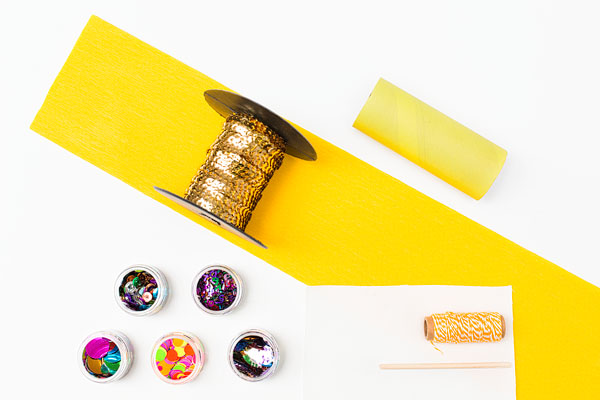 Cardboard Tube
Fine Crepe Paper
Heavy Cotton Fabric
Printable "Hooray!" Template in your Color of Choice (Or other message you create) + Inkjet Printer
Sewing Machine or Fusible Bonding Web
Small Dowel
Twine
Confetti (!!!)
Sequin Trim or Ribbon (Optional)
Scissors
Double Stick Tape
Masking or Artist's Tape
First let's prepare our crepe paper. You'll need one piece, about 16″x 12″. The 12″ side should should be measured along the non-stretchy grain of your crepe (fancy term there, huh?), and the 16″ side should go with the stretch. This makes the paper easier to tear when it's "popped!" You can leave your edges plain, or you can scallop them as I did. To scallop the edges, fold up your crepe so you have a long skinny strip (about 1″ by 12″ when folded) and cut a half circle shape in each end.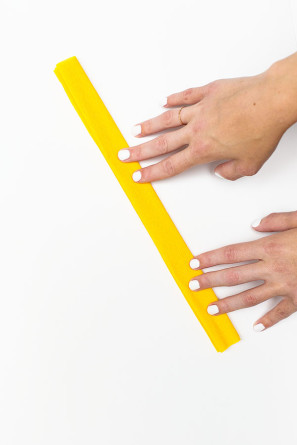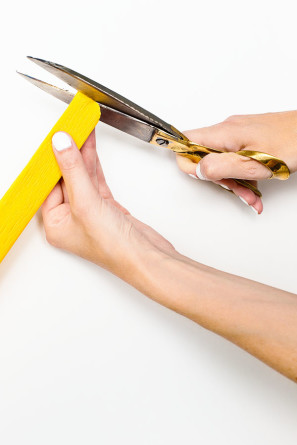 Now let's make the banner! Print out your template on a piece of cardstock. Cut a piece of fabric so it extends about half an inch beyond each edge of the banner template. Lay it on top of your template and tape down all edges with masking tape. Be sure to not tape too close to the edges, this confuses the printer. Now print the template again, being sure to feed your fabric-covered cardstock back in the same way it was fed in before. Voila! Printed fabric. Let the ink dry completely. (psst… This worked seamlessly on my HP Photosmart printer but I can't guarantee all printers will take the fabric. Use your best judgement. If you don't think your printer can handle it, use the same method for taping the fabric to the cardstock, but use a fabric pen to "trace" over the words instead.)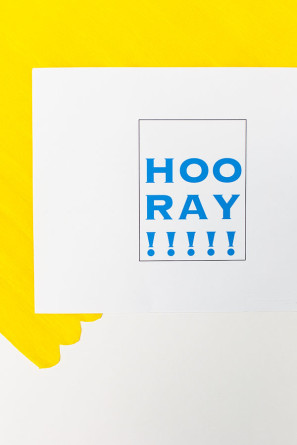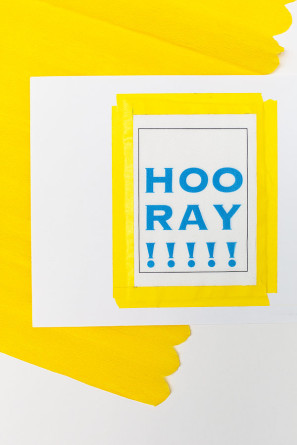 Cut out your banner and fold over about a half inch on the top. Use your sewing machine, or your fusible bonding to "stitch" a quarter-inch wide pocket in the top for your dowel. Insert your dowel and a piece of twine through the pocket. You should have about six inches of twine extending on each side of your banner.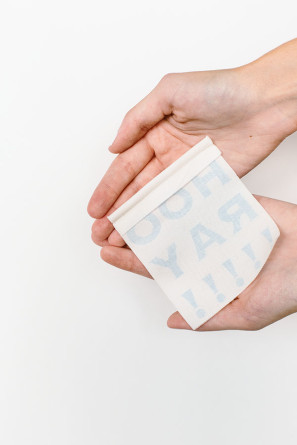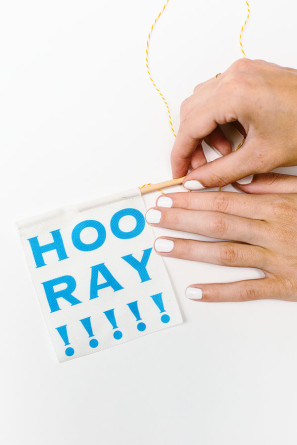 Cut your cardboard tube in half and tape one side of your twine to the inside of one half, then repeat the same with the other side. Roll up your banner and "hide" it inside the tube.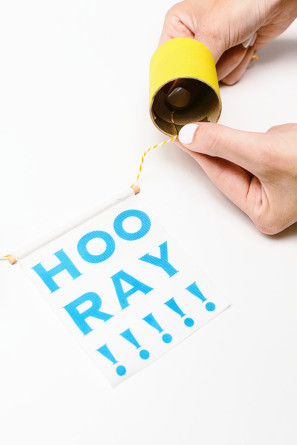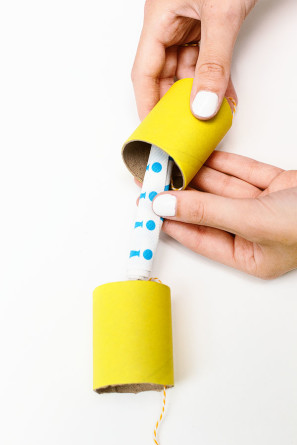 Using double stick tape, adhere your tube to the center of one side of your crepe paper. Roll it up and secure it with more double stick tape. Tie off one end, tightly, with your twine.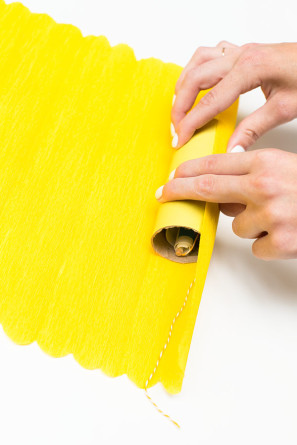 Fill, fill, fill with confetti! You know what I always say, the more the better! Once your satisfied, tie off the other end with twine and adorn with additional ribbon or sequin trim if desired.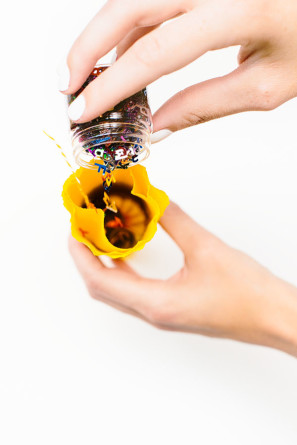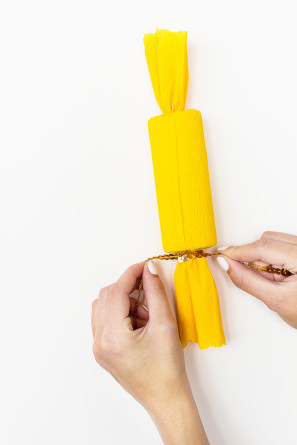 Now it's ready to be popped!!! A few notes on "popping" ettiquite. I recommend holding each side of the tube from underneath. Pull hard, and make sure you're somewhere indoors or where the confetti can easily be cleaned up. We don't want to be littering confetti, as pretty as it may be!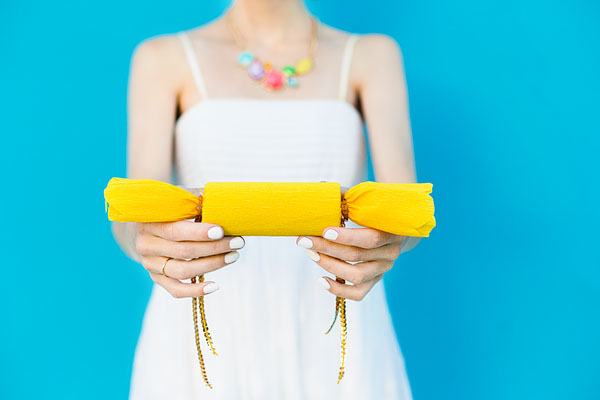 SURPRISE! See, even I was surprised, and I made the thing! Ha!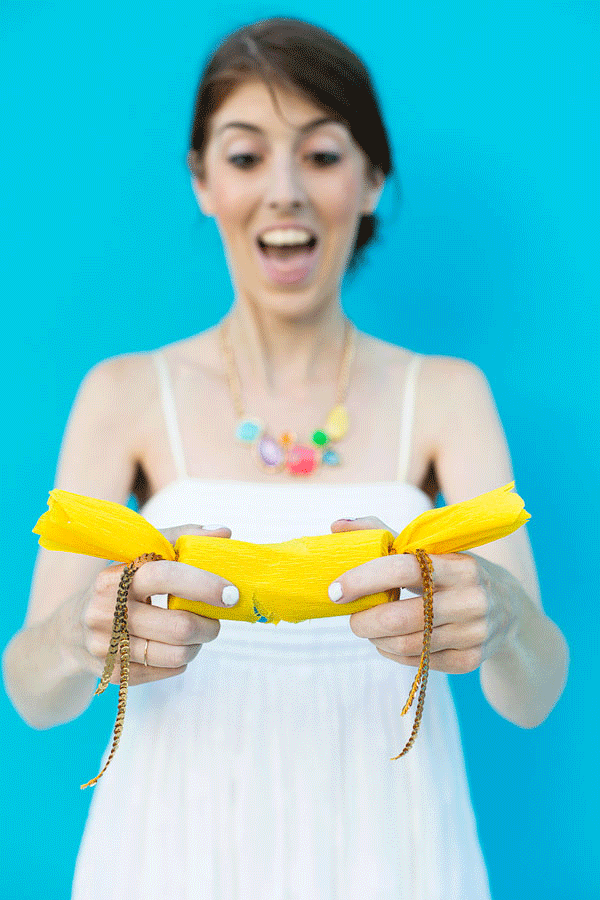 These would be amazing for a gender reveal (that's why I included pink and blue templates.. hint hint! The Confetti Bar does custom colored confetti, too! Ehm…), and of course, great for pretty much anything that deserves a big "HOORAY!" I love that folks can keep the little banner as a souvenir from their confetti-filled good time, too.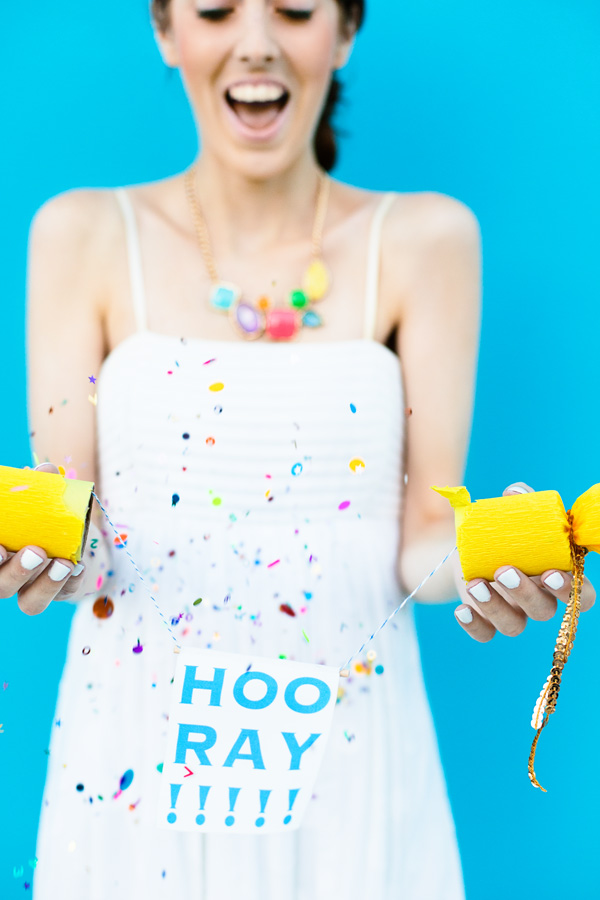 All Photos by Mary Costa Photography for Studio DIY
The confetti popper will never be the same again. Am I right!? What would you use one of these blasts of fun for?

This DIY project is sponsored by The Confetti Bar. All content and opinions are that of my own! Thank you for supporting the sponsors that keep the Studio DIY party going! Read more about my editorial policies here.