THIS GIVEAWAY IS NOW CLOSED.
UPDATE! We have our winner! Congratulations to Jamie! Check your inbox for an email from me and you'll be crafting your life away soon!
I've been wanting to try out potato stamping for awhile now, so when I saw the concept in the new Martha Stewart's Favorite Crafts for Kids book that showed up in my mailbox for June's 12 Months of Martha, I knew I had my project picked! The book is chock full of amazing projects to do with kids, and I can't wait to try out a few of them with my nieces. But for this one, I was selfish and kept the goodness all for myself. So what does one party-obsessed girl create when she has potato stamps and a white t-shirt? A confetti stamped shirt of course! Great for casual birthday wear, and for summer in general if you ask me. And guess what!? You can get your confetti stamping on too (along with 174 other projects) by entering to win a copy of the book! Scroll to the bottom to find out how to enter to win!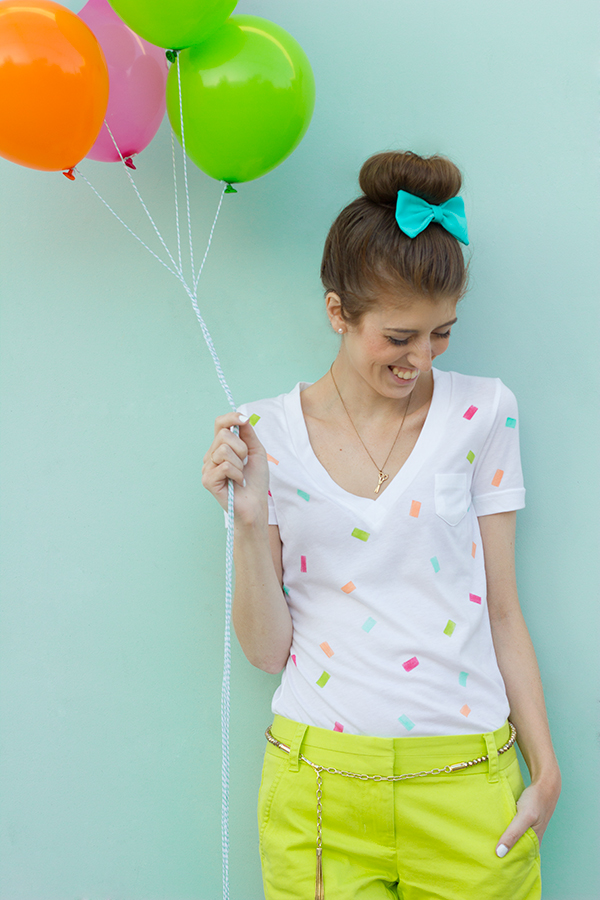 Sorry guys, I just can't get enough confetti this month! Ok, I'm totally not sorry.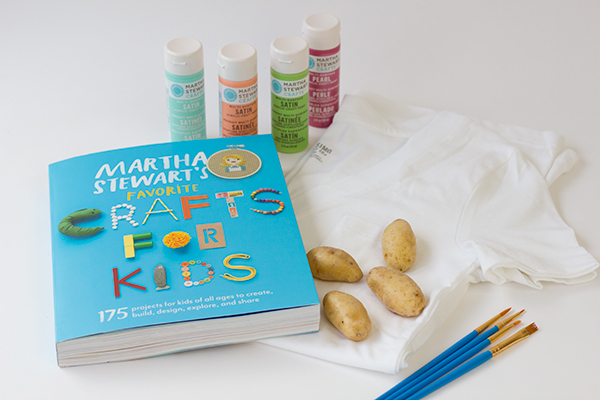 T-Shirt
Potatoes (Since I wanted a small stamp, I used fingerling potatoes.)
Sharp Knife (And something to cut on)
Fabric Paint
Paint Brushes (Optional)
Cardboard (To put inside your shirt while you stamp)
The potato stamping craft in the book offered two options: using the potato as the stamp itself, or cutting it into a shape with a cookie cutter! Both awesome. I modified the potato, free-handed to make my stamp.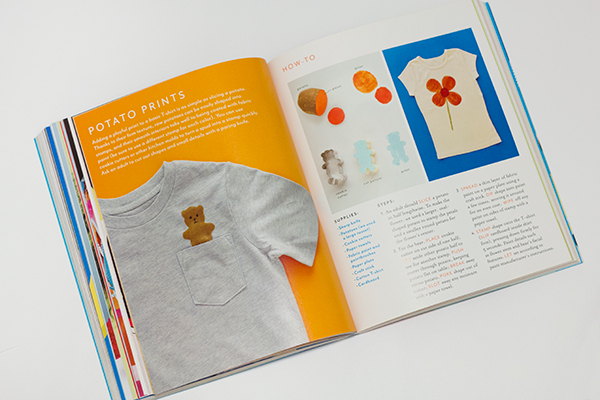 I used one potato for each stamp. Try to get potatoes that are all somewhat similar in size, to make cutting easier. Cut each potato in half. Put the cut side down and trim the sides off of the potato, forming a rectangle shape on the cut side. (Note: Obviously if you are doing this project with children, make sure you or another adult does this step! We like keeping all little fingers and toes in tact around here.)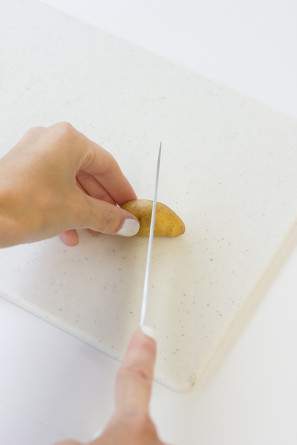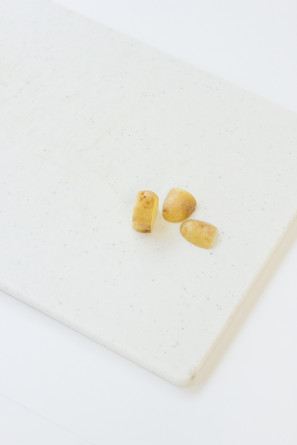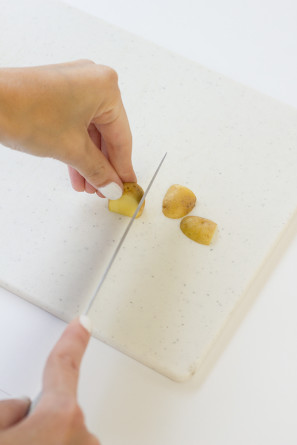 Repeat this with as many potatoes as you need, making sure to keep them all similar in size if you want a similar look to my shirt.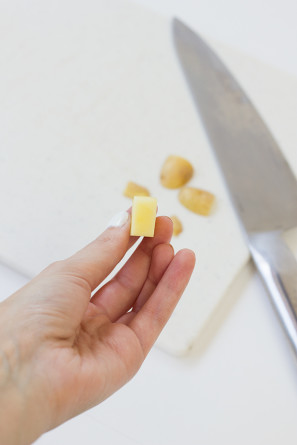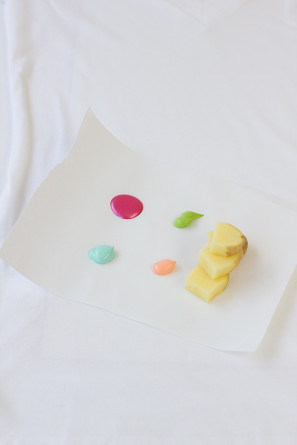 Slip a piece of cardboard into your shirt while stamping. Now, there's a few methods to getting the paint onto the stamp. As the book suggests, you can spread a thin layer of paint on a paper plate and dip the stamp right into it. This is probably best for the youngest children working on the project. For me, I liked using a paintbrush to paint a layer of paint on the stamp. This gave a very even confetti stamp each time. Whatever you choice, once your stamp is loaded up with a thin layer of paint, start with one color and stamp it all over your shirt as desired.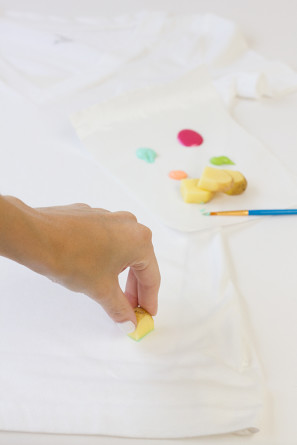 Once you have all your confetti in one color, move on to the second, third and so on, until you are happy with your confetti coverage. (Ha!) Let dry completely.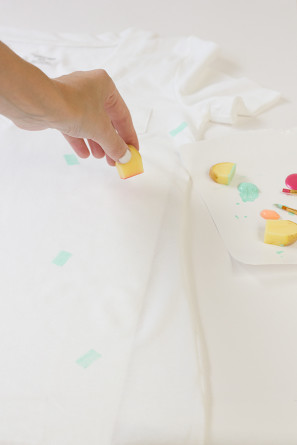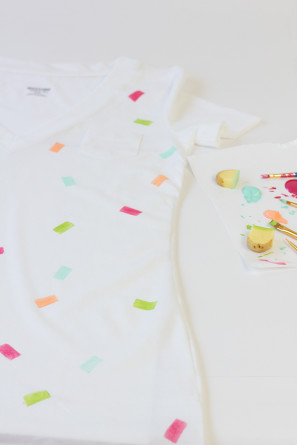 And then get your dance on in your new schmancy shirt! Yes, I do in fact rock out to imaginary music during these shoots, as evidenced below…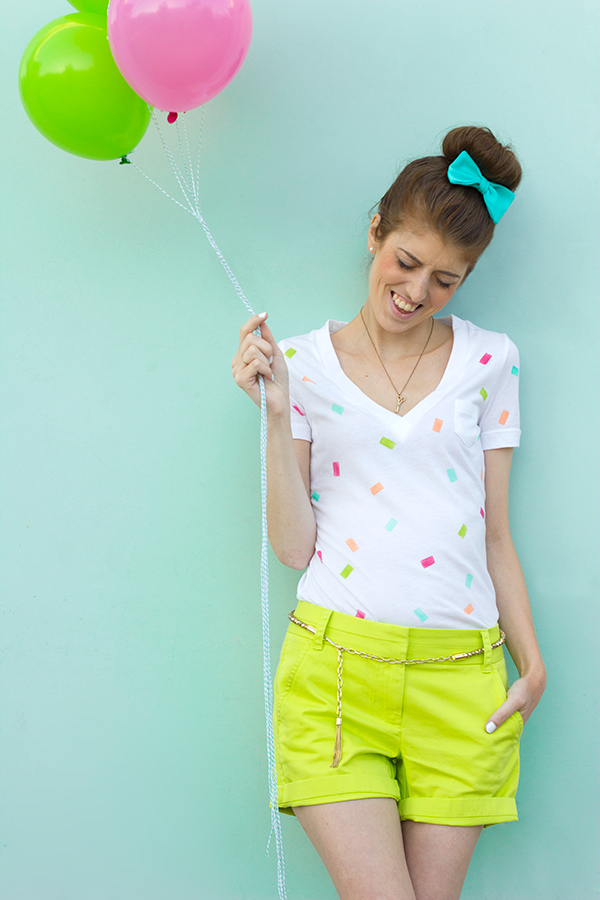 The stamping was so easy, I have so many more projects up my sleeves now! Get. Ready.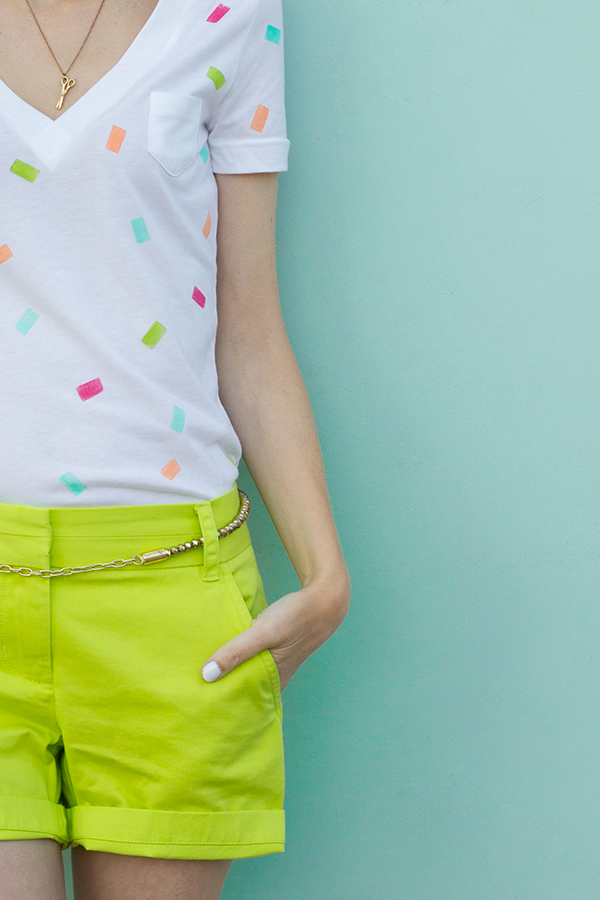 All Photos by Studio DIY
Now, for the giveaway!!
THIS GIVEAWAY IS NOW CLOSED.
To enter to win a copy of the Martha Stewart's Favorite Crafts for Kids book:
Leave a comment below telling me what your favorite craft to do as a kid was by Sunday, June 30th, 2013 at 11:59pm PST. One winner will be selected at random and announced right here on Monday, July 1st.
BONUS ENTRY! For an extra entry, follow Studio DIY on Twitter and leave an additional comment here letting me know!
Limited to US readers only. One winner will be contacted via email and have one week to respond before a new winner is chosen.
This post is a part of the 12 Months of Martha program, all content and opinions are that of my own.