Today's DIY project is sponsored by The Confetti Bar.
For the final post in my series with The Confetti Bar (Did you see the confetti message poppers and confetti manicure yet!?), I decided to go big or go home. Because The Confetti Bar also sells giant wall confetti and, well, the words giant and confetti look oh so great together. Instead of popping the confetti on the wall, I decided to make it float in mid air with a little magic (aka fishing line). This makes the perfect photobooth backdrop for a party and you know what else it's great for? A hostess gift! I'm often asked for creative and unique ideas for hostess gifts and here's one for the record books… a photobooth, in a box! Package up the backdrop, some pretty tape to hang it with and a few funky props and you have a hostess gift sure to beat any old bottle of wine!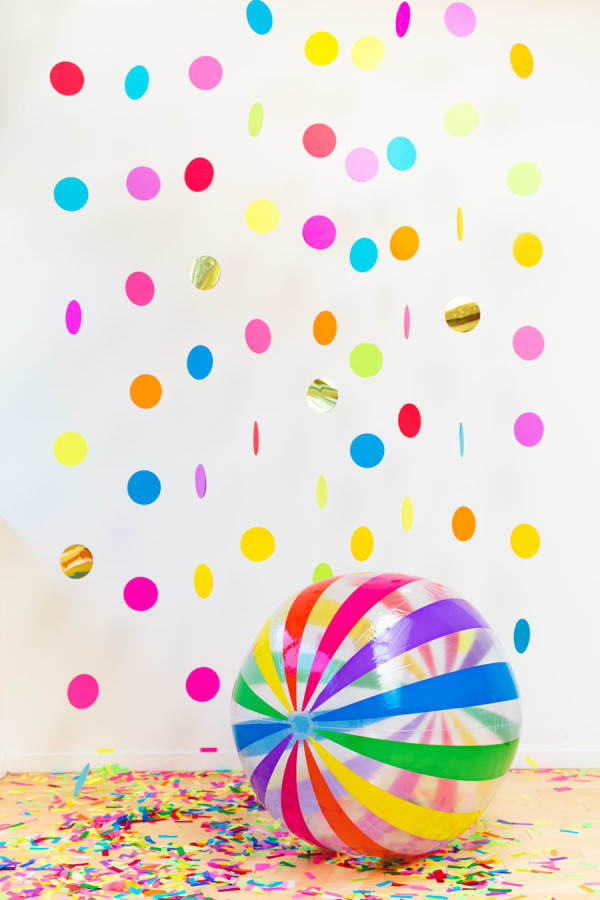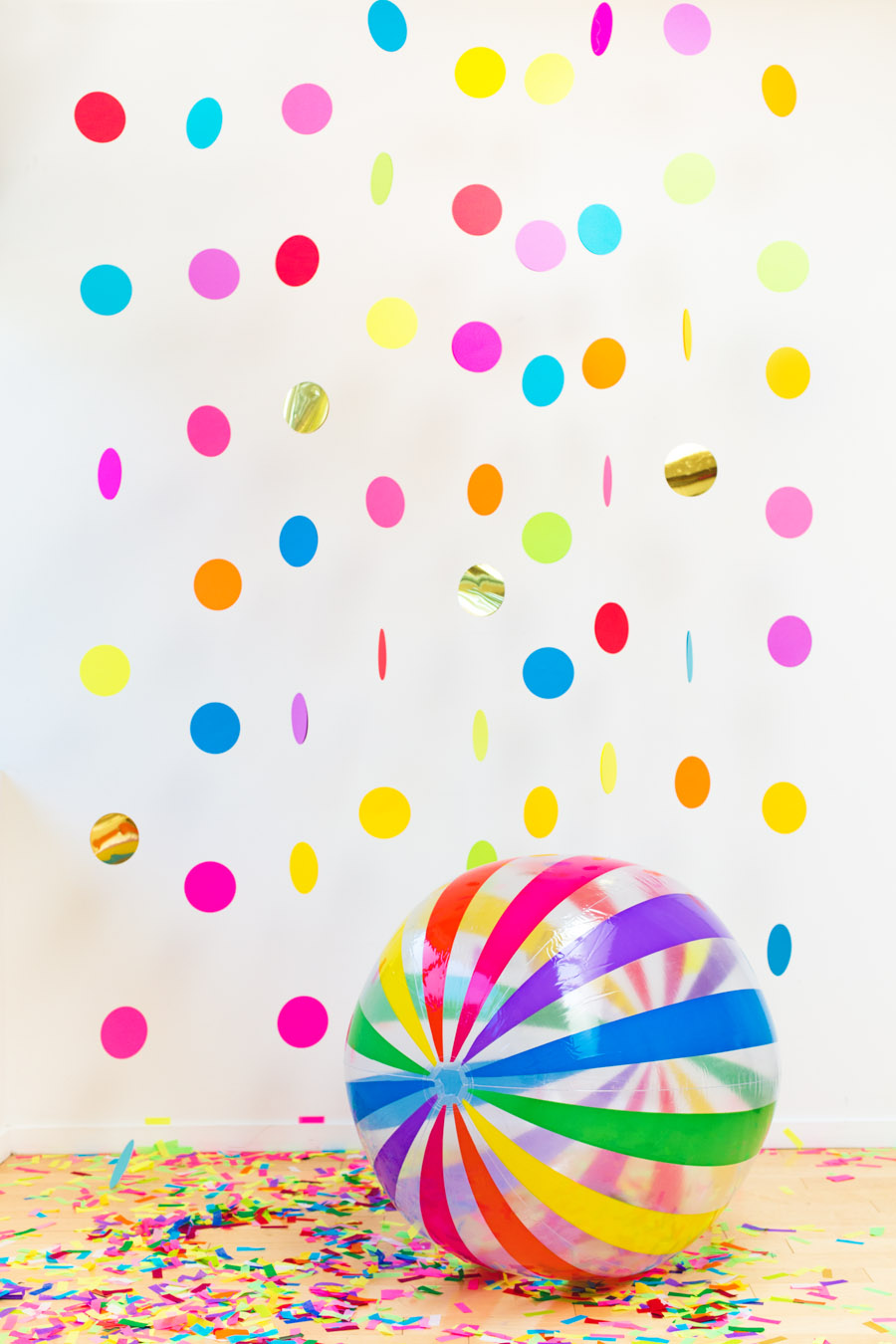 The Confetti Bar also sells confetti wands. And what is a confetti wand, you ask? A wand full (and I mean FULL!) of confetti that you flick and flick until you're showering the whole world in the stuff!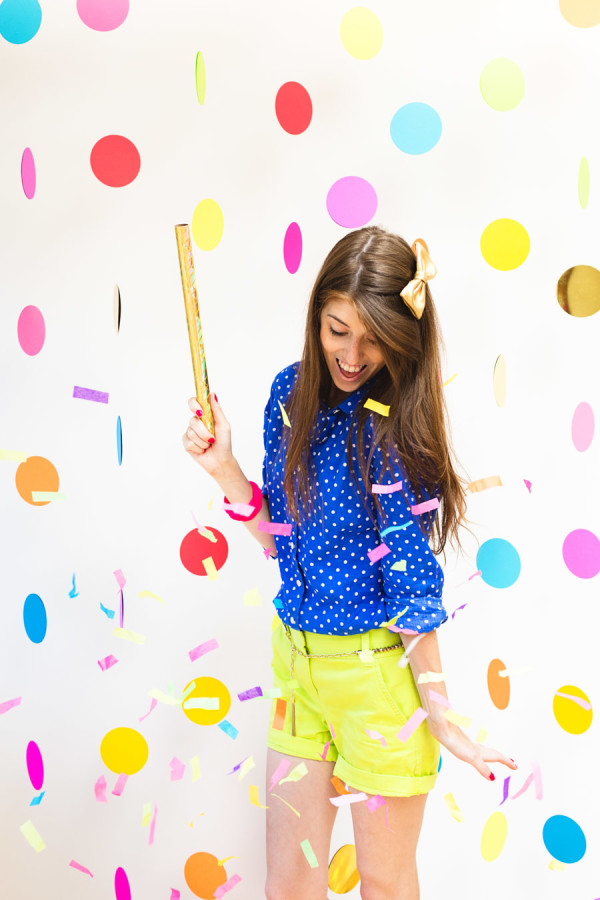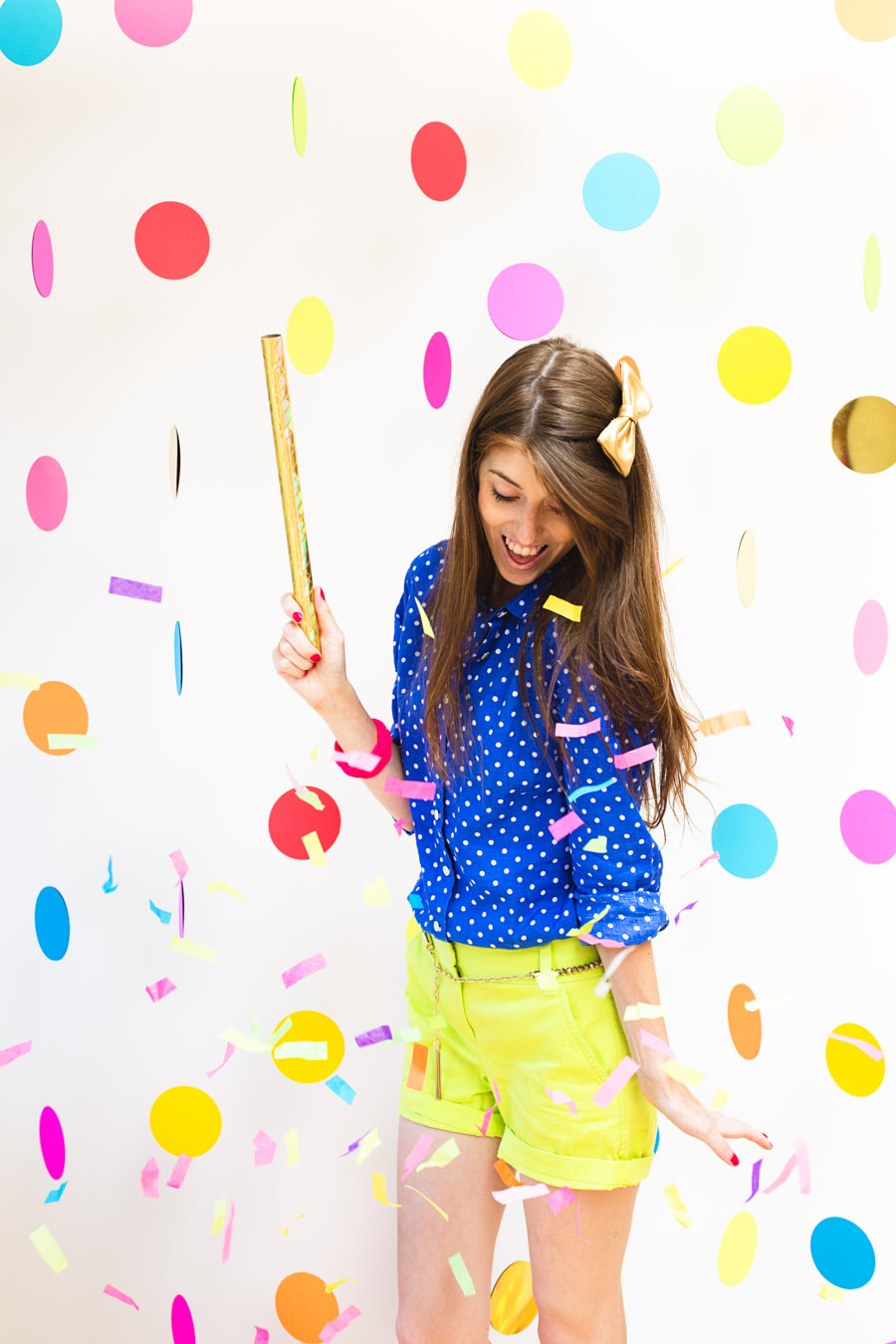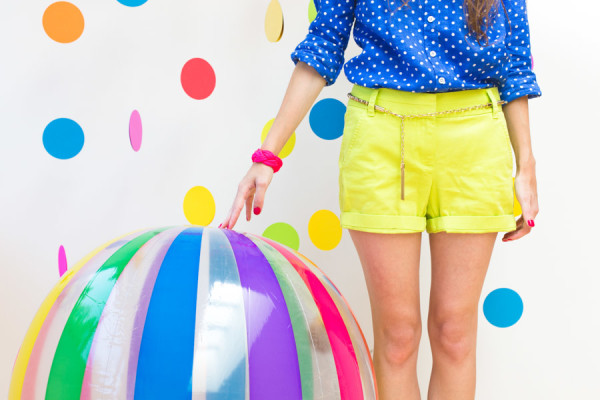 Let's get started…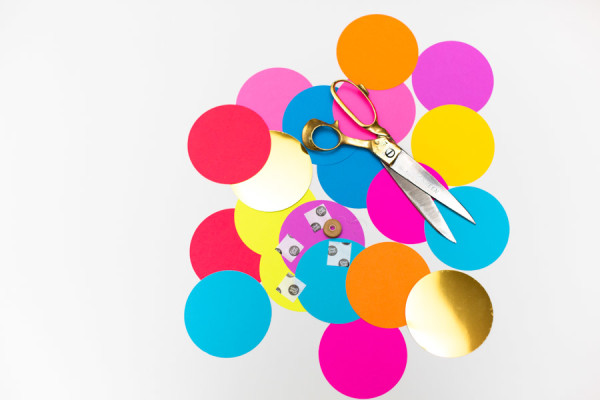 Giant Wall Confetti (Plus the Glue Dots it comes with!)
Fishing Line or Sturdy Clear Thread
Scissors
Props, Envelopes or Treat Bags, Washi Tape + A Box (For packaging it up as a gift!)
You will make each floating confetti strand individually. For each strand, cut a piece of fishing line to the desired length. (Typical ceiling height is 8′ so you can use that as a guideline if you want them to go floor to ceiling, leaving a little extra for hanging.) Slip a confetti circle underneath the fishing line and secure the fishing line to it with a glue dot. Then sandwich the Glue Dot with another confetti circle. Repeat this all the way down your fishing line, spacing and placing the confetti as desired. Repeat this with as many strands as you think are appropriate. I used nine strands for about a six-foot wide space.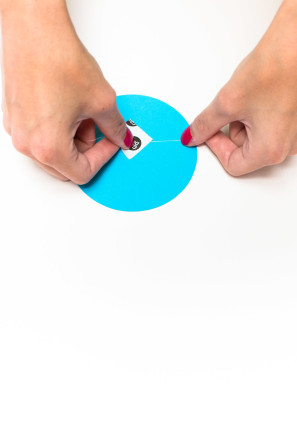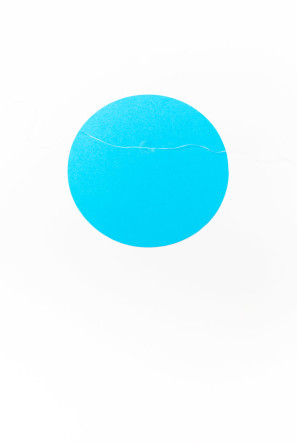 If you're packing up your photobooth in a box, you'll want to package each confetti strand individually to make it easy on the recipient. Fold up one strand and slip it into an envelope or treat bag, securing with washi tape. Repeat with all of the strands. This is also a great way to store the backdrop for future use.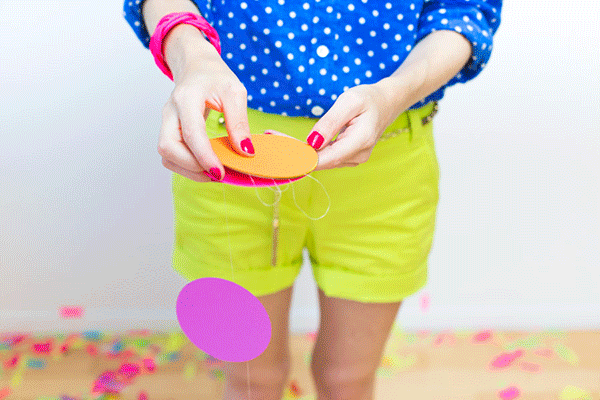 Now it's time to put everything in a box! Here's what I included:
Floating Confetti Backdrop
Confetti Wands
Giant Beach Ball
Donuts
Washi Tape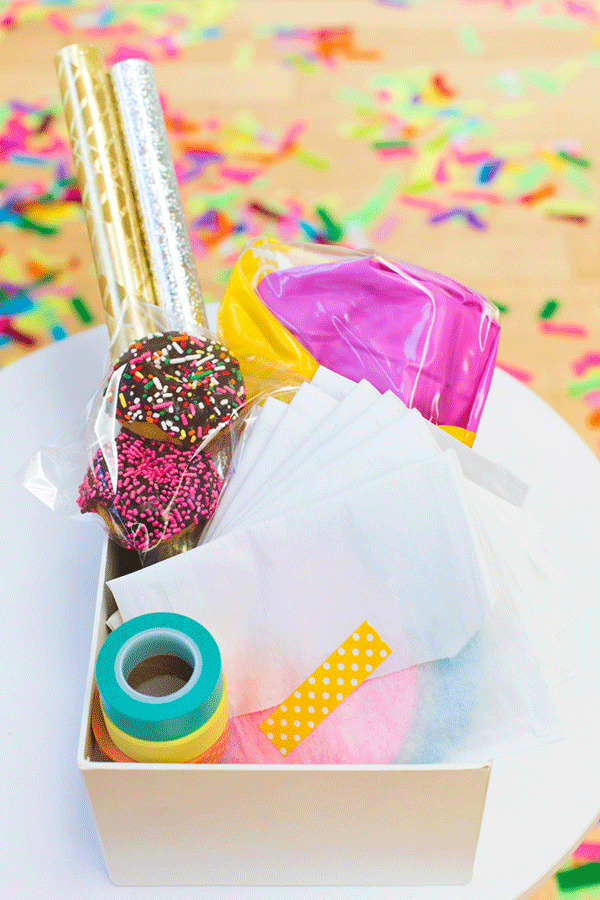 To hang the confetti strands, simply tape them to the ceiling, or use small command hooks if you prefer. For extra security, and if your strands are long enough, you can also tape them to the ground. And then it's time for some epic photo taking! Or, in my case, a little story….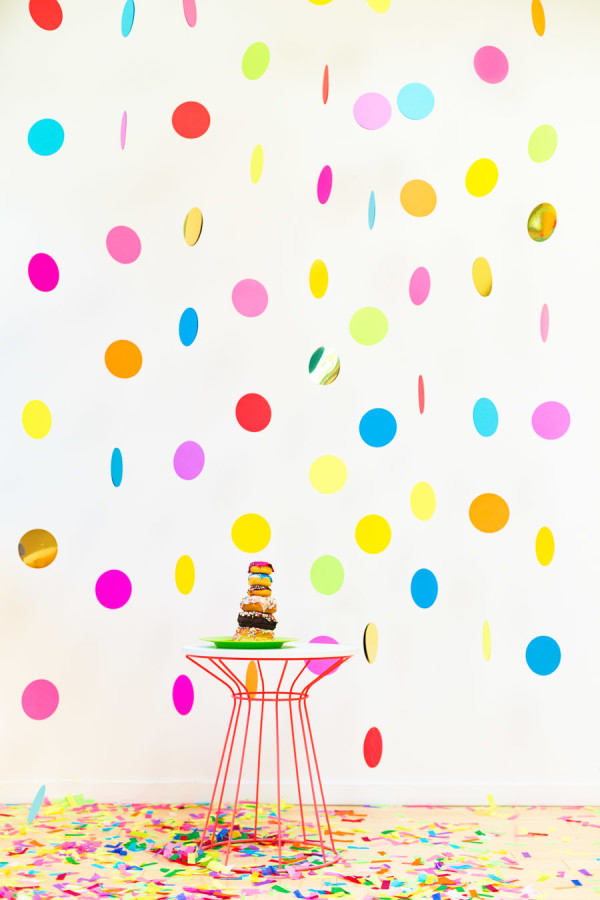 And here's how the story of the confetti photobooth goes. First, you steal a few too many donuts…
…then you get put in confetti jail…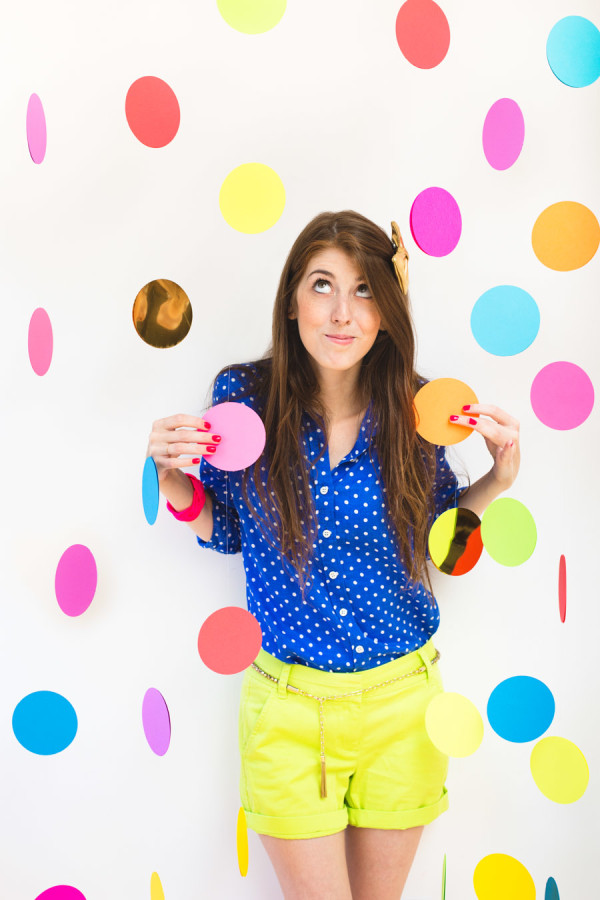 …then you break free from confetti jail! All in the name of donuts…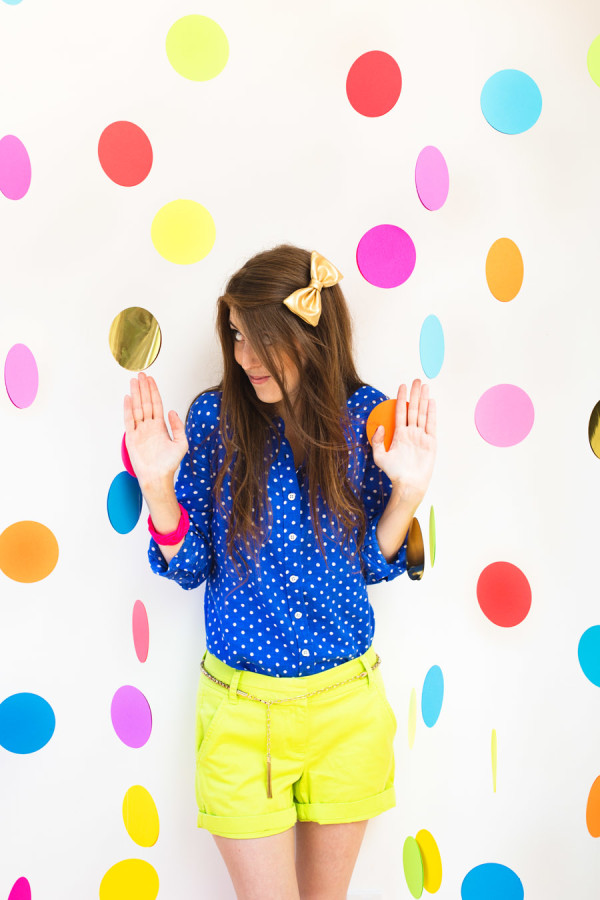 …and then you runaway together with your donuts and live happily ever after. The end.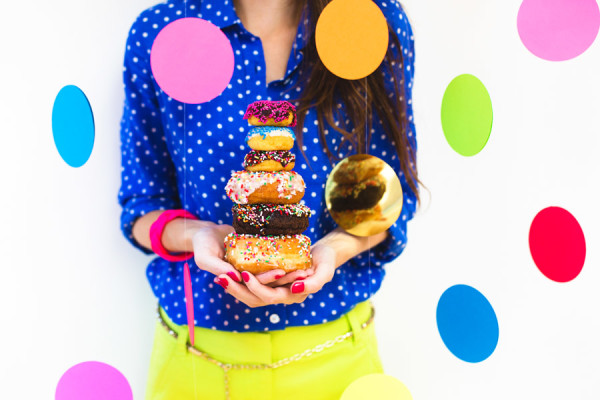 All Photos by Mary Costa Photography for Studio DIY
But seriously, wouldn't you just die if a guest showed up with this neon confetti photobooth in a box!? I think they'd forever become your best friend if they weren't already. And even if you don't package this up in a pretty little box, you can never go wrong with an easy peasy floating confetti backdrop for any and every party you throw!

This DIY project is sponsored by The Confetti Bar. All content and opinions are that of my own! Thank you for supporting the sponsors that keep the Studio DIY party going! Read more about my editorial policies here.