Happy Monday (before Valentine's Day!) Everyone! We had an amazing time and turnout at our valentine crafting event on Saturday. A huge thank you to everyone that came out, I hope you enjoyed getting your craft on with us!! But for those of you who weren't able to make it, I wanted to share the tutorial for the mini conversation heart piñatas we crafted! I was so impressed with everyone's creativity and how they made the project their own! Here's how I did it…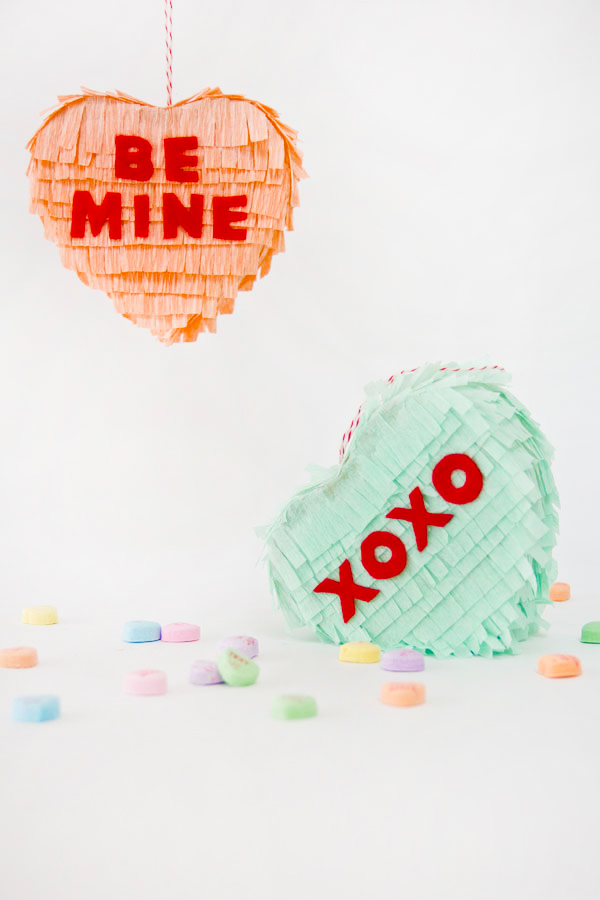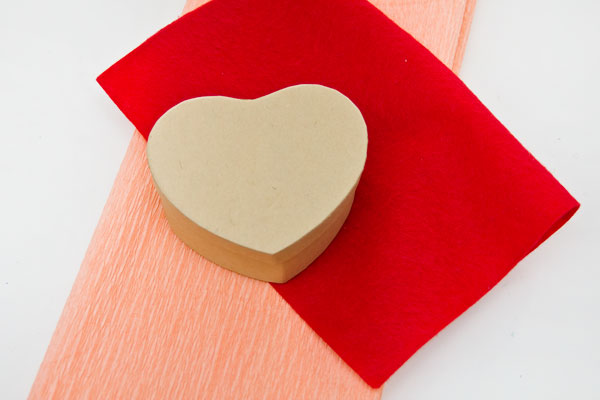 Mini Cardboard Heart Boxes (I bought these and just didn't use the sequins! Obviously they will be saved for other purposes.)
Awl
Twine or String
Candy
White School/Craft Glue
Crepe Paper Folds (This is the easiest form of crepe paper to cut en mass. You can buy it at a craft store or online. If you buy rolls of crepe paper instead, I recommend unrolling it and folding it into a 5″ wide section before cutting. You can also use crepe paper streamers, and I recommend doing the same as with the rolls!)
Red Felt
Letter Print Outs (This printable has the full alphabet plus extra letters to spell out a few classic conversation heart phrases! Alternatively, you can free hand them or use stencils you already have!)
Small Scissors
Poke a hole in the top of your box with the awl. Cut a length of twine and pull both ends through the hole, then tie a knot in the inside of the box to secure. This will form a loop.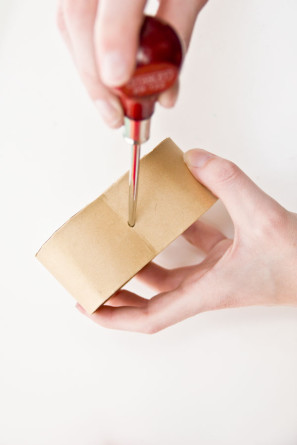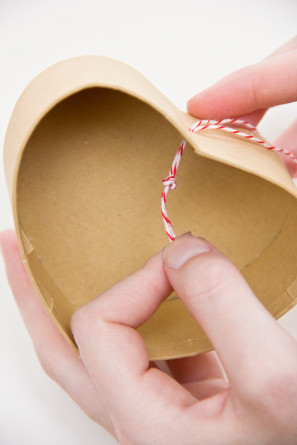 Cut 3/4″ wide strips off the bottom of your crepe paper folds. You'll need about 10 feet per heart. While the paper strips are still folded, fringe each strip. Fill your piñata with candy and goodies and place the lid on top. You don't need to glue or tape it as the fringe strips will hold it together. Starting at the bottom of the top of your box, run a line of glue horizontally across the box and adhere your fringe, trimming at the end. Repeat this, gluing strip by strip, and work your way all the way up to the top of the box.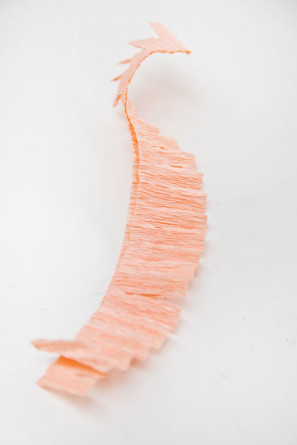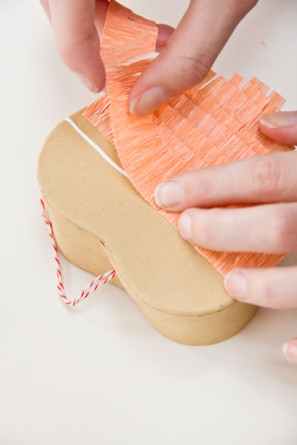 Now do the same to the bottom of the box. Now you'll do the sides. Start at the bottom point of the heart and using the same method, glue strip by strip up to the top center of your heart.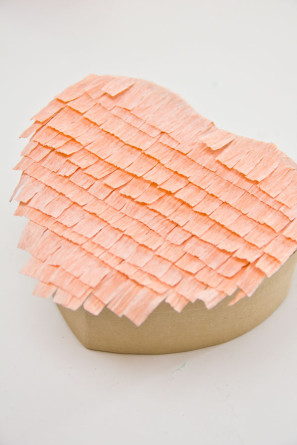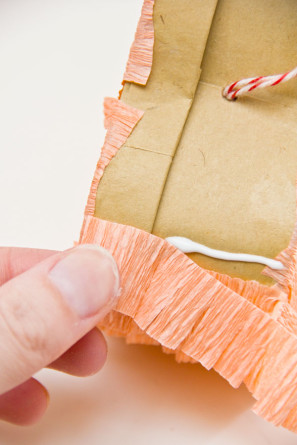 Then start again on the other side of the heart's point and work your way up to the top center again. Done!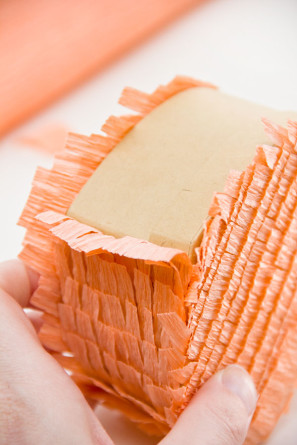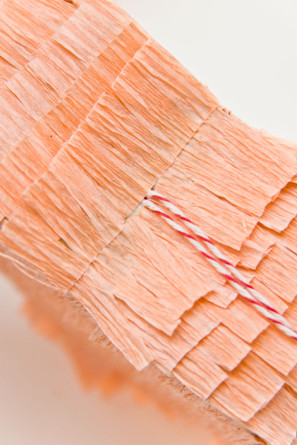 Cut out your message from the red felt using the letter print out here or by free handing them. You'll need tiny scissors for this, they're small! Glue the letters onto your piñata (I recommend using a toothpick to spread the glue on so it's not super thick.).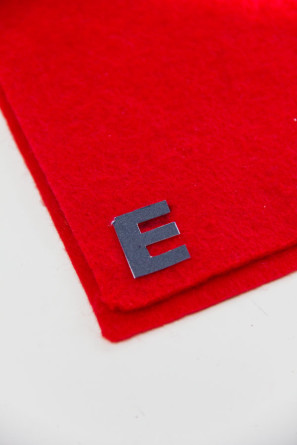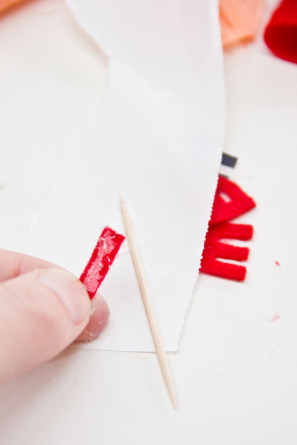 And then it's time to gift, and destroy. To crack open your mini piñata, you can (strongly!) pull apart the box and lid or you can let the kids loose to smash it however they please!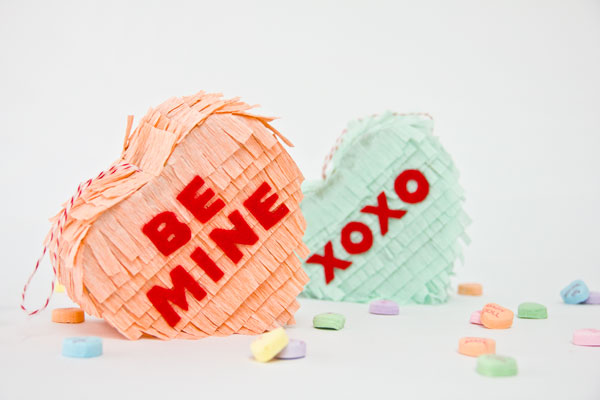 Or don't fill them and turn them into pretty decor that you don't have to smash! But everything is more fun with candy inside, right?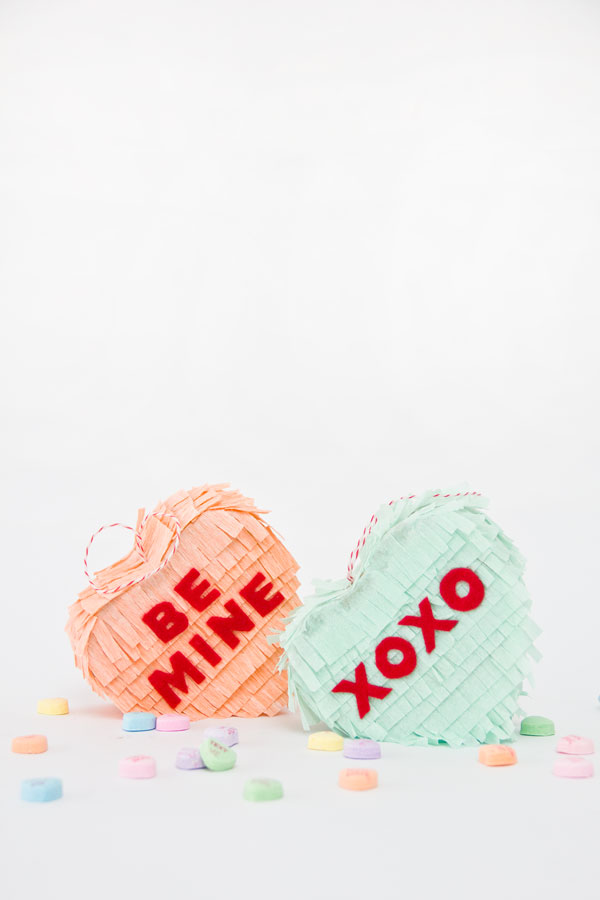 All Photos by Studio DIY
If you're crazy about conversation hearts, you may also like these balloons and free printable valentines and these conversation heart cakes!
For more Valentine's Day DIYs click here! And for more DIYs all around, head over here. There's a lot of craftiness to be had.