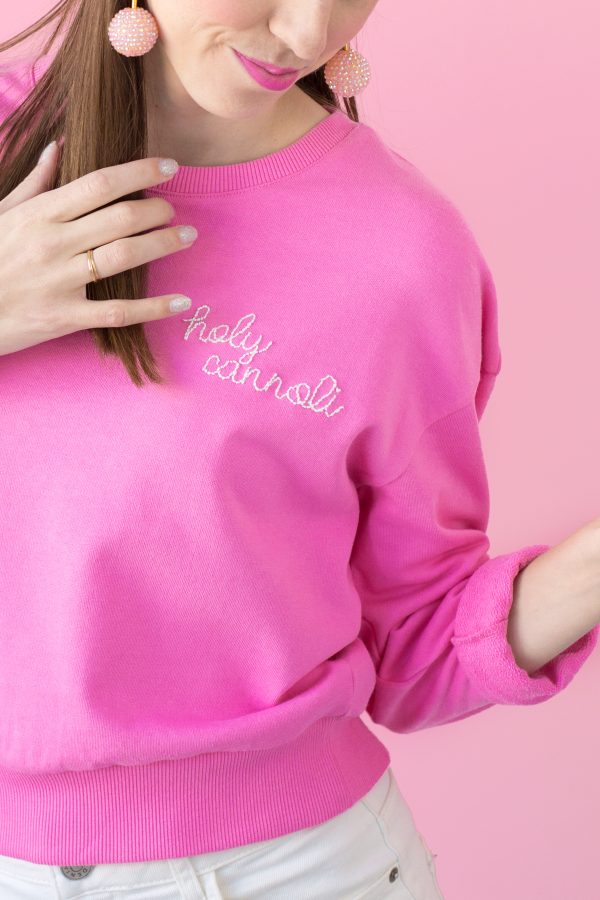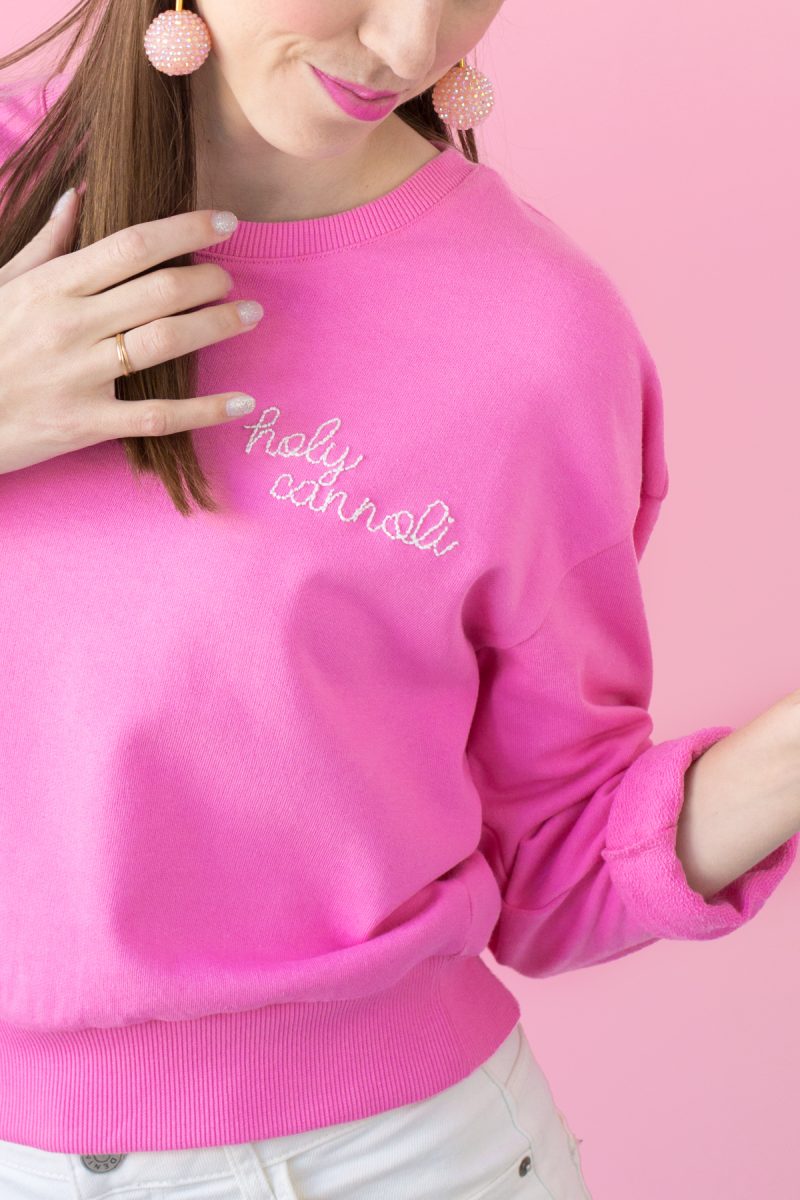 I know some of you are looking at this DIY and saying, "I don't have good handwriting" or "I don't know how to embroider. I'm not a machine!" Well, I'm excited to share my favorite hand-embroidery hack with you today! I used it to make this fun DIY embroidered sweatshirt and as a fellow handwriting deficient person, it turned out pretty impressive didn't hint!?
Spoiler alert: It's because my handwriting wasn't involved at all! 😉 Let's do this.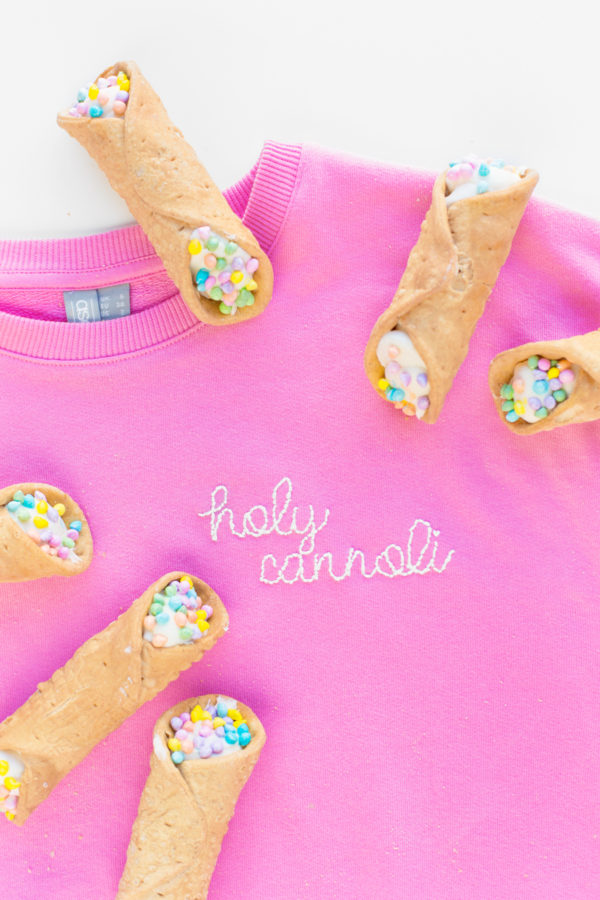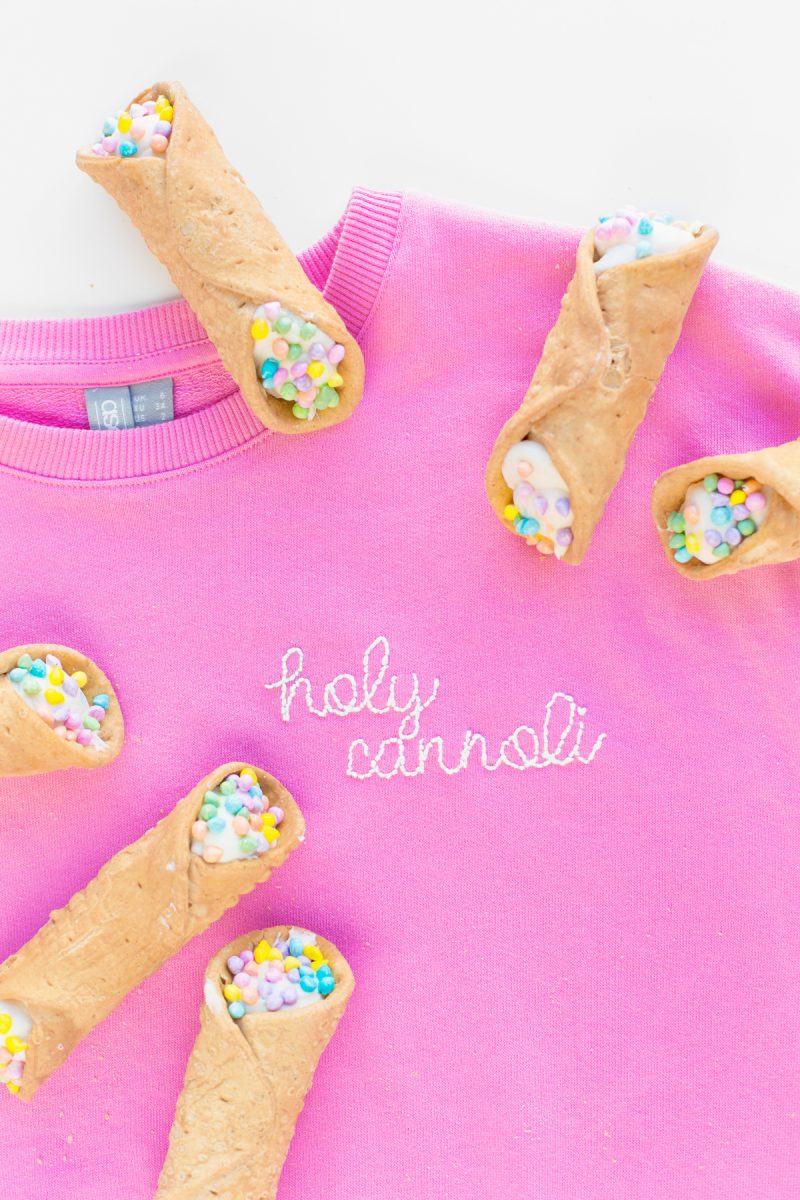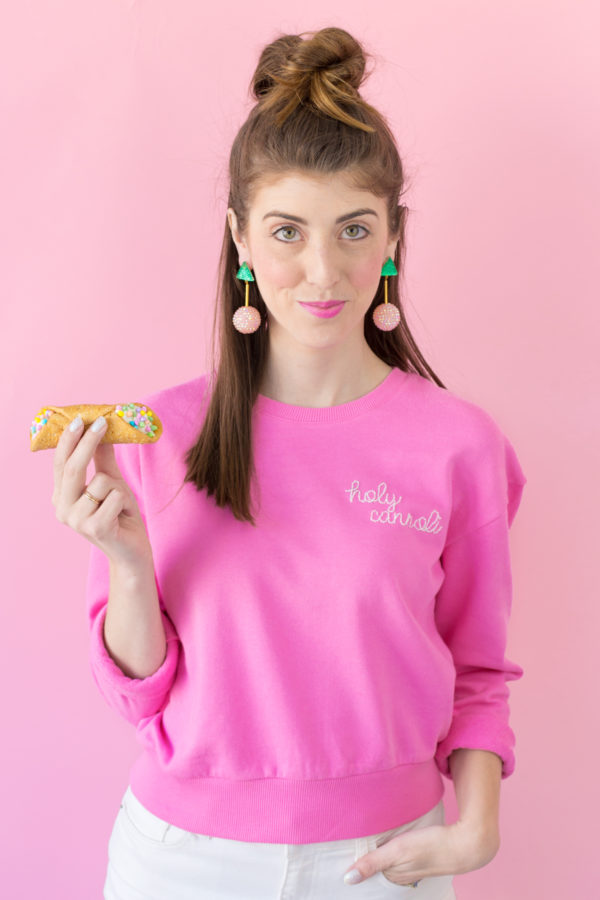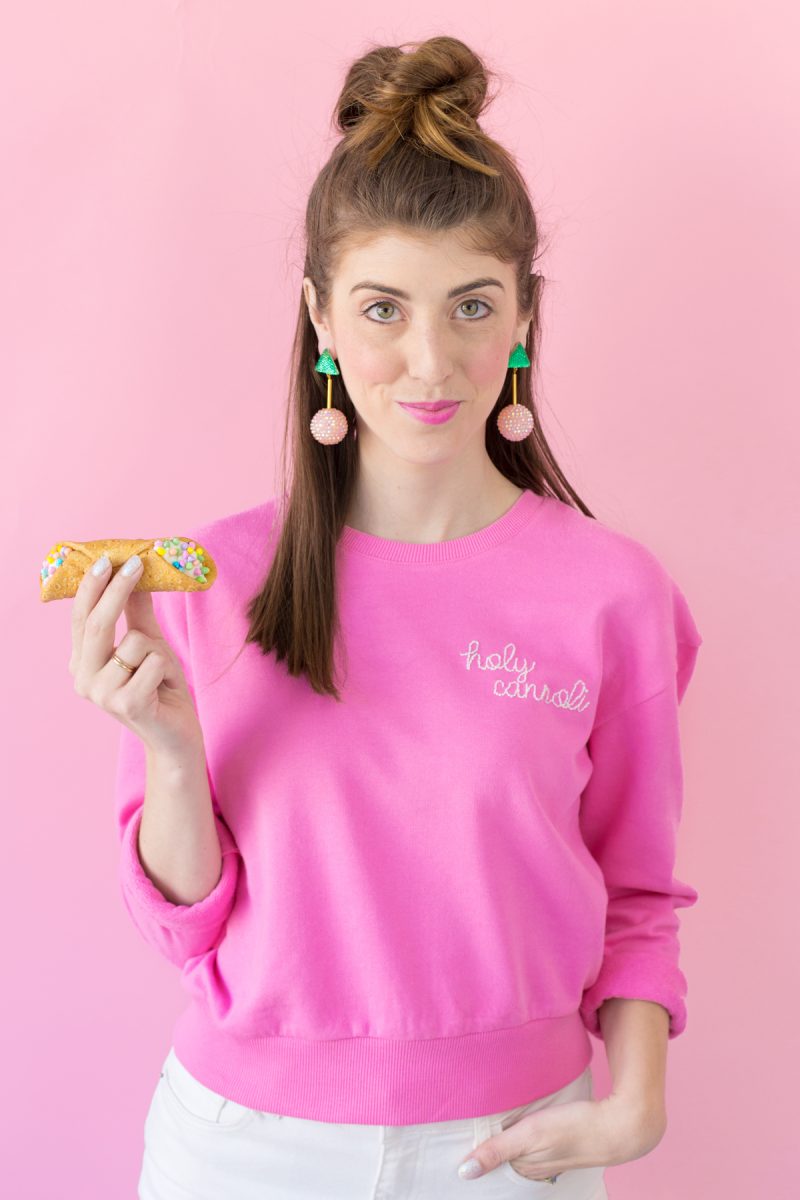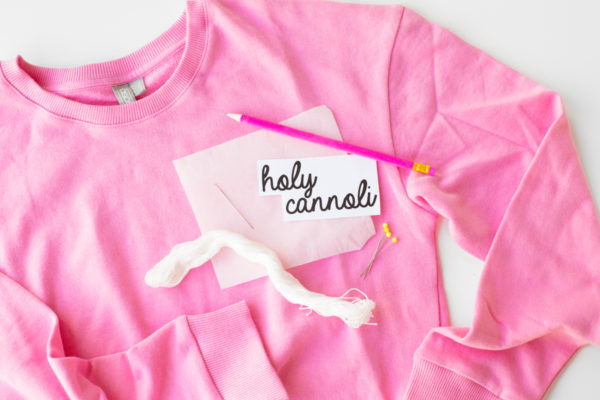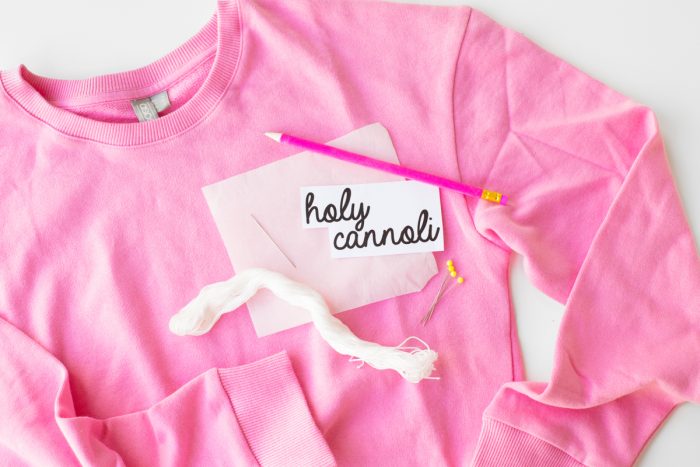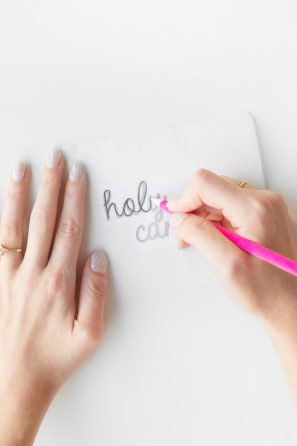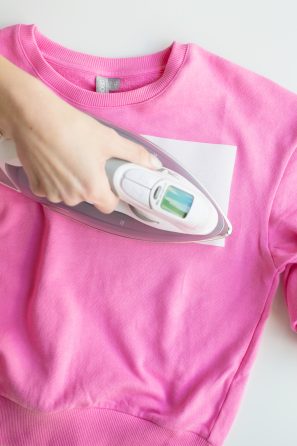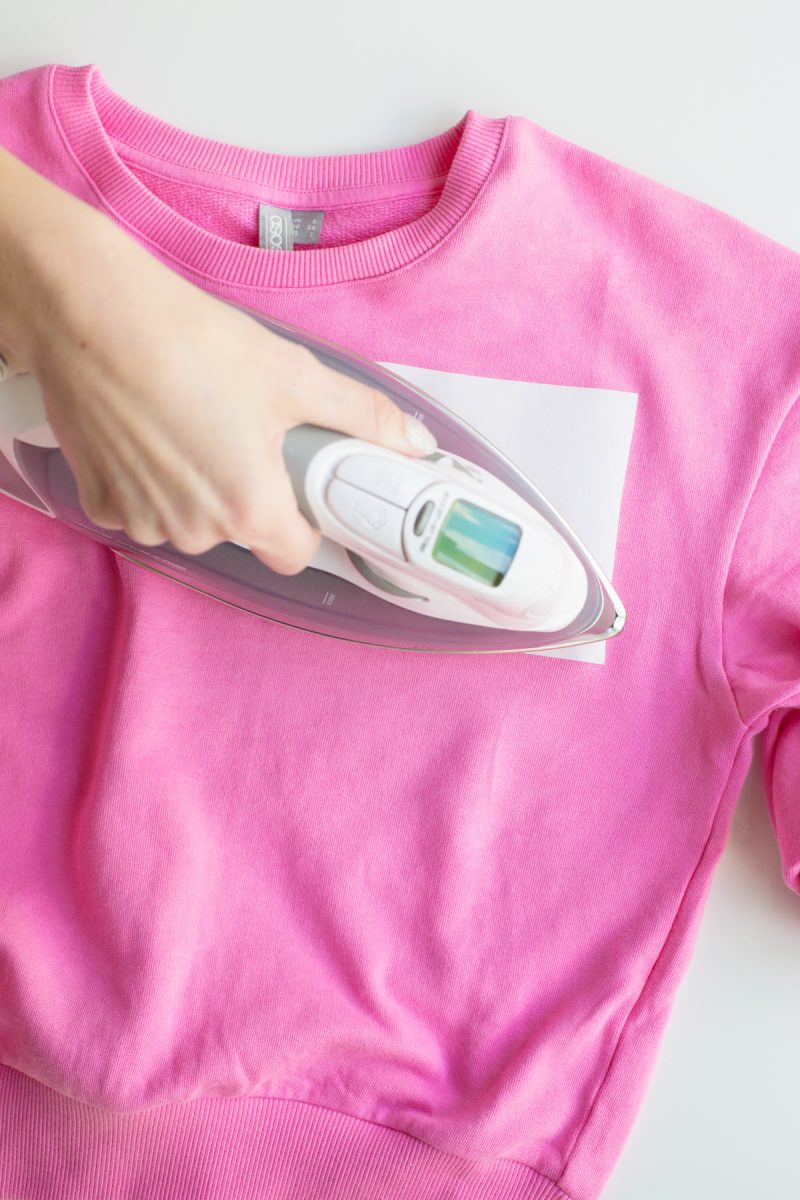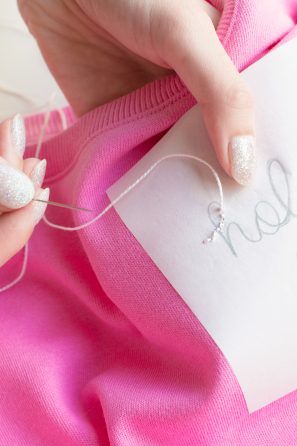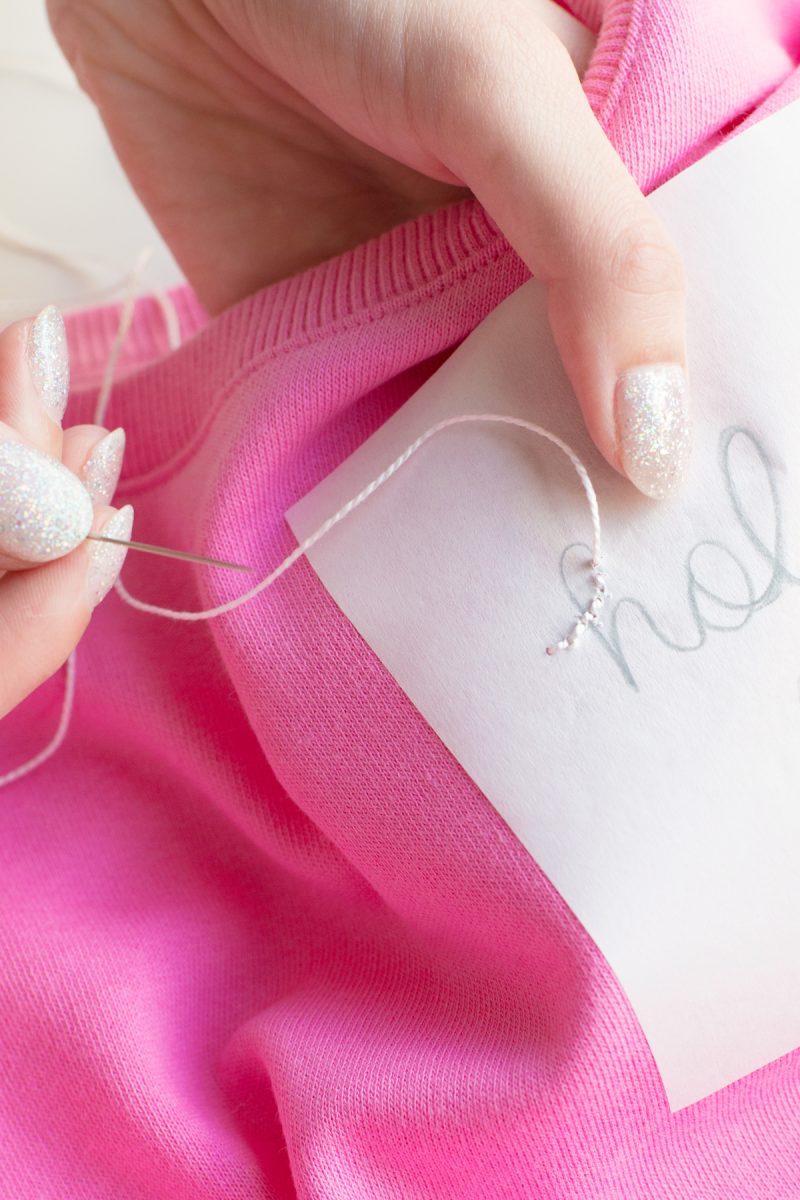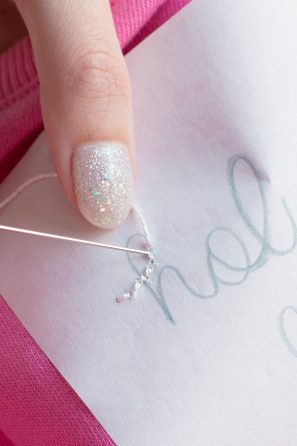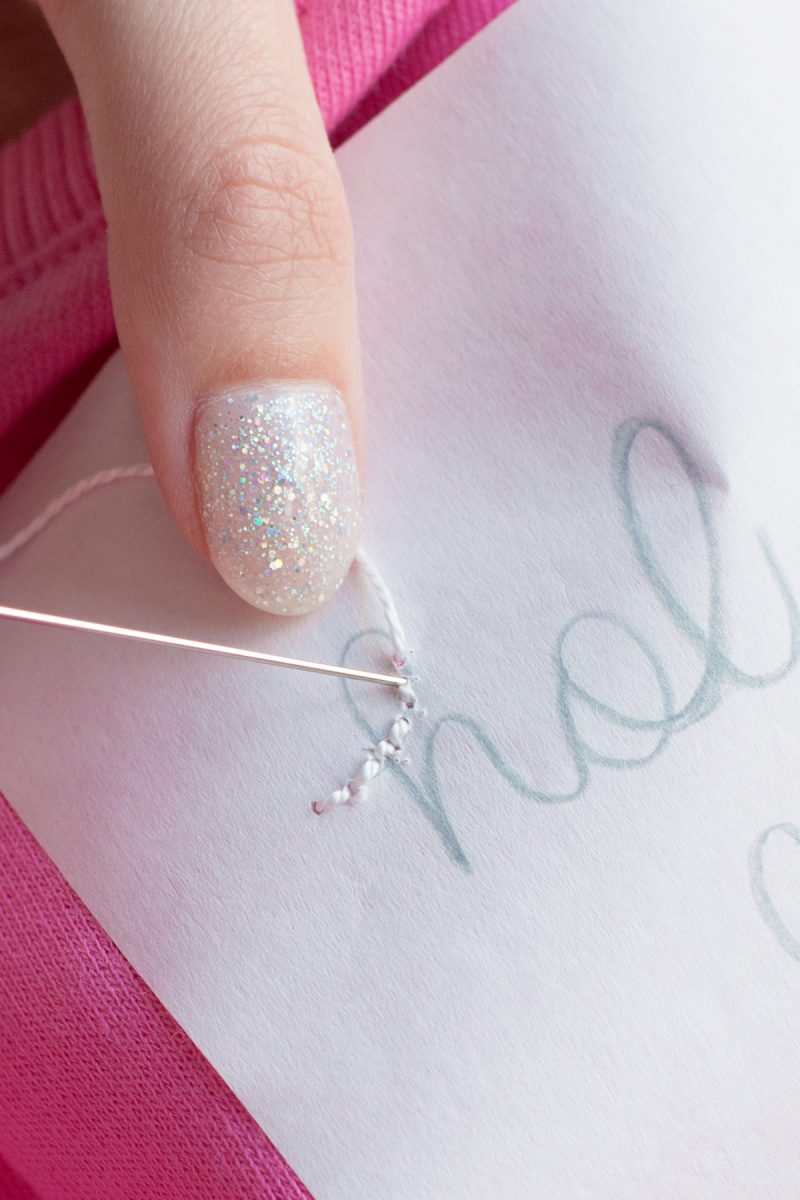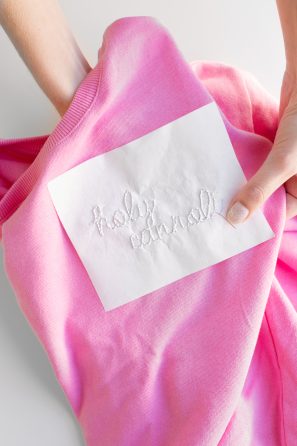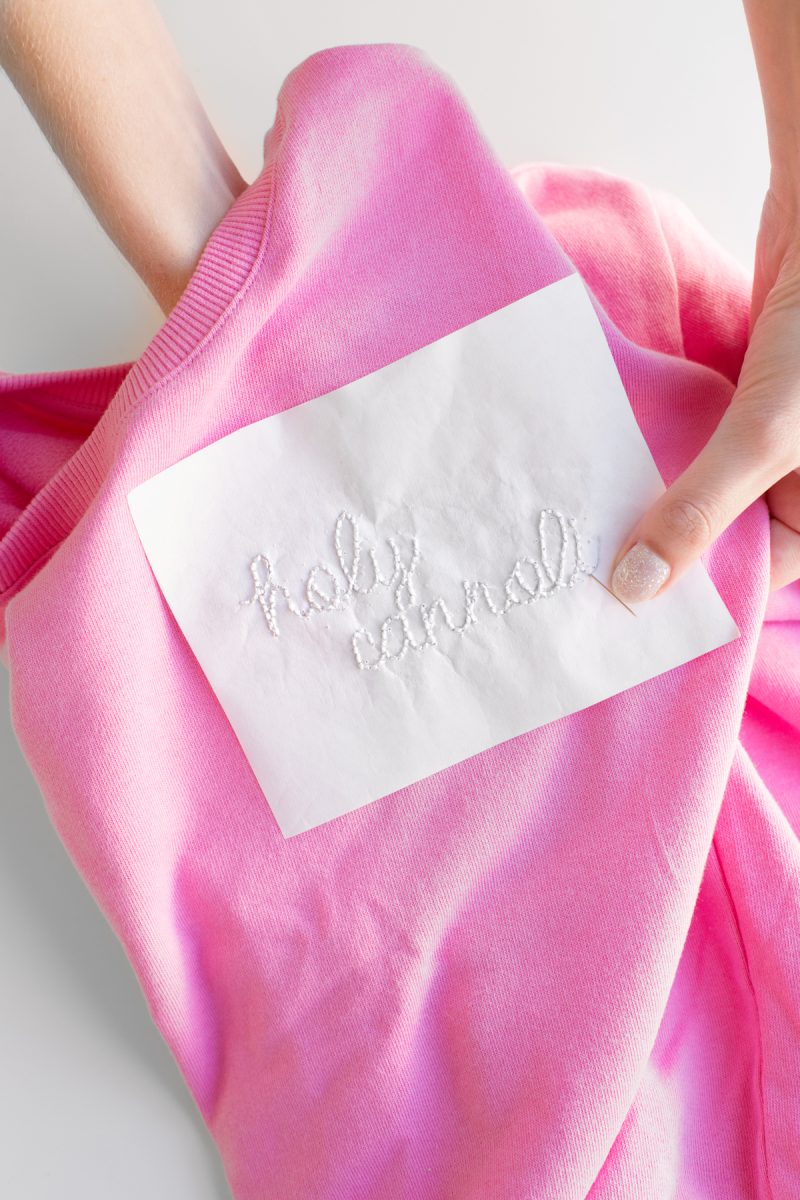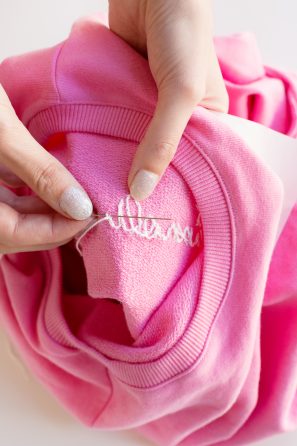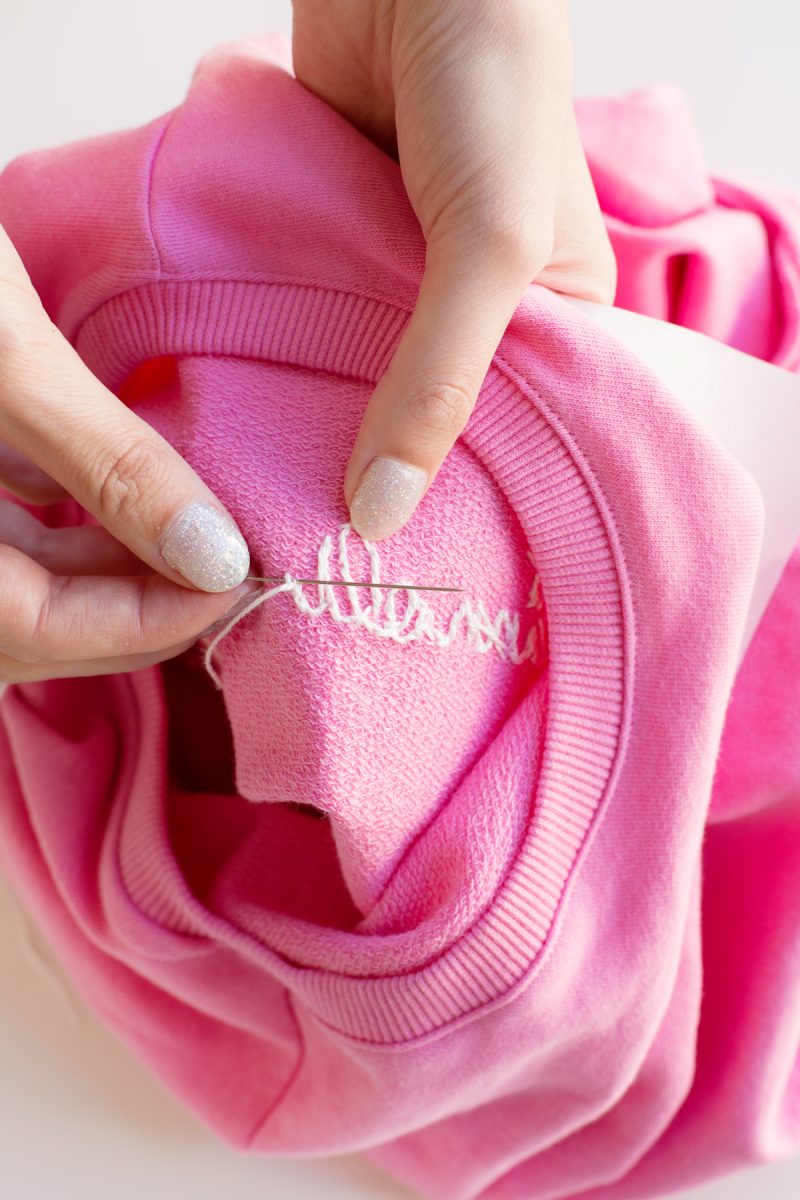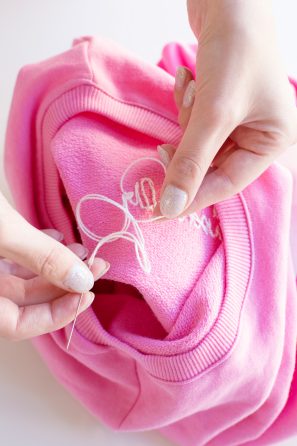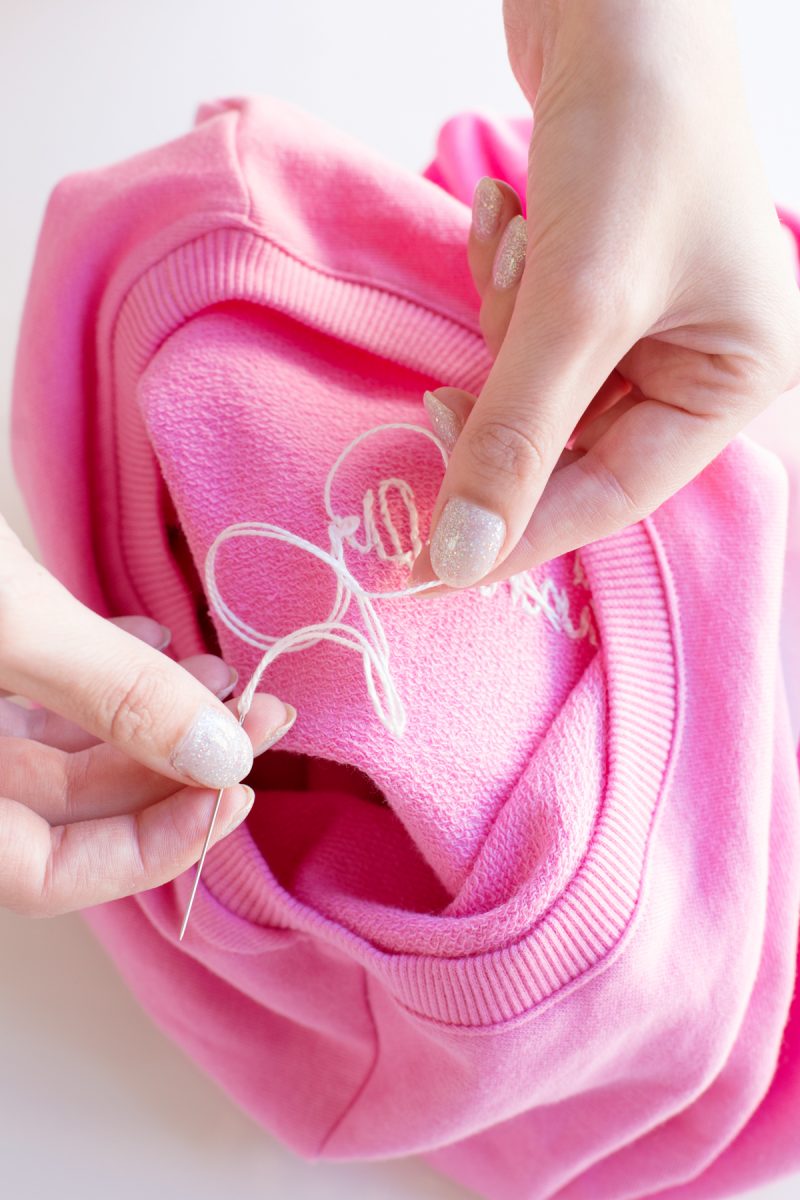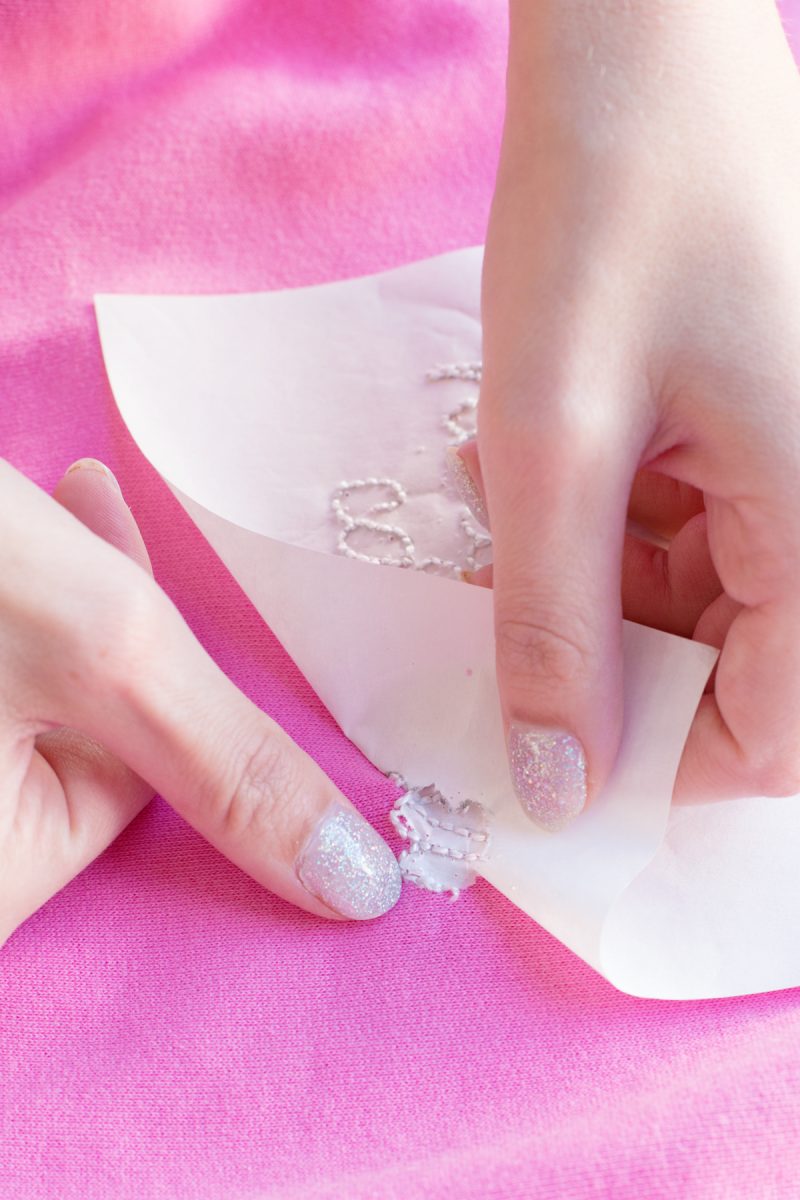 DIY Embroidered Sweatshirt
Total Time: 1+ Hours (Depending on how long your phrase is!)
Supplies
Sweatshirt (Or Other Item of Clothing!)
Embroidery Thread
Embroidery Needle
Freezer Paper
Iron
Colored Pencil
Computer + Printer (For making your template!)
Directions
1. The first step is to make a template. Decide what you want to write on your shirt and find a font you like! I used one called "Always In My Heart," and "Learning Curve" is a great one too. A skinny script font looks great, but you could do anything, really! Type out what you want and make it the size you want (mine was about 4" wide) and print it out on regular computer paper.
2. Tear off a small piece of freezer paper and lay it (shiny side down) over your font print-out. Trace the words onto the freezer paper using a colored pencil. (I prefer a colored pencil to regular pencil because regular pencil seems to rub off more and could potentially damage your sweatshirt when embroidering!)
3. Decide where you want the embroidery to go and iron the freezer paper (shiny side down) onto your sweatshirt.
4. Thread your needle with a long length of embroidery thread. If your thread is thinner, you can double it, or if it's thicker (like mine was) you can just use one thickness. Tie a knot at the end.
5. Start at the beginning of your first letter and stitch through the sweatshirt AND the paper using small back stitches. A back stitch means you start the stitch one stitch-length's into your guideline and stitch backwards to the beginning. Begin your first stitch just ahead of the start of your tracing line, then stitch backwards to the beginning of the line. Start the next stitch one-stitch length's ahead of your last, and finish the stitch where the previous one began.
6. Repeat this along your entire traced line. You should be stitching exactly how you would draw/write the word. So, for example, I started at the end of the "h", went around the top loop, down to the base of the letter, than back up for the "hump" of the h, and so on.
7. Once finished, on the back side of your sweatshirt, slip the needle through the final stitch. This will form a loop of thread. Run your needle through the loop twice and pull tight. Trim your excess thread.
8. Now to remove your freezer paper! VERY carefully, begin to peel off one corner of the freezer paper. Once you reach the stitching, hold your finger on top of the stitch and carefully pull the paper off around it. It will tear as if it was perforated (because you just perforated it with your stitches!) along the outside of your letter. Then you will have to remove the pieces inside your letters separately. Do not rush this process! It is tedious but doing it carefully and slowly will ensure your stitches stay in perfect place!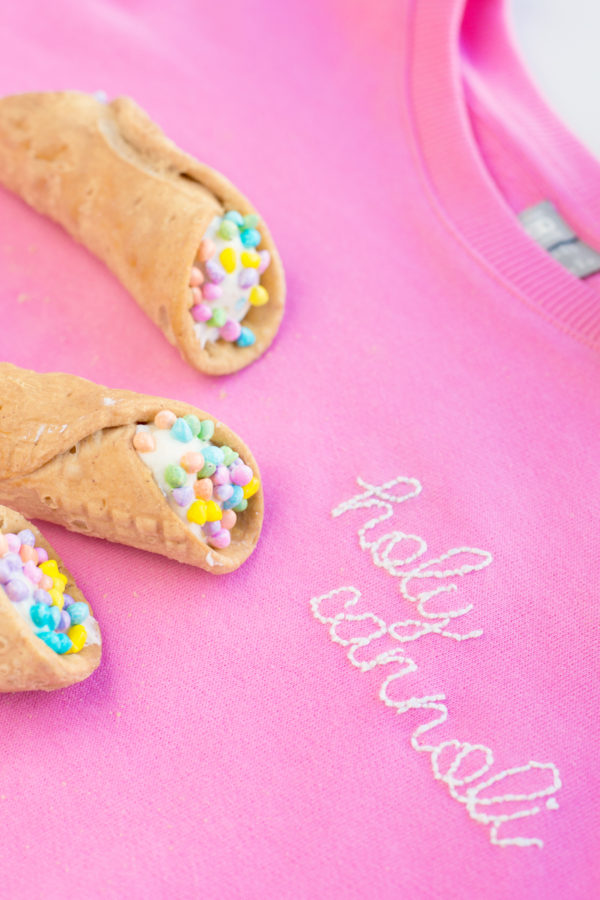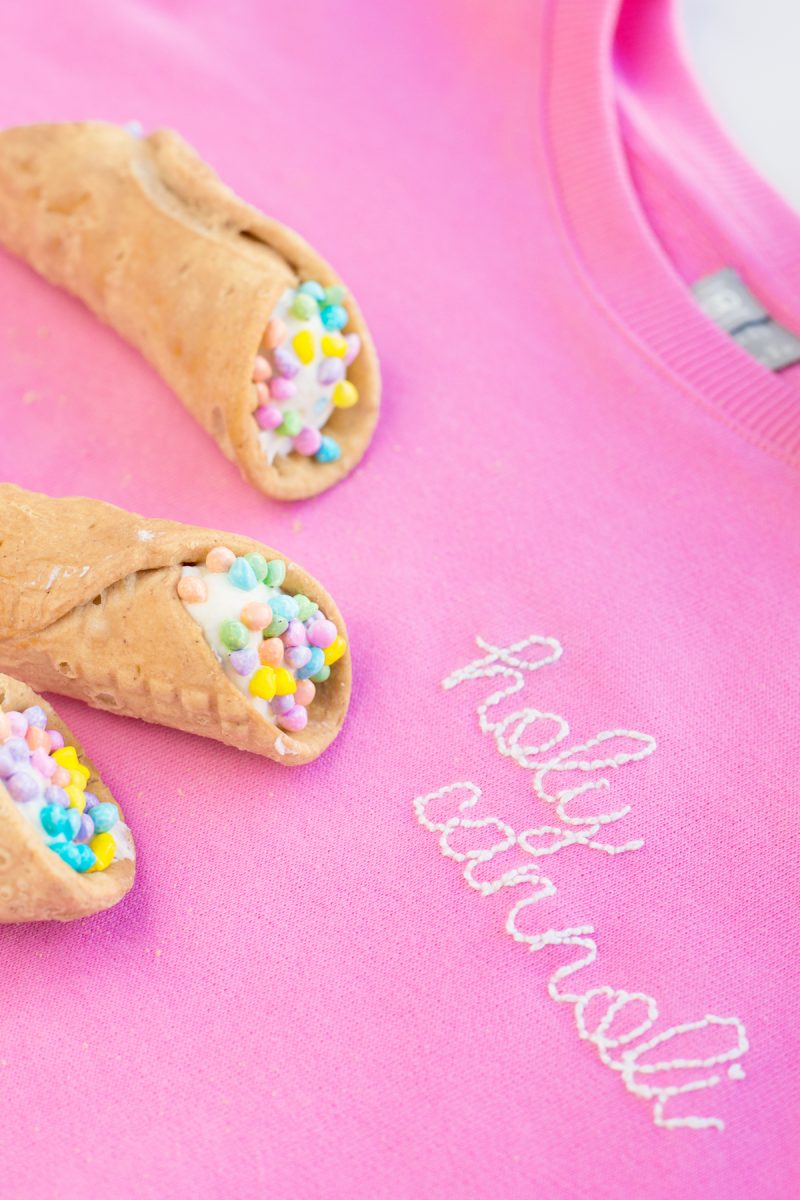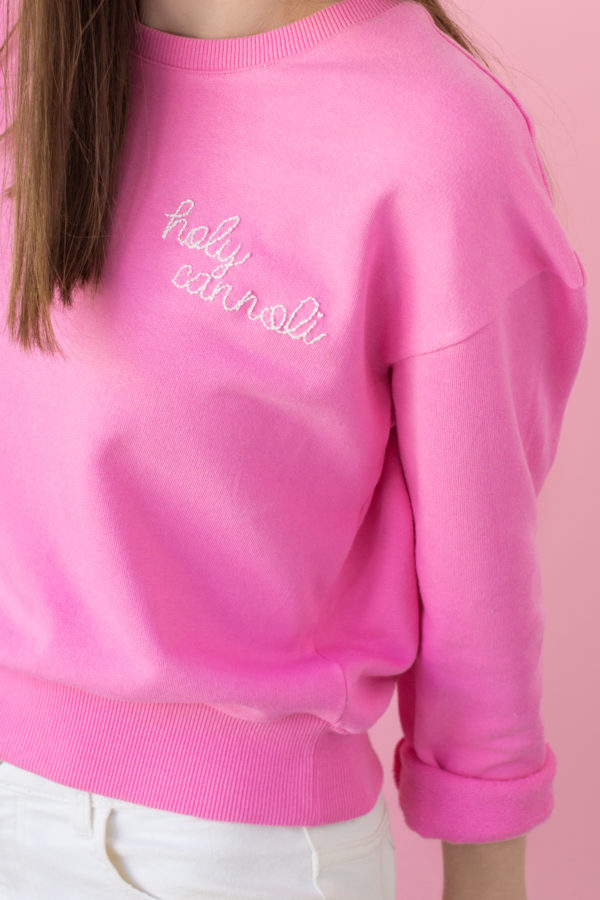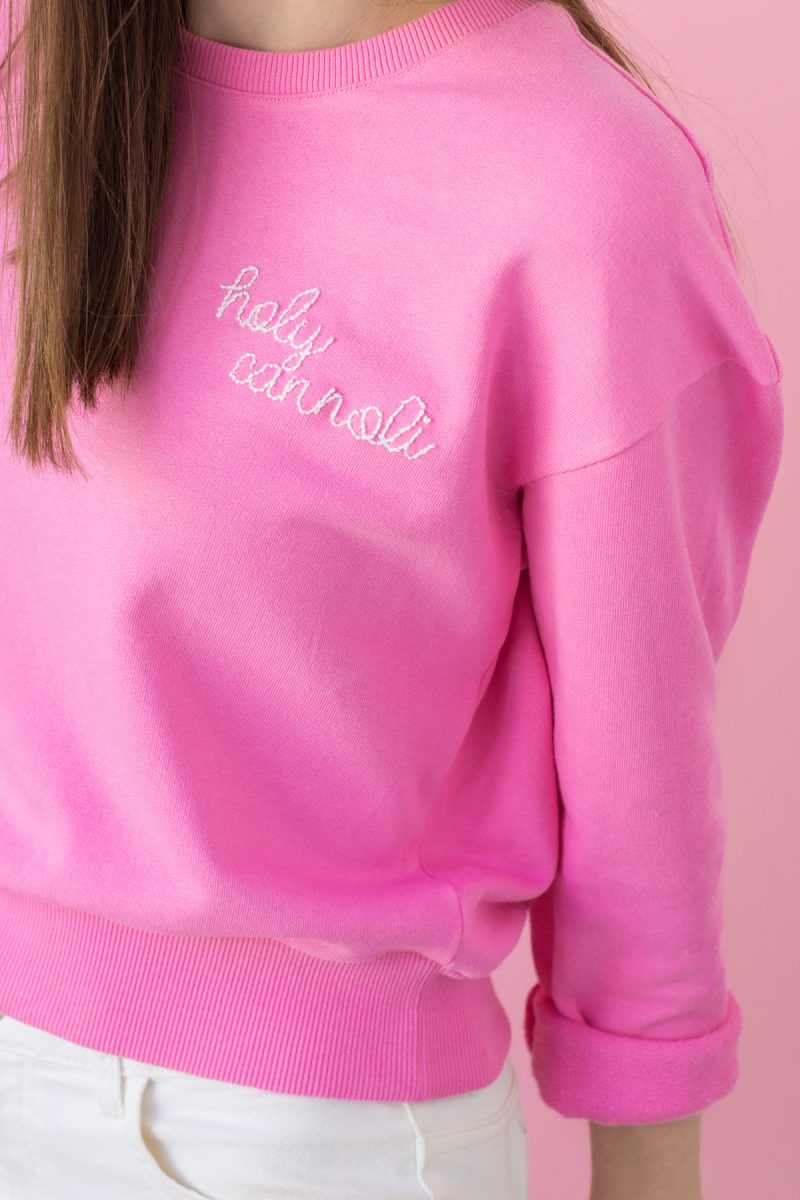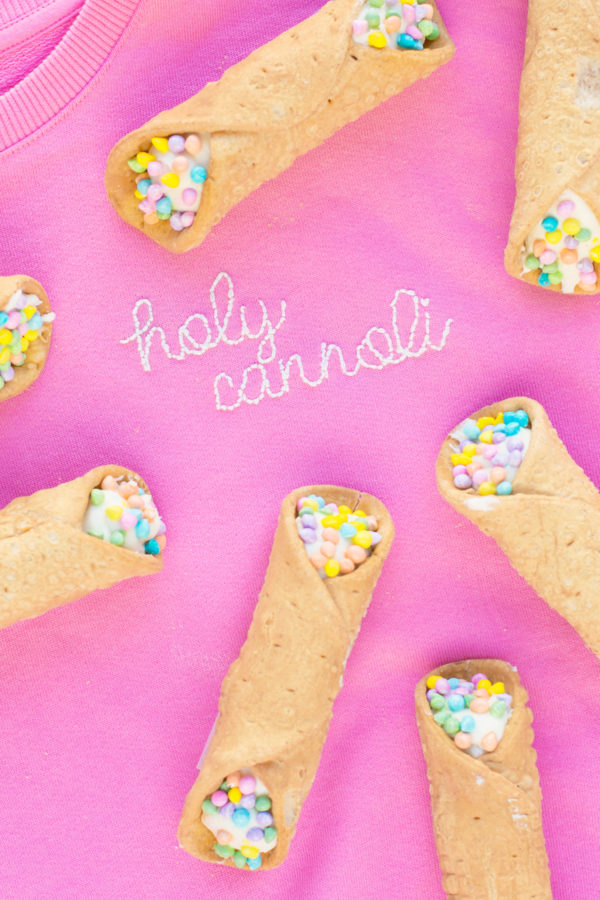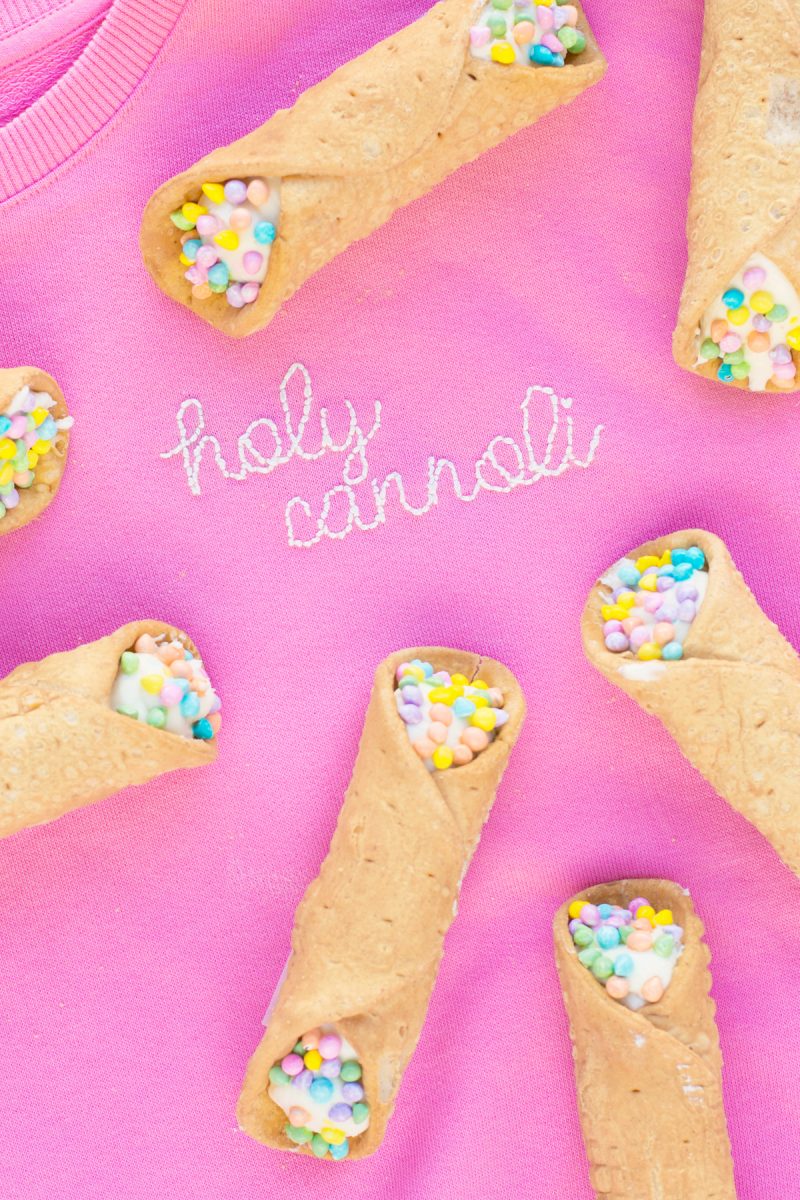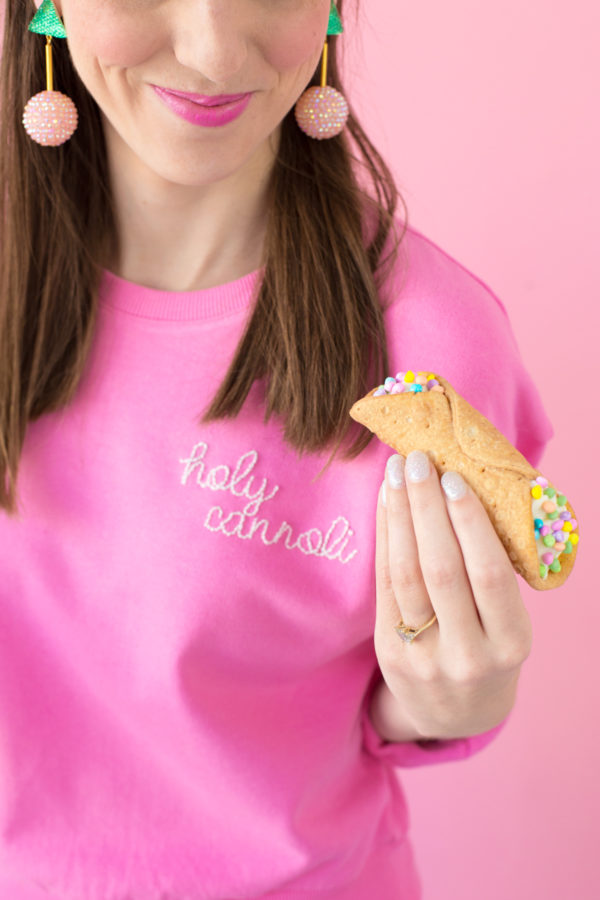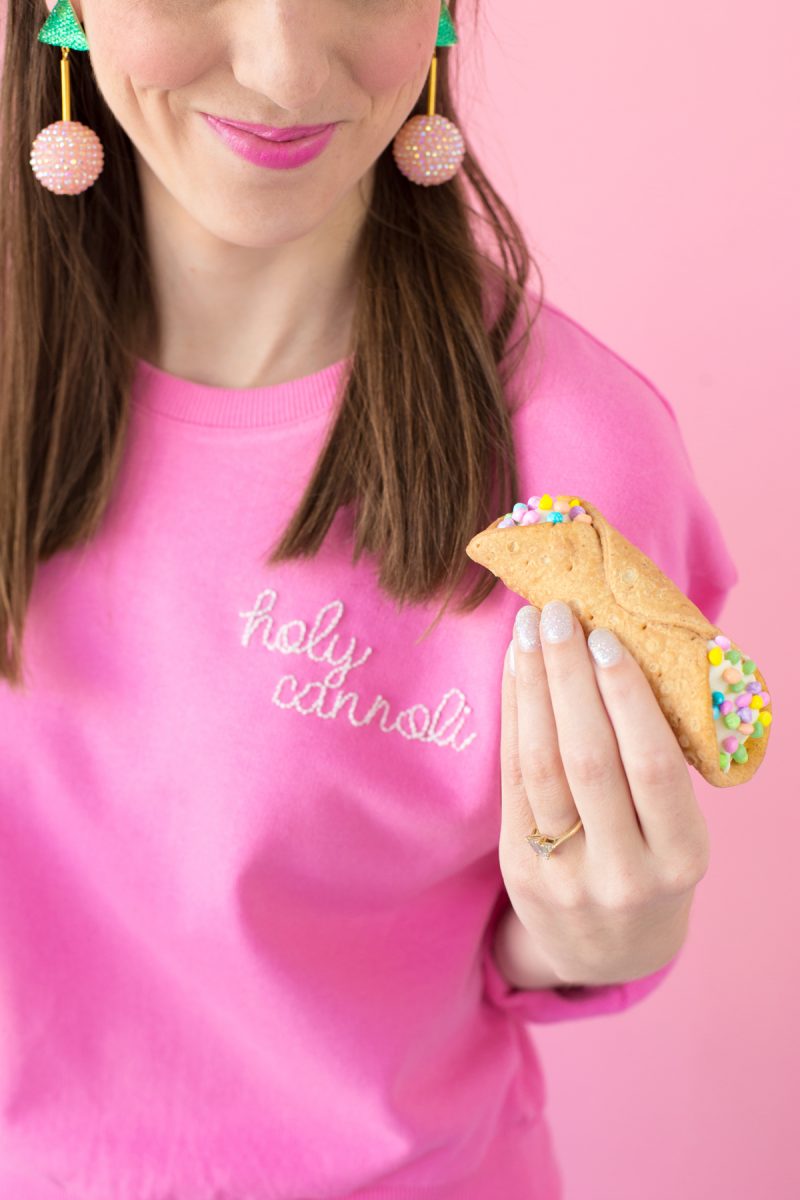 Photos by Jeff Mindell
I may have chosen "Holy Cannoli" for my shirt because I say it all the time. Or I may have chosen it so I had an excuse to buy a dozen cannoli. 😉 Added the pastel chips ourselves!
p.s. DIY Avocado Buttons!