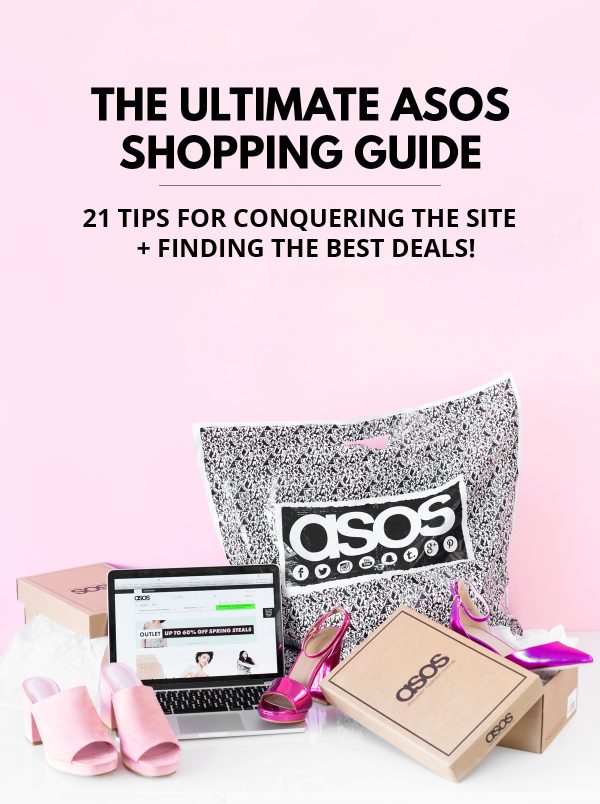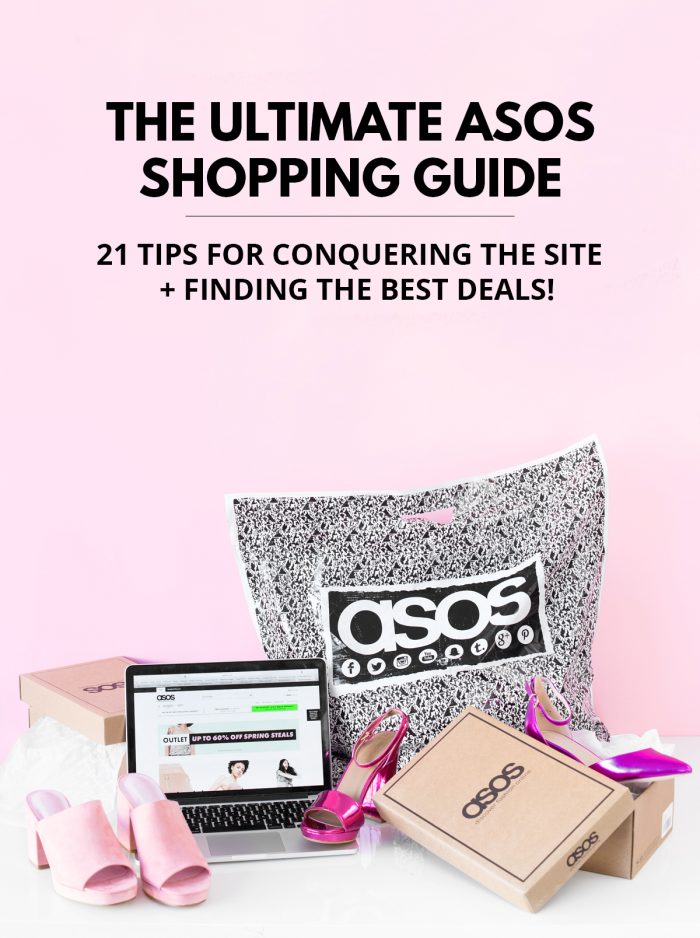 In case you haven't noticed, I have an addiction to ASOS. Ok, you've totally noticed, because some of the most common questions I get are about how I shop ASOS and find what I'm looking for amongst the thousands of products they upload daily!
After spending the last few years scouring the site every week for items for shoots and outfit posts, I've mastered my ASOS shopping methods and I've compiled my 21 tips for conquering the site and scoring the best deals together into THE ultimate ASOS shopping guide for YOU!! No, this isn't sponsored- just one ASOS addict to another, sharing the knowledge that comes from many sleepless, scrolling nights.


Search by Color: Within any category, ASOS has the option to narrow by a specific color. I use this a lot, since I'm often not interested in neutrals. You can select just one or several at a time. HOWEVER! I find that not all products always show up when using this method. For instance, at the time of writing this post, if you go to shoes and narrow by "pink" it shows 128 items. But if instead you search for "pink shoes" in the main search box, then narrow by shoes, you have 225 items. Frustrating, I know. But something to keep in mind if the first search doesn't turn up anything.
Searching by Product Name: Unlike most websites that have one product listing with several color options, if ASOS offers one product from their ASOS brand in several colors, each product has it's own individual listing. If you find an item you like, search the product name in the main search bar to find the other colors. I do this often with silhouettes I love like the "ASOS Speaker Pointed Heels" and the "ASOS Ultimate Chunky Sweater" to find new colors.
Search by Keywords: Come up with keywords that describe items, styles, fabrics or textures you like to wear and use those to search. I frequently search "glitter" or "sequins" or "scuba" to see what pops up since I'm constantly looking for statement pieces for photo shoots. This also applies if you are searching for a trendy item. Know the specific name of the trend, like "culottes" or "block heel" (try searching Pinterest to help find the name if you don't know it!) and search it to narrow in on what you're looking for.
Conquer Sizing: This is a tough one since ASOS has an in-house brand and sells dozens of third party brands too. Their size chart is only designed for their proprietary ASOS brand, so if you are buying from another brand, don't trust it. Instead, look at the size the model is wearing (listed in the "Size and Fit" section) and check the fit info under product details. This leads into my next point…
Watch the Videos: DO IT! ASOS has a video for almost every product that shows how it moves and feels on the model. This is helpful for not only showing size, but showing the material and how the item is supposed to fit. It also gives a more accurate color portrayal (sometimes they boost the color in photos).
Narrow by Collection: ASOS has several "collections": Maternity, Petite, Plus + Curve, Tall and their Main Collection. In the sidebar, you can narrow by collection so you are only seeing items that fit your body type.
Buy The Look: Ever see something on a model and LOVE it but realize the listing is not actually for that item? Still click through!! ASOS has a handy feature called "Buy The Look." It's right under the product info section and it has the product listings for the other items the model is wearing.


Save For Later: One of ASOS's best features is the "Save For Later" option. I use it for two reasons. First, I typically do all my searching in one category, opening up new tabs with each item at once. Then I go through, review the items and narrow them down to what I like best. At this point, I like to use the "Save For Later" option on my favorites of the bunch before moving on to the next category. IF you enter the specific size you are looking for before hitting the save button, it will save your size preferences so you can just hit "add to cart" later. Please note: Once you add it to your cart, it will be removed from the saved section, so don't add to cart + remove unless you're OK with losing the bookmarked item!
The second way to use this is if your size is currently sold out. Save the item, without a size preference, and continue to check back. ASOS's stock is constantly changing as people return items, remove items from carts, things are re-stocked etc. and sizes will often become available again.
Don't Hesitate: That said (above) be careful about waiting too long after saving an item. Things sell out FAST on ASOS. In fact, I have a really hard time doing round-ups with the items because they often sell out overnight, especially holiday specific items. Stuff can become available again, but if you think you want something, don't hesitate too long or it might be gone forever!
ASOS Premier Shipping: If you are not doing this, you are SERIOUSLY missing out. ASOS has it's own "prime shipping" option called "premier delivery". For $19.99 a year you get FREE two day shipping and free returns. HELLO. $19.99 is basically nothing when it comes to shipping costs. It is a GODSEND. Since I have this, I often buy multiple sizes in an item I'm unsure about because I know I can receive, try on and return it so quickly.
Open The Bags Properly: Speaking of returns! ASOS makes it crazy easy to return items. When you get their infamous black and white bags, don't just start cutting/ripping it open. There is a perforated line to tear along and there's a reason for it. After being torn open on that line, there is an adhesive strip (right along the torn edge) that you can use to reseal the bag for returns. Return labels come inside the package so you automatically have everything you need to send back what you don't want.


Check Your Currency: ASOS is a British company, and they offer shopping options in all different currencies. Due to exchange rates, you can often save a little money by switching your currency. Items are often slightly less expensive when purchased in Pounds compared to USD. So, shop the site in dollars and right before you purchase, try converting to pounds. Be sure to convert the CURRENCY not the COUNTRY. (That will empty your cart. Eek!) You can use a currency converter (i.e. Google) to see if you are saving any money and make your decision there.
Save with Packs: If you're interested in basics, navigate to the "Packs SAVE" section. They have two and three packs here of things like t-shirts, sweatshirts, leggings, etc and you can save up to 20%!
Keep an Eye Out For Sales: ASOS runs a sale for almost every holiday it seems, and others in-between that. They'll usually list the promo in the navigation bar at the top or in red at the top of the "Women's" dropdown menu. Lastly, they have their "Outlet" section which has deals up to 70% off. Navigate to the "further reductions" section here for the biggest discounts. But remember, things go even faster when there is a sale so act fast!
Student Discount: If you're a student, ASOS offers a 10% off discount! Get on that, girl!


Shop Our Pinterest: Shameless plug! Ha! But seriously, we are constantly pinning our favorite ASOS items to our "Want It Need It" board on Pinterest. Be sure to check in there to see our latest faves!
Follow ASOS on Instagram: I think @ASOS is doing Instagram right. With every item they post they list the exact product code for that item. So if you see an item you like, you can just search that code on the site and it will come right up. They also have country accounts that do the same, like the @asos_us one.
"New In" Sections: ASOS updates the site daily (multiple times a day even) so always take a quick look at the "New In: Clothing" and "New In: Shoes & Accessories" sections in the dropdown menu to see the latest additions!
Narrow by "What's New": Similarly, when you're viewing a specific category, you can sort by "what's new" so that the newest items come up first!
Check Out Their Insiders: ASOS has a team of "Insiders" AKA stylists that fall into all different styles. They select their favorite items in their own special "shop" pages. If you can find one that really fits your style (and/or body type), it's super helpful for catching new items you'll love.
Two-sies + Co-ords: This is random but ASOS has a TON of adorable "two-sies", AKA bottoms and tops that match. They have casual ones and more formal ones. They're SUPER cute and different, and you can also buy the pieces individually!
P-H-E-W! You still with me? #sorrynotsorry for encouraging your shopping habits!!! Ha! I hope these tips were helpful and that you're now off to find all those hidden ASOS gems!!!! If you have any tips I left out, leave 'em below! We're all in this together! 😉