The final tutorial from our fruit party adventures!! The statement piece of our party was, of course, this crazy amazing balloon garland!!! We've gotten a lot of Qs about how we made it, so I wanted to share our tips! Cyn helped head this one up and did a lot of trial and error before we landed on our favorite method for putting together a garland like this. It's time consuming but quite simple and very forgiving!! Let's do it!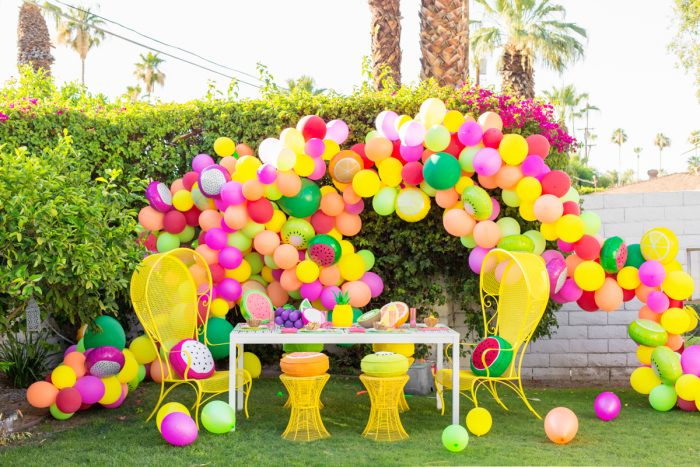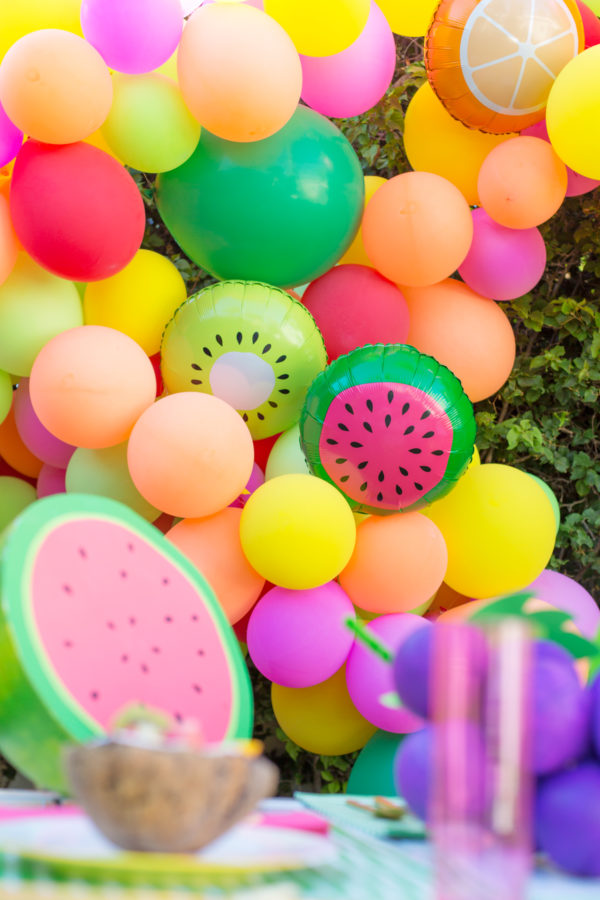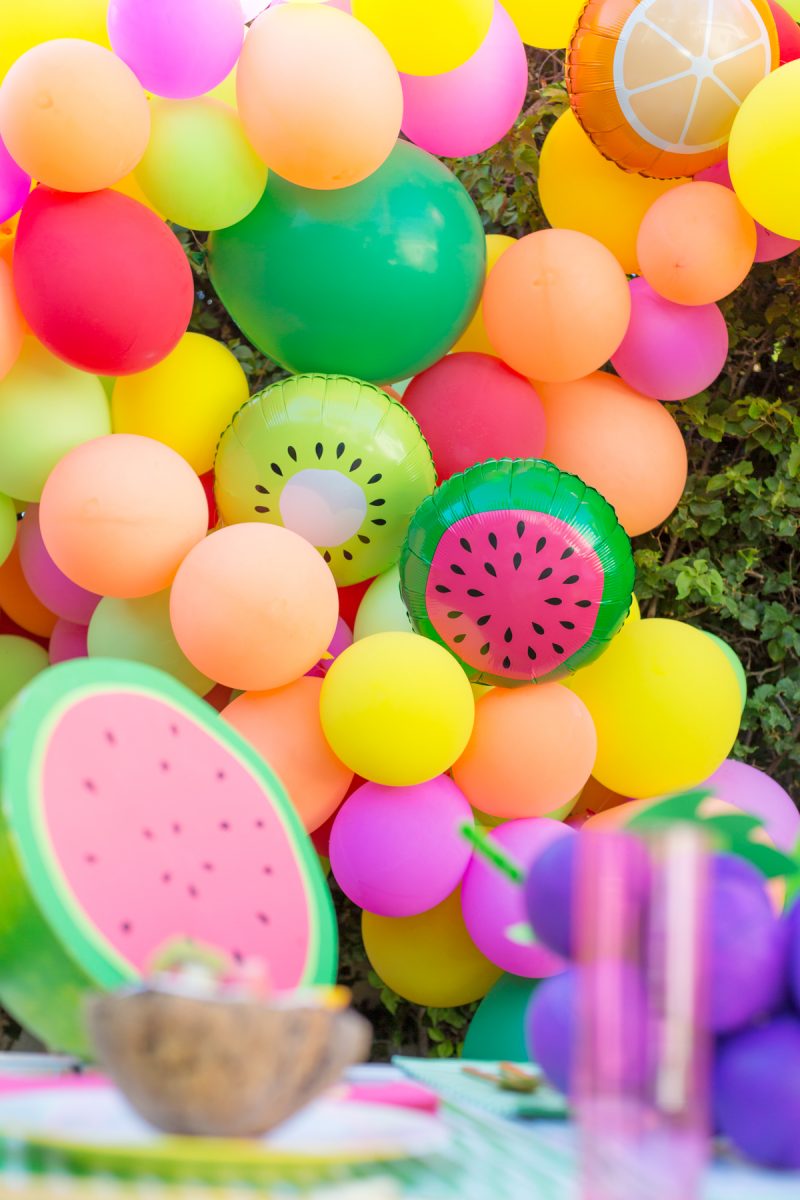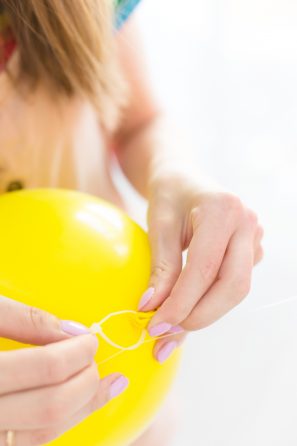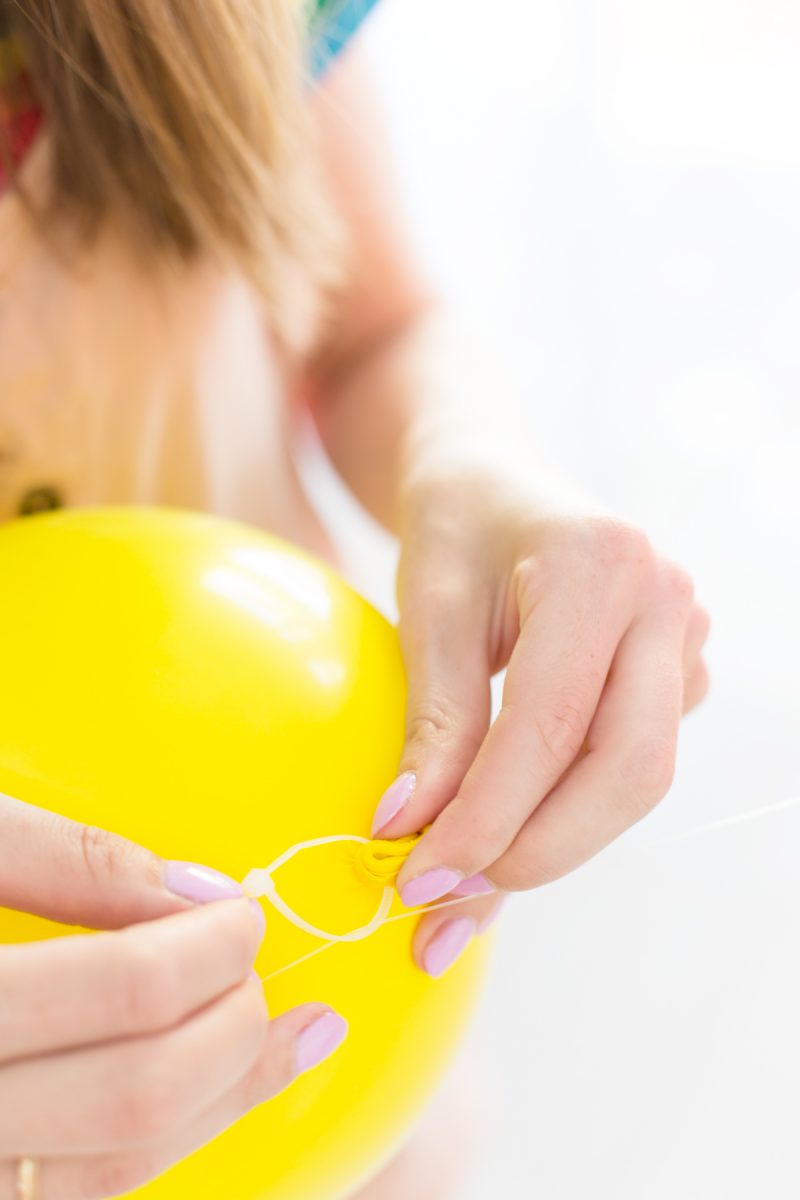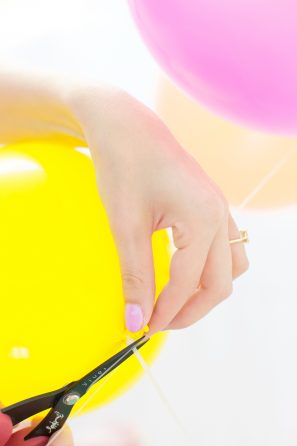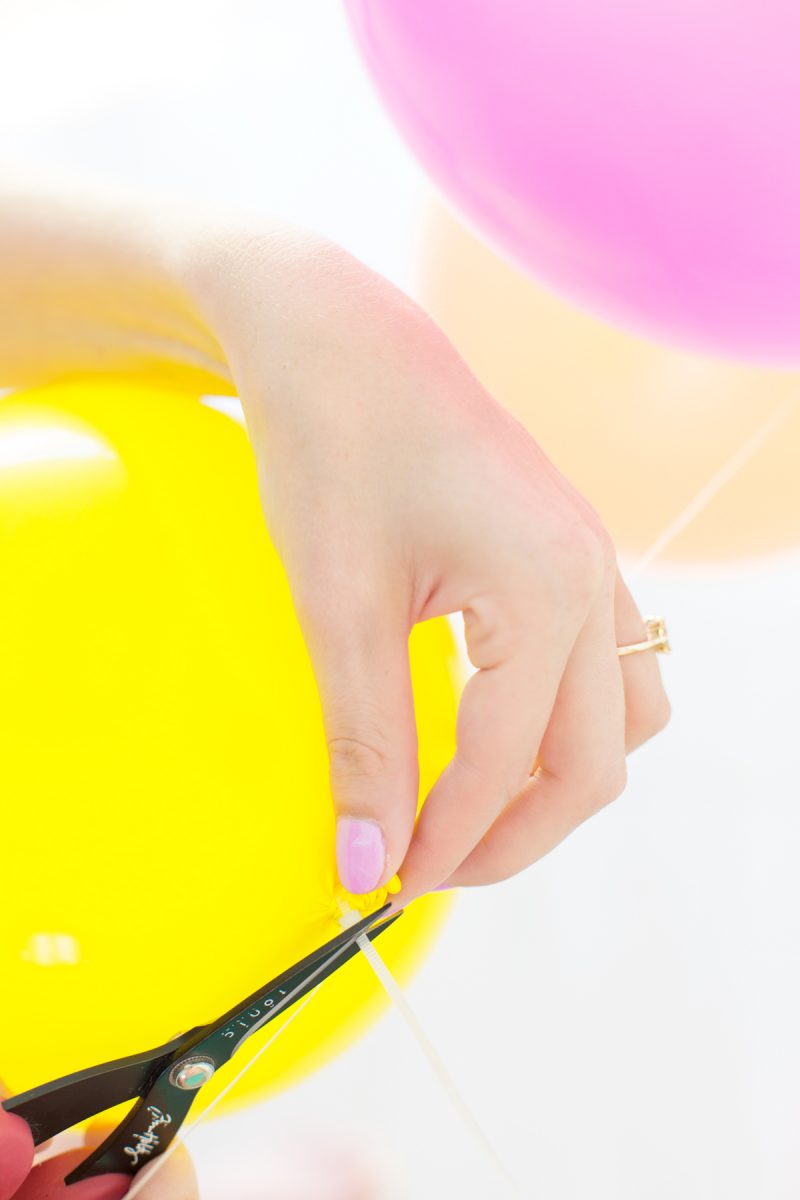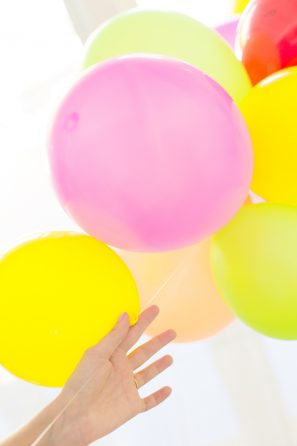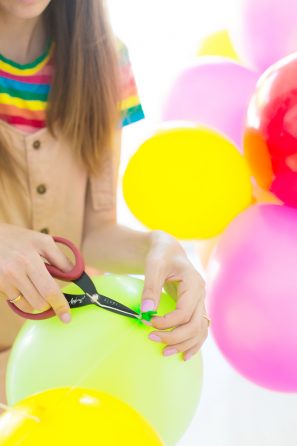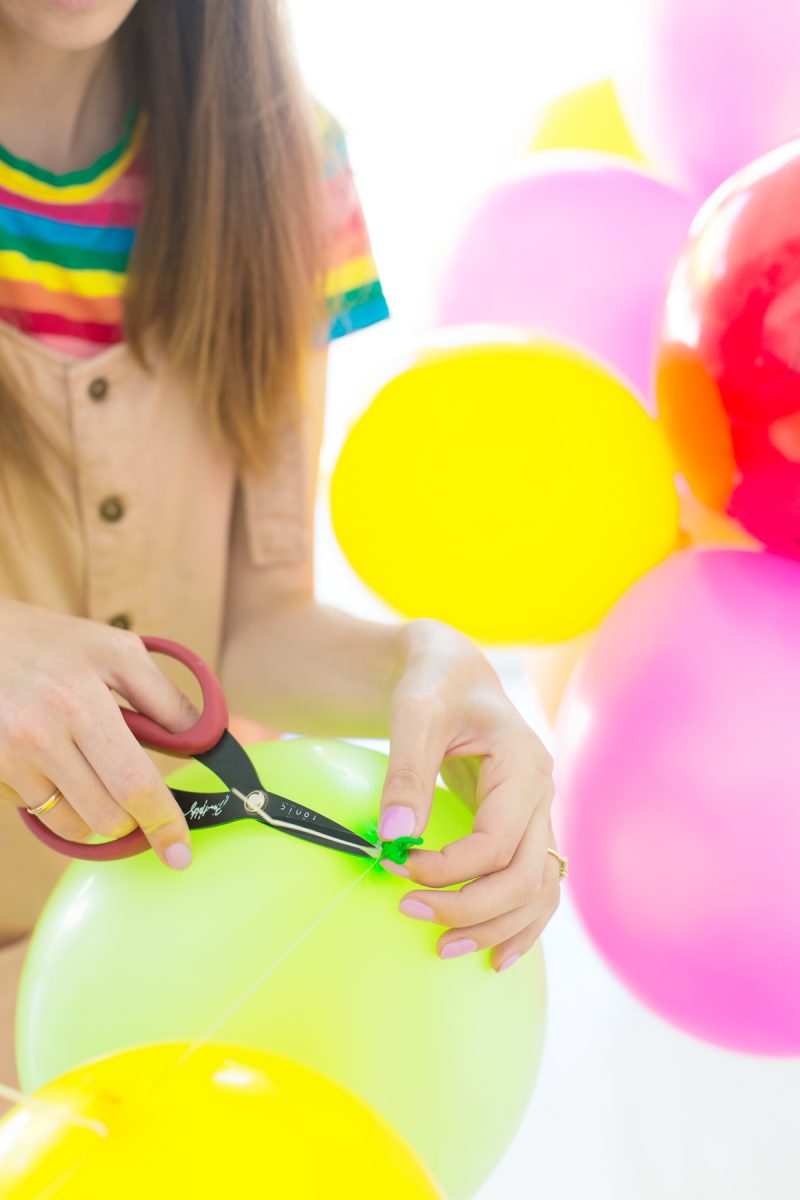 DIY Fruit Balloon Garland
Total Time: Varies Depending on Length of Garland
Supplies
NOTE: You will need about 6 balloons per foot of your garland. Please keep this in mind when calculating how many balloons and zip ties needed!)
Fishing Line
Zip Ties (You'll need one per balloon, see above for note on balloon #s)
11" Latex Balloons
17" Round Latex Balloons
Fruit Slice Balloons
Electric Air Pump
(Optional but helpful) Two Chairs or Other (moveable) Objects to tie the fishing line to while stringing on the balloons
Directions
1. I find it easiest to inflate my balloons first and then work on the garland. You can inflate as you go if you prefer, but it will take longer! So assuming you're taking my rec (haha!) go ahead and inflate your latex balloons with varying amounts of air. You want some to be small and under-inflated, and some to be fully inflated. Just make sure you have a really good mix! We left a handful of balloons uninflated so we could fill in with specific sizes, if necessary, as we went along. Tie each with a knot. Then inflate your fruit slice balloons and set them aside. These are self-sealing and don't need a knot! You can corral all your balloons in a room or in giant garbage bags.
2. Set up two chairs in a clear space in your home/venue, at least 6 feet apart (or ideally as far apart as you can get them. Tie or tape the end of your fishing line to one chair, with a couple feet of excess fishing line hanging off. Then tie or tape the fishing line to the other chair WITHOUT cutting it, since you'll likely want to make it longer as you move along. You want the fishing line to be taught.
3. Grab a latex balloon and a zip tie. Hold the balloon's tail up against the fishing line and wrap the zip tie around both the fishing line and the balloon, pulling it tight right below the knot (as in, closer to the inflated balloon part).
4. Trim the excess tail of the zip tie and push the balloon to the end of your fishing line that's strung up.
5. Now you're going to repeat this one billion times. Ha! With each one, you'll push the zip tied balloon right up against the last balloon. You'll see it gradually starts to form a garland. To make it look more free-form and less like a traditional party-store balloon garland, make sure you are mixing in your smaller and larger balloons. And make sure you are varying up your colors. It's good to step back and look at it from afar occasionally to make sure you don't have a cluster of large or similar colored balloons, etc.
6. As you finish a section you can adjust your tied-up fishing line to make it longer so you can add more.
7. Once you have the length of garland you need, it's time to string it up. This is a big variable because how you put it up will depend on where you're hanging it. Most likely, you'll want to find a trees, bushes, poles or other items that you can tie the ends to. You'll also want to be careful you don't damage anything in the process. We used fishing line and zip ties to tack ours in several places on the foliage behind our set up.
8. Once your garland is strung up, now you can add in those fruit balloons! Tie a piece of fishing line on each one and wrap it through the latex balloons so it can tie onto your main piece of fishing line.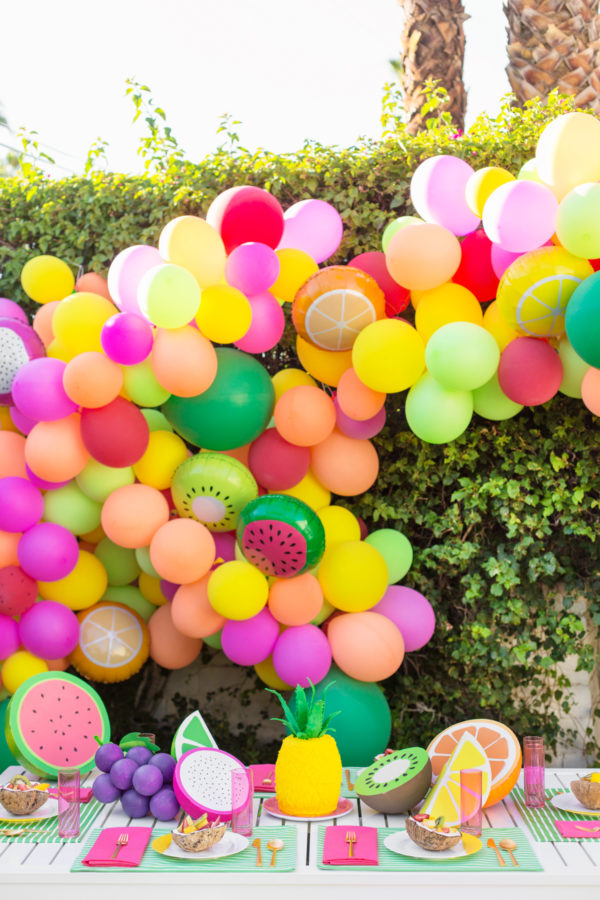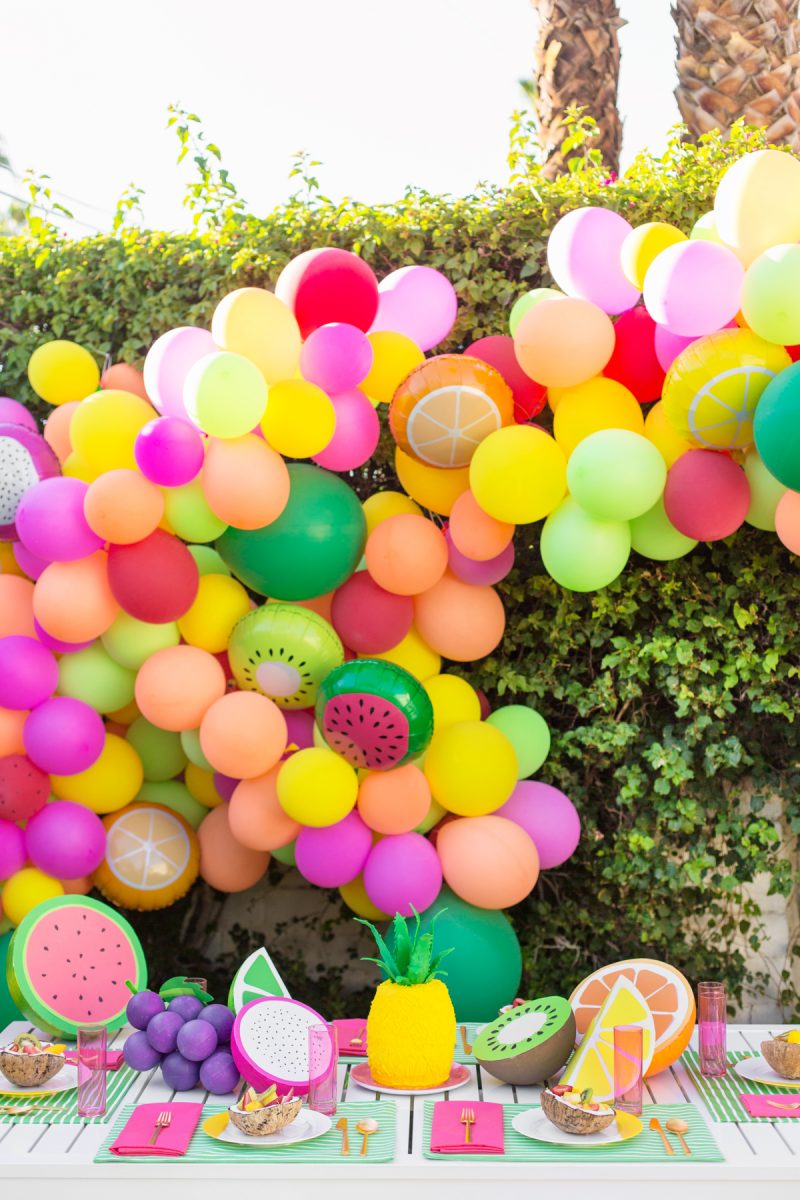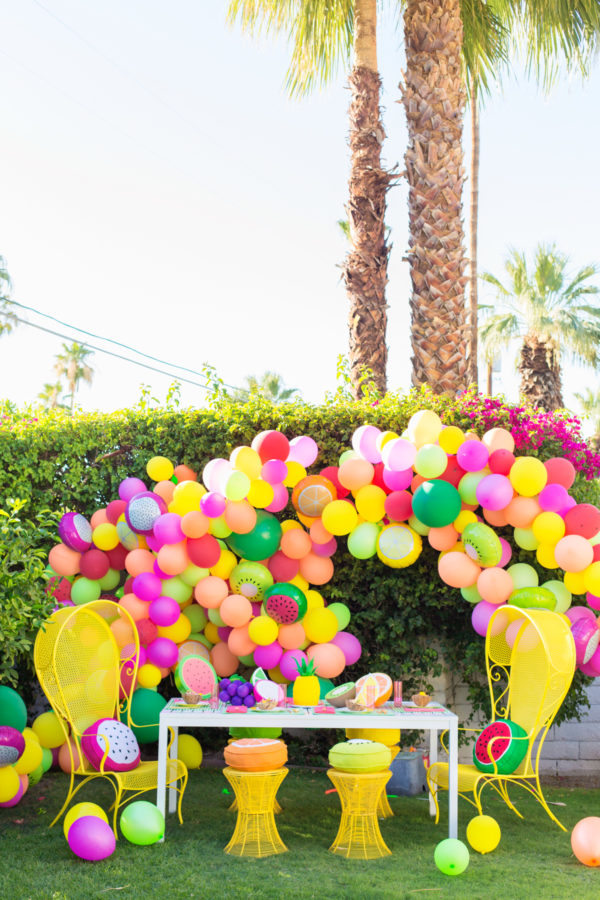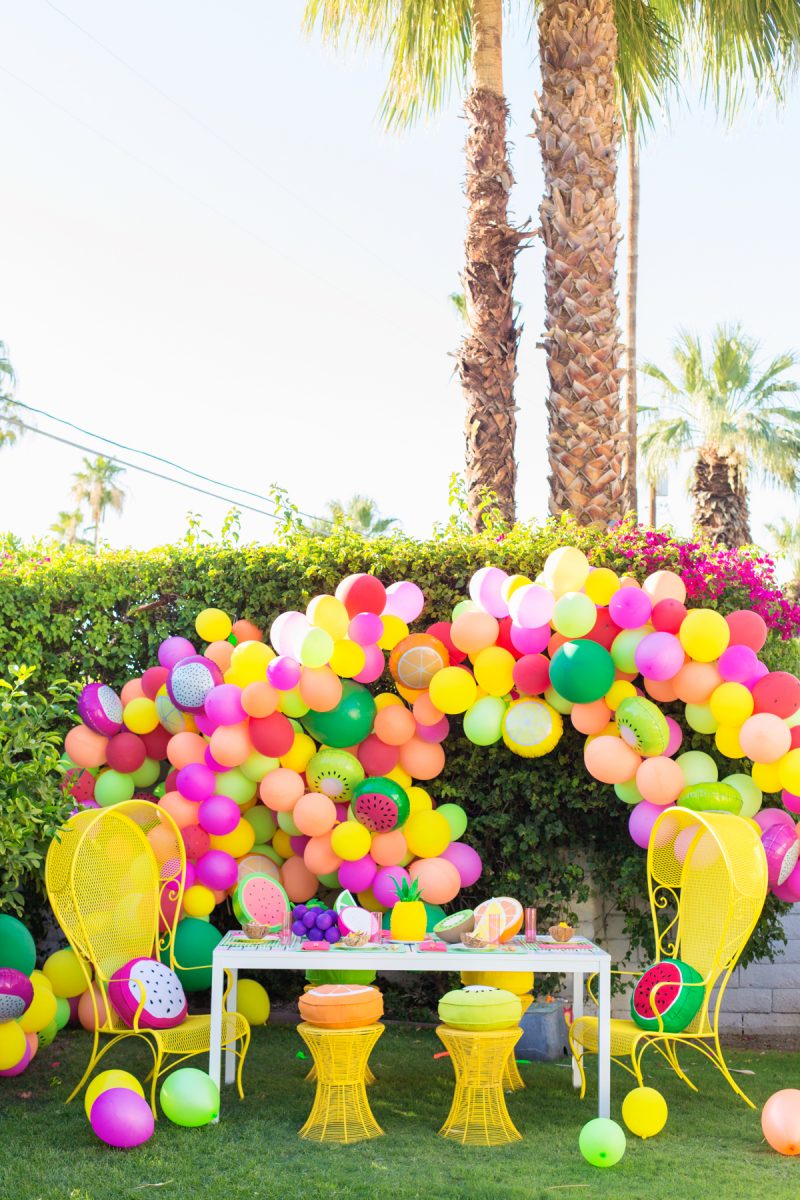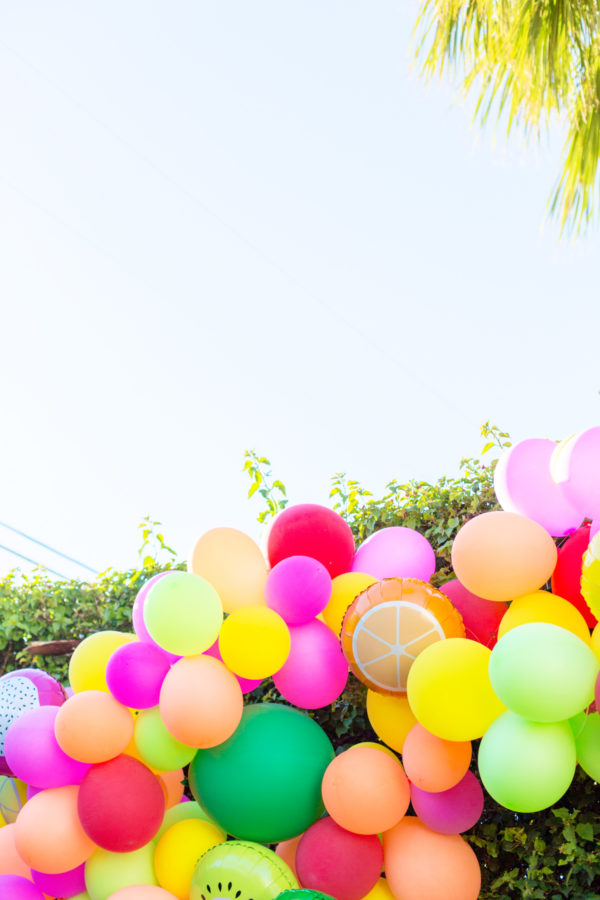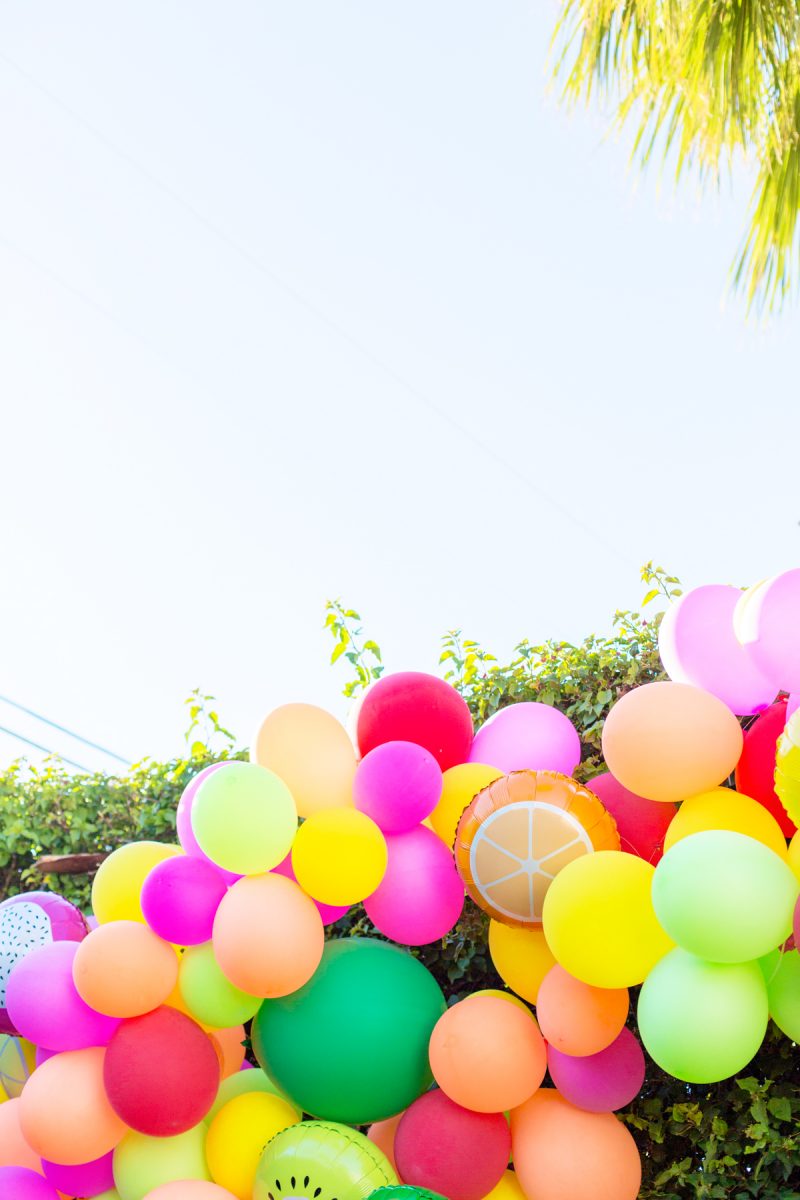 Photos by Jeff Mindell | Styling + Crafting by Cyn Moreno
SOURCES
Palm Springs Rental Home: The Harlow House
Balloons:
Watermelon | Lime | Dragonfruit | Lemon| Kiwi | Orange | Fruit Combo Pack
17″ Yellow | 17″ Deep Jade | 17″ Watermelon Red
Frankly, I Love Rainbows Party Pack | Make It Rainbow Party Pack | Make Life A Party Party Pack
16″ Gold Mylar Letters | 32″ Mylar Watermelon
Decor:
Yellow Stools | Yellow Chairs | Striped Placemats | Pink Napkins
Gold Flatware | Pink Glasses (similiar) | Pineapple Cake | Foam Fruit Centerpiece |
Fruit Slice Pillows
And there you have it!! It's amazing what a "WOW" factor this garland brought to the party!! I love the addition of the fruit slice balloons throughout it. Have you ever made a balloon garland!?
SaveSave
SaveSave
SaveSave
SaveSave
SaveSaveSaveSave