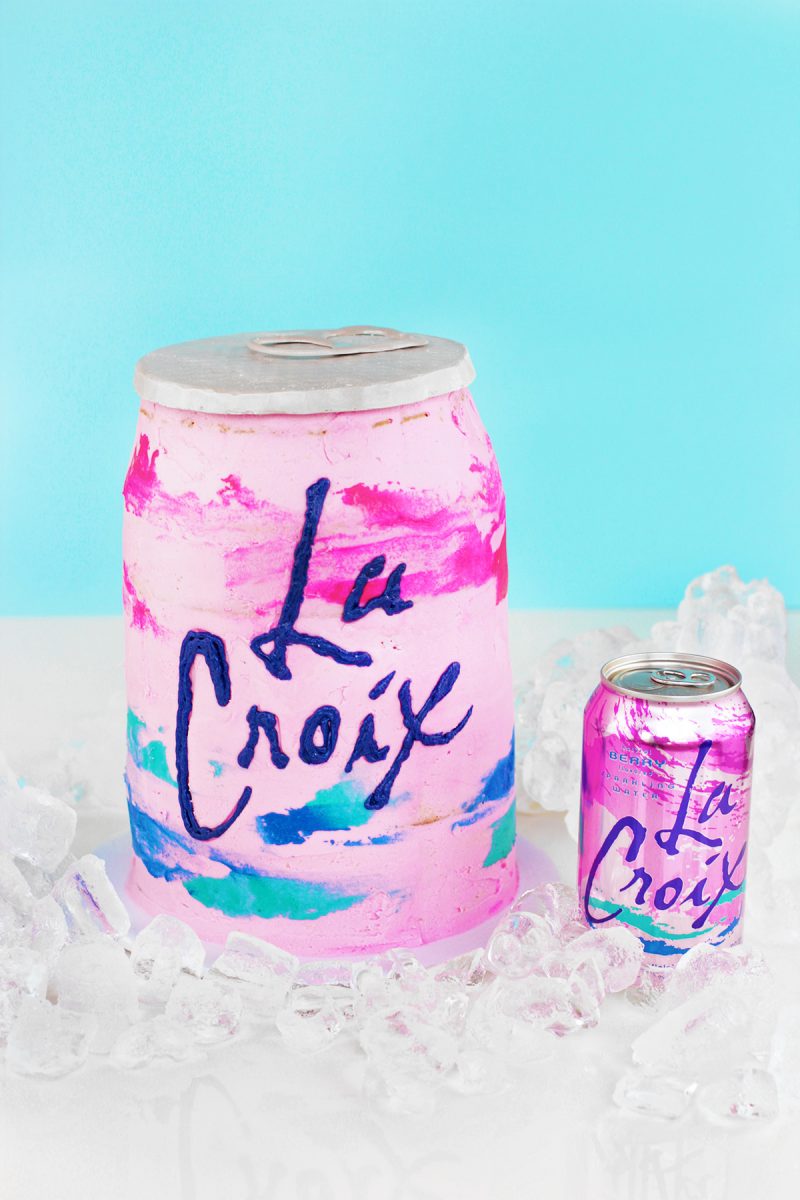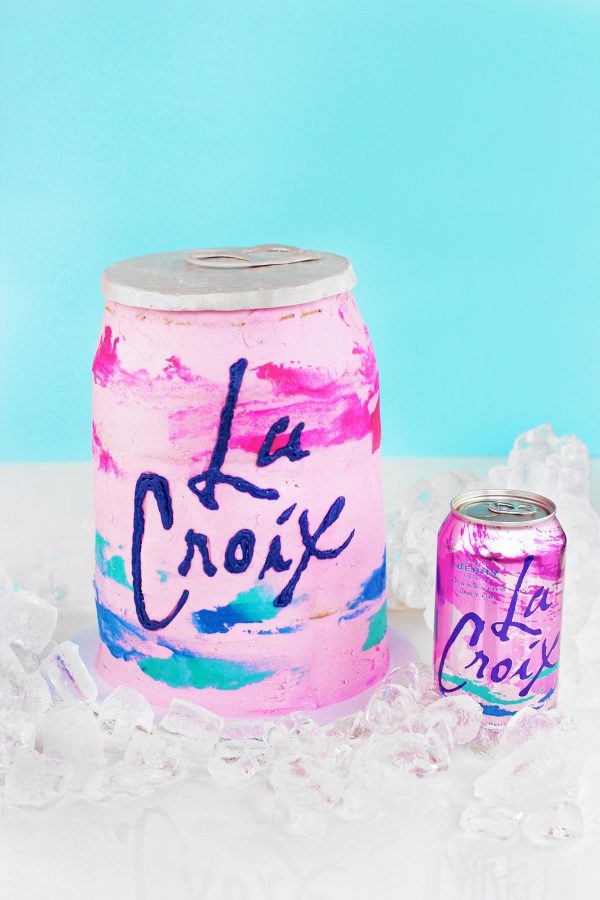 It's no secret that the Internet/Instagram/literally everyone loves their La Croix. I just want to know why it took me so long to discover this magic!?!? It's definitely everyone's favorite drink for a reason! So we did what anyone would do and we made a La Croix cake!!!!! Can you imagine how fun this would be for a birthday or even a bachelorette party!?!?
And if you're thinking "well, that's nice but yeah RIGHT can I make this!" we made a video tutorial to go along with this one to show you it's surprisingly simple to recreate! Videos are always much requested for our cake DIYs and… ask and you shall receive!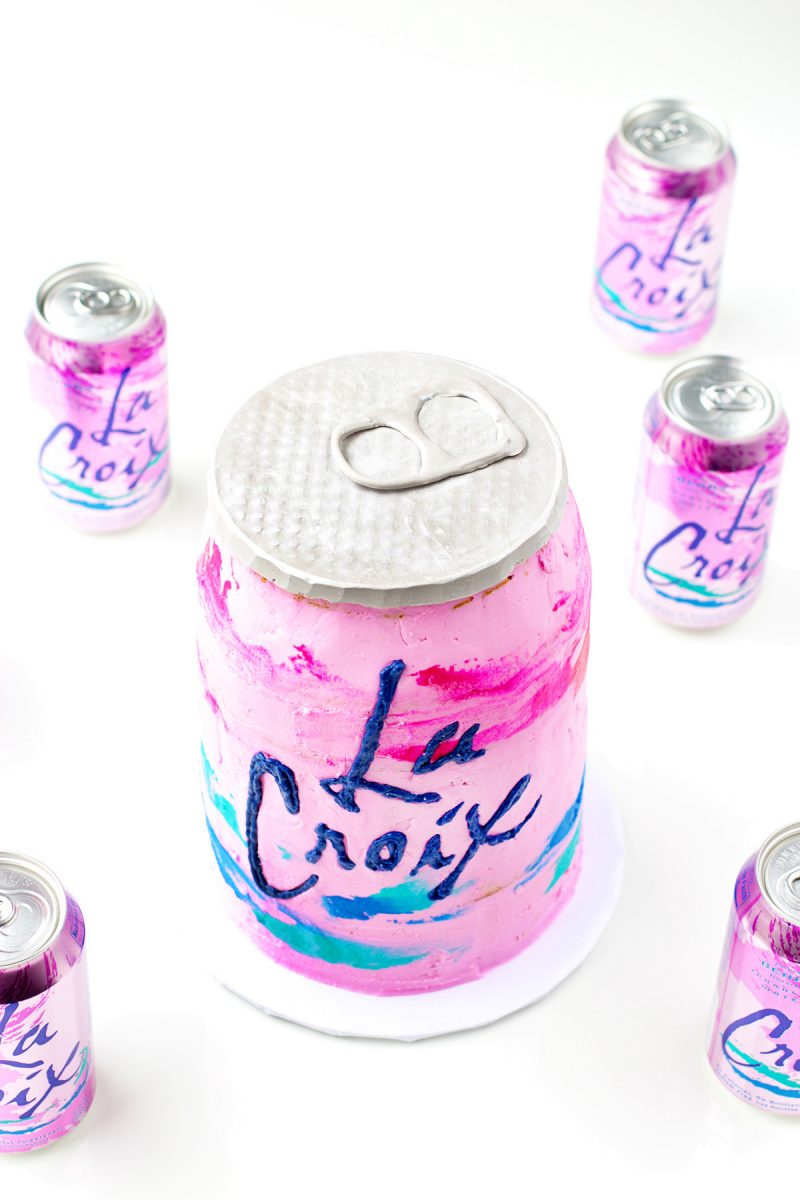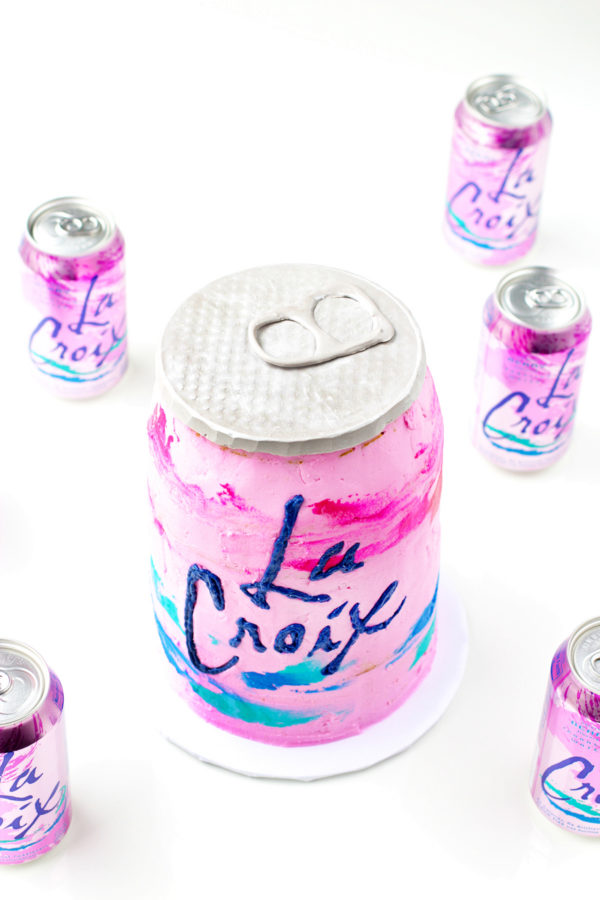 DIY La Croix Cake
Ingredients
Instructions
Stack all layers of cake with about 1/2 cup of buttercream spread between each layer, starting with the 6-inch rounds and ending with the 5-inch round on the top.

Cover cake in a thin layer of buttercream and chill for 30 minutes.

Frost the entire cake in a light pink buttercream.

Using a small spoon or offset spatula, place small blobs of dark blue, teal, and deep pink buttercream randomly on the cake. Focus the blue and teal towards the bottom and the deep pink towards the top.

Use a flat edged frosting smoother/bench scraper and run it along the edges of the cake to blend the colors together. Chill for at least an hour, or till the buttercream is cold and set.

To make the top of the can, melt 1 1/2 cups of candy melts (mostly white with a few black to make gray) till smooth. Pour into a small round container; just enough so that it is about 1/2 inch thick. You can use a small aluminum pie plate like we did, Tupperware, or any appropriately sized container. It should be somewhere between 5-5.5 inches around.

Place remaining gray candy melts mixture into a small squeeze bottle. Pipe out a chubby "8" shape onto parchment paper. Let the lid and the pop top chill till set.

Print out or trace the La Croix logo onto thick card stock paper. Cut out using an exacto knife. You can then press the thick card stock letters into the chilled buttercream on the cake to make an indent.

Place dark navy blue buttercream into a piping bag fitted with a very small round writing tip. Carefully fill in all of the indents made into the cake. You can use a toothpick to direct the buttercream into the tiny edges and corners of the letters.

Place the candy melt can lid right on top and finish with the pop top.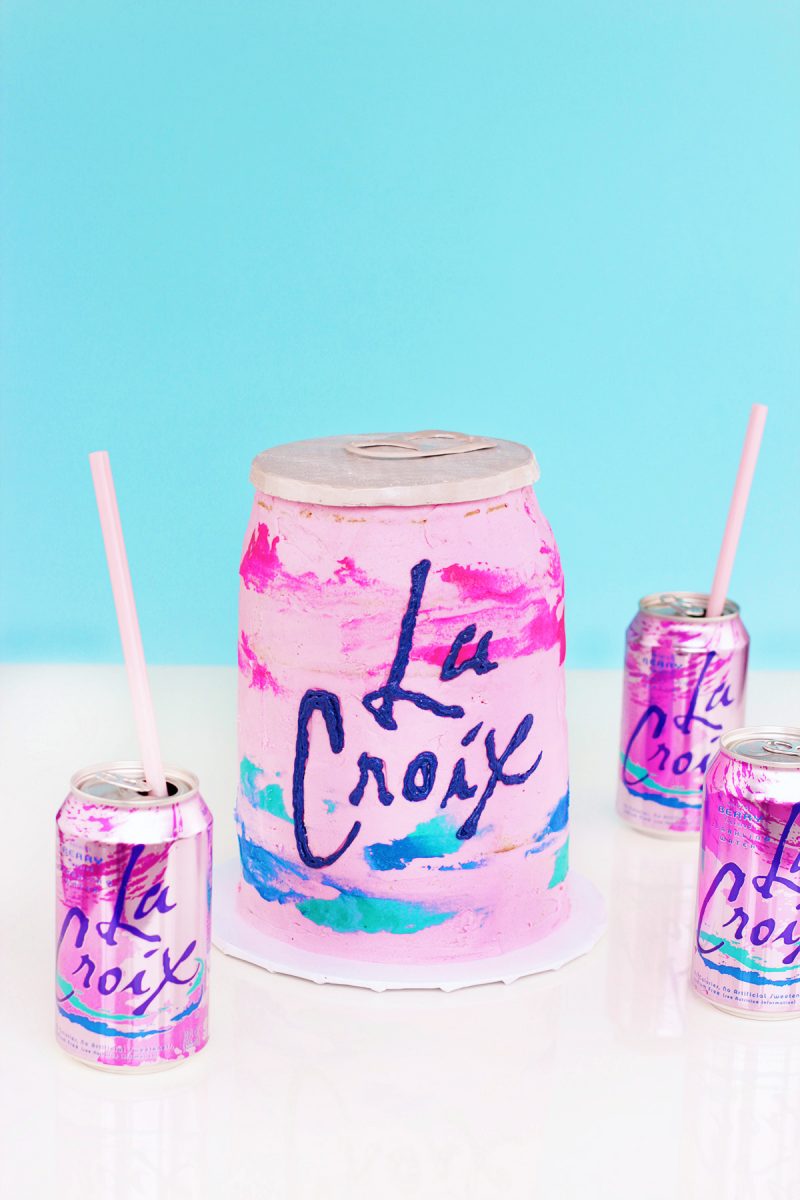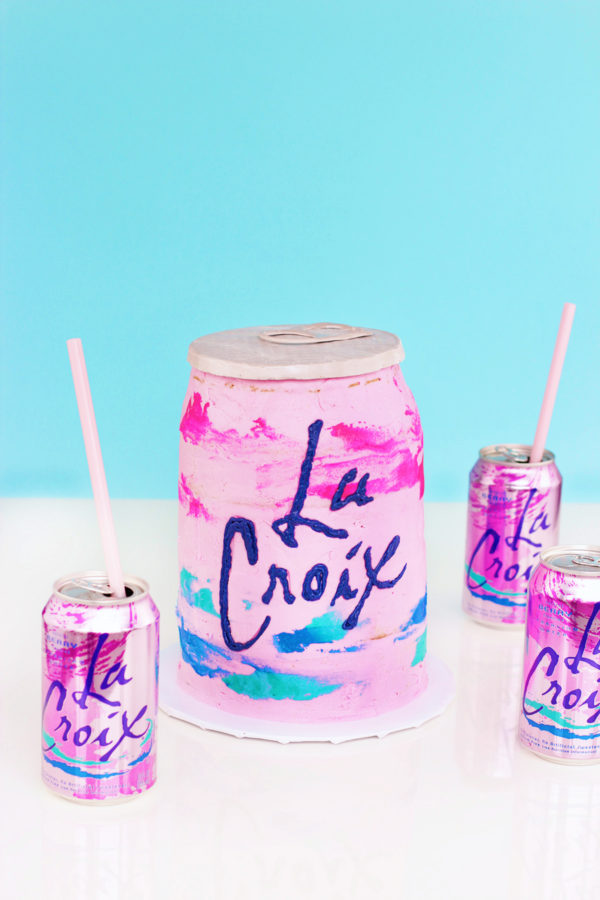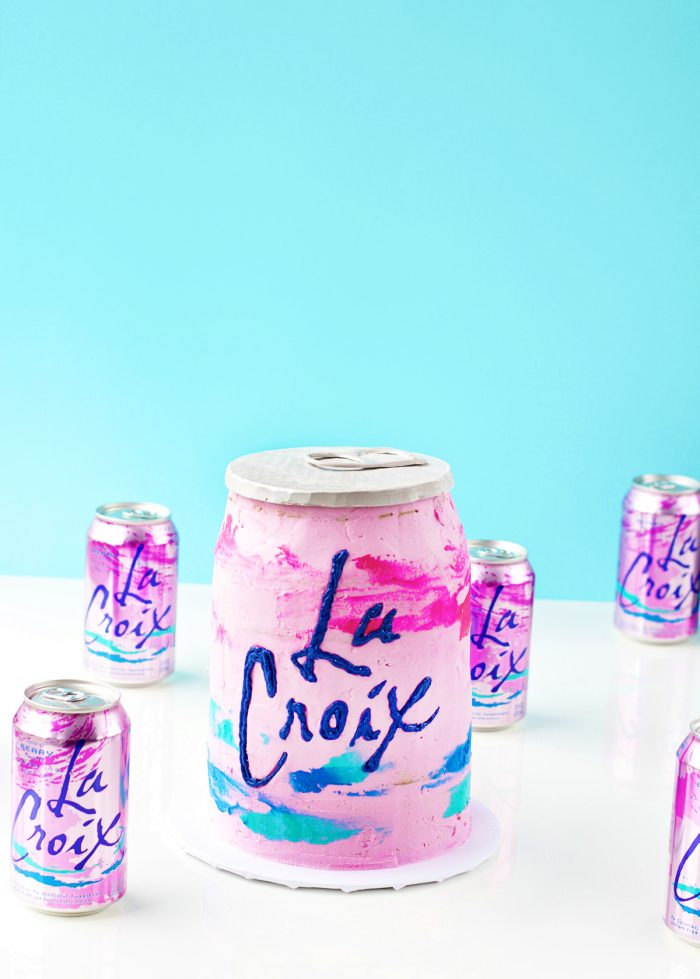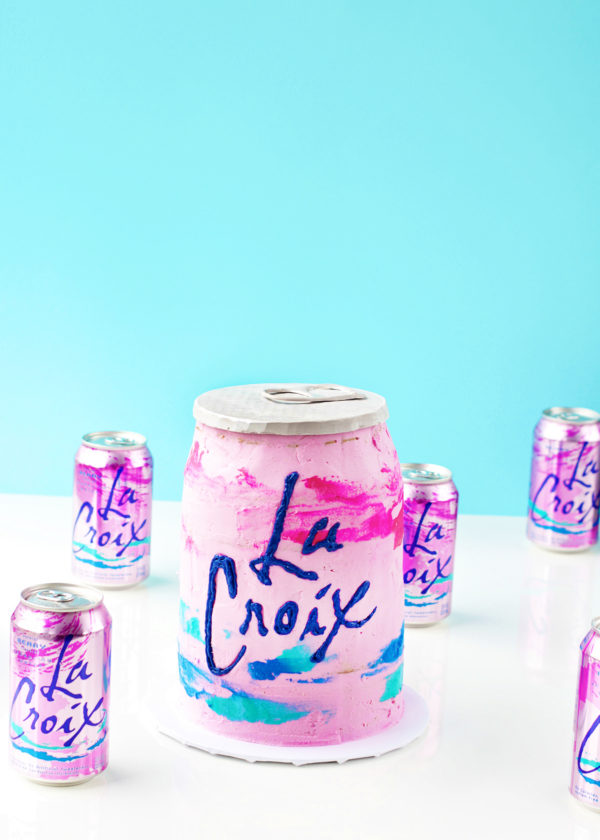 Photos + Video by Rachel Kivlahan | Recipe by Theresa Rountree
So the most important question to ask here, other than WHEN are you making this!? Is obviously.. what is your La Croix flavor of choice??
p.s. DIY Taco Cake!