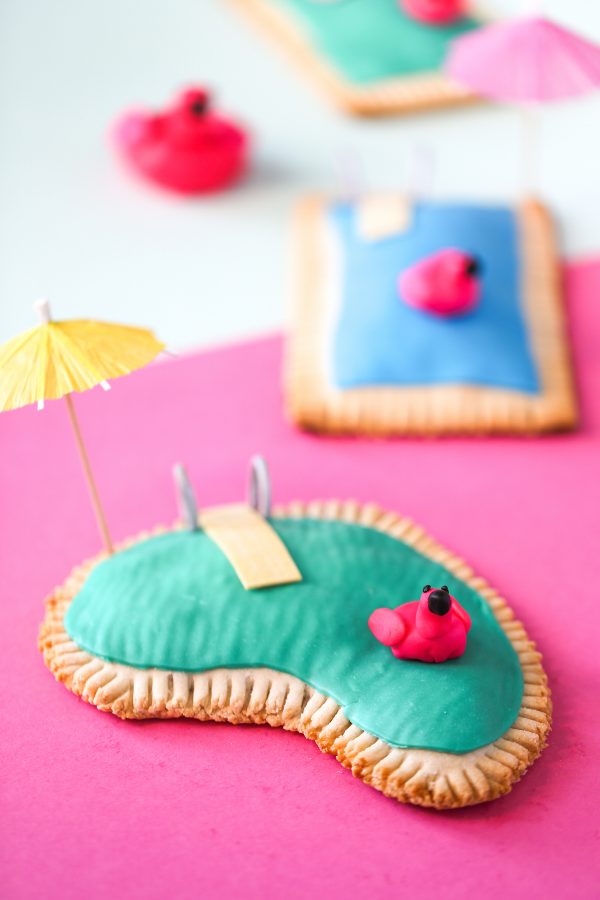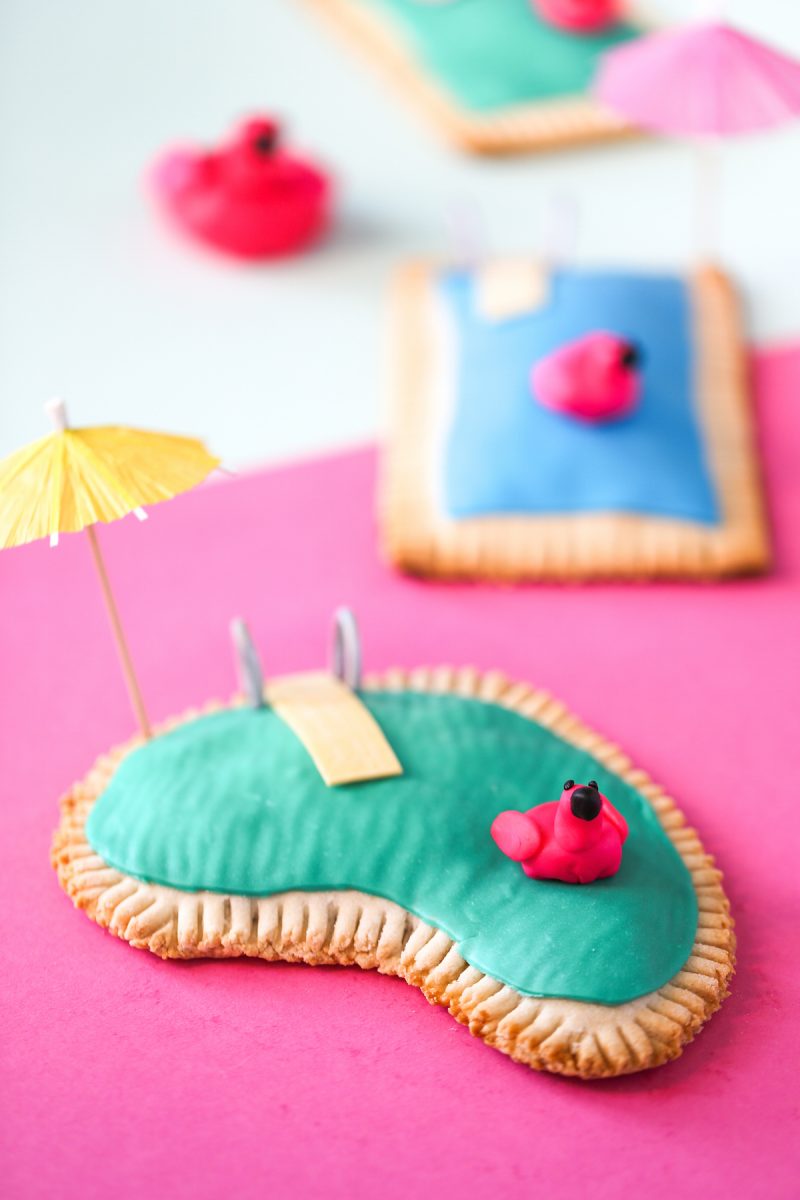 Hello! It's Andrea again from Salty Canary! Maybe you saw my Cactus Ice Cream Cones from last month? I'm back today sharing these fun, Palm Springs inspired, swimming pool toaster pastries! Yes, those are tiny flamingo floats! Yes, those are tiny diving boards! And yes, the inside flavor is piña colada!
I absolutely LOVE weekend trips to Palm Springs! The great food, the modern and colorful hotels and houses, and of course, relaxing by the pool! For some reason, I think that toaster pastries look like pools with bricks around the edge because of their rectangular shape and crimped edges, so I figured I would fill the toaster pastries with my favorite poolside drink flavor and top them with blue frosting and flamingo pool floats!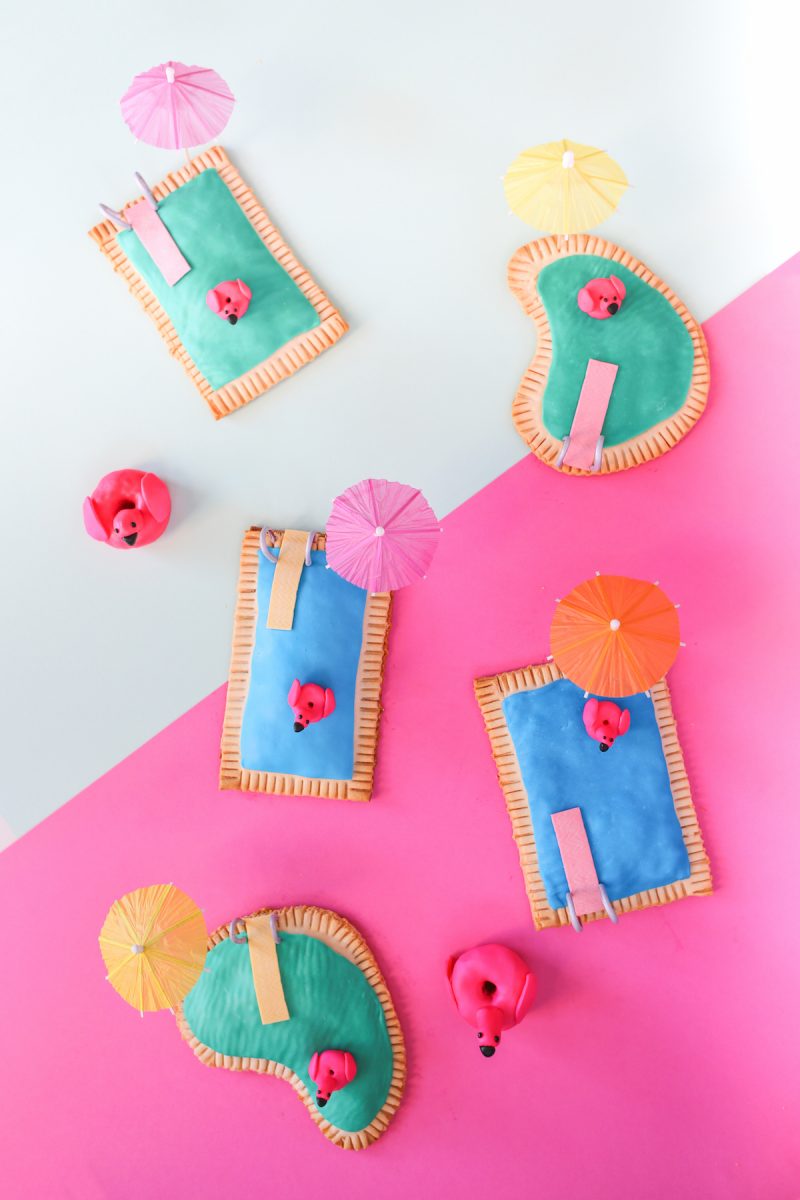 Piña Colada Pool Pop Tarts
Ingredients
3

cups

flour

1

tsp

salt

1

TBSP

granulated sugar

12

TBSP

butter

cold

⅓

cup

shortening

cold

6-8

TBSP

ice water

8

oz.

jar pineapple jelly

½

cup

sweetened coconut flakes

Lifesaver Gummies

Juicy Fruit

yellow and/or Strawberry Juicy Fruit (pink) gum

Pull-n-Peel Twizzlers

Blue and/or teal fondant frosting

Pink and black fondant frosting

Silver food color spray

Optional prop: drink umbrellas
Instructions
Combine the flour, sugar, and salt in a bowl and whisk together.

Use a grater to grate the cold butter and cold shortening into the dry ingredients mixture.

Mix with your hands until the dough starts to combine.

Add a bit of water to the dough slowly and continue to mix with your hands until dough sticks together. Don't use too much water or the dough will be tough.

Split dough in half, form into flattened balls, wrap in plastic and refrigerate for 30 minutes.

Preheat the oven to 375 F.

Combine pineapple jelly and sweetened coconut flakes in a bowl and mix together.

Peel apart the Twizzlers and lay the strings stop parchment paper and spray with silver food color spray. You may need to let them dry and spray a second or third time for complete coverage. Once finished, cut to 2.25 inch segments. Set aside.

Cover Lifesaver gummies with pink fondant and poke a hole in the middle. Add heads and wings. Use black fondant to add beaks and eyes. Set aside.

Remove the dough from the refrigerator. Start with one dough ball and roll out with a rolling pin on a generously floured surface until about ⅛" thick.

Use a ruler or a pre-cut kidney-shaped stencil along with a pizza cutter and/or Exacto knife to cut rectangle pools (4"x7") or kidney-shaped pools (6"x7" at widest and longest) out of the dough. Set aside on a cookie sheet covered with parchment paper. Repeat with the other dough ball.

Spoon about 2 spoonful's of piña colada filling onto the center of half the pools.

Cover with the remaining pool halves and crimp the edges with the tines of a fork.

Use a toothpick to poke holes in the middle of each pool to allow steam to escape.

Bake for 20 minutes or until golden brown.

Remove from the oven and allow to cool.

Cover the middle of each pool with either blue and/or teal fondant or blue frosting.

Add a stick of gum as the diving board. Or cut diving boards out of pink fondant if you want the toaster pastry to be completely edible. Use a stick of gum as a stencil.

Use a toothpick to poke holes next to the diving board and add your silver Twizzlers handles.

Optional: insert a drink umbrella at one end.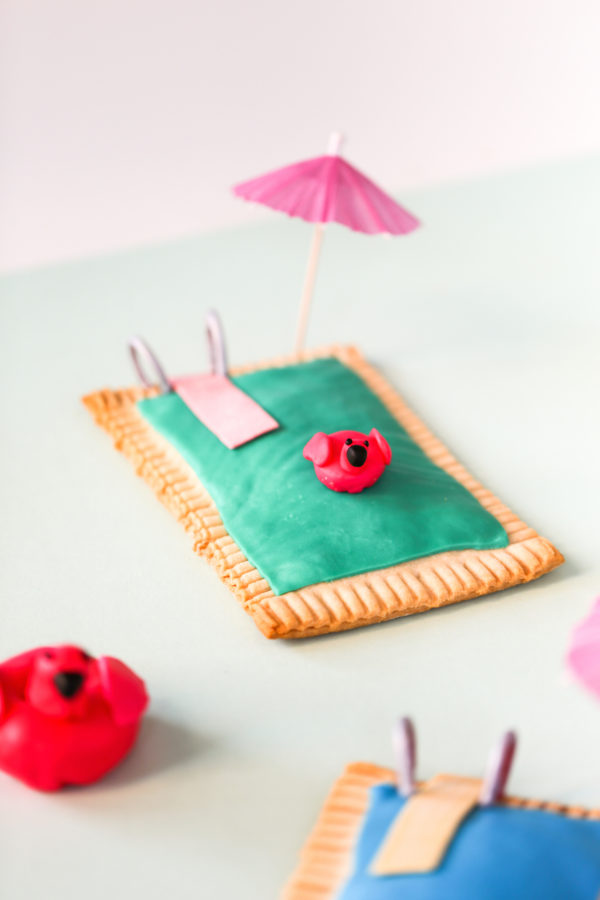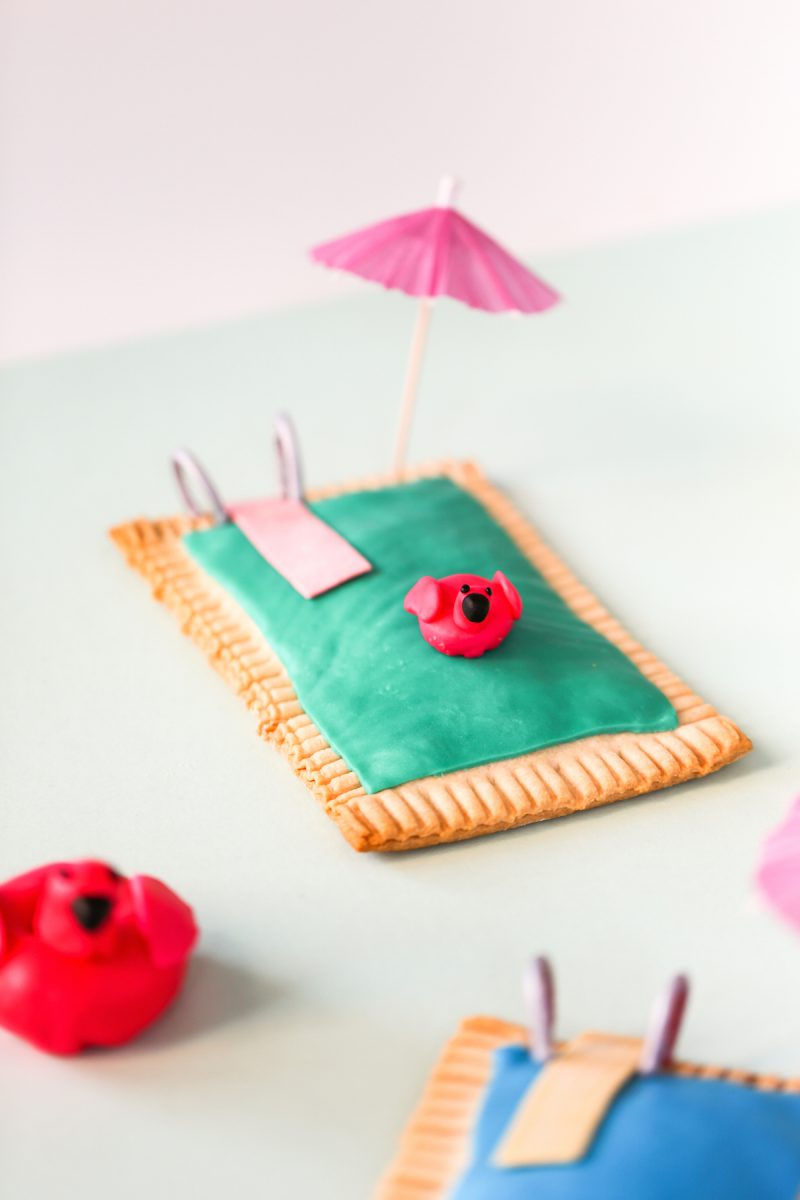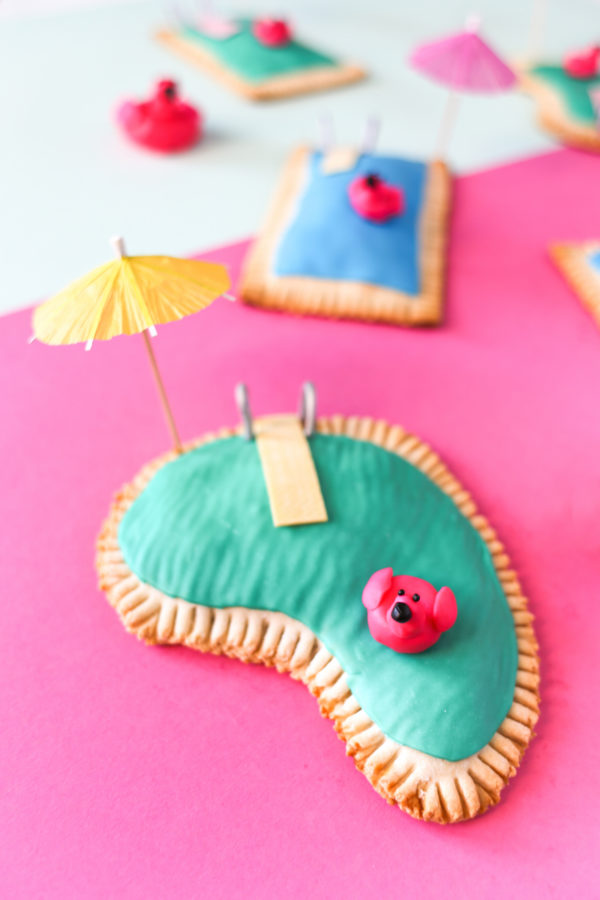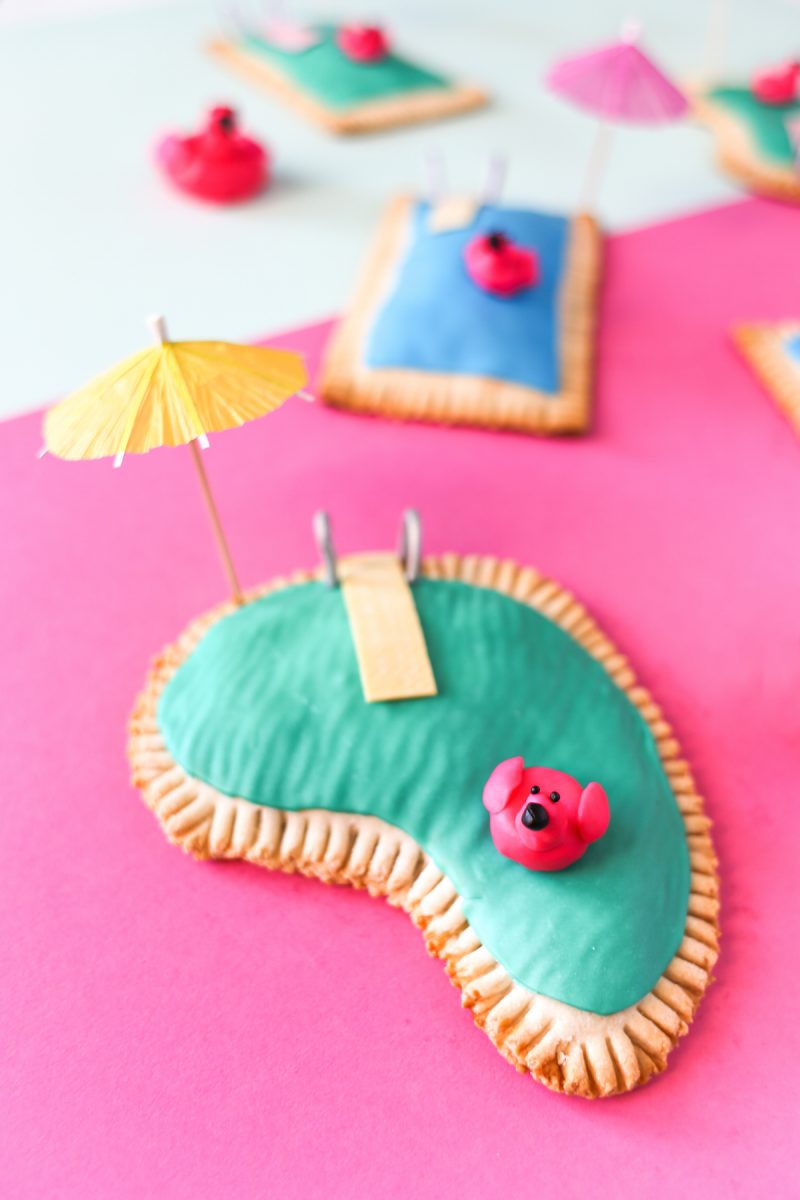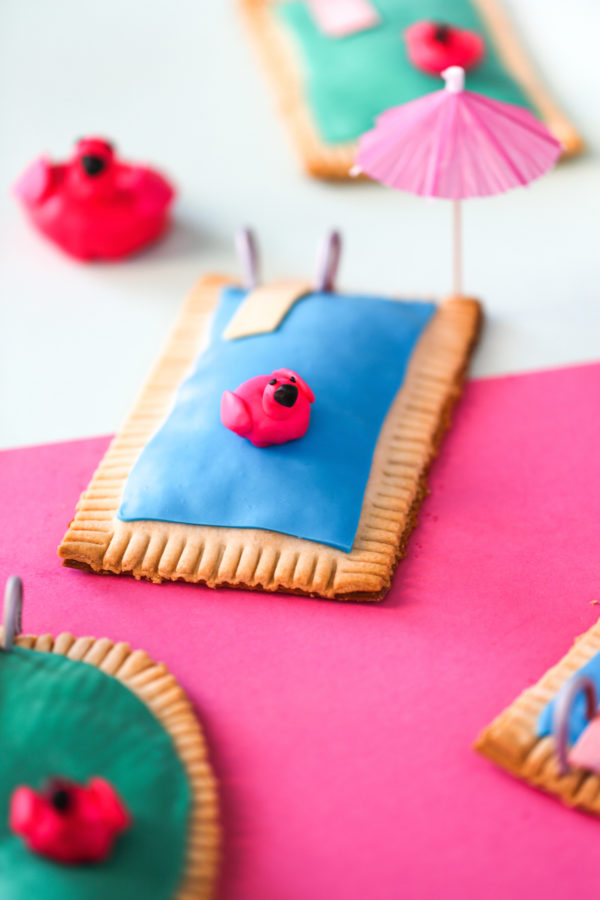 Photos by Andrea Ament | Salty Canary
The best part of these pool toaster pastries? There are so many different ways to make them! You can make your dough from scratch, or save some time and use store-bought pie dough. Fill with a virgin piña colada filling or add a bit of rum! The blue pool frosting can be fondant (which is what I used for the crisp edge lines and bright color) or you can use blue frosting (which, not gonna lie, would probably taste better)! Not sure that you can make flamingo floats? Don't worry about it – simply use a Lifesaver Gummy as a ring float! It's all up to you, your tastes, your skills, and what you have time for.