On Tuesday I shared a great DIY for the kiddos, and today I have something for the grownups celebrating Easter. They combine a few of my favorite things, gold spray paint and paper flowers. You know how many plastic eggs have those little holes in the top? Well, they happen to perfectly fit a toothpick! And a paper flower happens to work perfectly well on a toothpick. Spray a few eggs gold, slide a paper flower right on in and, BAM! An Easter brunch centerpiece, a creative place card, or a hidden secret message (slide it on the toothpick inside the egg!)… I couldn't give you just one idea for this fun and springy Easter eggs, there were just too many. Time for YOU to get creative!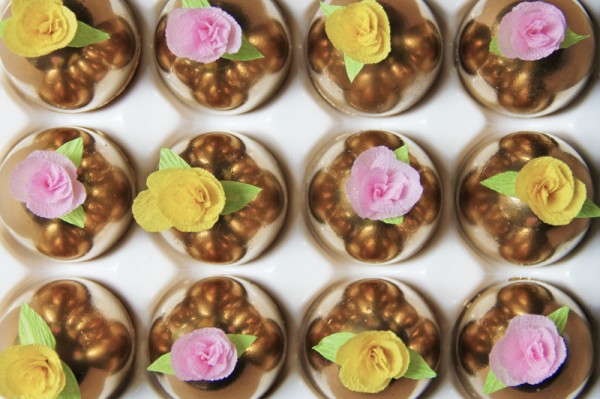 Let's start with these cute paper flowers…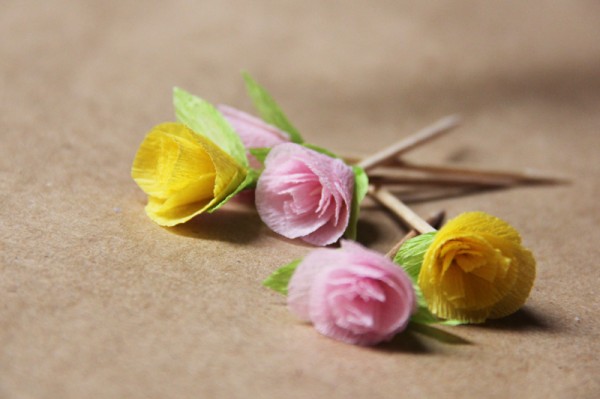 Paper Flower Supply List
Crepe Paper Sheets or Crepe Paper Streamers
Toothpicks
Glue
To Make:
For the center of the flower, cut a small stripe of crepe paper (about 1 1/2″ by 1″) and cut fringe in one side of it. Cut out your petal shapes (You will need six per flower, or more if you'd like fuller flowers) from crepe paper as well.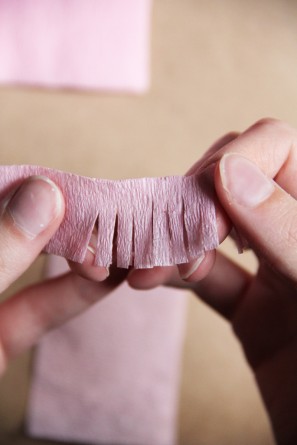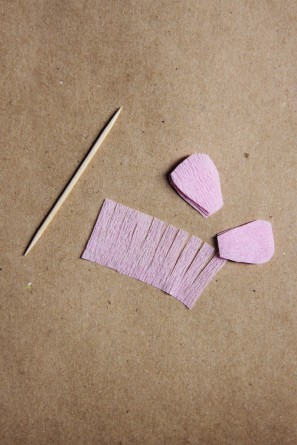 Put the teeniest amount of glue along the solid edge of your fringed flower center (even less than you see below!) and roll it onto the tooth pick. Using a tiny dot of glue on each flower petal, carefully wrapping the base of each petal around the toothpick. (p.s. These flowers were adapted from this great tutorial over on Jordan's blog, Oh Happy Day, where you can check out another great idea for using these flowers!)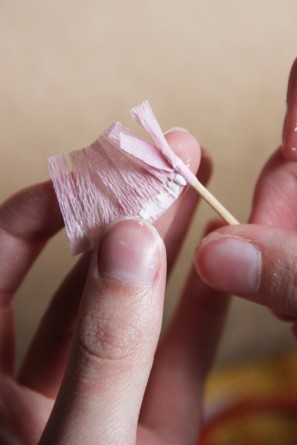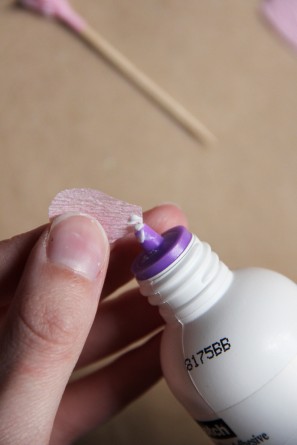 Once you've added all your petals, you can go ahead and add two leaves if you'd like! Attach them in the same manner, with a small dot of glue and then carefully wrapping them around the base of your flower.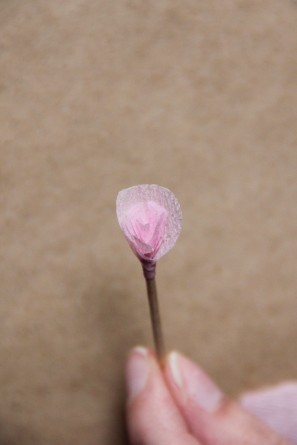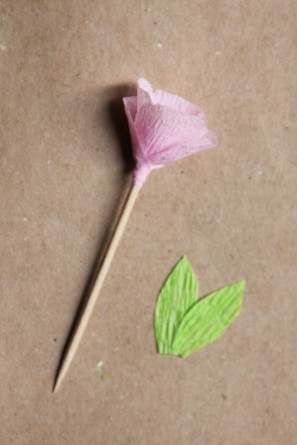 Aren't they adorable!? Holy cow! Now for zee eggs…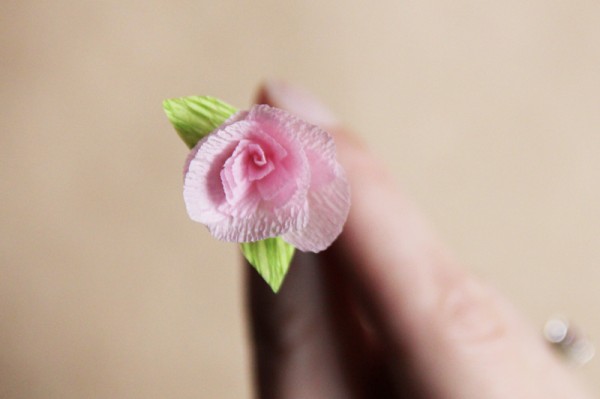 Golden Egg Supply List:
Plastic Eggs
Gold Spray Paint
A tarp or other cover so you don't turn your home/driveway/patio into a golden palace…
To Make:
Simply spray paint your eggs! Lay them out (top and bottom separated, curved sides up) and go to town with your gold spray paint. Make sure to spray from far away so the paint doesn't "pool" on the plastic. Let dry completely per the directions on your spray paint can.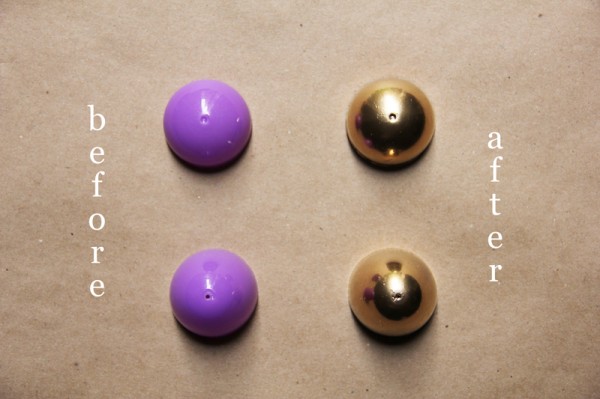 Now, assemble!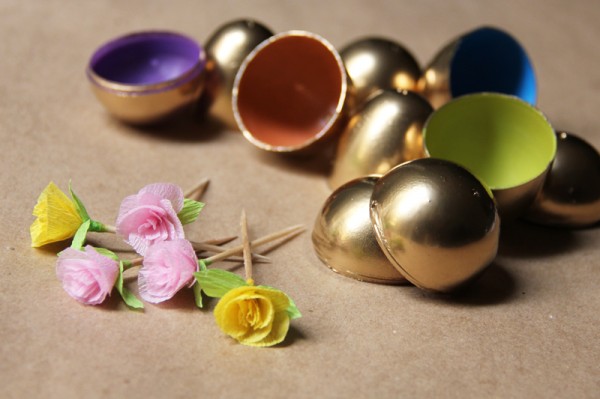 Poke your flower tooth picks through the hole in the top of each egg, pulling it through from the bottom. If the spray paint has covered the hole, use a separate tooth pick or small awl to re-open it. The size of the holes do vary slightly so some toothpicks may slide right in, and others may take a little elbow grease.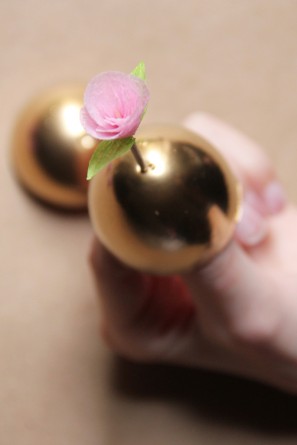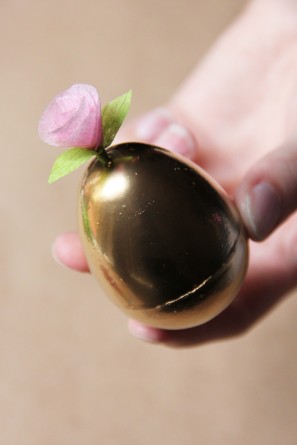 Once you have all your golden egg paper flower masterpieces put together, it's your turn to get crafty with them! I thought they'd make a fab simple centerpiece for an intimate Easter brunch and placed 12 of them in a little ceramic egg crate from World Market.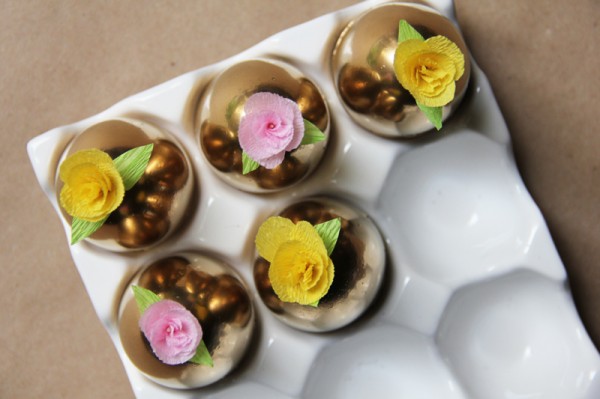 As I mentioned above, these would make a great Easter twist on fortune cookies, slide a surprise message onto the toothpick housed inside each egg. You could also wrap a little tag around the egg with your guests names and place them in egg cups at each place setting.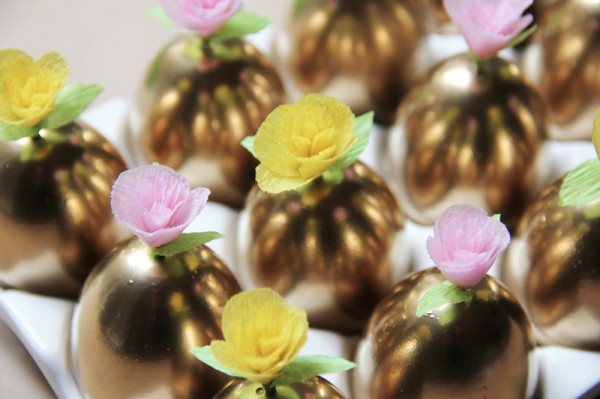 What would you do with these flowery golden eggs!?
Looking for more DIY projects? Check out the Project Gallery and Free Printable Gallery! In need of supplies to make your own paper flower Easter eggs? Check out the Craft Supplies Guide!