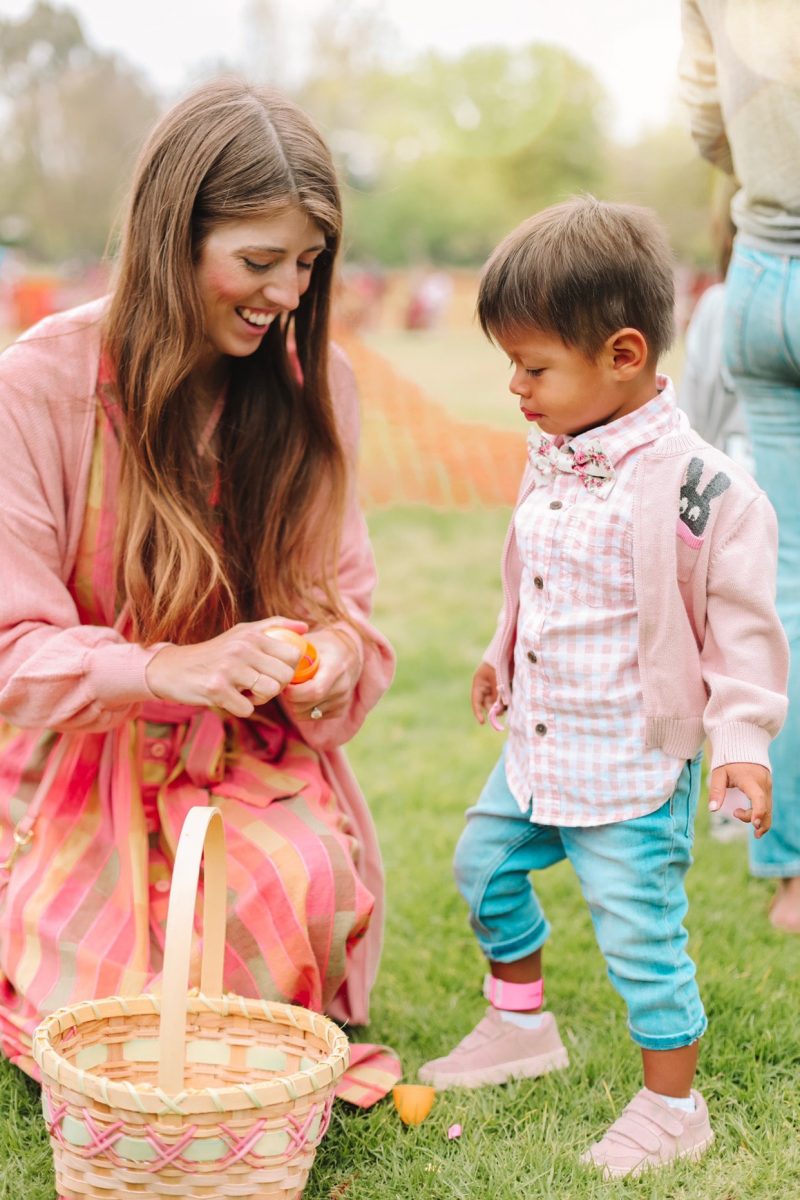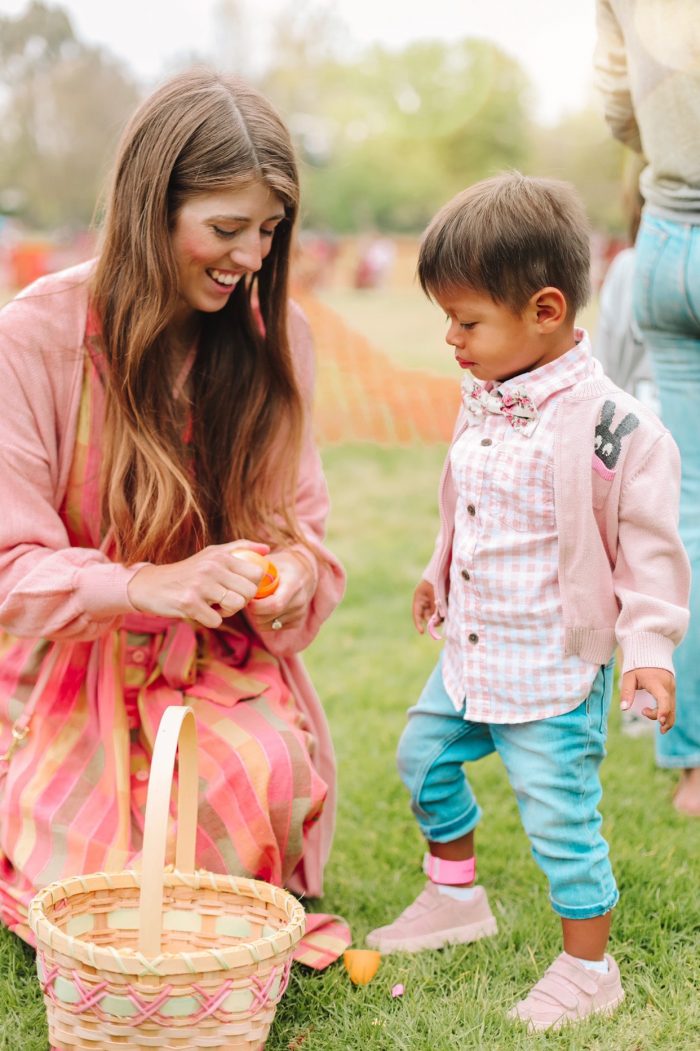 Easter is only a few weeks away, and I wanted to share some tips for how I fill Arlo's easter basket so that it's not just filled with random items that will get thrown in the trash, but items he'll hopefully enjoy long after Easter Sunday!
I rounded up over thirty items that would make a perfect little Easter gift for your littlest ones (the items span ages 2-10)! They need our support now more than ever. In addition, I rounded up some items for teens and adults too.
But first, I'll start with how I think about the items for a kid's Easter basket in terms of categories, as outlined below!
Something Creative
I always include something to encourage creativity, no surprise there. A new set of colored pencils or paint, a craft kit or coloring book are always hits. I also included some felt balls below because we love to use them to pretend "cook" with, in sensory activities, to play games, to "sort" and to hide in different containers.
If your kids aren't into arts and crafts, something like a magic wand or dress-up item would be great for imaginary play, too.
Something to "Add" to a Toy We Already Have
Since Easter baskets are usually filled with small items, this is a great time to add on to a collection or toy your child already has. A few examples here would be something like a toy car for a garage, a new train for our train set, play food for a kitchen or more figurines or furniture for a dollhouse.
That way, you're not getting those small plastic theme-y toys that don't serve much purpose beyond the day of Easter. Instead, you'll get something that they can play with for much longer!
Something Practical
I love to toss something "practical" in the mix since it's something you know you're going to have to buy anyway. For me "practical" means new bath products or PJs, or maybe a kitchen tool, book or hair accessory.
Something to Eat
Candy is always an Easter staple for us and most people I feel like? No explanation needed here really! But if candy isn't your jam, maybe a baking kit, sprinkles, tangerines or a favorite snack bar or pouch?
Something Easter-y
I won't lie, I tend to include one super Easter-y item because I just can't resist. But again, I try to be thoughtful that it'll get some use later on.
Stuffed animals are great for this if your kiddo is into those. Dress-up items that could be added to a dress-up box or a new spring-y outfit for a doll would be fun too!
My Easter Basket Picks for Kids!
Below you'll find some of my Easter basket picks this year, along with a few cute Easter basket options that could be used throughout the year.
Just about every item is from a small business, many of which I shop at regularly and some that are new to me too!
The items span many price points, but my hope is that you'll find one or two items that will both check "easter shopping" off your list. Just remember, shipping can take a bit longer when you're not shopping Amazon and stock can be limited, so be sure to get your orders in soon!


Goes without saying but since I made these selections based on a wide range of kids, be sure to review age recommendations on various items before purchasing!
From top to bottom, left to right:
Pastel Star Wand | Jacks Game | Pink House Basket
Bunny PJs | Natural Basket | Binoculars
Wooden Pig | Magic Wands | Stuffed Bunnies
VW Van | Skin Tone Crayons | Natural Bath Bomb
Scented Play Dough | Ladybug Train Car | Rainbow Play Silk
Bird Call Whistle | Bunny Socks
Cantando de Colores Book | Pastel Slingshot | Calico Critters
Wooden Farm Animals | Train/Duplo Connectors | Ice Cream Chalk
Colored Pencil Roll-Up | Natural Dyed Sprinkles
Stuffed Bunny Pattern | Magic Butterfly | Rolling Basket
My Easter Basket Picks for Teens + Adults
Below you'll find a few Easter Basket picks for teens and adults. I focused mostly on self care and craft-y items to help stay busy and calm during these crazy times. Some of these are "bigger ticket" items but would be super cute as the main or only feature of a teen or adult Easter Basket, alongside some sweet treats!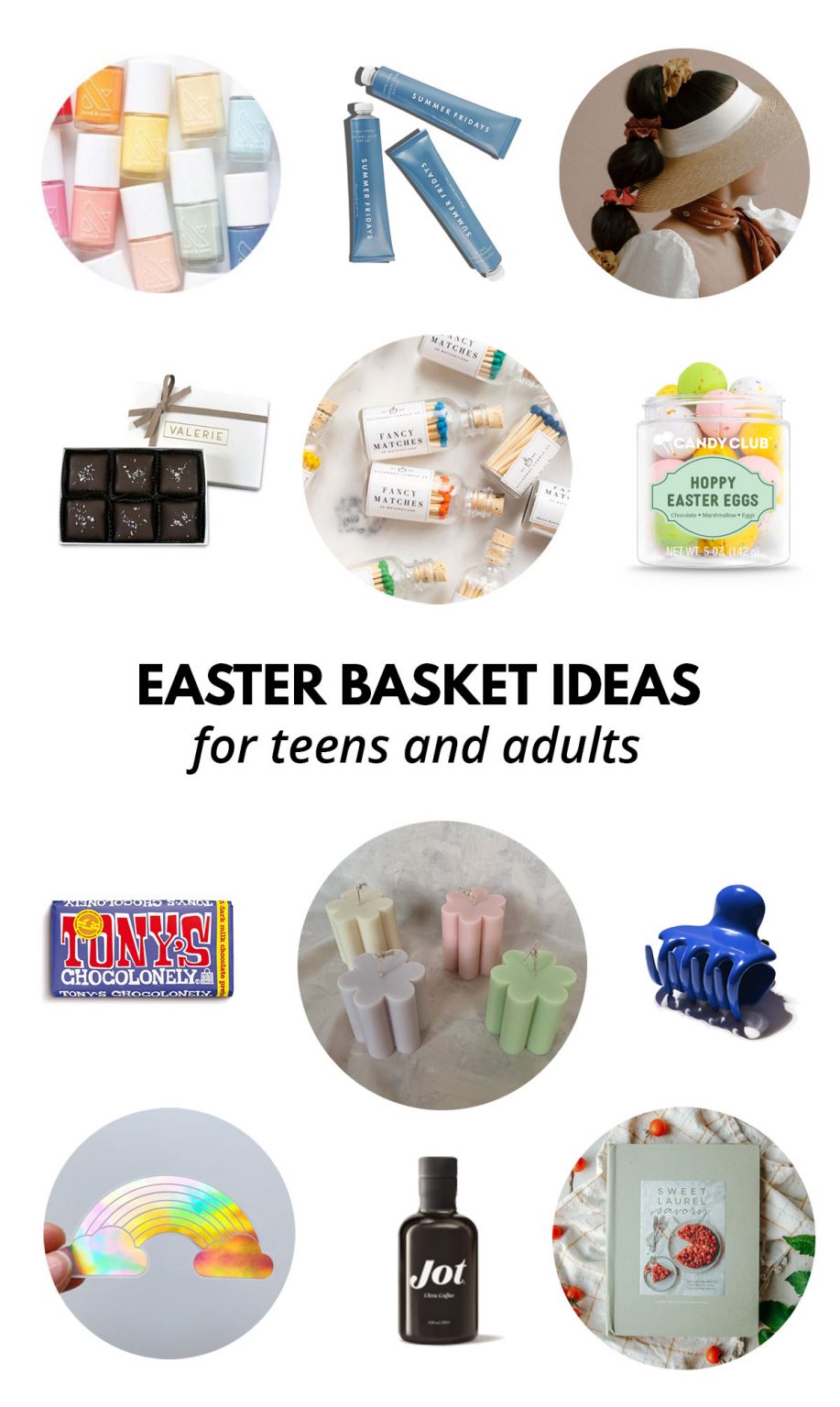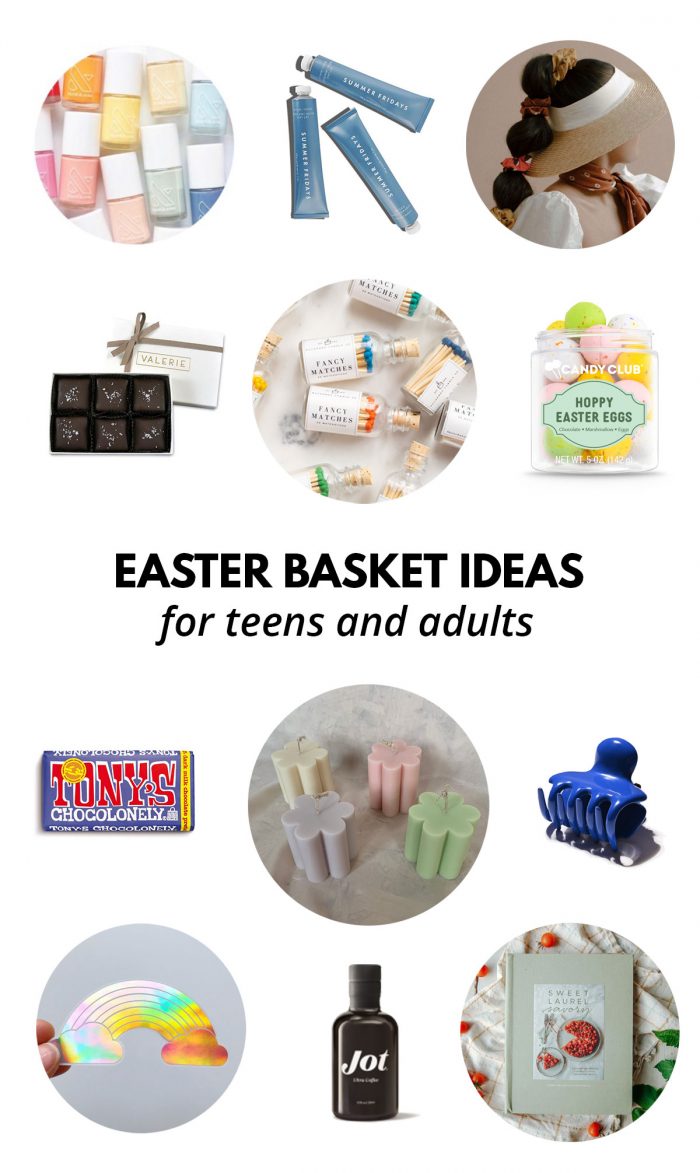 From top to bottom, left to right:
Nail Polish | Jet Lag Mask | Scrunchies
(My Favorite) Toffee | Colorful Matches | Chocolate Marshmallow Eggs
Tony's Chocolate | Flower Candles | Blue Hair Clip
Iridescent Sticker | Jot Coffee | Sweet Laurel Savory Cookbook
Hope these ideas were helpful! If you have any other Easter Basket "staples" in your family, I'd love to hear about them below!!
**This post contains affiliate links. If you click some of the links here and make a purchase, I may get a small commission at no additional cost to you! As always, I only support and recommend products I love and/or have tried myself. Thank you for supporting them, too!