Since the past few Fridays I've been cutting out early for various reasons, I decided to make it up to you all with a bonus DIY! And a colorful one at that! Now you may not think you can combine a DIY for both Earth Day and Cinco de Mayo (and any other garden party you may be throwing) but I'm here to prove ya wrong! I knew I wanted to make a paper flower place card, but how to display them? Well when I was perusing the Target dollar aisle this week, I found these lovely little seed kits! Flowers and strawberries, everything you need to grow them in one tiny little $1 pot. So, I doctored up the seed kits for Earth day and added a few fiesta-style flowers for Cinco de Mayo and BAM, a place card meets favor was born.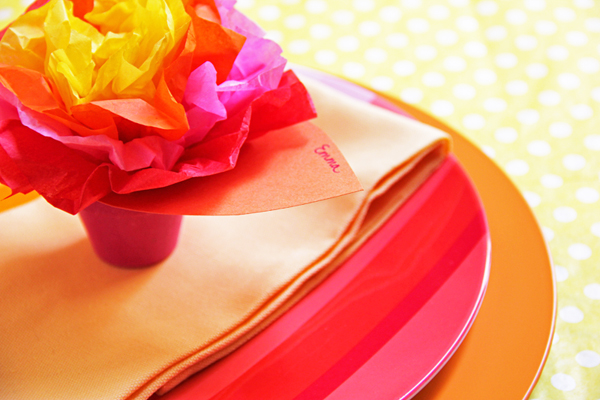 Of course, these guys would look just as cute without the seeds inside if you just want to pretty up some mini flower pots!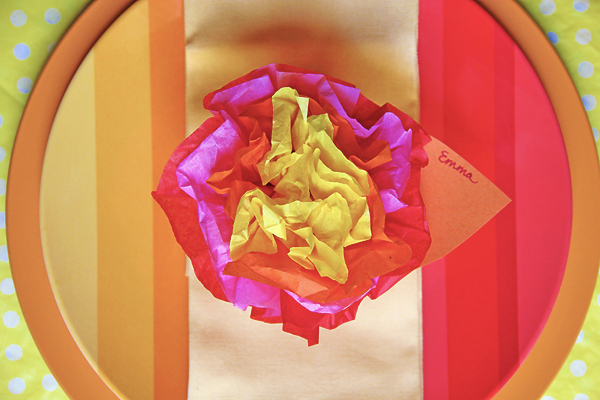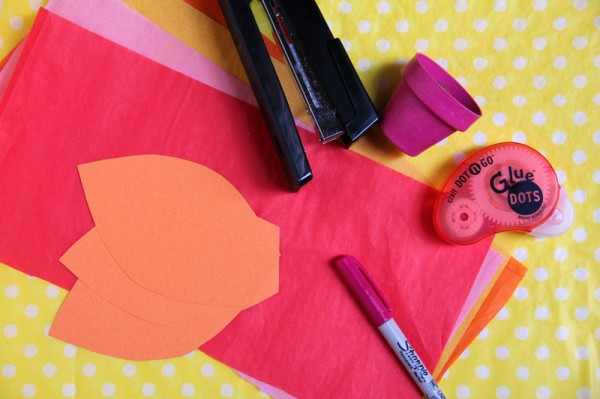 Supply List:
Tissue Paper (I used four sheets, cut in half, with a 6″ width)
Cardstock
Stapler
Glue Dots
Marker or Sharpie
Flower Pots
Seeds or flower starter kit (optional)
To Make:
If you find these cute kits at Target, you'll want to unwrap them and cut out the "growing instructions" (see the Daisy example below). I just stuffed the instructions inside with everything else.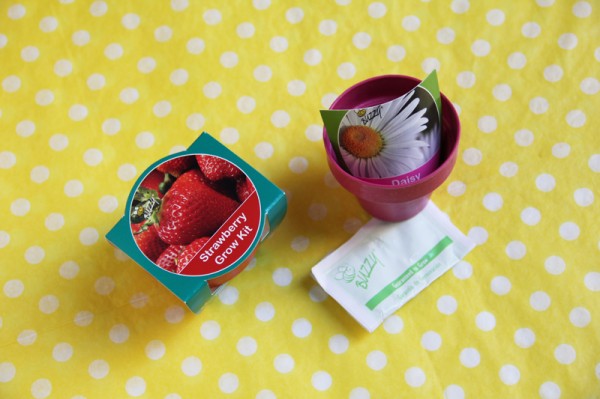 Now set the pots aside for later and we'll begin with the flower! Stack the four sheets of tissue paper on top of each other (You can use more if you'd like, but for their small size I thought four was enough).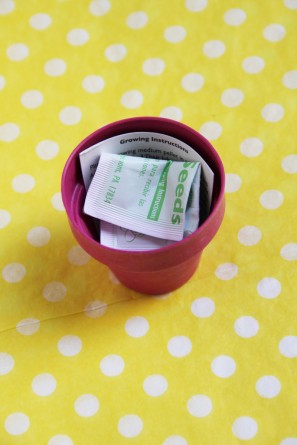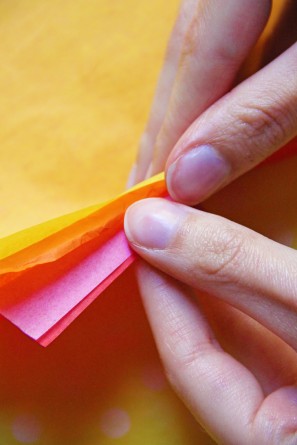 Accordion fold the sheets of paper together and staple in the center.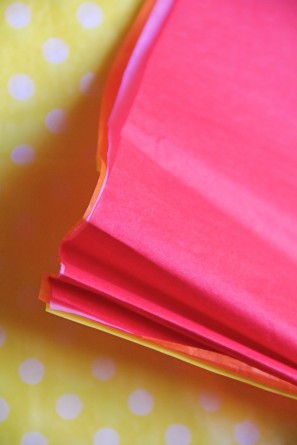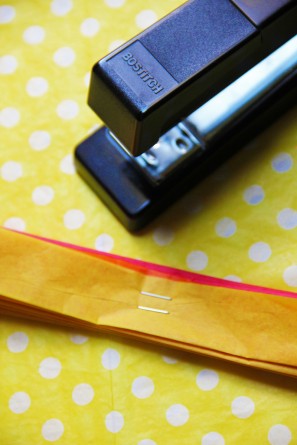 Very carefully you are going to pull each layer apart, one by one. I repeat: very carefully.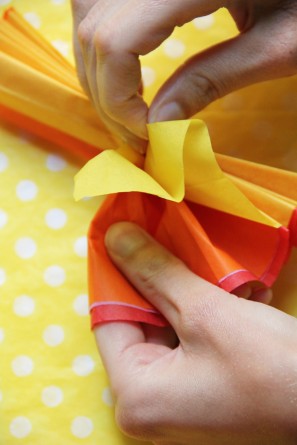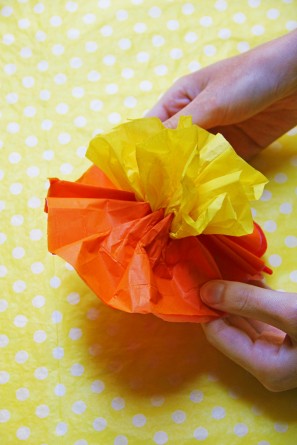 Keep on going, layer by layer, until all of them have been pulled apart. Then fluff it up!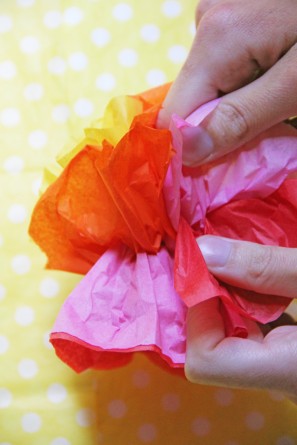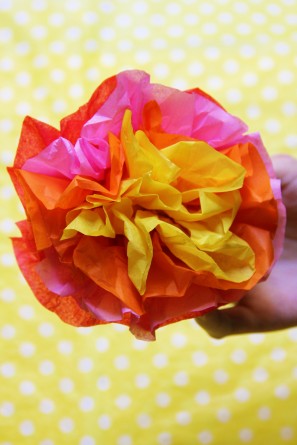 Cut your leaves out of scrapbook paper or cardstock. Write each person's name on the edge of them. To make them slightly 3D, cut a small slit in the bottom.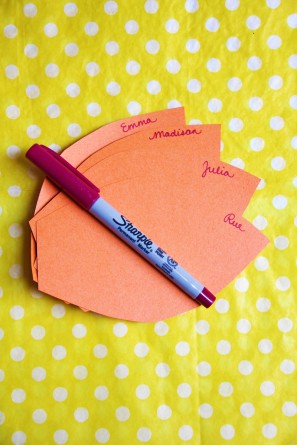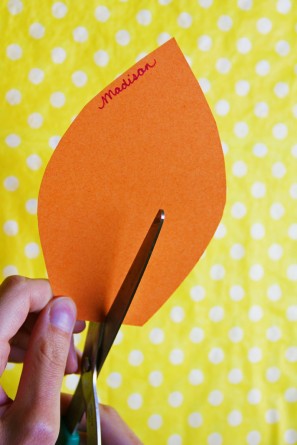 Then place a glue dot on one side of the slit, overlap and secure, so the leave curves slightly upward.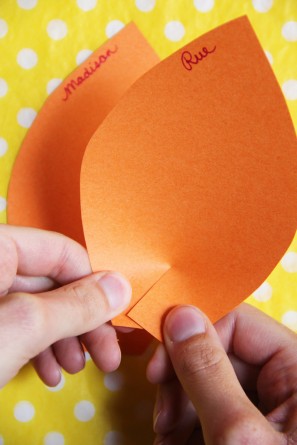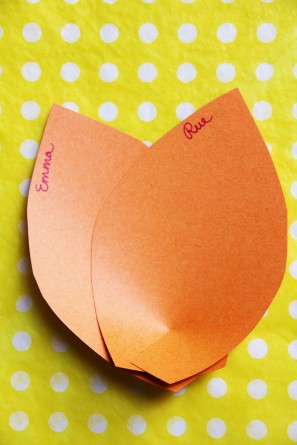 Place another glue dot or two on the leaf and secure it to the bottom of the paper flower.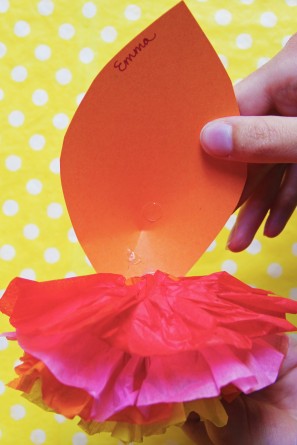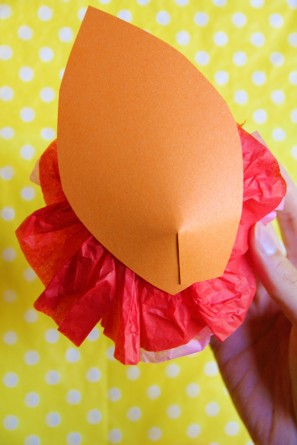 Your flower is done! Now, you can either simply set the flower on top of the pot, or secure it underneath with a small piece of tape.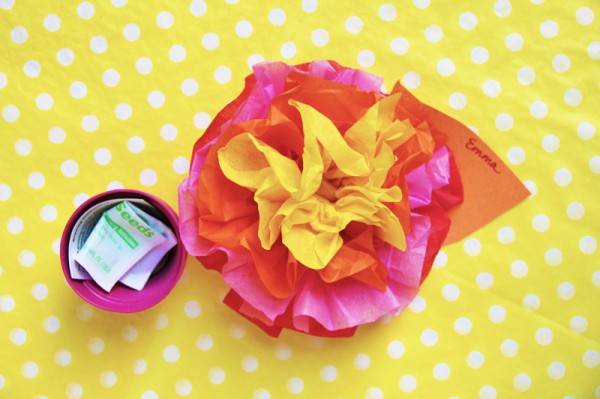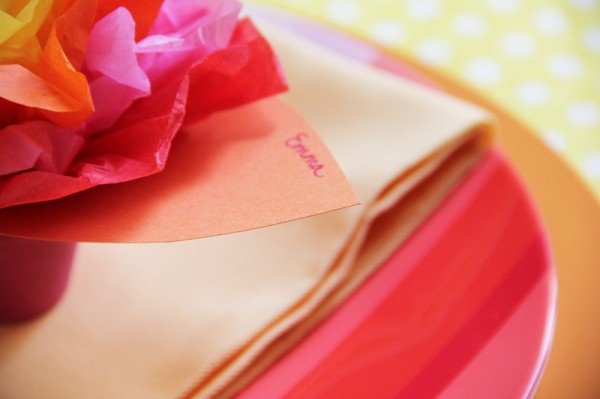 All Photos by Studio DIY
Did I mention Mother's Day, summer birthday soirees… oh how I love a versatile DIY! A fun alternative for an all-girl affair. Attach a hair clip to the bottom so everyone gets a fun flower to wear in the hair! (I did this for Easter, check it out!)
Looking for more DIY projects? Check out the Project Gallery and Free Printable Gallery! In need of supplies to make your own paper flower pot place cards? Check out the Craft Supplies Guide!