Today is a momentous day, everyone. It is the first day that I do a savory food inspired DIY. I don't like to discriminate (Though my past history would prove otherwise. Exhibit A. Exhibit B.), so it was high time something sans-sugar appeared in piñata form! With Cinco de Mayo and summer fiesta season upon us (and because it is my utmost favorite non-dessert food), tacos seemed to be a good fit. I present to you.. the taco piñata!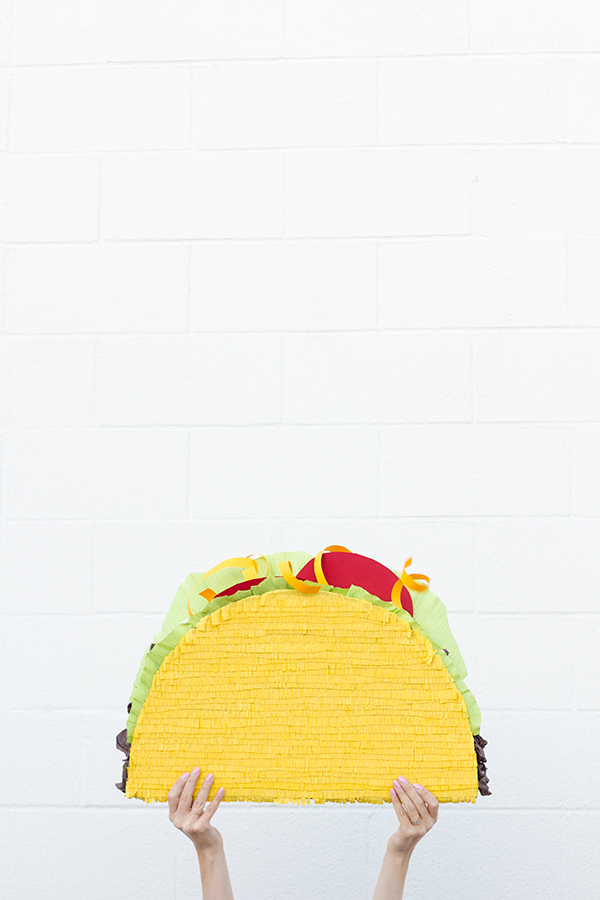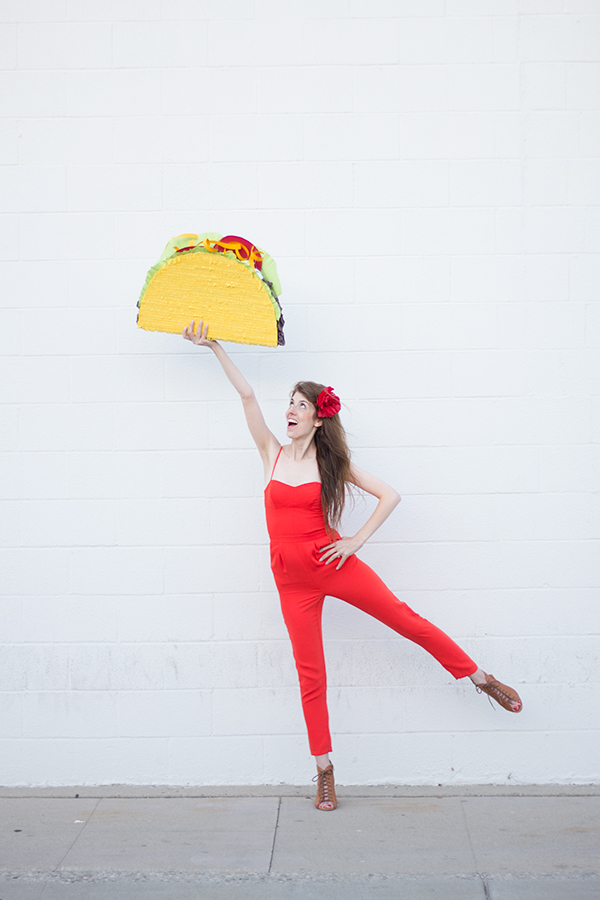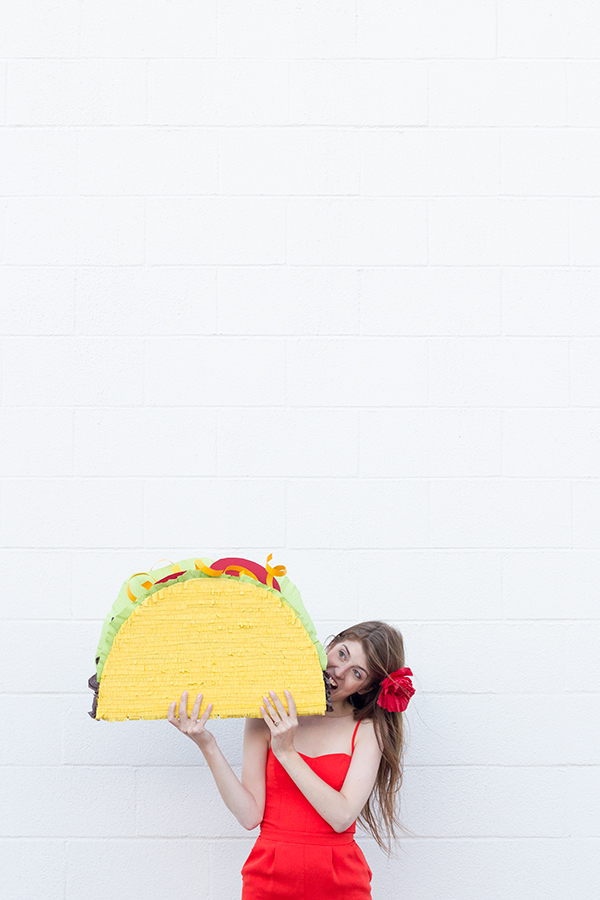 Cardboard
Yellow, Green, Brown and White Crepe or Tissue Paper (I buy my crepe paper here. You'll need about 3 feet worth of the roll for the taco shell, just scraps for the other elements!)
Yellow/Orange and Red Cardstock
Masking or Artist Tape
School/Craft Glue
Hot Glue Gun
Box Cutter
Scissors
Fishing Line
Total Approximate Cost: $5-$10, Total Time: 2-3 hours
1. Cut out two half circle shapes. Mine were 2′ wide at the bottom. Also cut a 2″ strip the same length as the bottom of your half circles. Lastly, measure the curved edge of your half circle. Cut a piece of cardboard the same length with the center of the strip being about 4″ wide and the ends being 2″. This will taper the piñata shape, just like a real taco when it's stuffed full!
2. Tape your tapered strip to the inside of one of your half circles. It should be flush with the ends but should be taped a couple of inches down from the edge of the circle in the middle. This allows room for the toppings! (Now is a good time to string up your piñata. Poke a hole in the center of the tapered strip and tie a piece of fishing line through it.) Tape the other half circle on in the same manner. Finally, tape your bottom strip to the bottom of the taco, leaving a flap open for filling. (FYI Use more tape than pictured here! I use tape sparingly to get the shape, then fill in with additional tape to secure it.)
3. The rest goes just like my other piñata tutorials! Fold your crepe paper and cut 1-2″ wide strips off the bottom, then fringe one side of each strip. Start at the bottom of one side of your taco and glue strips of fringe using your craft glue. Repeat until you reach the top of the piñata, then do the same to the other side and the bottom.
4. Now, for your toppings! You can see the different toppings I made above. I made cheese by curling strips of cardstock around my finger, lettuce by stretching out one end of crepe paper strips, tomatoes by cutting half circles of red cardstock and guacamole, meat/beans and sour cream by crumpling up pieces of crepe paper. Start by hot gluing gluing the lettuce to the exposed edges of your taco. Then fill in the rest of your toppings, starting at the bottom.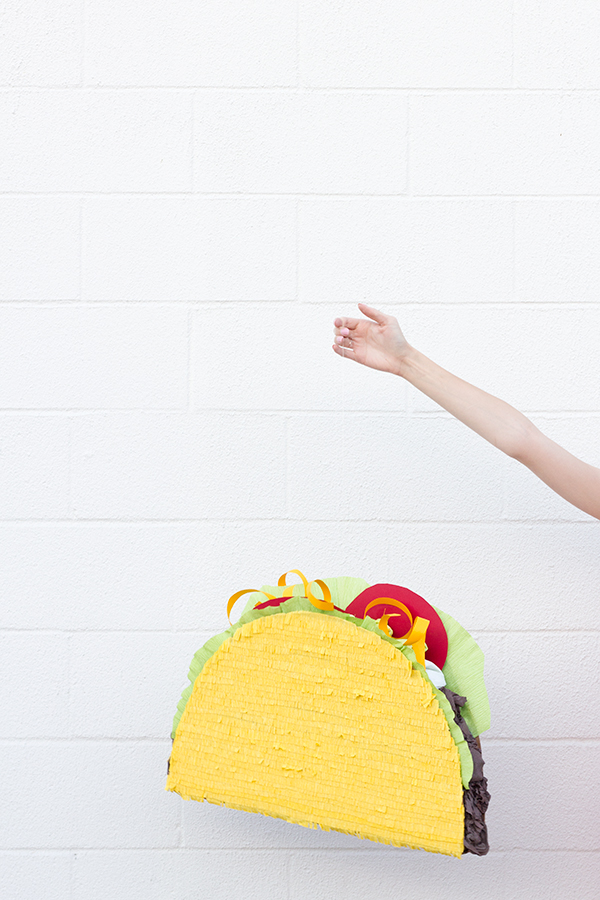 Tada!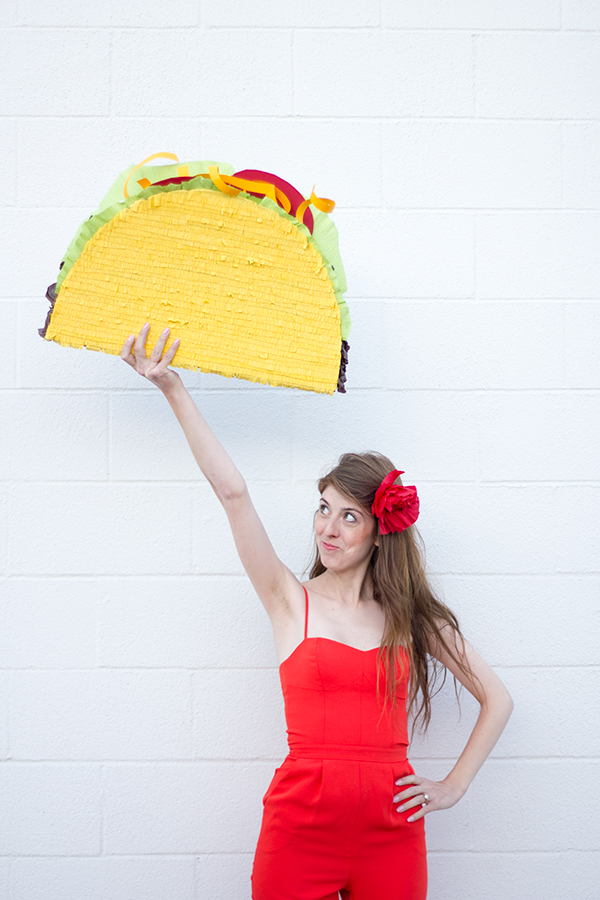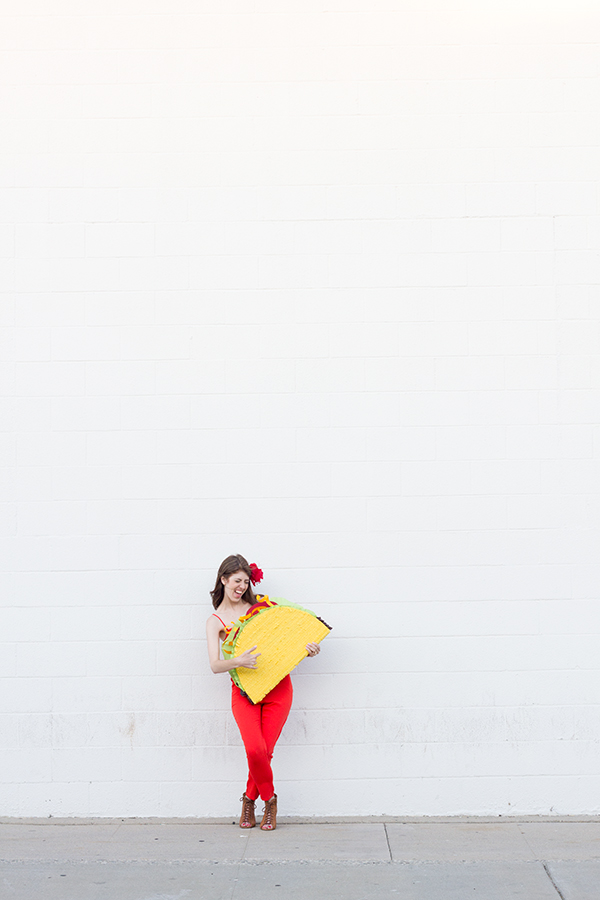 All Photos by Studio DIY
Apparently this piñata also doubles as a guitar in my mind? Multipurpose, folks. A taco bar and a taco piñata, and I'd say you have yourself a pretty schnazy fiesta!
For more Cinco de Mayo DIYs, click here!