If you saw my pineapple walnuts for Thanksgiving and didn't think I'd take the concept to Easter eggs, well, you must not know me very well. I've already turned walnuts, pumpkins, party hats and, yes, myself into a pineapple and sorry guys, but there's no stopping me! (I even impulsively bought some pineapple socks last night.) But really… wouldn't these be AMAZING in an Easter egg hunt? A whole field full of tiny pineapples. Eeeeee! Dreams do come true, folks.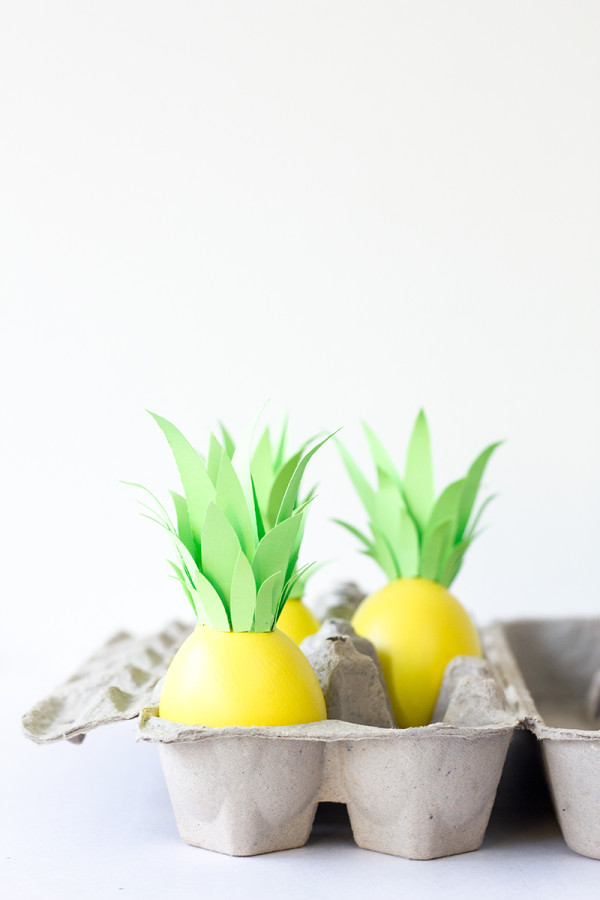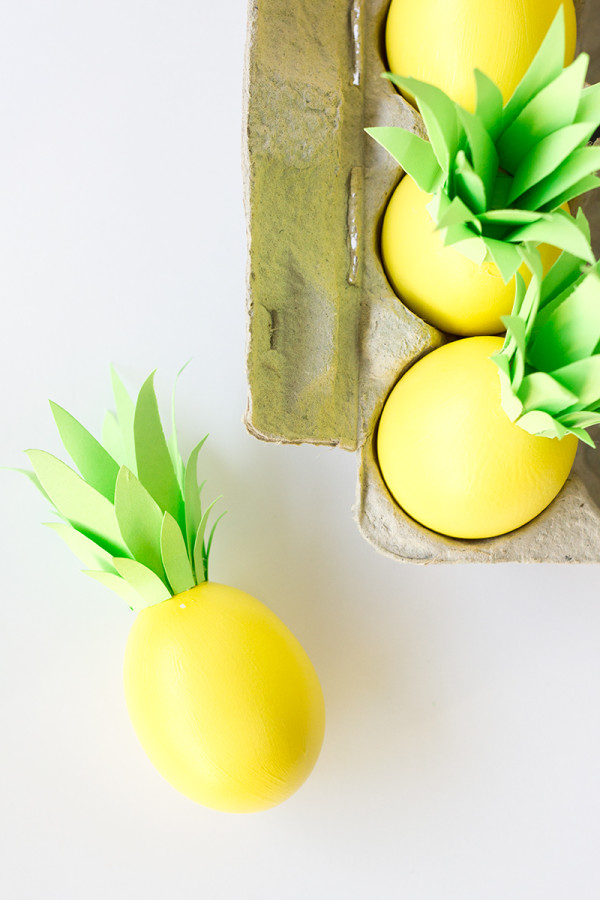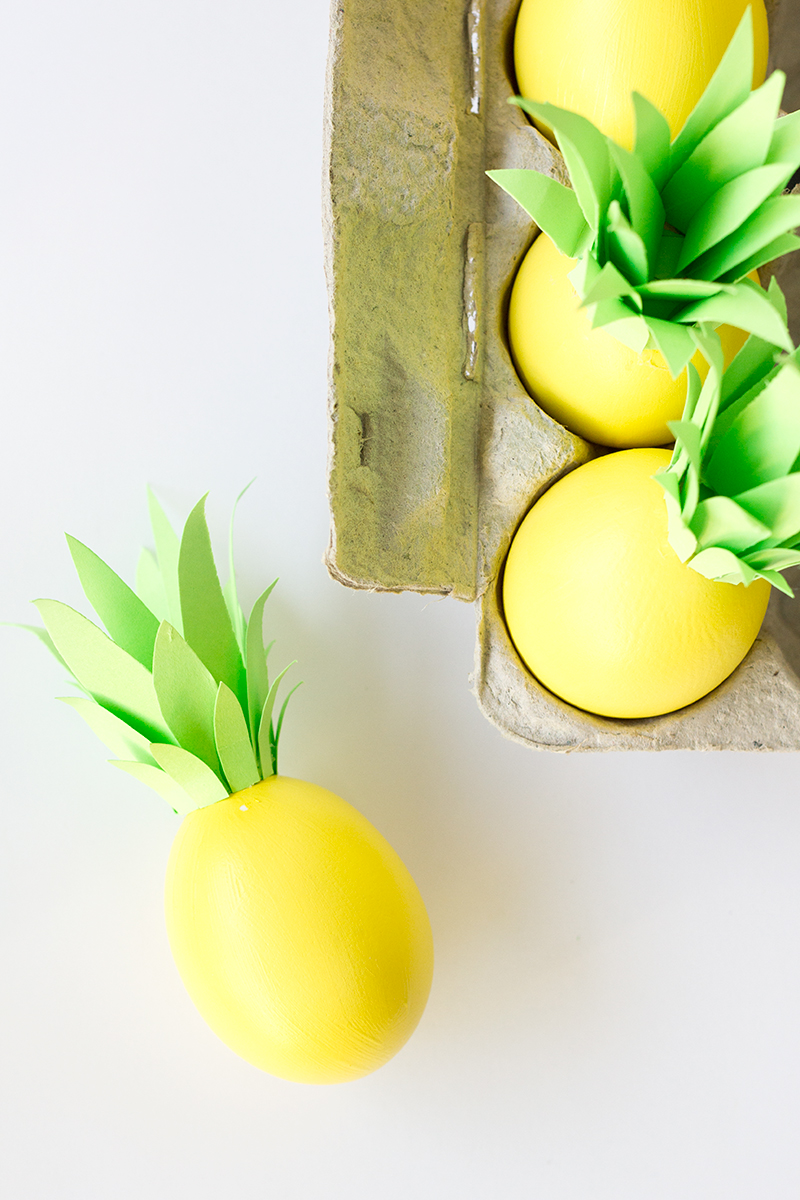 Hard-boiled or Hallowed Out Eggs
Yellow Craft Paint (I used this Martha Stewart color
!)
Paintbrush
Green Cardstock
Hot Glue Gun
Scissors
Psst… based on your survey responses, I'm trying something new today with the step-by-step layout. Please let me know what you think!?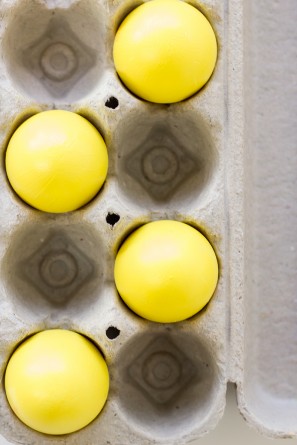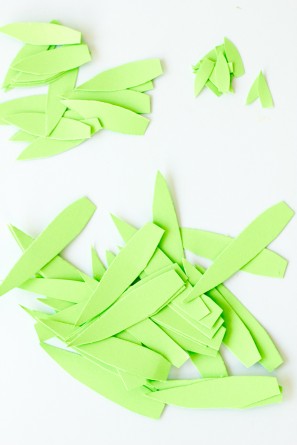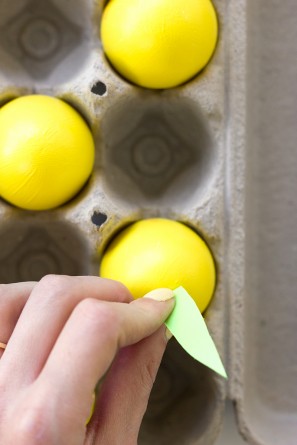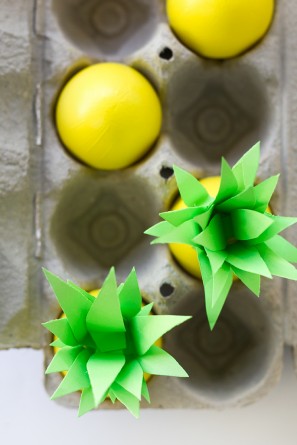 1. Paint all your eggs yellow and let dry completely.
2. In the meantime, cut out your pineapple leaves! Cut out leaves in various sizes. I used four sizes, starting with 3″ (for the two center leaves), then 2″ (four or five leaves), then 1.5″ (six to eight leaves) and ending at about 1″ (ten leaves).
3. Fire up your glue gun. Starting with your tallest leaves, bend over about a quarter inch on the bottom of each. Place a dot of glue on the underside of the tab you just made and glue to the top of your egg. Repeat with the second leaf, gluing it right on top of the first leaf's tab.
4. Move to your two inch leaves now. Fold over a slightly narrower tab on the bottom and repeat the same steps as above to glue around your two center leaves.
5. Once you get to your final two sizes of leaves, you'll no longer fold over tabs. Instead, place a dot of glue at the bottom of the back of each leaf and glue it directly to the previous leaves. I like to stagger mine, gluing the new row to the seams of the previous row. Work your way around using your 1.5″ leaves and then your 1″ leaves to finish it off!
6. Finally, curl the tips of your leaves with your fingernail to give them a pineapple-y look!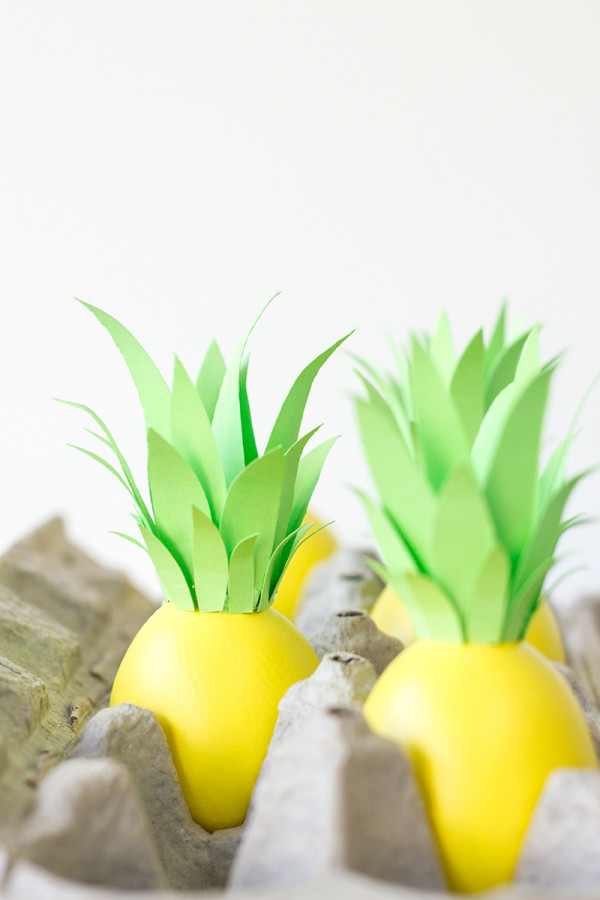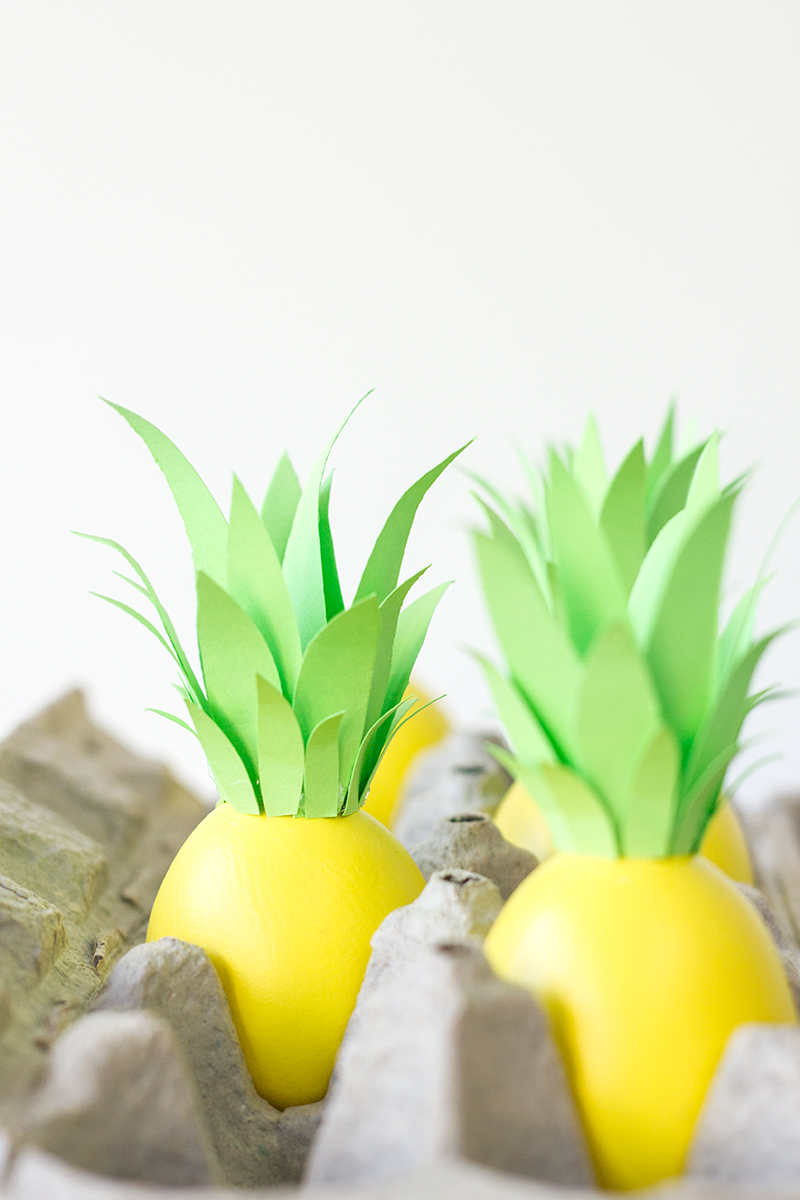 I think it would be fun to do some other fruit too… strawberries!!!!!??? Yep. Do it.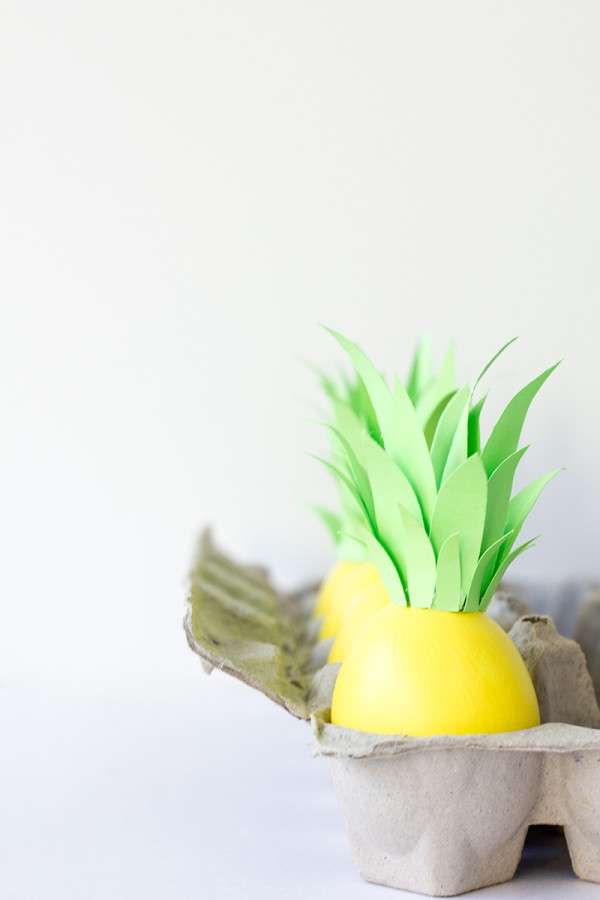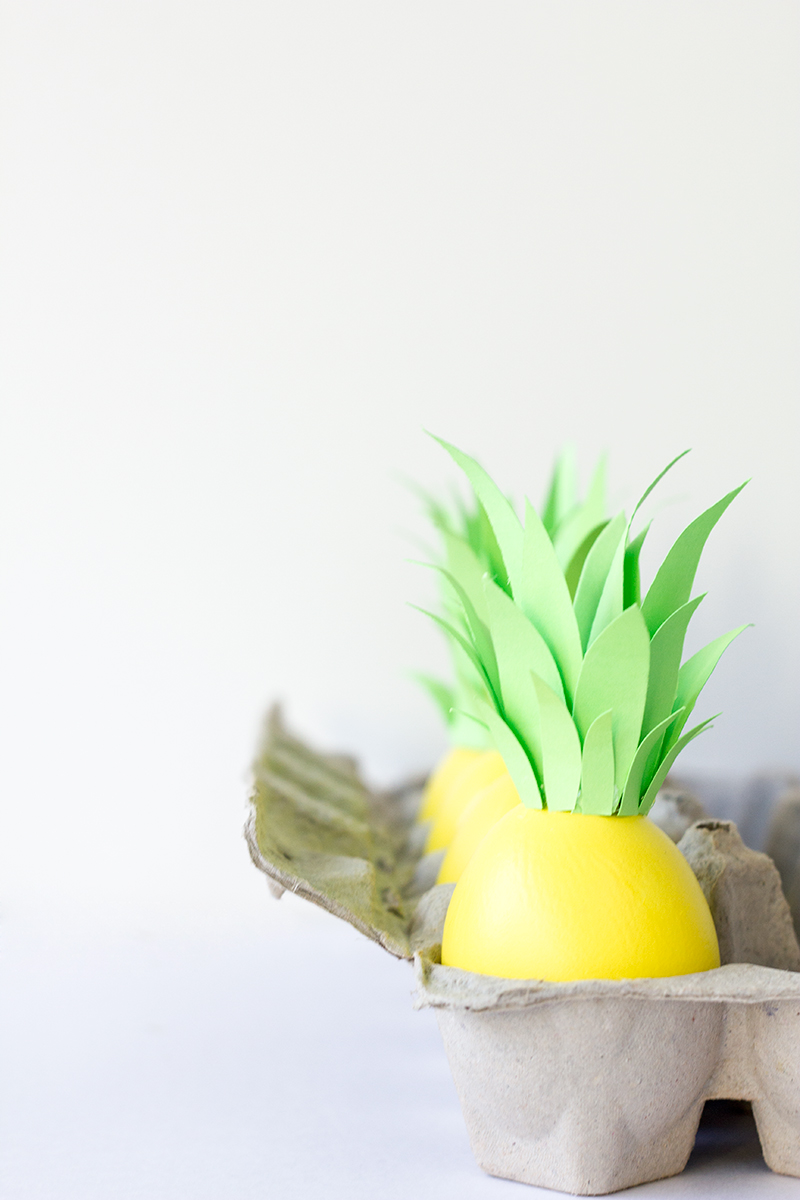 All Photos by Studio DIY
And there we have it!Another holiday, another pineapple. Now about July 4th…

For more Easter projects, click here. This post is a part of the 12 Months of Martha program, all content and opinions are that of my own.
(Remember, let me know about that step-by-step layout I tried upon request! I want your honesty!)