This is one of those posts that really makes me wish I were a kiddo again! Perhaps because this DIY Egg Popper Tree was inspired by a childhood Easter tradition of mine! My mom always hung plastic eggs on the trees outside our house and all the neighborhood kids think she's the coolest person ever for that! (And they're right!) I decided to amp this tradition up a notch by turning the plastic eggs into candy filled poppers, wrapped up like little egg-shaped candies themselves! BAM! Hang these up on a nice ol' tree and let the kids pull and pop, gathering candy as they go. It's kind of like a reverse egg hunt and is great for older kids who might think they're too cool for egg hunts. Crazy kids! Now get to poppin'!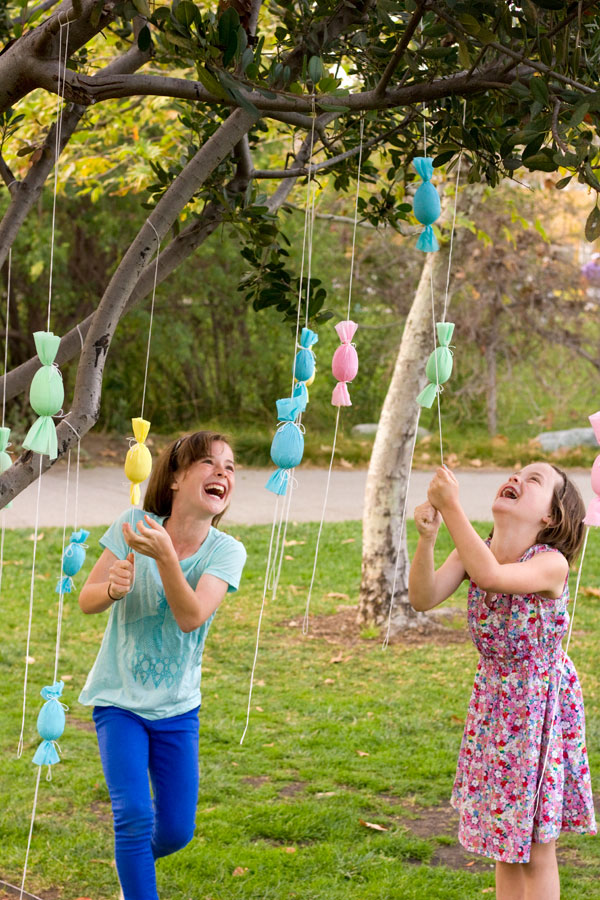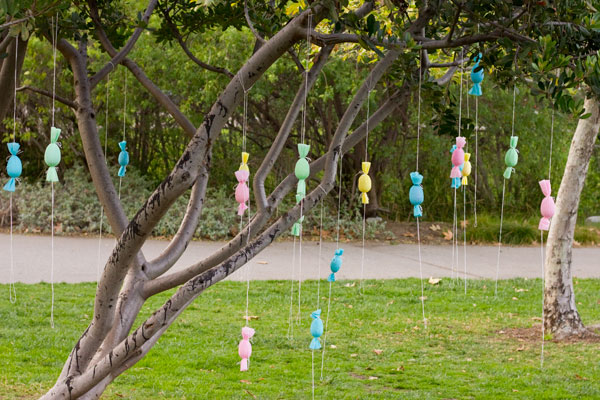 My mom still hangs eggs on the trees, to this day. She even did it in the snow this time around. Here's a picture my dad snapped so I could show you a little peek at my inspiration!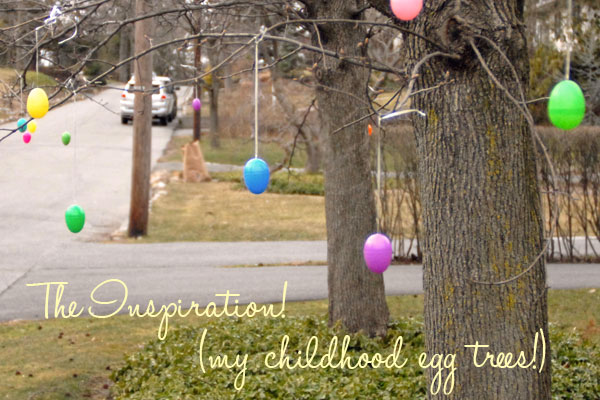 Fun, right!? Let's get started on my re-DIY'd version!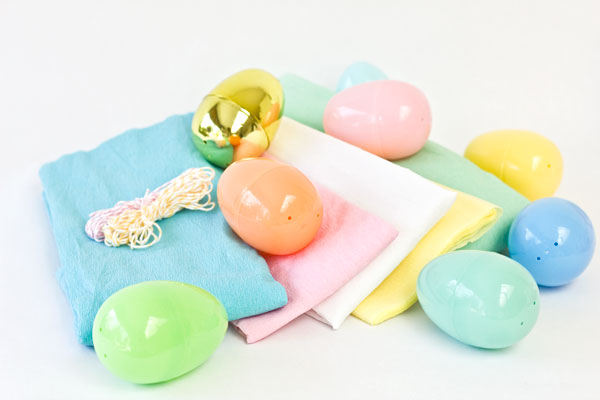 Large Plastic Eggs
Fine Crepe Paper (This
is what I used. It's the thickness of crepe streamers, and you can purchase it at many party stores.)
Twine
Double Stick Tape
Scissors
Candy, for filling!
Form a long loop with your twine, pulling both ends through the holes in one half of your egg and tying a secure knot inside. Repeat this with the other side of the egg. I also tied a knot on the outside for extra security!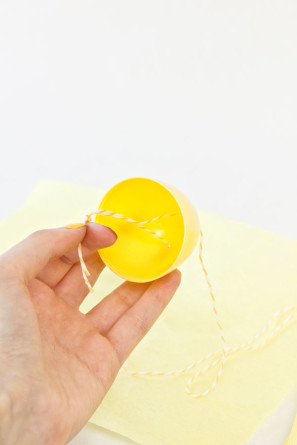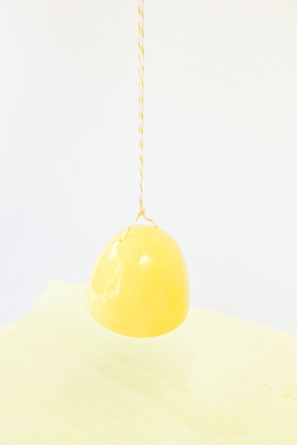 Fill your eggs with candy or other goodies. My set of eggs came with one golden one, and I thought it would be fun to fill that one with an extra special treat for the lucky "popper"!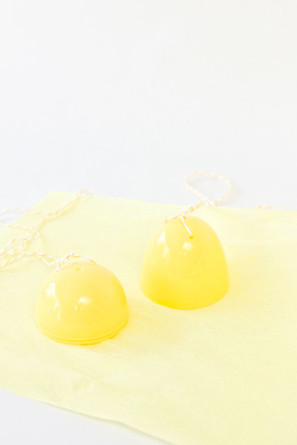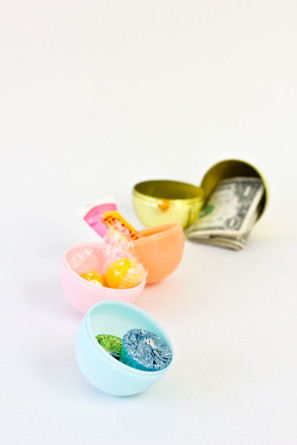 Close up your eggs and put strips of double stick tape along each side of the egg's opening.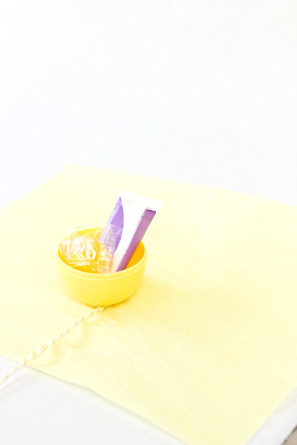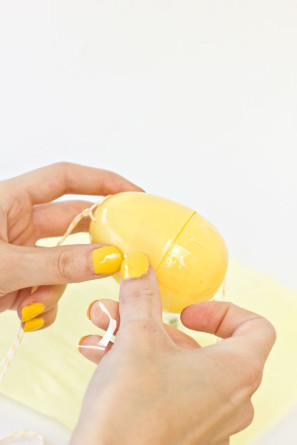 Cut your crepe paper to size, this will depend on the size of your eggs. My paper ended up being 8.5″ by 12″. Then lay your taped eggs atop the crepe paper and roll it up. Grab another piece of twine and tie the crepe paper together at each end of your wrapped egg.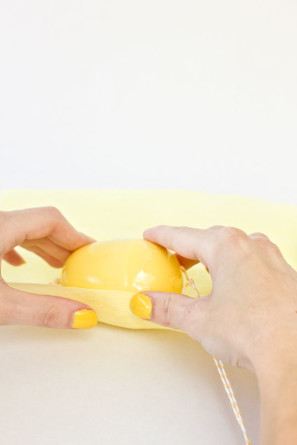 Voila! Now make as many of these as you need…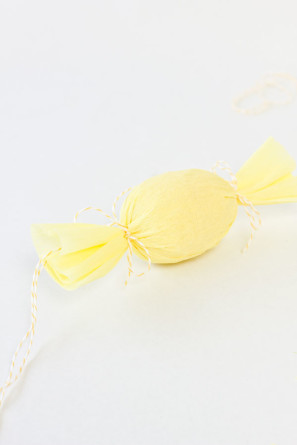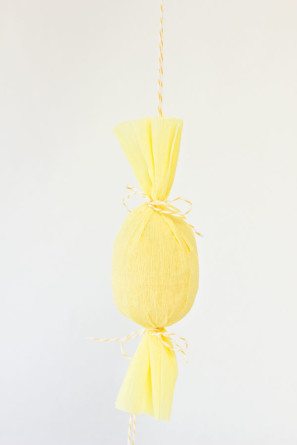 Don't they look so pretty all together!? Perhaps they would make a great chandelier too, no?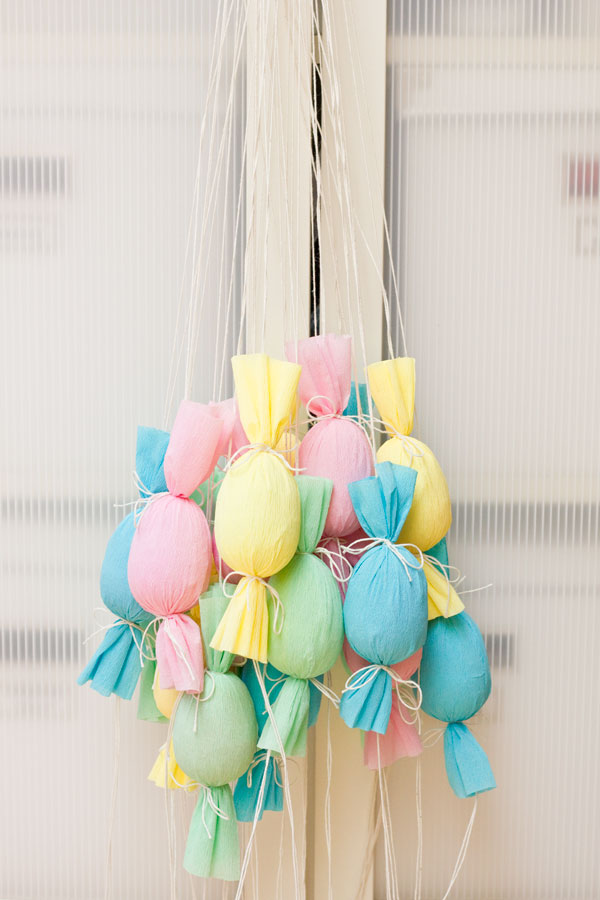 Find a really awesome tree around your house or elsewhere. FYI we set this up at a park but the security guards weren't very happy with us, so check your local regulations first! To hang the eggs, throw the loop over a sturdy branch and slip the egg through the loop. Pull tight.
Then let the kids loose on them!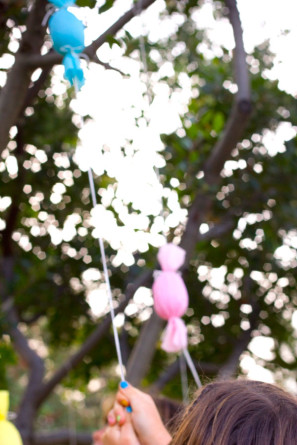 A Few Tips for Proper Egg Popping
1. Only Hang Eggs on Sturdy Branches. These take a nice, hefty pull to pop and you don't want to take the branches down with you.
2. Advise kids pull the poppers straight down, using the loop, versus pulling sideways.
3. My nieces, ages 7 and 9 were both able to pop the eggs, but as I said, it does take a good pull. If you are setting this up for young kids, I recommend not wrapping them and just hanging the eggs alone. You can always pop them while they grab the candy, too!
4. Pick up all excess scraps of paper, candy and anything else that falls. We want to have fun, but we want to keep the environment lookin' good too.
5. Have FUN!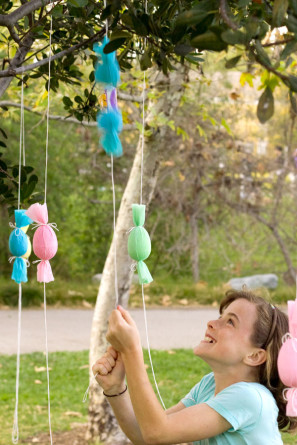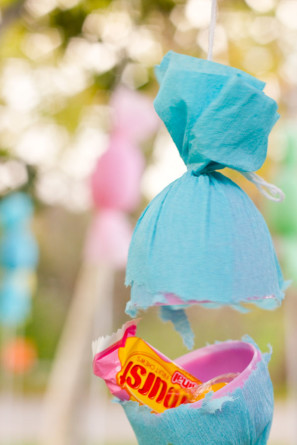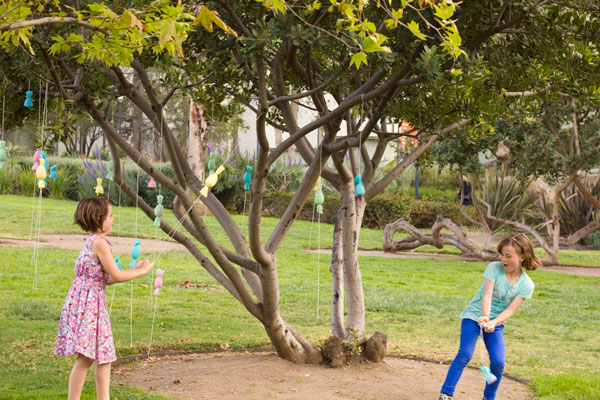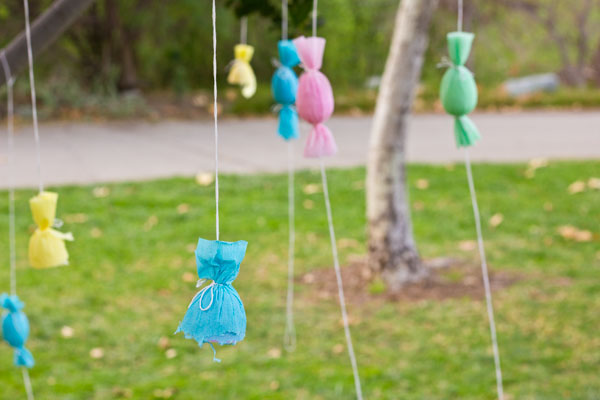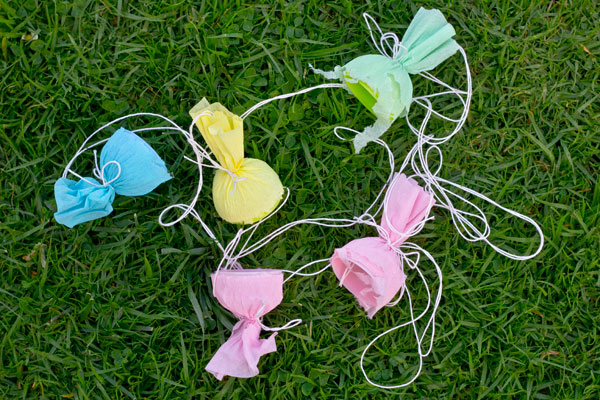 All Photos by Studio DIY
Have you guys kept any of your childhood Easter traditions going? I totally think you could use this all year along, too, for birthday parties and such. Right!? Versatility RULES!
Remember everyone, safety first! Practice the propper "popping" tips above and always clean up the festive mess after all is said and done! Happy Popping!
For more Easter DIY projects, click here!