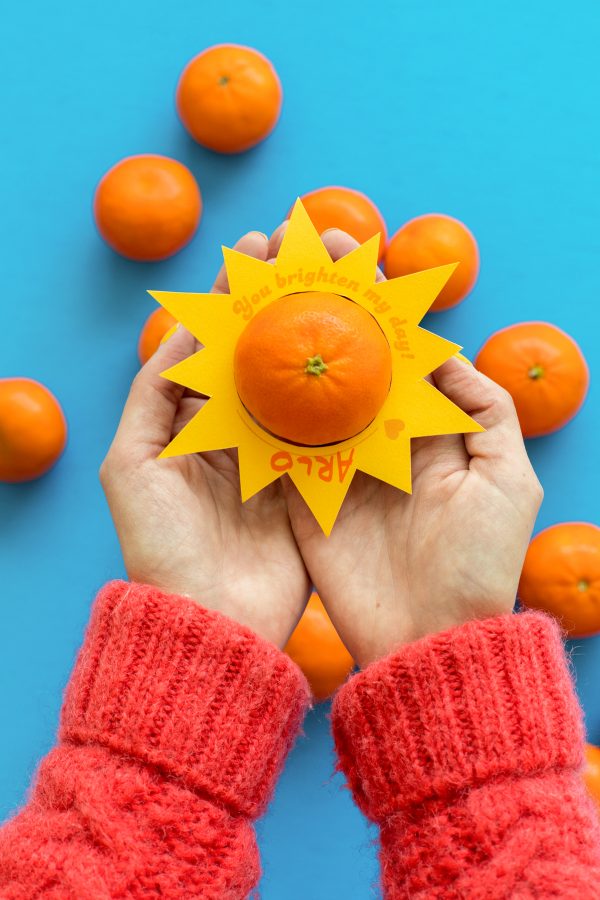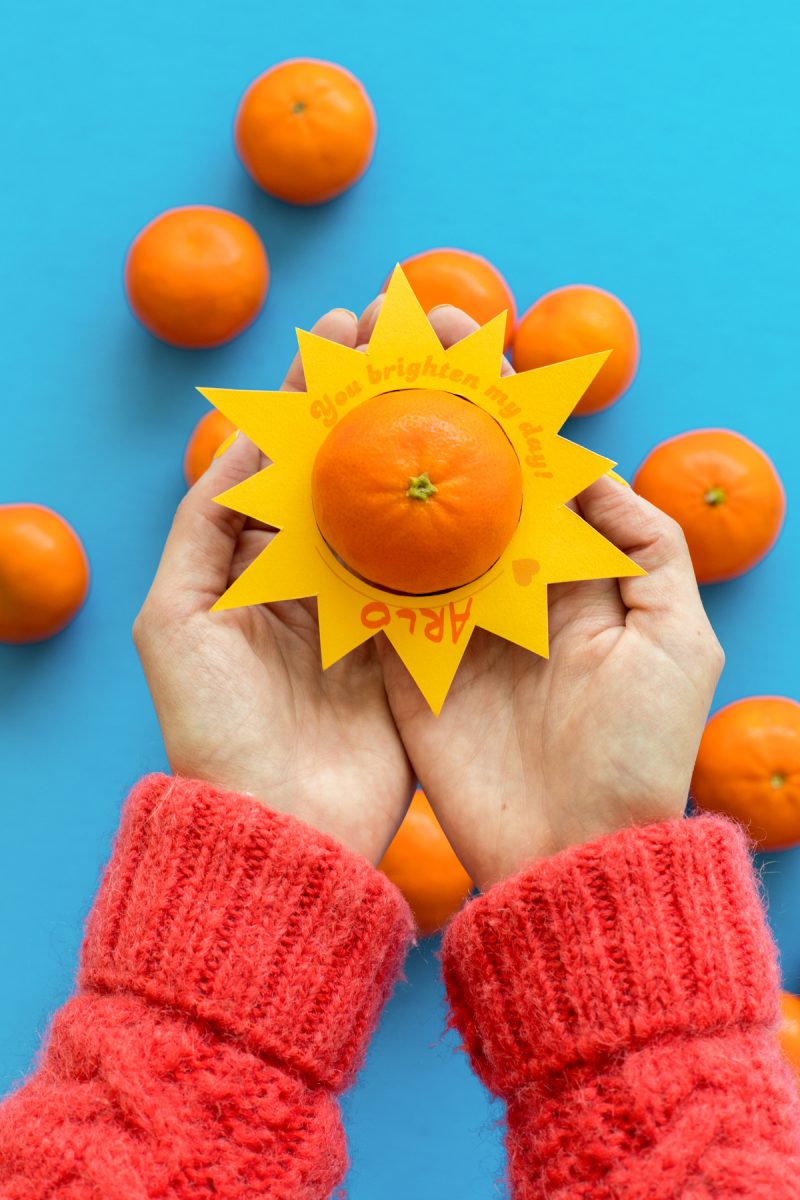 Lots and lots of you have been asking me for toddler friendly Valentines! And as I was trying and trying to think of a cute idea I could put together for Arlo's little pals, Arlo threw his favorite snack and me and said "MORE!" and BOOM! Inspiration struck! Haha!
So I turned his all time favorite snack into the cutest little planets and suns!!! I got to work with The Kroger Family of Stores on this project (That'd be Ralphs for those of you in LA like me!) because they recently introduced their own brand of easy-peel mandarins to their stores called Adorbs! They're sweet and seedless and so portable, we take them with us almost everywhere. We almost always whip out one or two when we sit down at a restaurant because Arlo gets impatient waiting for a meal!
Using mandarins for Valentines is such a great allergy-friendly, non-candy option that toddlers and kids actually LOVE. And I included a free printable here so you can basically turn them in to little DIY outer space valentines in like 20 minutes flat.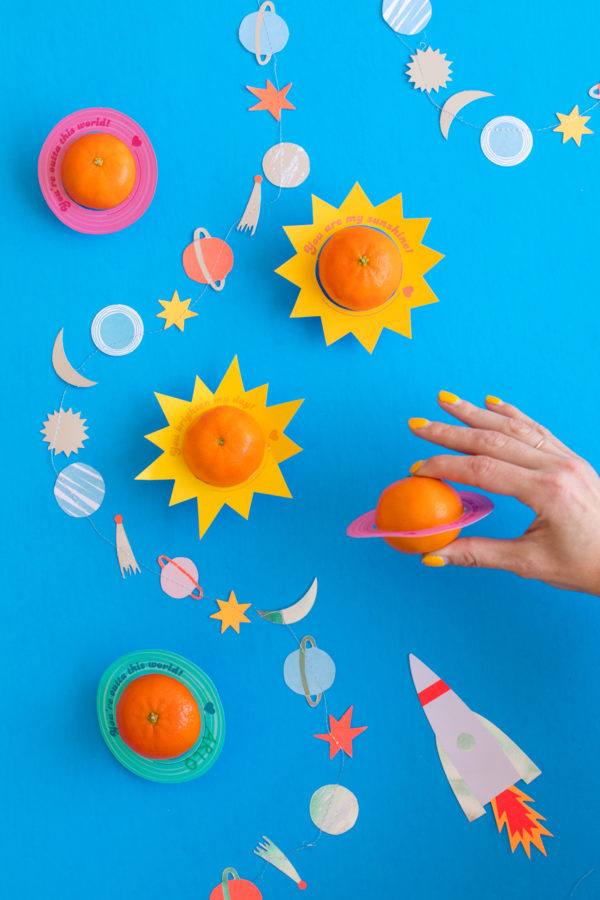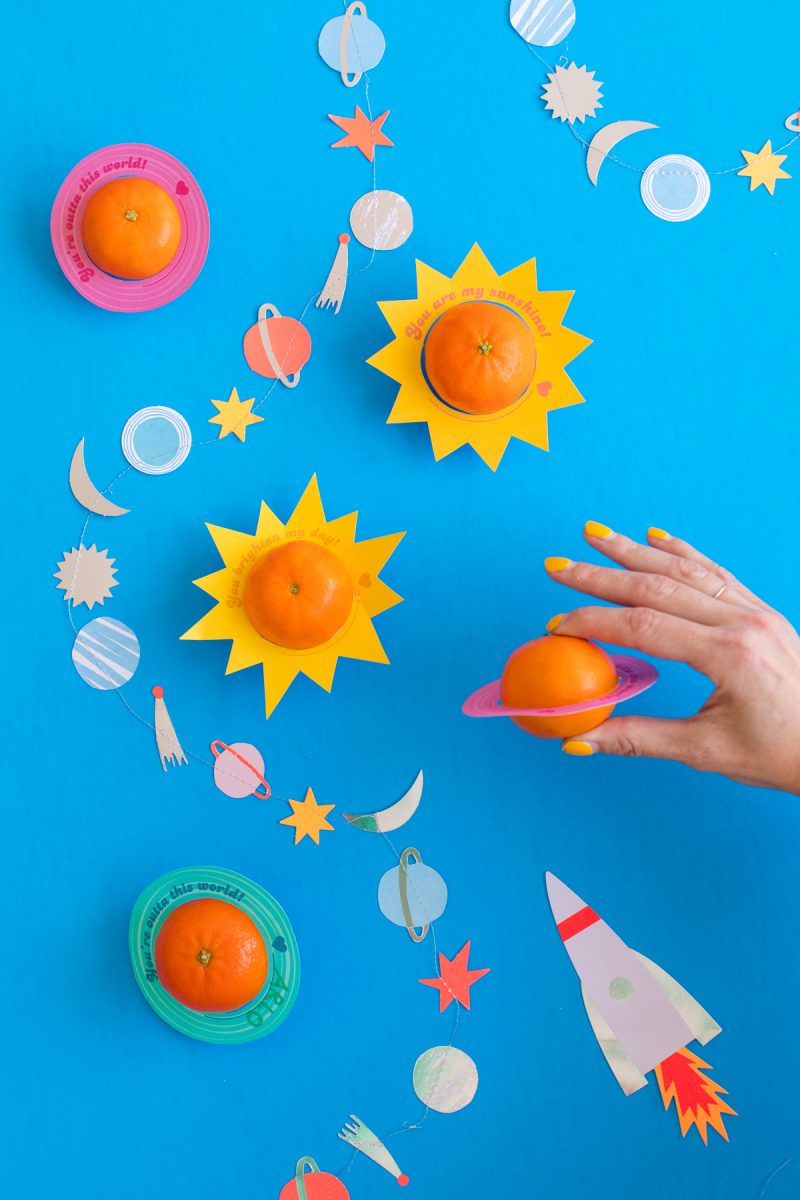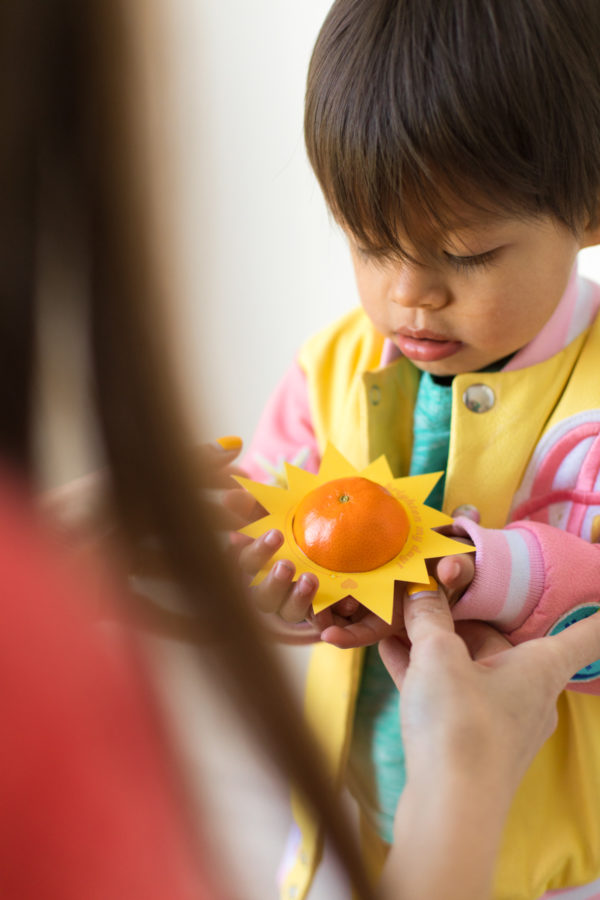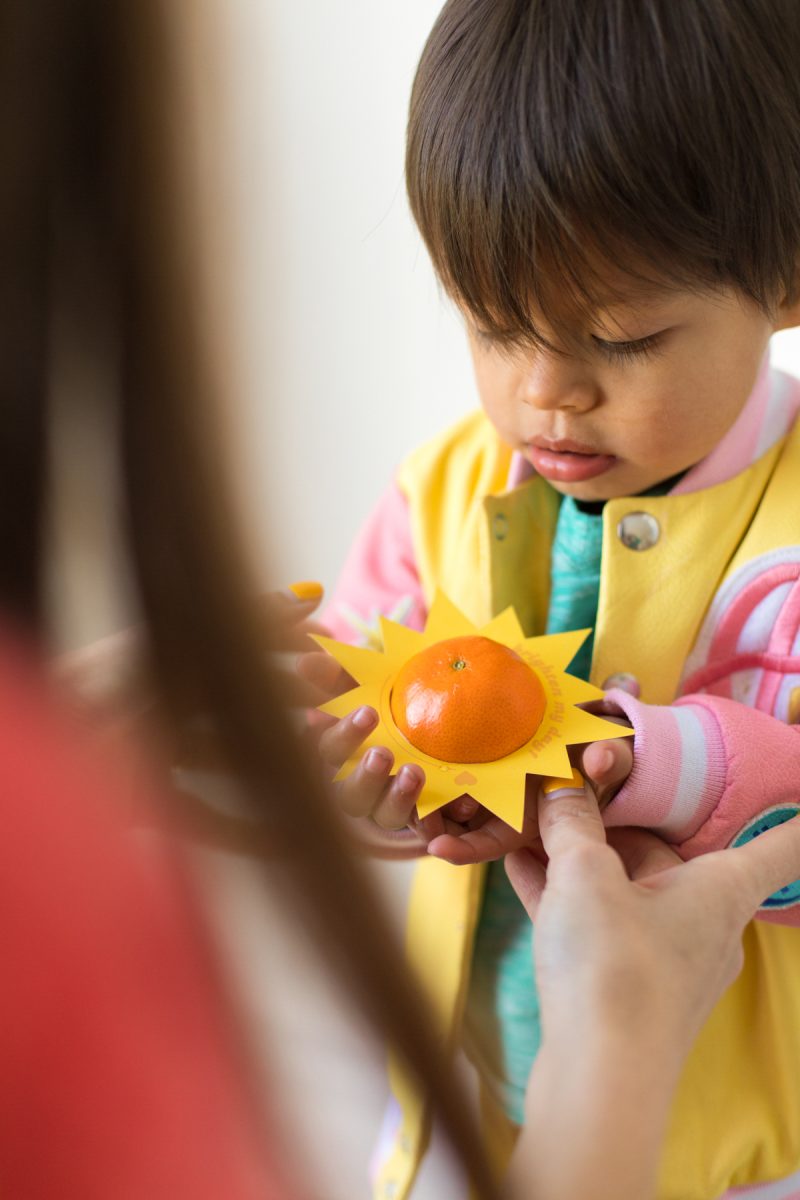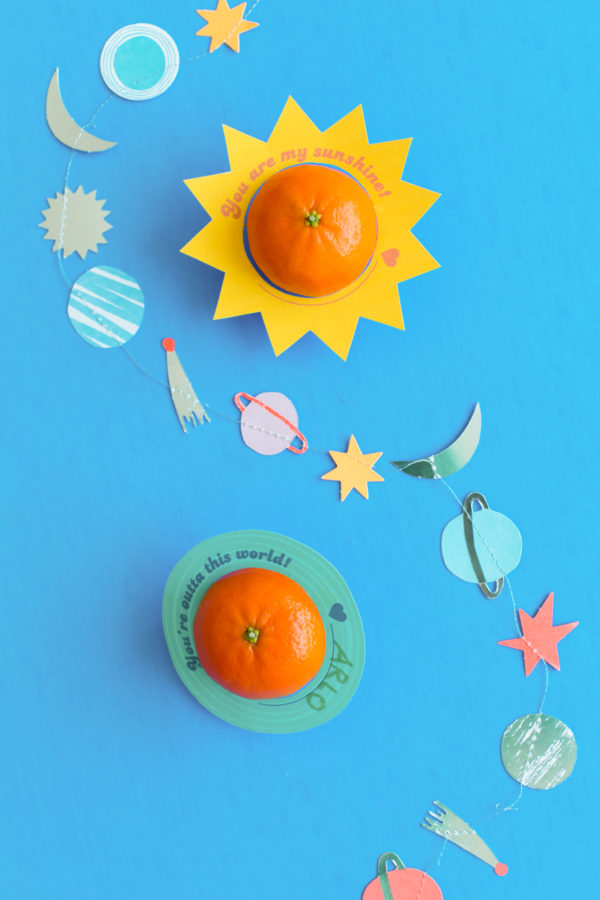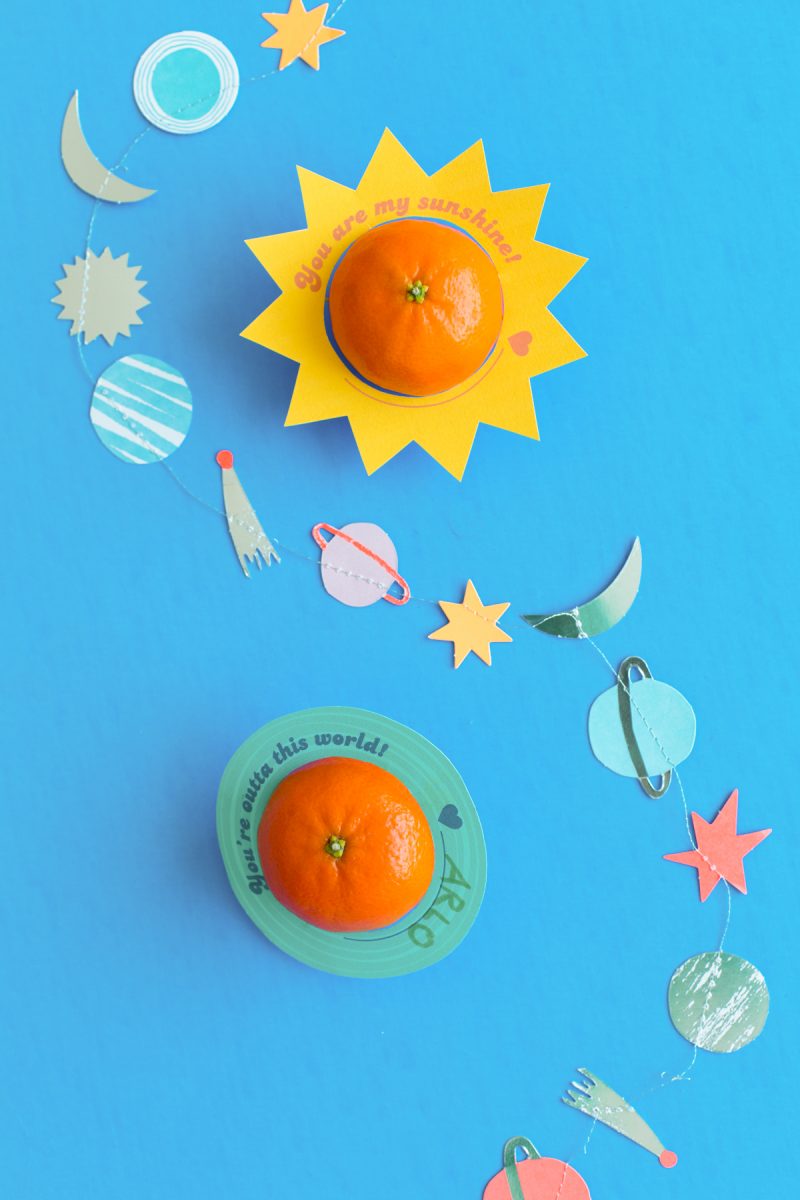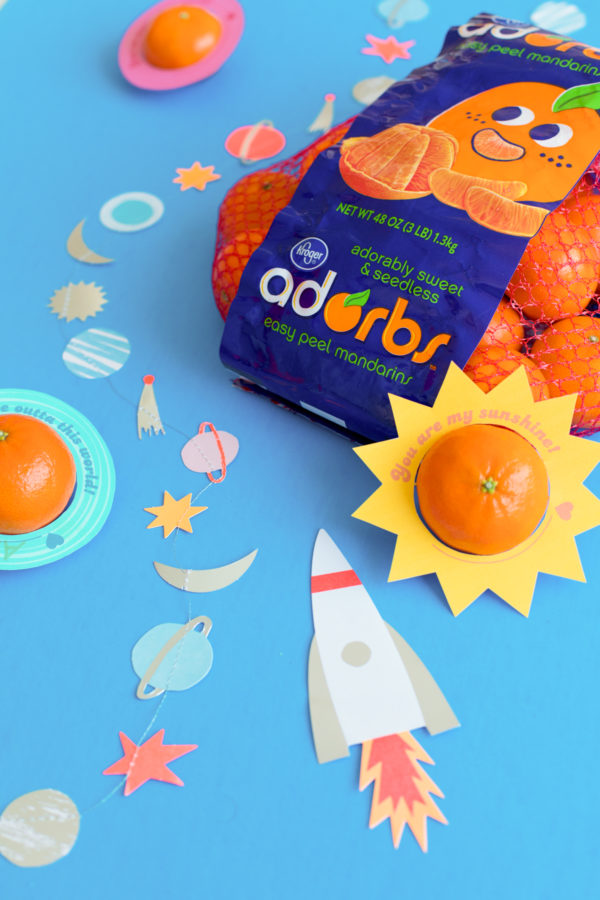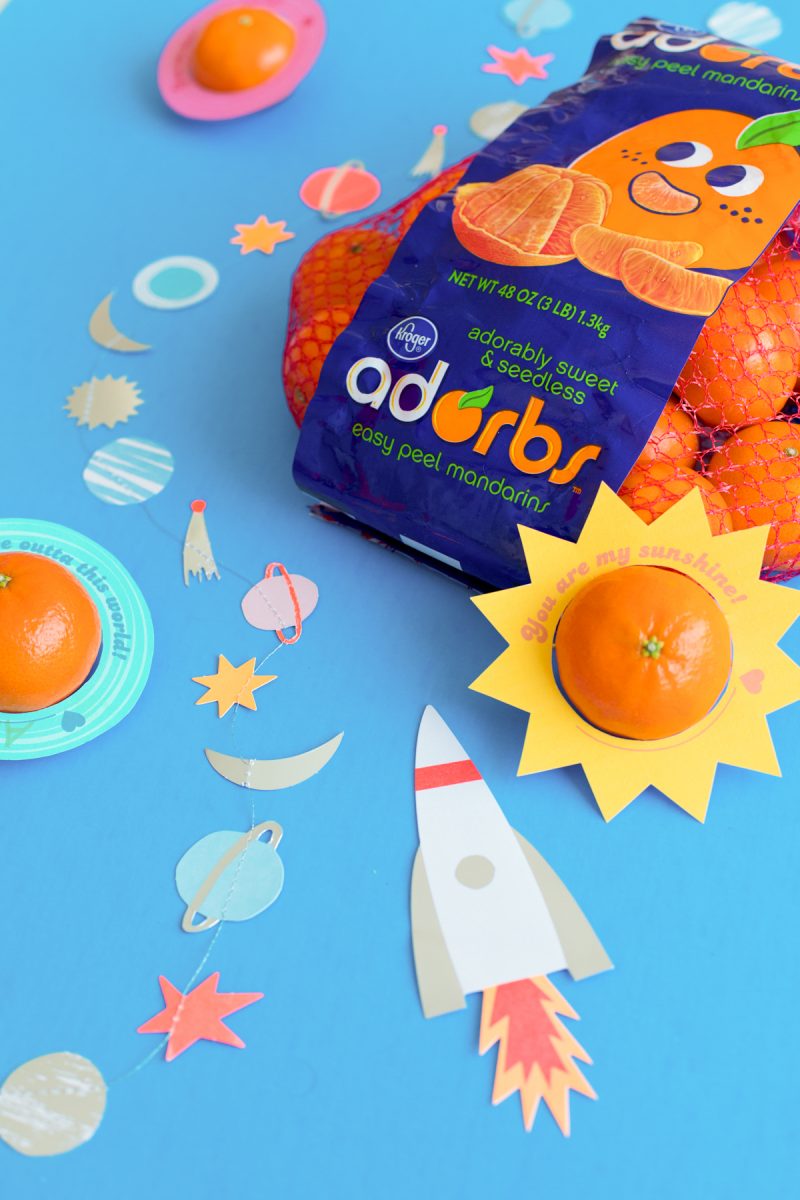 Pretty sure only about 1/3 of these Valentines will make it to the recipients 'cause Arlo's been eyeing all of them for himself. Haha!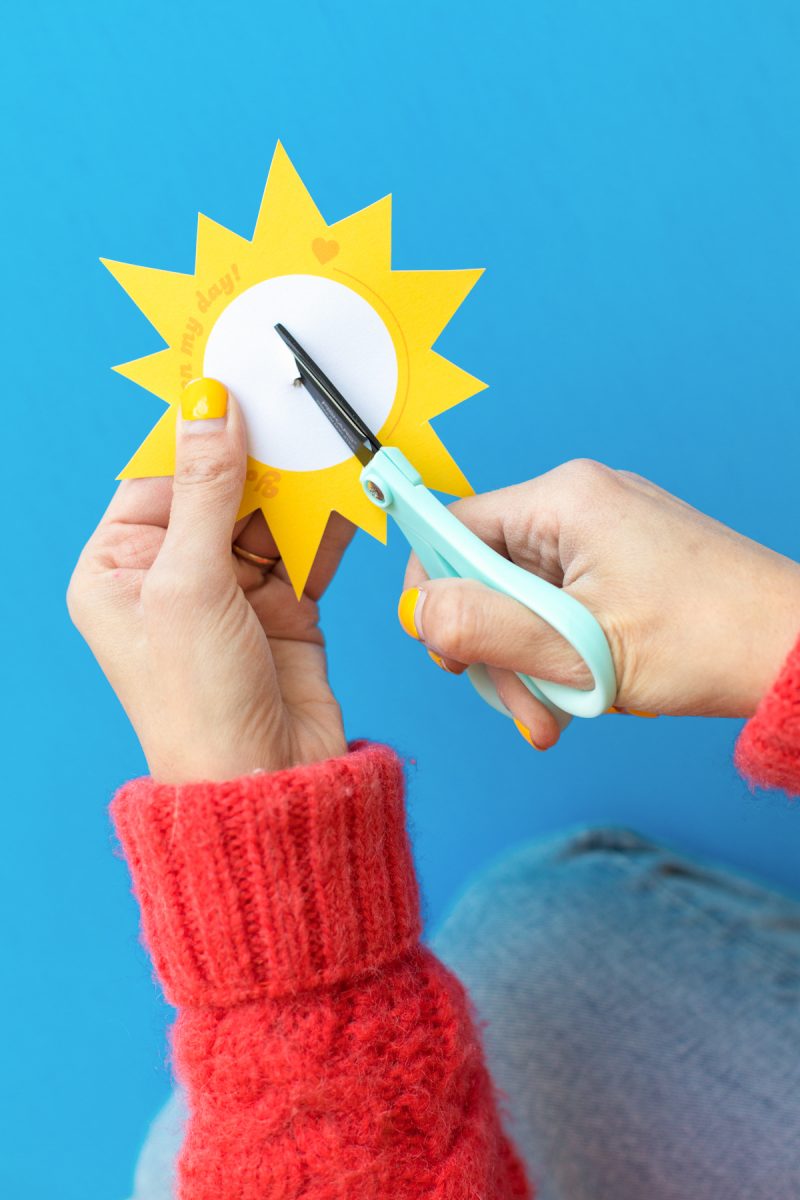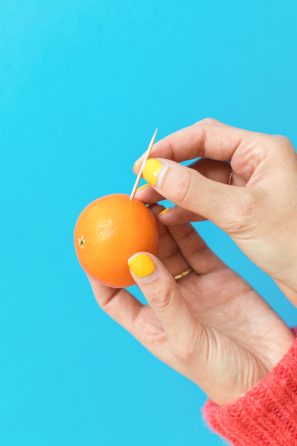 DIY Printable Outer Space Valentines
Total Time: 20 Minutes
Supplies
Free Printable Outer Space Valentines
Cardstock + Printer
Adorbs Easy-Peel Mandarin Oranges
Scissors
Tape
Toothpicks (Optional)
Directions
1. Print and cut out the outer space Valentines.
2. Use the blank line provided on the designs to write your child's name on each so everyone knows who the Valentine is from!
3. Attach it to the mandarin orange one of two ways:
First, you can stick a toothpick through the orange so that the ends are sticking out of both sides. Slip the printable overtop the orange so it's sitting on the two ends of the toothpick and use a small tape to tape the toothpick to the back side of it. This gives the look that the ring/sun rays are "floating" around the orange.
Or second, if you want the printable to fit perfectly around each mandarin orange, cut through one side of the printable (I recommend going in between the end of the phrase and the heart) and slip it around the mandarin orange. Overlap the ends until it fits perfectly around (if there's too much excess, you can trim off a bit of the end of the cardstock where you already cut it) and use a small piece of tape to attach them back together. If you fit it snug enough they should stay on pretty well, but you can also use another small piece of tape to tape the cardstock directly to the peel of the orange in a few spots.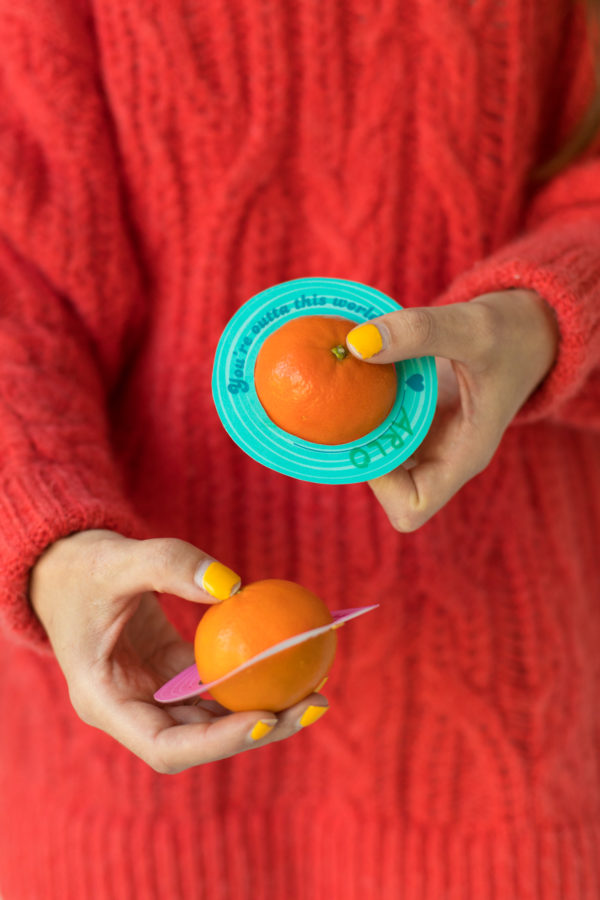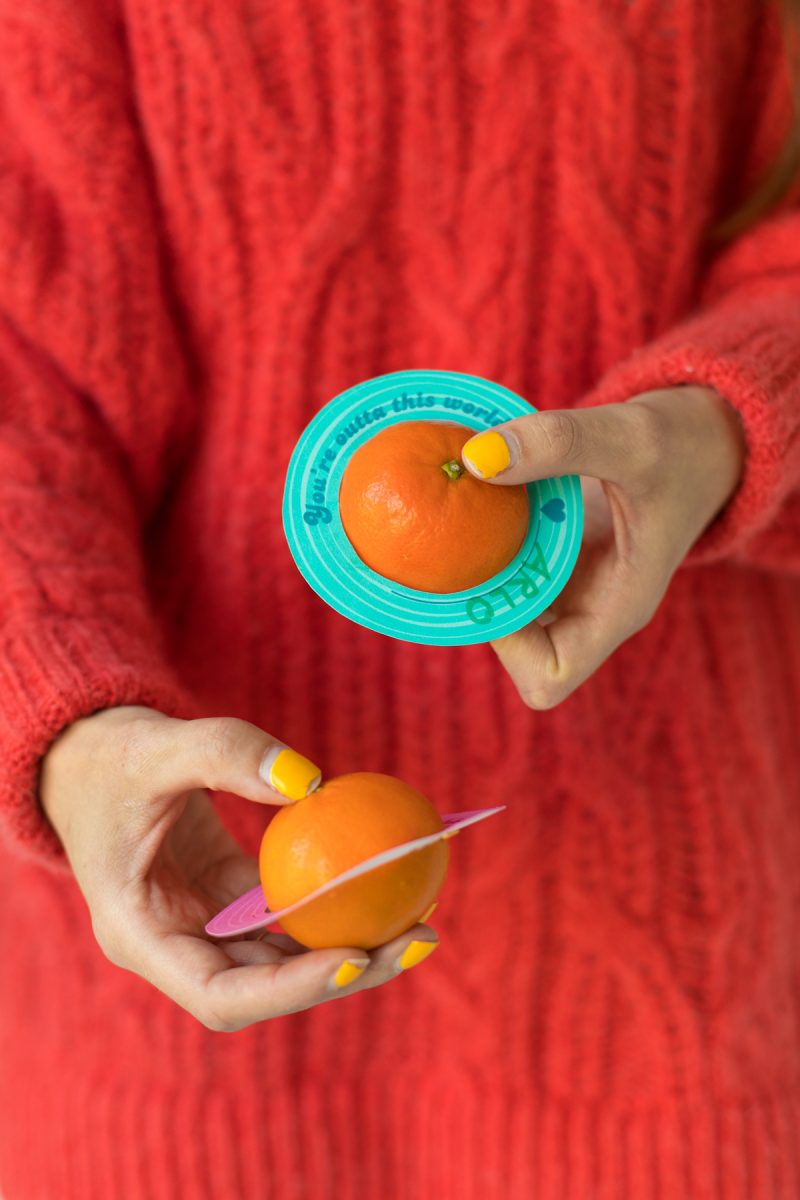 To transport these you can put them in a cute little basket (a box works too!) filled with dark blue crinkle paper and it looked like a solar system!!! SO cute!!!!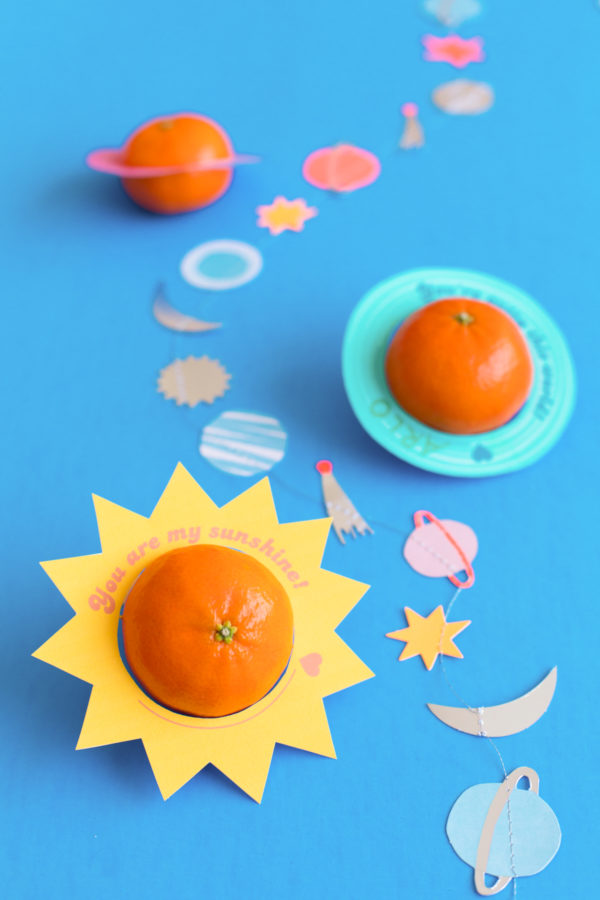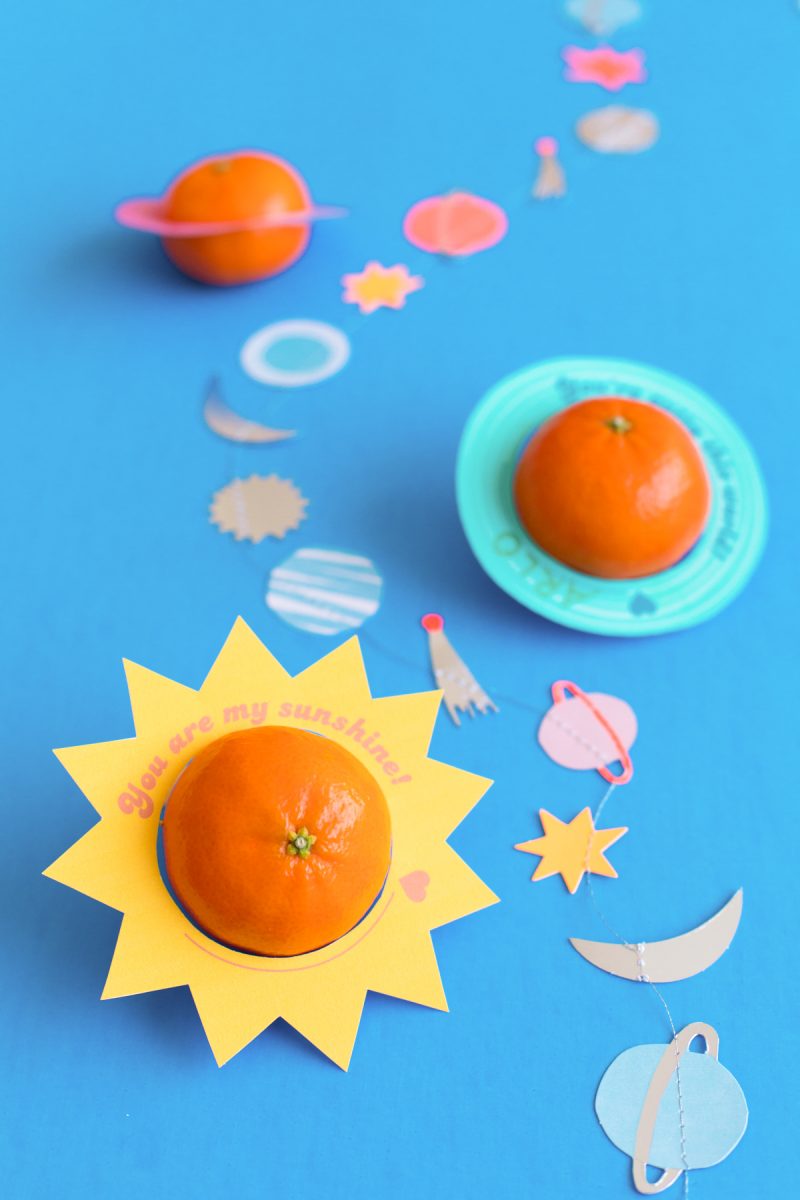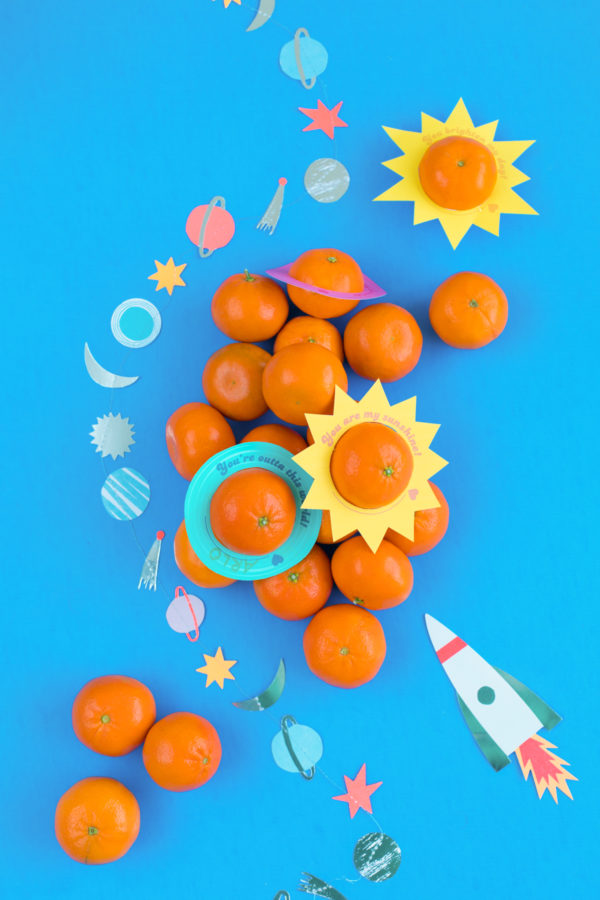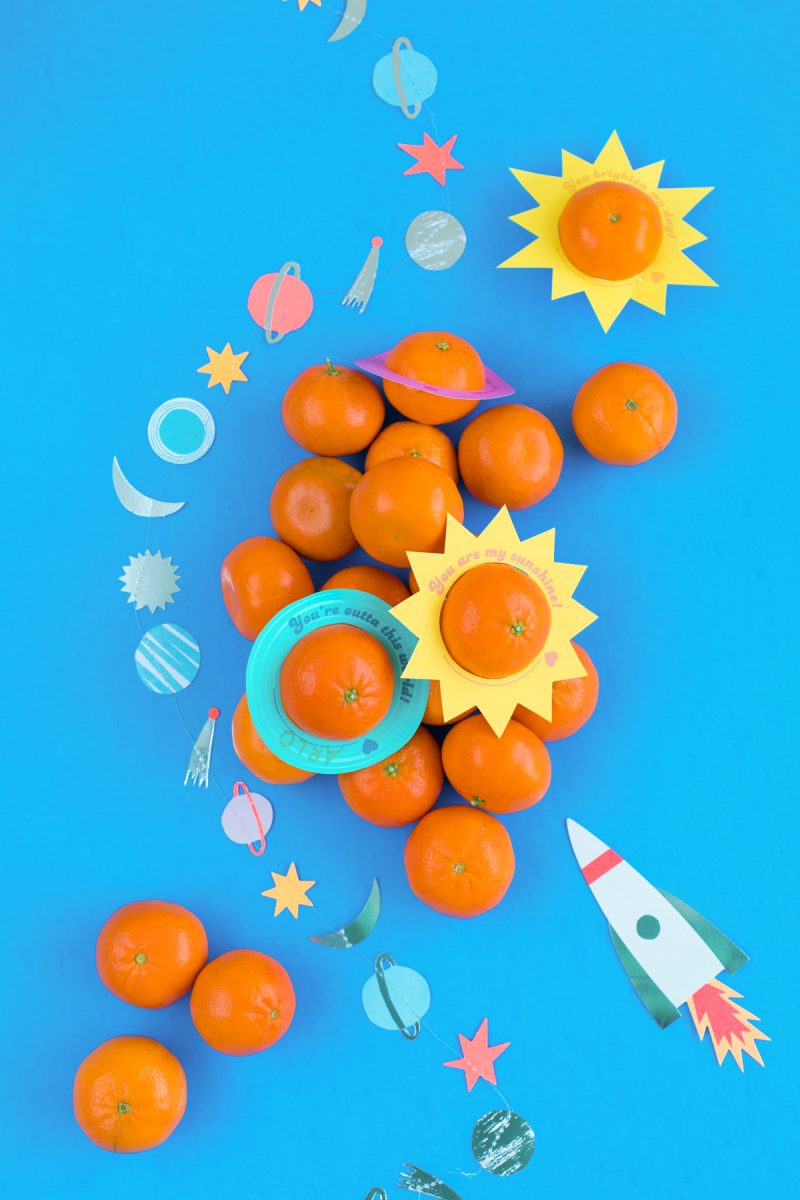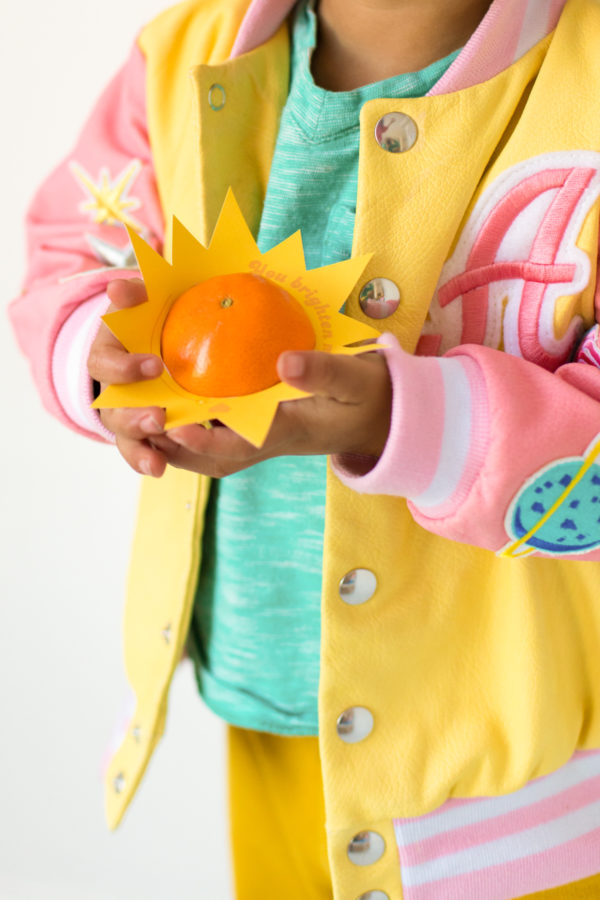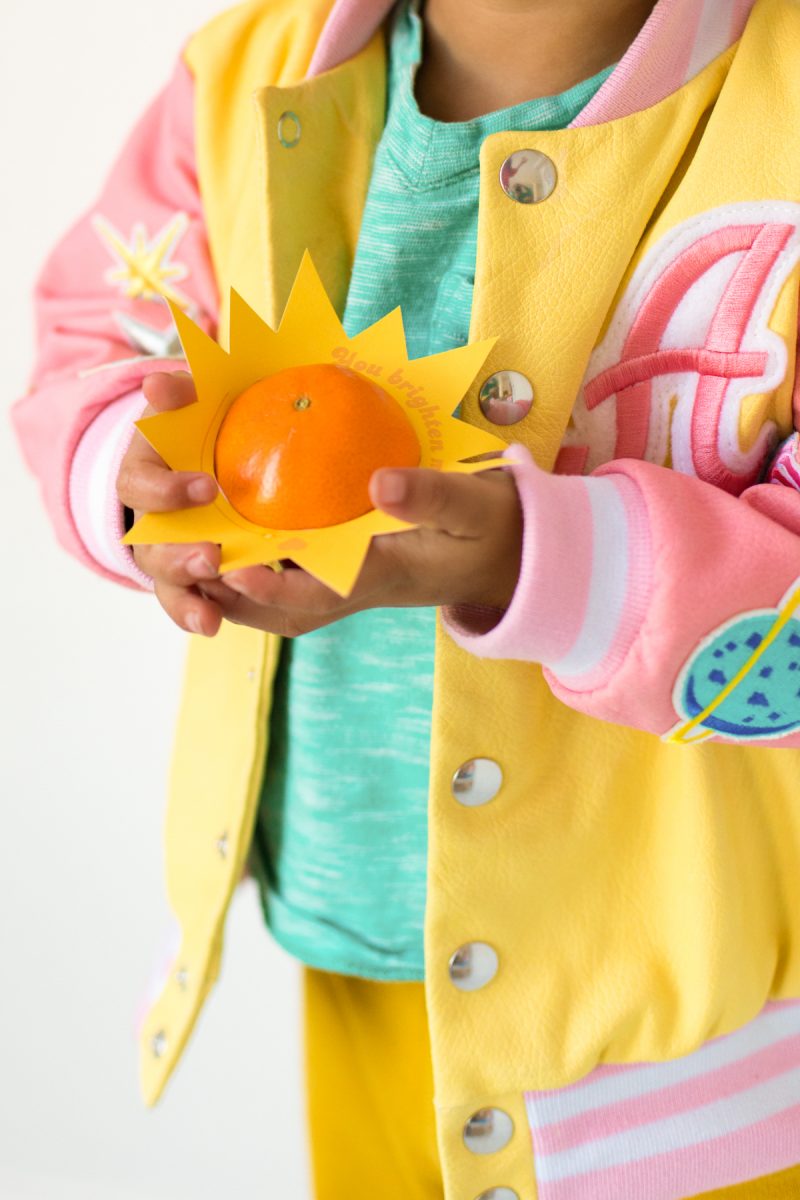 Printable Design by Rosanna Servodio | Photos by Jeff Mindell
Aren't they so cute!?!? If you make 'em with your kiddos, you gotta tag me so I can see! And if you're headed grocery shopping, check out Adorbs in the produce section at your local Kroger brand store! I swear Arlo has some sort of sonic radar built in for spotting the cute little mascot on the bags anytime we go in the store. 😉
This post was created in partnership with Kroger. All content and opinions are that of my own! Thank you for supporting the sponsors that keep the Studio DIY party going! Read more about my editorial policies here.