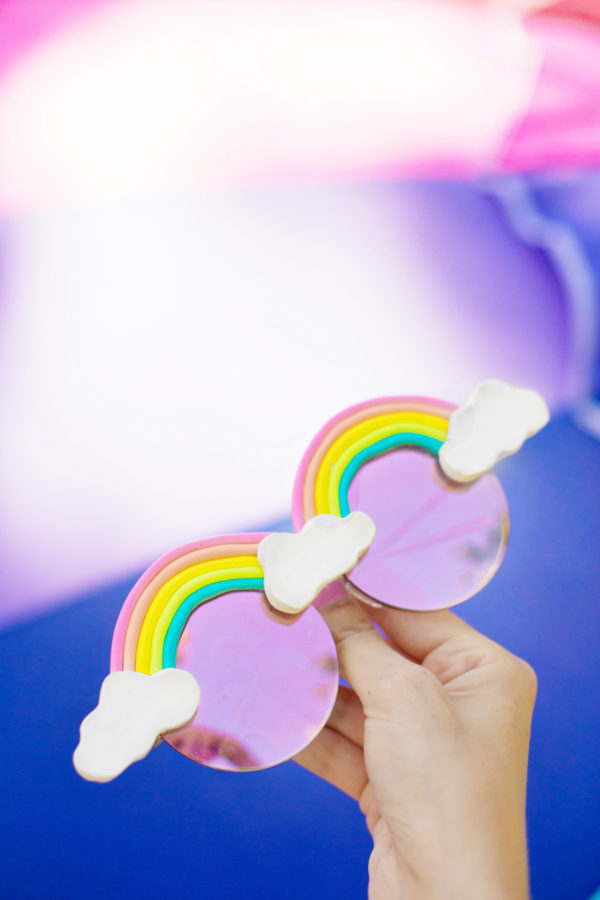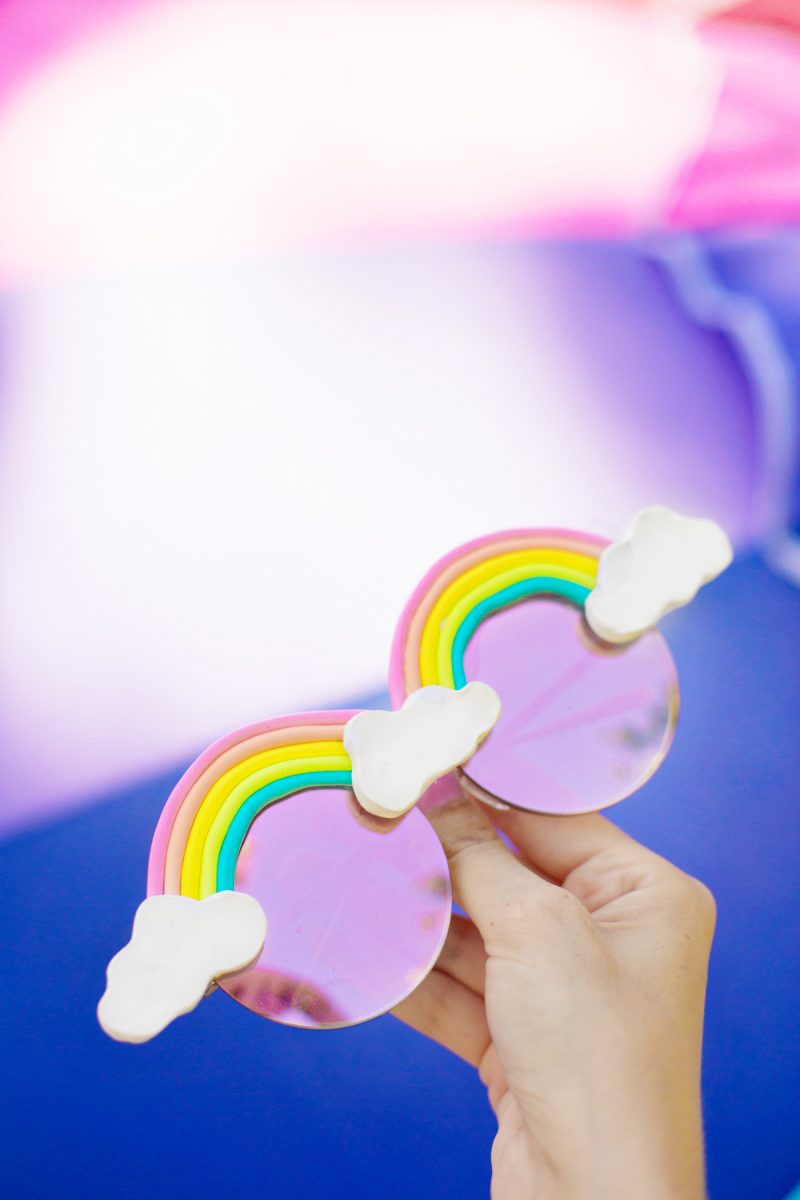 Zomgggg I'm so excited about these!!!!!!! A pool party kind of required a sunglasses DIY and DIY rainbow sunglasses seemed like the right choice! I'm all-caps OBSESSED with how they turned out!!!!! This could actually be a really fun activity to do at a pool party if you guys need a sun break! You do need to bake the clay but it doesn't take long so you could totally make it work if you had some time. Eeeep! Everyone could choose their own rainbow colors. How fun!!!!!!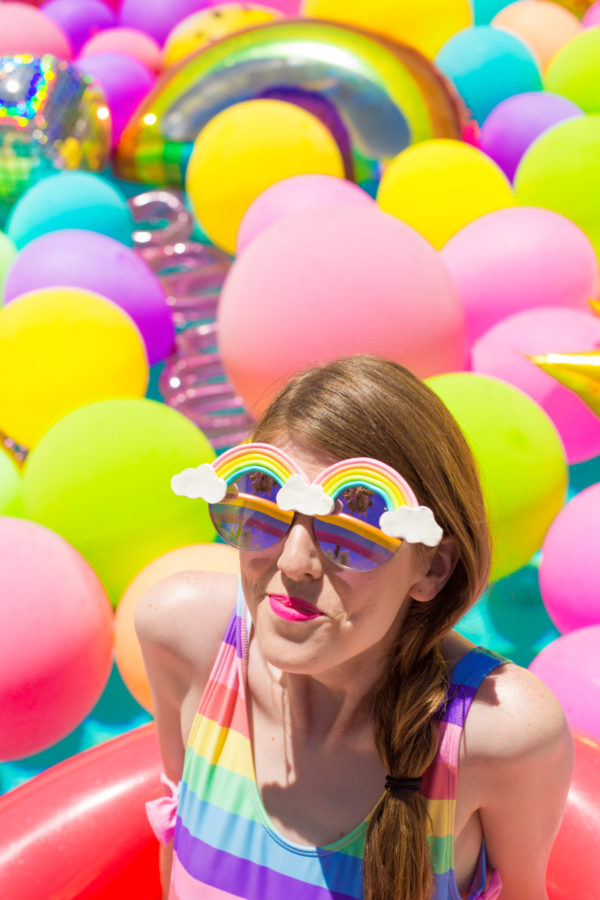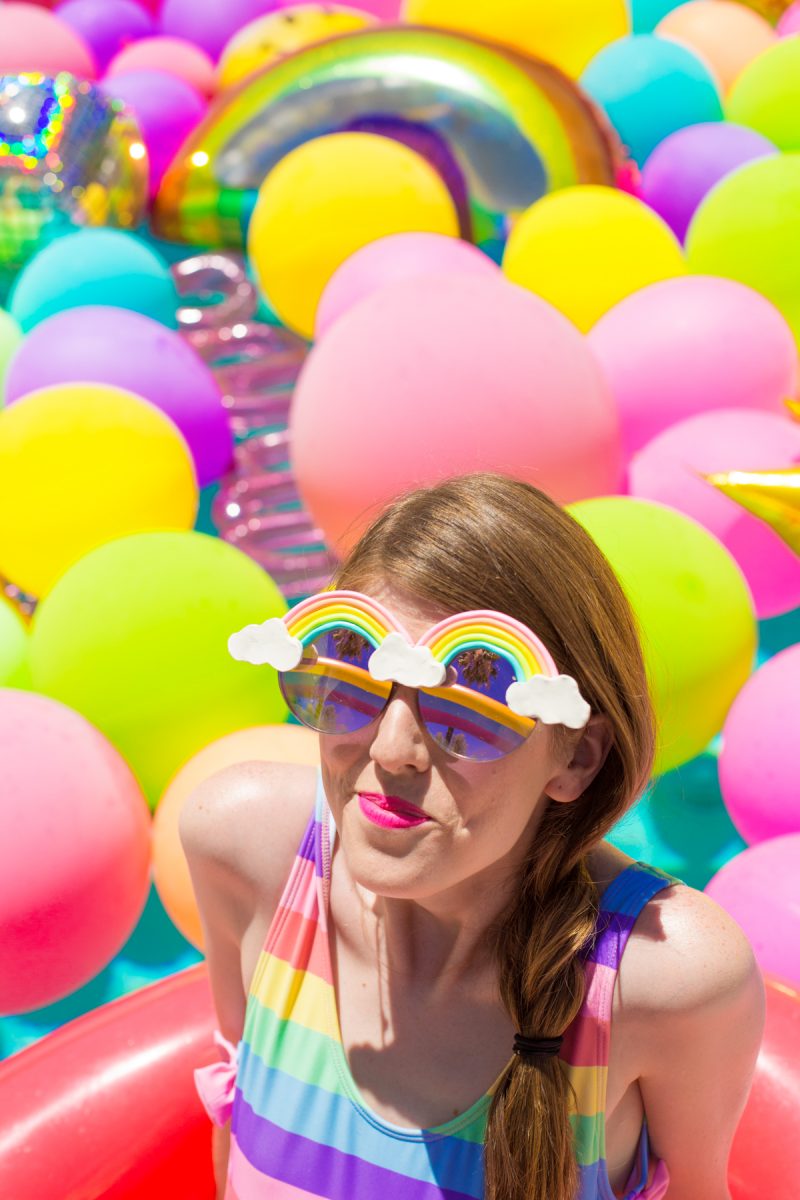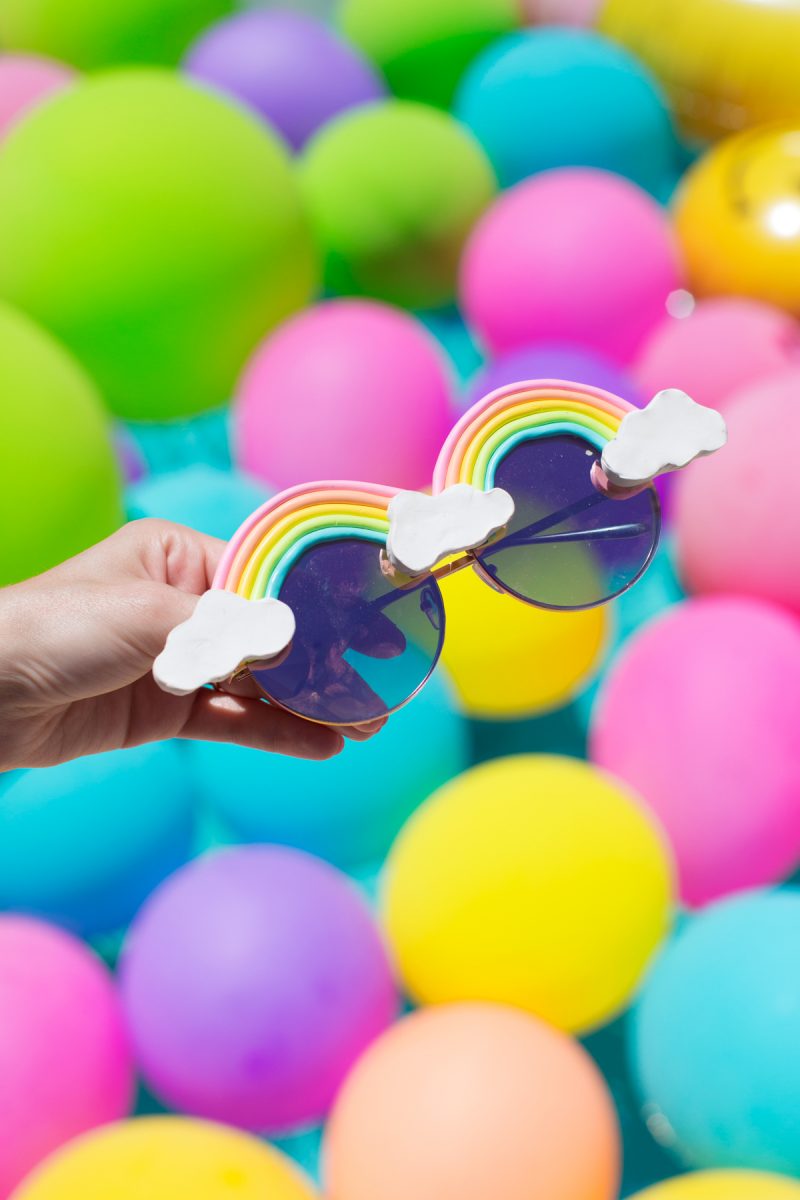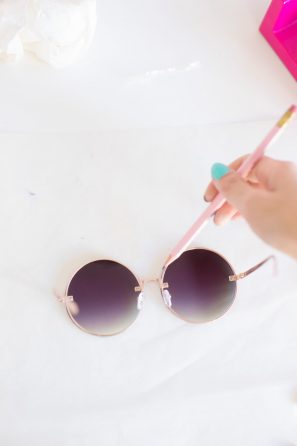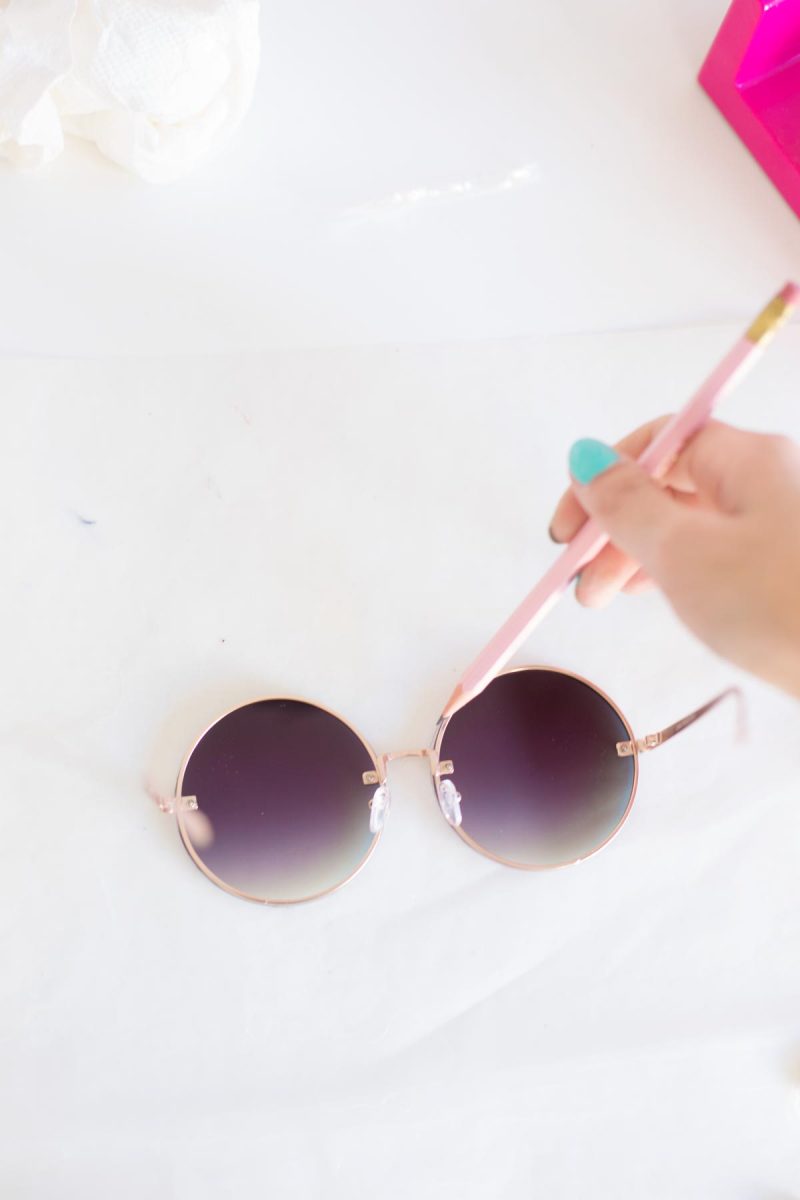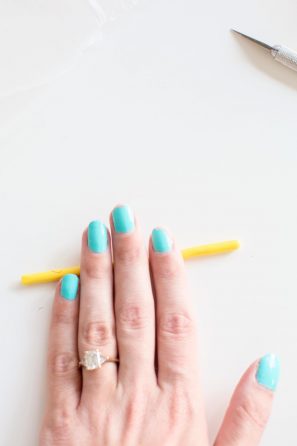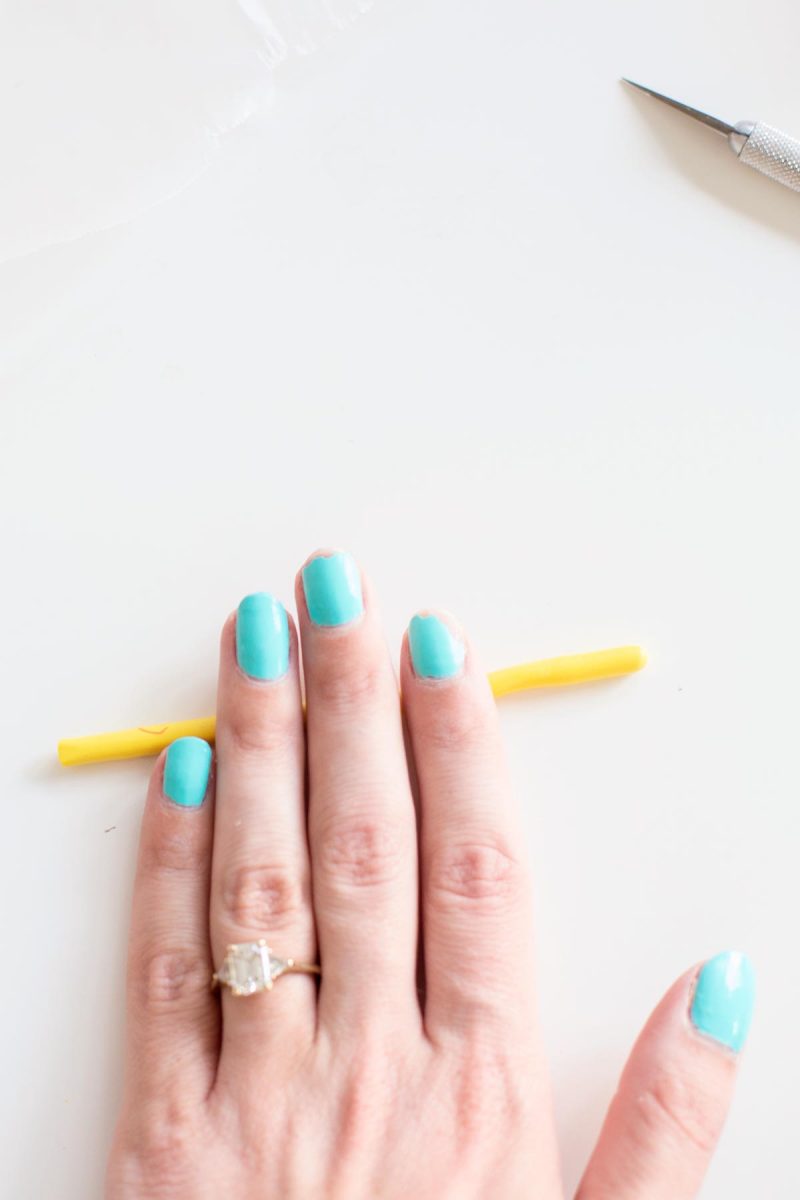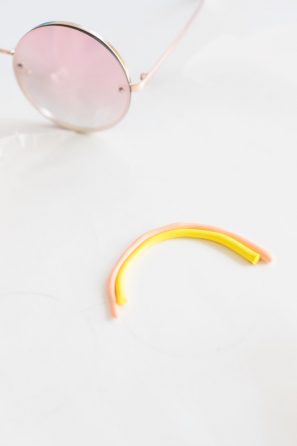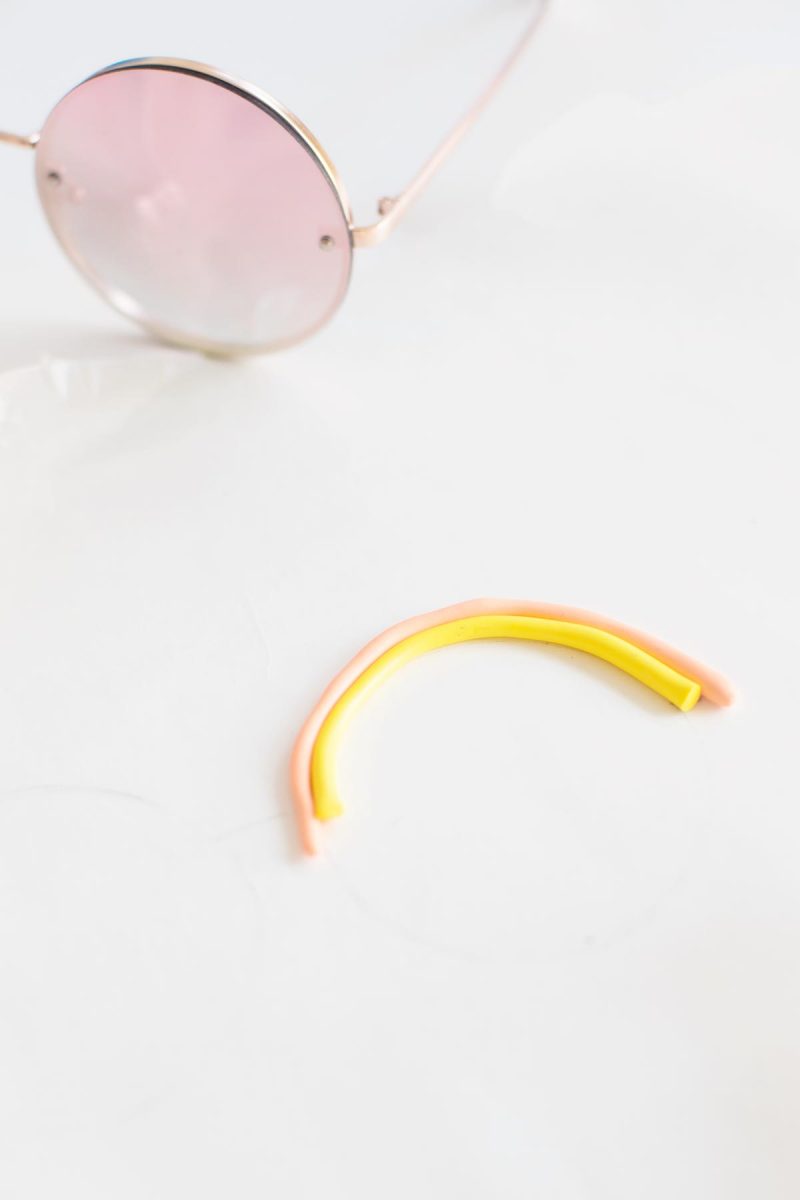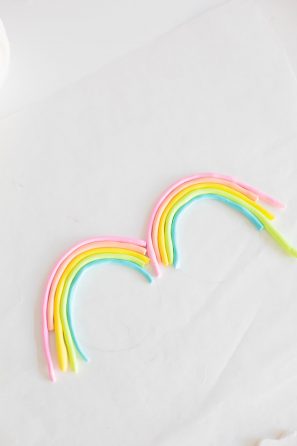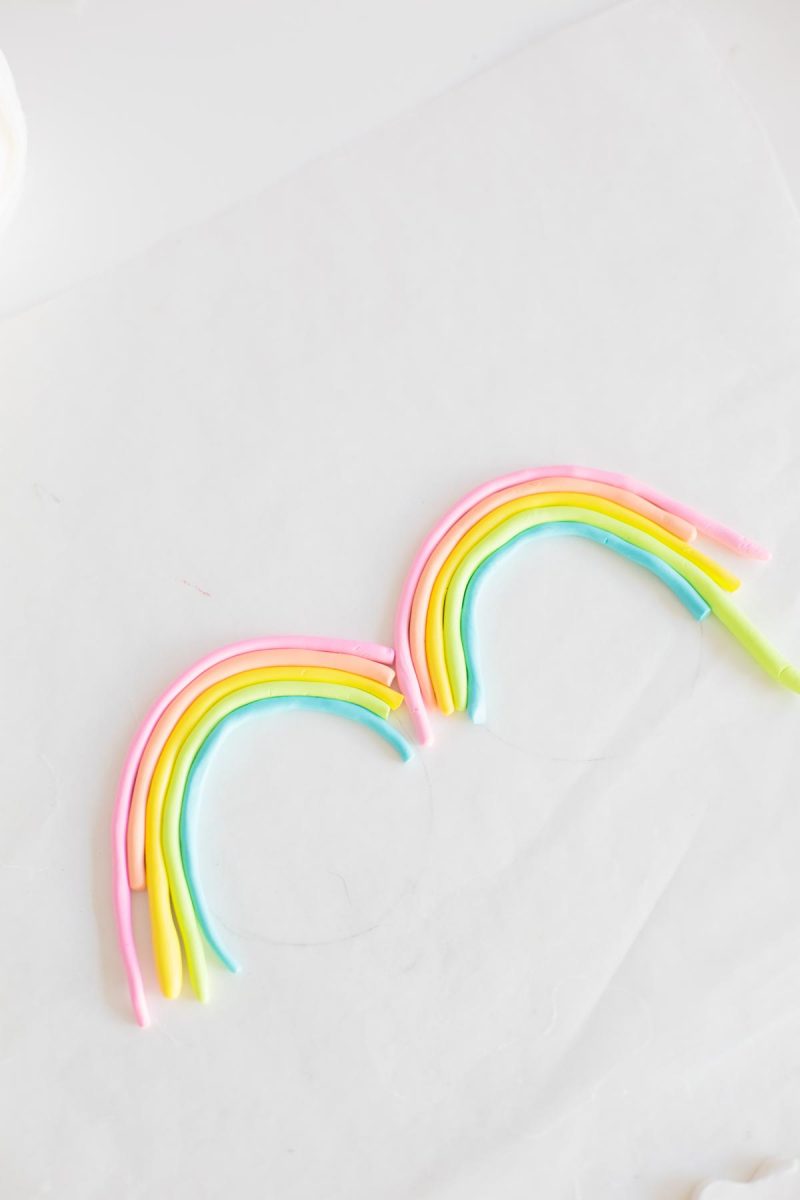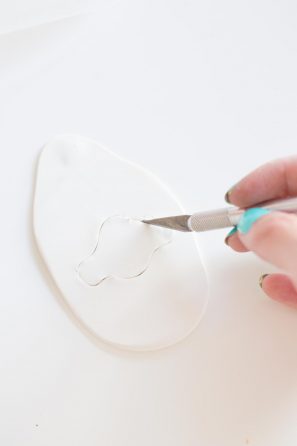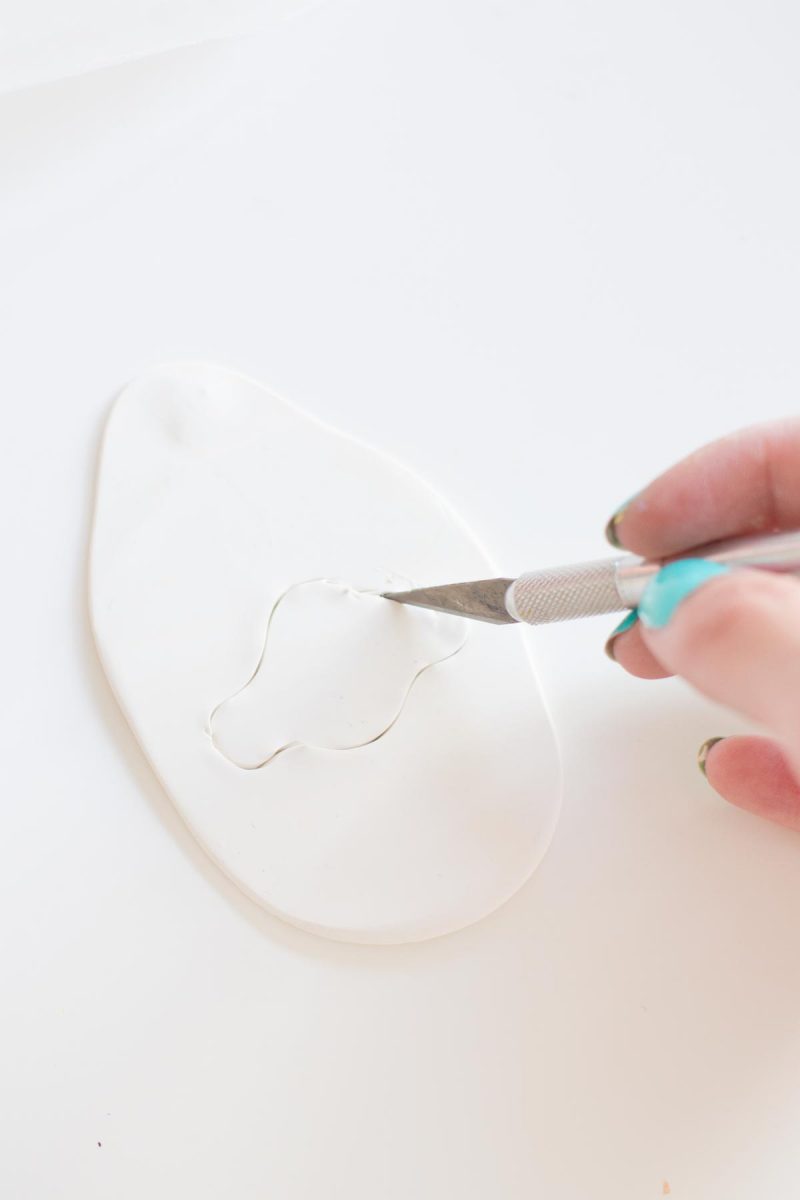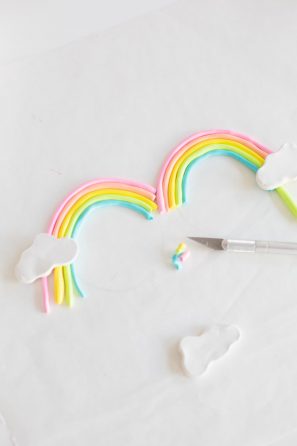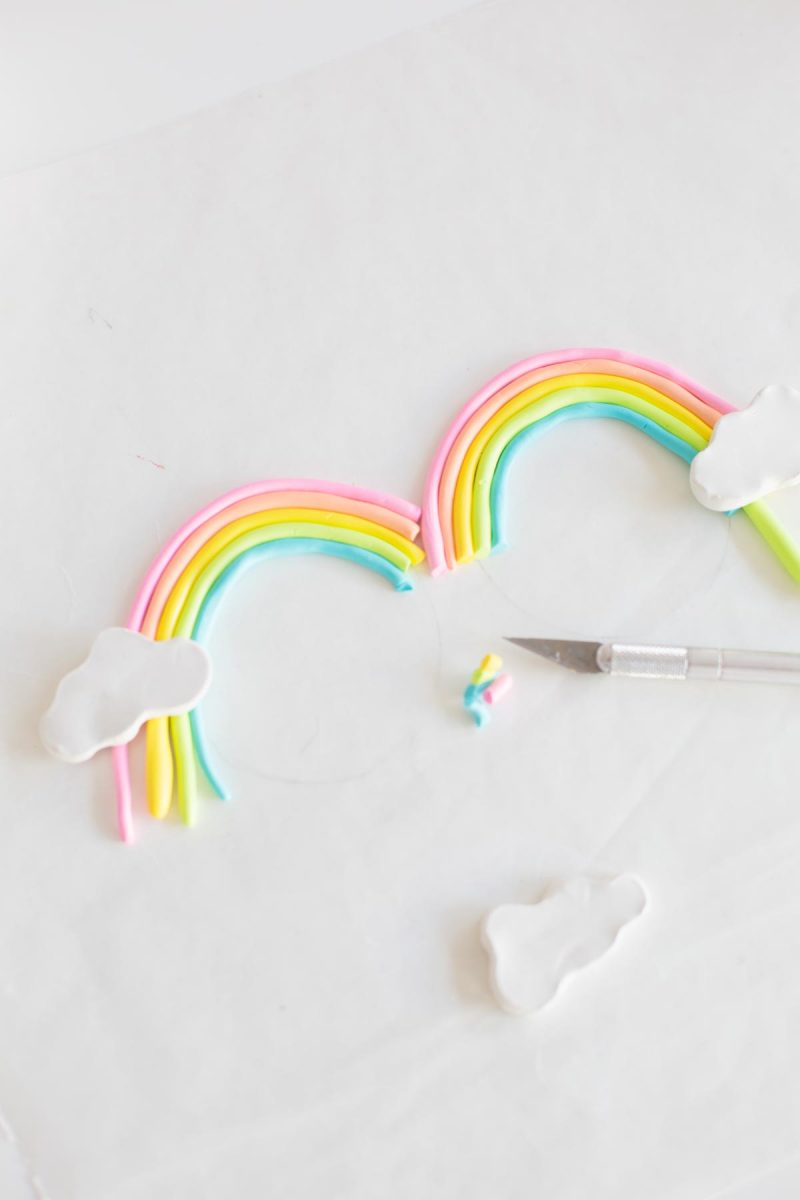 DIY Rainbow Sunglasses
Total Time: 1 1/2 Hours (+ Dry Time)
Supplies
Round/Circle Sunglasses (I used these but you could also use these plastic-rimmed ones if you prefer a plastic rim. I generally do!)
Polymer Clay (You can purchase individual colors at an art or craft store, or the sampler I linked is great for this! I would also order additional white clay as you'll potentially need that for each rainbow color and your clouds.)
Craft Knife
Parchment Paper
Pen or Pencil
Small Rolling Pin (NOT one used for food!)
E6000 Glue
Toothpick
Directions
1. Trace the outside of your sunglasses onto a piece of parchment paper and flip it over. You should be able to see your lines through the backside of it. This will prevent the pen/pencil from transferring onto your clay. This will be your template for forming your rainbows!
2. Decide what colors you want to use for your rainbow. I wanted mine to be a little more pastel, so I combined a small ball of color and a slightly larger ball of white together. Knead it with your fingers until the color is completely smooth. I used five colors. IF you are using much smaller sunglasses than I am, you may want to use less colors so you don't impede your eyesight when wearing them.
3. Start with the color you want to be in the middle (mine was yellow). Break the ball of clay in half and roll each half into a long, even snake using the table and your hand.
4. Lay the snakes along the upper half of the sunglass line you drew on your parchment. This will be your guideline for all your other colors.
5. Next roll out the rest of your clay colors into snakes as you did before. Place the color you want above your middle color directly above it on your parchment. The two should completely touch as this is what will hold all the colors together when baked.
6. Repeat the same steps with all your colors. As you'll notice, they start to run into each other in the middle. That's ok! You'll be covering it with a cloud so you'll just need to make sure your cloud is big enough to cover the seam.
7. Roll out your white clay so it is about a 1/4" thick. Use your craft knife to freehand three clouds. Remember, they need to be big enough to cover the seam/ends of your rainbow but not too big to impede your vision. You can lay them lightly on top of your rainbow to check for size and always re-roll them/cut them out if need be.
8. While the clouds are laying lightly on top of the rainbow, trim any excess pieces of the colored snakes so that nothing shows below the cloud.
9. Once all your pieces are ready to go, lay them on a piece of parchment paper and then place them on a cookie sheet/tray and bake for 15 minutes per 1/4" thickness. So, about 12-15 minutes for this project, depending on the thickness of your rainbow. I like to keep a close eye on mine after 10 minutes to ensure they do not burn!
9. Remove from oven using an oven mitt and let cool completely.
10. Once cooled, use a toothpick to spread a thin line of glue along the upper edge/rim of your sunglasses, one side at a time. Take one rainbow piece and adhere it to the rim. Remember, you want the middle color to be centered on the edge of the rim. The colors above that will stick up above the top of the sunglasses. Repeat with the other side. Let set for about 10 minutes before adding clouds.
11. Finally, place some glue on the back of each cloud and place them on top of the rainbows. Let glue dry completely according to package directions.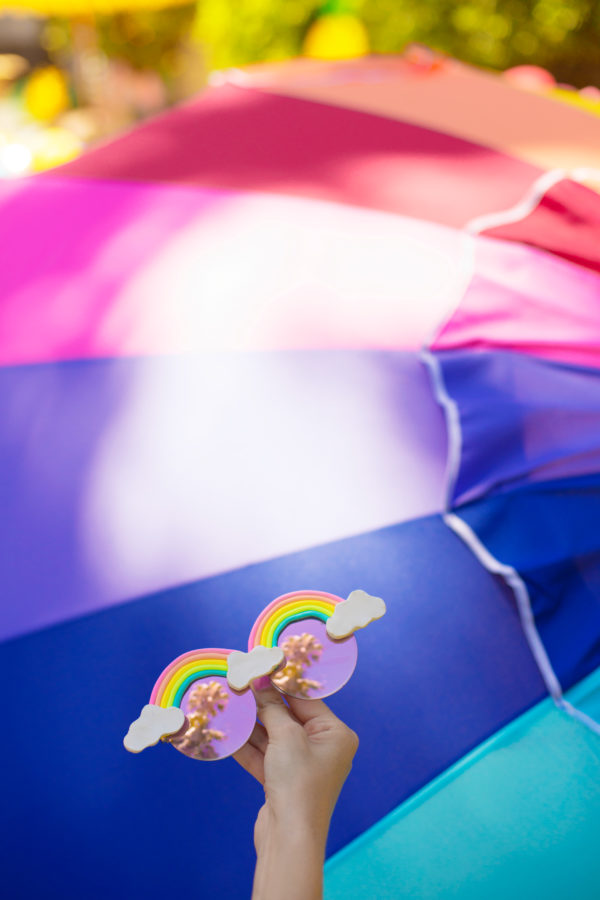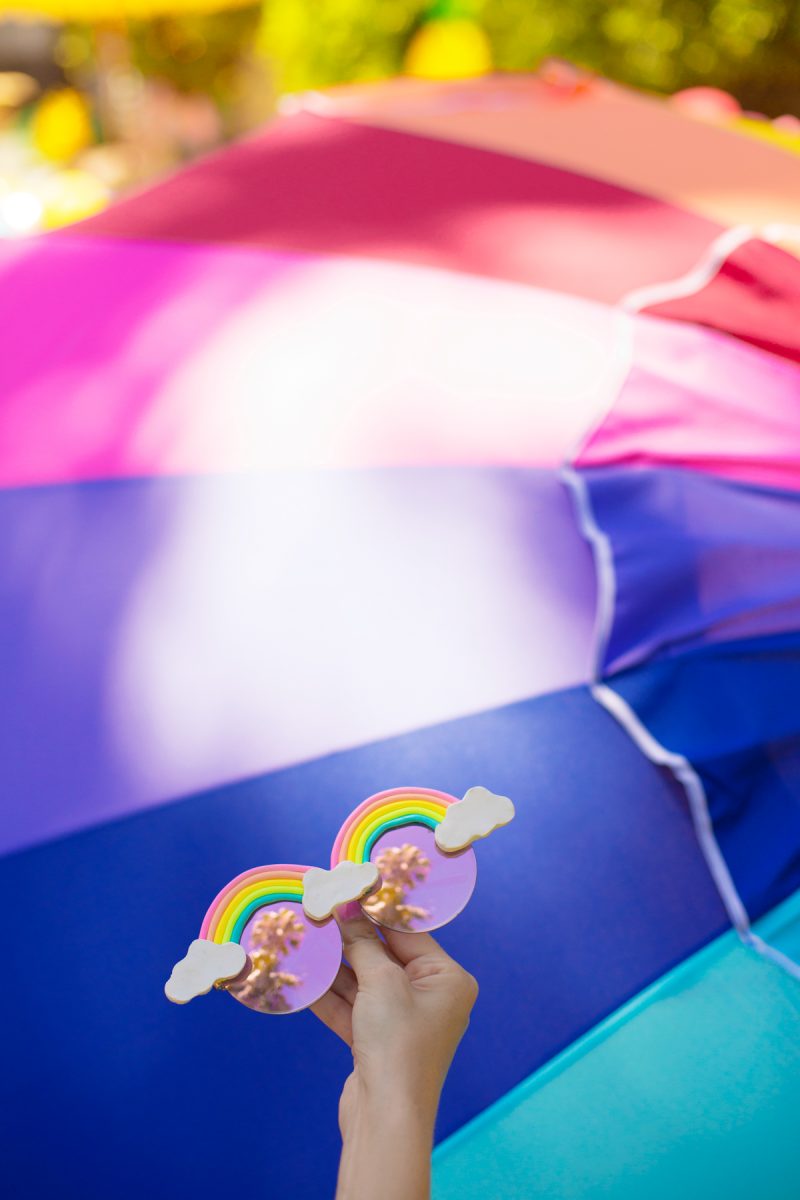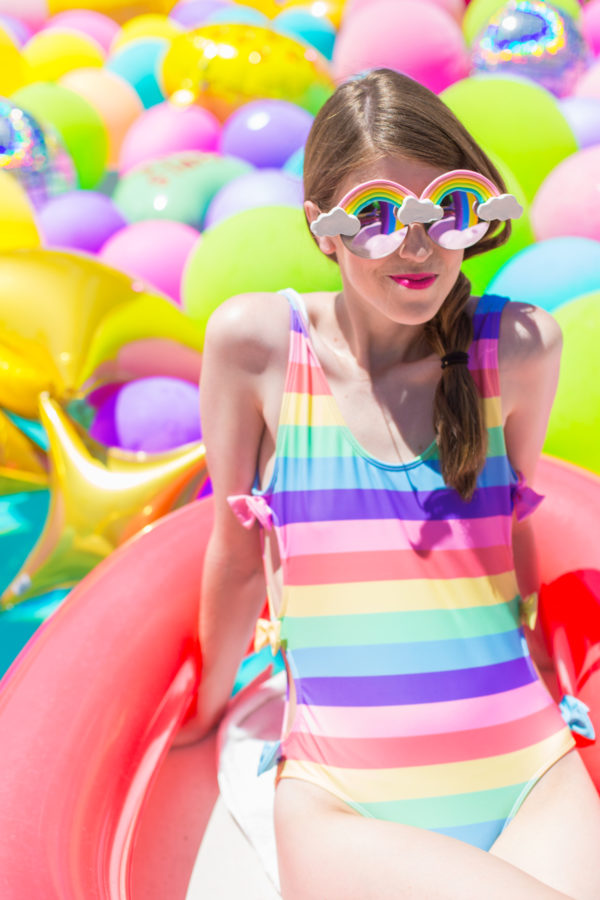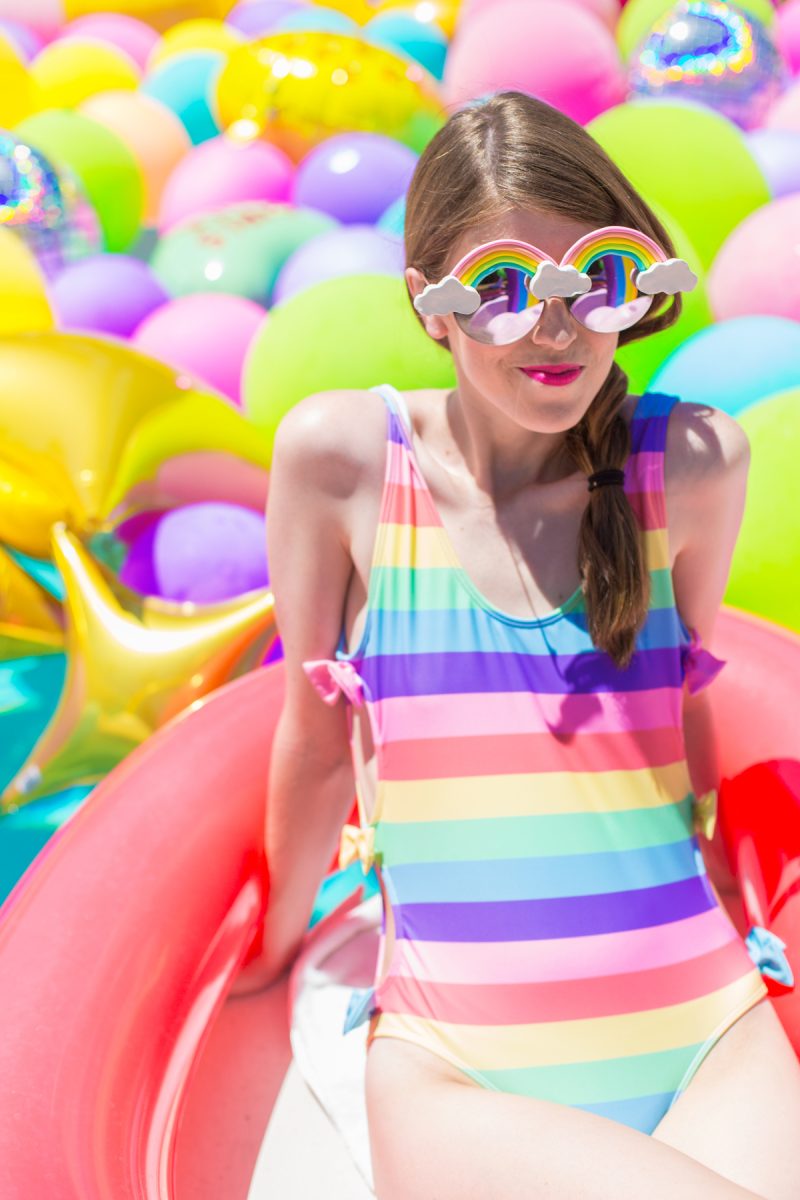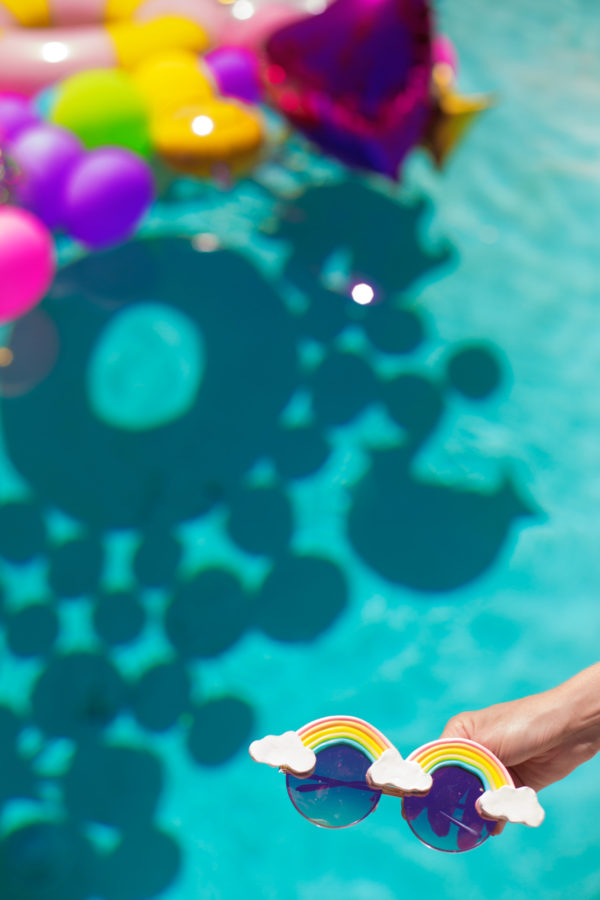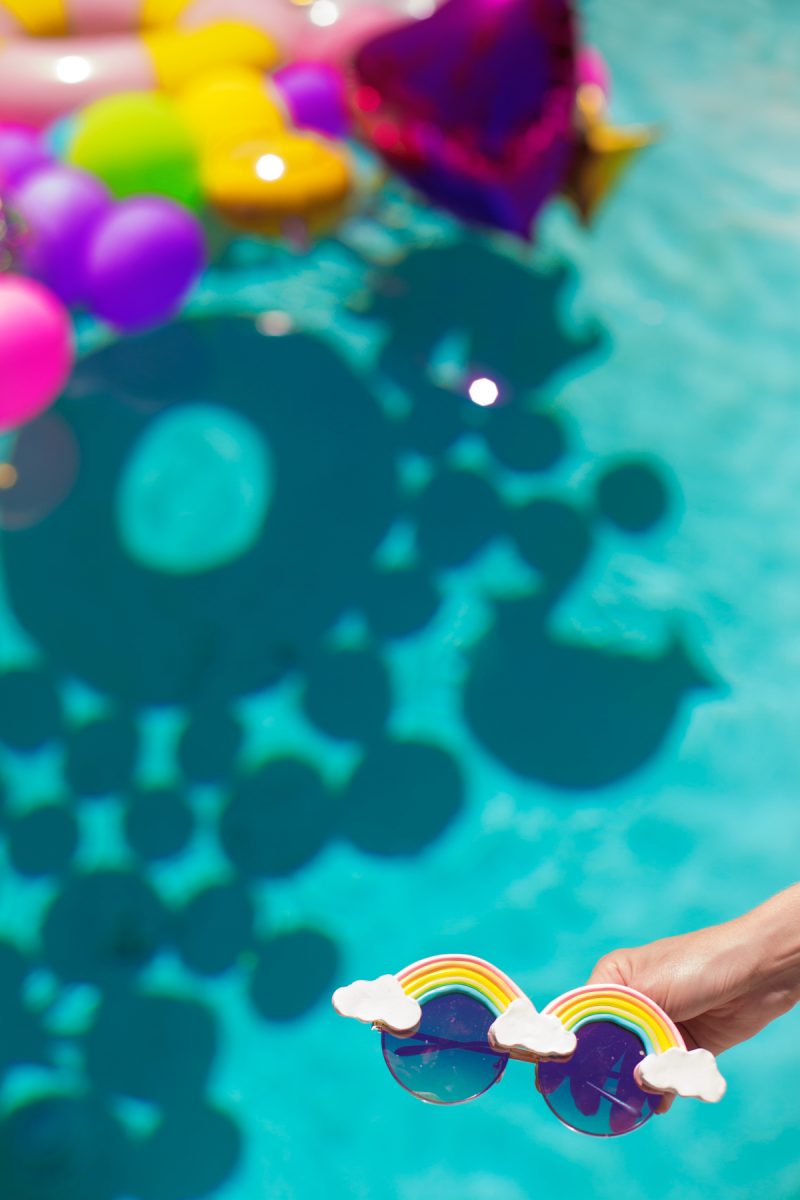 Photos by Jeff Mindell
Balloons:
Frankly I Love Rainbows Party Pack
Disco Ball | Script YAY | Tropical Drink | Unicorn | Rainbow | Watermelon | Pineapple| Flamingo | Cactus | Sparkle Heart Emoji | Smiley Face | Girls Rule
Other Sources:
Rainbow Swimsuit | Rainbow Umbrella | Red Heart Float
How badly do you need a pair of rainbow sunnies now!? SO BADLY. Get on that, girl!!
psst… If you don't wanna DIY a pair, we found these amazing ready-to-buy rainbow sunglasses too! See, now you you've got no excuse not to have a pair!! Haha! 😉
p.s. Donut Sunglasses and an Epic Balloon Pool Party!
SaveSaveSaveSave
SaveSave
SaveSave
SaveSave
SaveSave
SaveSave