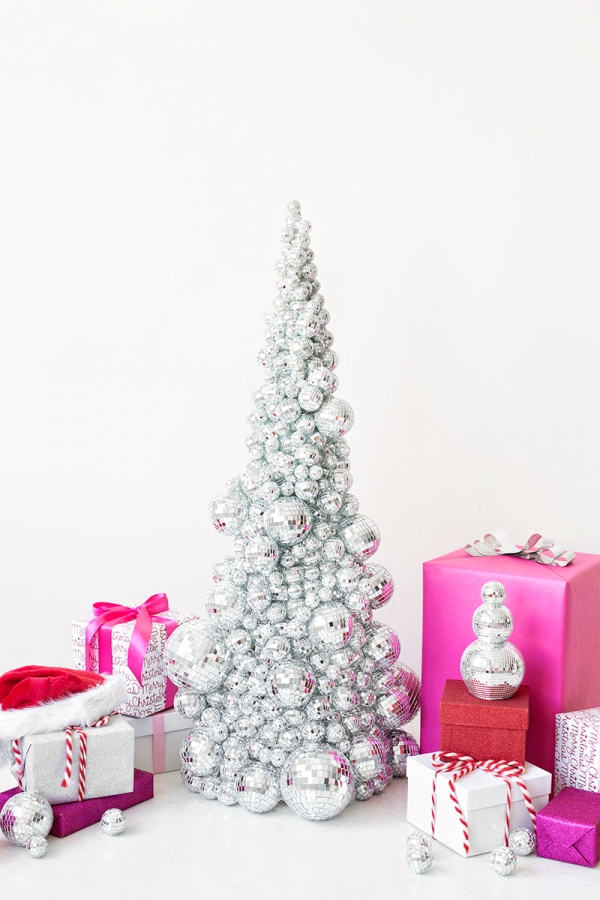 I have to say I'm pretty excited to be teaming up with Jeff's other love of his life (and mine too, if I'm being honest), Dunkin' Donuts, to help us breeze through the craziness (and fun!) of this holiday season with their special holiday #DDCoffeeJoy contest. I mean… when Jeff and Samantha live on coffee and I live on donuts, could there BE a more perfect companion to get us through!?
Jeff and I's personal love affair with Dunkin' runs deep thanks to our east coast roots (more about THAT below!) and because we're going back home to New Jersey this year for Christmas, Jeff and I weren't able to get a real tree. SO! We (Ehm, I) decided to make a DISCO BALL Christmas tree in its place! 'Cause disco balls last all year. And… this will most DEFINITELY be staying up all year.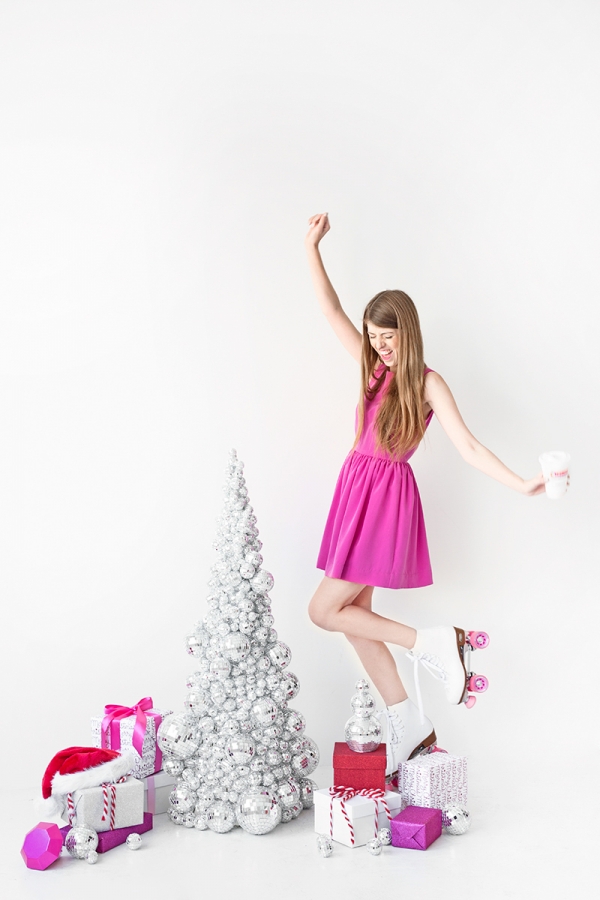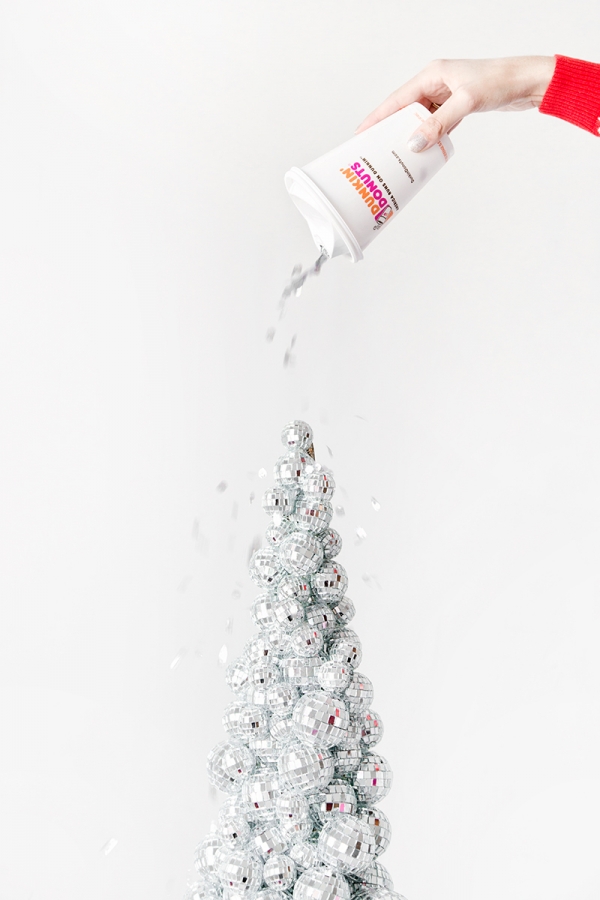 How are you guys celebrating the holidays? Are you traveling anywhere fun? Visiting family? Cozying up at home? I want to see what you're up to! And starting today through December 5th , if you share a photo or video of your holiday moments with Dunkin' Coffee using #DDCoffeeJoy and #Contest, you'll have a chance to win some awesome prizes like Dunkin' gift cards and JetBlue travel certificates! AA-YO!
I feel like I should give you some background on our love affair with Dunkin' Donuts. We're Jersey kids. And in Jersey (at least in our town), we live on Dunkin'. In fact, before Dunkin' Donuts opened on the West Coast, Jeff would literally get off the plane in New Jersey at Christmas and RUNNNN to the Dunkin' at the airport. I'm not joking guys. Straight beeline. Now that Dunkin' Donuts has opened in LA, he can get his fix more often… but there's still somethin' special about going to "Upper Dunkin" (We had two in our hometown that everyone called "Upper Dunkin" and "Lower Dunkin", ha!) and getting his favorite Medium Iced French Vanilla with milk and sugar when we're back East for the holidays. The folks at Dunkin' told us there are over 15,000 ways to order your coffee there, but Jeff sticks to his favorite every. time.
I on the other hand like tryin' some new things and unlike Jeff I happen to like hot coffee when it's frigid out. Go figure! And this year I'm pretty sold on the new SUGAR COOKIE coffee flavor. It tastes like Christmas cookies, you guys! Also, despite living in the land of donut shops, Dunkin' Donuts glazed chocolate cake donut is STILL my favorite. See 'em down there? MINEEEE!
And now that you know about the welcomed third wheel in our relationship, back to our tree. Here's what you'll need…
24″ Foam Cone or Wire Tree*
Disco Balls in All Sizes (We got ours here and here in DTLA, but you can get them online here and here!)
Hot Glue Gun
*We made our tree with a four foot tall wire tree because we're all "MORE IS MORE!" but if you're looking to keep your disco tree around season after season, we recommend using a two foot tall cone instead which would allow for easier storage in the off season!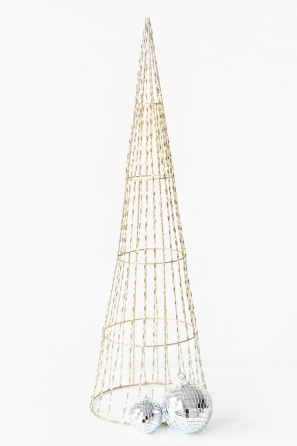 1. There is really one step to this tree and it's hot gluing disco balls to your base! SO easy! Start at the bottom and anchor it with any larger disco balls you purchased. As you work up, you'll want to glue each disco ball to the base AND to the disco ball(s) below it. Work around and around, using the smallest disco balls at the top and as "filler" if there are any gaps in between larger ones.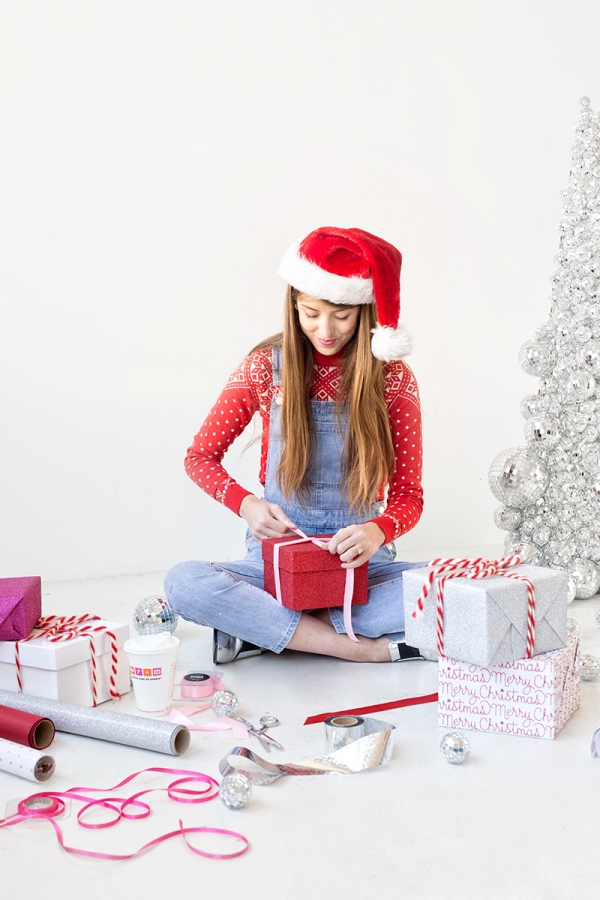 Wanna know what else we have going on here at the studio right now? We're prepping to head out on an exciting pre-holidays work trip, so we're working extra hard (and wrapping presents a plenty!) to get all of our holiday posts done. Gotta keep the festive spirit going here while we're off adventuring! Jeff and I are pretty excited to spend a few days over the holidays in Washington DC with friends and then headed to New Jersey and NYC for the rest of the holiday season! We both grew up going into the city to see the tree, the Radio City Christmas Show, the windows, the lights! New York is pretty magical at Christmas and it's when we miss the East Coast the most, so we're really excited to be headed there this year, and to spend it with family!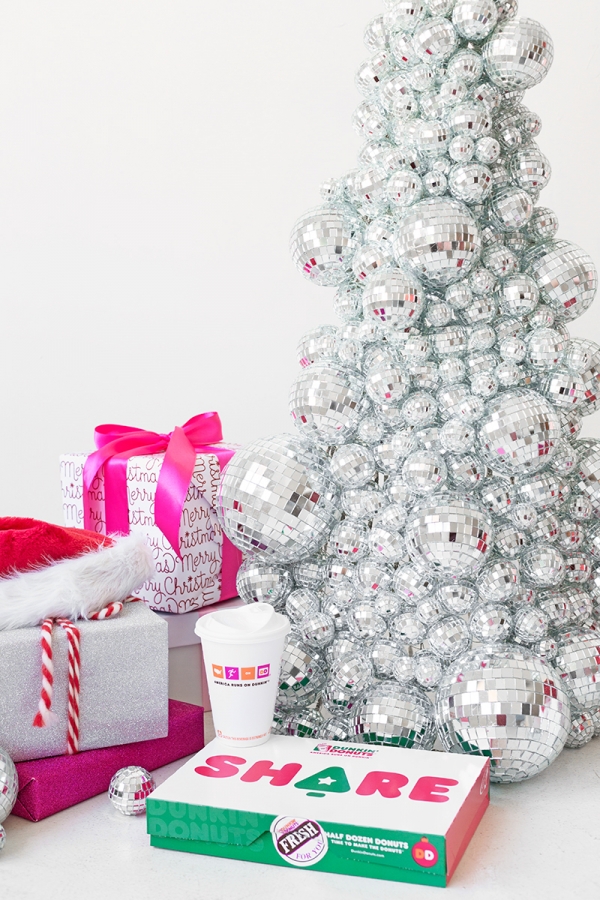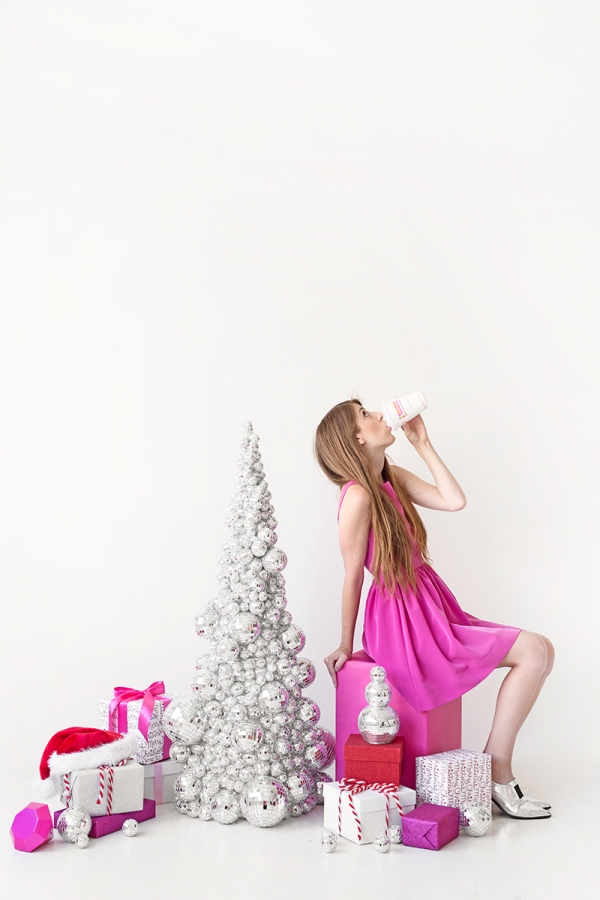 Photos by Jeff Mindell
What are your holiday plans? Do you travel for the holidays or stay home? Or switch it up each year like we do!? Someday, I look forward to hosting Christmas at our home, but for now our pre-Christmas disco ball tree and Dunkin' coffee holiday fuel is just right!
This post was created in partnership with Dunkin' Donuts. All content and opinions are that of my own! Thank you for supporting the sponsors that keep the Studio DIY party going! Read more about my editorial policies here.