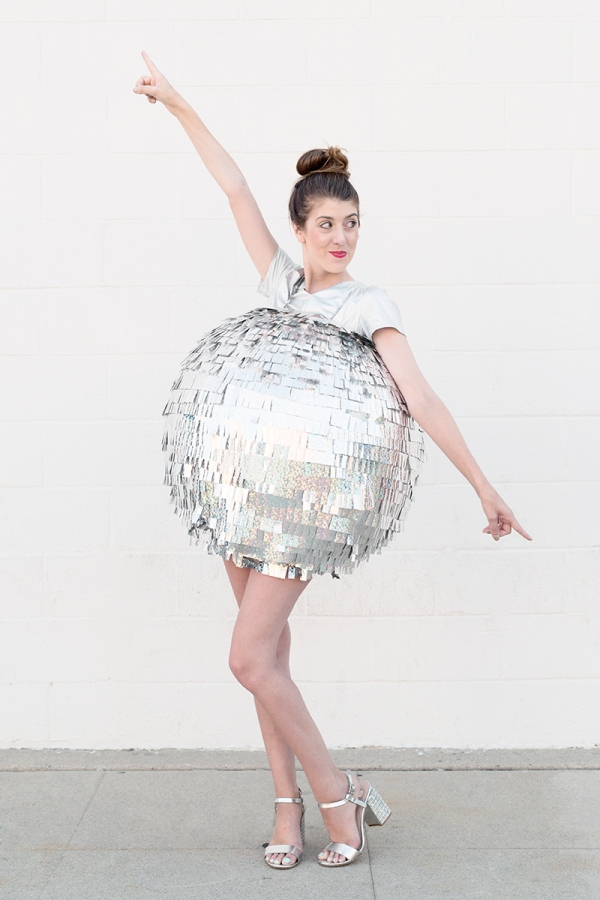 There's been a resounding chorus of "NO THIS ONE IS MY FAVORITE!" between everyone at the studio each time we complete a costume, but this disco ball costume is gunning PRETTY hard for that spot. Now, this guy does involve a little paper mache, so it's one of our more time intensive costumes, but if you could do it in elementary school, you can do it now. And JUST LOOK AT THE RESULTS!!!!!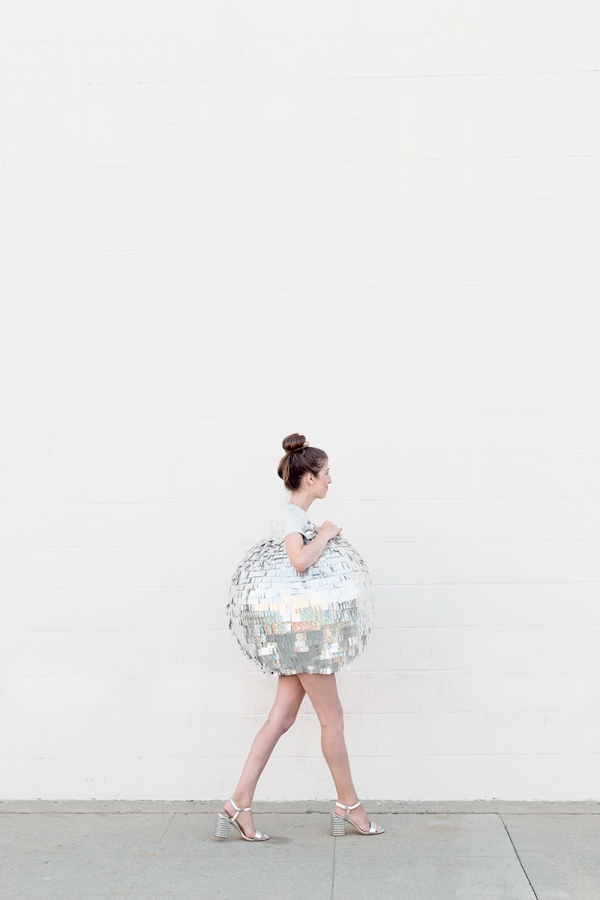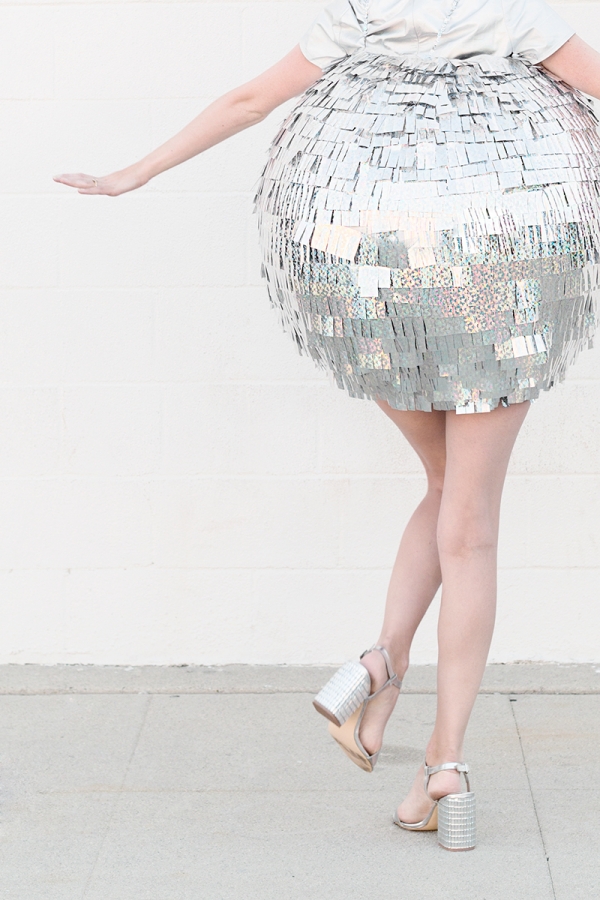 Supplies Needed
36″ Balloon
Newspaper (lots of newspaper!)
Flour and Water (To make paper mache paste)
Holographic Bird Tape/Ribbon (We used 1 1/2 rolls)
Scissors
Scotch Tape
Sequin Trim or Silver Ribbon
Stapler
Silver Top, Shorts (I just wore jean shorts, they don't show!) and Disco Heels!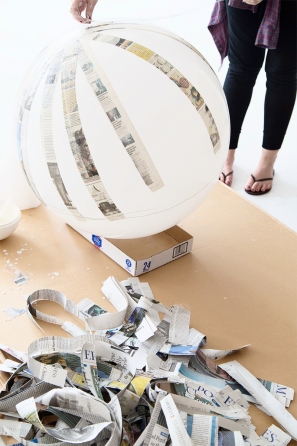 Step by Step Disco Ball Costume Tutorial
1. Make your paper mache paste, using a one to one ratio of water and flour. The paste should be a thick glue like texture. If it's too thick, add a bit more water. Tear the newspaper into long thin strips. Fully inflate a 36″ balloon with air and set it on something like a box to keep it from rolling around. Begin your first layer of paper mache. Dip each strip of newspaper into the paper mache and squeeze off the excess with your fingers, then place on the balloon. Cover the entire balloon in one layer and let dry completely.
2. Repeat three more times so you have four layers total. This is really important so the ball is nice and sturdy for the costume. Once the fourth layer is completely dry, deflate the balloon and you'll be left with the base of your disco ball!
3. You'll need to cut a hole in the top and bottom of the disco ball that is big enough for you to fit through. (I get into it by putting it over my head, FYI!). The bottom hole should be a bit wider since you'll need to be able to move your legs so you can walk (you know, kind of important. ha!).
4. Cut long strips of the holographic ribbon and fringe one side of each. Then, starting at the bottom of your disco ball, tape a row of fringe on. I find just using small pieces of regular tape to secure the strips every couple inches is the best way to do this. Continue taping rows of fringe on all the way up the disco ball, spacing them each about 1/2″ apart, until it's completely covered.
5. Lastly, you need to add straps to the costume. Have someone help you measure the right strap length while you're wearing the costume, then staple, hot glue or duct tape the straps to the inside of the costume. Wear with a silver shirt and shorts (they won't show) underneath, and some disco heels obviously!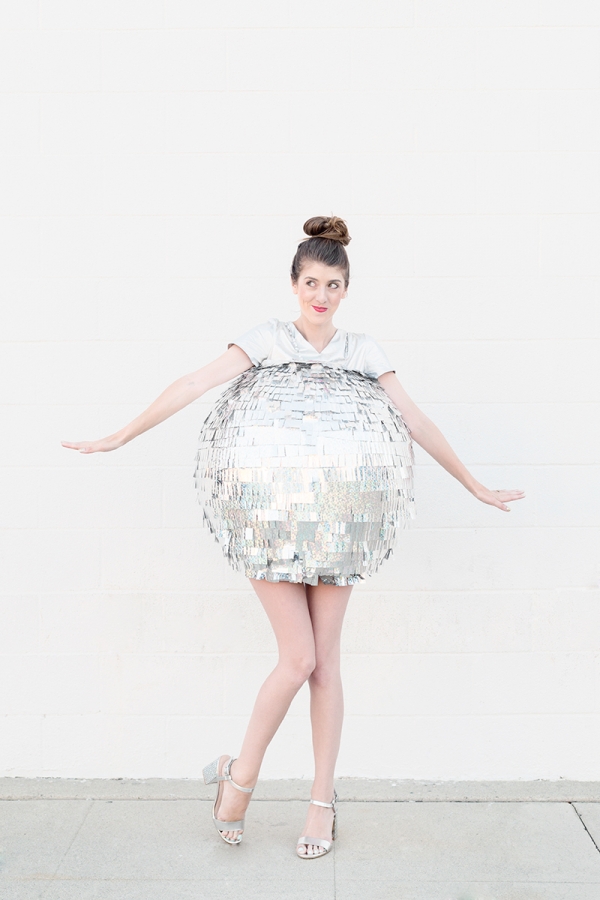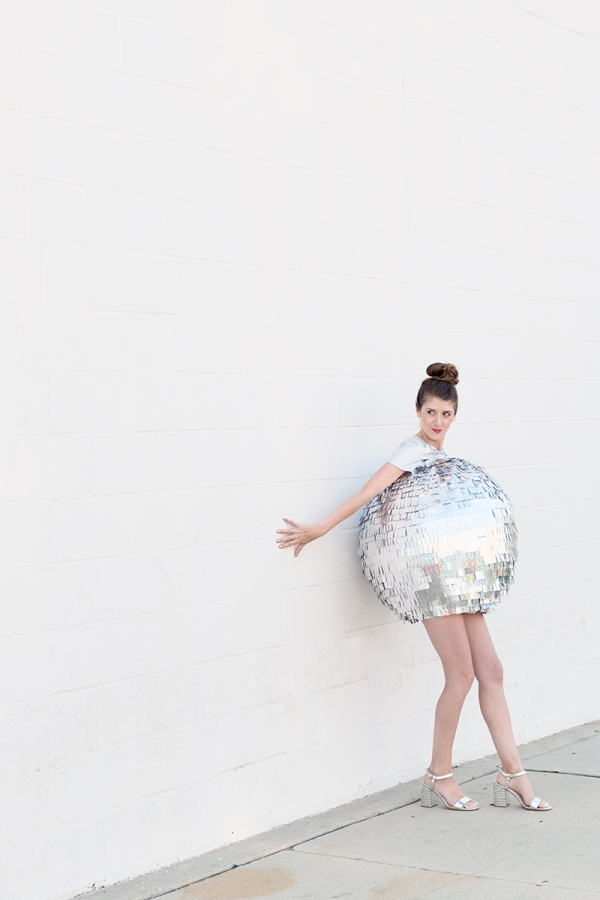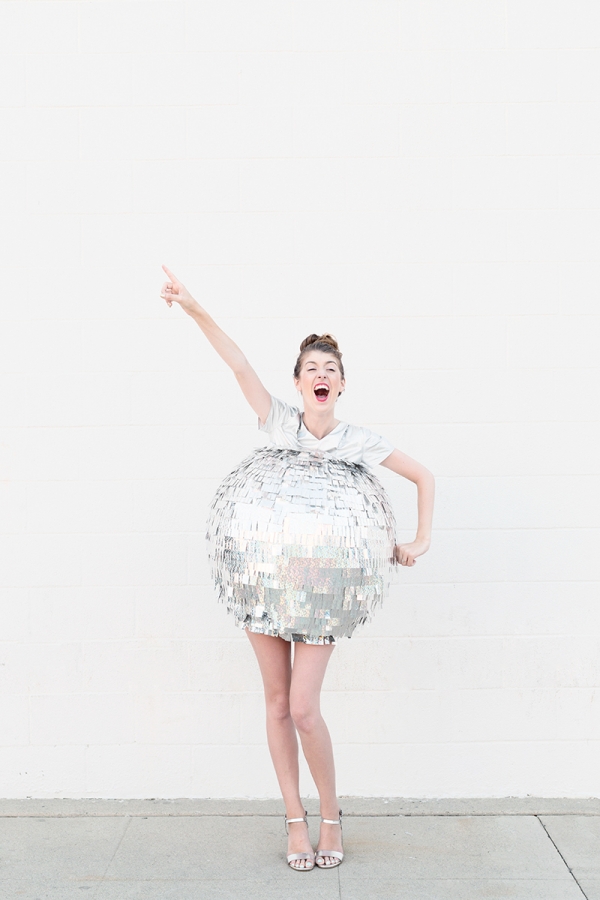 Photos by Jeff Mindell
Time to disco dance all the way from Halloween to New Year's you guys!!!!!
If you make a Studio DIY costume, share it on Instagram with #studiodiyincostume for a chance to be featured!!