Summer birthdays often mean throwing a pool birthday party so everyone can have fun and stay cool! Luckily, a pool instantly makes for a great party but these ideas will help you take it to the next level.
Keep reading for the best balloons for a pool party, what to serve for food and drink and what activities to do if you want a break from the heat! The good news is, these are all quite easy ways to help you make your swim bash even more epic.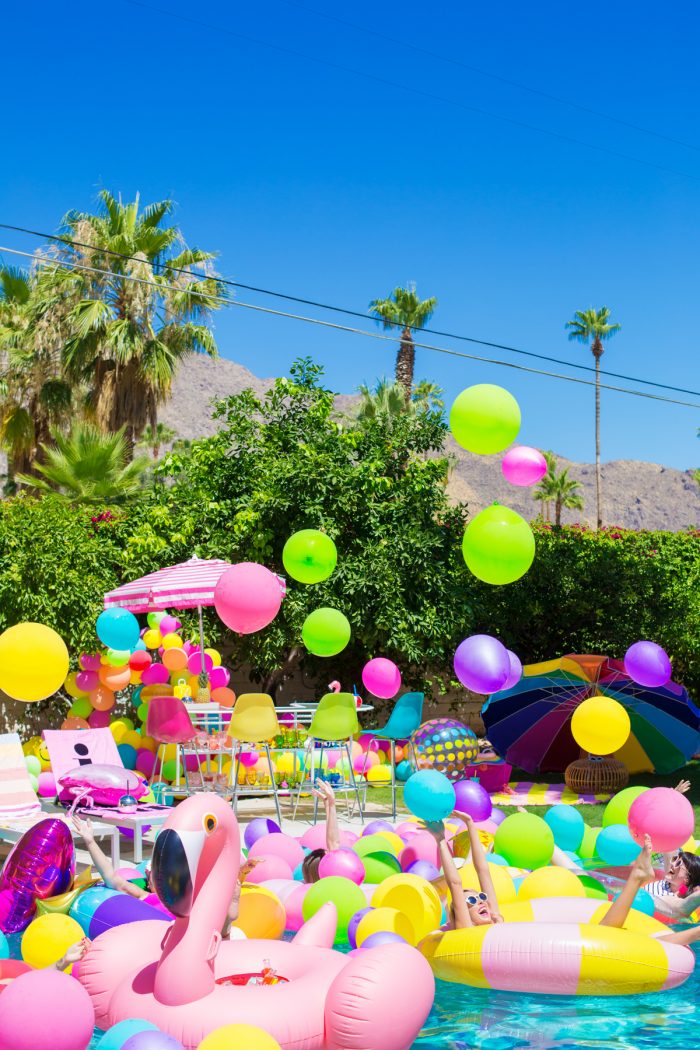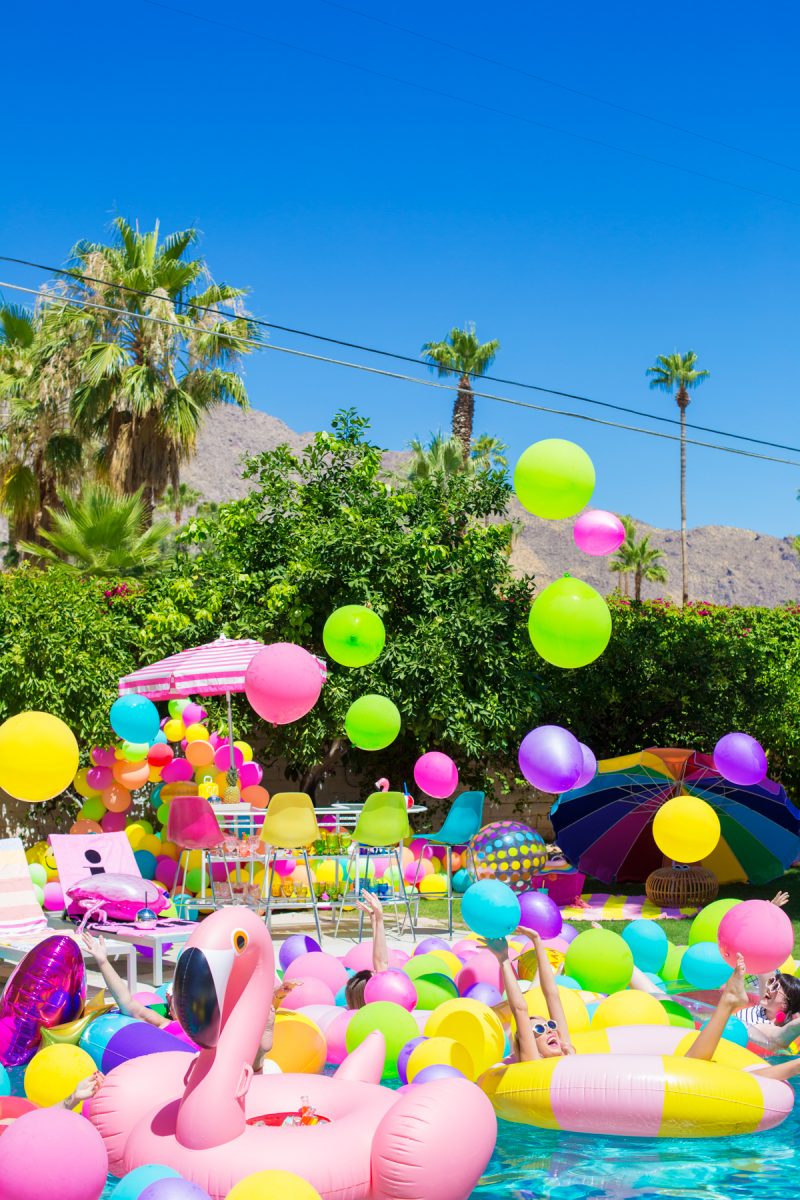 The Best Balloons for a Pool Birthday Party
My number one party tip is focus on one big "statement" item. In this case, it's going to be the pool! Balloons are a way to make a huge, but budget friendly, impact at your birthday pool party becuase you can float them in the pool! Alongside pool floats, they add so much color and that festive spirit.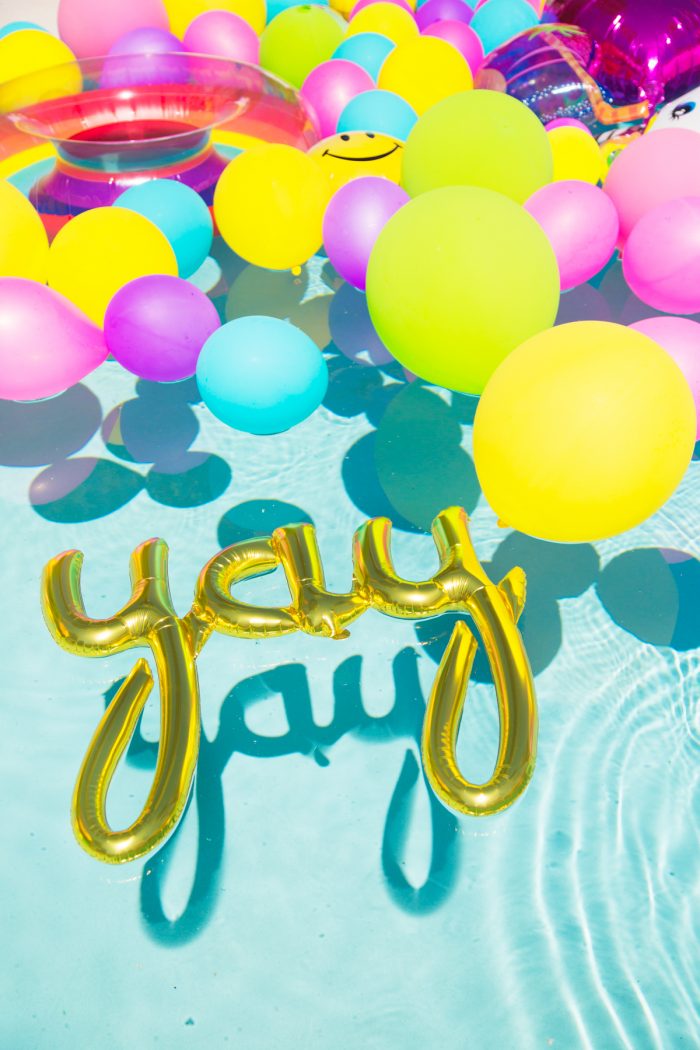 A couple packs of bright latex balloons make a HUGE impact. Here's a list of pool party balloons to consider: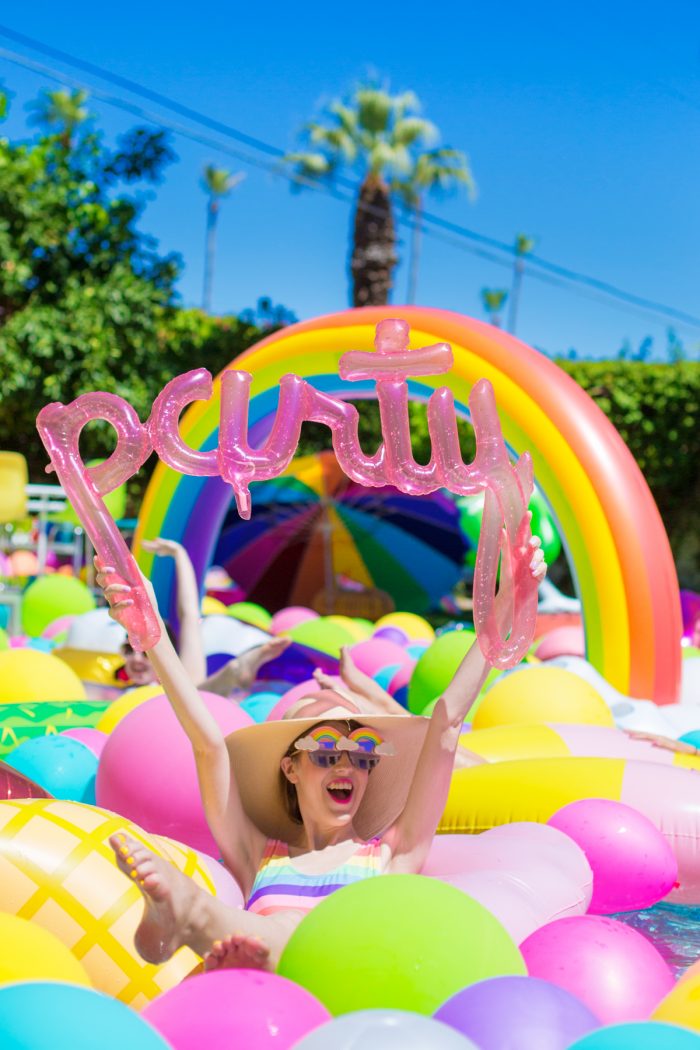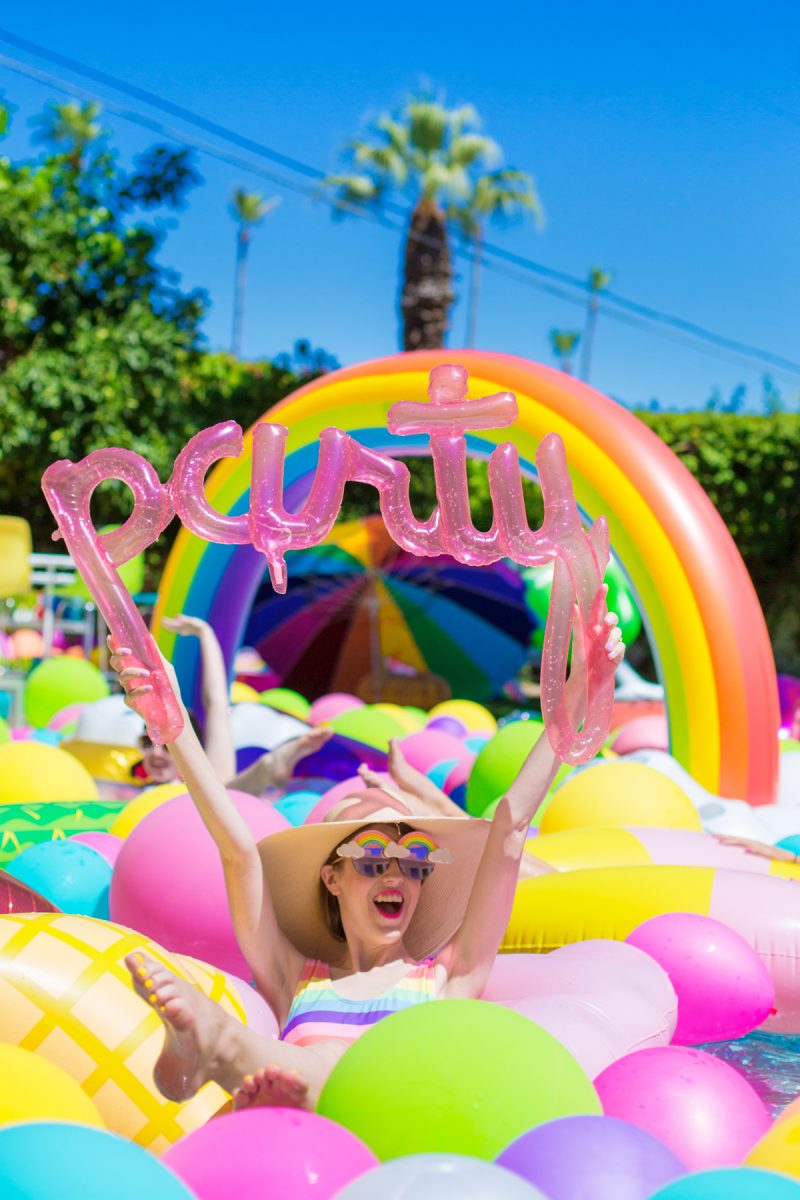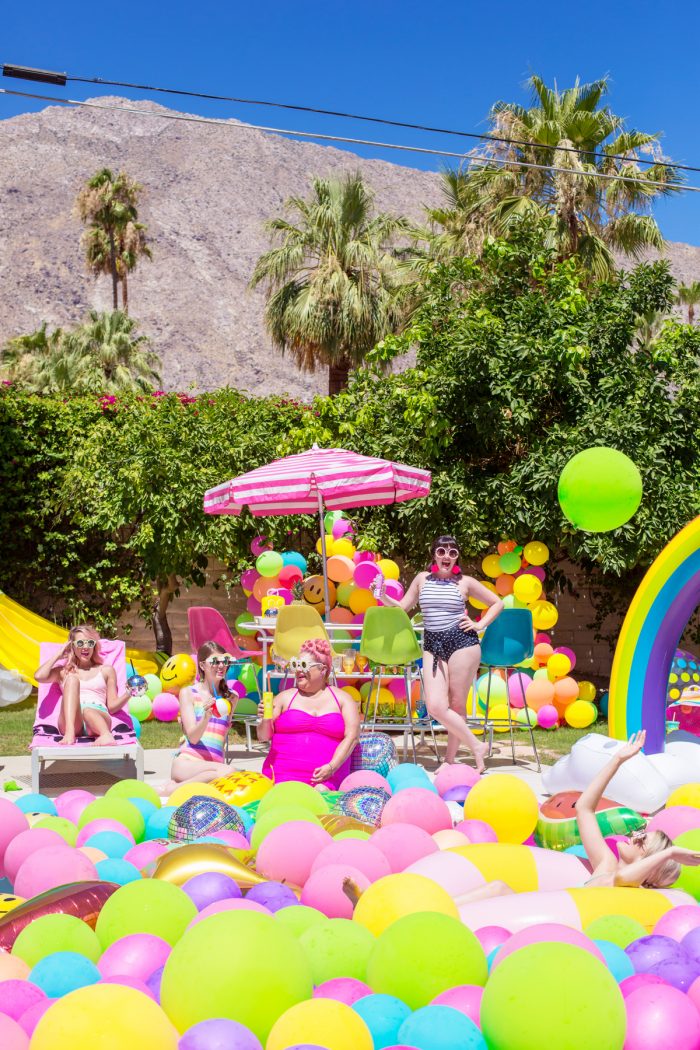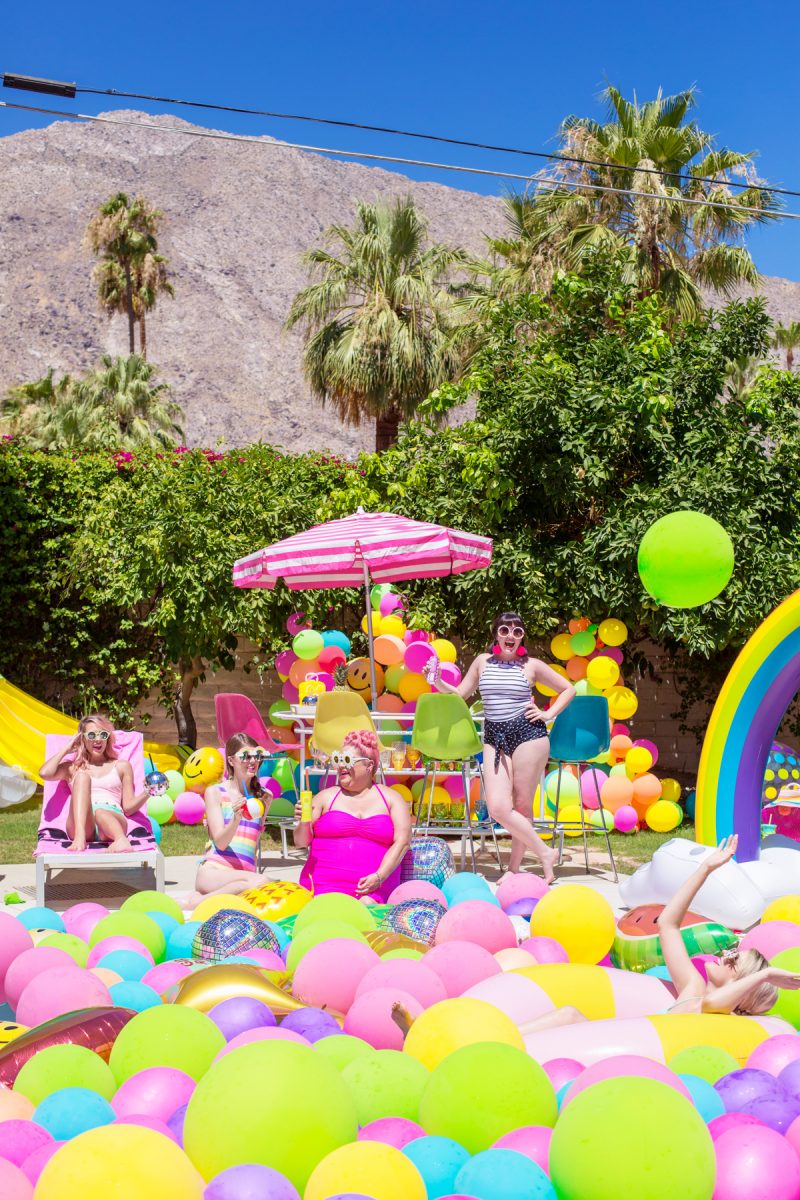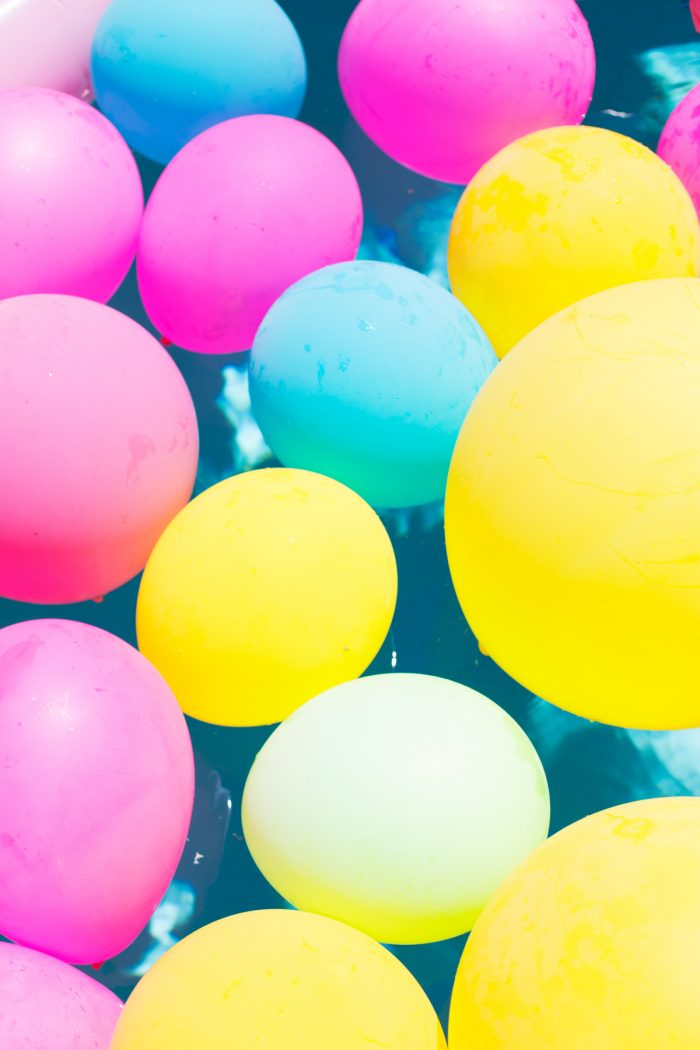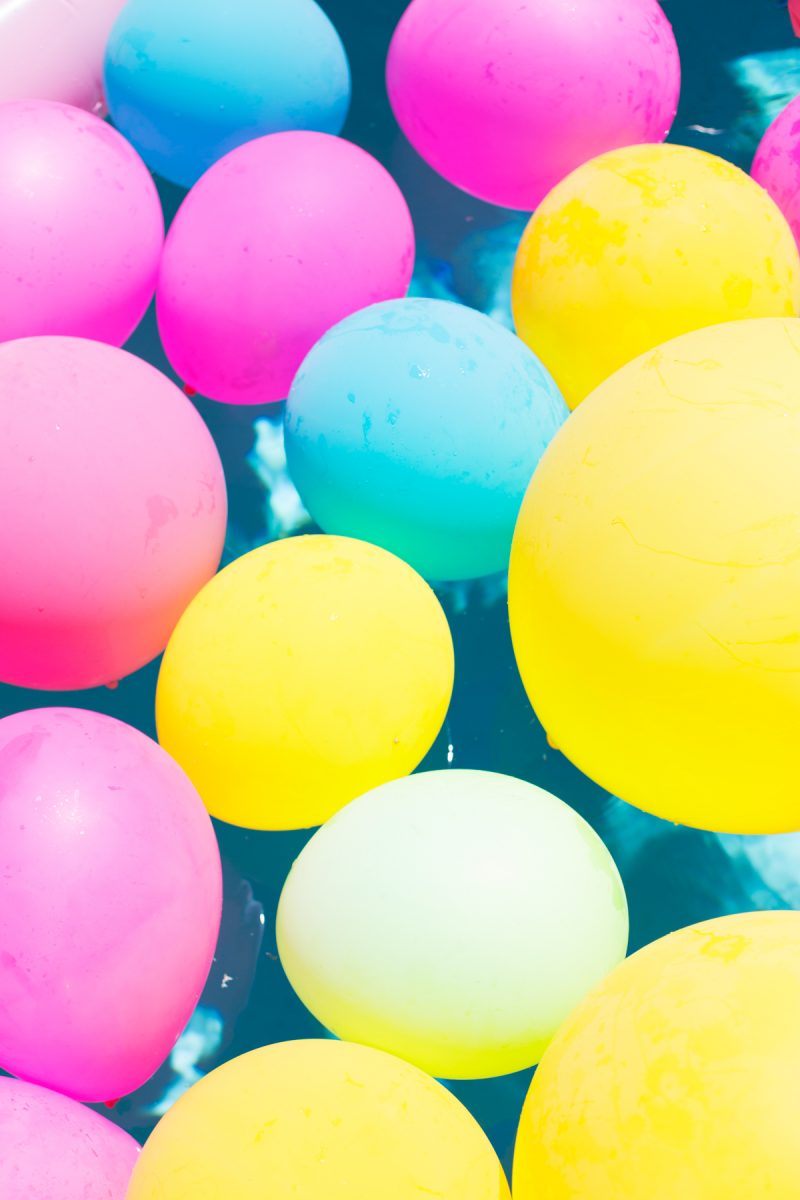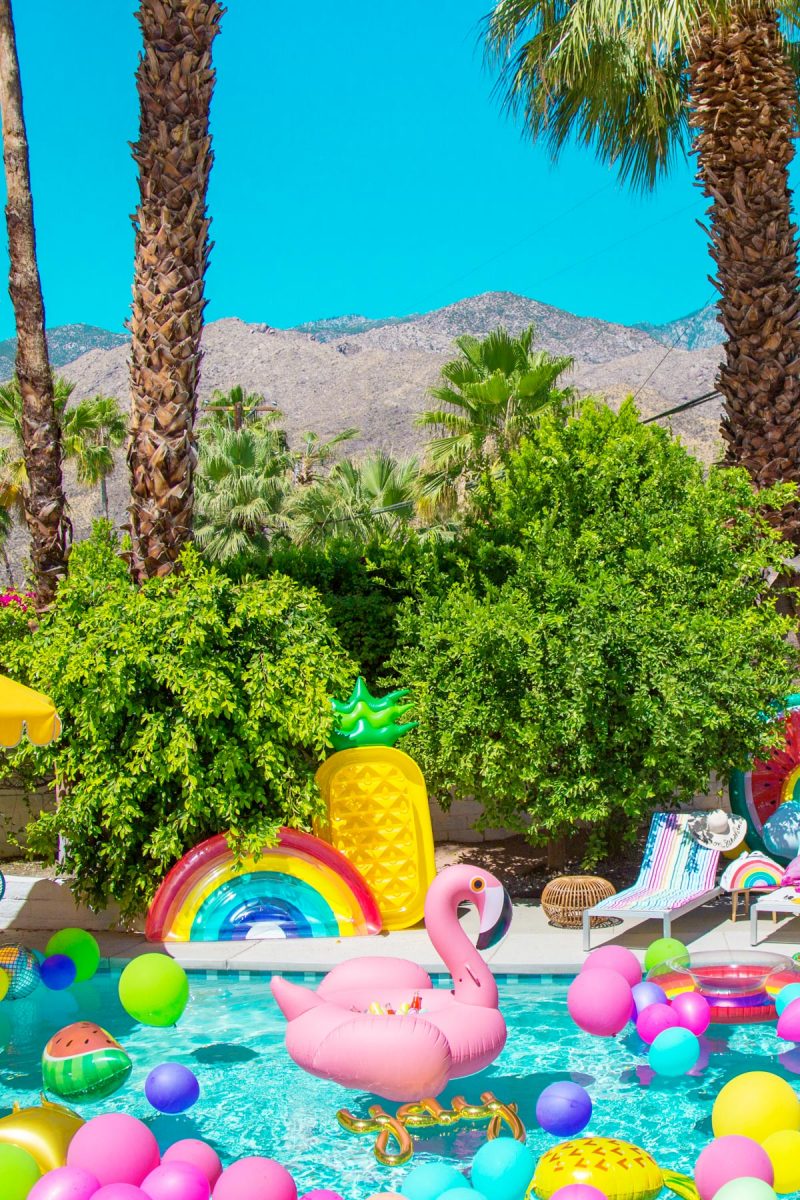 Birthday Party Pool Floats
No pool party is complete without some fun pool floats! Provide some festive pool floats for guests to float around on, or invite them to bring a favorite of their own!
Did you know you can even turn a pool float into a floating cooler? That way, nobody has to even get out of the pool to grab a refreshing drink.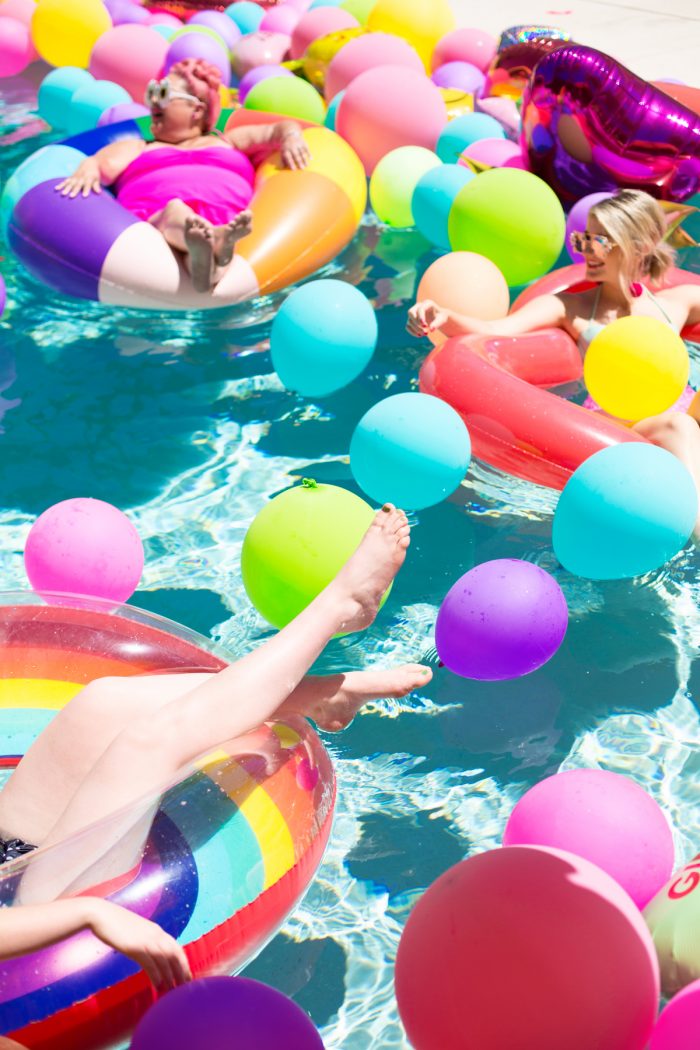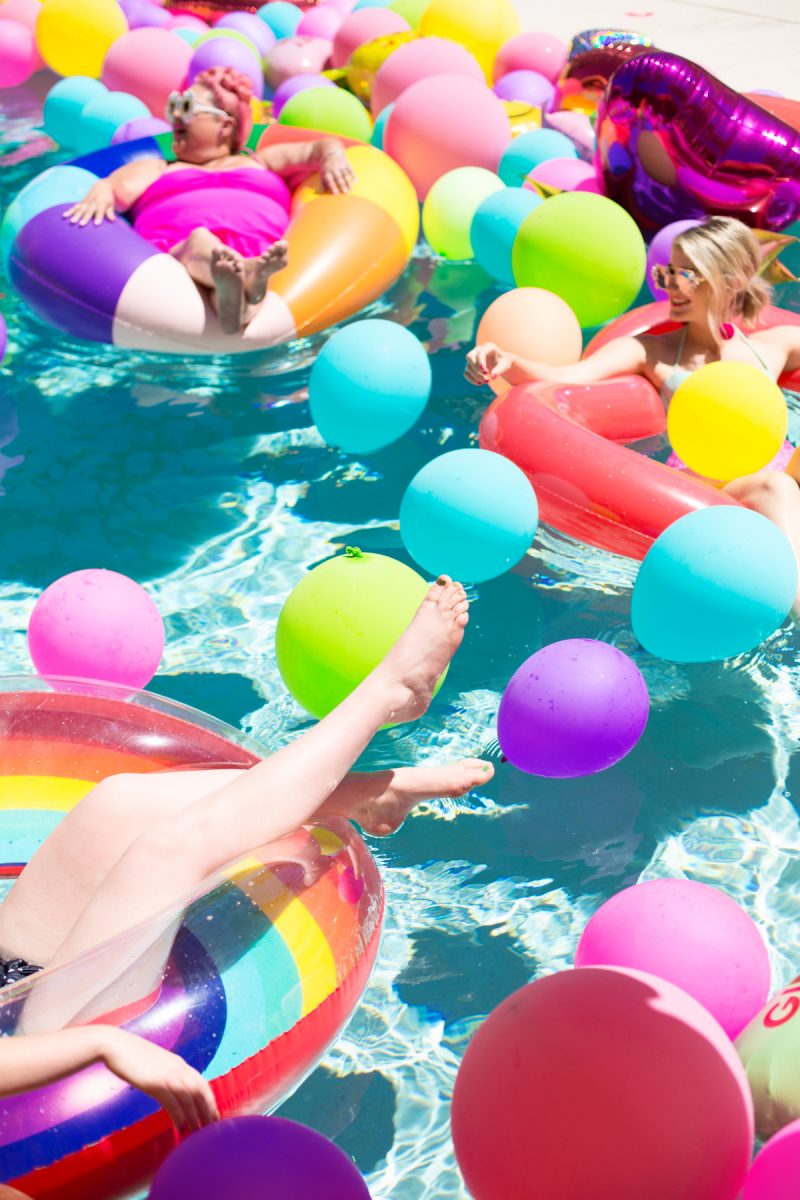 These pool floats are great for your party, and any beach or pool days long after, too!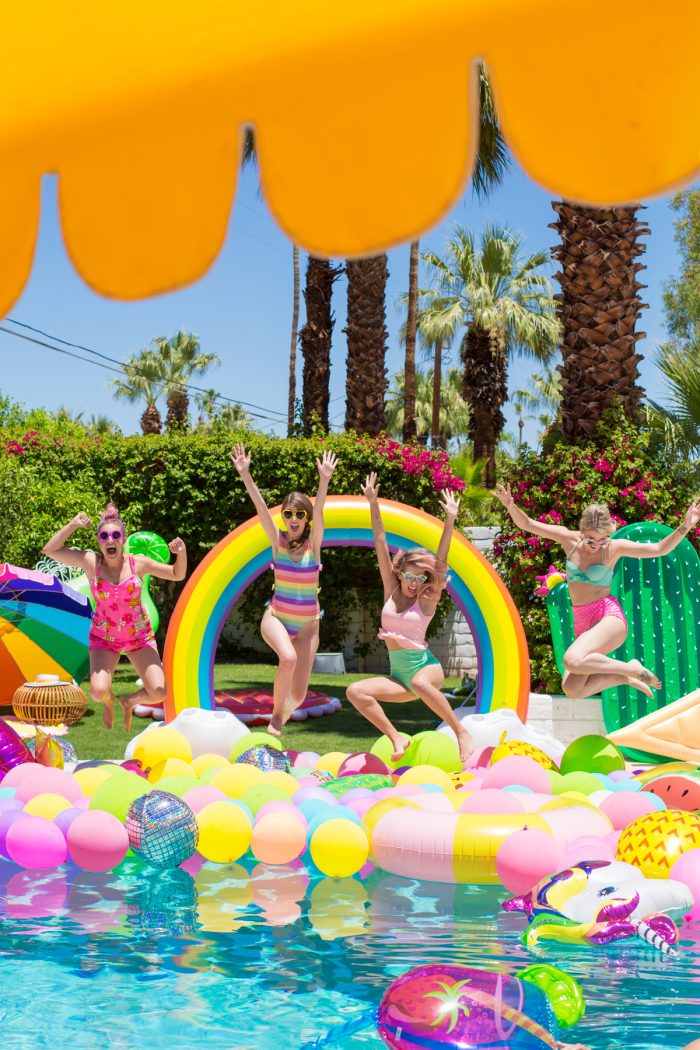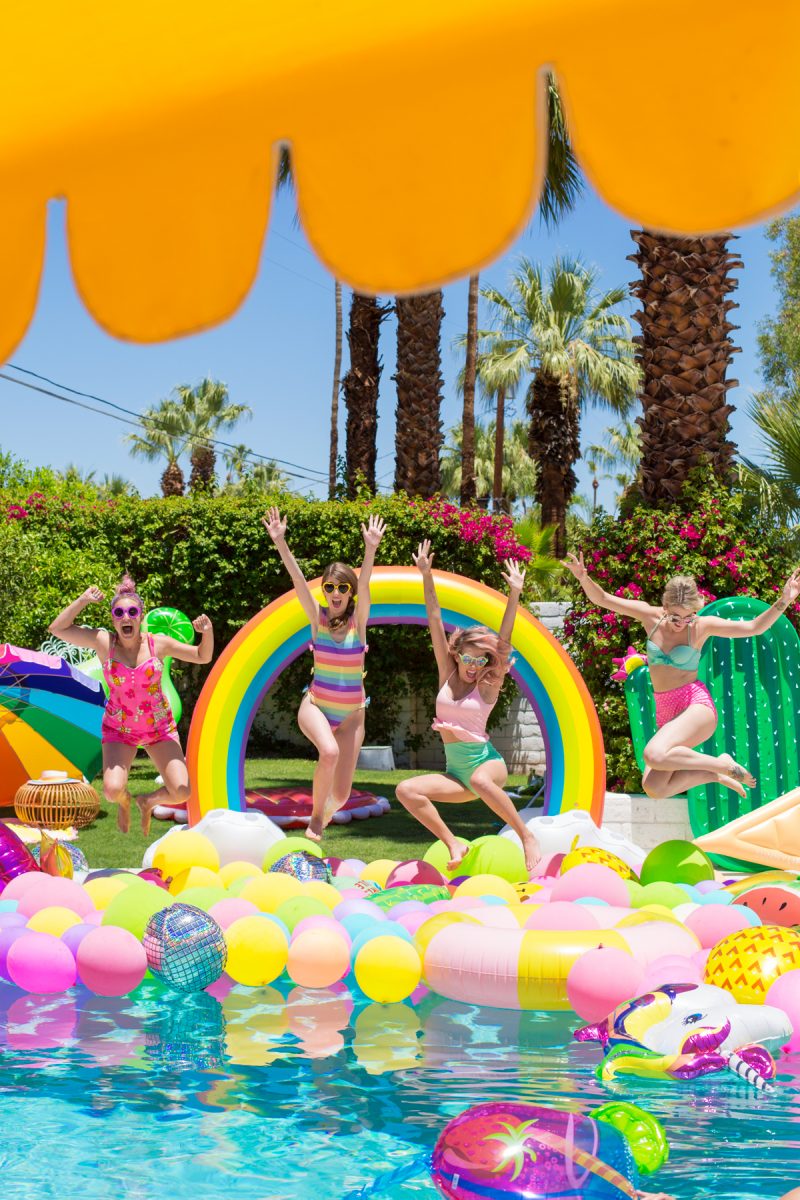 An inflatable rainbow sprinkler makes a really fun backdrop for birthday photos placed next to the pool, too!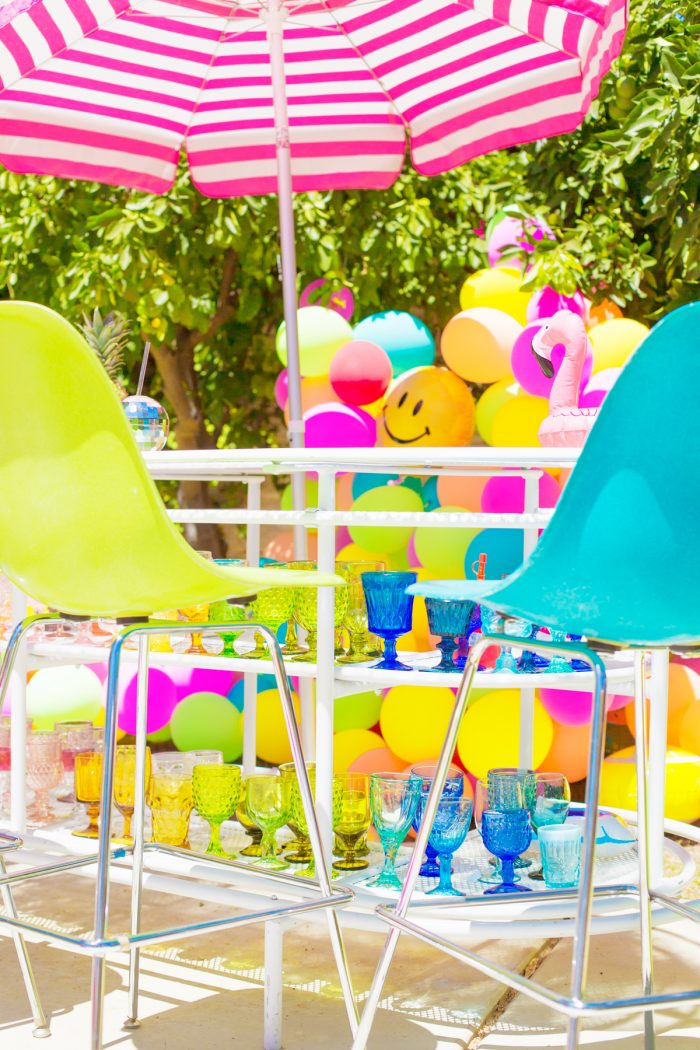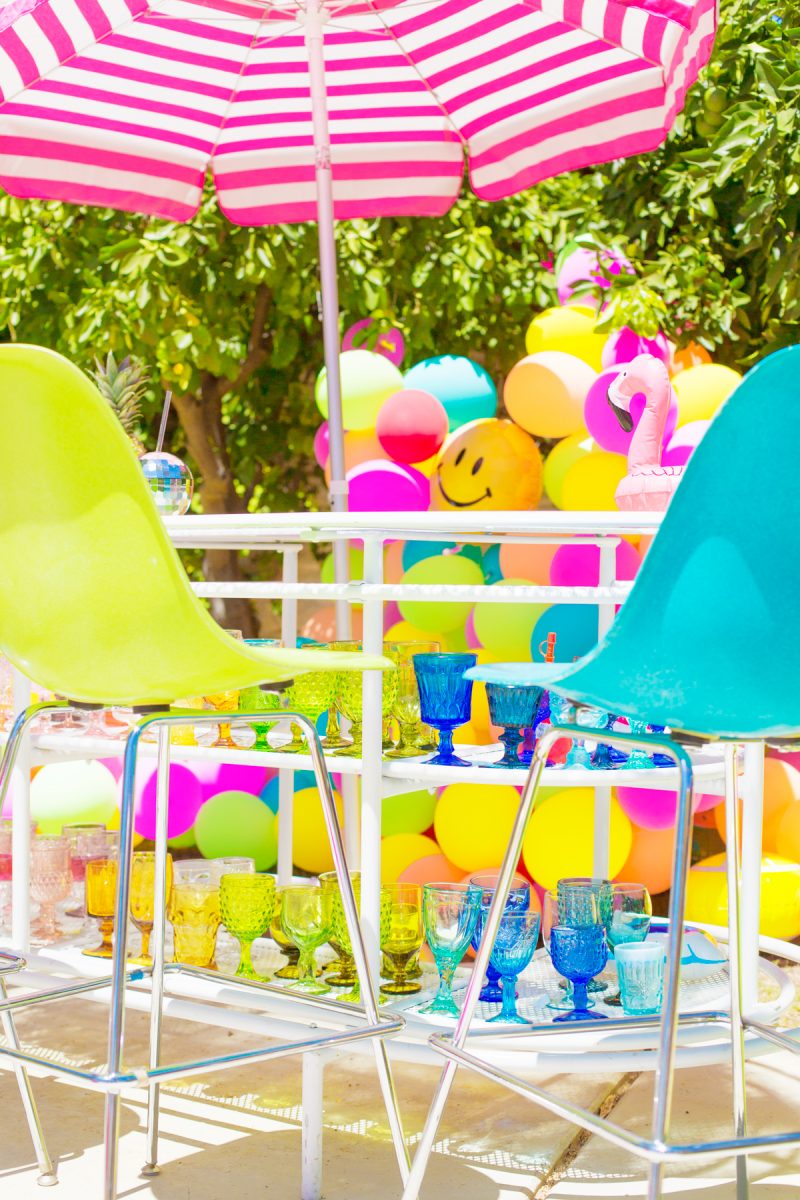 Pool Birthday Party Desserts & Drinks
I always recommend keeping food simple: order in pizza or fire up the BBQ. If you'd like make your own fun burger wrappers! Then, have a lot of fun with some refreshing cold treats for dessert!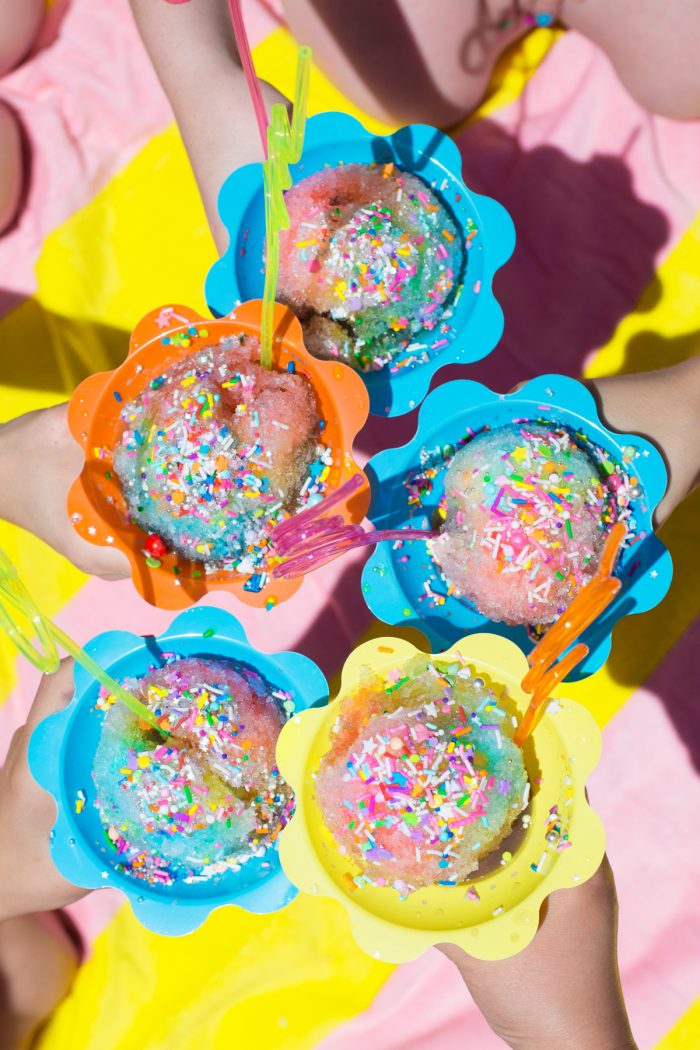 Consider having a snow cone bar! A snow cone machine is something you'll use every summer for years to come, so it's a great investment.
Then, offer a few different colors or flavors, and a variety of fun sprinkles.
Serve them in these colorful snow cone cups with cute swirly straws! Here's our recipe for rainbow snow cones!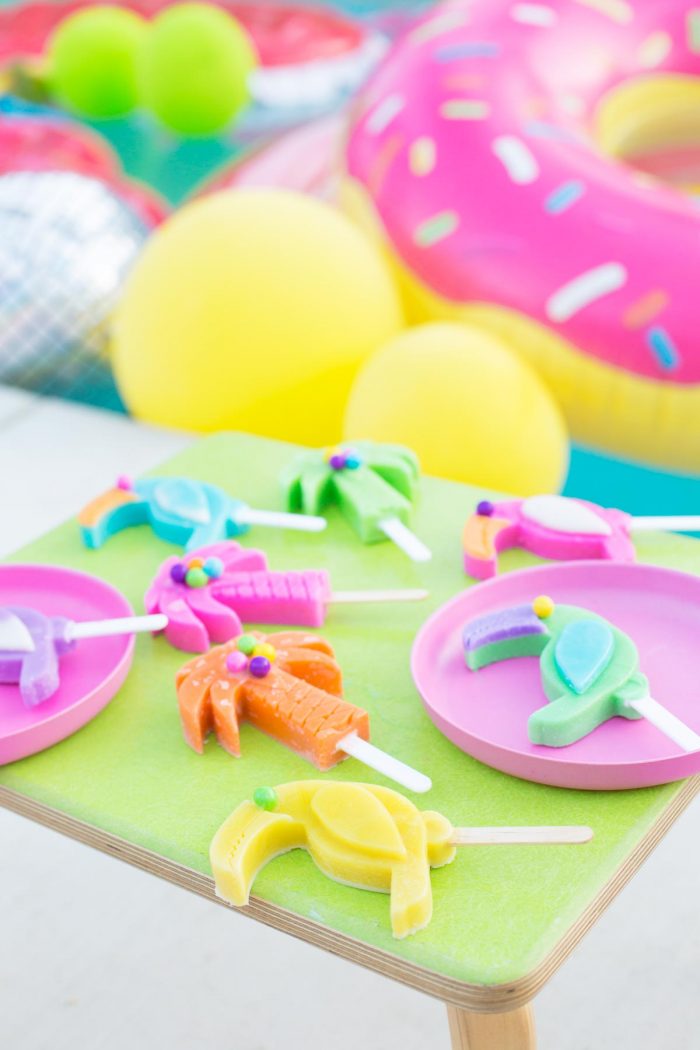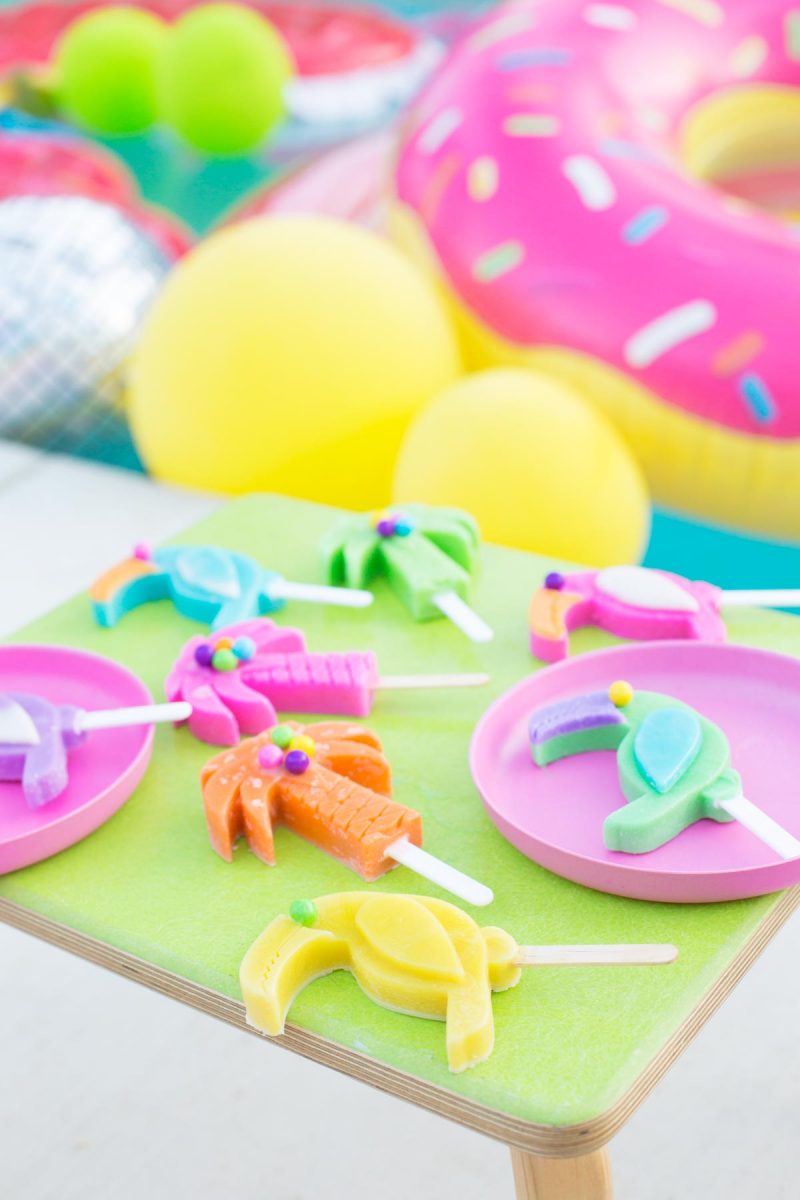 Gumball popsicles are so nostalgic! Did you know you can make your own? Get the recipe and gumball popsicle tutorial right here.
If you'd still like to have a classic birthday "cake" try making this cake that looks like a popsicle, a La Croix cake or cabana stripe cake to stay on theme!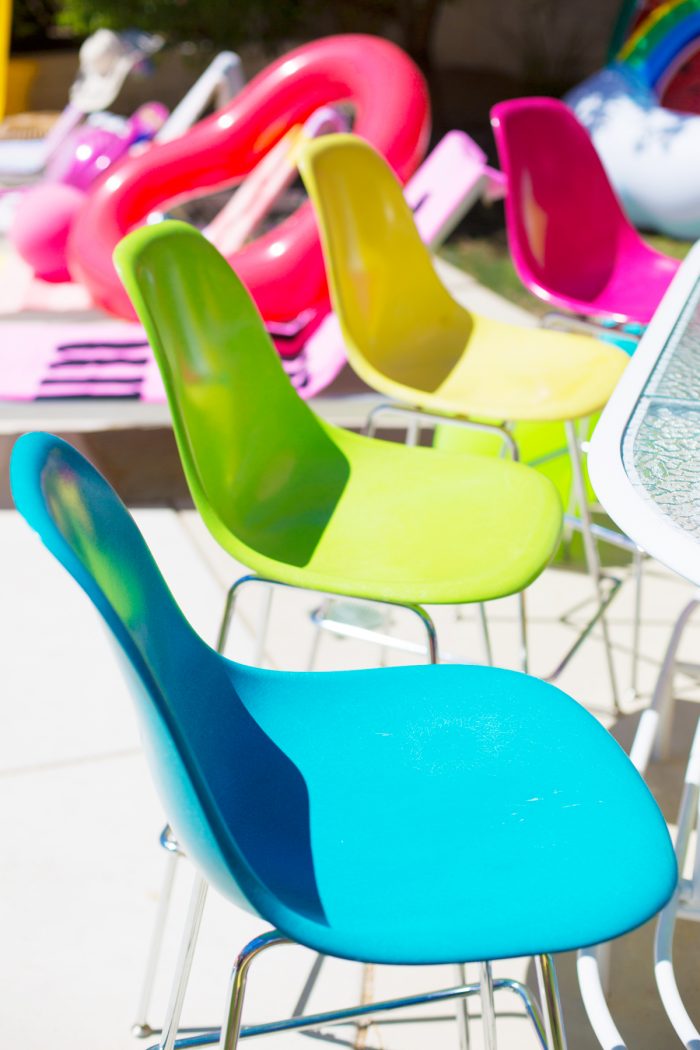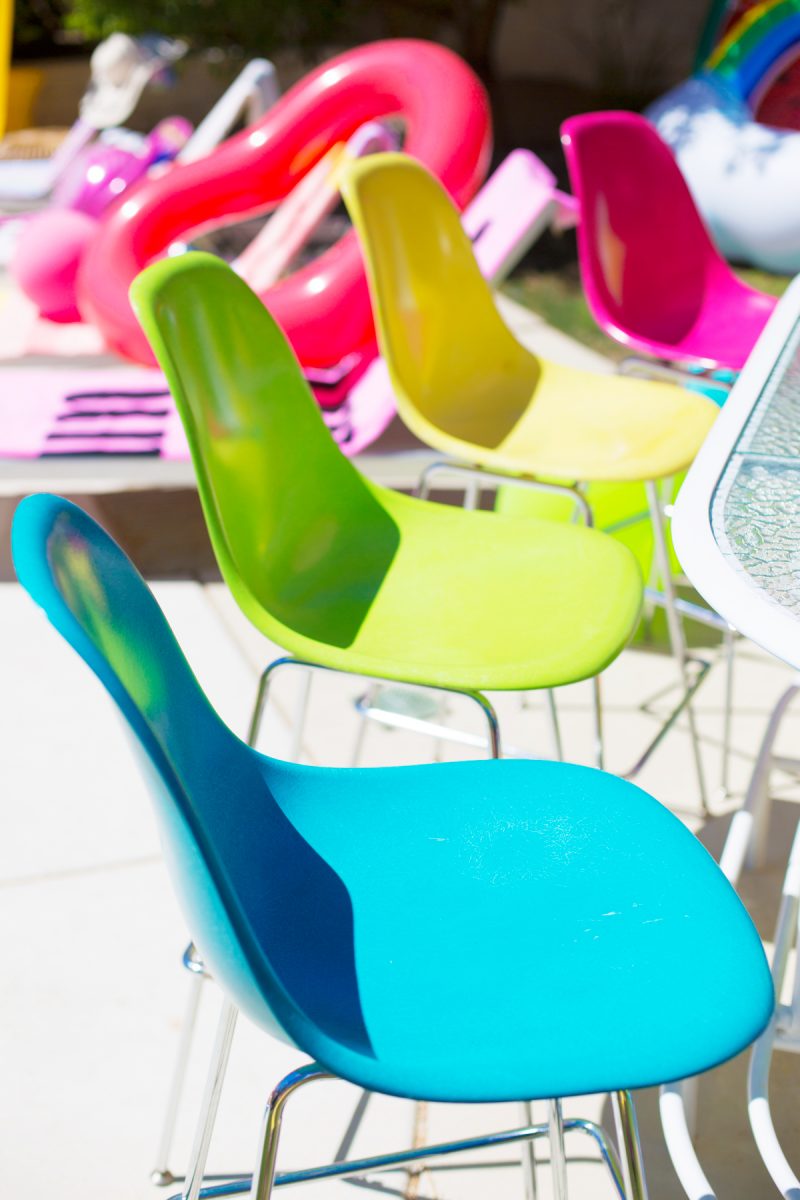 If it's an adult birthday party, serve up some frosé juice pouches at the bar, too!
Poolside Birthday Activities
From the perfect pool birthday party playlist to fun projects to try when you need a break from the sun, check out these poolside birthday activities and ideas!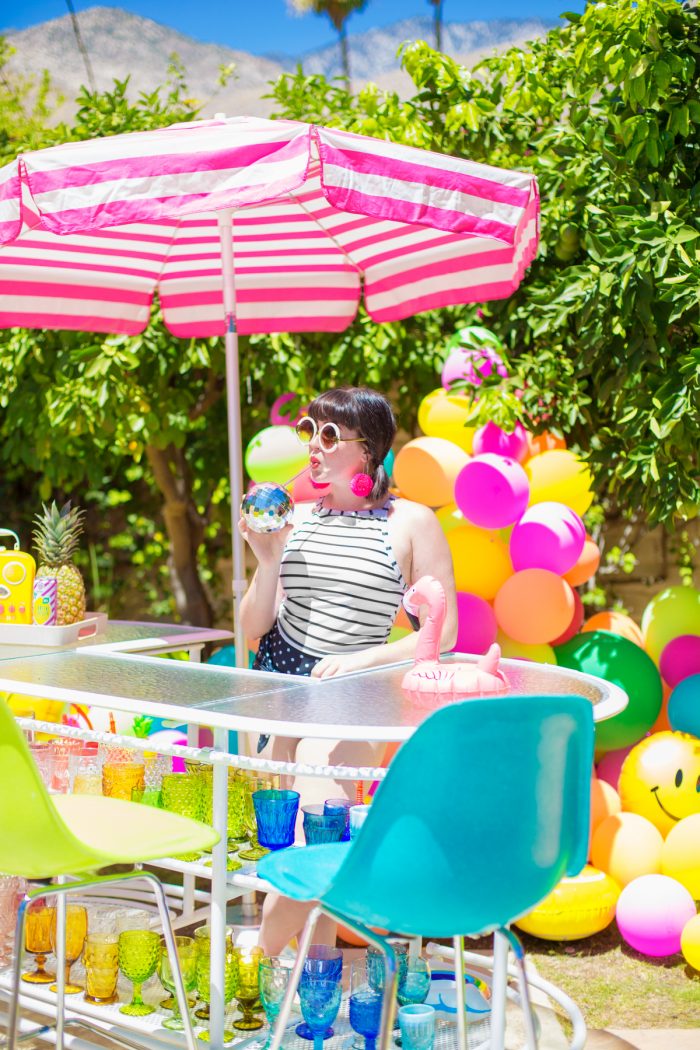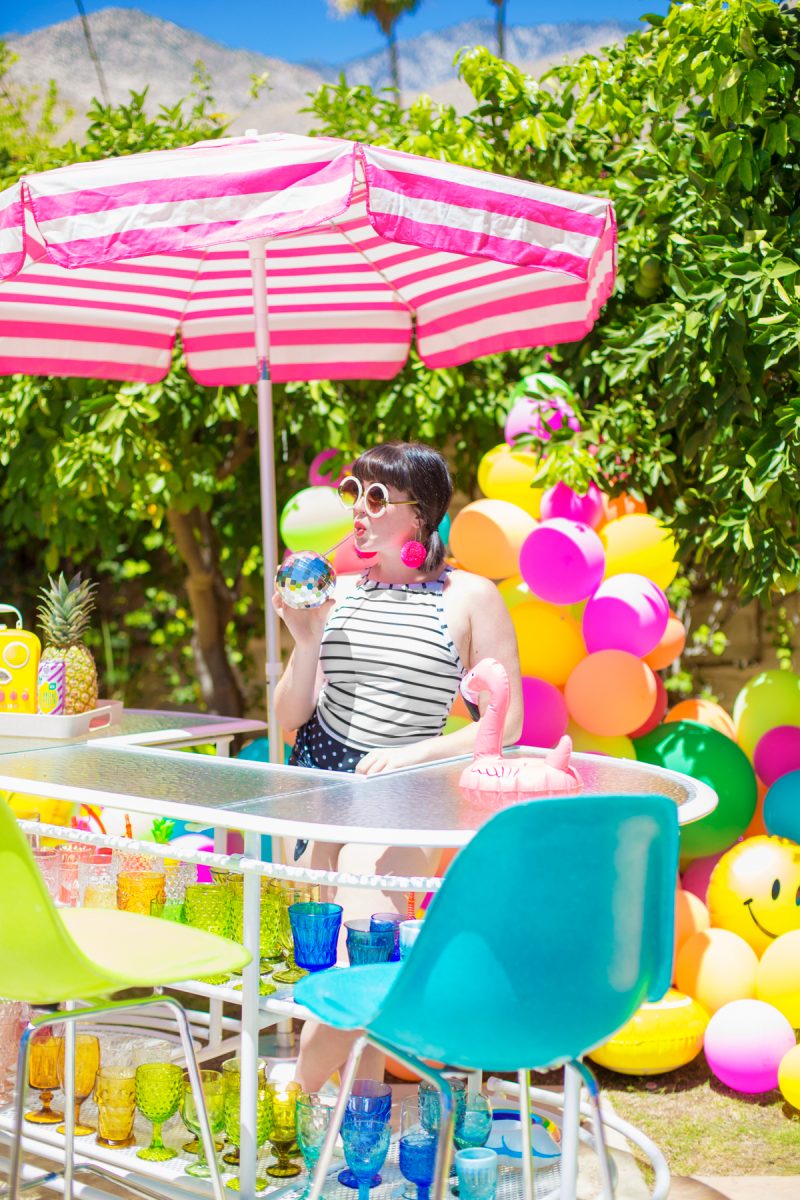 Music is essential for an outdoor pool party! We've created the most epic pool party playlist.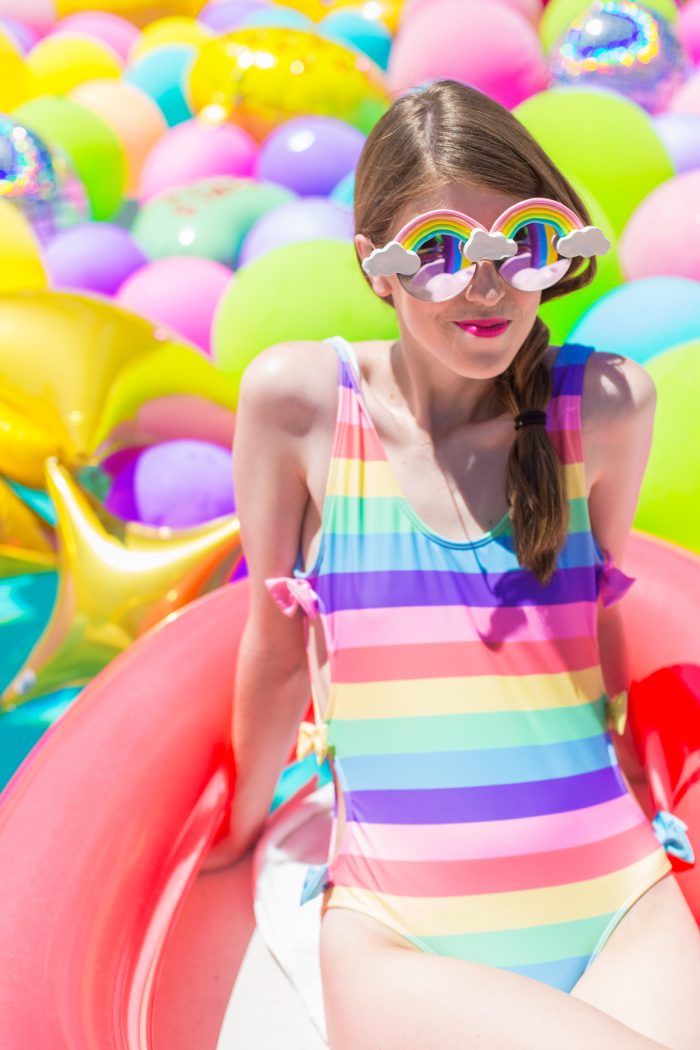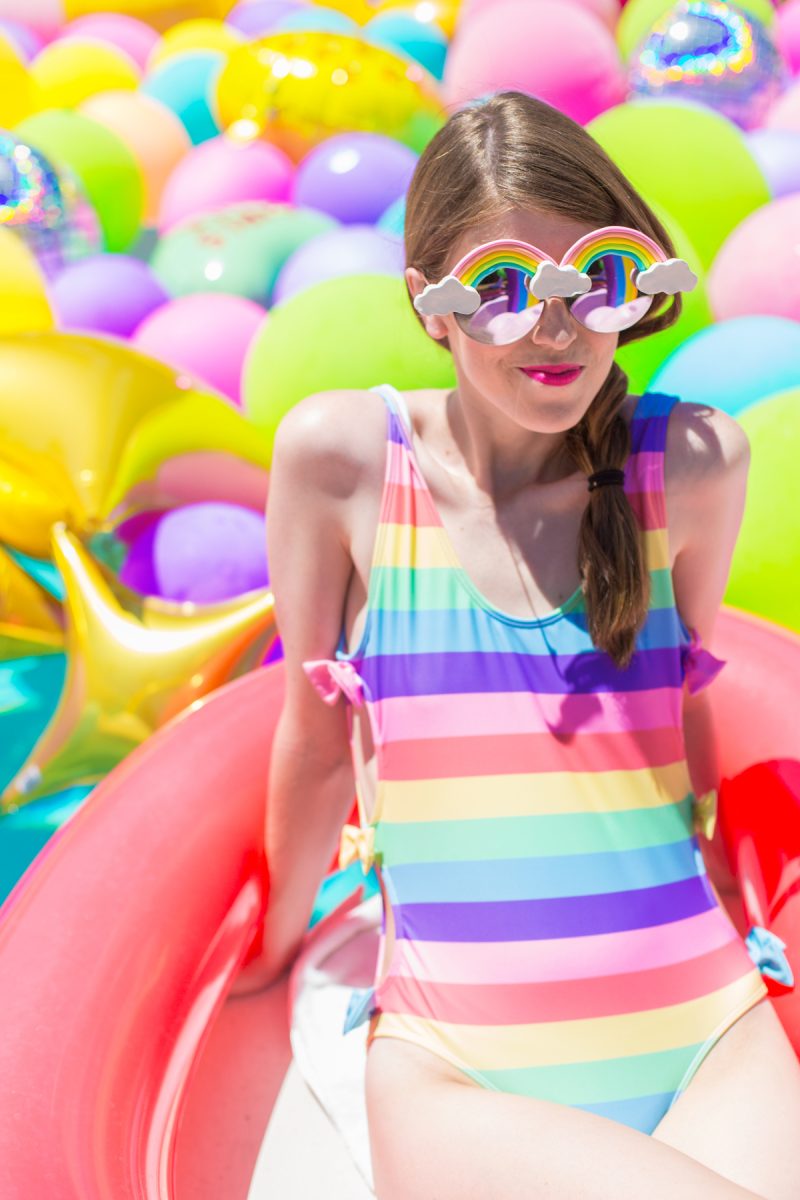 If you're looking for an unexpected activity, try a DIY sunglasses station! Guests can escape the heat and decorate some sunnies. Here's our tutorials for rainbow sunglasses, watermelon sunglasses and donut sunglasses.
You could also do a friendship bracelet station. Friendship bracelets feel like so nostalgic in the summer!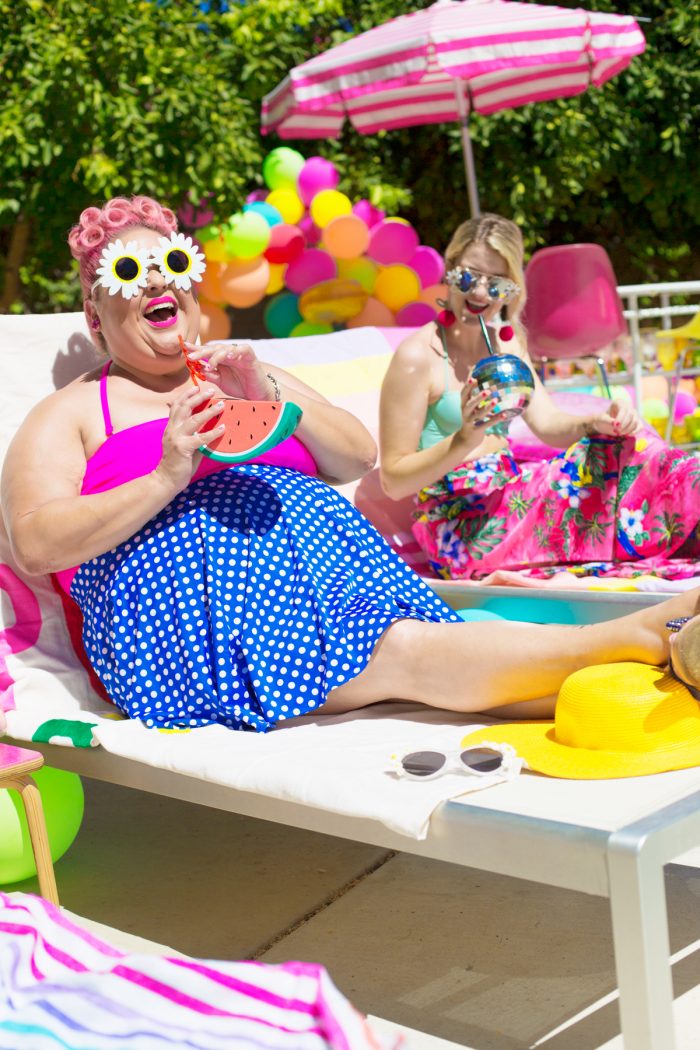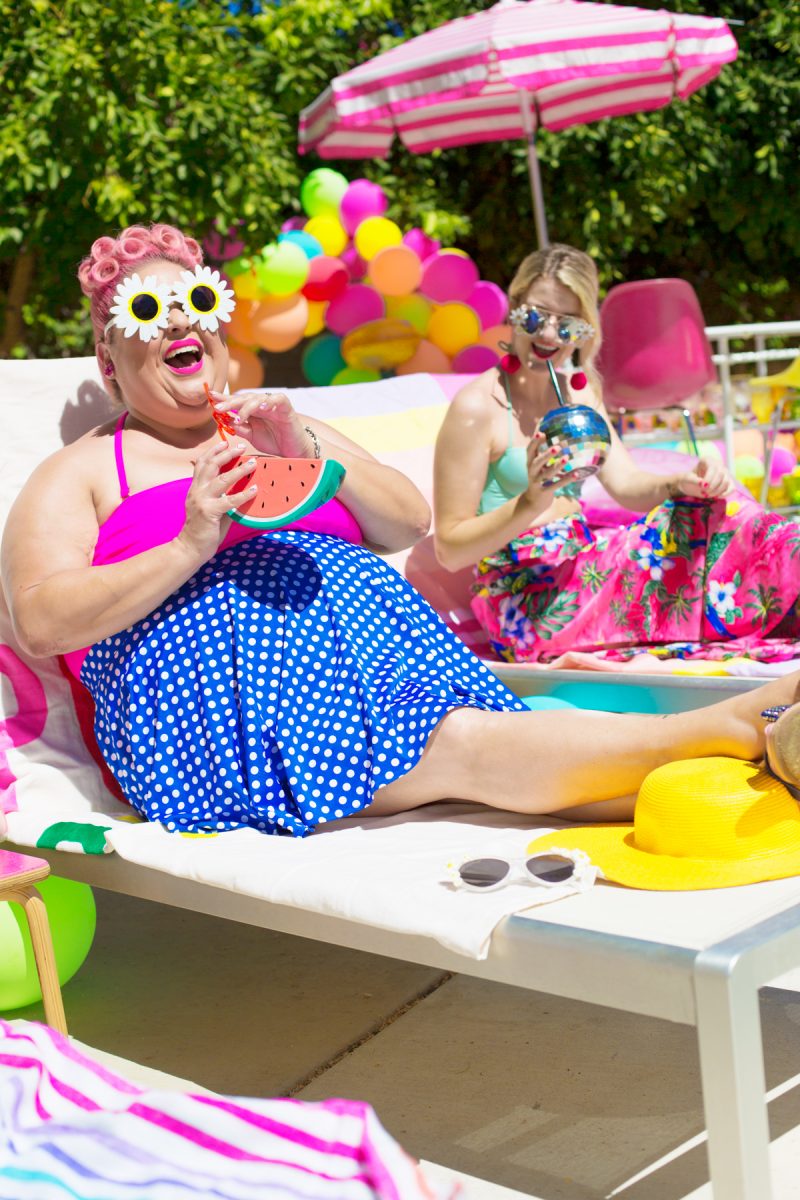 Find some budget-friendly straw hats and decorate them with craft paint! You can turn the hat into a watermelon hat, donut hat or cactus hat, or even just a fun rainbow striped option!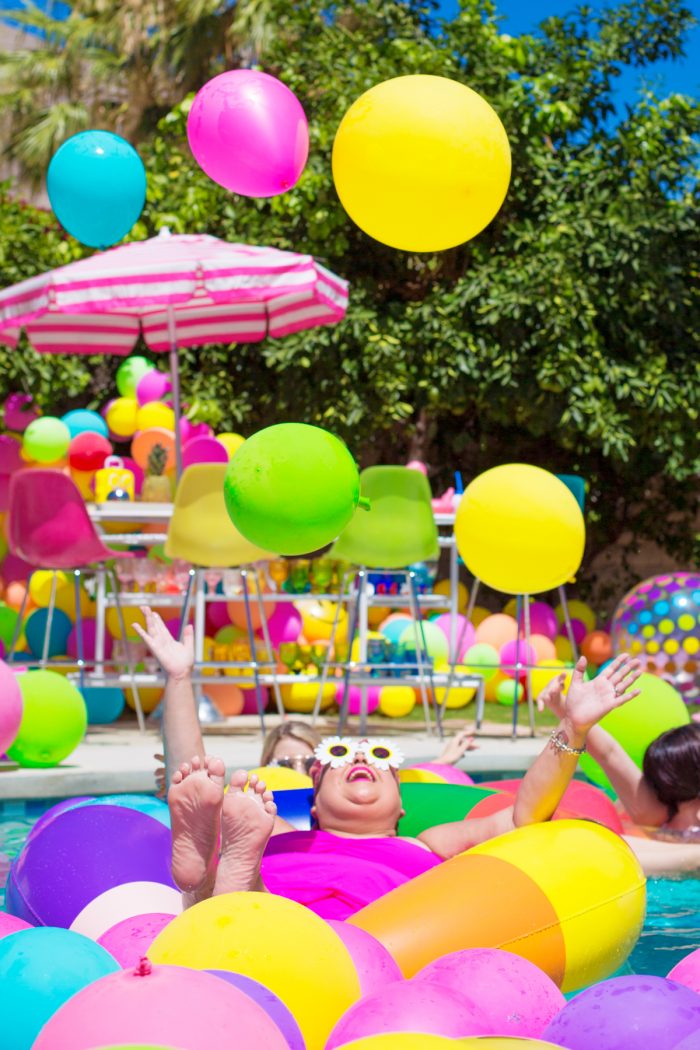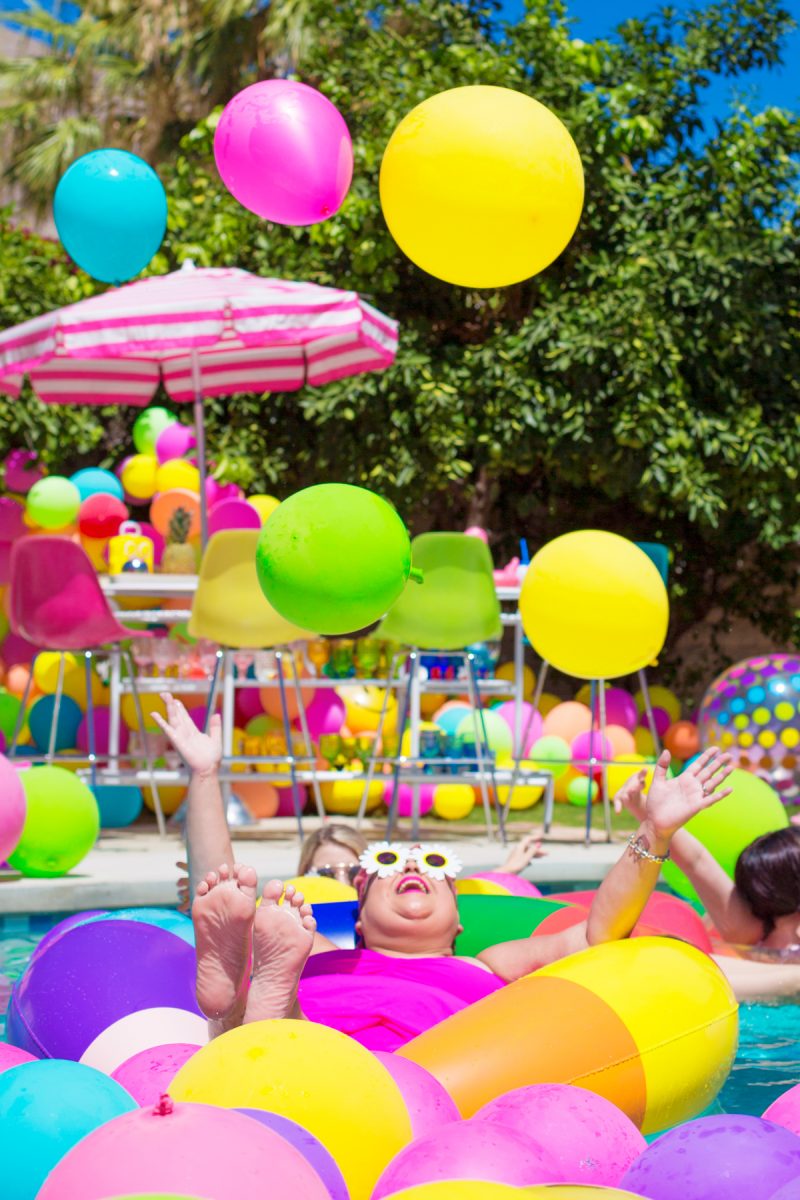 Have a balloon volleyball match in the pool! How long can you keep it in the air for?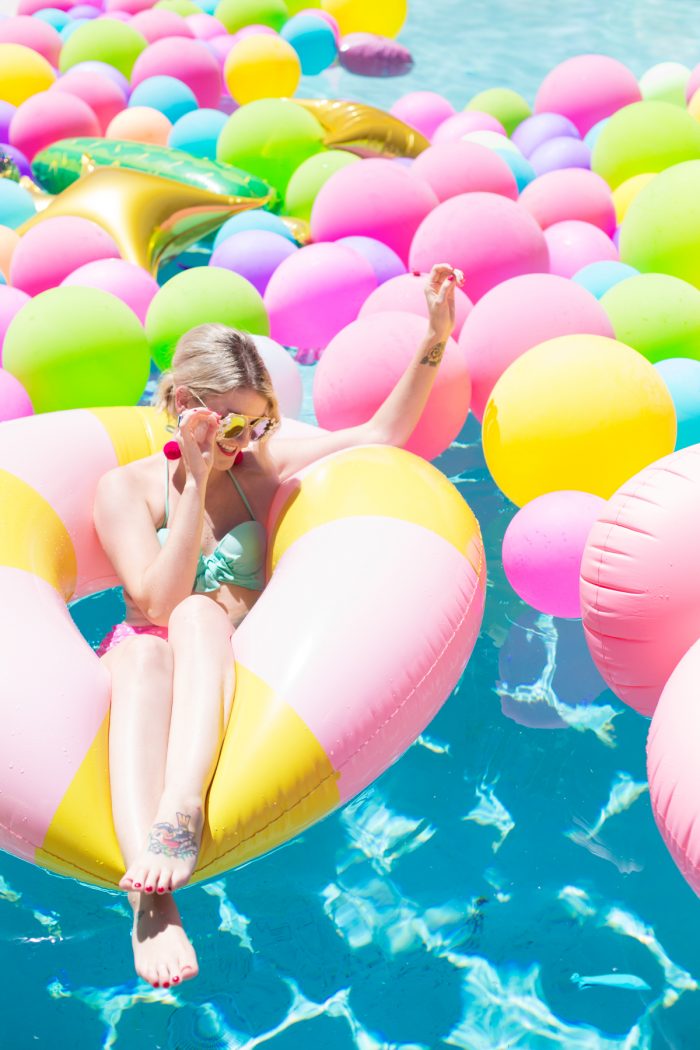 And of course, spend a lot of time floating on those floats enjoying drinks from the flamingo cooler!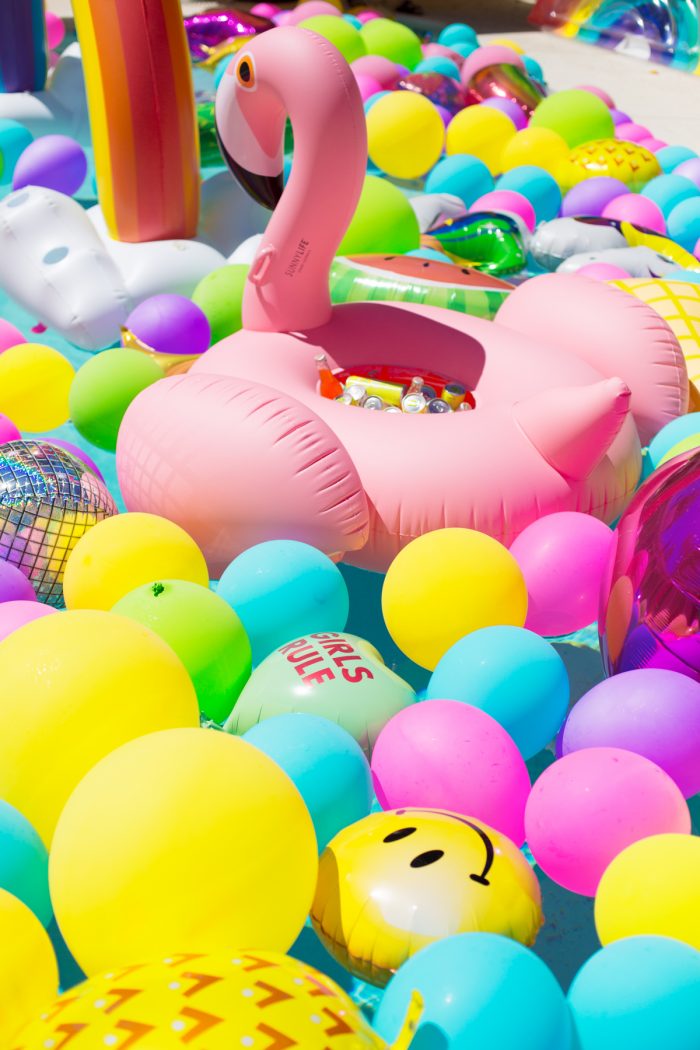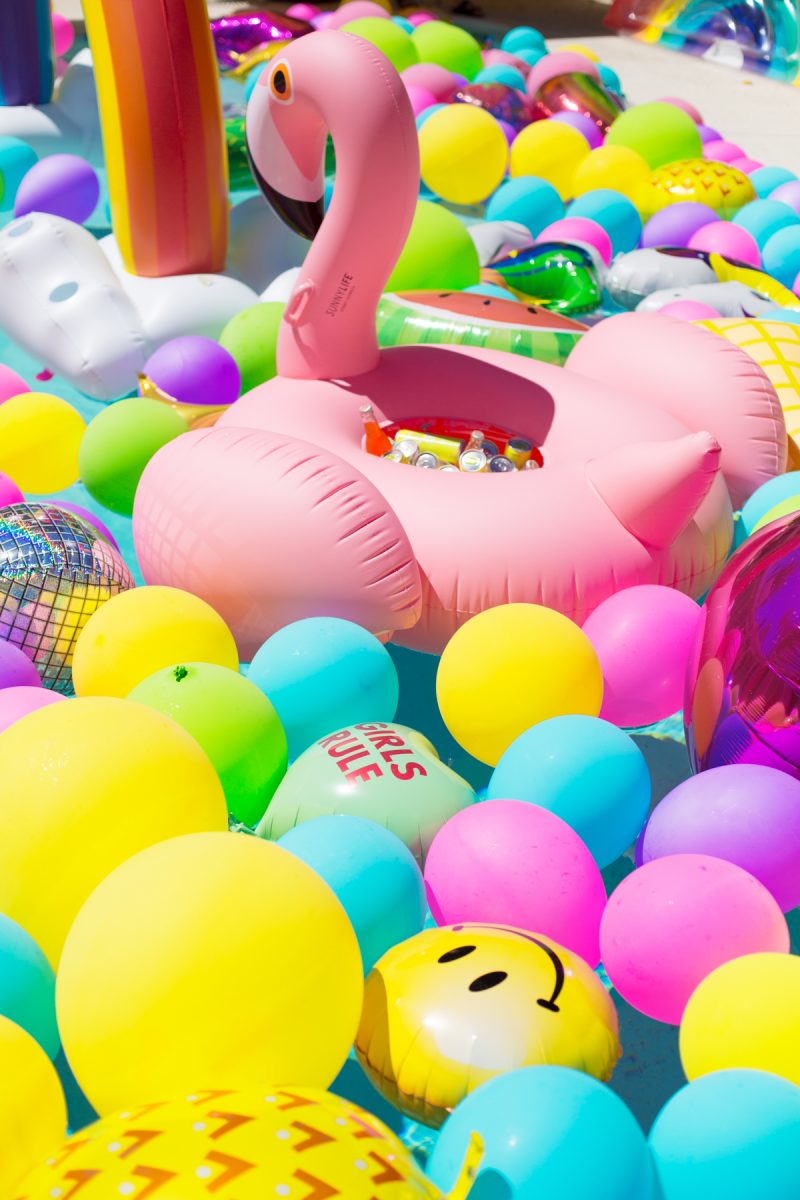 What To Wear to a Pool Party
Here's a few fun DIY ideas of what to wear to a pool party, along with your bathing suit of course!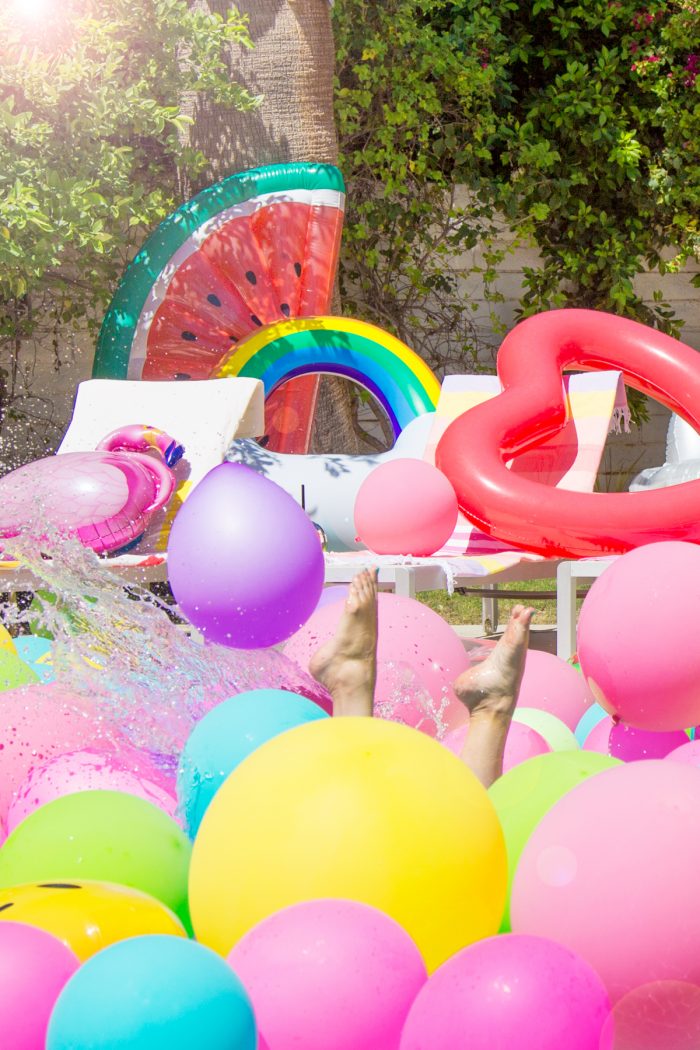 Photos by Jeff Mindell
Creative Direction: Kelly Mindell | Art Direction & Styling: Cyn Moreno
Food Styling: Theresa Rountree | Production Manager: Samantha Martin
Models: Jenna | Cortney | Tisha | Leslie
Use these tips to throw the most epic pool birthday party ever, while keeping it simple and doing so on any budget!SaveSaveSaveSaveSaveSaveSaveSaveSaveSaveSaveSaveSaveSaveSaveSaveSaveSave