Ever since I did this round up of edible flower desserts last year, I've been dying to make edible flower donuts. Surprised? I'm sure I'm not the first person to bring flowers to the donut, but I decided to take a few hours yesterday at the studio to play around with two elements I find I have the hardest time with: working with flowers and photographing food. So I made a little styling challenge for myself and had some fun trying to think outside of my "go to" shots. Now, please indulge me as I post a few too many of them. But wouldn't these be perfect for Mother's Day!?
The most important thing when it comes to working with edible flowers is making sure they are, in fact, edible. There are countless lists out there that talk about edible floral varieties, but beyond that you need to make sure that the exact flowers you buy weren't treated with anything not safe for consumption. Many high-end grocery stores, such as Whole Foods, sell edible flowers and you can also find them at local farmers markets or other organic flower suppliers. Just make sure if they aren't already labeled "edible" like they are at the store, that you speak with whoever is selling the flowers to ensure they are safe!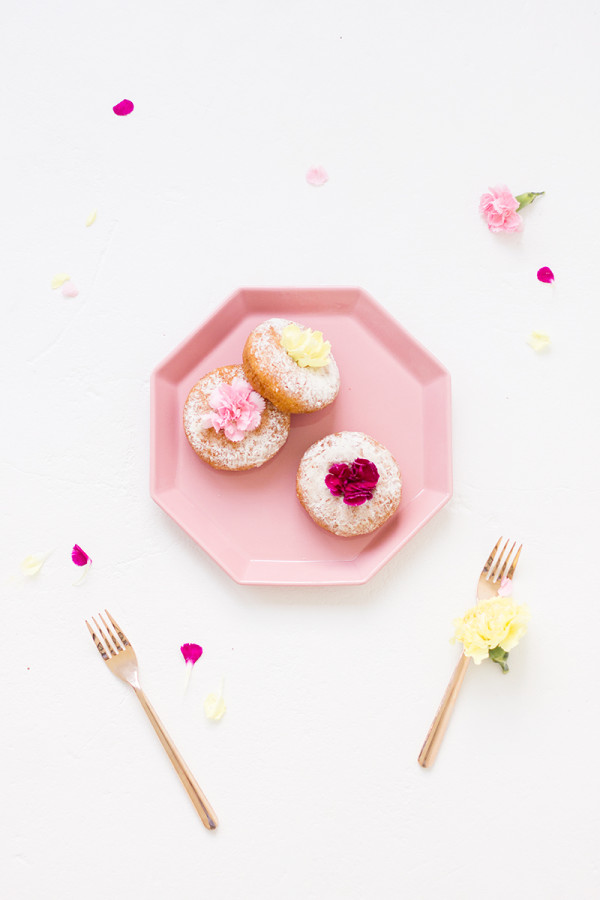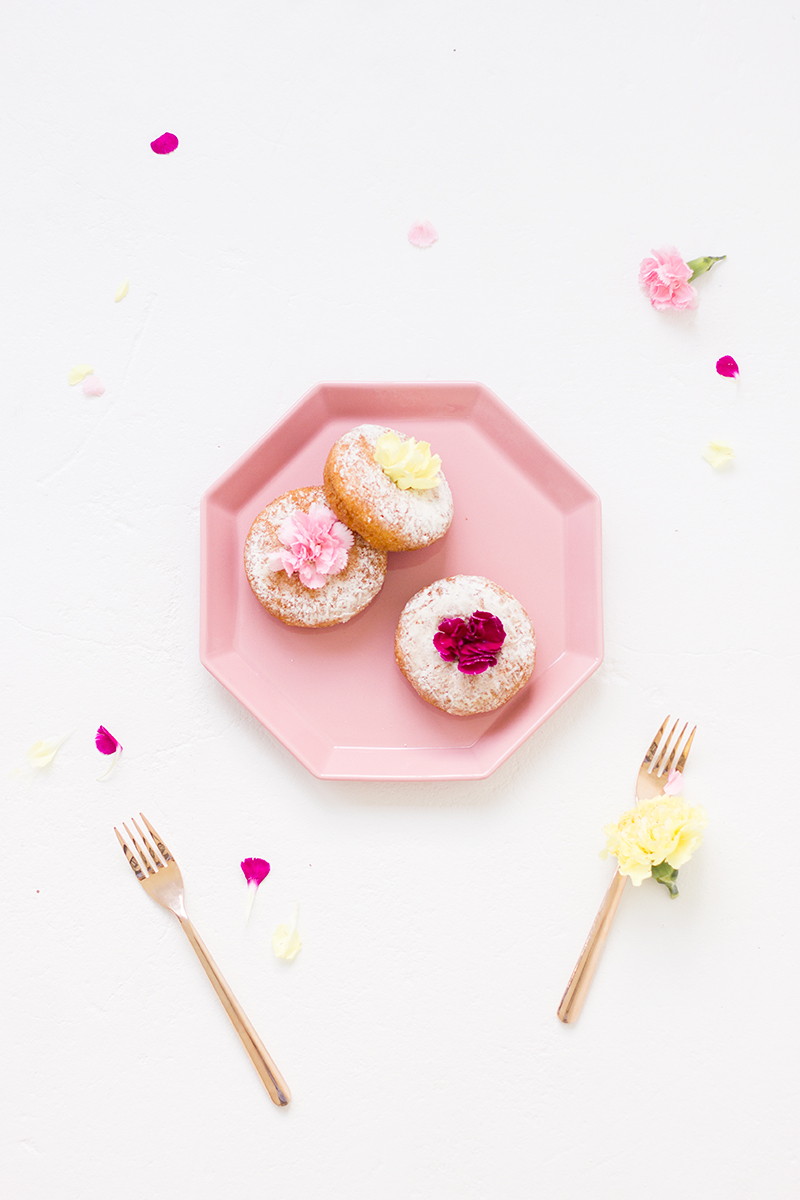 I primarily used carnations for these donuts, however I was sure to only use the petals. For the flowers in the center of the donuts (which I see more as decor than actually worth eating, unless you really want to eat an entire flower.), I grasped the petals of an entire carnation and pulled them off the stem (so no greens were attached at all) then I immediately placed them in the center of the donut. The petals won't hold their flower shape on their own without the stem, but the donut hole holds them up.. giving the look of a whole flower being nestled in there!
For the flower "sprinkled" donuts, I pulled the ends of the petals off and, well, sprinkled them over each donut. By the way, all these donuts were store bought and I just used the flowers to jazz 'em up! Easy peasy!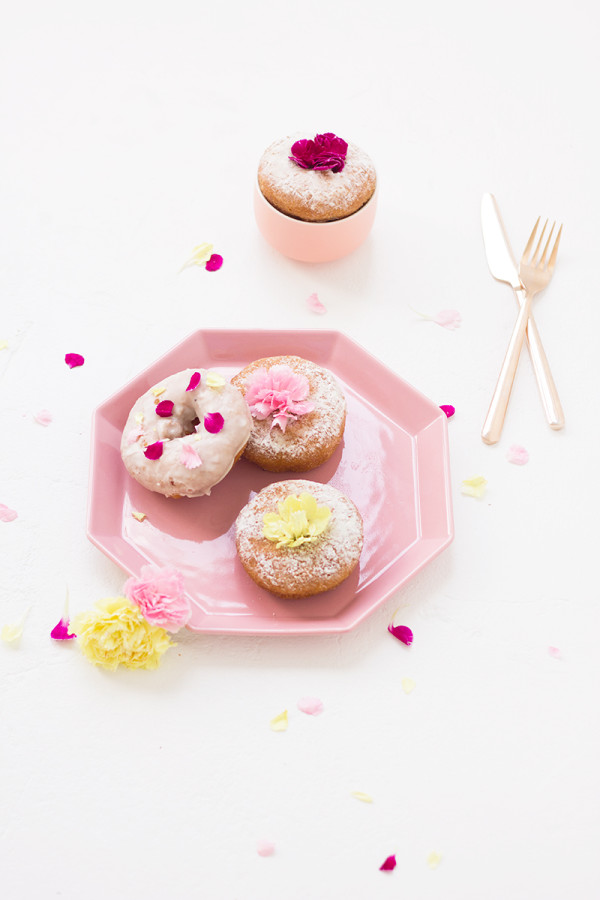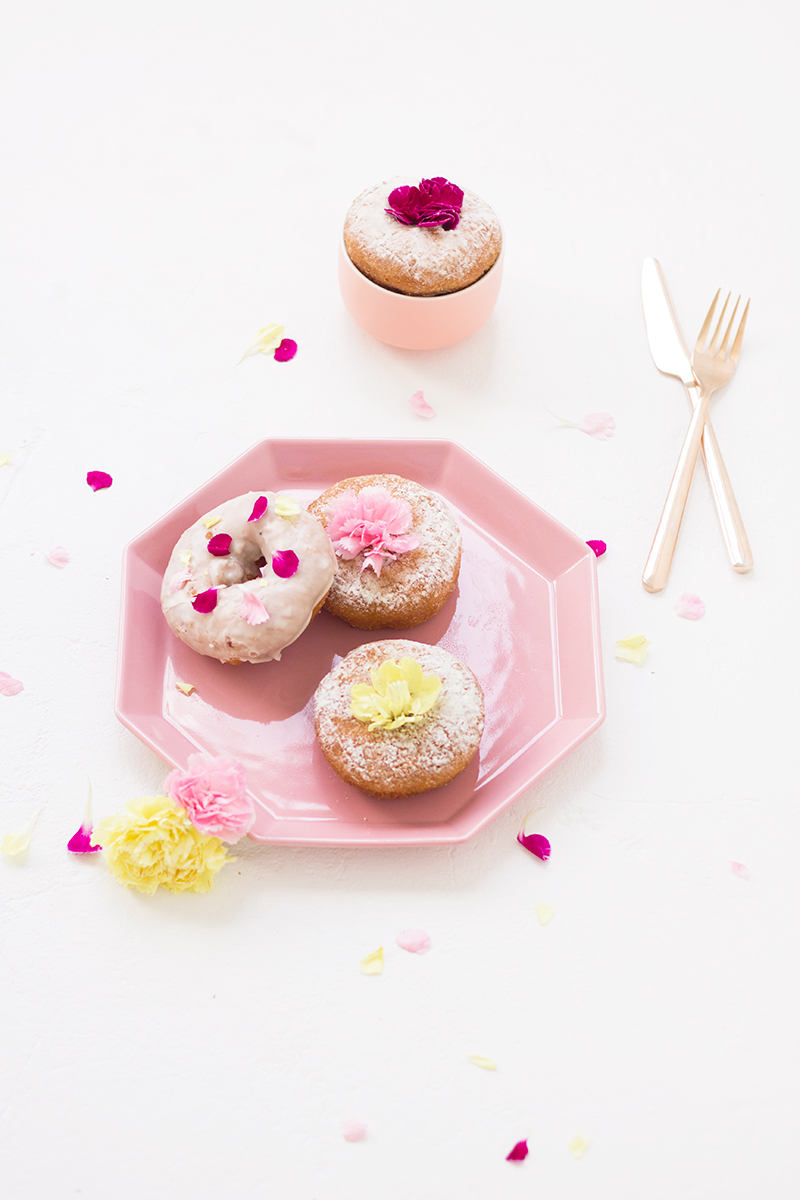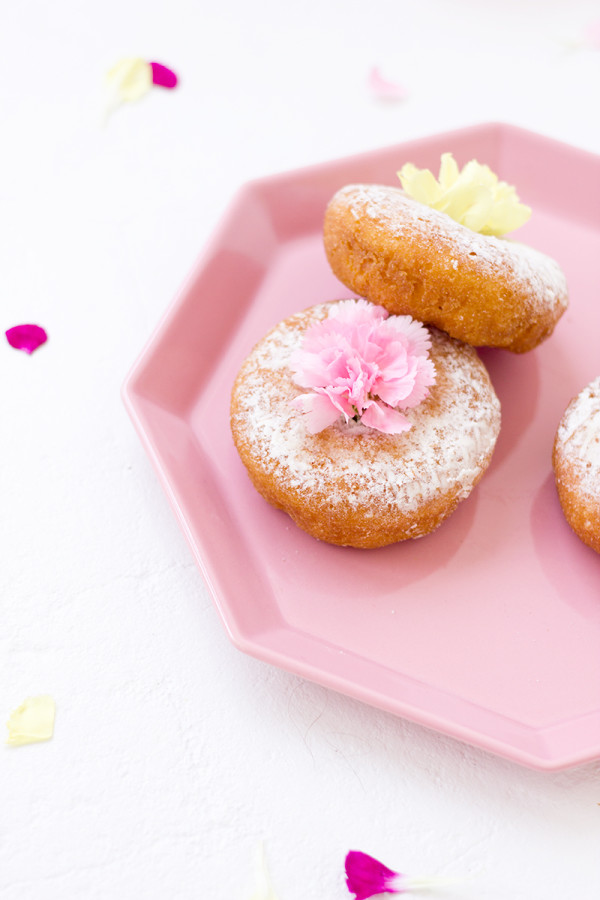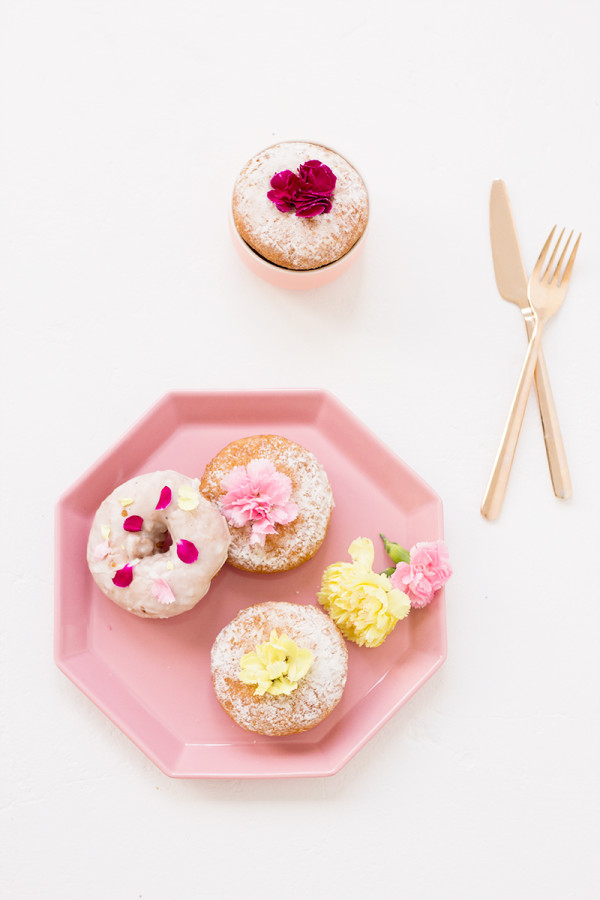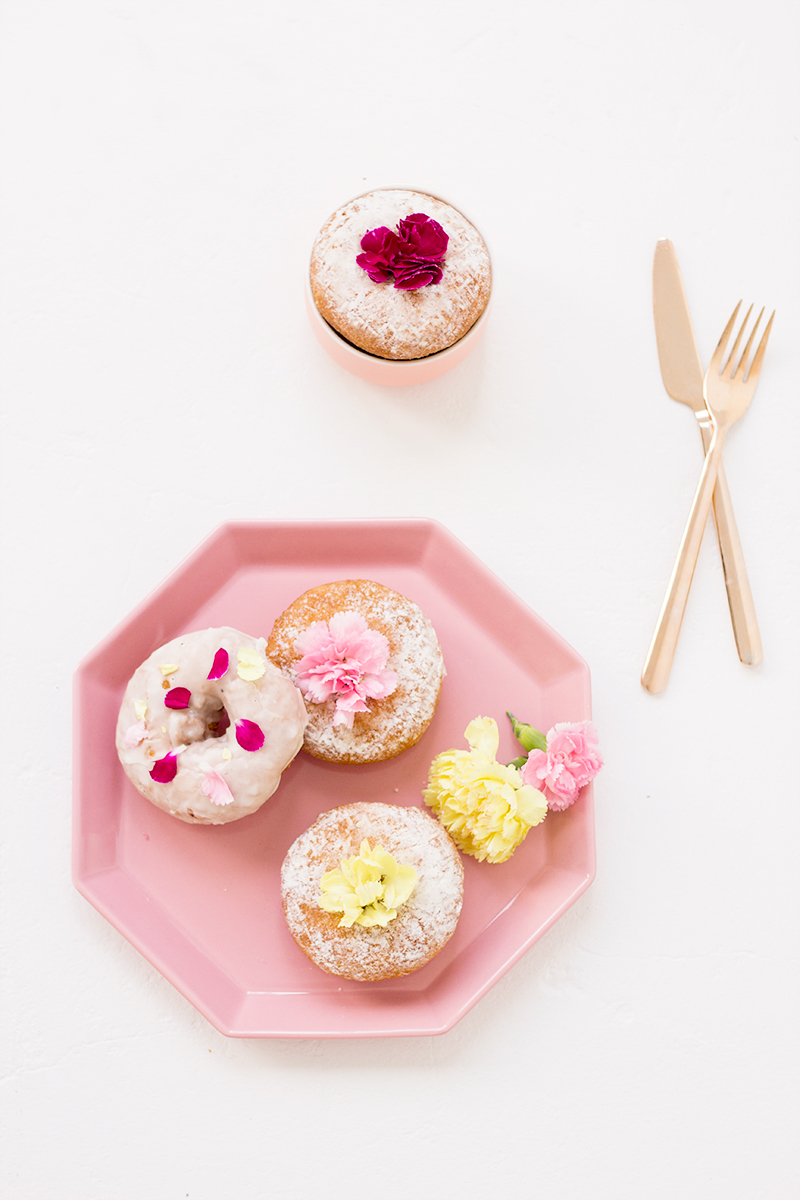 For Mother's Day, you can serve them breakfast-in-bed style (this fun plate is from CB2!) or package them up in cute little bakery boxes to bring to mom!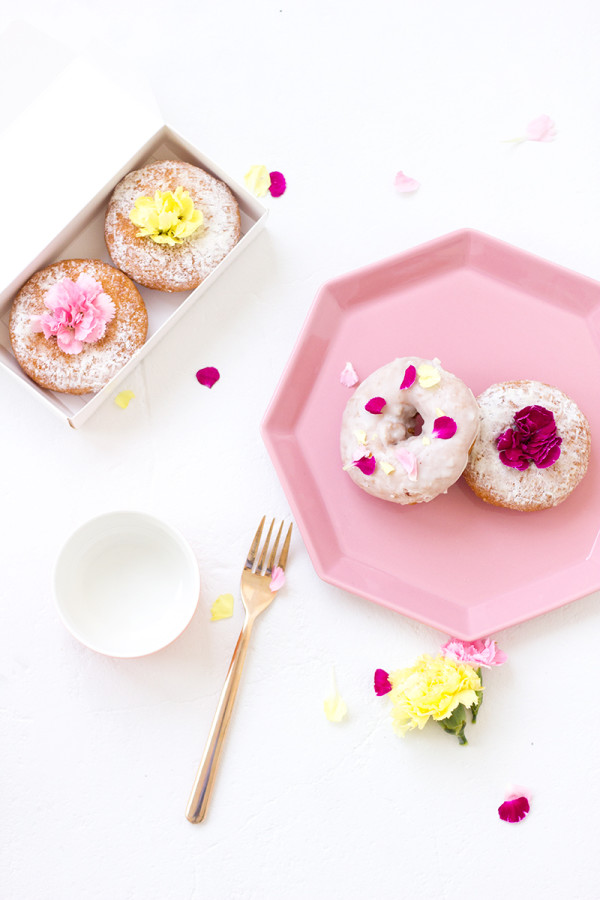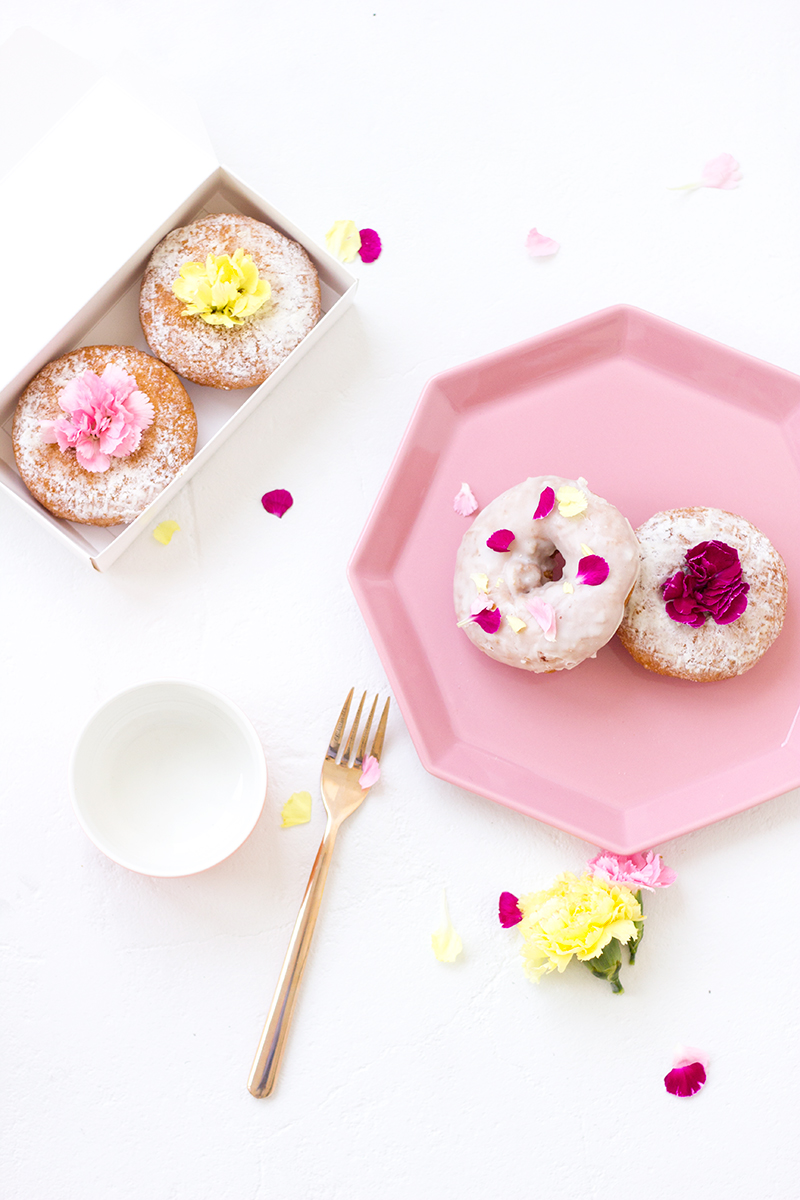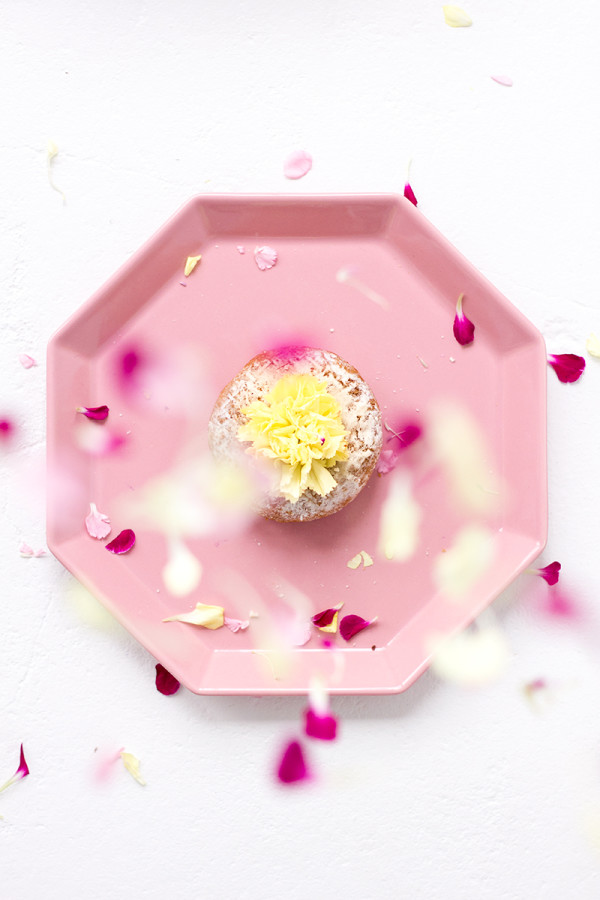 All Photos by Studio DIY
Thanks for lettin' me having a little fun and challenge myself! Luckily my kind of challenges involve sugar and flowers, which I hope you all enjoy just as much as I do! (psst… Wouldn't it also be fun to do edible flower pancakes or waffles!? Croissants!? Ok, I've gone too far…)
Click here for some breakfast in bed Mother's Day printables to match! And for more flower projects head right here!