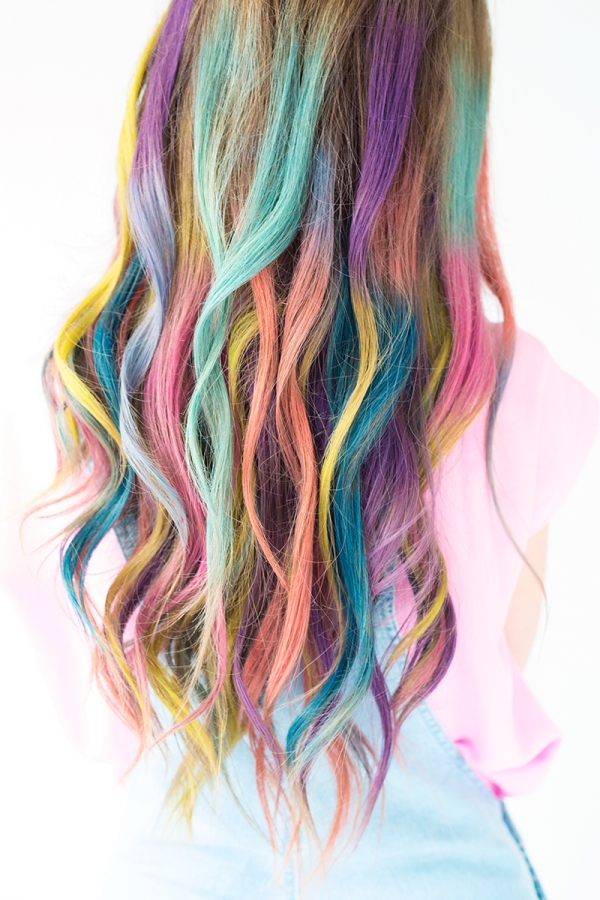 I. Am. Obsessed. Rainbow hair!!!!!! We've all seen the colored hair trend, the ombré hair trend and more recently the SAND ART (!) hair trend (I've got some sand art projects up my sleeve, by the way!) and now we have… the "Colombré Hair" trend!! BA-BAM!
Basically, you take the ombre style and rainbow-tize it, with your natural color at the roots and all sorts of good hues fading down from the mid-section of your hair to the ends. I HAD to give it a try but wasn't too keen on going the more permanent root so I brought in Stefanie of PAGE Beauty to help show us a temporary colombré technique… with hair chalk!!! It turned out WAY more amazing than I ever imagined and you just HAVE to try it. No excuses since there's no dye or bleach involved! HOO-RAY! Ready?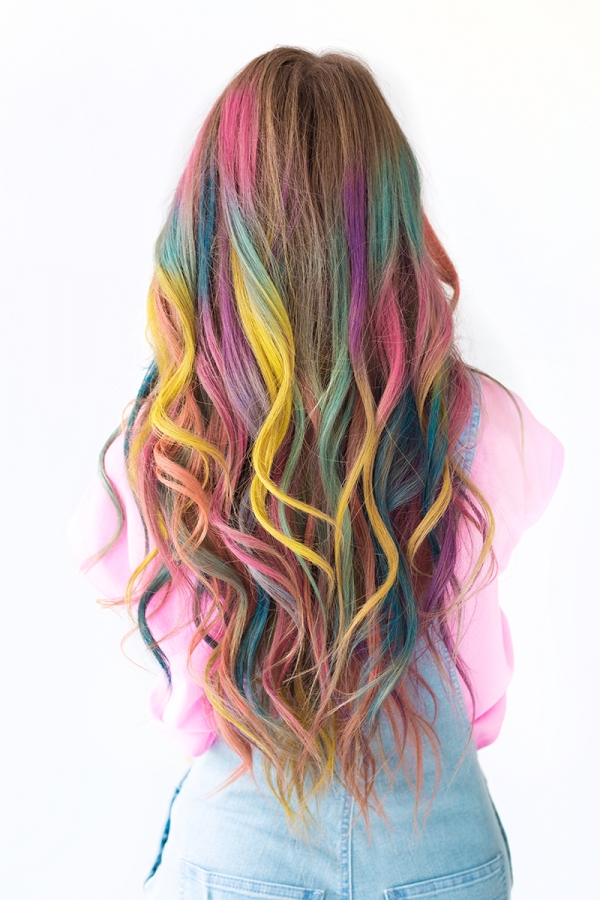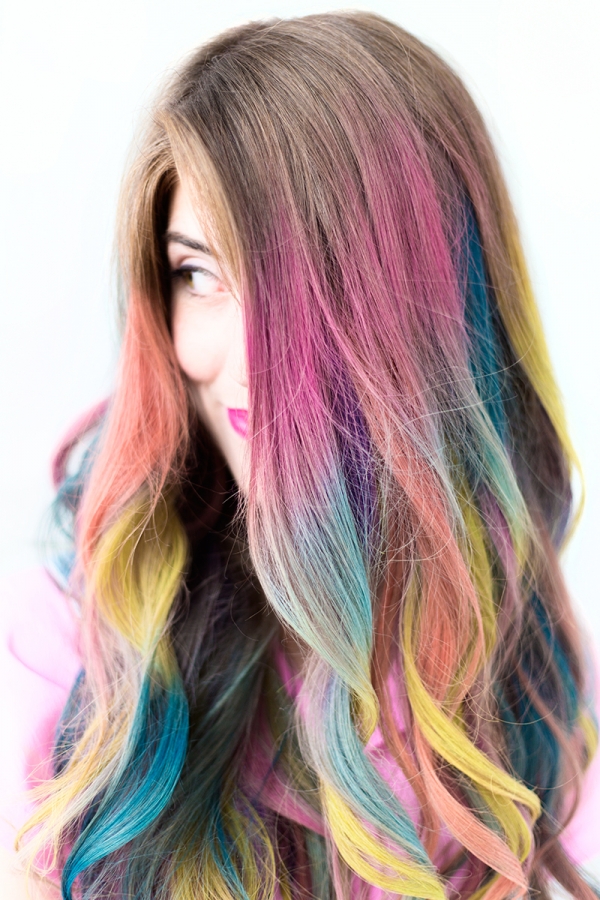 Hair Chalk*
Hairspray
Gloves
Towel
*We went all out and used a BUNCH of colors, a combination of Kevin Murphy Color Bugs, more pricey but great colors, and Splat Hair Chalk, more affordable option! Depending on hair length, color and desired color intensity, each chalk should last for 2 or more rounds of colombré, so you could buy a set with a friend and both use it! PAR-TAY! Here are the colors we used: Kevin Murphy – Purple, Neon Orange, Pink, Neon Green and Splat – Silver Moon, Mint Candy, Midnight Blue
1. Stefanie started by curling my hair, to better show off the layers of color when done. Be sure to cover your clothes with an old towel, and either cover your floors or apply the color over an easily-cleanable floor/counter/sink.
2. Separate your hair into several layers/sections, and clip all the sections up except for the bottom one. Separate out a small section of hair and run the hair chalk over the section, starting at about the mid-section and going to the ends, going back over it multiple times for more intense color. Continue to do this, varying up the colors as you work your way around your head. Set each section with hair spray to seal in the color.
3. After the bottom layer of hair is done, let down the next layer and continue chalking. Once you get to the top layer, begin adding multiple colors to the small sections of hair to get the "ombré" look. To do this, rub one color chalk on part of the section, then another below it. Use your fingers (or the sponge that comes with the Splat chalk) to "blend" the colors in the middle. Set each section with hair spray to seal in the color.
4. Set your hair with hair spray and there it is! It's super important to set it WELL with hairspray because, yes, this is chalk and the color can transfer to clothes or skin. If you are super concerned about the transfer possibility, you can wear your hair up instead. I put mine in a ponytail and top knot after our shoot and it looked awesome! The color will come out after one wash.
Photos by Jeff Mindell | Hair by Stefanie Cuesta for PAGE Beauty | Makeup by Tanya Burres for PAGE Beauty
I gotta say, doing this little temporary trial run has REALLY got me wanting some more permanent color in my hair. OH BOY! We've created a monster. Would you ever dare to try colombré or sand art hair? I SURE HOPE SO!
p.s. My overalls are from here!

And for more beauty DIYs, click here!